iCrowdNewswire - Jun 7, 2016
Unicorn & Centaur: Theatre on Horseback
Bringing a theatrical trail riding experience to the Lowcountry.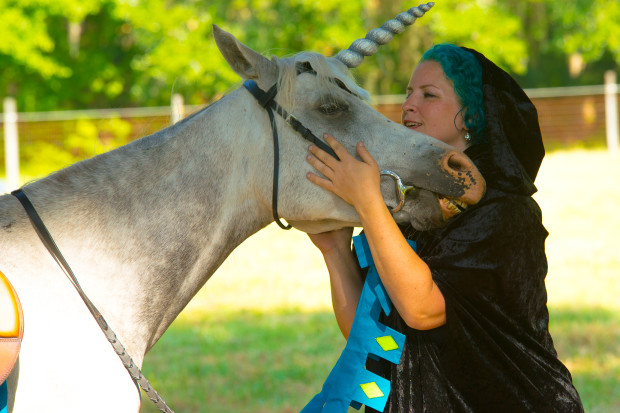 Theatre on Horseback…
A ragtag group of pirates searches for buried treasure on horseback. Elves ride unicorns on a Quest to bring magic back to the land. This isn't your Netflix queue. This is what you're doing this weekend.
Themed, costumed trail rides bring fantasy to life, allowing regular folks to indulge in their dreams. The entire experience, from safety lecture to trail ride, is conducted in costume and in character by our performers. Participants are encouraged to wear their own costumes.
Unicorn & Centaur is a group of Savannah area riders, trainers, tour guides, actors, puppeteers, teachers, and storytellers. We are passionate about riding, good horsemanship, and all things fantasy and fiction.
Saddle Up!
To bring fantasy trail rides to the Lowcountry, Unicorn & Centaur needs more costumes and more horses. Total startup costs in our initial campaign are $5000.
Trail horses: We are currently seeking two trail horses. We are open to rescues and owner surrenders, but the horses must be sound with a rider at a walk and trot. $1000 for each horse, $100 each for trailer fees.
Tack: Saddles and bridles. We have quite a stash of tack, but horses almost always need a new saddle, and little extras like girths and bits will be required, depending on what horses we acquire. $1200 for trail saddles, $300 for trail bridles, and $300 for bits, girths, saddle pads, and stirrups.
Costumes for horses: Artax, our unicorn, already has his own costumes. But the new guys will need fancy duds. Materials for unicorn and pirate costumes for two horses are $300.
Costumes for humans: Costume pieces will be provided for participants who don't bring their own. Helmets with costume helmet covers will be worn by all riders while mounted. Costume boot covers, plus pieces such as sashes, belts, gauntlets, necklaces, and wigs will be provided. Helmets are $200, costume pieces are $500.
Donations enable you to enjoy perks such as 50% discounts on trail rides and photography sessions, gift certificates for fantasy trail rides, and even special extras like a video thank you from our puppet fairy godmother, or a gift certificate for a private carriage tour of downtown Savannah.
If our campaign goal is not entirely reached, funds raised will first go to acquiring two great trail horses. Our herd of horses will be the foundation of all that we do. Partial funding will not deter us from reaching our goal of fantasy trail rides, however, it just might take us longer to get there.
Wait. Unicorns?
We seek not to compete with the local equestrian community, but to enhance and complement it. If you are a beginner, we are a safe place for you to learn about horses and riding. If you are a seasoned rider, we offer you a break from trotting endless circles in the arena. And we have unicorns.
The alpha mare of Unicorn & Centaur's herd is Michelle Padgett, who has spent the last 18 years entertaining Savannah's people. Her BFA in theatre helped her write plays for local theatre groups such as the Drama Bums, build and write shows for the Puppet People, and perform in the occasional Murder Mystery with the Odd Lot.
Michelle has been riding since 1974, and since 2003 has devoted her time to caring for and training Savannah's horses, from Norwood Stables in Sandfly to Historic Savannah Carriage tours downtown, where she works as a tour guide.
Unicorn & Centaur is the culmination of all her life's work.
Real Talk
What if you threw a party and no one came? Of course our biggest fear is that there will simply be no interest in this area for our kind of nerdy fun. The good news is that, even if trail rides aren't booked, the horses will be fed and worked and cared for. The horses in our herd, their physical and mental well-being, are our topmost priority, and their care is guaranteed regardless of sales or interest in this project.
Other Ways to Help
If you can't donate money to our campaign, but you got all excited when you saw pictures of a unicorn and you still want to contribute, don't despair! Here's what else you can do to help us make this happen:
If you are in the Savannah area and have horses or tack to donate, contact us at unicornandcentaur@gmail.com. We can travel about an hour to examine/pick up.
We are also accepting donations of fabric, trim, and notions. If you're in our area, we can come pick it up, email unicornandcentaur@gmail.com. If you are out of area, send pics of your donation, and if it's on our list, we'll reimburse you for shipping charges.
Share this page to anyone you think would be interested in our project: equestrians, horse lovers, cosplayers, pirates, princesses, and adventurous souls.
Thank you for helping us make our dreams a reality.