iCrowdNewswire - Jun 7, 2016
FitSleep: Our tracker is your personal lullaby
Your smart sleep tracker that uses alpha waves to help you fall asleep.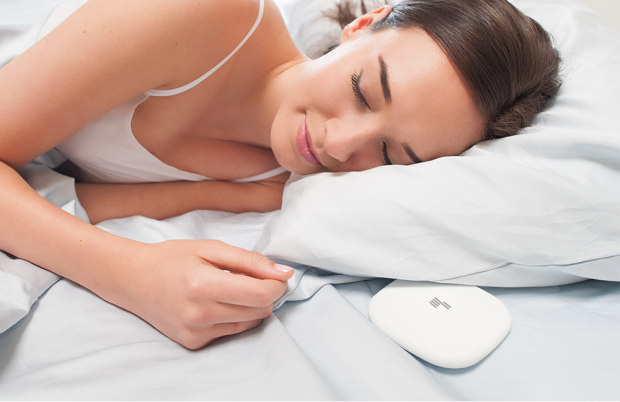 FitSleep is more than a sleep tracker – accurately logging your heart rate, respirate rate, body movements, sleep patterns, etc. It is also your personal lullaby that uses alpha waves to gently send you to sleep.
Get a better night's sleep with FitSleep today!

We get it, sleeping can be hard, but it doesn't have to be.
We created FitSleep to attack all the problem areas found in the typical sleeper. Whether you have trouble falling asleep, trouble waking up, or just want to find ways to improve your sleep health, we have the features to fit your needs.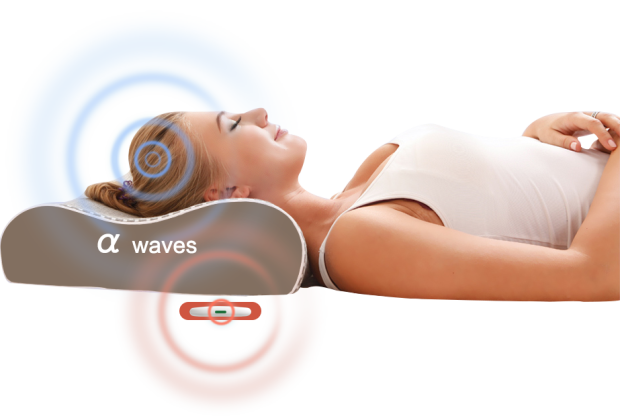 FitSleep α 1 emits 0-13Hz waves during light sleep, speeding up the transformation to deep sleep, hence increasing sleep efficiency.
See how it works:
Five steps to lull you into deep sleep: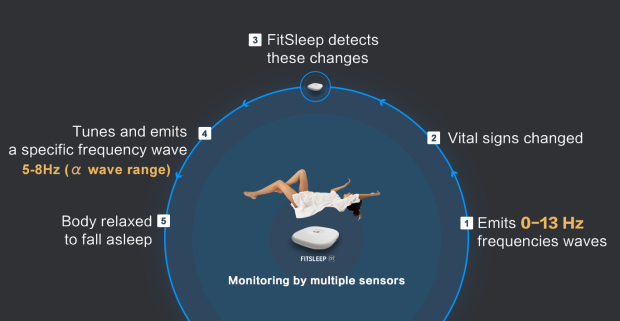 Our research showed most testers take less time to fall asleep and reach the deep sleep phase faster when they are being lulled by modulated alpha waves. Read more about the science behind Alpha wave.
Learn more about our research result.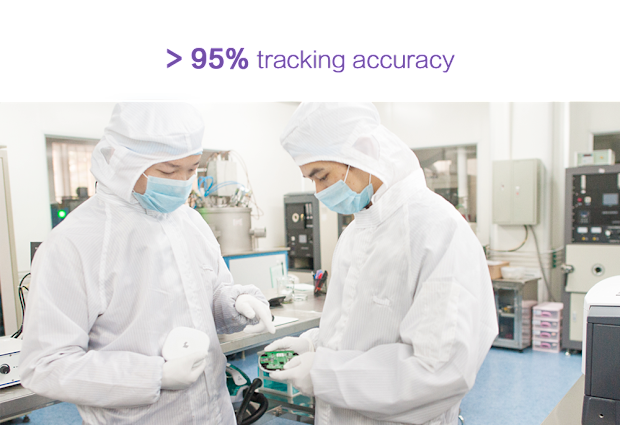 When it comes to measuring your sleep, there is no room for error. Accuracy was one of the top priorities in the development of the FitSleep device. Every feature of the device is reliant on accuracy.
FitSleep's accuracy is comparable to the medical sleep monitor. This allows us to better pinpoint problem areas, and help you achieve a more restful night's sleep.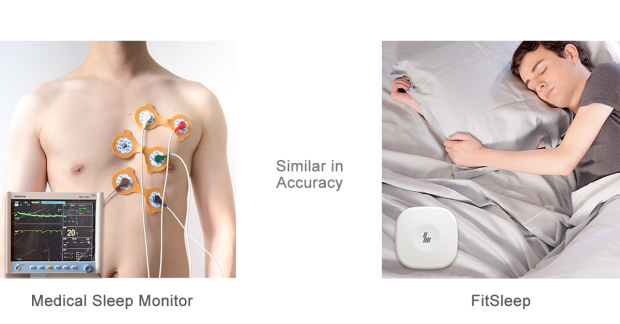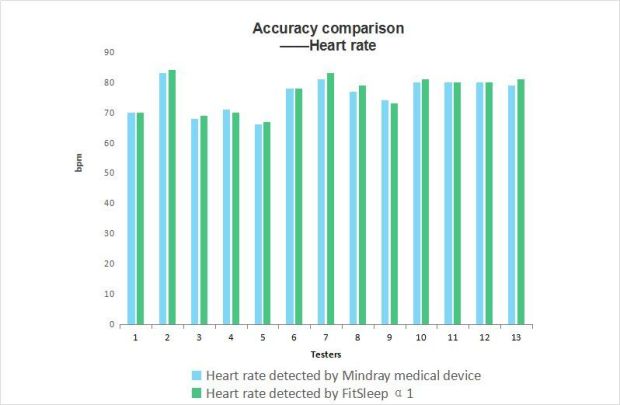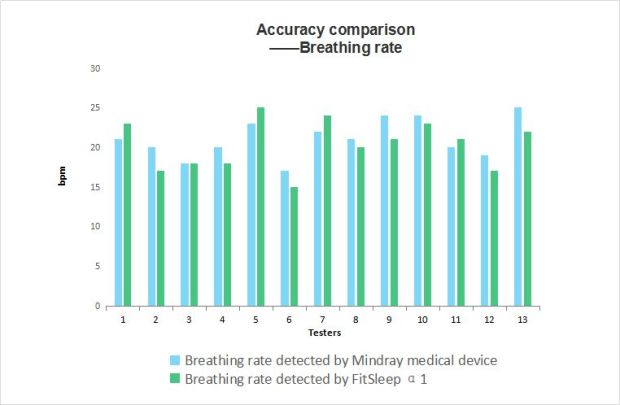 * FitSleep recruited 200 volunteers from three different venues to test the device's accuracy against the Medical Sleep Monitor. The data presented was randomly chosen from the 200 samples collected throughout the study.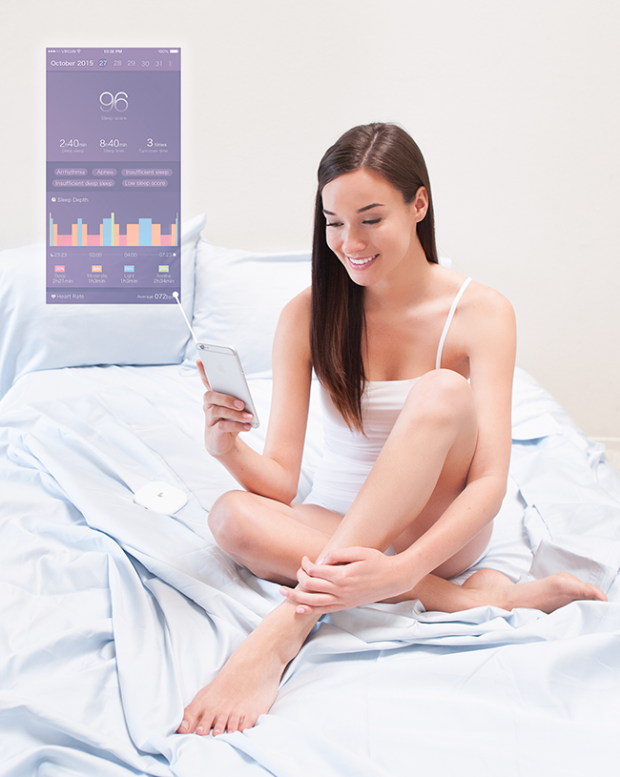 Once you get your FitSleep device, it's all about you. All the information the device learns about you over its lifetime will be compiled and stored in the cloud.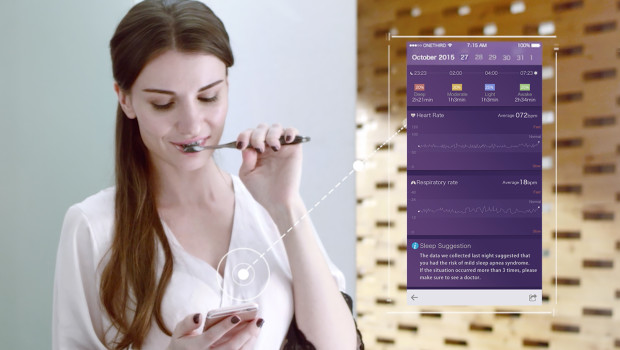 After analysis of your sleeping patterns and vital signs, FitSleep will construct a personalized sleeping report and provide tips to try to help you to achieve a better night's sleep. Our team worked with professionals in the medical world and with numerous scholars to provide you with the best sleep advice possible.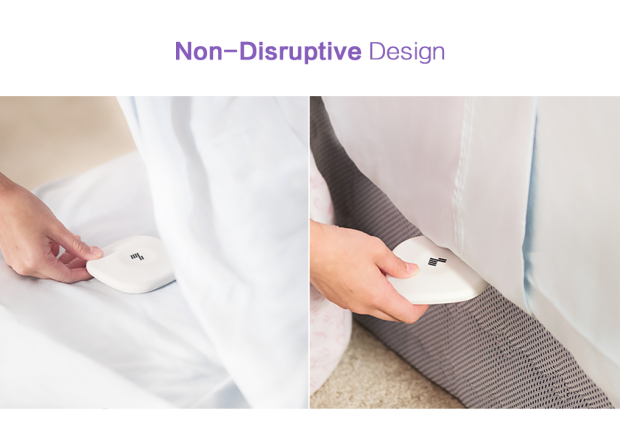 Simply slide FitSleep under your pillow, mattress, or even couch cushion and you'll never know it's there. Even when the device is right under your pillow you won't even feel a bump.
FitSleep was designed to never disturb your sleep.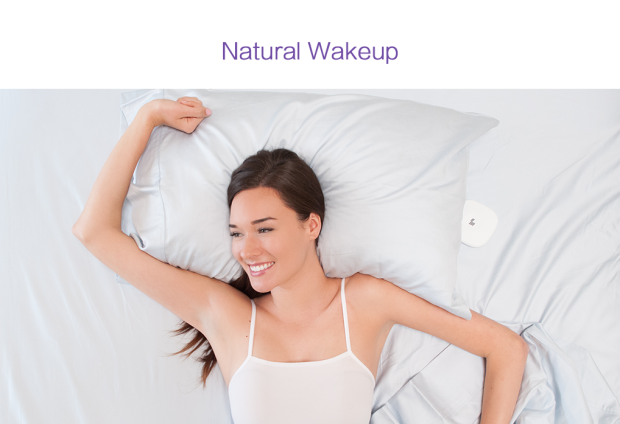 Waking up drowsy is one of the worst feelings to start your day. We'd all love to just hit the snooze button, roll over and head back to sleep.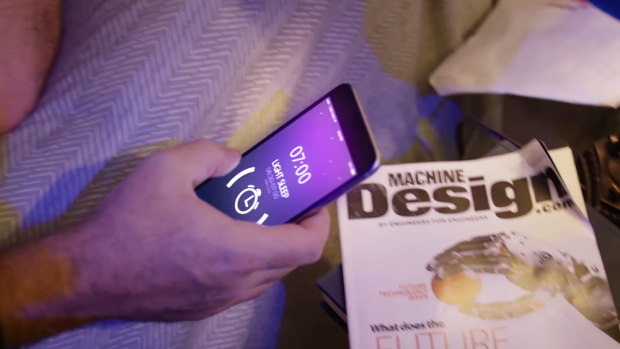 With FitSleep, you can say goodbye to drowsy mornings. After learning more about your sleep phases, you can set your alarm in the FitSleep app to wake you during a light sleep for a more natural wakeup.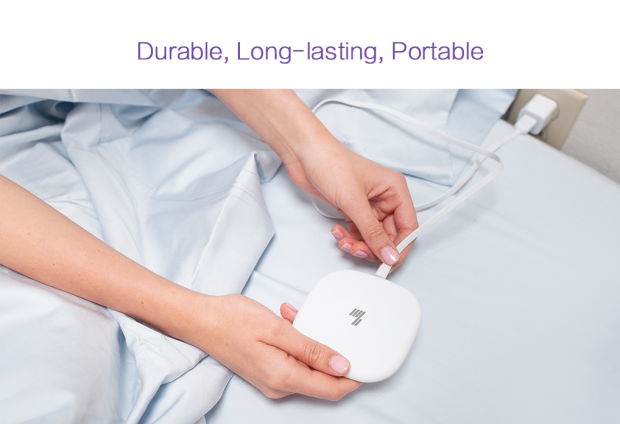 Let's face it, our heads are pretty heavy. If you're going to be sliding FitSleep under your pillow or mattress it needs to be able to take a beating, and it can. Whether its kids jumping on the bed, animals running around, and the repetition of your head hitting the pillow, your FitSleep will continue operating through it all.
FitSleep's battery will last for 30 nights of continuous use.. You can grab an entire month of sleep data after charging the device just one time.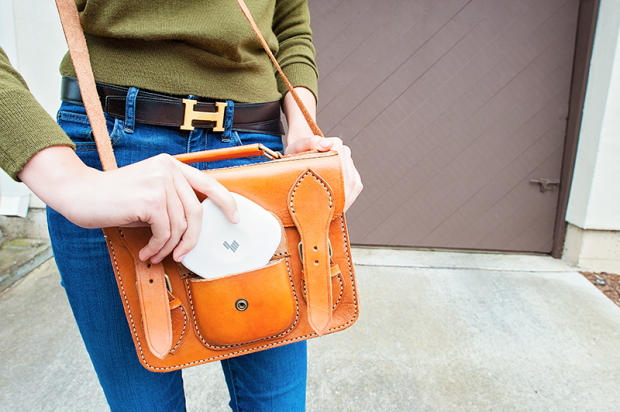 All of this packed into one device? Sounds like a pretty hefty load, but FitSleep is not much bigger than your phone. So no matter where you go, or where you choose to sleep, FitSleep is ready to go with you.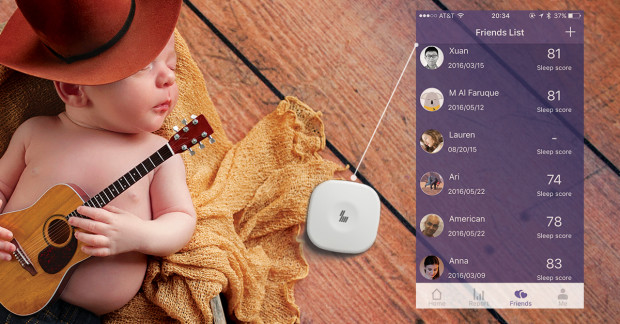 We know how important your loved ones are to you, and that's why we made it easy to stay connected with them. Now you can be there without really being there.
Using the FitSleep companion app you can pair your mobile device with a loved one's FitSleep device and monitor their sleeping statistics from afar. You will also be able to receive alerts if your loved one isn't sleeping well, or if FitSleep has detected an abnormality in their sleep.
Also, if you and your significant other both have a FitSleep device, you never have to worry about the readings being off. FitSleep will only monitor the sleep of the person directly above it, so each of you will receive an accurate readout.
Here is an overall comparison with other sleep trackers on the market: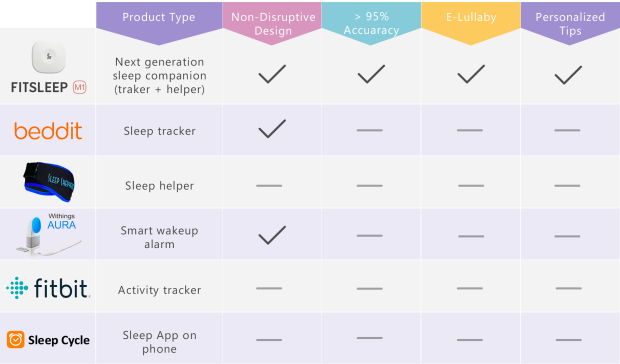 Applying the latest in production technologies we have created a device that is both smart and extremely durable –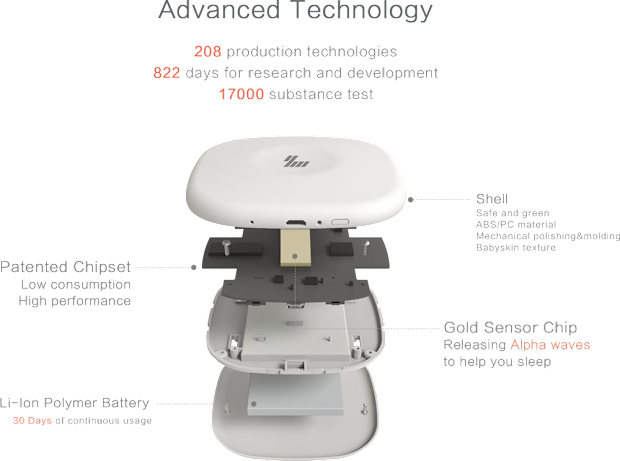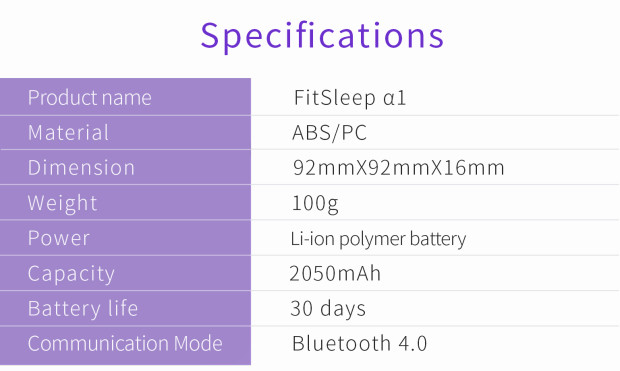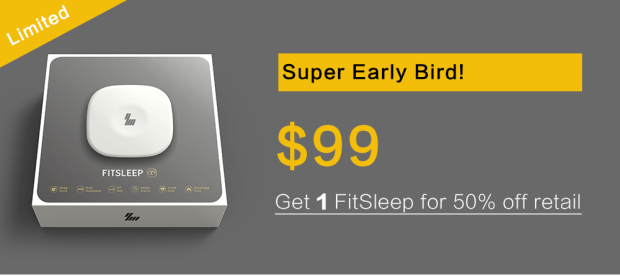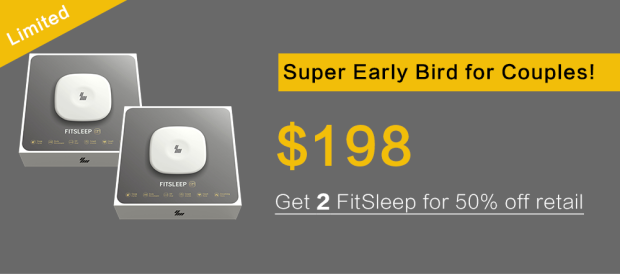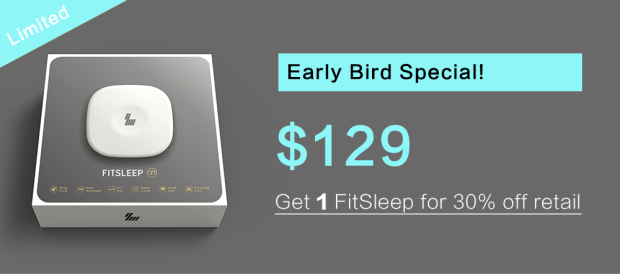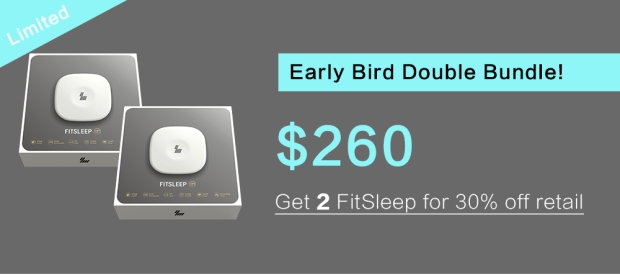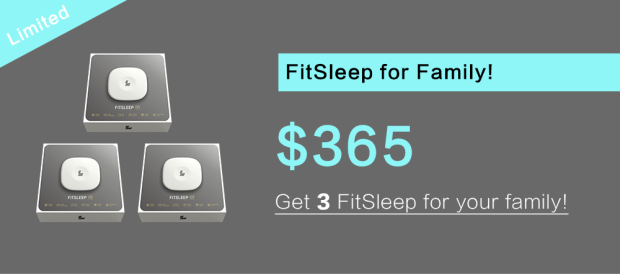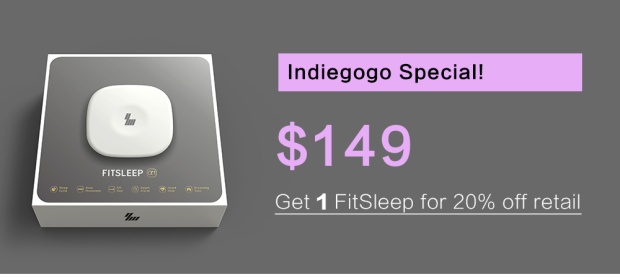 The idea for FitSleep came about a few years ago when our founder Xuan was just a college student. We developed an energy harvest to collect environmental vibrations caused by oscillation, and we thought "what if we could make this smaller and use it to monitor vital signs of human beings?" So, we began to test and build several prototypes – which later came together to form FitSleep.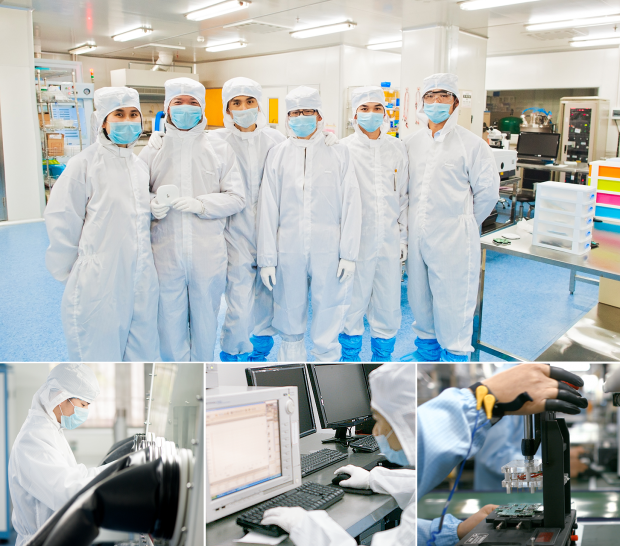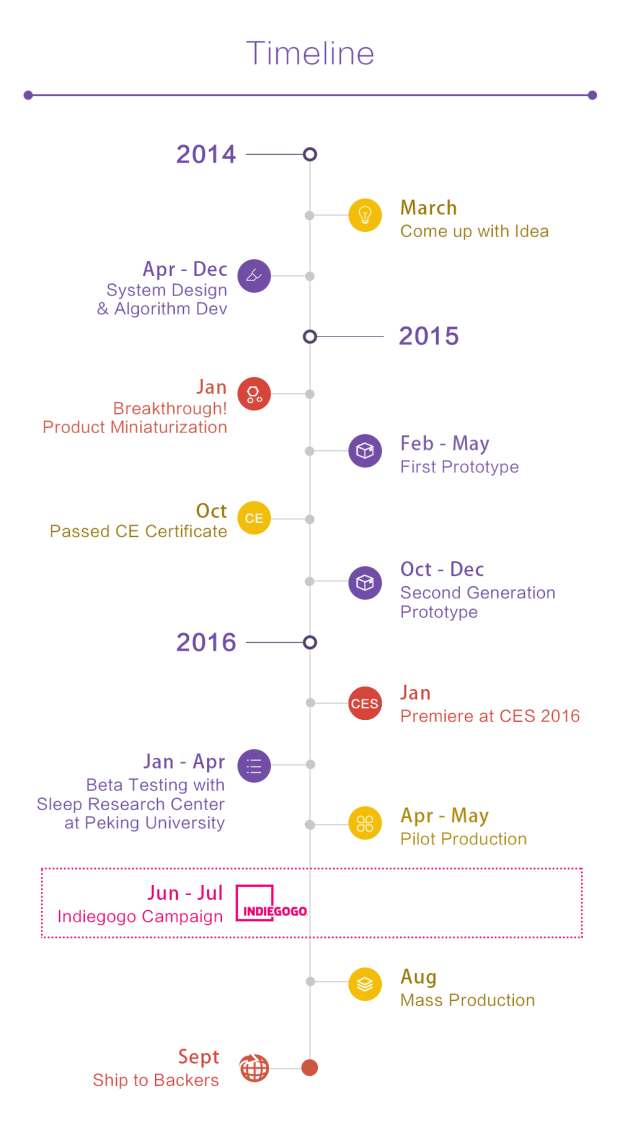 We see crowdfunding as a great opportunity for FitSleep to reach the masses, and to help improve the sleep of those who use it. One third of our life is spent in bed, and there is a need for products that improve our sleep without disturbing it. Healthy sleep is the foundation of an energetic and health life, so we worked hard to make sure FitSleep reduces the time it takes to fall asleep and increases the deep sleep phase.
Our ultimate goal is to improve the sleep quality of our users. By choosing FitSleep, you can help us
continue researching and developing new ways
to tailor personalized sleep suggestions for you and others who need help experiencing a restful night. We can work together on the way to a better sleep and a happy, healthier life.
FitSleep, Your Bedtime Bliss.
Please support us and get your FitSleep today!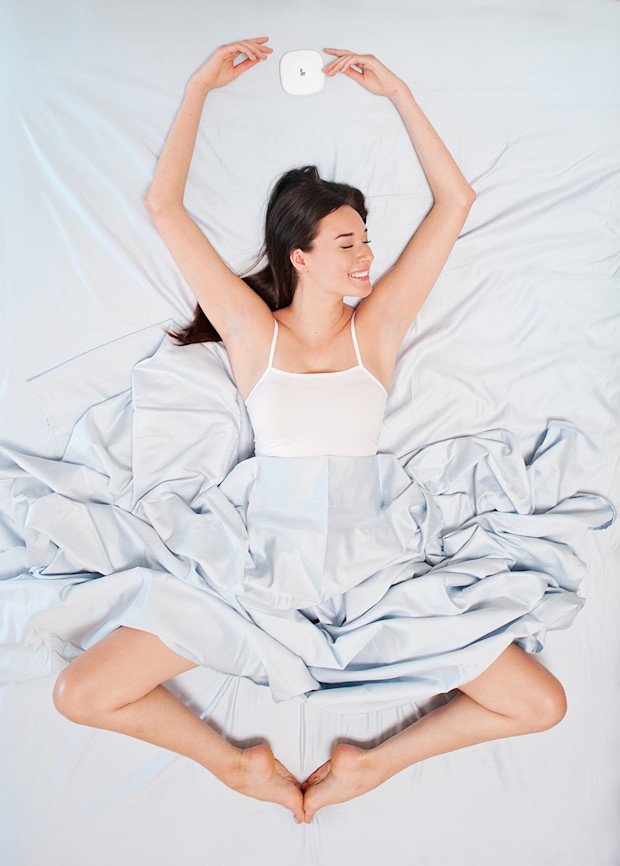 1. What inspired the FitSleep device?
We looked at a baby cradle, and our minds started thinking of ways to improve sleep. From there we looked at what can help people fall asleep more easily, that's when the alpha wave caught our attention. After learning how alpha waves can help people to fall asleep, we knew it was something we had to include in our product. Finally, we ended up with a product that not only helps you fall asleep, but helps you to learn more about your sleep through monitoring with the ultimate goal of improving your health.
2. Can FitSleep be used to monitor naps?
Of course you can use our device to monitor your naps! We are working on improving this function and plan to release an update with the next version of the companion app. FitSleep uses biological materials to monitor your breathing, heart and respiratory rate, and your sleep stage and length.
3. Is FitSleep comparable to medical sleep monitoring equipment?
Yes, FitSleep monitors your sleep with more than 95% accuracy, similar to the professional monitoring equipment that costs thousands of dollars at the doctor's office.
4. Does FitSleep emit radiation, and is it safe?
The safety of our device has always been at the forefront of our research. After numerous rounds of testing, we can guarantee your safety while using the FitSleep device. FitSleep has passed all major international certifications including the FCC, CE, and ROH. We hope our device can bring you a sleep without worry, especially when it comes to your safety.
5. Is FitSleep easy to operate even for those who aren't tech savvy?
We built FitSleep with the customer in mind, and wanted to make sure anyone, no matter what age or level of tech experience, would be able to use it.
6. Does FitSleep work well with multiple people sleeping in the same bed?
To accurately monitor multiple people sleeping in the same bed, you will need a device for each person. That way, the sleep of your partner does not interfere the information gathered by your device.
7. What is the life of the FitSleep device?
FitSleep should work consistently for five years. Just slide it under your pillow or cushion and let it go to work.
8. Who provides the sleep advice on the companion app?
Some outstanding doctors joined our team as consultants and they provide sleep expertise, which we combine with information from the Pittsburgh Sleep Quality Index. Gathering all of that information together, we create a tailored sleep quality analysis to help improve your sleep.
9. If I need to use a new device will my data from the old device be lost?
Absolutely not. All of your sleeping statistics will be stored on the companion app and will not be lost when transferring to a new device.
10. Will the FitSleep app work with my smartphone?
The FitSleep companion app is compatible with iOS 8 and up, and Android 4.3 and up.