iCrowdNewswire - Jun 6, 2016
NewRichWorld- Global Social & Mentoring Network
Revolutionize the way we set, visualize & reach our goals. Envision success with passion & purpose!
NewRichWorld Makes It Easier for Everyone to Achieve the Life of their Dreams. Live Life With Passion and Purpose.

Welcome to the NewRichWorld Crowdfunding Page!
You are going to love what we are doing. Have you ever set a goal and not been able to reach it because you forgot, didn't write it down or just didn't have a plan to get it done or who to ask for help? This is not an uncommon problem and you are definitely not alone.
· 92% of New Year's goals fail by January 15th
· Only 3 out of every 100 adults write down their goals down on paper
· 75% of people who set goals forget about them after one week
So as you can see goal setting and achieving is a challenge for everyone. But we have found that if done right, anyone can achieve anything they want… So the only question I have for you is what do you want to do with your life?
If you're anything like us, you've lived the following:
You set a goal.
Life happened.
You never reached it.
If you're anything like us, you've probably found yourself refocusing on that goal months later, wondering where all the time had gone. Except the odds are still against you.
If you're anything like us, you want to grow taller than the trees, but you can't do it alone.You need support, accountability, guidance.
Run a marathon?
Start a new business?
Travel the world?
Learn a new language?
We're here to help you run that marathon, start that business, learn your ancestors'language, do whatever it is you want to do with your life.
Whatever you want to do, you can set your goal and work on it with our platform!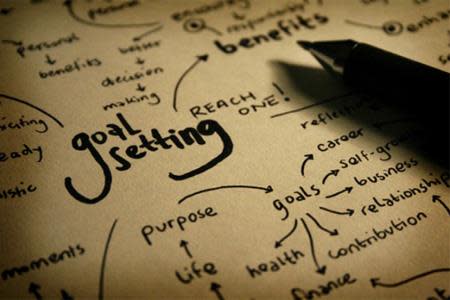 What is NewRichWorld??
Good question, we are glad you asked!
New Rich World platform has two main components: allowing people to create and manage their life goals and bucket lists; AND providing them the access to mentor-ships opportunities (members-members and members-experts). Members can create their personal, financial, fun, travel, physical, spiritual, skill-set, or business goals; AND keep them private or shared.
Make your dreams, visions and goals part of your everyday life. Connect and empower each other. Be a part of this amazing Life-Goal Planner Platform with New Rich World!

We are a platform created so you don't have to stress about how you're going to get things done, who you'll need, what need to be done.
How amazing would you feel if you could create your "100 Life Goals" and bucket lists; AND be able to check off those goals that you've always dreamed of achieving; keep track of your progress and have access to a network of like-minded members, industry experts and mentors in one platform?
What are the chances to make your dreams come true by having access to your goals' checklists planner, and stay connected with people who have the abilities and expertise to help you?
How wonderful would life be when you know that you are in charge of your dreams; AND be able to find and fulfill your mission, vision and life purpose?
Stop Dreaming and Start Achieving Your Goals

With New Rich World, you'll have an organized platform with goals' checklists, vision boards with project managements; and stay connected with your network, mentors and friends at all time. No more excuses… Just dreams coming true right in front of your very eyes.
We also make it possible for goal setting to become a connected environment. No longer are the days where you have to be isolated in your journal, searching for answers and people to help propel you towards your goals, you can achieve all this with our platform. Both of these things will ensure you reach your goals faster and stronger than ever before.
Here is nutshell of the platform: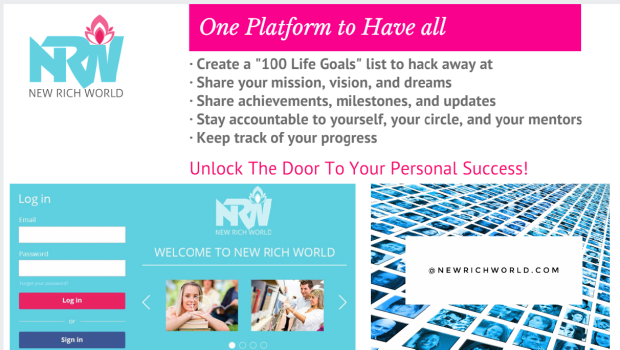 The company's vision is to bring forward passion, real life experience, expertise, knowledge, and mentor-ship into one place.
New Rich World's goal is help people live life with goals and greater purposes and be able to put networking, mentoring and social media into greater use. It help people to organize, focus, clarify and use social media and networking to build the social relationship capital; BRINGING the key factors into one place in order to accomplish one's life goals, dreams and give people sense of accomplishment, contribution and belonging and more.
Dare to make your dreams into reality! Connect & Support others.

NewRichWorld is a tool to build a supportive and transparent world where access to expertise is no longer a bottleneck. It's focused on building the social relational capital and empowering people to pursue and fulfill their dreams, goals and missions in life.
We believe that everyone has the potential to do greater things. Everyone was created for a purpose. But people can't be successful working alone. ​That's why we created New Rich World. To help people identify who they really are, working on achieving their most important life goals and share their missions, visions and goals in life. To connect the seekers of knowledge and expertise with those who have both in spades. To keep us humans talking, creating, growing and evolving.
Today we finally have our teams ready to bring this platform together. We just need one more thing. YOU!!!!!! The community will be as strong as its members so back our project, spread the words, and invite others to join.
Together we can make this world a better place; a place built on generosity, transformation, prosperity, and happiness.

The goal of this campaign is to reach like-minded people for collaboration, raise money in exchange for early access and rewards, and we also want to spread the word. The more people we can get using NewRichWorld the more functional and successful it will be. So this campaign will give you the basics on our efforts and progress. Beyond that we encourage you to ask us questions, donate and get involved. We developed NewRichWorld for your benefit, so enjoy!
What is Rich?
We want all of our users to live a rich life and connect with others who want to live a rich life. But a rich life doesn't always refer to wealth. I rich life means you accomplish everything you want. And you never fall short of your full potential.
About Founder
My name is Christy "Thao" Nguyen, Founder of the company. I have previously worked in Real Estate Investment, Digital Media and Nursing.
When I came to know my greatest mentor, he taught me that: Life is a miracle; AND one's life must be purposeful and meaningful. One's life is more than just a name, a social status, an identification card, a title, a job, or material possession. One's identity is about one's story, life journey, and impact with a greater purpose.
I was deeply inspired to create a platform, a community and a movement dedicated to empower people live life on purpose. With a humble vow to make the world become more supportive and connected and making mentor-ship available to anyone who needs it.
Turning "dreams into reality", I sought to inspire, empower and connect people from all parts of the world to be part of the supporting team to transform one million peoples' lives.
That's where NewRichWorld comes into place. It is the place for those who want to live life on purpose, commit to all those things on their bucket lists, share their expertise and accomplishments to help one another, connect with people just like them… or simply be a part of something that will spur them on to grow in every way that matters to them.
As Harold Kushner mentioned in "Man'search for meaning" by Viktor Frankl,
"Life is not primarily a quest for pleasure or power, but a quest for meaning. The greatest task for any person is to find meaning of his or her life."
Today, I want to share that opportunity with you and others to use this remarkable NewRichWorld platform to empower and help each other so we all can achieve things we want in life.

New Rich World allows YOU to take charge of your destiny.
Our company is passionate with creating an unmatched solution that's easy for anyone to use. Our company will run the business based on our mission statement of providing a seamless platform for people to create, connect and share.
Together with our team we take our passion for innovation beyond just this one idea and in we put it into every decision we make. Changing people's lives has always driven us at every stage. An easy to use platform that can way help people.
COMING SOON TO THE TEAM: YOU!

You can create, declare and share with the world and live out loud. It puts you in control of your desired lifestyle. You can actively focus on your most important life goals and keep all the tasks and connections intact. It helps you to be more efficient, strategic, and aware of what need to be done.
What goals do YOU want to achieve in your lifetime? Check off those life goals whether they are personal, experience, financial, fun, travel, physical, spiritual, skill-set, or business goals. Make a list of 100 goals you'd like to achieve in your life time. Include things like when they will happen, where they will happen, how much you need, who you want to get help or involve, how it can happen and so on. Invite friends and mentors to be your accompanies. Continue to check off and add new goals to the list. Accomplish everything you want, track it and share it if you like to empower others.
If this sounds amazing – if you want to be part of this platform – support us and make your pledge now to make New Rich World available for yourself, and for others who want to take control of creating the newly and truly rich world that we've dreamed of!

You have big dreams and want to achieve all, if not as many as your life goals. But the thoughts of reaching those goals seem to be overwhelming. No longer you need to wonder how you can make them happen. With this platform, you can create your dreams, goals and bucket lists, and be able to plan out what need to be done and who can help you going there.
Here are some of the Features and what you'll be able to do on this platform
· Create your profile, group or project. #goals, #dreams, #milestones. Dream BIG and keep the end goals in mind. Plan and budget from your ideas, concepts to completion of the project. Make your bucket list items and keep them as Vision Board. Keep them private or share them with your network and friends.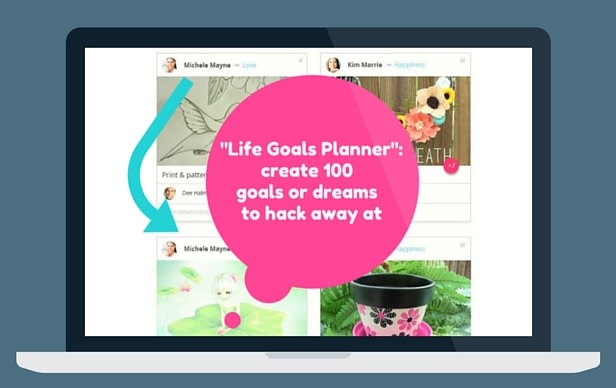 Envision all your dreams and goals. Add notes and ideas of how a goal can be achieved, when you need to do them, what need to be done and who can help you... No more lost notes, numerous journals, shuffling to find contacts and messages, cutting images from magazines to make your vision board, or scrambling to figure out what need to be done.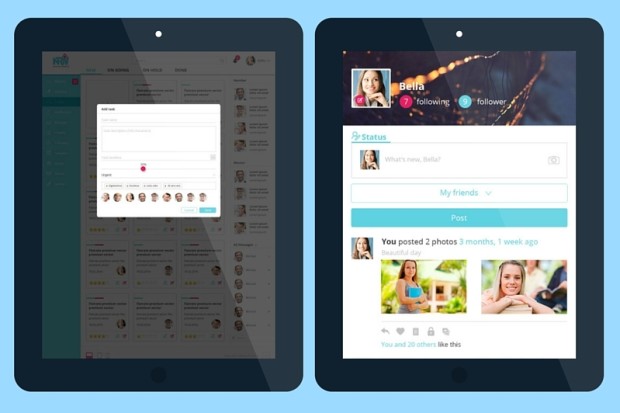 ·Connect with other members and #mentors in the network to help you achieve your goals. Know great mentors or friends? You get to invite them to the party! Stay in contact with your teams and mentors.
Grow your businesses by sponsoring and selling your products and services as mentors, coaches, consultants, service providers…Stay on top of your social networking relationship while working on your personal goals.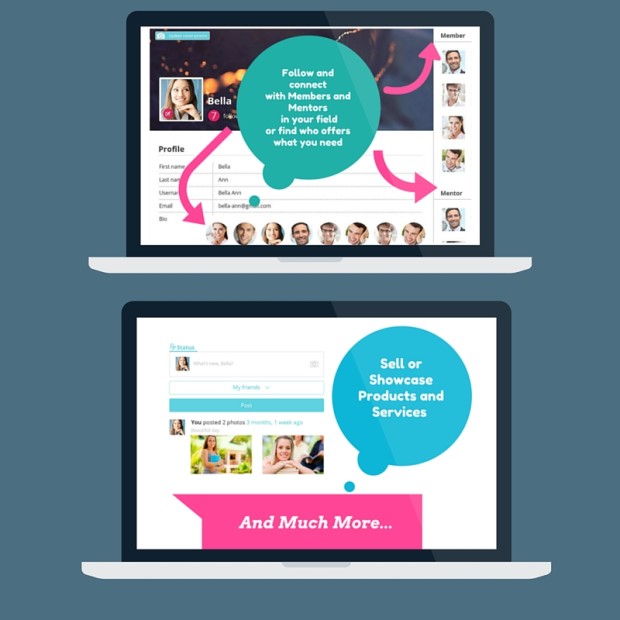 Help others to see transparent working relationship. Rate the performance of your teams and mentors. No more questionable work ethics. With this platform, you can see how people actually walk the talk. Keep each other accountable as you help others to achieve their dreams and goals, others will also help you.

How You Can Help!
We are very excited to see something that could help people live life with purposes, unlock the door to their personal success, getting closer to their goals and having their dreams finally materialize. We are on mission to change millions of people lives. We focus on empowering people and helping them to connect with others to build the connection as in mentoring relationship so that people can support each other; and make positive impact at the individual levels to better the world.
Backers can have access to be early users to experience the platform, and other perks, and even have a chance to mastermind with our Founder, for those who can help and contribute to this ground breaking project.
You will have early bird passes where you can be one of the selected to join us in our soft launch. This means you will be the first to try our platform. If you are just interested in joining us in any way I recommend doing it now. As we are offering super low pricing on all of our awesome perks through this campaign only. And like all good deals, these are limited and they won't last long.
Get your NewRichWorld membership TODAY!
Your generous funding will help us get things started in order to realize our concept. It will assist us with the cost of further development, marketing and design. More importantly you get the chance to be one of the first users of the NewRichWorld. We will also use our funding to test our concept to make it better. We are committed to continuous improvement so we are always giving people the best possible solutions.
Pledge now to make this platform available for yourself, and others who want to take control of creating the newly and truly rich world that we've dreamed of! Thank you!!!
Spread the word
If you aren't able to make a monetary donation, but would like to contribute to the campaign mission, there are plenty of other ways to help! You can contribute your popularity by telling your friends and family about this campaign. The success of this campaign is directly correlated with the number of people who view this page. If you can increase that number, you are making a tangible contribution to the mission.

$10 – Beta Tester and Founding Members.
Come in and get a head start as our treasured Beta Users. The fact that you have supported our mission and became part of our launch saying that you are someone very special. We are very grateful to have attracted such wonderful individuals in our community.
$20- A Social Media Thank You
We will mention your generous donation on our social medial sites.
When our platform goes live we will also make a post thanking you for helping us!
-B2B Thank you
If you are a business that supports us, we would love to show off your support, with this perk we will add your logo to our campaign page for everyone to see.
$35 – Insider Club + Lock in the free Basic Member service forever
Join our update list and get an insiders track to free subscriptions and free resources you can download. We will send you the emails of our progress and the links for discounts before anyone else.
$50.00 – 6-Month Upgraded Premium Member Subscription
Enjoy all the perks of having access to Premium Membership on New Rich World for six months, cost free! This means you can start up your own profile without paying us a dime! You will enjoy all the great features as everyone else!
$75.00- 1 Year Basic Membership Subscription + a NewRichWorld Champion Drawstring Cinch Backpack
Enjoy all the perks of having access to New Rich World for twelve months, cost free! This means you can start on your without paying us a dime! We will also send you a NewRichWorld Champion Drawstring Cinch Backpack when the campaign is over for your kind donation. You will enjoy all the great features as everyone else!
$100.00- Lifetime Basic Membership + Your Name on Our Wall
This is for a lifetime of access for New Rich World Lifetime and access to coupons, discounts and free content as well as anything on the website, this means gear, mentorship credits, anything you want. We will carve your name amongst all the other supporters on one of the walls in our office that will be dedicated to this campaign. This will symbolize a place you will hold in this company and it's future.
$300.00 – Project Advisor- + Slope Computer-Messenger Bag
Give your personal and professional input on how we can go forward and be listed on our website as a Project Advisor and get the chance to increase business!
Help us make decisions and be part of our conversations in a webinar for Advisors and Mentors. This is a bonus if you are in the self-improvement arena so you have a unique aspect that can help us grow. We look forward to hearing from you!
$500.00 – The Ad Pack + Company Sponsorship
Are you a new company or maybe you are established? Either way, good ads help everyone. You will have 6 months of your ads on our site. Your company logo will be added to our campaign page, website and social media pages. Other details can be custom to your marketing needs. Let's enjoy business growth together.
$1,000.00 – The Ad Pack + invited to our VIP Sponsors' Party in San Francisco!
You will have 12 months of your ads on our site as well as be part of are drip marketing email campaign. We will throw a premiere party for (You/Your Company) in honor of your donation. A permanent "Thank You" spot on our 'About Us' page on the website.
$2000 –VIP Supporter + One Day Mastermind with our Founder
You are quite something indeed! To celebrate that, we will shower you with gifts from all contribution levels AND invite you to spend a day mastermind with our founder, Christy Nguyen, great for someone planning on starting their own company to influence and help drive change. (*)
*flights and accommodation not included
$5,000.00- Partnership
Contact us today if your company would like to be part of our company in a partnership capacity.
All the Gifts will be shipped at the end of campaign.

$35,000 Website
$45,000 Android app
$55,000 Ios App
$75,000 Ecommerce to sell, buy and trade good and services on the platform
$100,000 Website available in 5 most common languages around the world.
Additional funding will also allow us to hire and expand our team, introduce more new features and reach more people and organizations. With your support, we can make NewRichWorld a reality and make a positive Change in the World!

The NewRichWorld needs pledging but above all it needs your attention and interest! If you love this product as much as we do then please take a moment to click on one of our social media buttons (Facebook, Twitter and YouTube at right side of the page). Help us spread the word and get things started!
When you share the project on your social media accounts, and send us a screenshot image on Facebook, Instagram and Tweeter, we'll put you on the list to receive a FREE eBook copy of "Inspirational Quotes: 100 quotes to motivate yourself and create your own empowering beliefs"This eBook is designed to give you the extra encouragement you might need to accomplish your goals. In these pages, you will find 100 quotes from different inspiring people including modern celebrities, ancient philosophers, and experts on self-help to give you the wisdom and inspiration so that you can accomplish your goals, no matter if they are big or small. This will be sent to you when the campaign is over.
Risks and Challenges
We have taken the time to get nearly everything in place before launching this campaign. We took the risk up front by delaying the launch of this campaign until we believed it was ready, to lessen the risk to our backers. We have a great team in place so we don't predict many obstacles here. But there is always the unknown. But we will face every obstacle with the same tenacity and perseverance that we have from the start.

Christy "Thao" Nguyen, Founder of the company. As a Visionary Entrepreneur, Christy continued to learn and grow, and invested in different business ventures with one goal in mind: to fulfill her life purpose and to empower others. Christy has BS in Biological Science and Nursing, Advanced Mentor-ships from world class organizations from Anthony Robbins, T. Harv. Eker, Robert Kiyosaki, Ron Legrand, and JT Foxx. Christy is also an active Rotarian at the San Francisco Rotary Club #2.
Paul Dao, is responsible for Technology Development. Paul has MIS (Master of Information Systems) from University of Phoenix. Paul has previously worked for Cisco, Applied Micro, Nortel Networks.
Katya Varbanova, is responsible for helping to build an online community. As a Live Streaming Biz Strategist, Katya has built a successful online community at Peri10k for coaches and consultants. Katya previously studied UK Corporate and Commercial law at Liverpool University
AND, BIG Thank you to all of our team members and supporters' help to make this happen: Thao, Hieu, James, David, Cecile, Trevor, Heidi, James, Brandy, Julia, Osaygi, Tania, Brandy, Olga and many more…

We feel so grateful to everyone who has taken the time to read out campaign and for those who contributed what they could to make a difference and helping us spread the word. We have spent the last few months working hard to bring our vision to life in this campaign and it was worth every minute thanks to all our generous supporters. Please know your efforts, even the smallest, don't go unnoticed. We will continue to keep you posted on what your donation helped us achieve. You are part of our NewRichWorld family.
Thank You!