iCrowdNewswire - Jun 3, 2016
VeggiDome – Happy veggies, Healthy family
Keep Vegetables Fresh On Your Table, 4 to 6 Days.
Introducing the VeggiDome!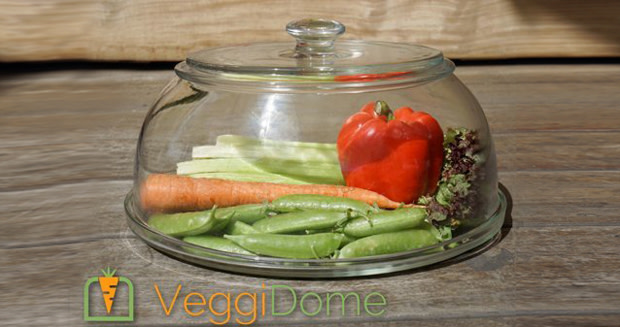 The VeggiDome is an atmospheric dish set designed to keep your washed, trimmed veggies fresh on your table, outside of the refrigerator, for as many as 4 to 6 days. Folks gain an advantage, eat more fresh vegetables, enjoy better health, and reduce their household waste. This inexpensive but elegant glass dome is a remarkable change for kitchens.
The Story of Our Design:
As a father, I always want my kids to eat more fresh vegetables for their health. I invented a way to let them have fresh vegetables anytime they came through the kitchen:
1. Kids (or anyone) can reach in and grab snacks and easily put the lid back on.
2. You can put in a large amount of washed vegetables by filling up the dome through the top.
3. Water vapor created by the veggies remains in the dome, refreshing the veggies for 4 – 6 days and on the table, they get eaten in 2 – 3 days!
The Shape:
Why this shape and size?
1. The VeggiDomes are large enough (12 inches long x 10 inches wide x 6 inches tall) for 2 to 4 days worth of veggies (even though they can last for 4 – 6 days in there) In an active household they get eaten up soon!
2. The oval base plate uses less table space, with more volume inside the Dome, especially with the tall 6 inch height.
3. The oval hole on top is long, making it far easier to place whole carrots, celery, etc. into the dome.
The Material:
My family is serious about health issues, especially in the kitchen. The VeggiDome is therefore made of glass, borosilicate glass, the same type that is used in durable cookware such as Pyrex. There is no lead, no plastic and the design is smooth without lines or crevices, so it can be easily cleaned with a dish sponge.
The VeggiDome has completed a 12-year process to get to this point. The design and materials of the prototype both have been tested, all that remains is to get our VeggiDomes made in quantity, and delivered!
The VeggiDome will keep your vegetables:
Fresh – without refrigeration for 4 to 6 days.
Visible – on your table or counter top.
Easily accessible. Ready to Eat. Delicious.
It also helps you:
Eat Healthier
Lose Weight
Save Money
Reduce Food Waste
How does it work?
The VeggieDome lets you keep fresh veggies out on the table, where they'll get eaten. The three-dish combination protects the vegetables as they emote water vapor continuously. The VeggiDome traps and maintains that water in the air inside, which allows veggies to "drink" moisture from the dome air. The result: they stay replenished and vital, without wilting or going bad.
You waste 30% of the vegetables you buy. Here's how to stop the madness.
Admit it. You have veggies spoiling somewhere your refrigerator right now. On average, 30% of the vegetables we buy become spoiled, forgotten and are thrown out, ($100/month in most households). Nobody likes to see food go to waste. But the fact is, wrapping vegetables in plastic and putting them in the fridge just DOESN'T WORK.
Here's what does: VeggiDome. Groundbreaking patented technology can keep 100% of your veggies in the Dome from going to waste. It's a simple addition to your household. But it creates a huge, positive change in your life.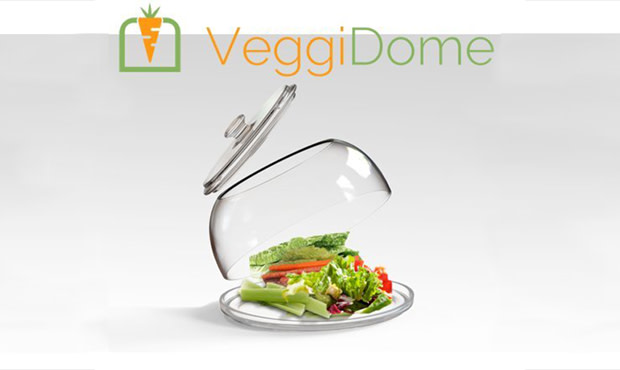 What people are saying about the VeggiDome!
"Thank you for pursuing practical strategies to get children to eat more fresh vegetables. We have a common mission. I commend you for your efforts to get people to eat more minimally processed fruits and vegetables." — William McCarty, Ph.D., Dept Health Policy and Management, UCLA
"The VeggiDome looks great. Makes total sense. We eat what we see." — Jeffrey Babcock, Author, Speaker, Consultant
"My nephew, who usually avoids vegetables, grabs a handful of carrots every snack time from the VeggiDome. It's so much better for him than hitting the candy bowl." — Donald Moore, MHA
Get a VeggiDome today. If we can raise the goal amount of $24,500, we will launch this company, and make a minimum manufacturing run of 4,000 units from the molds that we have, then deliver the first couple thousand VeggiDome units to customers worldwide!
When will I get my VeggiDome?
Our current manufacturing projection is July 2016. We want to make sure that you receive the best possible edition of our amazing product.
"Risks and Challenges" – We know that every business venture has risks and challenges. Making glass dish sets and sending them worldwide by postage is going to have its challenges! We are partnering up with a good friend who has been manufacturing and exporting for over 20 years. She has the knowledge and resources to keep the costs down and she is a perfectionist who demands quality.
Our Mission: We aim to elevate households to a healthier, more dynamic method of storing and presenting fresh vegetables.
Our Team:
Duncan Burns, Inventor and Founder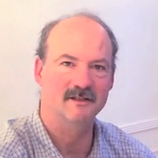 Duncan developed the VeggiDome over a ten-year period simply because he wanted his kids to eat more vegetables! His career background is in the film industry. Lead Editor and Post Supervisor, 30 years. Now, he wishes to share the VeggiDome advantage with sustainable homes around the world!
Eddie Haddad, Co-Founder and CMO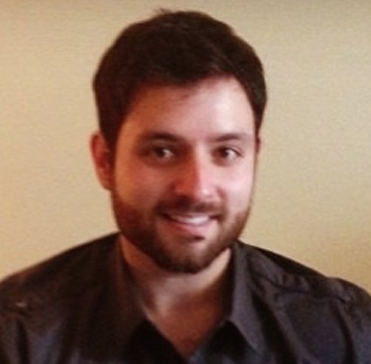 A marketer and also musician, Eddie met Duncan when performing at an inventor's forum about two years ago. Eddie brings social media savvy, marketing prowess, as well as a solid understanding of integrity in business.
Family Way – An Inventor's Tale
I am the dad (to the embarrassment/pride of my children) who would bring veggies to the Bowling alley. All the other parents would bring sliced cheese pizza. I would deliver ten 8-year-olds to Bay Bowling with 5 pounds of washed, trimmed veggies. I would watch that platter of fresh vegetables get eaten up as fast as any bag of chips. Kids eat'em, you just have to have the veggies out on the table.
Inventing at Lunch
I'm always interested in ways to help my two children stay healthy. One day, 11 years ago, I was getting lunch ready in the kitchen and I thought I'd wash a whole pile of fresh vegetables to put on the table for the kids. "What the heck," I boldly piled a large assortment of veggies onto a large plate. The kids smiled at this sight, ate one or two pieces and scattered off. I was left with a whole plate of freshly washed vegetables.
Then I did something that changed the entire kitchen for years. Instead of scooping the fresh vegetables into a plastic bag (which would spoil later in the fridge,) I covered the pile with a clear glass. The glass dome kept the vegetables fresh as just cut, for 3 hours. Then we kept it on the table throughout the week, the kids kept eating new veggies up, and this first design stayed on the table over 8 years!
By buying a Veggidome today you are not just purchasing an elegant, functional addition to your household. You are leading a movement that will help our kids (and Mom's and Dads and loved ones) live a healthier happier and longer life.
By buying more than one, you are giving the gift of health and wellbeing to your friends and neighbors.