iCrowdNewswire - Jun 3, 2016
Marie-Margot Bridal Couture: Ready-to-Wear!
Support Maggie's dream of creating a ready-to-wear bridal collection, inspired by couture quality!
Ready-to-Wear Bridal
Inspired by the Quality of Couture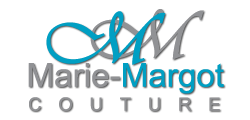 Marie Margot Couture is the proud winner of "Denver's Best Designer, 2016"! Having served Denver-area brides for 6 years, Maggie Burns now dreams of sharing her bridal creations across the United States. Maggie has created an 8-piece, ready to wear collection consisting of the same quality, attention-to-detail, and unconventional styles and colors that define the existing Marie-Margot Bridal Couture brand. Maggie has her eight unique designs for the collection illustrated in her sketchbook, has sewn four of the gowns to show at a recent fashion show, and has secured a trustworthy relationship with a manufacturer. The eight gowns, pictured below, are meant to showcase Maggie's love of unique, non-traditional styles that define her couture business. She has an inspiring story and work ethic, and has everything in place to make her dream a reality– except the financial means to make it come to fruition!
Where will your contribution go?
Maggie's goal is to raise at least $50,000 during this 30 day campaign. Here's where she'll spend the money:
1.) Production, material costs, and shipping of 16 samples for her 8-piece collection. One sample of each gown will be made in a size 2/4 and another in a size 10/12.
2.) Expenses to attend and take orders at the National Bridal Market in Chicago from September 8th- 11th, 2016! These expenses include the booth reservation cost, exhibitor fees, travel, hotel, transportation, marketing materials, sales and marketing expenses, and displays.
3.) Purchasing updated equipment (serger machine, straight-stitch machine, and dress forms) to improve quality & productivity
4.) Funds to manufacture gowns after receiving orders and to continue taking orders from bridal salons across the country and expanding the Marie-Margot Ready-to-Wear bridal collection
The 8 Gowns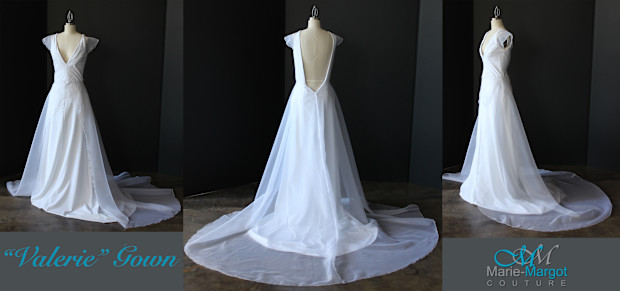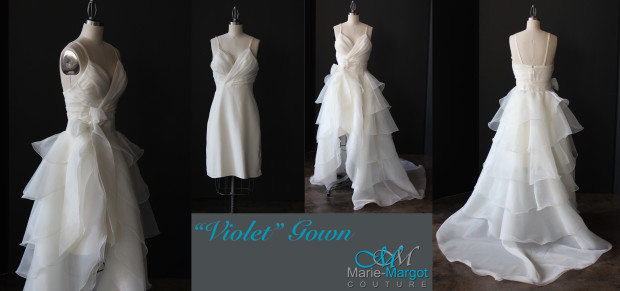 The Violet Gown includes a short dress underneath a removable layered skirt for versatility and a modern twist on a traditional gown.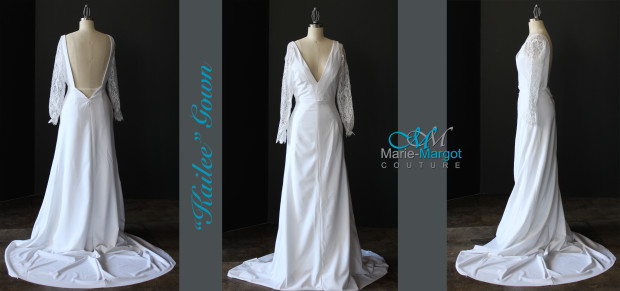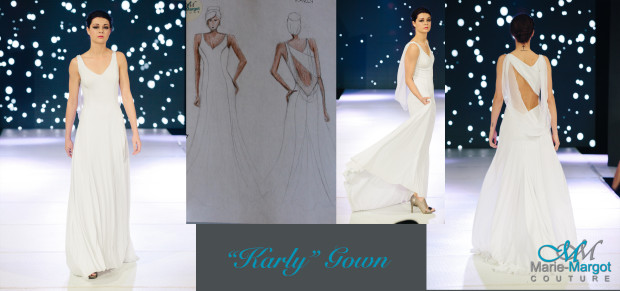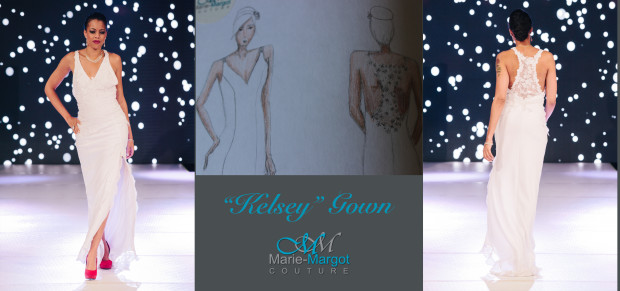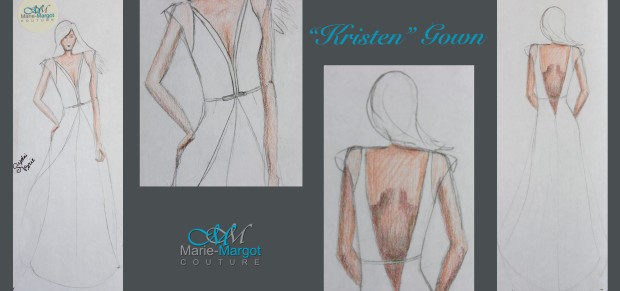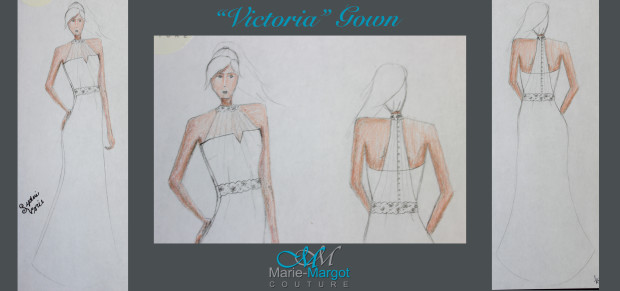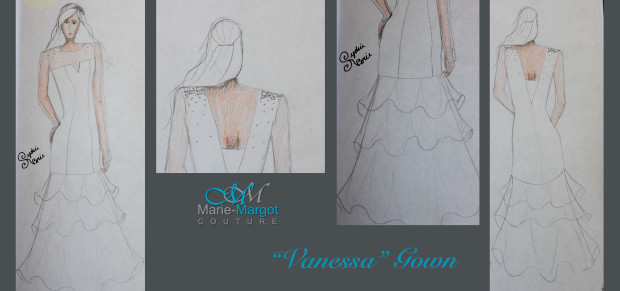 Perks! (Please see Gallery page for images)
Maggie wants to appreciate your generosity! "DayDreams" by Marie-Margot is a day-to-night loungewear collection offering brides (or anyone looking for a modern take on lingerie) the flirty and feminine pieces they desire. Maggie is offering the following rewards from her designs, including pieces from the DayDreams collection. Be sure to view the Gallery page for images of the items.
$30- Lace neck scarf
$75- Brenda trapeze top- blush, black, white
$125- Jamie camisole and shorts set – pink, blue, white
$250- Mandi crop top and Harper Palazzo pants set- black, buff, white
$500- Jamie camisole and shorts set and Brenda trapeze top
$1,000- The next gown in the ready-to-wear collection will be named after you! Your name will become a part of the Marie-Margot brand and legacy.
$3,000- $500 off a custom Marie-Margot Bridal Couture gown designed by Maggie herself!
$5,000- We'll send you one sample of each design in the 8-piece ready-to-wear collection for display and resell in your boutique or bridal salon!
Who is Maggie & Marie-Margot Bridal Couture?
Maggie Burns is a humble, yet extremely talented bridal couture designer whose passion for design has led to her most recent aspiration– the creation of an 8-piece ready-to-wear bridal gown collection with the intent of bringing it to bridal salons everywhere! She wants to bring her unique, unconventional bridal style to brides across the country!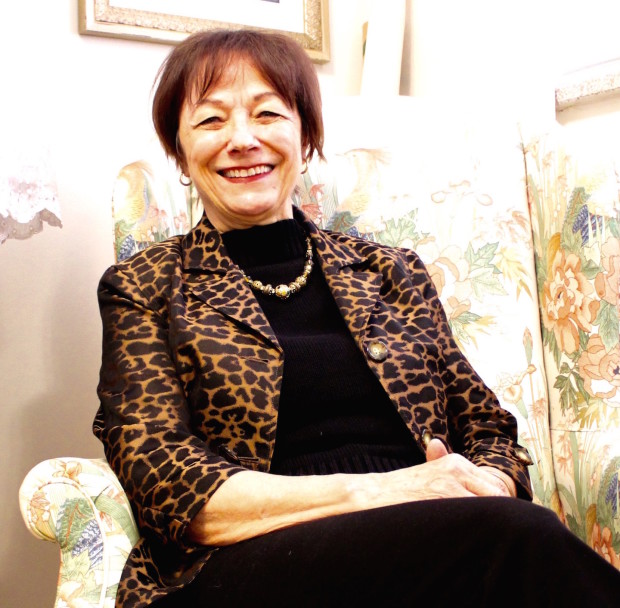 Maggie's experience with couture began at a young age as she grew up inspired by her mother's skillful eye for style and sewing skills. Her mother helped Maggie and her 8 other siblings feel special and look beautiful during their graduation and wedding days by creating handmade gowns for these occasions. Fast forward to Maggie's inspirational decision to retire after years of working in Corporate America and choosing to pursue her lifelong passion of creating bridal gowns for women and helping to make them feel beautiful on such an important day. This translated to owning her own bridal couture business, Marie-Margot Bridal Couture, which didn't take long to catch the eyes of brides across the country.
Aside from numerous compliments from the brides she has created custom couture gowns for, the most recent addition to her ever-growing collection of accolades came from 303 Magazine who named her as Best Designer this past May. Aside from bridal gowns, Maggie has also created two red carpet gowns worn at the Oscars, and has made costumes for the upcoming movie "Dear Eleanor", starring Jessica Alba. She also contributes one custom bridal gown to a needy military family every year. Maggie brings her attention to detail, her admiration of quality fabrics, her inspiration from her mother, and her love of couture to all of the hard work she does everyday.
Additional Information
Manufacturing: Maggie has maintained a trustworthy relationship with the American man who has agreed to manufacture the gowns in large quantities for her out of his family's facility in the Guangdong province in China. This relationship has been standing since 2010 and they have made gowns for Maggie in the past that turned out exactly how she envisioned them!
Fundraising: When our $50,000 goal is met after 30 days, Maggie plans to continue the campaign using InDemand on Indiegogo's platform. This means that even after 30 days, you can still help Maggie's ready-to-wear collection grow. As a first priority, the funds raised will be used to order sample gowns.
Other Ways You Can Help
Just because you may not be able to contribute by donating, that doesn't mean you can't still support the campaign! Help us get the word out and send Maggie some social media love using the following links and platforms:
Utilize Indiegogo's share tools!
Share this campaign with your colleagues, coworkers, peers, friends, and family
Like and share Marie-Margot Bridal Couture's Facebook page and Instagram posts
Email us at info@mariemargot.com and show us you've shared this page on Facebook, Instagram, and Twitter. We'll send you a VIP invitation to the Launch Celebration Party in October 2016!
Thank you for your support of Maggie's dream of making women look and feel beautiful, and for reading about this campaign. She feels very grateful to have contributors like you helping her reach her goal with every penny raised!