iCrowdNewswire - Jun 3, 2016
Anyware: Smart Home Made Easy
Simplified Home Monitoring: All-in-One Connected Device for your Lamp Sockets
Meet the Anyware team in the extended video below, and learn how you can become part of the journey!
A journey where we set out to design a smart home experience that is better than anything else available.
And the destination is the Anyware Smart Adaptor
TM
Start the smart home journey here…
Our journey started when we were screening the market for a product similar to the Anyware Smart Adaptor to automate our own everyday routines around the home. We were certain that someone would have developed such a device before.
It turned out they didn't, and it became the starting point for what is now our true ambition to change the general and justified perception of smart home products as big and bulky, complex to install and complex to use.
As featured in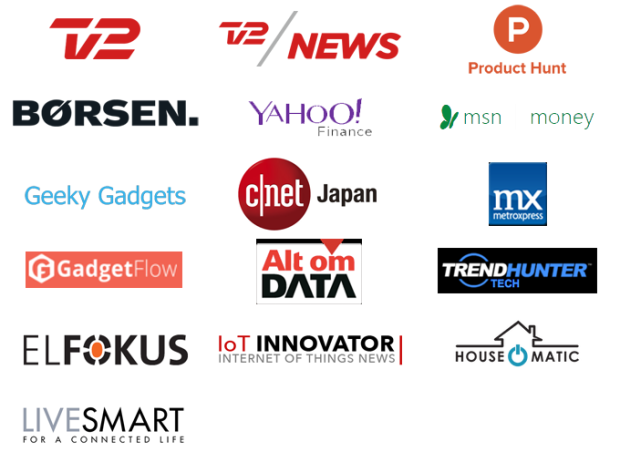 What is the Anyware Smart Adaptor?
With its unique patent-pending design, the Anyware Smart Adaptor™ is the world's smartest and smallest connected lamp socket adaptor designed to provide seamless home automation for everyone. Easy to install and easy to use by all household members.
It offers unprecedented feature richness from advanced lighting control to home monitoring and security, thanks to its built-in ambient light, sound, temperature and humidity sensors.
Why Go Anyware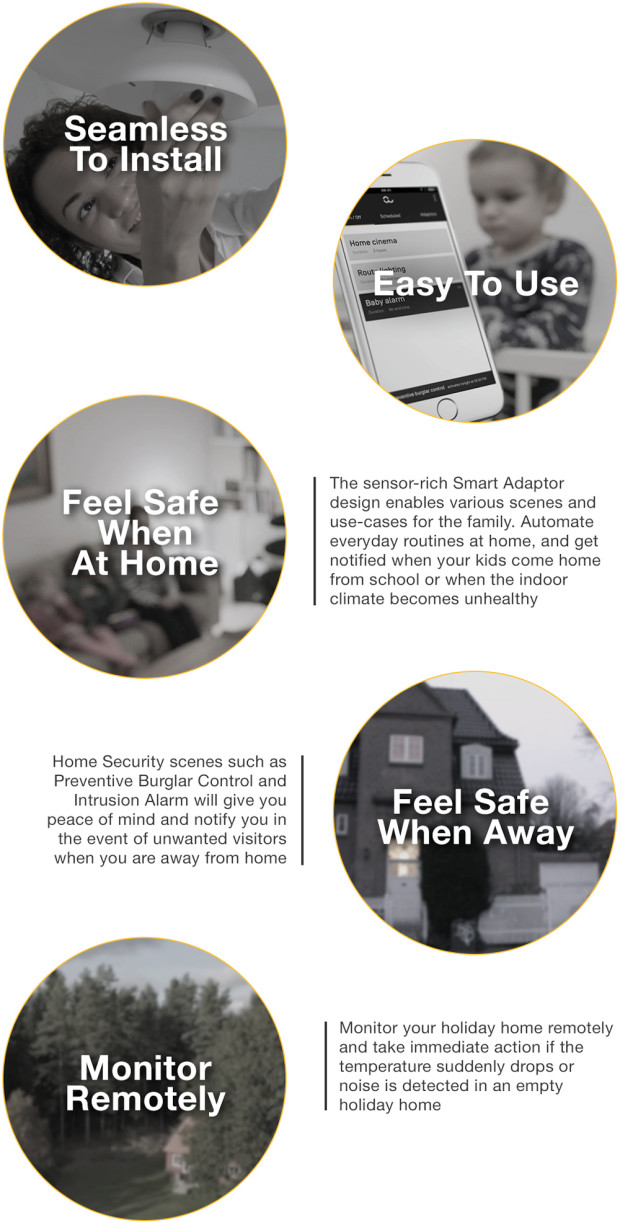 What's new?
Despite not reaching our funding goal on Kickstarter in April, the development of the Anyware Smart Adaptor™ is now secured through a private equity investment into Anyware Solutions.
This is the result of what we consider a successful Kickstarter campaign on practically all other parameters than reaching the funding goal, and it allows us to reduce the funding goal in this Indiegogo campaign.
This is our situation today and the point of departure we can offer you as Backer:
We got proof-of-concept from you guys, our awesome Backers, and many other communities;
We received huge private investor interest, which has led to the current investment;
We got business partners on-board, which is a very important element in our business model and go-to-market strategy.
From a product perspective, we have introduced Bluetooth (BLE) functionality and ramped up on clever software features and learning algorithms.
Whether you are familiar with the Anyware Smart Adaptor™ or meeting it for the first time, we hope you will like this awesome product!
Why it's awesome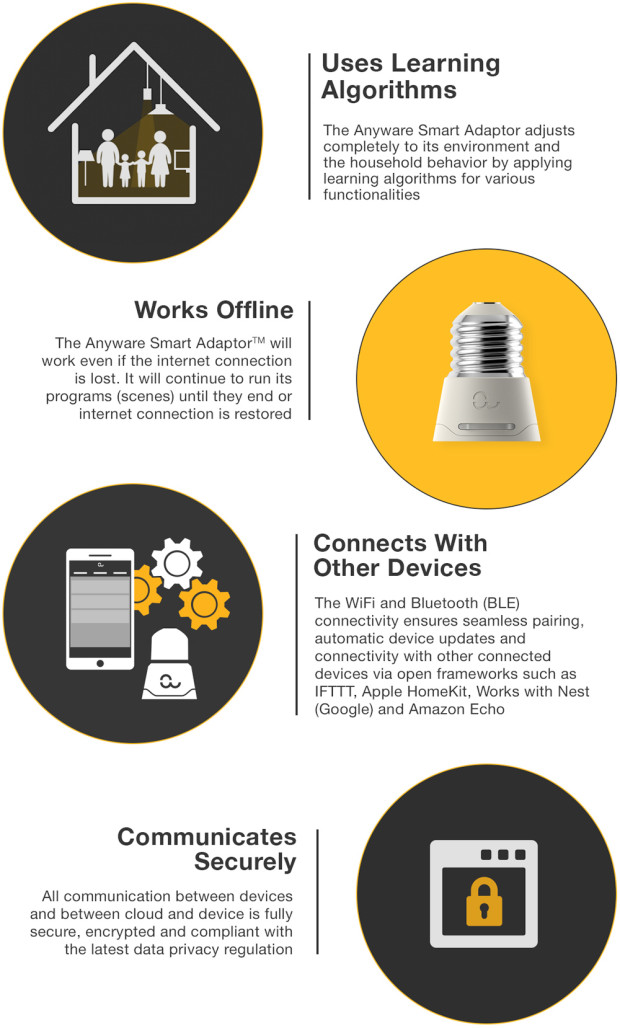 What do you get?
We all know how the small everyday routines around the home can be a hassle. Add to this concerns about your home security, family safety and indoor climate.
Did the kids arrive home from school?
Did we remember to leave some lights on, so that the house looks occupied tonight?
Is the indoor climate healthy throughout our home?
What is the state of our holiday home after the storm last night?
The Anyware Smart Adaptor™ supports these use-cases out-of-the-box: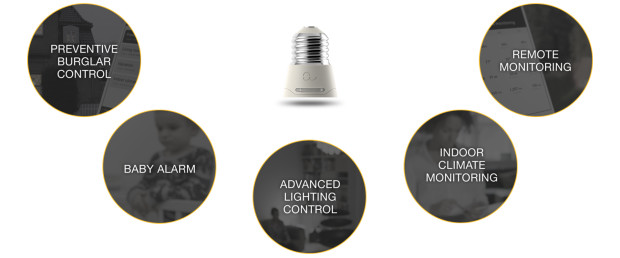 The end of complex smart home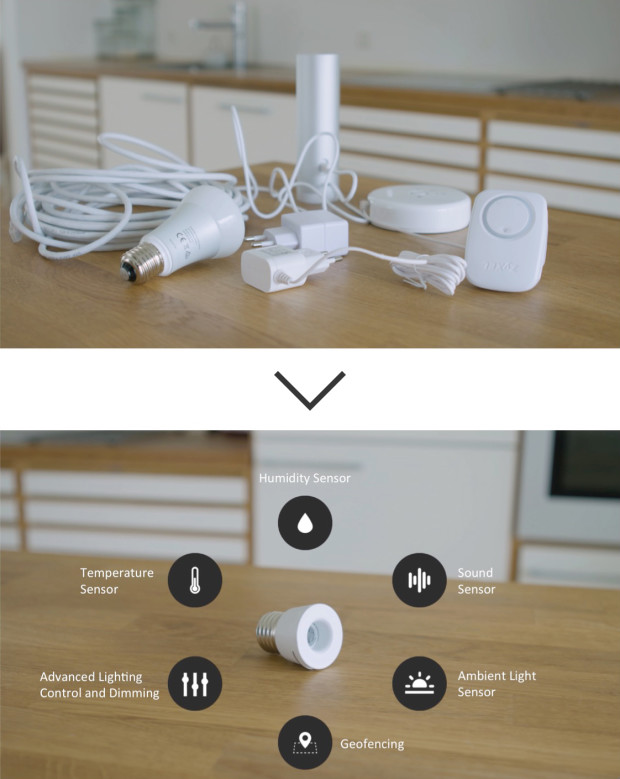 Re-inventing lighting control
In all honesty, we did not intend to design a new lighting control product, but rather to solve the complexity in installation of Connected Devices. However, inevitably the placement of the Anyware Smart Adaptor™ in the lamp socket also makes the Anyware Smart Adaptor™ a smart lighting control device.
However, once we had conceived the concept of a smart adaptor, we wanted to raise the innovation bar compared to Connected Light Bulbs by adding sensors and Bluetooth proximity detection /Beacons to enable unparalleled and meaningful automated scenes for everyday routines and hassles.
How it works
Easy and seamless for everyone – that's how!
And with connectivity openness and API descriptions for all the awesome tech enthusiasts and nerds out there! Here's the building block you have been waiting for.
Seamless to install
Easy to use
Third-party connectivity
In addition to our key design criteria, which apply to the Smart Adaptor and the app design, we have a fundamental philosophy of openess and interoperability to other Connected Devices and systems.
We want the user to be able to use the Anyware Smart Adaptor™ with other smart home devices, and there are several ways of achieving that:
We will release an open API description for partners to interoperate with us
We intend to become part of the IFTTT framework
We design the Anyware Smart Adaptor™ and app to be compatible with Apple Home Kit
We will pursue dialogue with leading smart home players such as Nest, Amazon Echo andSmartThings to create seamless interoperability with their products (specific API integration)
Help us realize this awesome product
We believe that smart home products must eliminate the barriers to adoption (big and bulky, complex to install and complex to use), and add meaningful functionality together with seamless smart home experiences out of the box!
If you agree in this vision, please help us realize the Anyware Smart Adaptor by pledging and sharing this link.
Timeline and status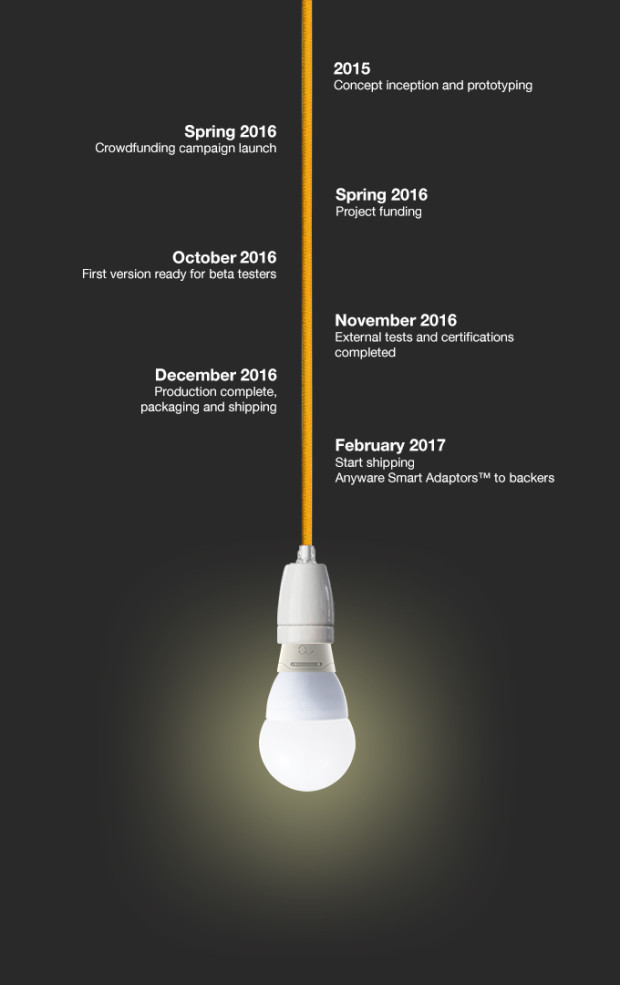 Stretch goals
We have defined the following stretch goals for this campaign, which builds on the advanced software and learning algorithm capabilities of the Anyware solution.
Stretch Goal #1 : $60,000
Preventive Burglar Control functionality based on learning algorithms ('mimic behaviour')
Stretch Goal #2: $90,000
Personalized room-specific scene functionality based on and Bluetooth proximity detection / Beacons
Product Design
Product Spec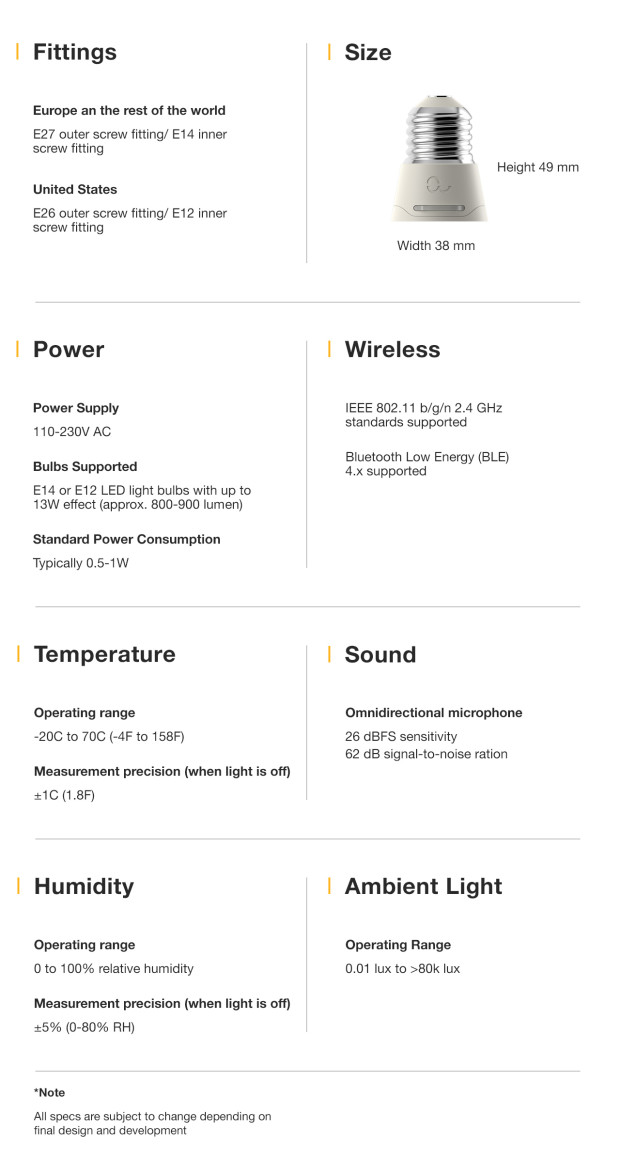 About Anyware Solutions
Anyware Solutions was established in 2015 with the ambition of delivering game-changing smart home experiences for everyone.
We focus on delivering meaningful solutions for connected living that offer users peace of mind and add convenience to everyday life.
The Anyware Smart Adaptor™ project team is very experienced, and has successfully brought to market hundreds of products with similar levels of complexity.
The Team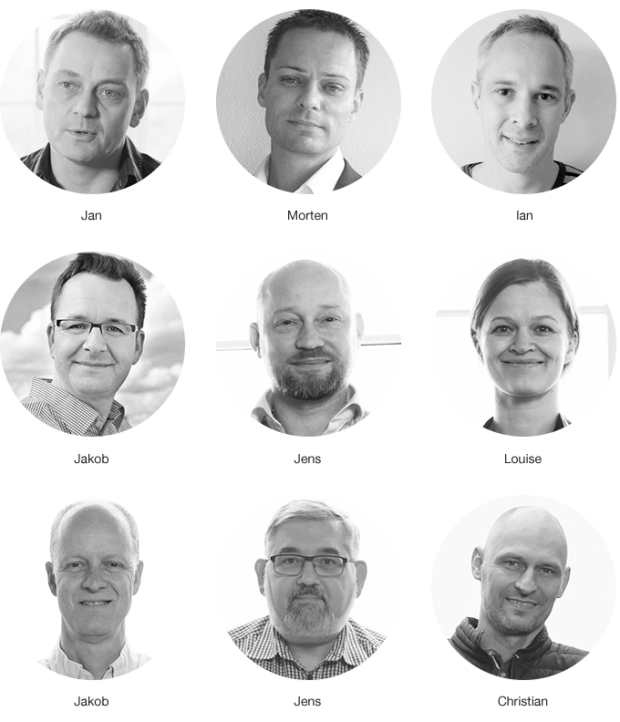 Social media links
Stay up-to-date about our business and progress by following us on these social media pages:
Facebook: https://www.facebook.com/anyware.solutions
LinkedIn: https://www.linkedin.com/company/anywaresolutions
Twitter: https://twitter.com/anyware_now
Sign up here to receive news from us beyond our Indiegogo campaign.
Press and media
Are you a member of the press or media? We will happily share more information on the project and our company. Please direct your inquiries to:
press@anyware.solutions
Twitter: @Anyware_Now
Download images in our press kit here.
Link to original press release.
Shipping and VAT
We ship to most countries in the world. The shipping rates vary depending on the destination. Please check your shipping rate in the checkout process.
If you live outside the EU region, VAT is not an issue and you do not have to worry about it.
However since our company is based in Denmark we have to charge 25% VAT on all private purchases made by EU residents.
On Indiegogo there is no better approach today than to charge VAT together with the shipping fee upon checkout, so we do that.
FAQ
Q: Has a smart adaptor not already been developed?
A: We are not the first to announce a retrofit lamp socket adaptor that can be controlled wirelessly. But we are the first to announce a retrofit lamp socket adaptor that combines light dimming capabilities with climate, sound and light sensing capabilities – and certainly in such a small form factor. And on a similar note, we are the first to announce an app and a cloud solution that leverage these multi functions in a seamless all-in-one solution.
Q: Where can I get E14/E12 LED light bulbs?
A: E14/E12 light bulbs are widely available today, and can be shopped on Amazon, in any IKEA store or at a lighting retailer. These light bulb types are typically available next to the larger E27/E26 light bulbs.
Q: Do E14/E12 LED light bulbs emit enough light?
A: Yes, today's E14/E12 LED light bulbs can emit enough light for most purposes. It's fairly easy to find E14/E12 LED bulbs that emit over 600 lumens.
Q: How will you know where to ship my perk?
We will send a survey to all backers once our initial funding period on Indiegogo has officially ended requesting all necessary information for shipping your perks to you (i.e. which Smart Adaptor variant E26/E12 or E27/E14 and your ship-to address etc.).
Q: How durable is the Anyware Smart Adaptor?
A: Our Smart Adaptor is designed to be used and to last for a long time, both mechanically and electronically.
Q: Is the communication secure?
A: Yes, we're very focused on ensuring a high level of security in our solution communication. The Anyware Smart Adaptor supports and uses common encryption standards both locally and to/from the cloud.
Q: Will you make an API for developers?
A: Yes, that's our plan! Send a mail to developer@anyware.solutions and we will contact you after our Indiegogo campaign has ended.
Q: How many Anyware Smart AdaptorTM can be controlled individually from the app? And can they be managed in groups?
A: In principle there are no limitations to the number of Anyware Smart Adaptors you can control from the app. And yes you can control they in groups as well.
Your WiFi router is going to be the limiting factor for how many Anyware Smart Adaptors you can control on one location. Many modern WiFi routers support more than 50 wireless clients however, so in practice this is probably a non-issue to most people.
Q: What type of dimming method will the Anyware Smart Adaptor use?
A: We have had best experience and dimming results with leading phase dimming in our work so far and with the array of LED bulbs we have worked with.
Q: Will the Anyware Smart Adaptor work together with another / a wall dimmer?
A: Yes it will. You just can't dim using both at the same time.