iCrowdNewswire - Jun 2, 2016
Clean water for Cambodia
By Sustainable Communities Cambodia – RAWCS
As Winston Churchill would say "We make a living by what we get, but we make a life by what we give." Please donate to our campaign now and help us to change lives.
Clean Water For Cambodia
Sustainable Communities Cambodia is working to provide sustainable clean drinking water and agricultural solutions for over 4,000 people across three villages in an impoverished rural area in the north of Cambodia.
Please click the play button situated in the middle of the image above to learn more about this exciting humanitarian project.
Little Maly has just turned 4, she struggles with chronic diarrhea and dehydration. Her village water supply is compromised; it's dirty and full of bacteria which causes life threatening diseases like cholera and typhoid. Sadly, 1 in 6 children don't survive to see their 5th birthday.
There is no work in the village for her dad, so he works illegally in Thailand, often spending all his wages on medicine to save his sick family.
Australian children are fortunate they don't face these challenges, but imagine if they did! You would want others to help too.
Brighton Rotary's – Sustainable Communities Cambodia pilot program in a similar village in another part of Rural Cambodia changed the lives of 800 people forever by providing access to clean water.
By teaching the villagers better farming practices, they now have the ability to not only feed their families, but also to sell their produce at the local market. This increase in well being has enabled them to get their children to school where they previously weren't able.
You can help us to make a difference to Maly and the children of her village.
For an insight into the pilot work successfully completed on this project please go to our Facebook pagehttps://www.facebook.com/Sustainable-Communities-C…

Every dollar goes directly to the cause
We need to raise $100,000 – that we hope to double with a matching grant – to reach our target of solving the clean water problem for these four villages.
As Sustainable Communities Cambodia is a Rotary Charity program, and Rotarian's are self funded volunteers who all give their time freely and pay their own way, you can be assured that every dollar you donate goes to the cause.
Any excess funds raised will be used by Sustainable Communities Cambodia to assist with sustainable water and agriculture solutions in other impoverished communities throughout Cambodia.
Choose an impact level that suits you;
We don't need to spend a fortune to make a big difference in the lives of those less fortunate than us, we hope that you can do what you can to help. Simply choose an impact level and use the 'Impact Level' buttons which appear on the right of the page when you scroll to the top to make your donation.
$20 – Help them Learn
This will pay for a solar powered 'moonlight', which will allow a child to study into the evening every night, where this otherwise wouldn't be possible as there is no power or lighting in the villages.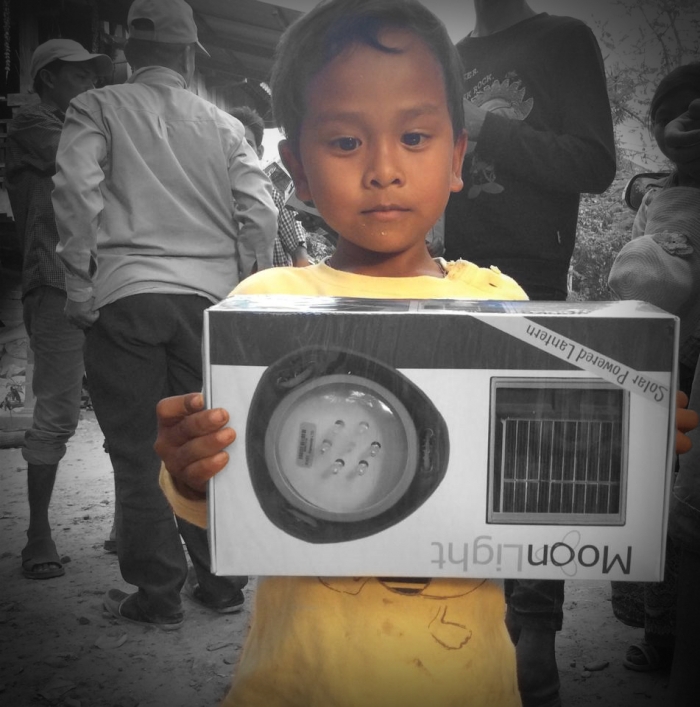 $60 – Keep them Healthy
This will purchase the materials required to construct a household 'bio-sand' water filter. This will filter bacteria out of contaminated ground water sources to make the water safe to drink, also for cooking, cleaning, washing hands and brushing teeth, helping reduce sickness and keep the people healthy. Each filter should last 25+ years, leaving a lasting and sustainable impact!
$600 – Help a Family For Life
This will pay for the construction of a rainwater harvesting tank which is dug deep into the ground and collects clean rainwater through the wet season. A tank like this can be used for a family, a school or for a community group of people where there is no access to groundwater sources.
$1,200 – Help Feed Them
This will purchase a petrol powered water pump and hoses to be used for irrigating crops all year round, helping to kickstart a sustainable farming program for some of the villagers to grow food to eat and sell at local markets.
$7,000 – Help Feed a Whole Village
This will be used to help kick start one community's agriculture program. This includes the digging of part of a channel for irrigating crops.
When the local people are able to use their land for growing crops to eat and sell, this will help keep families together as it will mean more of the men can work in the village, meaning they will no longer need to make the dangerous and often fatal journey over the Thai border to do illegal construction work in an effort to try to feed their families.
---
(RAWCS) Rotary Australia World Community Service
The project is registered with RAWCS (Rotary Australia World Community Service). For more information, or to access the tax deductible RAWCS donation page please click here:http://directory.rawcs.com.au/ProjectDisplay.aspx?…
Any person or company that donates over $100 and would like an official RAWCS receipt, please don't hesitate to send us an email and we will provide this approximately one week after the campaign end.
---
This project is the legacy of the the late Gerhard Somner's Clean Water Project. Gerhard was a Paul Harris Fellow and member of the Rotary Club of Brighton, Melbourne, Australia. May his legacy live on.
---
See the video……
In case you missed the link on the top of the page, check out the video on the link below to learn more about the project;
---