iCrowdNewswire - May 26, 2016
Orbii: A Mobile Home Security Robot with HD Video
It's not just for fun: it monitors home security, integrates with smart devices & much, much more.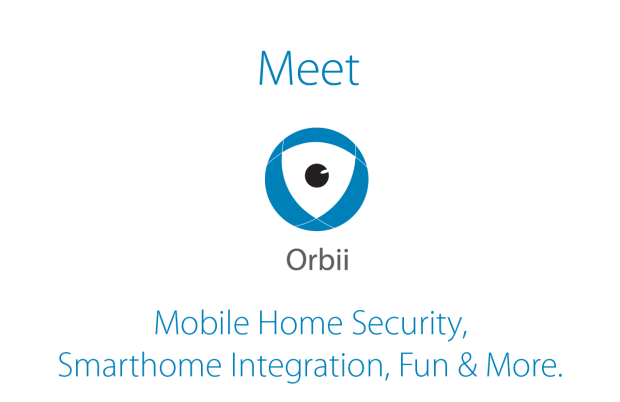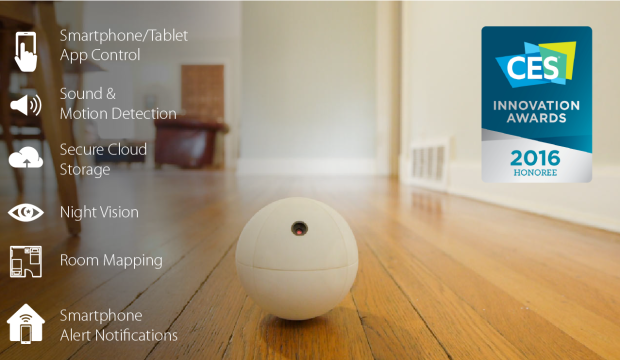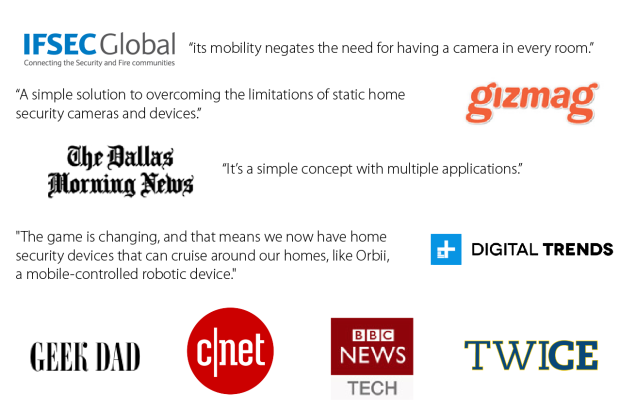 Using advanced positioning sensors including a gyroscope, accelerometer, and magnetometer, Orbii can tell where it's camera is pointing. The camera will only stream video when it is facing the direction of travel or sitting stationary.

Orbii's drive module moves by shifting its center of gravity like a hamster in a ball, rolling in any direction with accuracy and precision.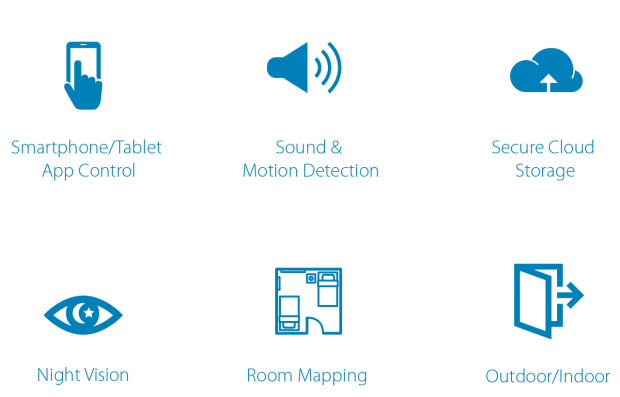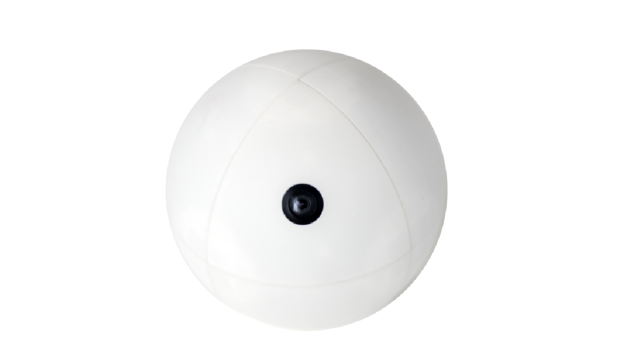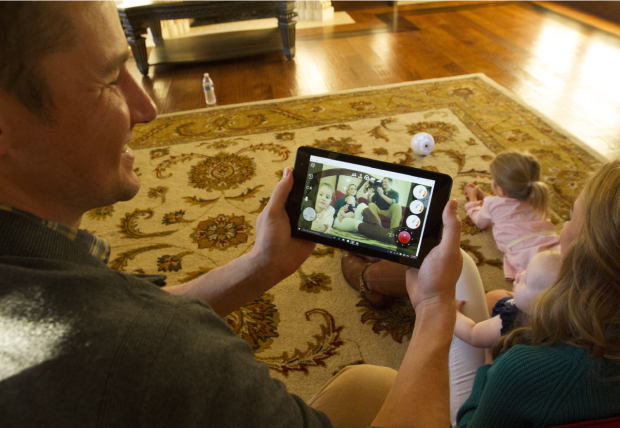 Control Orbii through any smartphone or tablet. The app features simple joystick controls, live streaming video, real time notifications, sensor data readings, and access to both locally and cloud stored video footage.

If Orbii detects any sound or motion beyond a certain threshold set by you, it will alert you via text message or push notification and record a 30 second video automatically. Orbii can tell the difference between humans, pets, and general motion, and can be taught to recognize sounds like smoke alarms, glass breaking, or a baby crying.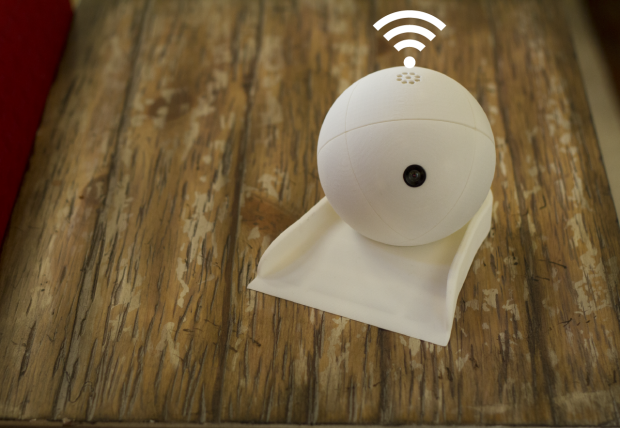 Orbii has 8 hours of on-board memory for recording audio and video streams and environmental data. Opt in to the cloud storage subscription plan, and you will be able to keep your data on our secure servers for up to 30 days.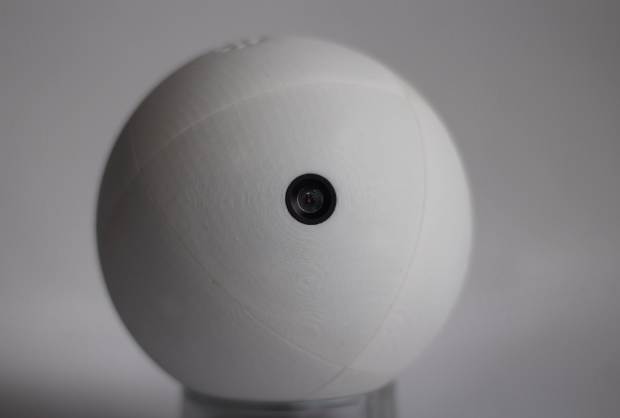 Orbii's standard camera is excellent in low light situations. An upgraded camera ringed with infra-red LEDs will be available, allowing clear night vision in complete darkness.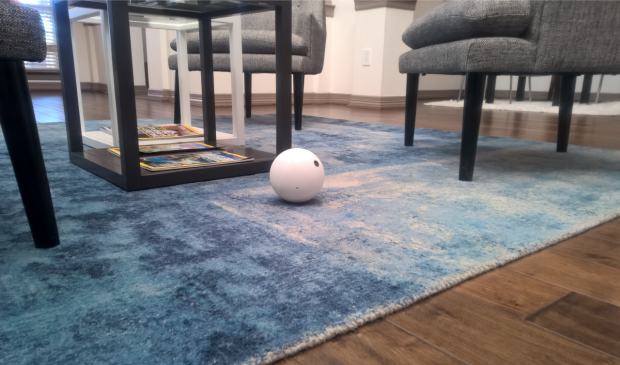 Orbii will be able to use its position sensors to map your home or office as you drive it around. Once a map has been created, the user will be able to tell Orbii to travel anywhere on it—or patrol the entire home—completely autonomously.

Orbii is made of high density Poly carbonate, a durable, wear resistant material that is resistant to small shocks and other forms of damage. While Orbii is primarily intended as an indoor device, it is fully capable of outdoor operation.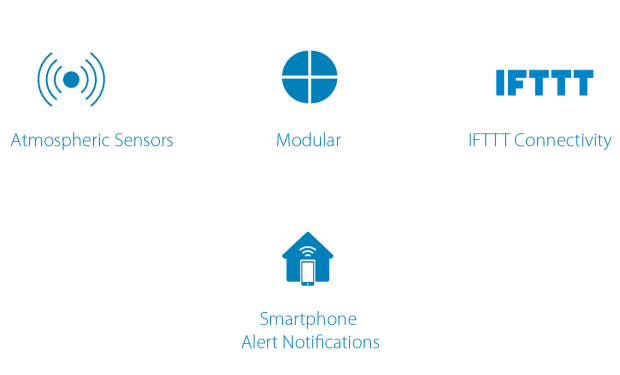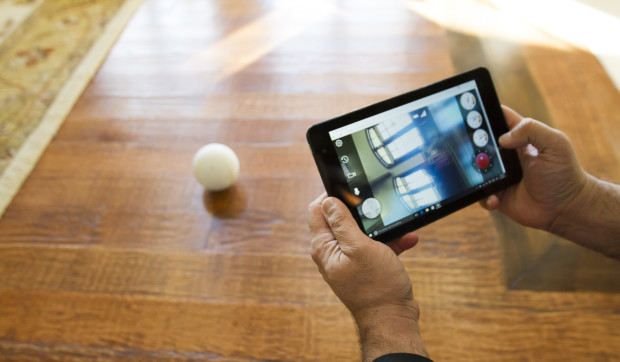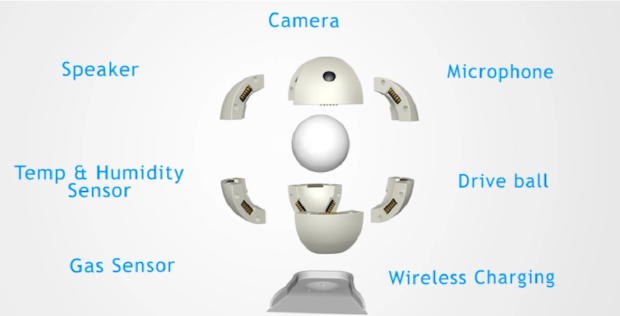 Orbii can be upgraded with atmospheric sensors capable of measuring temperature, humidity, carbon monoxide levels, air quality, air pressure, and volatile organic compounds.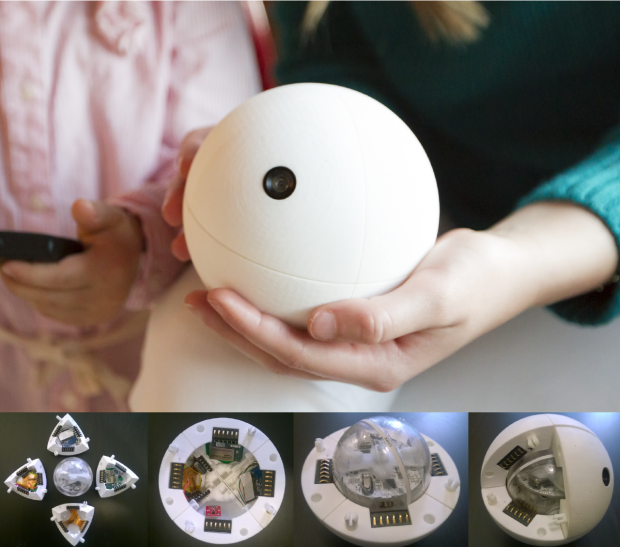 Orbii's outer shell breaks down into 8 separate module sections. Users will be able to install module upgrades like a thermal camera, environmental sensors, Infra Red emmiters, and even a laser pointer.

Orbii will integrate with other If This Then That capable devices. That means any device in your smart home can by synced up with Orbii to coordinate all the tasks important to your daily home life.

Orbii will push notifications to your phone for any of the devices to which it is connected, in addition to it's own notifications for sound and motion detection.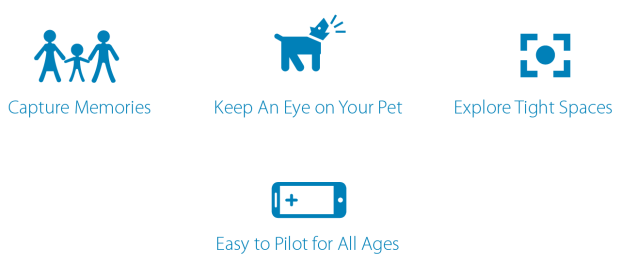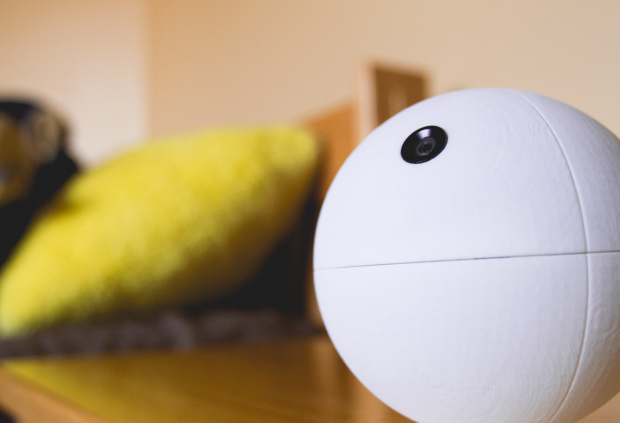 Orbii's camera and remote drivability make it a perfect device for capturing memories with your loved ones. Capture memories with family, friends and pets and store them on the cloud.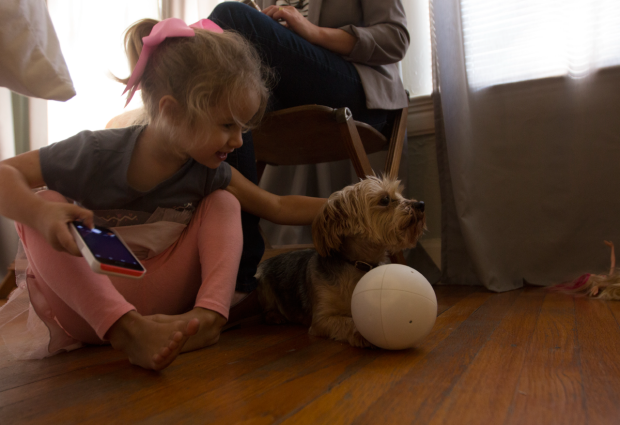 Is your favorite pet prone to boughts of naughtiness? Keep an eye on them with Orbii! Youll be able to hear and see everything they do, and can scare them off if they go somewhere they are not supposed to be.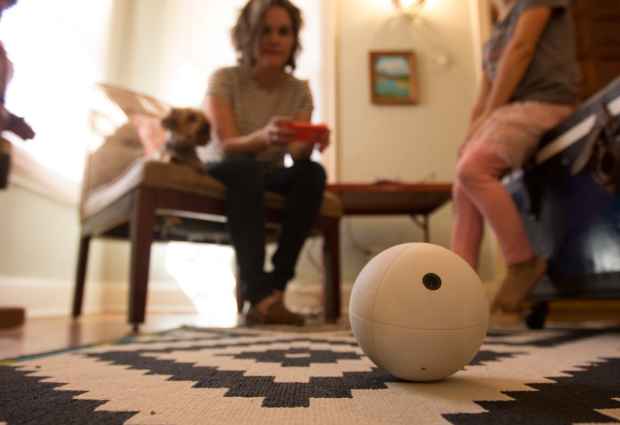 Hear a scary noise under the porch? Check it out with Orbii. Explore crawl spaces, check for lost items behind furniture, see parts of your home you've never been able to reach. Orbii can act as your own personal home inspector – send it into dangerous areas to scope things out.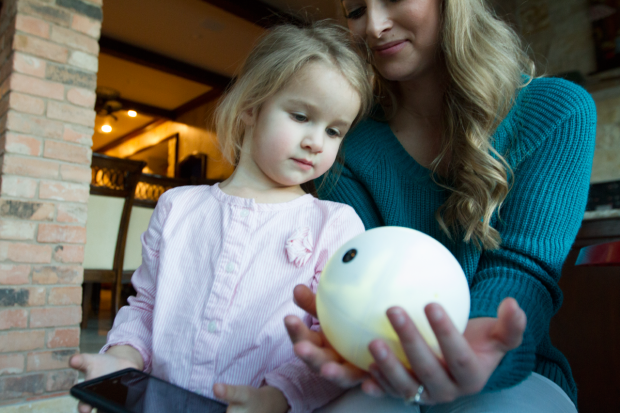 Orbii uses a simple control scheme. A joystick controls the motion in any direction, while the directional pad pans the camera.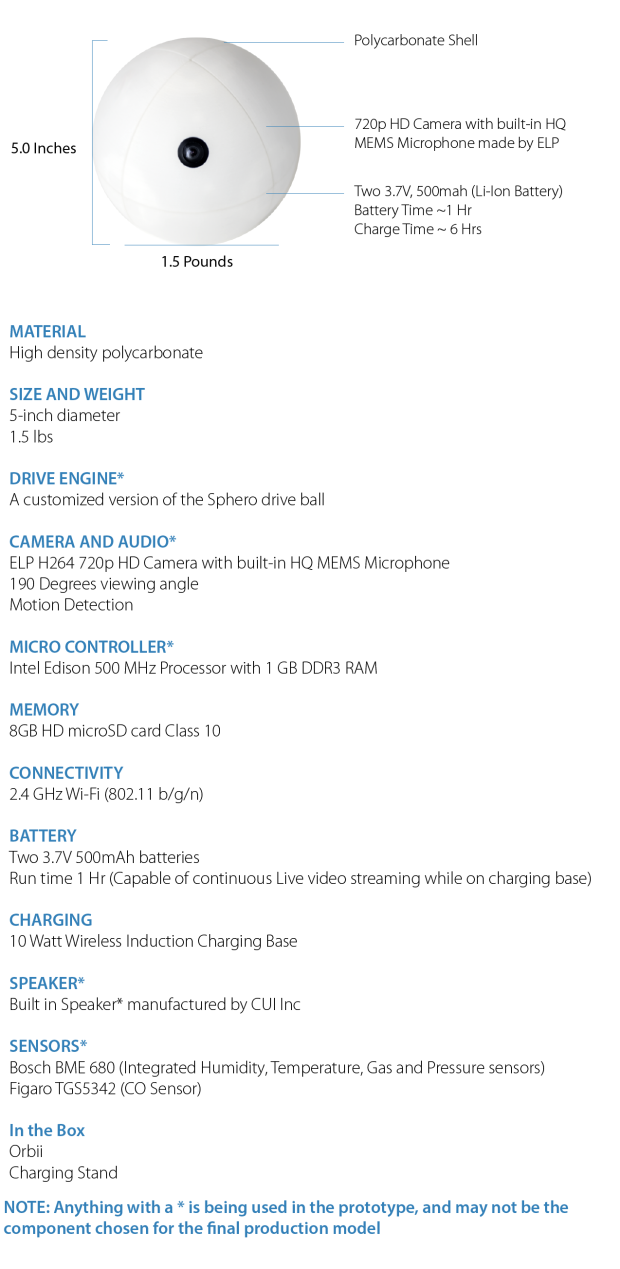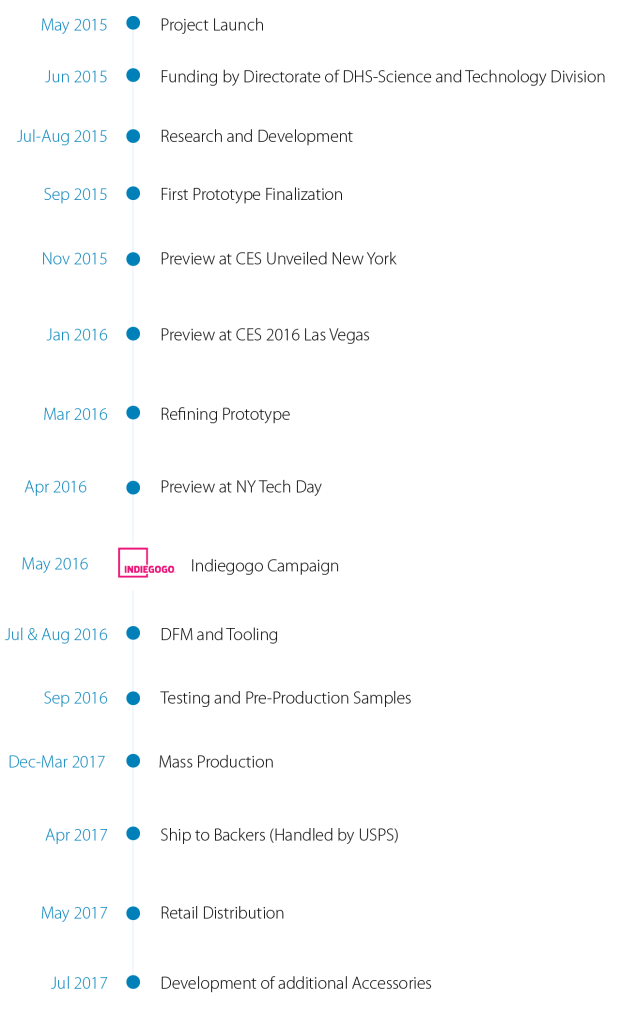 When researching home security cameras, Orbii's creators noticed a flaw in the market – current cameras are limited in viewing angle, coverage, and most importantly mobility. All of the available offerings require the buyer to purchase multiple cameras to set up all around their home. And so the idea for Orbii was born: a driveable, internet connected camera that a user can drive from room to room for a cost effective home security solution.
While the Orbii was in early development, the team was approached by first responders. They loved the idea behind the Orbii, but were looking more specifically for a remotely controlled environmental monitoring solution for Fire Fighters, Police, and Hazmat teams to use during rescue operations. So the Orbii team designed a modular sphere with interchangeable panels that can be upgraded to include environmental and atmospheric sensors, letting first responders drive it into dangerous sites and obtain situational awareness. This campaign will fund the consumer version, which can later be adapted into a lifesaving commercial version.



Can I connect to and control my Orbii from anywhere?
In a word, yes. Whether you are across the street or across the country, provided you have the password you can connect from any mobile device or computer.
Can Orbii go upstairs or downstairs?
No, you will need one Orbii for each floor of your residence. However, think of other cameras on the market; you'll need one in every room, on each floor, for the kind of coverage you can get with just one Orbii per floor!
How does Orbii drive and move?
Orbii moves by shifting its internal center of gravity, like a hamster in a hamster ball. A central sphere contains omni-directional drive motors that will shift the sphere in any direction with precise control and surprising agility.

How much is the drive time on a single charge?
Orbii will be able to drive and record data for 1 hour on a single charge. While sitting on its charging dock, Orbii can pan, tilt and stream both video and data for an uinlimited amount of time.
What is the camera resolution on Orbii?
Orbii is equipped with a 720p High Definition camera with an integrated microphone
When driving, how does the video remain steady?
Orbii is equipped with Gyro Accelerometer and Magnetometer sensors. These sensors communicate with the camera to tell it when to stream frames or video. The Camera will only stream video when the lens is facing in the direction of travel. When Orbii is stationary or panning, the camera streams video at 30 frames per second.
What is stopping someone from using my Orbii to spy on me in my own home?
Orbii utilizes tokens and keys to further secure encrypted data transfer between the device and the cloud. Other users will not be able to use your Orbii or access your files.
I already have a security system, why do I need this?
Security sensors are only able to detect breaches in your home's perimeter (doors, windows, ect.), and traditional security cameras can only cover the room into which they are installed. Orbii is able move around the interior of your home, and detect threats your security system would otherwise miss.
Is Orbii meant to replace my security system?
Not right now. Orbii at this stage of development is intended to augment existing security, or provide a degree of security for those who cannot afford a full, modern home security system.
What happens if my Orbii stops working or breaks?
Every Orbii comes with 1 year limited warranty for any manufacturing defaults. Any type of accidental damage will not be covered under the warranty. In case of problems or issues you can contact our customer service department and they will be happy to assist you.
Can multiple devices connect to Orbii?
Yes, any user equipped with the password can connect to Orbii at any time.
Can Orbii operate outdoors?
Yes it can! Orbii operates more effectively on smooth surfaces, but it has can roll on paved surface or short grass. Please don't take Orbii off-roading or swimming.
How will Orbii receive software updates?
Once an update is available, it will pushed via WiFi to each device from our servers automatically.
What comes default on Orbii? How do I purchase other modules?
The basic Orbii model includes an HD camera and microphone. As they become available, a speaker, additional sensors and attachments will either be added to your perk package, become available for purchase on our website, or both.
Does Orbii record the video it streams to my phone?
Yes. Orbii will record video while it is being driven and store it in internal storage, or to our cloud server.
How do I access archived video that my Orbii has recorded?
You will be able to use the app to access locally stored video footage, and If you have a monthly subscription plan with us you may store your video on a cloud server, also accessed through the Orbii application.
What do I do if Orbii gets dirty?
It is advisable to clean Orbii occasionally with a damp cloth.
How much is shipping and handling?
Domestic shipping and handling will be free via USPS Priority Mail
International shipping and handling for a single Orbii unit costs as below via USPS First Class Mail
Canada = $20
UK, Australia, Japan = $30
EU = $35
Rest of World = $40
How much storage capacity does Orbii have for recorded footage?
At maximum video resolution, Orbii can record up to 8 hours of data on local storage. Videos are recorded in 30 seconds chunks initialized by triggers like motion or loud noises. If Orbii is left on to observe and record in away mode, it will record 8 hours of footage, and then begin overwriting from beginning.
Is Orbii pet-proof?
Orbii is made of high density Poly carbonate, which is resistant to pets using it as a chew toy, and also water resistant
How loud is the Orbii speaker? Can the volume be adjusted? If so, to what range?
The orbii speaker will be loud enough to be easily heard in a relatively quiet room. Volume will be adjustable from the app settings screen.
Can the Camera detect anomalies in the dark?
Orbii's camera is excellent in low-light situations. We are also working on adding a night vision-capable camera to the basic model, which will be equipped with IR LEDs around the lens to enable streaming video in complete darkness.