iCrowdNewswire - May 26, 2016
Invisible CROWN – Grooming CONFIDENCE and TALENT
Help us create a beautiful haven to nurture Talent,CONFIDENCE & Character in Children/Teens in Kenya
The Arts are coming alive in Africa and you can help us make Magic happen!
At Invisible Crown we believe that confidence may be the most important attribute one can have. With confidence other attributes come ALIVE! and one person with the right amount of confidence can CHANGE the world!
At Invisible Crown, we believe that confidence can be nurtured especially through the ARTS!
WE use Music , Dance and Theatre to nurture Confidence and Talent in EQUAL measure.
We start training at the tender age of 4 years and continue to do so even above 18 Years.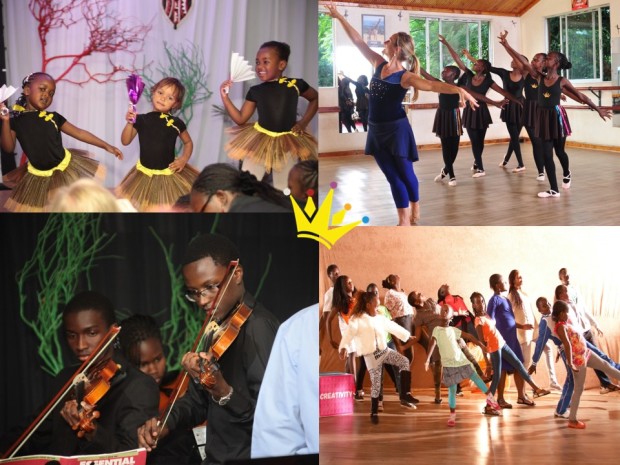 The Arts industry in East Africa needs us!
We emphasis in early talent development because that is what makes an overall great talented performer.
We attempt to improve the perception around the Arts in East Africa. That through the Arts, Talent is built whilst still developing certain VERY IMPORTANT attributes.Discipline, Courage , Poise, Creativity and Self-assurance. ALL ATTRIBUTES of a CONFIDENT individual!

Attributes that seep deep into other aspects of our lives determining how successful we become in FUTURE.
At Invisible Crown We nurture this qualities using the ARTS and our SPECIALIZED Crown Program!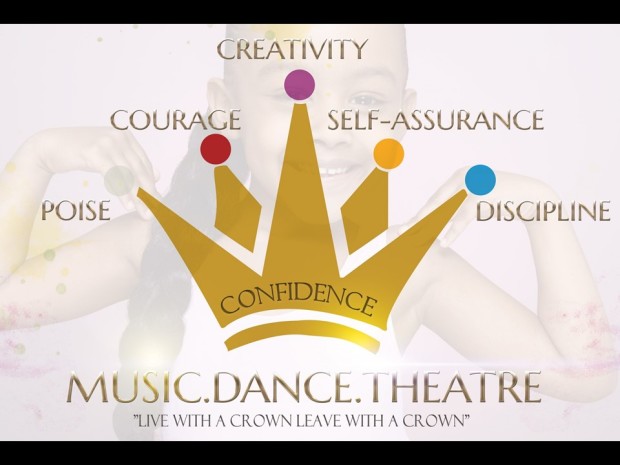 HOW CAN YOU HELP?
We have successfully launched the Crown training program and sparked deep interest in the Arts here in Kenya. Our resources for the past 6 Years have been channeled towards this process. Educating the masses. We now want to build the1st Arts Academy of its kind in East Africa! and you could be a part of this process.
We have very slowly raised some income to develop the program, hire qualified instructors and buy some equipment. But we are now at a crossroads….We have space that simply does not work and a large number of students waiting to enroll. Our challenges are mostly centered around adequate space and the high cost of real estate in Nairobi has stifled our efforts. We have even had to improvise and use Tents for the Music training which affects output in many ways.
What we need to Rump Up:
Space- 6000 Sq Ft.
Dance Flooring and Portable Housing
Partitioning of the space
Lease and City council fees
Additional Training equipment – Pianos, Guitars, Violins, Flutes, Drums
Books and material for music training.
Crown Trophies.
Distributions of the Crown training manual to other trainers in remote parts of Kenya.
We are putting out a production slated for October 2016 that will see a lot of talent showcased from all walks of life. Having a great practice space for all the Art forms would help tremendously.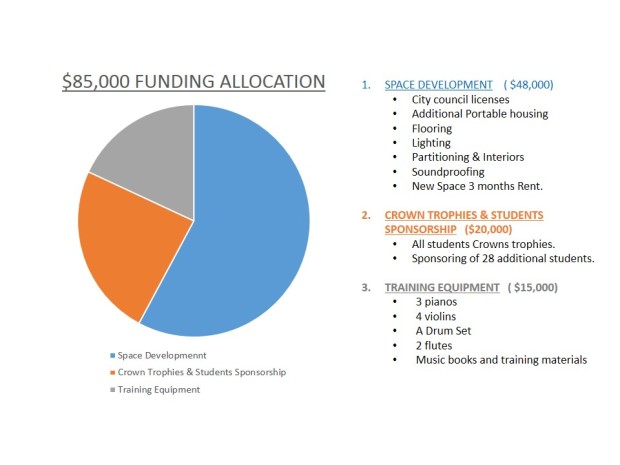 $85,000USD will give us a solid boost in accomplishing a lot of what we have started and are now stuck on due to funds.
We would set up the space within a MONTH as we have identified A good neighboring space we can set up the center.
THE MAGNITUDE OF YOUR HELP
We can sponsor more students. We have currently sponsored 52 students into our programs. We can hold more auditions and enroll more talent.
You would help us build the Arts industry in Kenya and Africa.
Help us develop TALENT in students with a healthy sense of CONFIDENCE. *Knowing that confidence can MAKE you! *
Our for our BIG PERK for our great supporters includes a visit to our new Academy and A Safari at the Maasai Mara to boot! We will also send our supporters a video with a virtual tour, with some performances , a class in session and much more. You will be part of the joy of this project! We want you to see what you have helped develop! How about a thank you video and card from the beautiful young ones!
BECAUSE YOU WILL HAVE GIVEN A CHILD …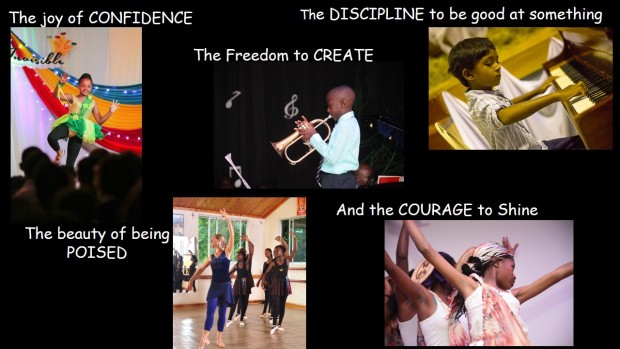 Our Risks & Challenges
We will need to advertise the new location and space. We take on the challenge of advertising. For this we can get support from local media houses.
We have 7 years experience in the Arts industry and we have learnt to handle a lot of curve balls and hurdles. Our biggest hurdle at the moment is Space and funds.
Once we receive a financial boost, we plan on continuing to grow and to put up more branches. To build more Talented individuals with Great character as a major *Perk* 🙂
THANK YOU FOR HOLDING OUR HAND IN THIS PROCESS…
'Grooming Talent and Confidence in EQUAL measure'
Meet some of our Trainers.