iCrowdNewswire - May 26, 2016
Inspired Imprints Flip Flops by WordUP!
Walks on the Beach will
Never be the Same!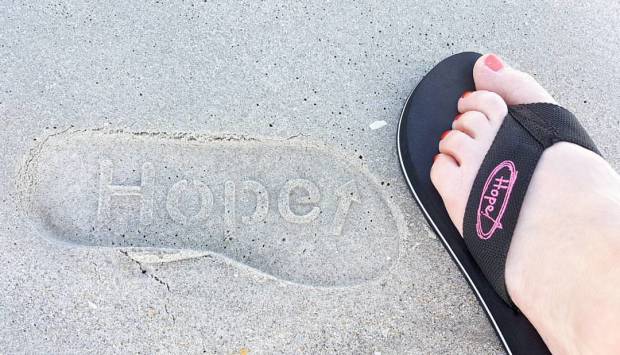 Introducing Inspired Imprints™ the first flip flops designed to spread positivity and optimism, one step at a time. The patent pending design places inspiring words into the bottom of your flip flops, leaving a trail as you walk along the beach or soft ground. Love, Laugh, Hope, Believe and Dream; the reaction of beach goers seeing the words imprinted in the sand is priceless!
WordUp!® is a company started by two working moms and a high schooler, who want to create a Wave of Optimism all over the world! Company Cofounders, Maggie Jackman-Pryor and Michele Strobeck had the idea to create some products for their kids and others to help combat all the negative news, messages, and images clouding the media.
Since its inception the company has been using inspiring words on products including clothing, headbands, books, posters, magnets, and more. The Inspired Imprints™ Flip Flop Collection was dreamt up by then 15 year-old company cofounder Hope Pryor. While sitting on the beach with her family, Hope was writing her name in the sand. Looking up at her mom, Maggie, she said "wouldn't it be cool to have flip flops that left behind positive words as you walk all over the beach?" At that moment, the idea for the Inspired Imprints™ Collection was born, Hope officially joined the company's team, and Maggie and Michele were on a mission to bring them to life.
Together We Can
Do Better, Feel Better, Be Better™!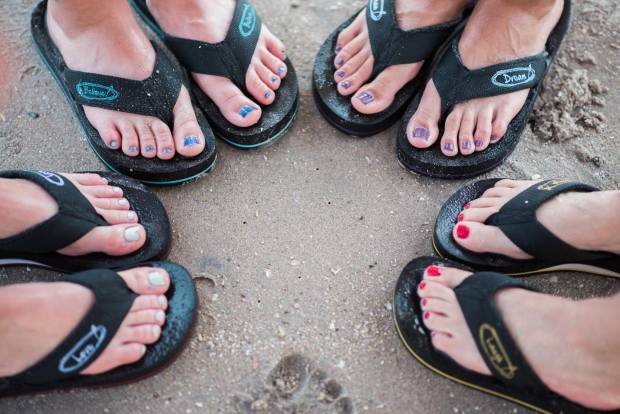 WordUP!® is a small company with a big mission: To inspire individuals to see the best in themselves and the world around them. Every purchase from WordUP!® and the Inspired Imprints™ Flip Flop Collection goes to encouraging others EXPLORE! BELIEVE! HOPE! and DREAM! We pay-it-forward by dedicating 10% of our profits to supporting clubs and organizations that share our desire to Spread the Wave of Optimism to people who need it most!
Hope's idea for Inspired Imprints™ was simply to make people smile by seeing positive words imprinted in the sand. But it turns out there is a lot of science to prove there is something more powerful to this idea! Scientific research shows that surrounding yourself with inspiring or motivating words can have a tremendous psychological effect on a person. Happy and hopeful people are more likely to share that inspiration with others. By surrounding as many people as we can with small doses of positive and inspiring words, we think we can make a difference. Our goal is to touch the lives of not only the people who wear our flip flops, but the thousands of people who will see the inspiring word trails left behind in the sand. Like a pebble being dropped into water, we want Inspired ImprintsTM to have a ripple effect and create a huge Wave of Optimism!
Making a DREAM! come to life!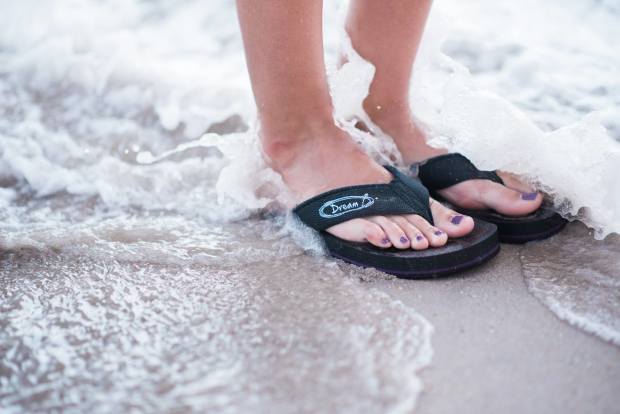 After spending more than a year researching product designs and developing relationships with potential manufacturers, WordUP!® has been able to create a fashion forward flip flop that our customers swear are the most comfortable flip flops they have ever worn!
Inspired Imprints™ Flip Flops are made from the highest quality materials and are sewn, embroidered and assembled by hand to make them the most comfortable, durable flip flops you'll love to wear.
We need your support of our campaign to bring Inspired Imprints™ to the market and set up distribution channels here in the USA and Canada. Our $33,000 funding goal will be used to place our first large scale production order with our manufacturer. If we reach our initial funding goal of $33,000 we will be able to bring another DREAM! to reality. Our current manufacturer is not able to produce our Inspired Imprints™ Flip Flops in Children's sizes. Going beyond our $33,000 goal will allow us to invest in setting up the children's line as well! Can you imagine a little one toddling across the beach leaving a trail of JOY! in the sand? We can, and we hope you'll help us make that a reality!

The Perks!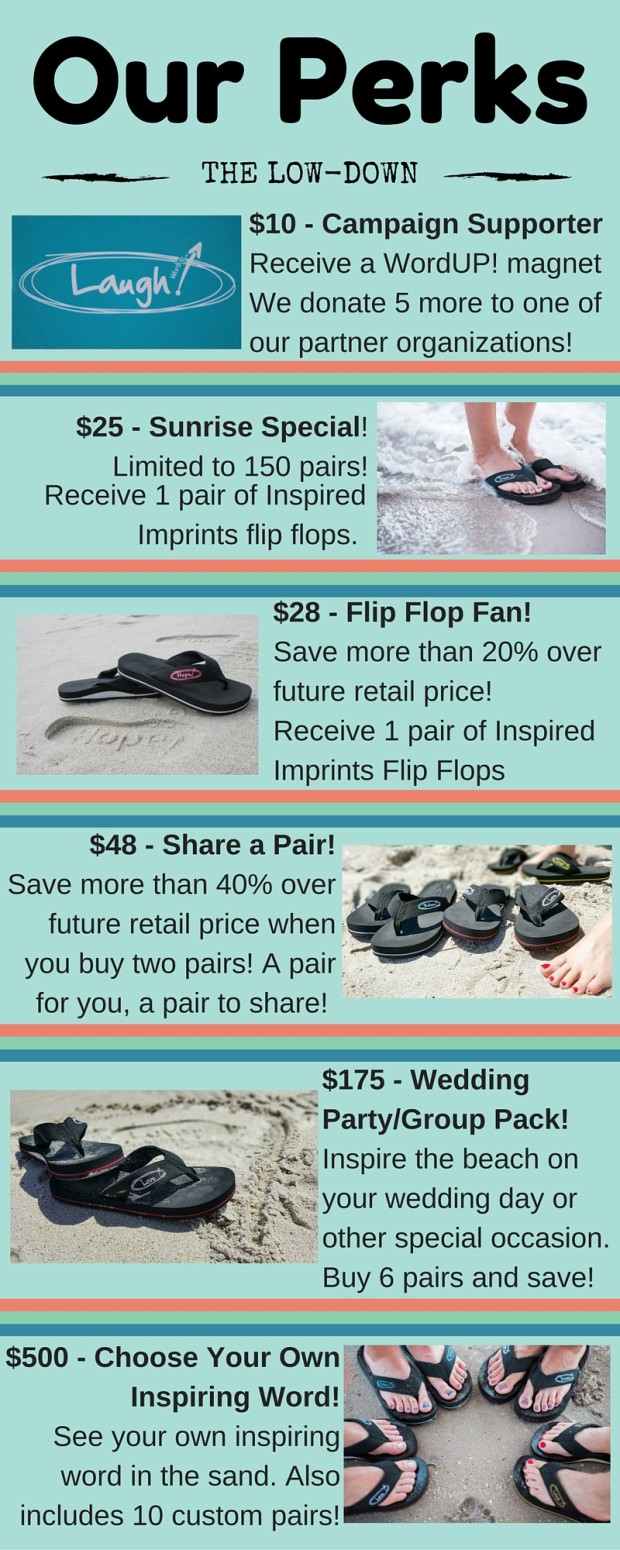 How will I choose my word, sizes, colors?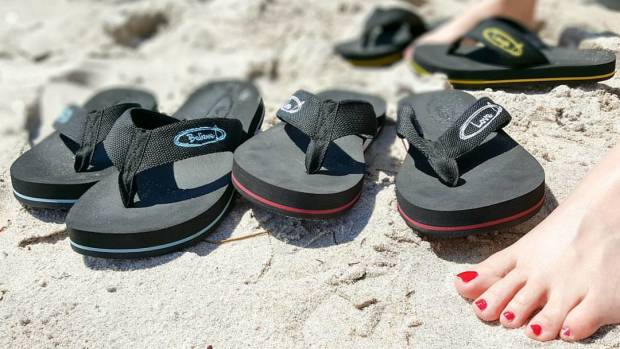 At the end of the campaign we will send you a link to a page with a form to fill out where you can chose you word/color and indicate your size. Currently we have women's whole sizes 6-11 available in LAUGH!, LOVE!, HOPE!, BELIEVE! and DREAM! We can't wait to see if our supporters will help us unlock children's and men's sizes too!
Ours is a story of HOPE!
…and Jack, Luke, Griffin, and Grant, and all the other kids out there who inspired us to do this.
And now we're asking you to become a part of our WordUP!® family and help Spread the Wave of Optimism! We know that you want to INSPIRE! your kids and their friends…INSPIRE! your family and neighbors…INSPIRE! your community…just as much as we did.
More about our team:
Maggie Jackman-Pryor is a mom to three children, Hope (16), Jack (14), and Luke (10,) and understands how critical it is to keep kids inspired. Maggie graduated from Syracuse University with a degree in Communications and Marketing and owns a flooring store in Cobleskill. In addition to operating her other business, Maggie stays busy working on her MBA through Sage Colleges, and also as a volunteer to many different local organizations. WordUP!® and Inspired ImprintsTMare her passion and her DREAM! is to see inspiring words on beaches across the country this summer.
Hope Pryor is a junior at Cobleskill-Richmondville Central School where she is a high honor roll student with the GOAL! of going to medical school after graduation. Hope is active on the National Honor Society, Spanish Honor Society, organizes the Schoharie County Prom Project and plays on the varsity volleyball and tennis teams.
Michele Strobeck is mom of two boys, Griffin (7) and Grant (4), and she, along with her husband Matt, recently found out their family will be welcoming a new baby girl to their family this fall. Michele has a degree from SUNY Cobleskill in Agricultural Business with a concentration in marketing and attended Cornell University's Master's degree program for teaching secondary agricultural education. Michele's background in marketing and education fuels her desire to grow the educational component and outreach mission of WordUP!® and SHARE! the powerful message of positivity and optimism with the world!
Featured Benefit Organizations
WordUP!® is committed to pay-it-forward! We will always donate 10% of our profits to organizations who SHARE! our vision of a more optimistic world!
Currently we have two upcoming outreach events schedule with: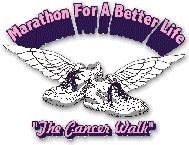 Marathon for a Better Life – "The Cancer Walk"
Saturday, June 4, 2016 – Cobleskill, NY
http://marathonforabetterlife.org/index.html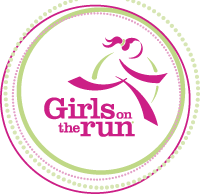 Girls on the Run of Central New York
Sunday, June 5, 2016 – Cooperstown, NY
http://www.girlsontheruncny.org/
Interested in Partnering with WordUP!® as a Featured Benefit Organization?
Click Here to Find Out More
Our Customers
LOVE! to SHARE!

"These flip flops are terrific!! The excitement and fun they generate, as well as being soooooo comfortable, makes them doubly worth the purchase!" ~Susan Helme (Cobleskill Native),
Cape Cod, Massachusetts

"You just never know when someone needs a little hope or a boost of positivity in their day. I hope my trail of positive words reaches someone when they need it most."
~Cassandra Putnam, St. Petersburg, Florida
"My niece and I wore our Inspired Imprints on Malibu Beach last weekend. I can't tell you how much I loved seeing the reaction of other beach goers as they wondered where the trail of words was coming from! We had so many people coming up to us asking where they could get a pair. I just bought 3 more so all of my nieces can join in the fun!" ~Dana Swan, Simi Valley, California
"I love these flip flops, and I love the story behind them even more. Thanks for helping to bring a bit more optimism to the world!" ~Amy McCann, Cobleskill, New York