iCrowdNewswire - May 26, 2016
Aquarium Garden DIY Aquaponics Kit For Any Tank!
Aquarium Garden DIY Aquaponics Kit & Vertical Garden Converts Any Tank Into Self-Cleaning Ecosystem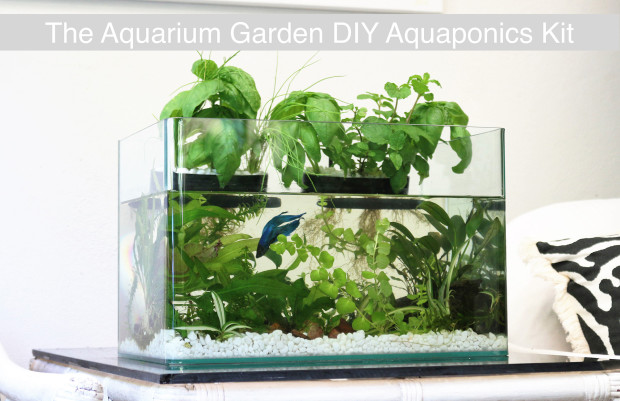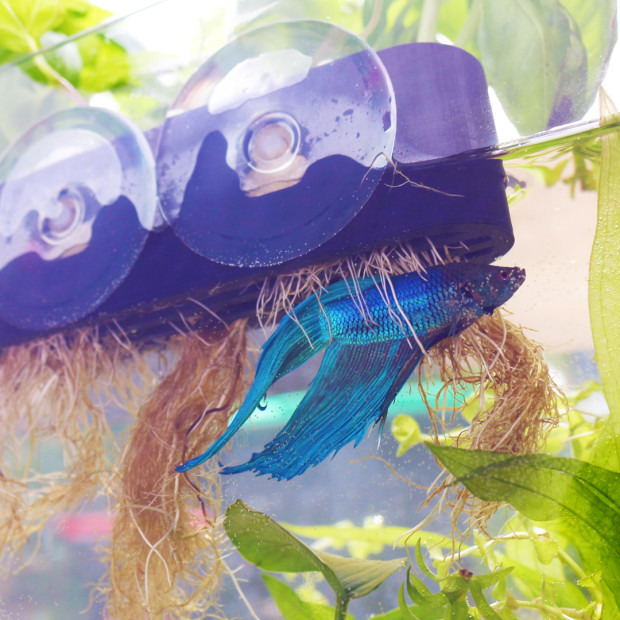 What is the Aquarium Garden DIY Aquaponics Kit?
The Kit converts any aquarium into a garden, growing plants, herbs and greens aquaponically. A world first – the Aquarium Garden module is also a vertical garden that creates aquatic plant habitats at multiple levels in the aquarium like a coral reef! You will love the plants growing in your aquarium, the water being biologically cleaned and a healthy ecosystem for your fish with much less tank cleaning.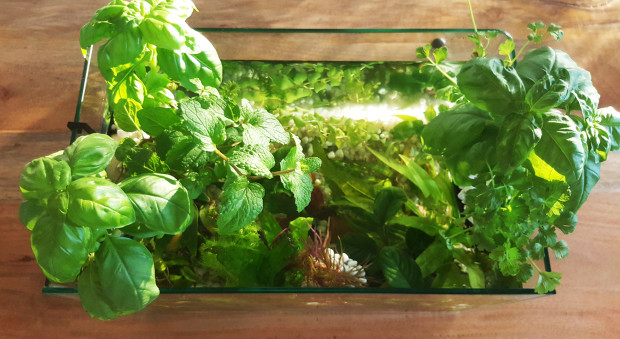 The Aquarium Garden uses our unique AquaBiofilter™ technology and will fit into nearly any tank and provide three grow plugs per garden module, just add seeds or seedlings and your tank will start growing plants! The Aquarium Garden is a DIY Aquaponics Kit that can create a beautiful lush ecosystem in just a matter of minutes. It improves fish health with the root oxygenation, biologically filters the tank by growing plants above and below the water. Growing roots down into the water allows the plants to soak up nutrients directly, creating a self-cleaning aquarium that doesn't need to be cleaned as often as a regular fish tank and relies less on pumps and filters.
It comes with suction caps and hooks so you can choose to 'hack' your aquarium and grow plants aquaponically on top, or grow aquatic plants at different levels down in the fish tank. Installing the module as a vertical garden allows to 'zone' your tank and aquascape it – a design method that brings new creative options, artistry, and ecosystem health to your aquarium.
Key Benefits
Convert your aquarium into a garden!
Create vertical gardens inside your aquarium
Grow herbs, greens, flowers and house plants in any fish tank
Hassle free food growing – the fish waste fertilizes the plants
No more dead plants, because the plants are constantly being watered!
Self-cleaning fish tank using our unique AquaBiofilter™ technology inside
How does it work?
With your help Home Ecology will raise $20,000 in pledges to make our injection molds and manufacture the first units and deliver them to you, our supporters.
If we raise $20,000 (break even) we will have the required funds to make the moulds and manufacture the system for delivery to you. If the campaign raises more funds beyond the break even point, we will be able to add extra stretch goals for extras and add-ons. Below is our freshly 3d printed Aquarium Garden case – with your help we will raise $20,000 to create the molds, manufacture the first units and mail them to you.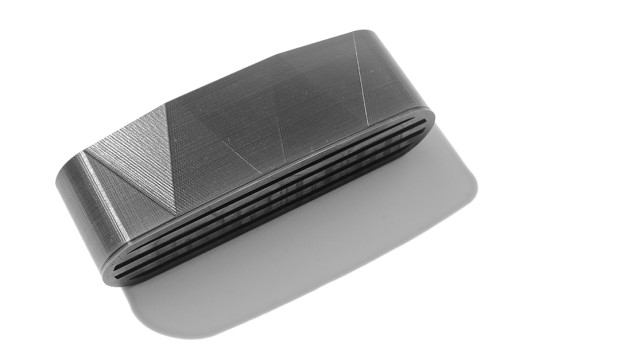 Please share this campaign page on
Facebook
,
Twitter
, YouTube, Instagram and anywhere possible! Early-bird pre-orders are available now with up to 40% discount on units at a very affordable $12 each. But be quick they are for a limited time only, the regular price is $20. We are also offering some fun Aquarium Gardens at 2 for $25 for a limited time.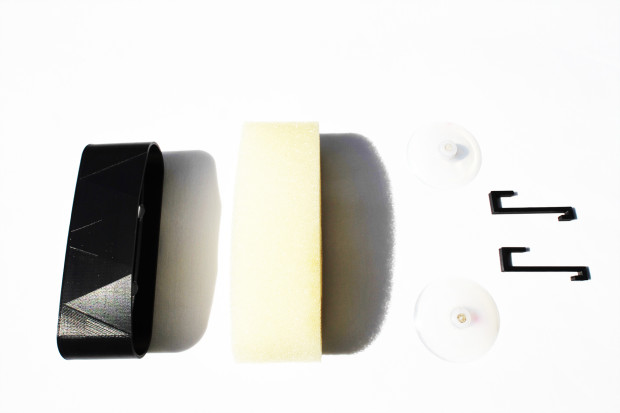 The Aquarium Garden DIY Aquaponics Kit will turn your aquarium into an aquaponics system growing house plants, flower, even food herbs including basil, mint, coriander or cilantro. The Aquarium Garden DIY Aquaponics Converter Kits uses our unique AquaBiofilter™ technology, and will fit into nearly any tank and provide three grow plugs per garden module just add seeds or seedlings and your tank will start growing plants!
Our 10 year track record in aquaponics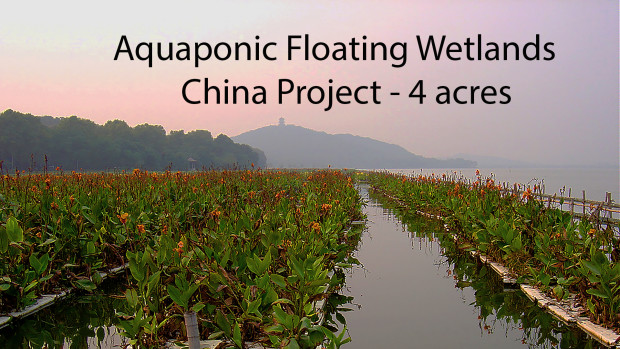 We also built floating aquaponic wetlands for the Malaysia River of Life program to clean up the capital city's waterways and marine environment.
Aquarium Garden – miniaturizing a proven technology
After being involved with the worlds largest aquaponics system, we wanted to do something different, bring this technology to the home and school scale to provide a fun and educational experience for the community and especially kids who don't have access to a garden. So we miniaturised it down into a DIY Aquaponics Kit that can convert any aquarium into an aquaponic garden or a vertical garden inside the aquarium.
The best thing about it its natural! Nutrients from fish waste cause algae to grow and the water turns green. The Aquarium Garden solves this problem with its AquaBiofilter™ inside, the plants take up excess nutrients, preventing algae from excessive growth. AquaBiofilter™ is specially treated biofilter material that enhances plant growth by supporting a complex bio-colony that helps pull soluble nutrients out of the water and deliver them to the plant roots. The Aquarium Garden can reduce cleaning by up to 50% which makes a big reduction in cleaning your aquarium – sure to please everyone in the house or school! It doesn't require soil, and there are no chemical fertilizers or herbicides its a completely biological filtering ecosystem.
The plants are growing in our unique AquaBiofilter™ media and all the fertiliser and nutrients are coming from the fish being upcycled into the plant growth and biofilm inside the AquaBiofilter™. If you add a water snail it will also help dramatically reduce algae overgrowth, and the biofilter ecosystem creates a self-cleaning tank, where plants are being fertilized by the fish and plants are always being watered. So no more dead plants in your house with the Aquarium Garden!
We've got to bring back nature into our lives and we believe it all starts at home, school or the office. The Aquarium Garden is designed to make your experience of nature in the home or school a beautiful one, improving your fish tank's performance, reducing cleaning and creating a natural ecosystem in any aquarium.
What We Need
We need $20,000 to build the injection molds, manufacture the units and ship them to you.
Our Offering
40% off products for early birds at $12 per Aquarium Garden, Regular Price $20, or Get 2 for $25!
Check out our great perks – we have something for everyone at affordable prices.
What Now
We've been overwhelmed with the positive response we are getting for this project. People like Costa from ABC TV's Gardening program has given us some great feedback and many people have been asking when can they buy one of our Aquarium Gardens.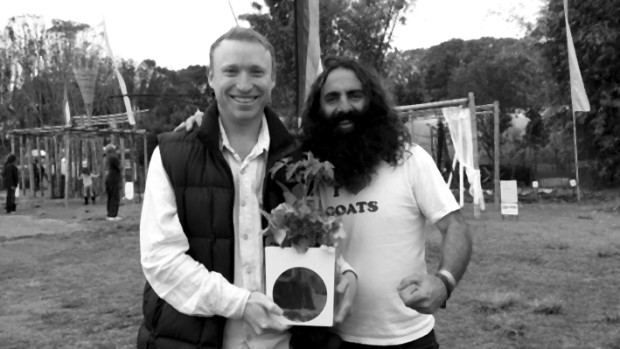 Photo: Costa from ABC Gardening supports many environmental education initiatives – including the Aquarium Garden DIY Aquaponics Kit!
Tangarine Music Supporting Our Mission
Tangarine are the musical twin brothers Arnout and Sander from the Netherlands. Impeccable harmonies and striking lyrics form the core of their musical genius. Although the influence of Simon & Garfunkel and Bob Dylan remains clearly audible, it is a unique musical unity that prevails and makes Tangarine an exceptional duo. Watch here why they support us:
Order the Aquarium Garden DIY Aquaponics Kit with Tangarine's CD Move On. Listen to Tangarine via Spotify, YouTube and iTunes. Visit Tangarine's website, like them on Facebook and follow them on Instagram & Twitter.
This is where we need your help
The molds and first manufacture run will cost $20,000.
This is where we need your help. If you can, donate $2, $5 or pre-order a system at 40% for an early-bird single Kit, or better with an education or distributor pack. Suitable for the home, school or office, shop, any small space! Get a group together at your workplace to buy a unit to share in the office. If you are a re-seller or shop you can order a education pack of 4 units or distributor pack of 25 units.
Check out our great rewards for helping to get this project off the ground.
And help us get the message out there – post this campaign or our video on facebook, share it on twitter, blogs and online news outlets, anywhere, it all helps.
Our track record
We have built aquaponics systems all around the world for over a decade, with many happy customers in community, Local and State Governments, private landholders and for enterprises seeking a point of difference for their water and landscapes. We have presented our scientific research at water quality conferences around the world and been published by the International Water Association, reviewed by our peers. We stand behind our products and are proud of our work for over a decade in the sustainable water, agriculture and food sector.
Our products have restored the ecosystem health of lakes, rivers and marine environments that receive run-off from Sydney Harbour to China. Communities across south east Asia have found new purpose and resolve to tackle sustainable food production and beat malnourishment with our training programs in permaculture, integrated farming and water management.
This new step for us is a continuation of our biofiltration technology, the AquaBiofilter, miniturizing it down into the Aquarium Garden DIY Aquaponics Kit. We know you will love it and feel good being part of our mission to improve water quality and bring education opportunities to kids around the world at an affordable price.
Risks & Challenges
As engineers and scientists we have developed a comprehensive quality management system and framework to deliver products globally on time, every time. Our clients include Government agencies around the world, who demand a high level of technical and logistics capability. We are experienced manufacturers and product providers, with skills and capabilities that ensure our products will be delivered to customers on time. Manufacturing, fulfilment and product tracking has been established with service providers and is ready for the Aquarium Gardens Kits to be sent out at the end of the campaign. Shipping risks do exist, but a lot of research and real world testing of providers has established reliable partnerships. We already ship our products around the world, entire shipping containers full of aquaponics systems, floating wetlands and floating islands.
If we do not reach our goal of $20,000, and instead reach $15,000 we will still deliver an Aquarium Garden to each contributor with our existing business resources. We can economize on costs by leveraging our shipping relationship. We are ready for all outcomes and will ship an Aquarium Garden to you within 3 – 5 months of campaign being completed. In the event that $15,000 is not raised we will refund any pledges to backers or if there is signficant In-Demand post campaign we could deliver the products once we reach the target.
Please share on Facebook, Twitter, YouTube, Instagram, Pinterest, blog, articles – it all helps!
The Social Impact
We believe that kids should have access to learning opportunities about the environment and how it works from an early age. We want to create a social movement that develops eco-literacy in schools, in the home and anywhere an Aquarium can be found like apartments where there is no space for gardens. Its more important now than ever that kids learn about how nature works, how nutrients get cycled and how to create living ecosystems and grow food. The Aquarium Garden DIY Aquaponics Kit makes this all possible from just $12 at the Early-Bird Price! But get in early as this price wont last. Help share this campaign with friends and family who you know will love the Aquarium Garden.
Lets grow the movement together.
FAQ
How does it work?
The Aquarium Garden DIY Aquaponics Kit enables you to turn any aquarium into a self cleaning eco system. Fish waste and all the wastewater gets up cycled and fertilises the plants. The AquaBiofilter™ vastly increases the biofiltration capacity of the tank.
What parts do I get?
The Aquarium Garden DIY Aquaponics Kit is an assembly of several parts, including the Case, Aqua Biofilter growing material, 2 hooks and 2 suction caps. The hooks allow you to grow the Aquarium Garden plants and herbs aquaponically above the water, and the suction caps enable you to also grow aquaponically or grow aquatic aquarium plants as a vertical garden down in the tank at any level, growing the same plants you would normally plant in the stones at the bottom of the tank. This is a world first, a vertical garden inside aquariums – with the roots growing exposed in the aquarium taking up soluble nutrients and growing faster. Roots that are growing exposed in the water either aquaponically or as a vertical garden can access soluble nutrients better than plant leaves and this can contribute to less algae growth and less cleaning.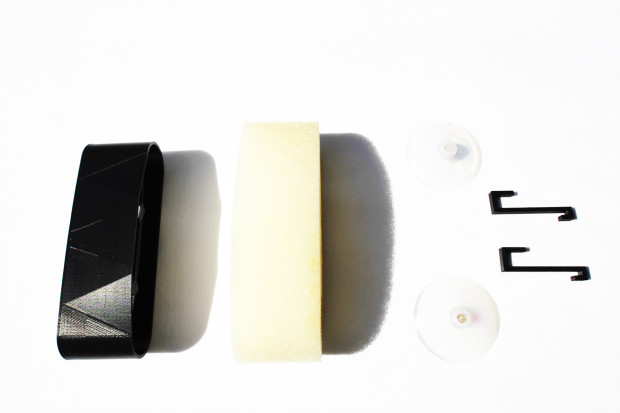 What is the size of the Aquarium Garden?
The outer dimensions of the Case are approximately 155Lx55Hx45Wmm. The hooks internal dimensions are 10mm / 0.39 inches wide allowing it to hook onto large aquarium walls. This wide hook internal dimensions also allows the Aquarium Garden plants to grow leaves and branches in all directions including backwards – growing freely without pushing up against the glass. If you prefer a more upright look and not leaning forward slightly, we suggest you use the suction caps instead which fit tightly up against the aquarium wall. The hook design also means that if you have very thick aquarium walls you can use the hooks and easily move the planter case in and out easily without having to disconnect any suction caps. We recommend not to leave your suction caps in direct sunlight, which means facing the case forward towards the sunlight.
Do I need a grow light (traditional or LED) for the Aquarium Garden inside?
If you have access to sunlight its a good way to get started without investing in an LED grow light. If you live in a climate without a lot of sunshine or in an apartment without direct sunlight, we suggest getting an LED grow light available at your local aquarium supplies shop or online.
What fish can I use with the Aquarium Garden?
The Aquarium Garden DIY Aquaponics Kit can be used with all kinds of fish. We have great experience with Betta fish also known as Siamese Fighting Fish because they love living in the plant roots and are very appreciative of the habitat to live and even sleep in the roots. Suitable fish also include goldfish and breeds that have goldfish origins, many tropical and sub-tropical fish love it. For aquariums in cold climates where heaters are used its recommended to get advice from your local fish and pet store.
What size aquarium can I use?
The DIY Aquaponics Kit means you can choose any size and style of tank. The best is to have at least one straight wall where you can use the suction caps or hooks to hang the Aquarium Garden DIY Aquaponics Kit into your fish tank! The bigger your tank, the more Aquarium Gardens you can put in!
What about the previous design?
We did a lot of prototyping to develop a great product. The new Aquarium Garden DIY Aquaponics Kit is converts any aquarium into an aquaponics garden and vertical garden below the water. If you liked the old Aquaponics Garden design – we suggest you buy a 10 gallon aquarium at your local pet store and install the Aquarium Garden Kit inside. It is the most cost effective way to create your own ecosystem at home! The previous design we developed was going to cost $79, but we thought we could do better. We listened to the community of aquarium enthusiasts and that the previous tank was small, so we wanted to do something better. So we focused on just the essentials of an aquaponics garden – and developed something that can convert any tank into an aquarium garden. If for example you purchase a 10 gallon tank at Wal-Mart for $14, and buy our kit at $20 regular price, your total price is $34. Compared to our previous design at $79 – we are offering a better price and a better product that offers more flexibility. There is no product on the market that enables you to grow plants aquaponically, and also grow aquarium plants in a vertical garden at any level in the tank. Not only are there no other products out there like this, but at $20 its great value.
What fish feed should I use?
We recommend you to use organic fish feed in order to avoid harmful substances entering your aquarium. Many types of fish feed contain heavy metals or other harmful substances for your fish and yourself. Check with your pet store if they source their fish feed from sustainable sources.
Can I eat the plants if they grow under water?
It is not recommended to eat plants that have been exposed to the water itself. Only the roots of the edible plants should be in the water. We advise to wash and thoroughly cook all plants if you're going to eat them.
What is the health effect of aquaponics on my aquarium?
The solution to improving the health of aquariums is to put aquaponics plants into the water with the roots dangling down into the nutrient rich water so that it can filter out the soluble nutrients directly, feeding rapid plant growth and biologically cleaning the tank and reducing algal overgrowth. After testing 10 different prototypes we found our Betta fish lived a longer than normal life span – we believe because our Aquarium Garden was mimicking it's nautral habitat of floating aquatic plants that it evolved with in South East Asia. Floating plant roots provide safe and secure haven from bird predators and also a place to sleep and spawn. When we grew basil, the fish particularly liked those roots so we like to use basil wherever we can. The micro-doses of essential oils that are exuded from the basil plant roots may help the fish fight disease and parasites. We recommend thoroughly cleaning the roots of plants or seeds before planting to remove soil particles for the health of fish is they are stressed from being moved. Salt baths can be used to treat fish that have health issues – but please get advice from your local fish health specialist.
Why are basil, mint corander /cilantro good plants to grow in the Aquarium Garden?
Basil, mint and coriander / cilantro have essential oils that exude out the roots in very micro amounts. These exudates are complex essential oils and carried by enzyme chains that slowly move out of the root and down the rootlet branches and into the water. The fish may be able to benefit from these in fighting disease and parasites.
Can you provide some more information about the Betta Fish?
Fish such as Betta fish, also known as Siamese Fighting Fish love swimming into the roots for protection from predators as an evolutionary adaption to hide from water birds, and also enjoy sleeping in the roots as a protective barrier from predator fish. The roots of the basil, coriander and mint that the fish spend so much time, end up rubbing off a significant amount of micro-doses of essential oils and enzymes onto the fish scales and gills, protecting the fish against helminth parasites that can come from contaminated fish feed, or in plant soil.
How can the Aquarium Garden reduce the likelihood of algae blooms?
When dissolved oxygen levels get low, for example when excess nutrients are not biologically filtered out of the water, then algae can bloom or grow out of control to level that pushes algae into dominance. The Aquarium Garden biologically cleans the aquarium and there reduces the likelihood of algae blooms.
How is it possible to manufacture and ship at such a low price?
After years of product development we have learnt much about manufacturing and shipping products. Also, we are on a mission to educate kids and people all around the world about the complexity of nature, that's why we are making it available at such a low price. Eco-literacy starts with kids learning about nature in the home or school, and we believe that bringing a DIY 'maker' approach to environment is what we need to bring into our schools, if we want our future generations to truly understand how nature works with its cycles, feedback loops and complexity.
Disclaimer
Taxes or import duties might apply in your country, those are, as with every article you import, the responsibility of the buyer.We advise to wash and cook all plants you're going to eat in order to avoid the change of getting sick.
Yours and growing,
Tom, Michiel & Gerjan.