iCrowdNewswire - May 25, 2016
feelSpace – Follow Your Gut Feeling
The feelSpace navigation belt augments your senses: feel directions through tactile signals!
Introducing: the feelSpace navigation belt!
The feelSpace navigation belt is your new friend for adventure, travel, biking, hiking, sailing or just plain getting where you want – just follow your gut feeling!
Navigation and orientation doesn't have to be difficult- and doesn't require constantly checking the direction on your smartphone. Instead, why don't you enjoy the beautiful landscape, the impressive architecture or an inspiring conversation? And still arrive at your destination – safely, relaxed, effortless.
And the best thing about it? The navigation belt is so easy and intuitive to use, absolutely everyone can use it!
Features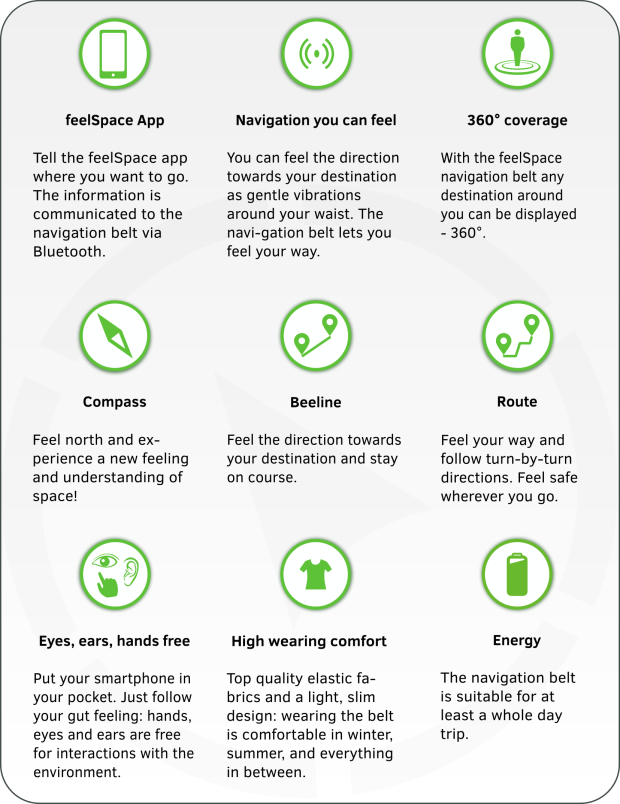 Use Cases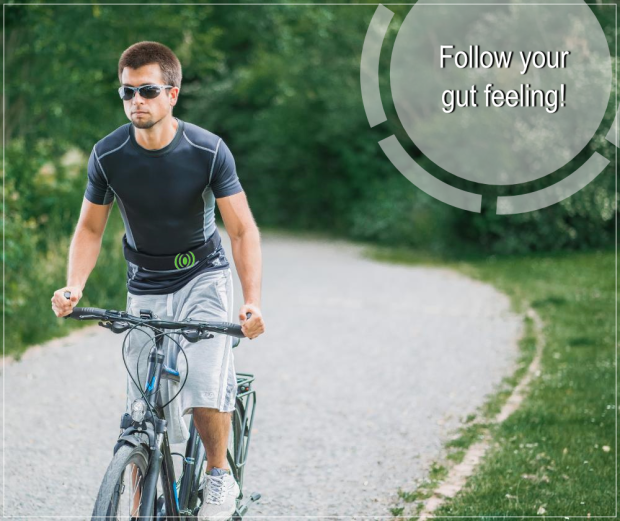 Do you enjoy biking or motorcycling? We all know it's better to keep the hands on the handlebar and the eyes on the street. The navigation belt lets you do just that. Enjoy your ride and arrive safely!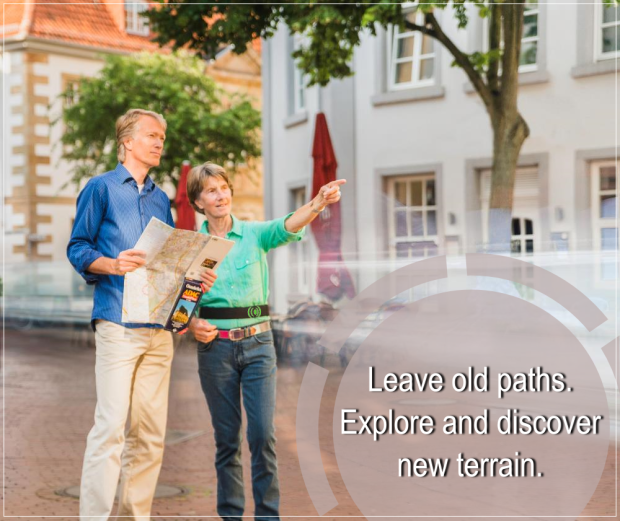 Isn't it fun to explore new cities and landscapes? What a shame if you have to worry about getting lost in those scenic but mazelike little alleys! Ever gone a bit astray in the forest where one tree looks like the other? Or cursed the beautiful sunlight because your smartphone display is virtually impossible to read? And then that parking meter is running somewhere or the train is leaving soon (if only you knew how to get there…!). Forget about all of these worries- explore, discover, enjoy. Relaxed and stress-free, just as those special places deserve to be experienced!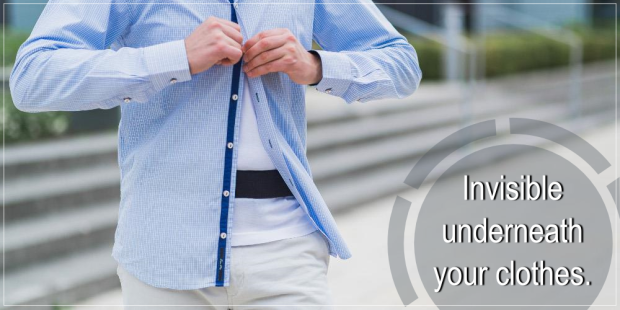 Want to walk through Shanghai and pretend like you are a local? Well, if you keep staring at that smartphone display and nervously try to read street signs (added difficulty in Shanghai: some sings are in Chinese only…!), about anyone will know that you don't know where you are. With the navigation belt? No problem. Just wear it underneath your clothes, it's thin and comfortable- no one will even suspect that you are being navigated!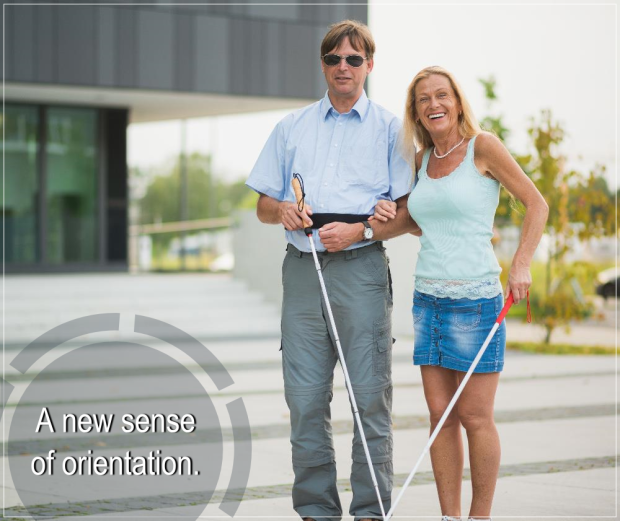 Do you suffer from a visual impairment, low sense of orientation or any other condition that makes navigation a hassle? Please don't stay home just because "getting there" seems so difficult. The feelSpace navigation belt will guide you from A to B while your hands, eyes and ears remain free to explore the environment or monitor the traffic. You will feel safe, independent and self-sufficient. The belt can give you the courage to re-discover your curiosity and interests. Wherever you go- you won't get lost.
Our Background
Originally, feelSpace was a research project at the University of Osnabrück, Germany. We started over 10 years ago and used compass belts in order to investigate whether humans can learn a new navigation sense, like migrant birds possess it. Continuous vibrations around the waist indicate the direction towards magnetic north. Our study results show that tactile belts simplify navigation – and circumvent the bottleneck of attention. This is to say that while your eyes and ears are fully occupied with your surroundings, traffic, the landscape or a conversation, the tactile signal is still being processed by your brain. Surveys show that belt wearers feel safe and relaxed during navigation – they have the reassuring knowledge that they will never get lost. Some study participants even asked to keep the tactile belt after the study. This motivated us to bring the feelSpace belt from research to everyday life and to add further functionalities, like displaying the beeline towards a freely selectable destination.
The belt development
In the course of the past 10 years the belt has changed and evolved in its appearance. Since everyday life and research are quite different, we developed a belt version that it is smaller, lighter and more comfortable. In March 2016 we presented the current prototype at the CeBIT in Hannover.

The navigation belt is able to connect via bluetooth to a smartphone. Our feelSpace app computes the direction or route towards a specified destination and sends a signal to the belt. The belt itself contains a compass and thereby allows to provide directional information relative to your body alignment and movement. Presently, we work on the app for Android using OpenStreetMaps.
With the crowdfunding campaign we want to develop the belt into a product, finalize the hardware and get the necessary certifications done.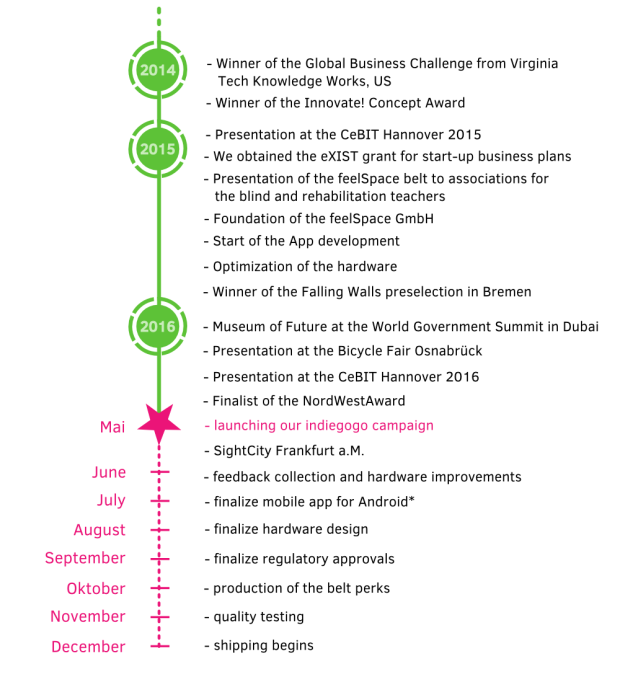 Perks
Pick a perk!

Thank you for your support! Every contribution helps us to grow. We will mention your name (or an alias) on our thank you page that we set up on our website.

We are happy that you believe in us! We will make sure to send you a personal thank-you-E-mail and a video greeting from the feelSpace team. Your name will also be on our thank you page.

For every 20th contribution, we give a free navigation belt to a German institution for the blind. The winner is drawn from a pool of eligible institutions. This allows many visually impaired and blind people or students to get in touch with the navigation belt, try it out and train with it, making their life more independent and self-reliant. We are grateful for your contribution and and you receive a video message from the feelSpace team. Of course, your name will be as well on our thank you page.

You don't want to order a belt just yet, but still want to increase the chance that you arrive at your destination safely and relaxed? Well, this navigation surprise box has some fair tools for you! Please order this perk only if you have a good sense of humor ;). Of course, you will also be mentioned on our thank you page.

You ever find that Crowdfunding has become more of a pre-sales plattform and the whole fun is somehow lost? Well, help us to change that! Challenge Silke, Jessika, Susan and Julia to attempt one of the following deeds just for you :). Here are your choices for a personalized video:
We are going to sing and perform this fun song from the Eurovision Song Contest – as close as possible to the original 😉
We will make cookie monster muffins.
We prepare a juggling performance.
We perform long sword Kung Fu with some dramatic scenes 😉
We perform the cup song like these guys (or alternatively this clapping song).

You receive our feelSpace compass belt in black. Experience a new feeling of space and orientation!

You get our feelSpace navigation belt in black and our feelSpace beeline App* for extra fun and getting there safely.

You get our feelSpace navigation belt – a tailor-made version in your size and the color of your choice. Choose between black, graphite and shamrock-green. Of course the feelSpace App* comes with it!

You get three feelSpace navigations belts in black and our feelSpace App*. Now your friends or family members will arrive safely together with you.

You get three feelSpace navigation belts, two in black and your preferred size and one tailor made with the feelSpace App*, a self-made Thank-you-certificate and a place of honor on our online wall of fame. We wrap this perk with love – you will see. Furthermore, you get a personal introduction via skype.
* With the perk delivery we will provide an app for Android with beeline functionality. Later we will additionally provide this app for iPhone and offer a free update with full routing functionality. If we reach our stretch goals, these app developments will be faster and already completed with the delivery.
Any Support helps!
Support our campaign and we will be eternally grateful (just like these guys). There are many ways to help us out:
choose a perk
share the campaign with friends
write us with feedback or questions
distribute our flyers in your hometown
Help us make the navigation of tomorrow an effortless pleasure- for everyone!
Stretch Goals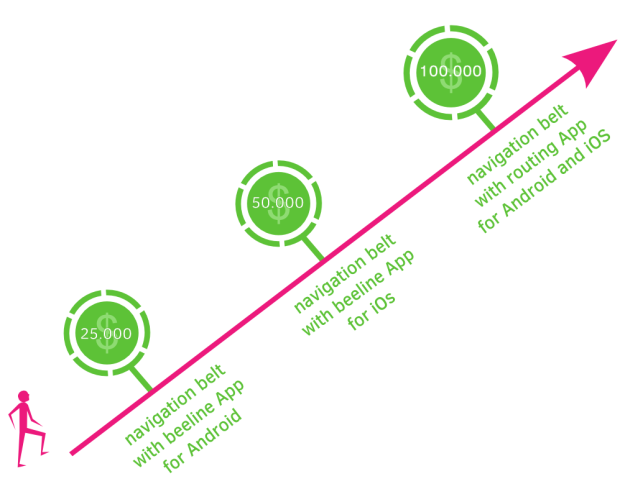 Known from
NDR, ARD, ZDF, arte, SWR "Sag die Wahrheit", WDR "Quarks&Co", Radioeins, BBC, Discovery Channel: "Through the wormwhole with Morgan Freemann", NOZ,Die Welt, hotel.de, Computer Bild.de, Thomas Cook Reiseblog, Wired, P.M., trendhunter, psfk, CeBIT, Sight City, Ohrfunk, Innovate Award, Falling Walls, NordWestAward
Supported by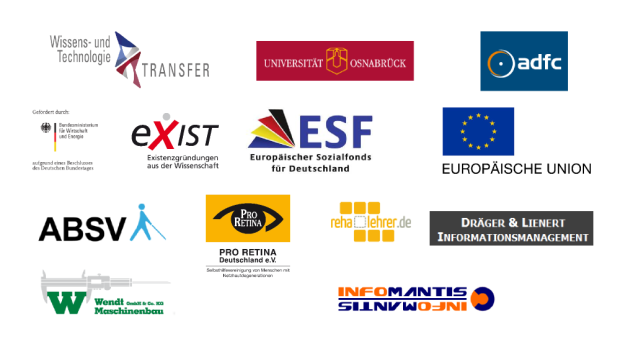 Team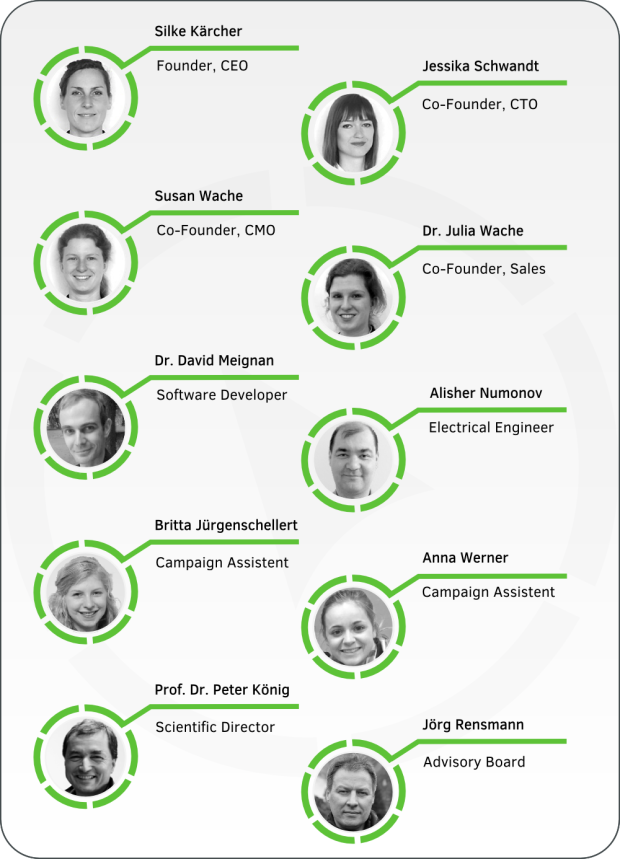 FAQ
What is the feelSpace belt?
The feelSpace belt is a navigation device that you feel directions. It consists of electronics, power supply and a number of vibration units. We've designed it to be a comfortable fit around your waist for long hiking and biking tours. The inner lining is made from high-quality tech-fabric to avoid excessive sweating. The outer envelope is resistant to water, because we all know that in the outdoors, rain happens.
What does the feelSpace belt do?
It vibrates! But not just arbitrarily- it signals towards a certain direction: Either the vibration signals magnetic north, letting you know where north is and giving you a new, never before experienced understanding of any environment (compass belt). Or it signals to a destination as the crow flies- for example your hotel, the parking lot where your car is waiting, or your home (navigation belt). Last but not least, it is planned that it guides you from A to B with Routing and turn-by-turn signals. No need to incessantly stare on that smartphone screen anymore! You will always know where to go- and never get lost again.
Do I need a smartphone to operate the belt?
The feelSpace compass belt works without Smartphone and is fully functional as a stand-alone device. Using the integrated buttons you can change for instance the vibration intensity. The vibromotor indicating north is active. The feelSpace navigation belt can display north without using a smartphone, but if you want to use the beeline function or routing function, the smartphone is needed to calculate the directions.
How much does it cost?
Through this campaign you receive the belts for a reduced price. If you order them through our website (feelSpace.de), a "pure" compass belt will be 749 Euro and the navigation version will be 799 Euro. Here you get a better offer because the prices are in dollar.
What do I get if I order the compass belt perk?
If you choose the compass belt, you receive a feelSpace belt with compass functionality plus the instructions. You put the belt on, turn it on by using the integrated buttons and from that moment onwards you continuously know where north is- no matter where you go. This is cool if you already have pretty good orientation and want to make your understanding of spatial relations and localization even better. In scientific studies, we have shown that people who continuously practise with the compass belt for about six weeks start to feel the space around them in a never before experienced manner. Some even say it feels like a new sense!
What do I get if I order the navigation belt perk?
You get the feelSpace navigation belt and the feelSpace beeline-app that comes with it (first for Android). The belt has all the advantages of the compass belt – but on top of that, it also connects wirelessly to your smartphone. Thus, you don't only know where north is – you can let the belt signal any address or GPS coordinate you are interested in. If we make it to our stretch goal of $50.000, you can get the package for iPhone. And if we make it to $100.000, we will be able to provide the full-blown barrier-free navigation app! If we don't reach that high goal, it will take us longer but eventually we get there.
In which sizes can I get the feelSpace belt?
The standard sizes cover circumferences of 72 cm (28 inch) to 136 cm (53 inch). Are you larger or smaller than that? Just pick the tailor-made version perk and we are glad to carter to all your needs.
How much does the belt weigh?
The belt is designed to be very light. The weight is about 450 gr (about 1 pound).
Can the feelSpace belt replace traditional aids for impaired persons?
The feelSpace belt cannot replace the traditional white cane for blind people. The white cane is important to detect obstacles on the way such as barriers, holes or the curb. The feelSpace belt additionally provides an overview of where to go and how to get there, so it is a great addition to the white cane!
---
Technical questions:
What smartphone do I need for the feelSpace belt?
If you only want compass functionality, you don't need a smartphone at all. But if you want GPS functionality, it really depends on the funding we are able to get- if you order a naviBelt, you will definitely receive a beeline App for Android 4.0.3 or higher. But if we reach our stretch goals, we will be able to provide an app for Android and iOS with full navigation turn-by-turn functionality!
Do I get a technical instruction after receiving the product?
Sure. The belt will come with an instruction manual.
---
Shipping:
When can I get the feelSpace belt?
The belt ships in early December 2016.
Where does feelSpace ship to?
We are able to ship worldwide. Shipping is 5$ in Germany; for shipping to another EU-country 15$ are added to your order for shipping. Shipping to other countries in the world is 18$. Please note that shipping to any country outside of the European Union may be delayed a bit due to necessary certifications, local product approval requirements or local import regulations. There may be additional duties, fees or taxes charged by the the authorities in your country which will be covered at your expense when receiving the shipment.
---
General Questions
I would like a refund. How do I do this?
UPDATE: Indiegogo does process refunds during the campaign. If you would like a refund, we're sorry to see you go. Please see here for How To Request a Refund.
I preordered a feelSpace belt but didn't get a confirmation email. How can I check the status?
Please see the article on How to Know if Your Contribution is Successful. If there is still an issue, then you may need to contact support@indiegogo.com.
How do I get in touch with the team?
Write us an email: crowdfunding@feelspace.de.Or find us on facebook:

Deutsche Version:
feelSpace – Folge deinem Bauchgefühl
Erweitere deine Sinne durch einen Richtungssinn. Mit dem naviGürtel werden Wege und Richtungen fühlbar.
Der feelSpace NaviGürtel ist da!
Wir sind feelSpace, ein junges innovatives Startup aus Osnabrück, und entwickeln taktile Navigationsgeräte, die dich überall hinbegleiten – beim Wandern, Fahrradfahren, Motorradfahren, Reisen, Spazierengehen oder einfach nur auf dem täglichen Weg von A nach B. Folge einfach deinem Bauchgefühl.
Fühlbar orientierungssicher und entspannt ankommen – so sieht die Navigation von morgen aus! Und das Beste daran: Der Gürtel ist so einfach bedienbar und die Signale sind so intuitiv verständlich, dass wirklich jede/r damit umgehen kann!
Eigenschaften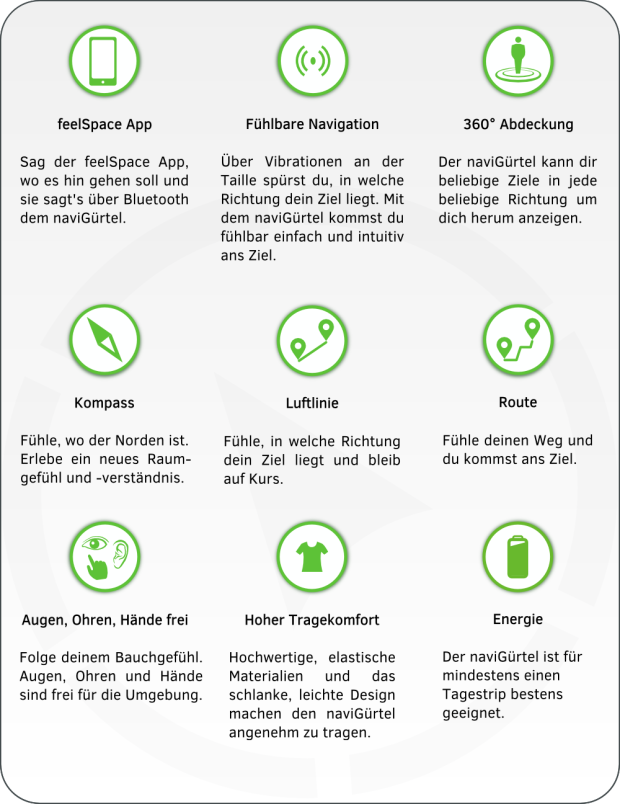 Anwendung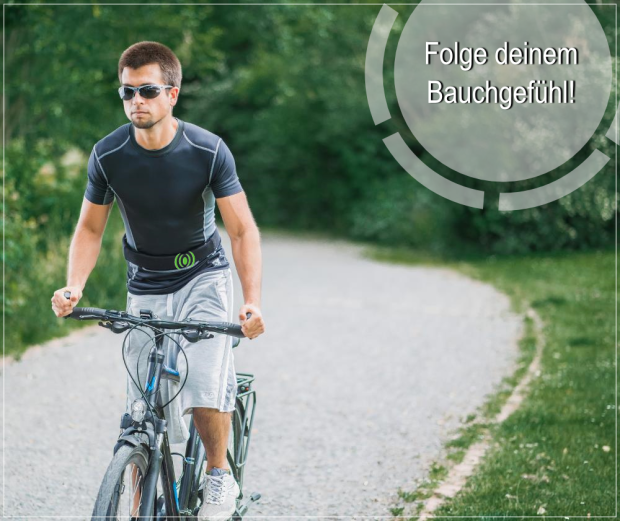 Gerne mit dem Fahrrad oder dem Motorrad unterwegs? Wir wissen ja alle, dass man die Hände am Lenker und die Augen auf der Straße behalten sollte. Mit dem naviGürtel werden die Navigationsinformationen direkt auf die Haut übertragen. Genieß die Fahrt und komme entspannt und sicher an!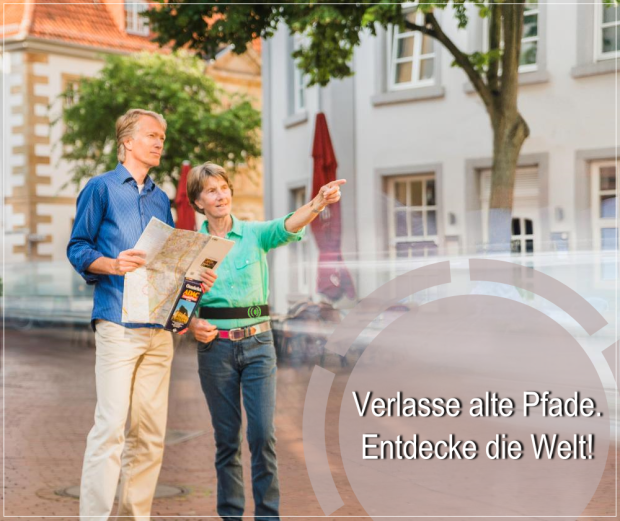 Stadtentdecker oder Naturliebhaber? Was, wenn die wunderschöne Altstadt zum Labyrinth wird oder der romantische Wald gar kein Ende mehr nehmen will? Wenn man den wunderbaren Sonnenschein verflucht, weil man sein Display nicht mehr ablesen kann oder im Regen nur noch schnell zum Auto will – nur leider ist die Landkarte durchgeweicht? Mit dem feelSpace naviGürtel sind solche Szenarien Vergangenheit. Kein lästiges Drehen und Wenden der Karte, kein Ärger mit dem Smartphone. Parkplatz und Bahnhof direkt wiederfinden. Und natürlich den Weg aus dem Wald! Weil schöne Städte und wunderbare Natur es verdienen, stressfrei und entspannt erkundet zu werden.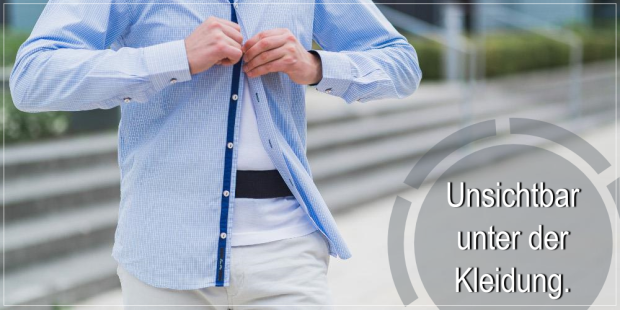 Zum ersten Mal in Shanghai. Aber muss das denn jeder merken? Tja, wenn man nur auf sein Smartphonedisplay starrt und panisch versucht, die Straßennamen dort mit den Straßenschildern an der Ecke zu vergleichen, dann ist der Coolnessfaktor nicht ganz so hoch. Erschwerend kommt dazu, dass die meisten Straßenschilder nur chinesische Zeichen enthalten…! Zum ersten Mal in Shanghai, aber den naviGürtel an? Gar kein Problem. Der Gürtel ist so dünn, dass er unter der Kleidung getragen werden kann – dem Bauchgefühl folgen und fühlbar sicher ankommen!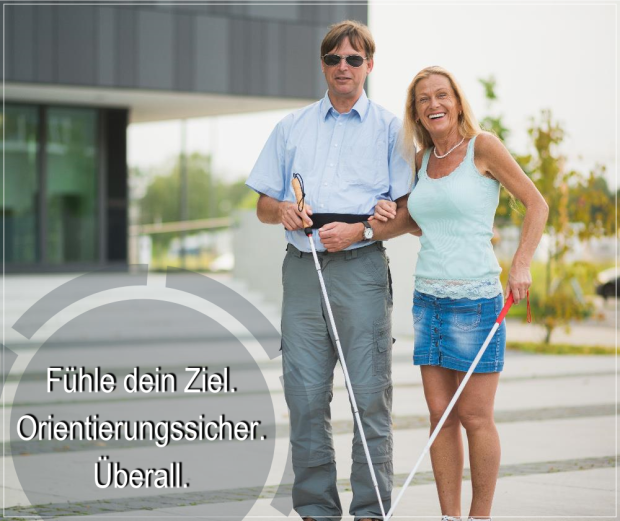 Selbst entscheiden, unabhängig ankommen! Egal, ob du seh- oder hörbehindert bist, der Alltag stellt dich vor viele Herausforderungen. Mit dem fühlbaren naviGürtel von feelSpace ist es einfach, selbstständig von A nach B zu kommen. Du ziehst einfach den naviGürtel an, stellst mithilfe deines Smartphones das Ziel per Spracheingabe ein – und schon geht es los. Auf dem Weg hast du Hände, Augen und Ohren frei, um die Umgebung zu erkunden und Gefahren im Verkehr zu erkennen. Du verläufst dich nicht mehr und fühlst dich selbstbewusst und sicher!
Unser Hintergrund
feelSpace war ursprünglich ein Forschungsprojekt der Universität Osnabrück. Vor über 10 Jahren starteten wir und verwendeten Kompassgürtel, um zu erforschen, ob der Mensch einen Sinn für Norden, wie ihn Zugvögel haben, erlernen kann. Dabei zeigte eine kontinuierliche Vibration rund um die Taille an, wo sich der magnetische Norden relativ zur eigenen Körperausrichtung befindet. Schnell wurde das Signal von unseren Studienteilnehmern nur noch unbewusst wahrgenommen und bereits nach wenigen Wochen waren sie mehr unterwegs, konnten sich besser orientieren und erlebten ihre Umgebung ganz neu. Das Sicherheitsgefühl stieg, da die Teilnehmer besser wussten, wo sie her kamen und hin wollten. Besonders Blinde haben in hohem Maße von den fühlbaren Richtungsanzeige profitiert, da sie für sie einen Ankerpunkt zum Orientieren darstellte.
Viele Teilnehmer wollten den Gürtel nach der Studie nicht zurückgeben und fragten nach einer Möglichkeit ihn zu erwerben. So wurden wir motiviert, aus dem Kompassgürtel für die Forschung eine Version für den Alltag zu machen und die Funktionen zu erweitern, sodass er auch beliebig wählbare Ziele anzeigen kann.
Die Gürtelentwicklung
Im Laufe der letzten 10 Jahre hat sich der Gürtel in seiner Erscheinung gewandelt. Da sich der Forschungsalltag vom privaten Alltag stark unterscheidet, arbeiten wir daran Größe, Gewicht, Bequemlichkeit und Aussehen angenehmer zu gestalten. Im März 2016 konnten wir unseren neuen Prototyp auf der CeBIT präsentiert.

Der naviGürtel entfaltet seine volle Funktionalität im Zusammenspiel mit der feelSpace App. Das Smartphone nimmt die Richtungs- und Wegberechnung vor und sendet Informationen über Bluetooth an den naviGürtel. Der naviGürtel enthält selbst einen Kompass und daher kann sich das Signal optimal relativ zur Körperausrichtung und -bewegung anpassen. Aktuell arbeiten wir an einer App für Android, welche OpenStreetMaps nutzt.
Mit dieser Crowdfunding-Kampagne wollen wir den naviGürtel zur Produktionsreife fertig entwickeln und barrierefrei machen.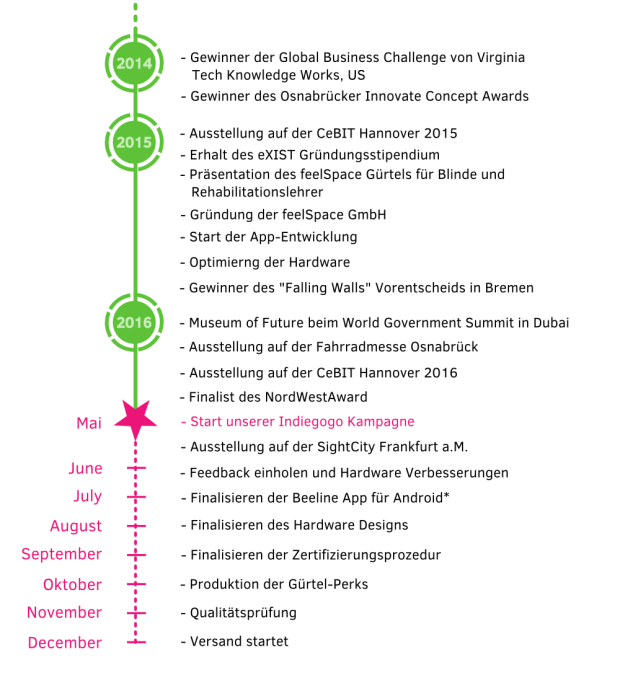 Perks
Such dir einen Perk aus!


Vielen Dank für deine Unterstützung! Jeder kleine Beitrag hilft uns weiter. Deswegen werden wir dir eine persönliche Dankes-Mail schicken. Wir werden auch deinen Name (oder Pseudonym) auf unserer Dankes-Seite erwähnen, die wir auf unserer Webseite einrichten.

Wir freuen uns sehr, dass du an uns glaubst! Wir danken dir für deine Unterstützung mit einer Dankes-Mail und einem Videogruß. Auch du kommst auf unsere Dankes-Seite.

Bei jeder 20. Spende wird ein feelSpace-Kompassgürtel an eine von Deutschlands teilnehmenden Sehbehinderten- und Blindeninstitutionen verschenkt. So können viele sehbehinderte und blinde Menschen den Kompassgürtel kennenlernen, ausprobieren und damit trainieren. Wir sind dankbar für deinen Beitrag und dein Name wird auf unserer Dankes-Seite veröffentlicht. Du erhältst eine Videonachricht des Teams.

Du willst noch keinen Gürtel kaufen, aber trotzdem deine Chancen erhöhen am Ziel anzukommen? Diese Überraschung-Navigationsbox enthält einige nützliche Hilfsmittel, um das zu gewährleisten. Dieser Perk ist für dich geeignet, wenn du viel Humor hast ;). Natürlich wirst du auch auf unserer Dankes-Seite erwähnt.

Wenn du Spaß daran hast uns, das Gründerteam einer lustigen Challenge auszusetzen, dann ist dieser Perk für dich. Wir würden auf deinen Wunsch hin eine der folgenden Aufgaben erfüllen, davon ein Video machen und es posten:
Wir singen und performen diesen Spaß-Song vom Eurovision Song Contest – so dicht am original wie möglich 😉
Wir backen Krümelmonstermuffins nach.
Wir bereiten eine Jonglierperformance vor.
Wir zeigen Langschwert Kung Fu mit dramatischen Einlagen.
Wir performen den Cup Song (oder alternativ diesen Clapping Song).

Du bekommst unseren schwarzen feelSpace Kompassgürtel in deiner Größe. Lerne ein neues Raumgefühl!

Du bekommst unseren feelSpace naviGürtel in schwarz und in deiner Größe + unsere feelSpace App*. Viel Spaß beim Ankommen!

Du bekommst einen maßgeschneiderten NaviGürtel in deiner Größe und Wunschfarbe. Wähle zwischen schwarz, graphitgrau und grün. Natürlich ist auch die App* dabei.

Du bekommst 3 feelSpace naviGürtel in schwarz und in gewünschter Größe + unsere feelSpace App*. So kommen deine Freunde oder Familienmitglieder gemeinsam mit dir ans Ziel!

Du erhältst 3 mit Liebe verpackte feelSpace naviGürtel, zwei schwarze in gewünschten Größen und einen maßgeschneiderten + die feelSpace App*, ein von uns kreiertes Dankeschön-Zertifikat und dein Name/Pseudonym bekommt einen Ehrenplatz auf unserer online Dankes-Seite. Außerdem bekommst du eine Einweisung von uns persönlich über Skype.
* Mit der Auslieferung der Gürtel-Perks liefern wir eine Luftlinien-App für Android. Später bieten wir auch eine iPhone-App an und es wird ein kostenloses Update geben, dass die volle Routing Funktionalität umfasst. Sollten wir die erweiterten Ziele erreichen, wird diese Entwicklung schneller gehen und schon bei der Auslieferung abgeschlossen sein.
Jede Unterstützung hilft!
Um aus dem aktuellen Prototyp-Gürtel die serienfertigbare Version zu machen, brauchen wir jede Unterstützung, die wir kriegen können:
einen Perk auswählen
die Kampagne mit Freunden teilen
schreib uns mit Feedback oder Fragen
verteile unsere Flyer in deiner Stadt
Erweiterte Zielsetzung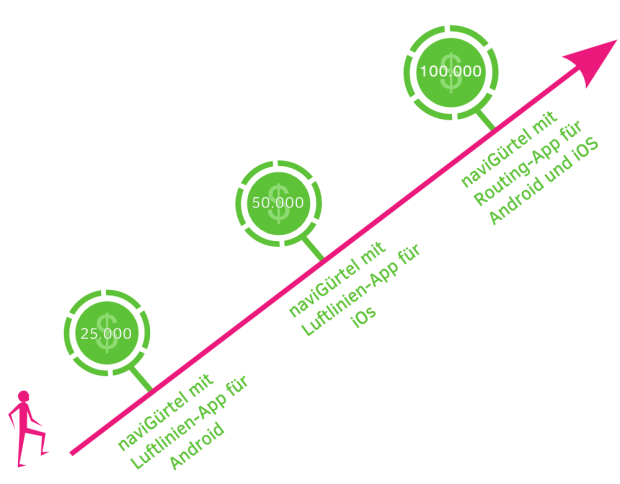 Bekannt durch diese Medien
NDR, ARD, ZDF, arte, SWR "Sag die Wahrheit", WDR "Quarks&Co", Radioeins, BBC, Discovery Channel: "Through the wormwhole with Morgan Freemann", NOZ,Die Welt, hotel.de, Computer Bild.de, Thomas Cook Reiseblog, Wired, P.M., trendhunter, psfk, CeBIT, Sight City, Ohrfunk, Innovate Award, Falling Walls, NordWestAward
Unterstützt durch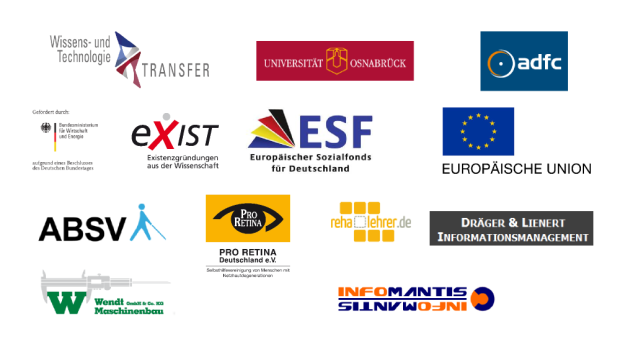 Team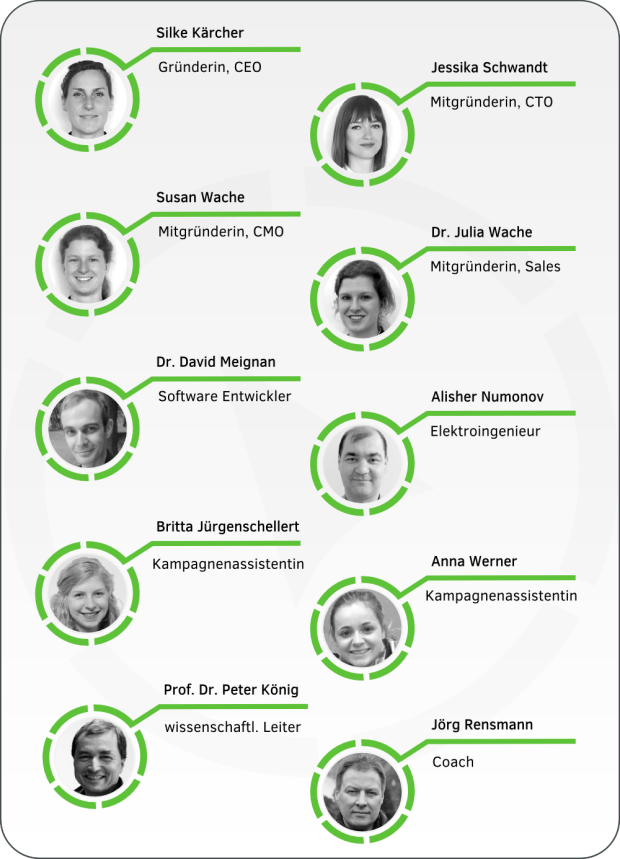 FAQ
Was genau ist der feelSpace Gürtel?
Ganz einfach – der feelSpace Gürtel ist ein Navigationsgerät, das Richtungsinformationen fühlbar macht. Der Gürtel besteht aus Steuerungselektronik, Batterie und 16 Vibrationsmotoren. Wir haben alles so gestaltet, dass es angenehm zu tragen ist, auch wenn man stundenlang wandert, Fahrrad fährt oder reist. Die Innenseite besteht aus hochwertigen Stoffen, so dass man unter dem Gürtel nicht schwitzt. Die Außenhülle ist wasserabweisend, um Regen oder Spritzwasser abzuhalten.
Was macht der feelSpace Gürtel?
Er vibriert! Aber nicht einfach irgendwie – sondern er zeigt eine Richtung an. Der Kompassgürtel zeigt einem den magnetischen Norden. Mit ein bisschen Training vermittelt er ein ganz neues, nie zuvor erlebtes Raumgefühl. Der naviGürtel kann zusätzlich die Luftlinie zu einer Adresse oder GPS Koordinate anzeigen, zum Beispiel zum Hotel, zum Parkplatz oder nach Hause. Geplant ist, dass der naviGürtel auch Routing und turn-by-turn Routen anzeigen kann – so dass man unterwegs nicht dauernd auf das Smartphone schauen muss. Man weiß einfach immer, wo es lang geht – und kommt fühlbar sicher an.
Kann ich den Gürtel auch ohne Smartphone nutzen?
Der feelSpace Kompassgürtel funktioniert komplett ohne Smartphone. Über eingebaute Knöpfe kann man Einstellungen direkt am Gürtel vornehmen, z.B. Intensität der Vibration. Es vibirert immer derjenige Vibromotor, der nach Norden weist.
Der feelSpace naviGürtel kann neben der Smartphone unabhängigen Kompassfunktion auch mit einem Smartphone kommunizieren. Wir entwicklen derzeit die feelSpace App: nach Eingabe eines Ziels führt das Smartphone die Richtungsberechnung durch. Der Gürtel kann dann die Luftlinie zum Ziel und Weginformation ausgeben.
Was kostet der feelSpace Gürtel?
Hier über die Kampagne erhältst du eine Preisreduktion auf die Gürtel. Wenn du den Gürtel über unsere Website kaufst, kostet ein Kompassgürtel später 749 Euro und ein NaviGürtel 799 Euro. Hier bekommst du ihn günstiger, denn hier sind alle Preise in Dollar angegeben!
Was bekomme ich, wenn ich mich für einen Kompassgürtel-Perk entscheide?
Wer einen Kompassgürtel bestellt, erhält den feelSapce Gürtel mit Kompassfunktionalität plus eine dazugehörige Gebrauchsanweisung. Man zieht den Gürtel an, schaltet ihn über integrierte Knöpfe an und von da an weiß man immer genau, wo Norden ist – egal, wo man hingeht. Das ist vor allem dann eine coole Sache, wenn man schon ein gutes Orientierungsvermögen mitbringt und sich noch weiter steigern will. In wissenschaftlichen Studien haben wir nachgewiesen, dass Leute, die über mehrere Wochen mit dem Gürtel trainieren, ein völlig neues Raumgefühl erleben. Manche sagen sogar, dass es sich wie ein völlig neuer Sinn anfühlt!
Was bekomme ich, wenn ich einen naviGürtel-Perk bestelle?
Du bekommst den feelSpace naviGürtel und die dazugehörige feelSpace Luftlinien-App (zunächst für Android). Dabei kann die Kompassfunktion des naviGürtels ohne Smartphone verwendet werden. Mit der feelSpace Luftlinien App ist darüber hinaus die Luftlinienfunktion nutzbar und du kannst dir die Richtung zu jeder beliebigen Adresse oder GPS Koordinate anzeigen lassen. Wenn wir unser erweitertes Ziel von $50.000 erreichen, liefern wir die App auch für iPhone; und wenn wir sogar die $100.000 knacken, gibt es die barrierefreie Navigationsapp mit Routingfunktionalität dazu! Wenn wir diese Ziele nicht erreichen, wird die weitere Entwicklung mehr Zeit in Anspruch nehmen. Dem naviGürtel wird eine Gebrauchsanweisung beiliegen.
In welchen Größen gibt es den feelSpace Gürtel?
Unsere Standardgrößen können einen Bauchumfang von 72 cm (28 inch) bis hin zu 136 cm (53 inch) abdecken. Brauchen Sie einen kleineren oder größeren Gürtel? Dann einfach den "maßgeschneidert" Perk auswählen, wir schneidern den Gürtel dann individuell nach Ihren Bedürfnissen zu.
Was wiegt der Gürtel?
Der Gürtel ist super leicht und wiegt maximal 450 g.
Kann der Gürtel traditionelle Blindenhilfsmittel wie z.B. den Langstock ersetzen?
Nein, das kann und will der Gürtel nicht. Gerade der Langstock ist sehr wichtig im Alltag, um Dellen im Boden, die Bordsteinkante oder Hindernisse auf dem Weg zu erkennen. Der Gürtel dient dazu, Orte, die sich in einiger Distanz befinden, fühlbar zu machen. Und natürlich den Weg dorthin zu zeigen!
---
Technische Fragen
Kann man jedes Smartphone mit dem Gürtel verbinden?
Wer einen Kompassgürtel möchte, braucht gar kein Smartphone. Aber für GPS Funktionalität schon. Welche Betriebssysteme wir unterstützen können, hängt auch davon ab, wieviel Geld wir hier einnehmen. Was wir auf jeden Fall versprechen können, ist eine Luftlinie App, die mit Android 4.0.3 oder höher kompatibel ist. Aber wenn wir mehr als unser Ziel erreichen, dann entwickeln wir die App auch für iPhone zeitnah.
Bekomme ich eine Gebrauchsanweisung mit dem Gürtel?
Selbstverständlich!
---
Versand
Wann bekomme ich den Gürtel zugesendet, wenn ich ihn heute kaufe? Wir fangen im Dezember 2016 mit der Auslieferung an.
Wohin wird geliefert?
Wir liefern weltweit. Der Versand kostet $5, wenn der Gürtel nach Deutschland verschickt werden soll, wenn er in andere EU-Länder verschickt werden soll, kostet es $15. Der Versand in andere Länder kostet 18$. Bestellungen aus Ländern außerhalb der europäischen Union können eventuell etwas später geliefert werden, je nach den Zertifizierungen und Produktregularien der Länder. Möglicherweise kommen dann noch extra Kosten beim Abholen des Gürtels im Zollamt dazu. Diese können wir leider nicht übernehmen.
---
Allgemeine Fragen
Ich möchte meine Bestellung zurücknehmen. Wie geht das?
Das ist natürlich sehr schade! Es gibt einen einfachen Weg, das mit Indiegogo abzuklären: How To Request a Refund. Nicht ganz sattelfest im Englischen? Sie können uns gerne kontaktieren: crowdfunding@feelspace.de.
Ich habe einen feelSpace Gürtel bestellt, aber keine Bestätigungsmail erhalten. Wie kann ich jetzt den Status überprüfen?
Bitte den Artikel lesen: How to Know if Your Contribution is Successful. Wenn dies das Problem nicht löst, eine kurze Mail an support@indiegogo.com.
Kann ich das feelSpace Team kontaktieren?
Selbstverständlich. Unsere Adresse ist: crowdfunding@feelspace.de.
Find This Campaign On