iCrowdNewswire - May 25, 2016
Reveal: Empowered Care for Autism
Reveal will measure and track anxiety to help you better understand behaviour and prevent meltdowns

Reveal is a wearable device that will measure and track the body's response to anxiety in real-time in order to help better understand behaviour and even to predict behaviour meltdowns.
We're designing it specifically for the 1 in 68 individuals with an Autism Spectrum Disorder, to help with focus and learning in the classroom and to improve early intervention for long-term independence.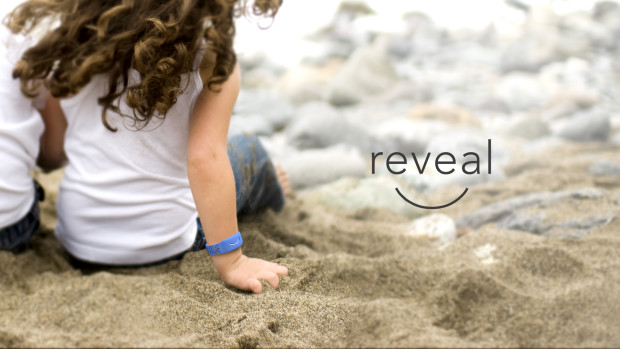 While autism is unique to every individual on the spectrum, many people with autism have difficulty with communication, social interaction, as well as relating to their own emotions.
Many people on the spectrum have specific sensory and environmental triggers that can lead to overstimulation and rises in anxiety.
Sometimes, these result in a behaviour meltdown. Meltdowns are emotionally draining and can be physically dangerous both for the individuals with autism and their parents or caregivers.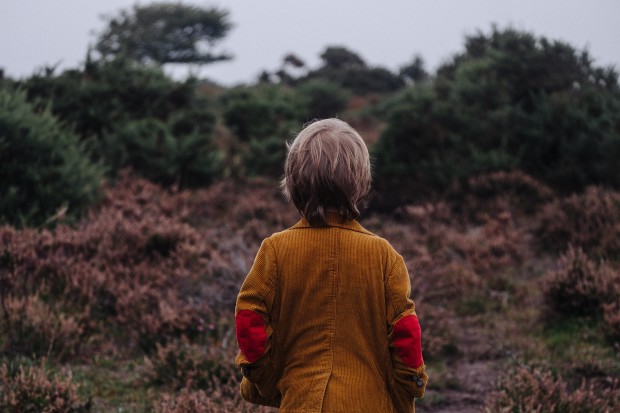 Right now, parents and caregivers are guessing what triggers behaviour meltdowns – many techniques that help address overstimulation and reduce anxiety levels to prevent meltdowns exist, but it is often difficult to know when to use them.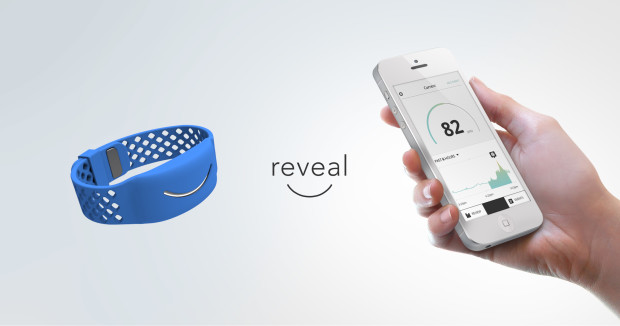 Reveal will eliminate the uncertainty and provide a quantified measure of anxiety that notes physiological and contextual cues. Reveal is a wearable band that measures and tracks physiological signals in real time, empowering people with autism, their parents, and their caregivers to understand changes in behaviour and emotion.
Reveal will help you understand when a rise in anxiety may lead to a behaviour meltdown, notifying you through a smartphone app to help you intervene at the right time.


We're putting a lot of work into how Reveal will look and feel, constantly making progress and improving. We have spoken to hundreds of parents, caregivers, and care experts to help us understand how to design a band that is comfortable, durable, and secure.
We are currently testing Reveal with families and continuously iterating and adapting it to ensure it meets your needs.The sensors inside Reveal are being designed by the leading experts in the field of physiological measurement and the signals collected from these sensors will be processed using our proprietary machine-learning algorithm, which can improve itself over time.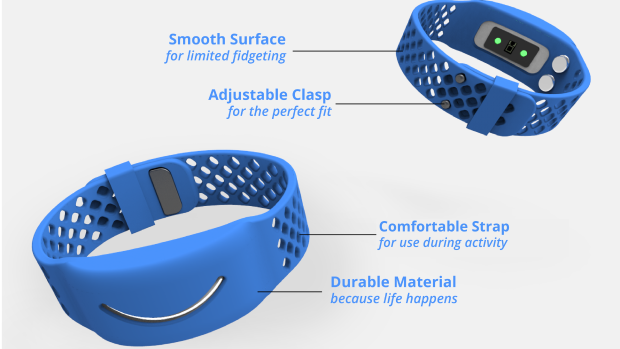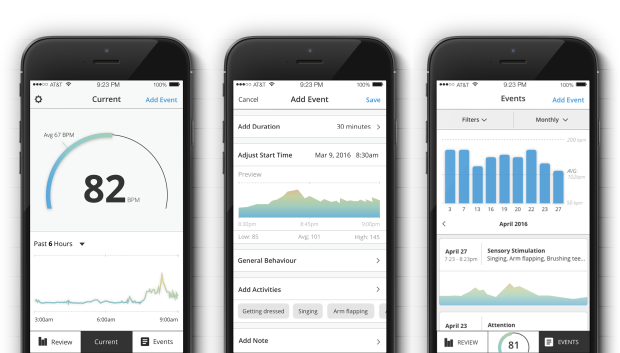 We are designing an app that shows you the exact information you find important. We know you're busy, so we're keeping it simple. We also understand you may not always be able to be there, so we're including an option to allow you to share your data with the rest of your care team. Reveal will help with focusing and learning in the classroom and to improve early intervention for long-term independence.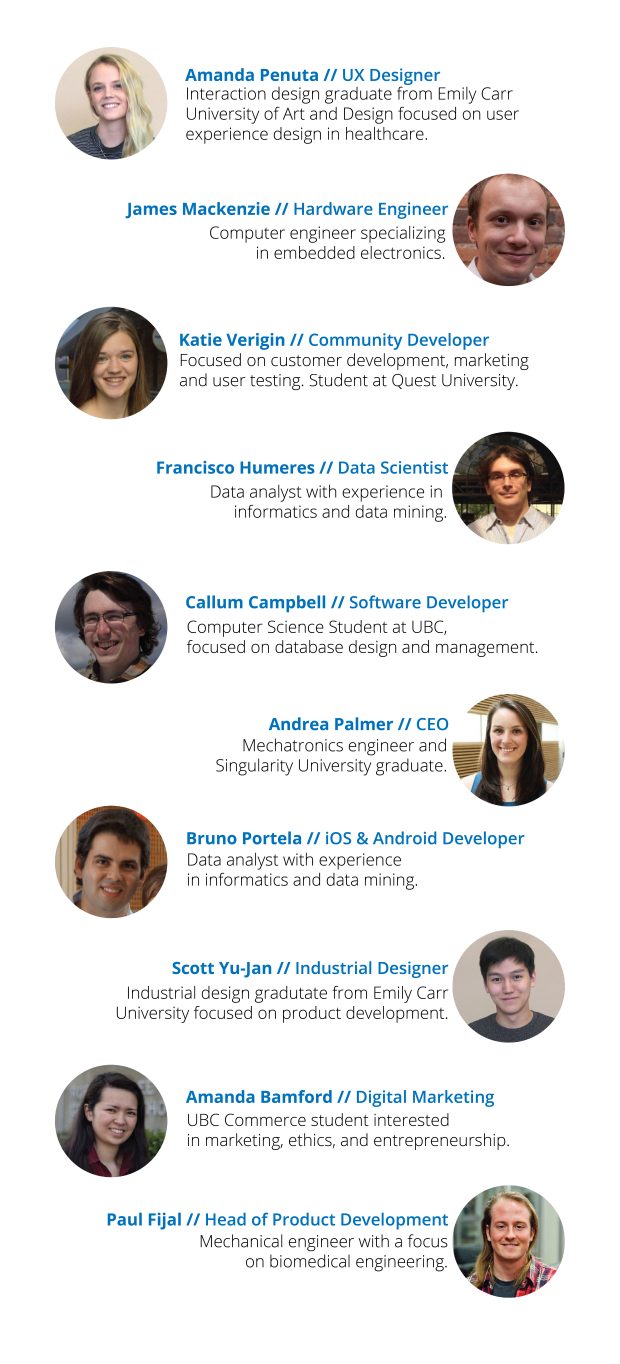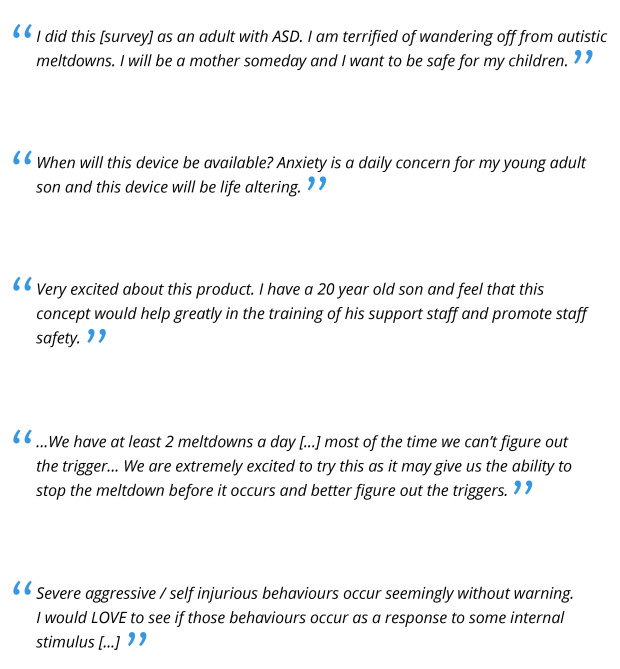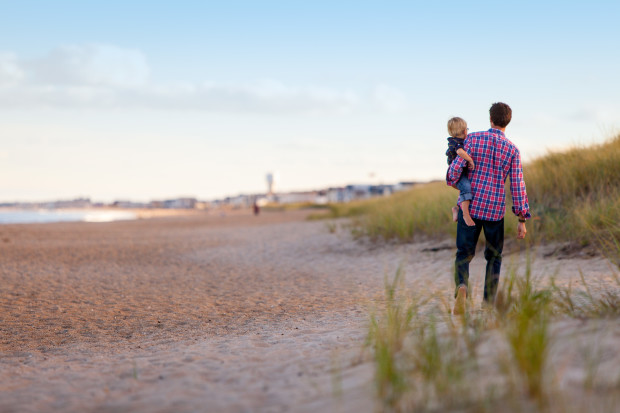 Pre-order your Reveal now and receive exclusive campaign deals! Order them for your family, your friends, or your classroom!

Do you know someone that could use Reveal? For every $50 you contribute, you can nominate one name into a pool of candidates. Every time $350 is raised we will draw the name of one winner who will receive a device and a one-year subscription. After you contribute, don't forget to email nominate@awakelabs.com, with the subject: NOMINATE, the individual's name, contact information and why they should be the one to win.

Spread the word through your social media channels and community groups.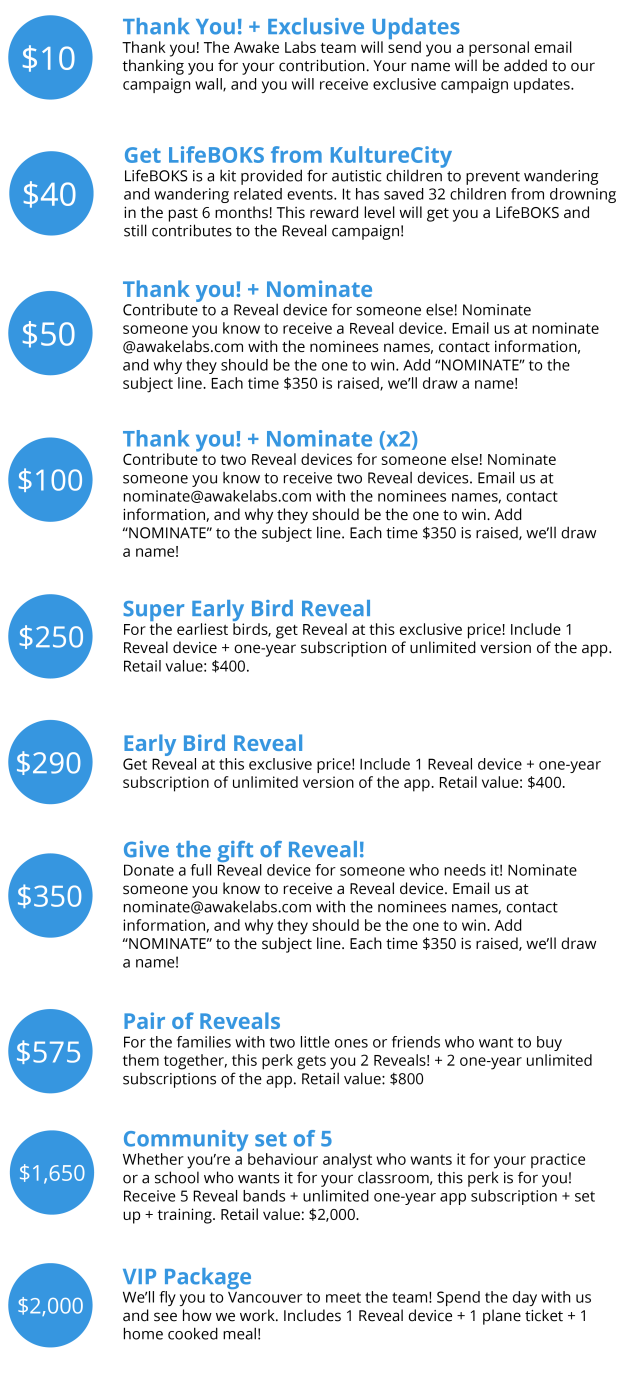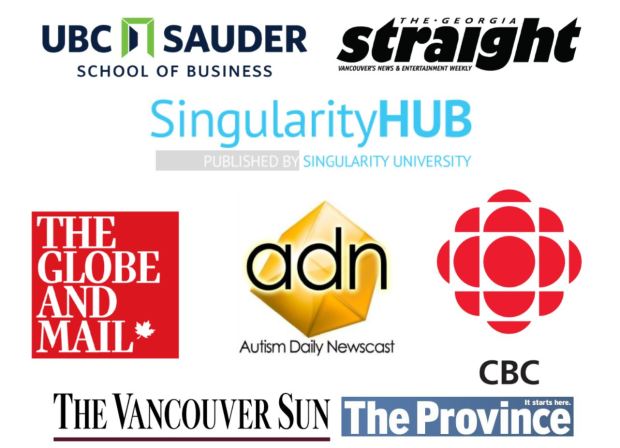 We have been working directly with families since the beginning and know how important this is to you. We know it's hard to wait, but we promise to work as hard as we can to make this happen and we hope it will be worth the wait!
We understand the importance of providing quantified care that is reliable, accurate, and effective. We want to provide care that is reflective of every individual's uniqueness.
That being said, Reveal will be a complicated machine. The device requires hardware, software, and data analytics. All of this will interact with you through a simple and clear interface, and a comfortable, durable form factor. And that's not going to be easy.
We still have a lot to do, from choosing the final material, designing the clasp, to making sure the readings are accurate.
We are working tirelessly to bring all of these pieces together. We are finalizing our app and form factor prototypes by engaging directly with families so we can better understand how to make Reveal right for you.
Our development team is hard at work and focused on optimizing our machine-learning algorithm and building out the app, and we are working on a licensing agreement with the top developer of physiological measurement hardware.
So far, we have been operating on a shoestring budget and still have made significant progress. The next step is to go from a working prototype to testing it and making sure it does exactly what it needs. After that, we need to go through manufacturing and then finally the distribution, which means Reveal in your hands.
We have support from experienced mentors who are helping us guide the development of Reveal. We are involved in the Coast Capital Savings Innovation Hub and the Next36 Accelerator to help us ensure that the transition from concept to finish product happens smoothly.
We are working to confirm our entire supply chain by the end of 2016. Our goal is to ship Reveal Version 1.0 to you by May of 2017.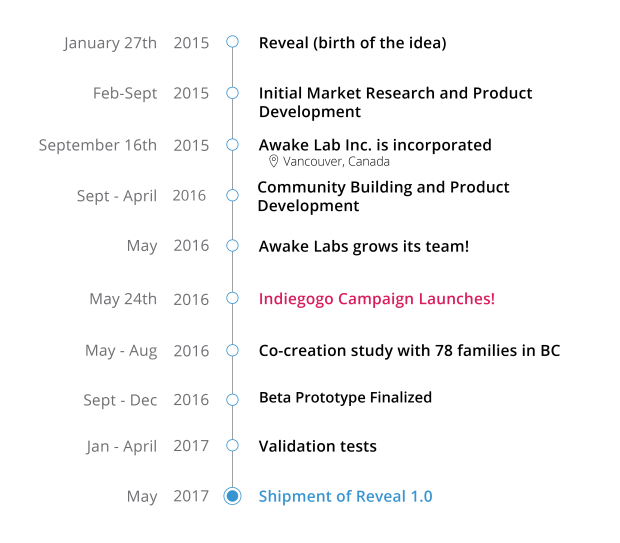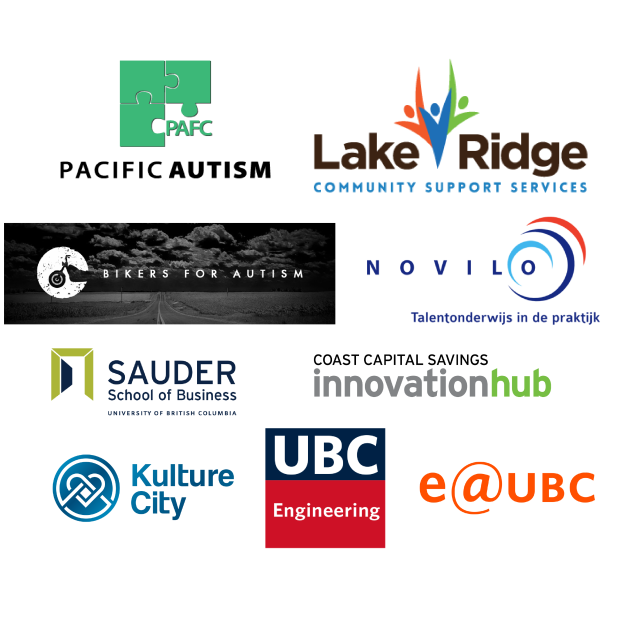 Our body's nervous system automatically responds to physical, emotional, and cognitive stressors. For example, knowing you have a big test coming up, or hearing a loud noise can evoke nervous system reactions.
The autonomic nervous system responds to these stressors by activating the sympathetic nervous system, which results in a number of physiological and behavioural changes.
Reveal will measure and track a combination of the three leading physiological indicators of changes in anxiety as a result of these stressors.
These indicators are:

So, how exactly does this work?
When alerted, your sympathetic nervous system can activate certain sweat glands, resulting in "emotional sweat". Electrodermal activity is a measure of change in skin conductance as a result of this "emotional sweat". We will measure EDA through small electrical changes in the skin using two dry electrodes – a painless way of measuring EDA.
Your sympathetic nervous system also affects your circulatory system. When alerted by external stress, your heart rate will increase, and the diameter of your blood vessels will decrease. We can measure heart rate by shining a light on the skin and measuring the change in the light reflected as the blood pumps in and out of peripheral arteries. We can indirectly measure changes in blood vessel diameter by observing changes in skin temperature, which are tracked with a sensitive thermistor.
All of these sensors will be powered by a rechargeable Lithium-ion battery.
Reveal will identify the physiological patterns that relate to anxiety to give you more insight into what is happening internally.
Kushki et. al. (2013). Investigating the Autonomic Nervous System Response to Anxiety in Children with Autism Spectrum Disorders. PLoS ONE 8(4)
Fletcher et. al. (2010). iCalm: Wearable Sensor and Network Architecture for Wirelessly Communicating and Logging Autonomic Activity. IEEE Transactions on Information Technology in Biomedicine, Vol. 14(2)
Poh et. al. (2010). A Wearable Sensor for Unobtrusive, Long-Term Assessment of Electrodermal Activity. IEEE Transaction on Biomedical Engineering, Vol. 57(5)
Liu et. al. (2008). Physiology-based affect recognition for computer-assisted intervention of children with Autism Spectrum Disorder. International Journal of Human-Computer Studies, 66.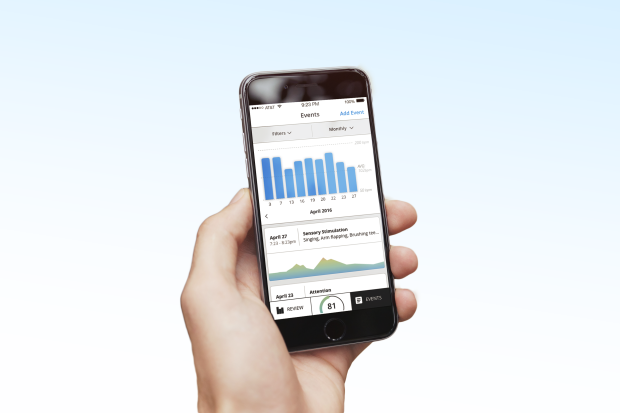 Reveal will go beyond physiological tracking – we are working with families to help us identify how to best track other types of behaviours, activities, and other useful information to provide a complete and individualized profile to better understand your child.