iCrowdNewswire - May 25, 2016
The Big Park Sleepover 2016
Explore a park at night! This is a FREE summer sleepover camping mini-festival for low income/local families in the heart of London's Myatt's Fields Park.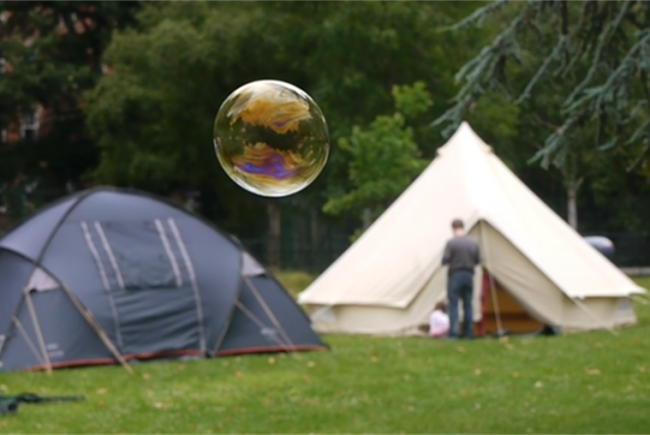 We have been holding the 'The Big Park Sleepover' at Myatt's Fields Park, Lambeth since 2011. For some, this is their only holiday of the year, for others it is their first night in the great outdoors ever. Everyone LOVES it!
This year we'll be offering 100 low income/local families (that's 200-250 people) a night to remember and the chance to experience nature on their own doorstep in the park for one night in summer 2016.
With overnight security (thanks to the local Army Reserves & Cadets) we provide everything else – tents, sleeping bags, toilet facilities & lighting, games, hay bales, workshops on gardening, cooking and fire-lighting, professional storytellers and drummers, with dinner and a cooked breakfast thrown in. We'll even have fireworks this year if we reach our target.
To find out just how much the Big Park Sleepover provides, we've got some great videos to show you at: http://www.fathernature.org.uk/community/the-big-park-sleepover/
What we'll deliver:
Provide accommodation, food and entertainment for 100 low income and local families.
Consult with all public bodies to satisfy health & safety and environmental concerns.
Film the event and conduct an impact measurement study.
Why it's a great idea:
The Big Park Sleepover isn't just about camping, it provides a unique opportunity for kids and adults alike to make friends with nature and across communities. It's a multi-sensory event that children love and where adults gain a wide range of new life skills. It's important too – independent research indicates that one third of London's families visit natural places less than once every two months and that one in seven families don't even make a single visit in a year. The statistics are even worse for low income families – the health and educational implications are obvious.
Meanwhile other research shows that camping and outdoor play improves people's attitudes to nature and builds confidence to engage in further outdoor activities.
Through crowdfunding The Big Park Sleepover you can help shift the attitude and health of low income families by providing a platform for them to engage with nature, outdoor activities and healthy eating, and improve their quality of life.
Steps to get it done:
Advertise the event through local media to our target families.
Book the tents, the equipment, the staff, the food and work out a schedule for the activities.
Make sure we leave the park even cleaner than we found it!
What do I get for my pledge, you ask?
· The first 5 names out of the hat will be guaranteed a place at the Sleepover, each with a 4 birth tent provided. Each winner will be welcome to bring up to 3 companions (family or friends).
· 10 runners up will be invited to join us for supper on the night of the Sleepover.
· 20 runners up will win a ride in Father Nature's magic milk float.
Good luck!
PS. In the past The Big Park Sleepover has had public funding, but like everyone else, this year we find the well has dried up. Please help fund us to make it a night to remember for our 100 families in 2016. The Big Park Sleepover at Myatt's Fields Park is just the beginning. If Father Nature gets enough interest and support we plan to roll this project out through all the parks in London, and, one day, every big city in the UK. You can help us make it a reality!