iCrowdNewswire - May 24, 2016
Weavers Kids Cafe and Community Pizzeria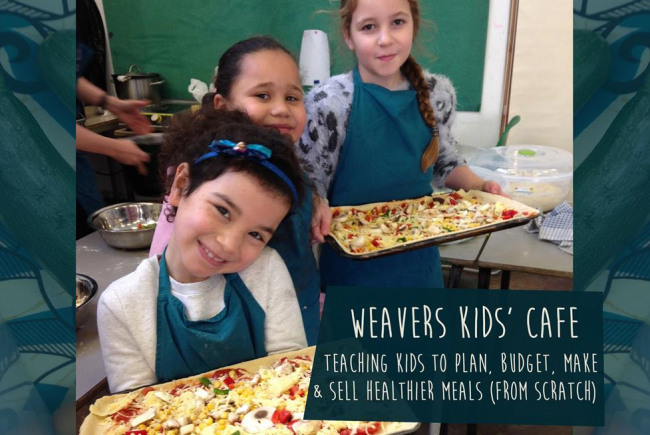 Our not-for-profit cafe will teach kids to cook and sell affordable healthier meals, with costs funded by our Community Pizzeria, which will also help sustain Weavers Adventure Playground.
Weavers Adventure Playground has been running for over 40 years, and is all about alternative methods of learning, engaging young people (and their families) in cross age group active play, fire building, cooking, creativity, and self-governed peer learning.
We'd like to take this a step further and set up cooking sessions for kids and their families that then generate affordable healthier meals for all those who attend Weavers. This will eventually lead to kids' establishing their own menus and budgets every Saturday, and being supported to become cooking entrepreneurs for their community through Weavers Kids' Cafe.
In partnership with this, we'd like to build an outdoor pizza oven and covered area opening out onto Weavers Fields, teaching (and employing) parents and local people to cook and sell pizza to the wider community. All profits from this will go towards the Kids' Café costs and making Weavers Adventure Playground far more self-sustaining for many years to come.
What we'll deliver:
Buy cooking equipment, fold up tables, benches, etc. for Kids' Cafe and Pizzeria
Initially set up 2 weekly cook and sell sessions for Weavers Kids' Cafe
Build an outdoor Pizza Oven and kitchen surfaces, selling counter, etc.
Build covered outdoor eating area with seating, and planting beds for herbs/salads
Make new entrance for Community Pizzeria onto Weavers Fields, with signage
Publicise and set up training sessions for Community Pizza Chefs and Volunteers
Employ 2-4 Part-Time Pizza Chefs and a set of Community Volunteers
Publicise Weavers Kids' Cafe and Community Pizzeria to local schools, and the wider community
Run monthly 'Make you own Pizza' Sessions
Print pizza takeaway boxes with info showing other ways you can support Weavers Adventure Playground
Why it's a great idea:
Tower Hamlets has the fifth highest level of child obesity in the country, with 25% of 10-11 year olds classified as obese.
Bethnal Green has the highest national rate of child poverty (49%).
We need grassroots ways of tackling this by providing spaces where affordable healthier food and exercise is readily available for all.
What we plan to do is even more ambitious, we want to empower young people and families to learn to provide healthier alternatives for their whole community, not just themselves. We will set this up in a space which already provides supervised after school care for local young people.
In turn, with the Pizzeria, we will also establish a model where Weavers Adventure Playground is no longer at the mercy of ever increasing cuts to Public Funding.
For a relatively small outlay, a community will support each other to eat healthier, whilst helping an already established and much needed active play space to become more self-sufficient and to therefore flourish.
Steps to get it done:
Collaborate with Adventure Playground Engineers (APES) to design our outdoor pizza oven, kitchen, and seating area
Talk with the Tower Hamlets Council with regards to opening up an entrance to Weavers Fields
Brand Project, Publicise Cooking Sessions, and callout for Part time Pizza Chefs/Volunteers and Build Volunteers
Buy Cooking Equipment, etc for Cooking Sessions
Build Outdoor Pizzeria (with additional volunteers) and start publicising opening weekend
Employ David Latto (Latto's Pizzas) to train up Pizza Chefs and Volunteers
Start running twice weekly Cooking sessions, selling affordable meals to those who attend Weavers
Employ 2-4 Partime Pizza Chefs and set up rota for Community Pizza Volunteer Assistants
Grand opening of Weavers Kid's Cafe and Community Pizzeria
Pizzeria initially open Weekends (Profits paying for Sunday staffing of Adventure Playground)
Start match fundraising bids for renovating our Community Hall
As much as we'd love you to donate… We'd also love for you to come and be a part of our space… So, everyone who pledges is welcome to share a free slice of pizza at our opening event.
For a £10 donation…We'll happily provide a free whole pizza (to the first 20 pledgers)
For a £25 donation… We'll invite you to our Kids' Cafe Community Feast (For first 50 pledgers)
For £100 donation… You'll become one of our founding Pizza Patrons, and we'll name you on our Pizza Boxes
For £250…You and up to 10 friends/family will get your own Pizza Making-Cook and Eat Session (For first 5 pledgers)