iCrowdNewswire - May 24, 2016
AMY A1:The world's first family and business robot
An intelligent robot assistant for both personal and business uses with latest innovations!
AMY IN THE MEDIA
TIMES SQUARE, NEW YORK, USA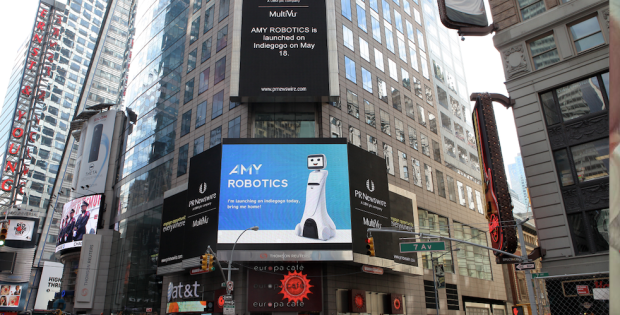 MEDIA FROM THE WHOLE WORLD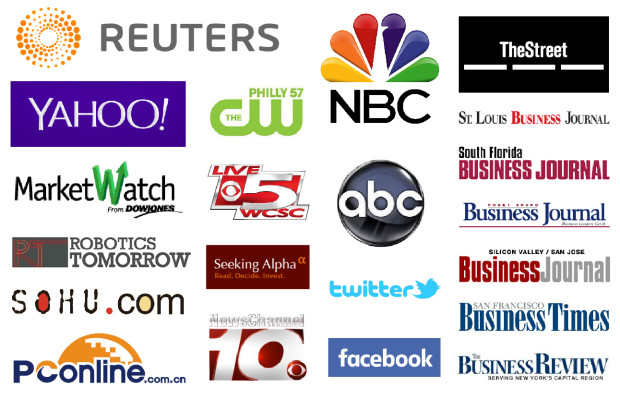 WHO IS AMY?
Amy A1 is a featured service robot that can communicate with human and carry out a number of daily tasks. She is smart enough to answer almost any question and is very attentive to your command. With the support of powerful software and hardware, she will bring many futuristic applications to reality.
WHAT CAN AMY DO?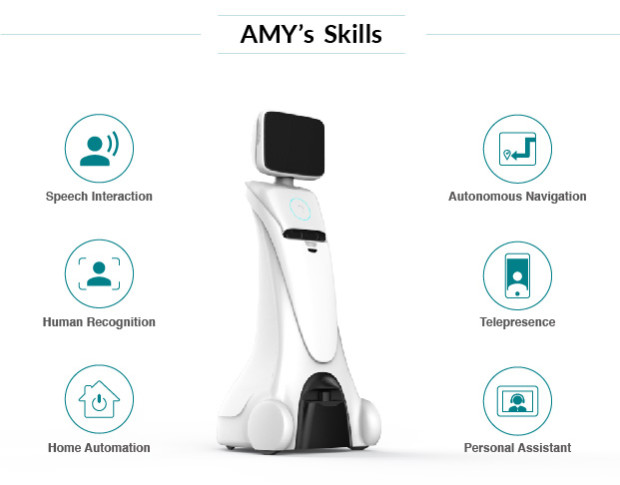 Practical information
News broadcast
Weather forecast
To do list & intelligent reminders
Remotely control through smart devices
Your virtual presence at home wherever you are
Self-localization
Obstacle avoidance
Semantic map
Auto-recharging
Speech recognition in 360°, 5 meters distance surrounding.
Natural language processing
Microphone array with noise cancellation
Artificial intelligence agent
Face recognition
Human following
Appliance control
Environment monitoring
Risk detection
Auto-patrol and surveillance
SMART HOME? EASY!
Able to move to specific destination autonomously without any human intervention and keep out of obstacles. She can also control your home appliances to make your life easier, like turn on lights, air conditioner.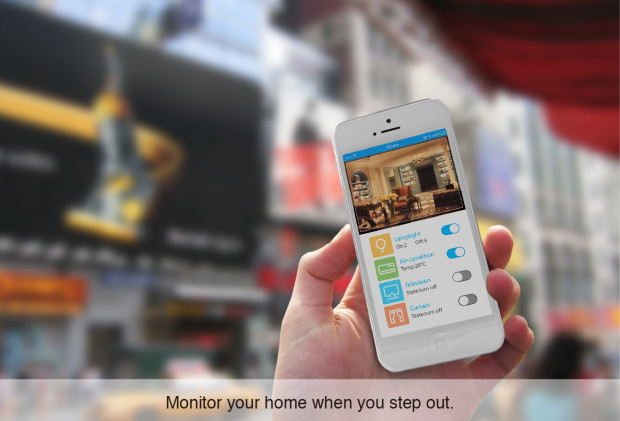 It offers a perspective through the robot's eye and also interaction with the whole remote physical world by moving around,use Amy to connect to your clients, co-workers, and the beloved ones more closely!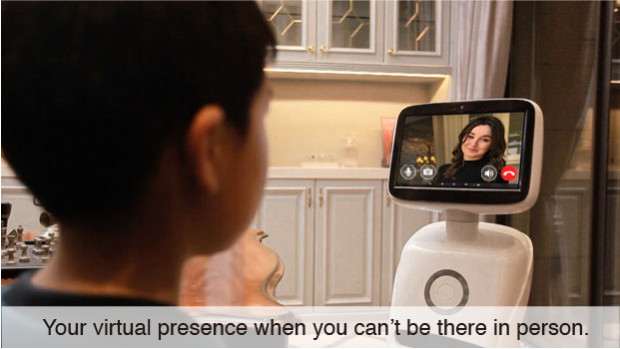 With powerful artificial intelligence engine, she is designed to be an attentive, kind hearted, quirky yet sometimes clumsy girl. Ask her for help, she would be more than glad to give you answer.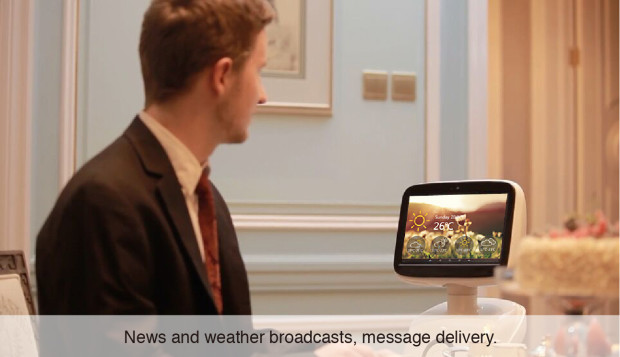 Amy can learn to memorize human faces. By showing your face in front of the camera, she will record your facial features and record them.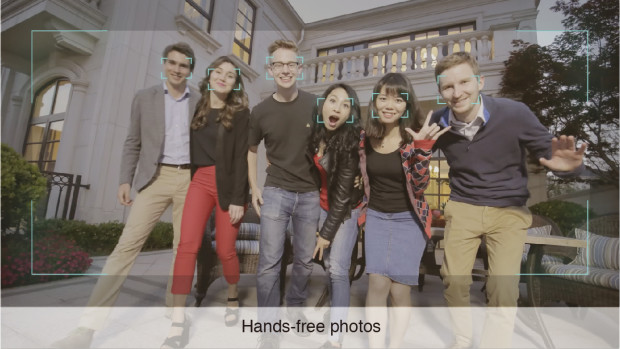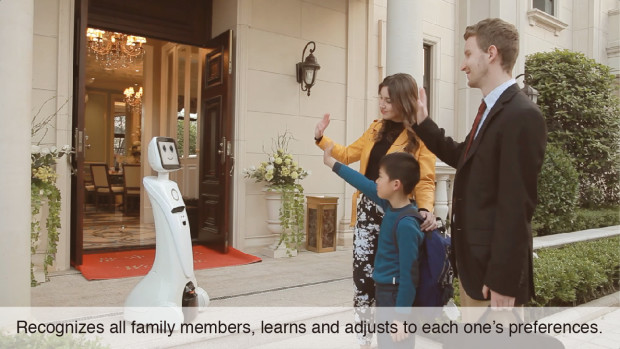 BUSINESS USE:
Amy works as your assistant, she helps to set and remind you important meetings, events, tasks, she also can be your virtual presence on meetings and conversations with colleagues through telepresence no matter where you are.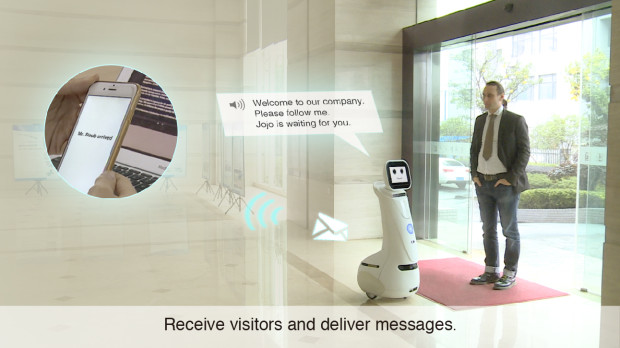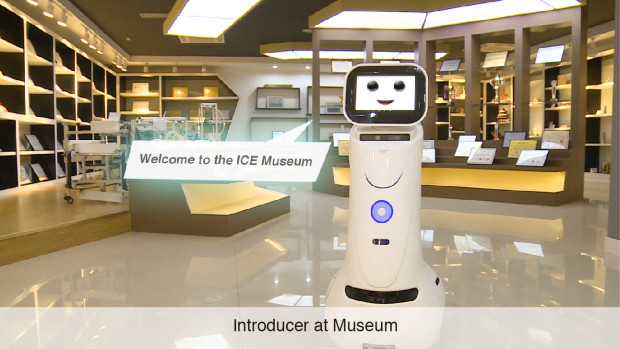 ANY OTHER INFORMATION?
YOU BET!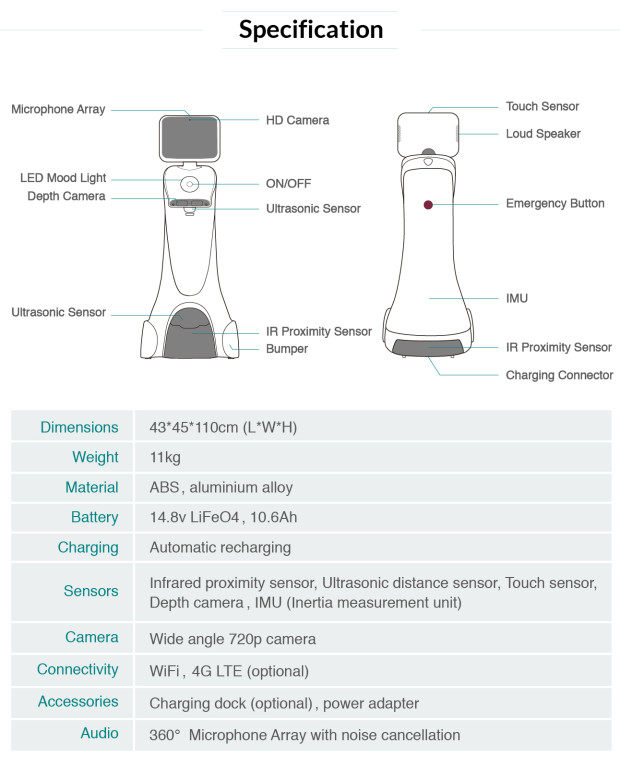 LAST BUT NOT LEAST,
How Does AMY A1 Work?
EASY!
1. Get AMY charging with power adapter or smart charging dock
2. Connect to your WIFI network
3. Activate your AMY's ID
4. Follow guides to set up an administrator account and your preferences
5. Download AMY's app to control AMY remotely
6. Here you go!
AMY'S FAMILY MEMBER: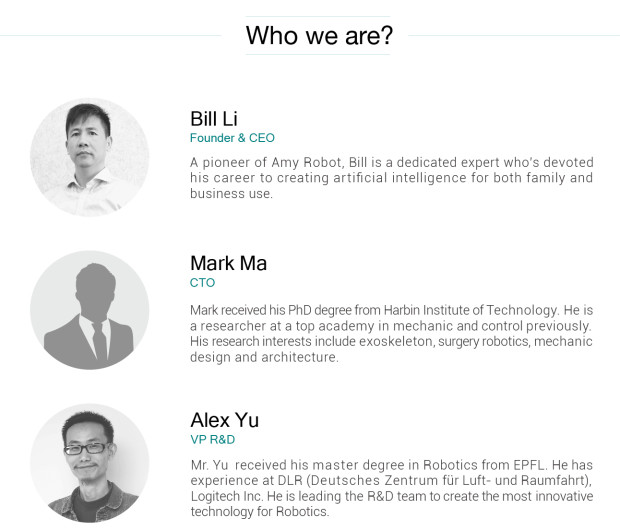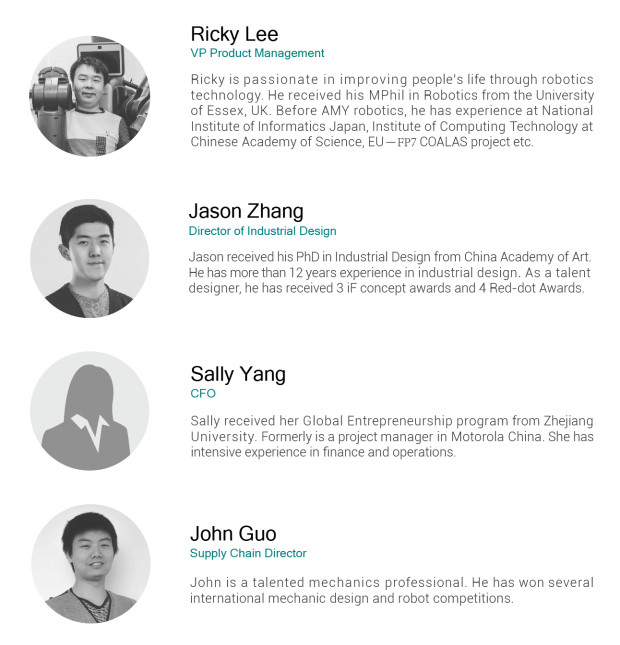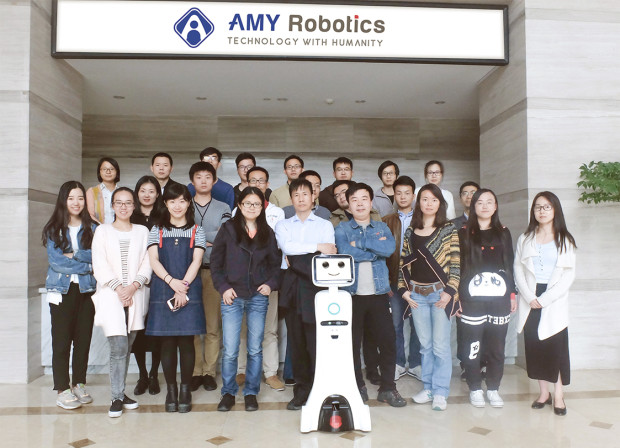 SHARE YOUR LOVE ….
IN A SMART WAY!
AMY'S team believes that LOVE MAKES THE WOLRD GOES AROUND. The team will build up " AMY'S FOUNDATION" and put 5% of our sales into the charity to help dropouts.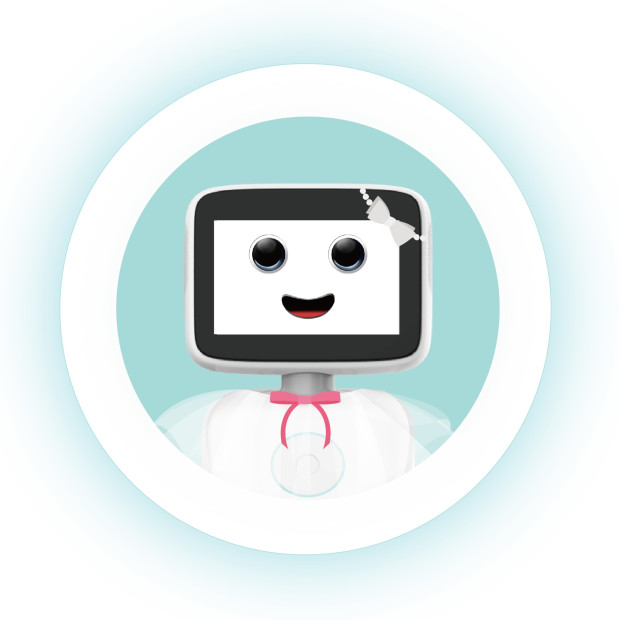 LONGTERM COOPERATION
AMY Robotics is now actively seeking international cooperation opportunities inproduct development, sales, and manufacture. If you are interested in working with us, please contact :
Aline Wang: [email protected]
FAQ
Q:Does Amy Robot need Internet?
A:Yes, She needs to connect to internet with WIFI/4G.
Q:How many administrator accounts can remotely control the AMY robot? Is there a maximum number?
A: 10 users maximum can set as administrators (Family member) account to fully control Amy remotely, Amy robot supports multiple user connection as normal friends which can control Amy`s movement with instant permission. You can download an AMY client APP and register a personal account to control Amy' movement remotely.
Q:How do you use Amy Robot?
A:You can find Amy`s user manual that comes with Amy Robot package or via our website.
Q:Will Amy bump into furniture or walls?
A:Amy has self-protection system with obstacle avoidance, she can recognize the obstacles around her body automatically.
Q:How long is the battery life of Amy? And how will she get charged?
A:Her battery can last 10-12 hours with full capacity. She will go to the charging dock and charge herself automatically when the battery is under 20% capacity.
Q:How many languages can Amy speak?
A:Amy supports multiple languages. We will keep the official website posted as we add languages.
Q:Can Amy climb stairs?
A:No, she cannot. Currently, she can only move on the flat floor.
Q:What is the difference between Amy's tele-presence with IMs?
A:Amy`s tele-presence is different to traditional IM communication. Amy can be your physical presence at home or office, you can control her to move remotely through our client App. She supports tele-presence between multiple people anytime, anywhere without interrupting hands work, She provides a better and more real communication experience. Also with her friendly speech interaction, face recognition and powerful artificial intelligence, she can act as an personal assistant.
Q:How do you clean Amy robot?
A: You can use soft towel in the package and wipe it softly. You are also welcome to Amy's store and clean inside body during warranty period.
Q: Does it work with iOS and Android Devices or my computer?
A: AMY is compatible with Android devices, IOS will be available in the near future. She also has a web interface so you can interact via computer.
Q: How does AMY Robotics protect my privacy?
A: AMY only collects data it needs, keeps it encrypted, and doesn't transmit any personal data back to our servers. All sensitive data like passwords are encrypted with 256-bit AES encryption to ensure that no one can ever gain access to them. AMY may collect some data anonymously for purposes of improving the product. You will have control of how much data AMY shares with us and can turn off sharing if you like. Remote control permission of Amy Robot under restricted authorization process by a robot owner.
Q: When will my AMY be shipping?
A: We plan to ship AMY on October 2016. You will receive AMY around October/November this year
Q: Which countries will Amy be shipped to?
A:We provide worldwide shipping.
Q: Can I give Amy a different name?
A: For now, you have to call her by her name, Amy, to start interaction with her name. Customization will be available in the future.
Q: What is Amy's warranty policy?
A: All product specifications, illustrations, drawings, particulars, dimensions and other information on the Site or made available by us are intended to represent no more than a general illustration of the Product and its features and do not constitute a warranty or representation by us that the Product will conform with the same.
We offer 1 year warranty on Amy except for artificial damage.
Q:If I have other questions, who should I contact?
A:We are receiving a lot of inquiries and are responding as fast as possible. Please contact [email protected] with any other questions you may have.
Find This Campaign On