iCrowdNewswire - May 23, 2016
Rad Rocket Custom Cabs
Crafting the most customizable guitar and bass cabinets on the planet!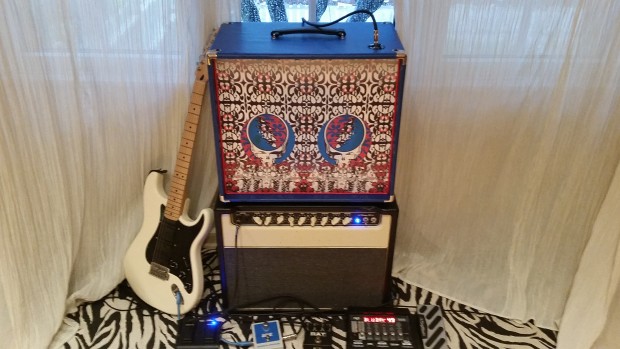 Hi, my name is Zach Webster, founder of Rad Rocket. We are a small business based out of Pawhuska, Oklahoma serving the surrounding area. I am trying to grow the customer base and increase business, making one hand built custom Guitar/Bass cabinet at a time. I have always valued originality more than anything. I love music, art, carpentry and creating. So, I put those things together to start Rad Rocket Cabs. Ive built 12 prototypes under the guidance of my grandfather, August Hague. He has been a carpenter and craftsman for 60 years and has taught me the strongest building techniques.
With our standard model, we start by giving you complete freedom of choice in all aspects with a few special design features added for good measure. These unique choices give you a boutique quality product at an affordable price.
We start with a selection of premium tone woods which include Baltic Birch, Maple, Cedar, Ash, and Pine. We even let you choose the type of wood used in the bracing and baffle giving you the ultimate control over your cabs sonic character.
I can leave your custom cab naked with a clear coat, coat it with a particular stain or totally cover it in any color vinyl you can imagine. You have 100's of vinyl color options to choose from followed with 1000's of grill cover options, even your OWN images can be printed on the woven grill cloth. We offer 12 colors of piping which include red, blue, green, brown, tan, cream, light grey, dark grey, gold, white, silver and classic black. Two choices of hardware (nickel plated or Black metal), two handle styles (leather or rubber) and three back options: open, closed, and convertible back designs (patent pending).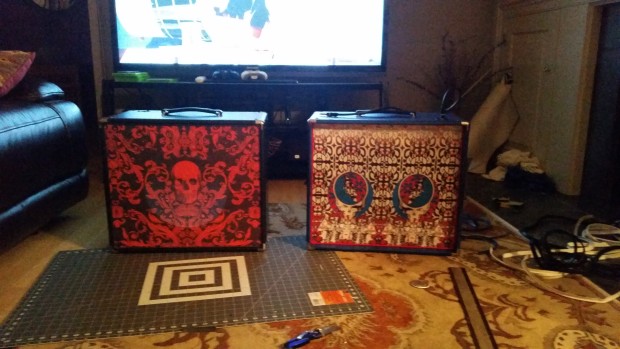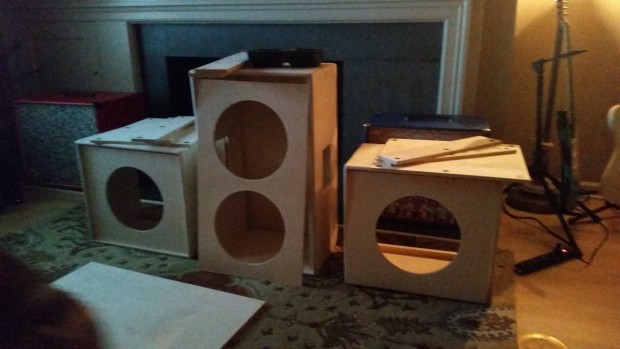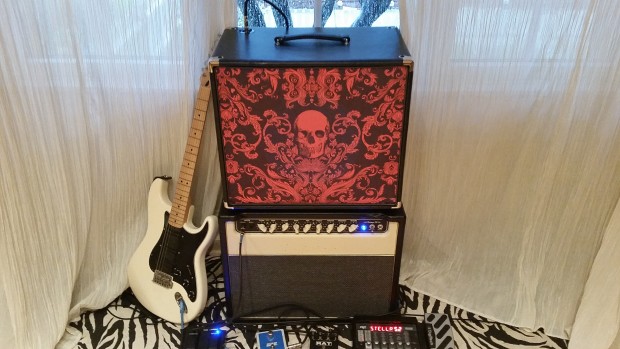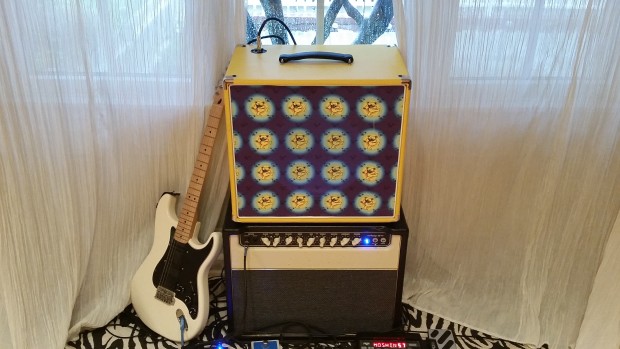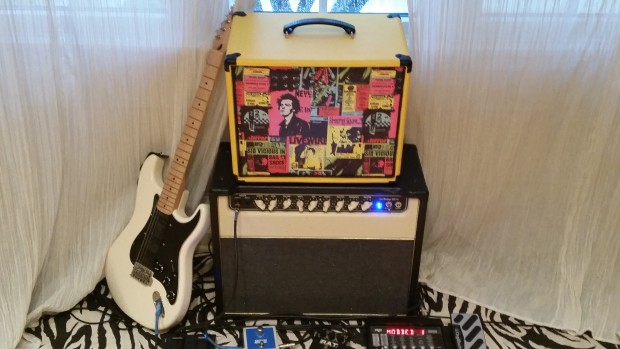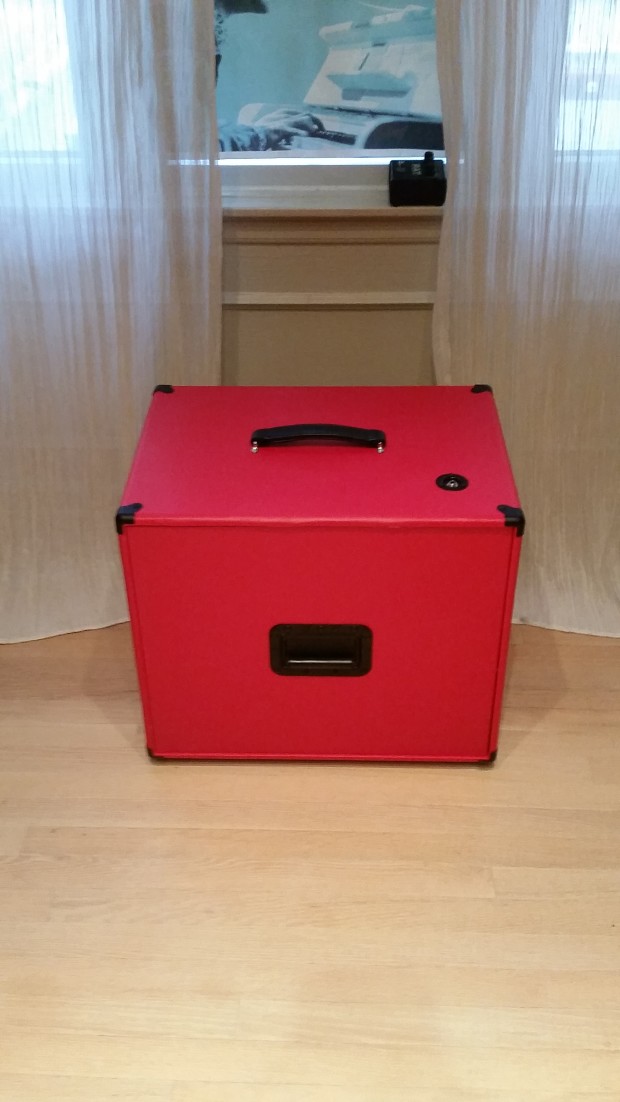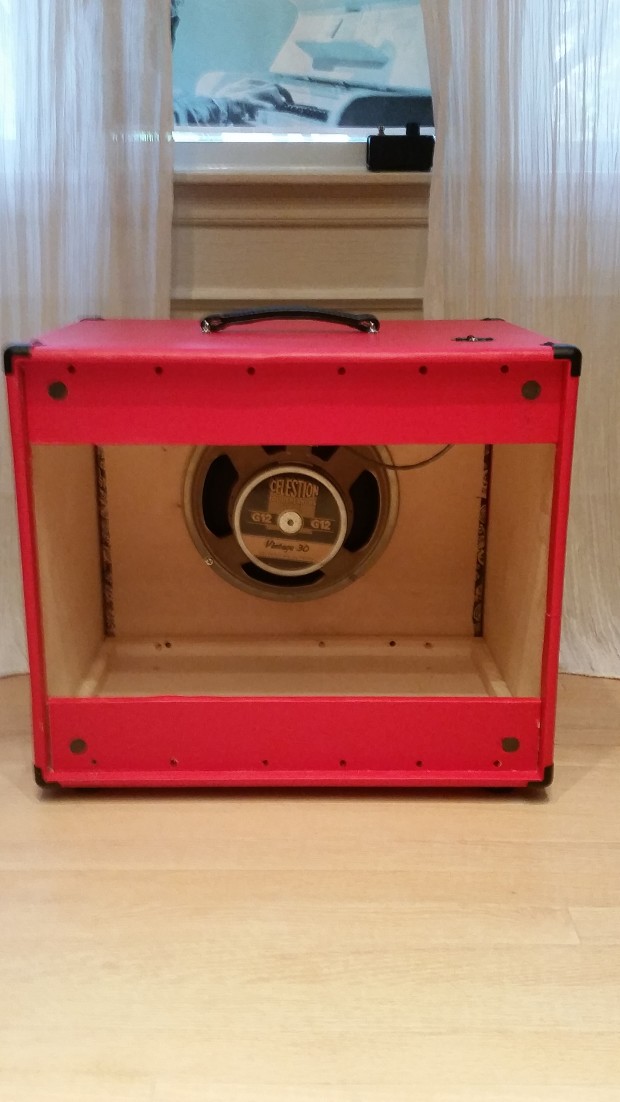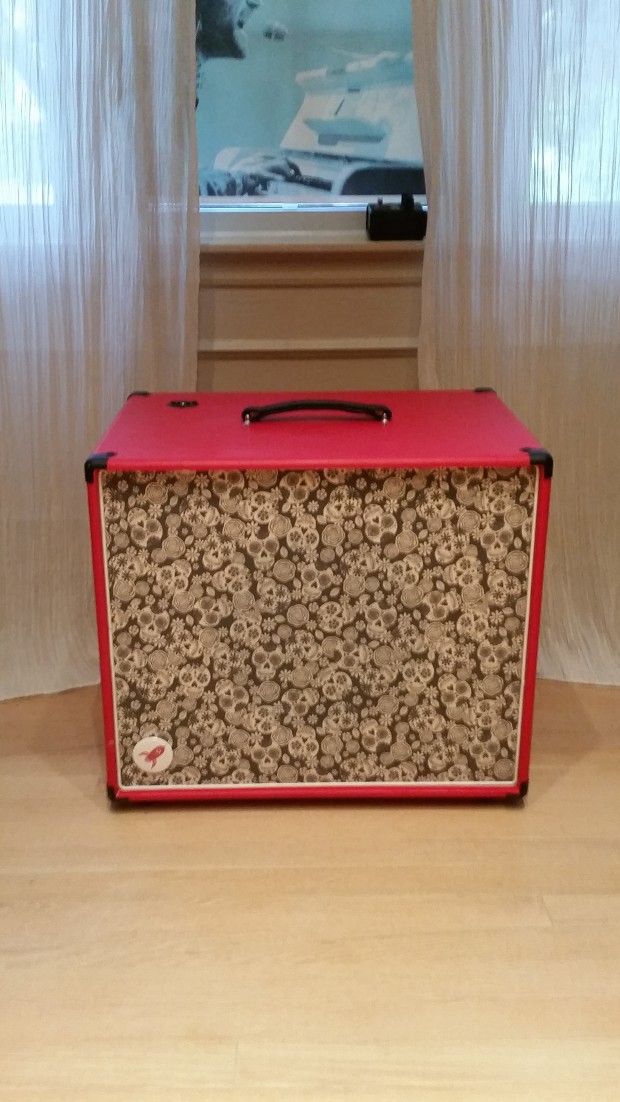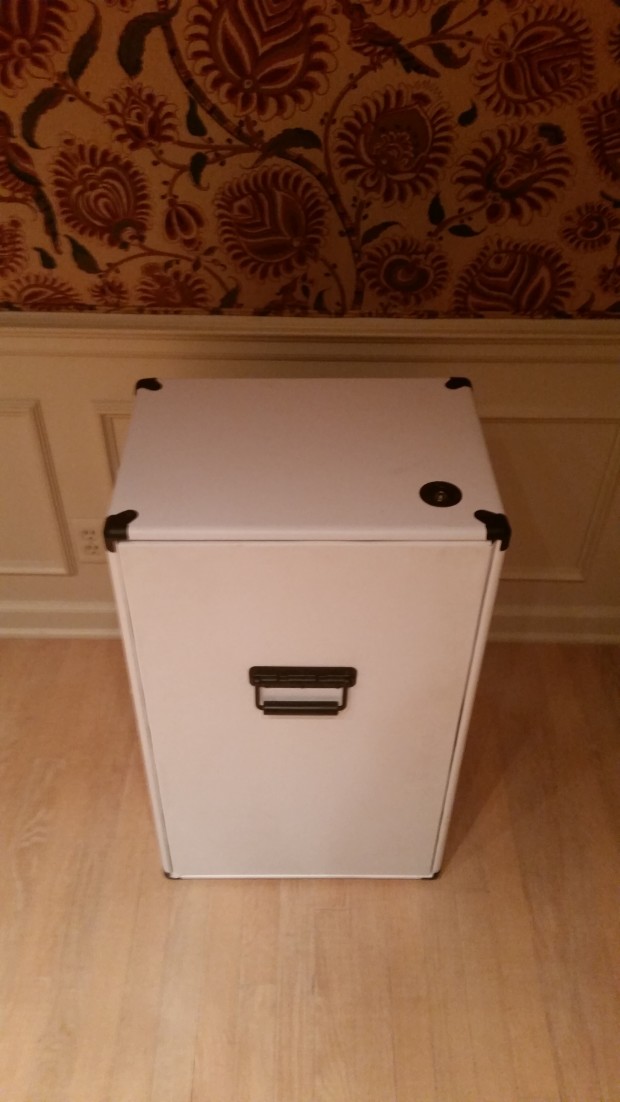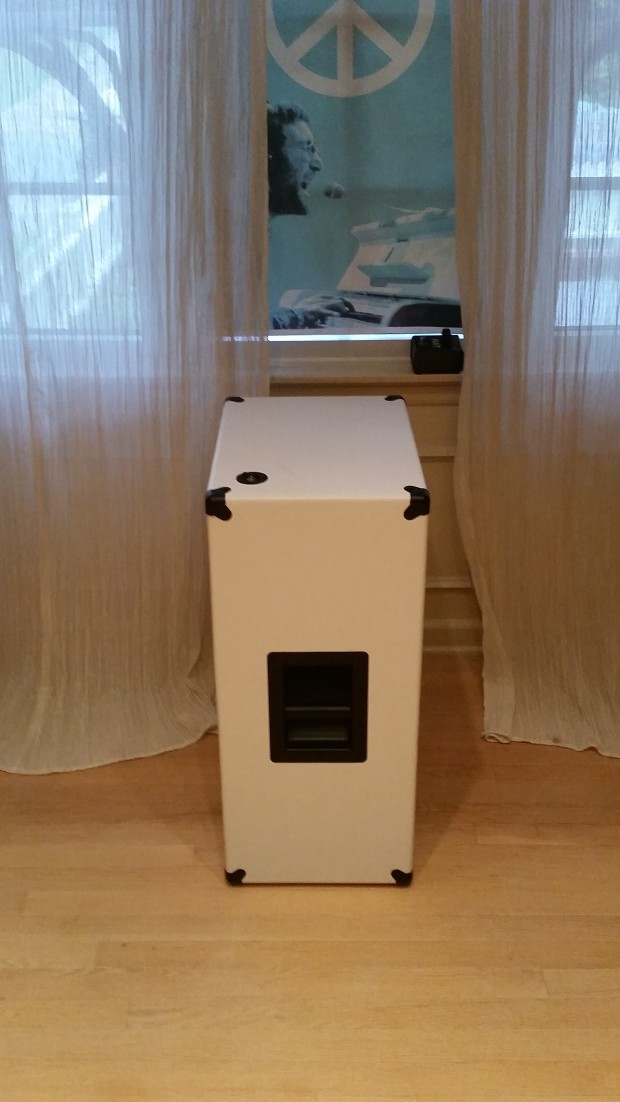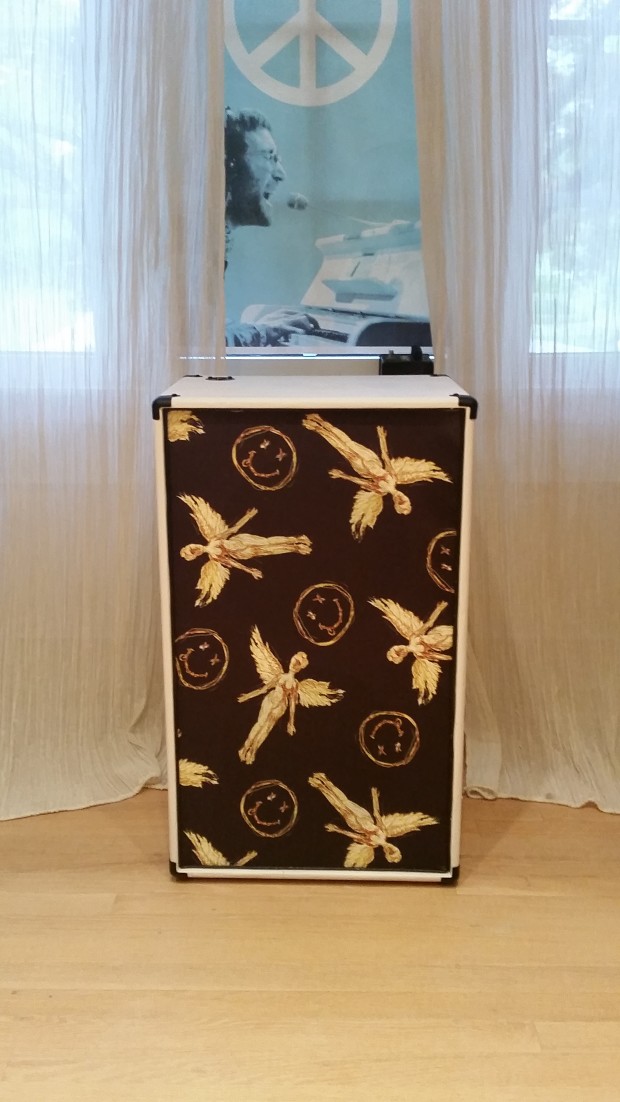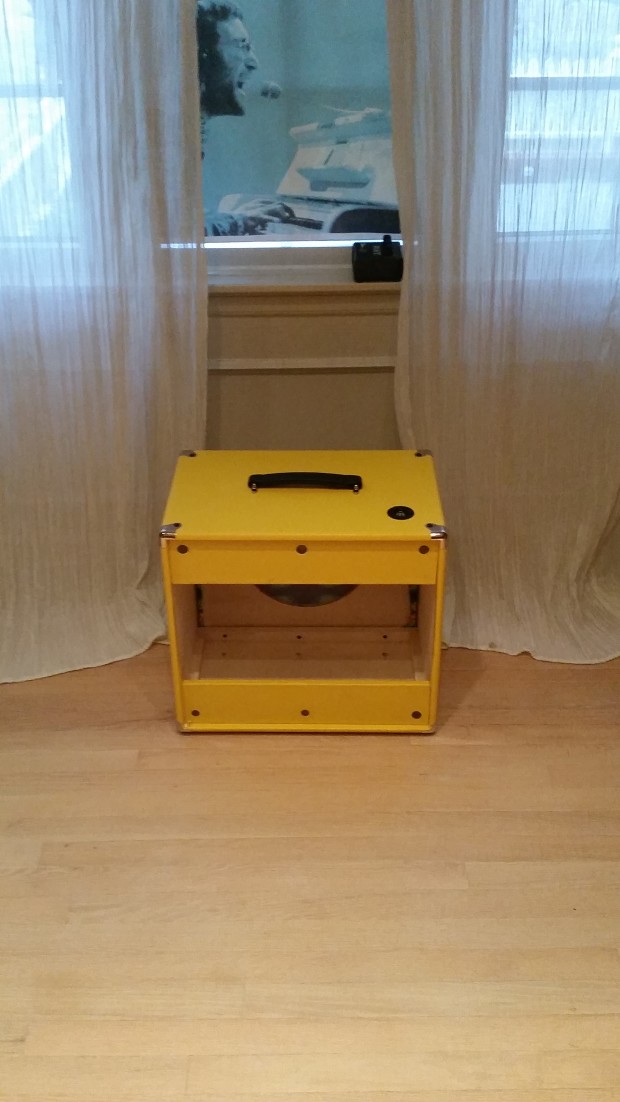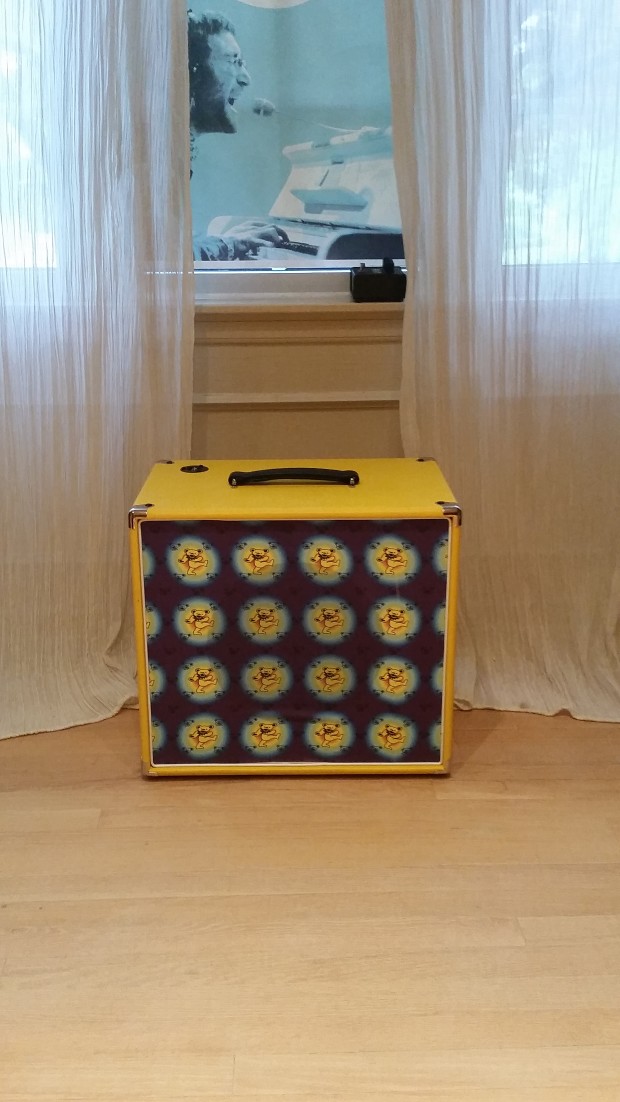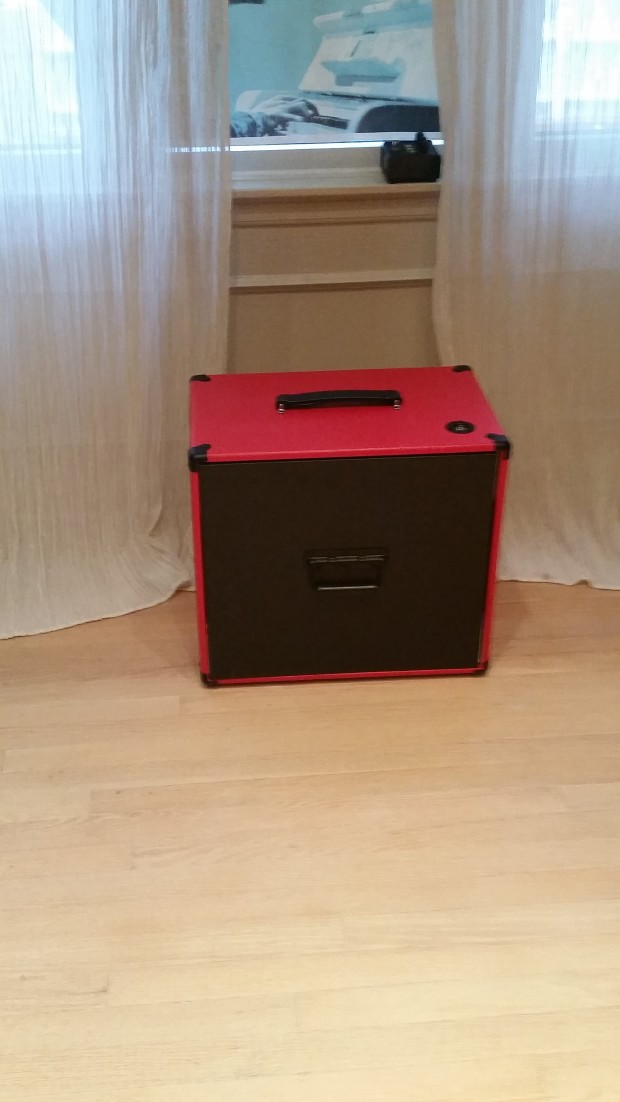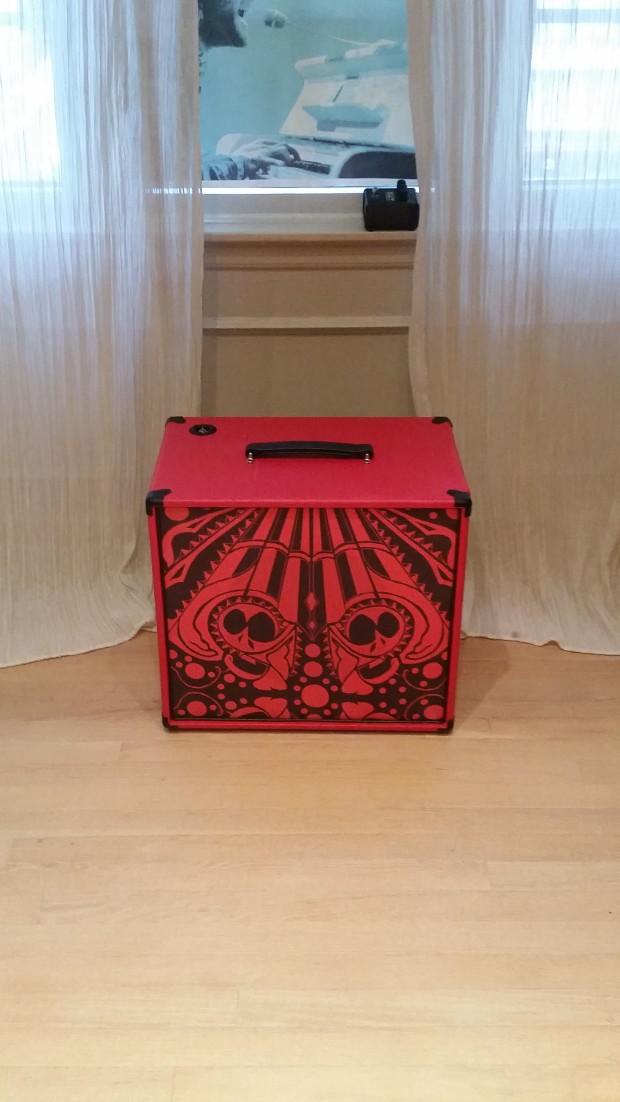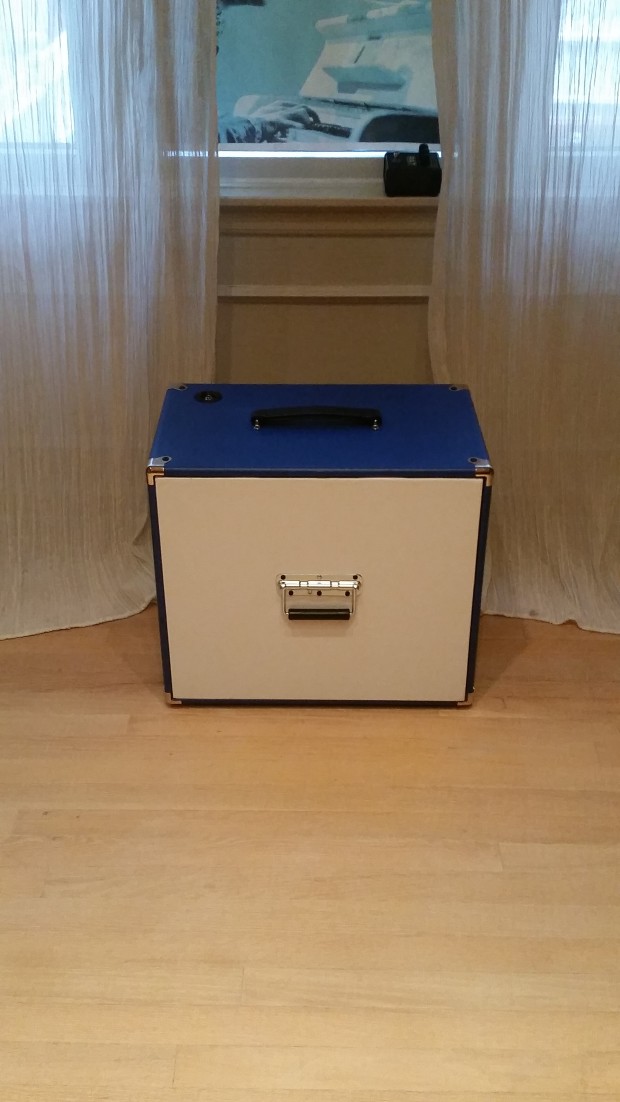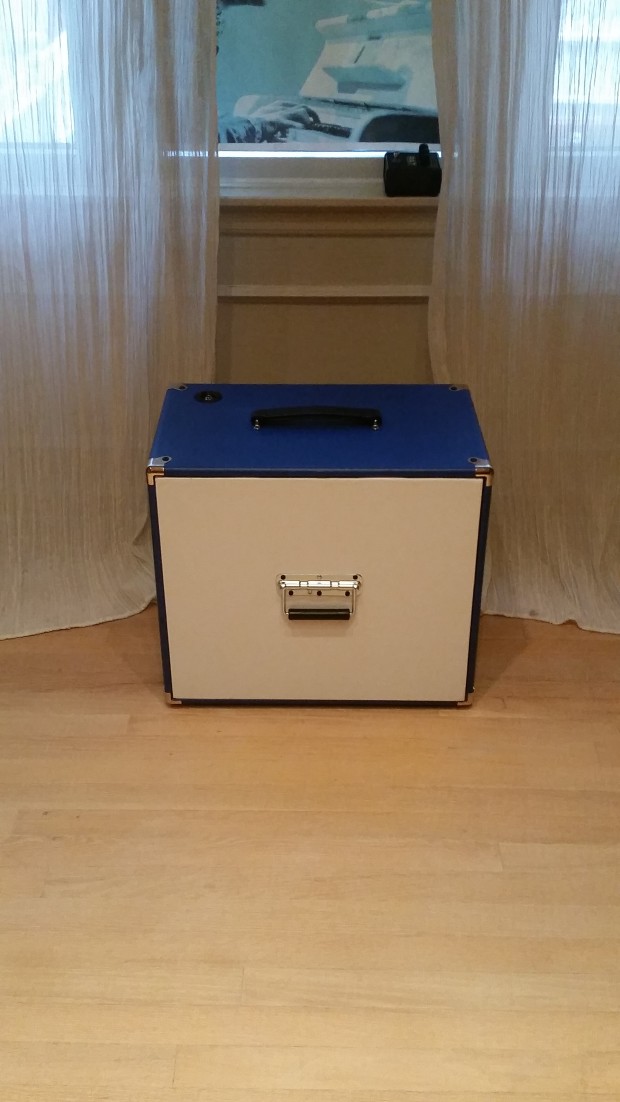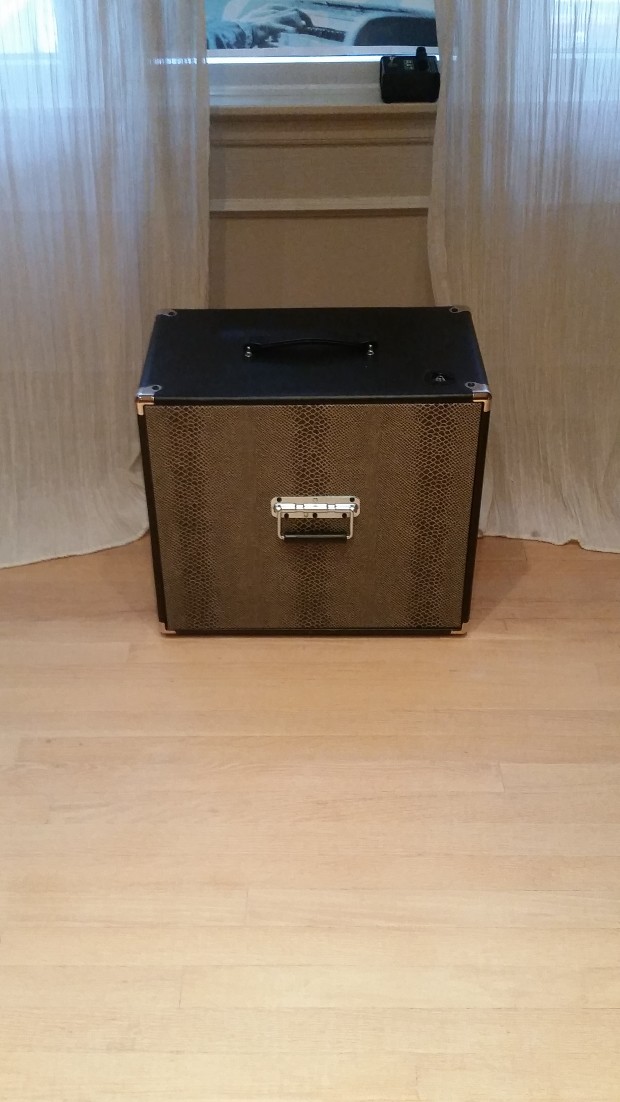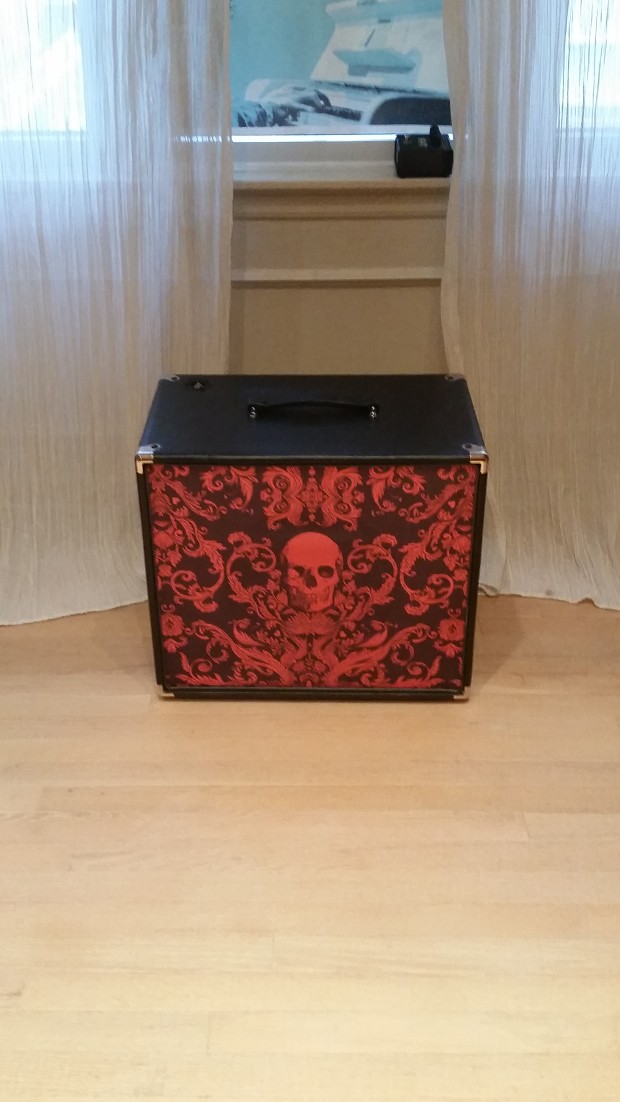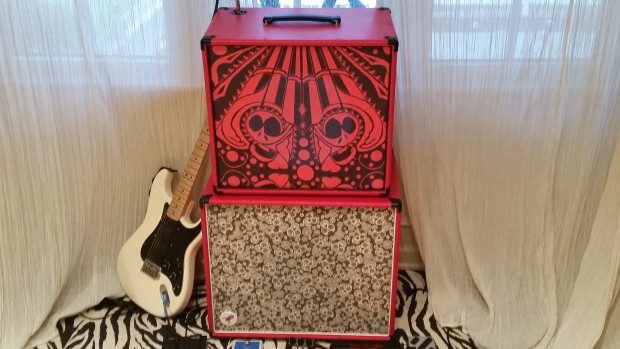 One essential factor that is often overlooked is whether the back of the cabinet containing the speaker or speakers you use is open or closed. There's a big difference between the two since cabinet construction defines the shape of the sound wave that reaches the ears of those listening. A myriad of other elements of cabinet construction are also relevant, including the type of wood used, the size and depth of the cabinet, and the thickness of the baffle, which is the piece of wood the speaker is mounted to. But whether the back of that cabinet is open or closed is the most dramatic and visibly obvious variation. Most open backed cabinets are actually just partly open, with upper and lower panels going halfway up. Open back cabs allow some of the speaker sound to emerge from the back and to a lesser extent, the sides. On stage, this abundance of sound can be quite helpful when monitors are inadequate or absent. This also allows some excellent sonic opportunities in the studio, too. Microphones can be placed at the back of the cabinet, where slightly dirtier and darker tones are typically available, and in an isolation booth the sound tends to mix and fill the space better. Without a closed back to naturally compress a speaker's voice, open back cabinets might be considered more organic or accurate representatives of the sound that a guitar produces. High frequencies in particular benefit from this, but open-backed cabs tend to be gentle to the entire spectrum. Not so with closed back cabinets, which tend to accentuate the mid range and bass sounds. They are directional and punchier which create no back spill or side leakage. Amplifiers with the same circuitry sound radically different when they are running open and closed-back cabinets. With the convertible back you get both options at the drop of a hat. Held on with an active 28 pounds of force using my patent pending design . All cabinets are also numbered, labeled, and signed on the inside.
We offer an awesome product at a fair price! Sure you can get generic overpriced cabs made from inferior materials but why when you can get a genuine piece of personalized art from Rad Rocket for about the same price? We are primarily a custom shop but I can't let you guys have all the fun, so I created 11 "special edition" cab designs that are typically more expensive depending on the edition than our standard custom cab because they use very exotic tone woods, unique cover upgrades, added features, or a combination.
91 percent of our donations go directly into labor and cost of materials for your custom cab, 9 percent goes to indiegogo. Check out my video and image gallery and please share this with any musicians you know. Don't forget to use the indiegogo share tools. All ordering details below!
My email is [email protected]
My phone number is 904 294 1367 call or text
You can reach me via my personal or business facebook as well.https://www.facebook.com/zach.webster.184 orhttps://www.facebook.com/radrocketcabs#
Sizes
1.1×10 18x13x11 1/2
2.1×12 19 3/4x18x13
3.1×15 19 3/4x18x13
4. 2×12 32x17x13
Standard Tone wood choices
1/2 or 3/4 inch
1. Cedar
2. White Pine
3. Baltic Birch
4. Ash
5. Maple
Vinyl colors
1. Black
2. Charcoal
3. Pure White
4. Ivory
5. Off White
6. Beige
7. Mocha
8. Brown
9. Dark Brown
10. Dark Blue
11. Light Blue
12. Baby Blue
13. Navy Blue
14. Royal Blue
15. Sky Blue
16. Turquoise
17. Sea Foam
18. Sea Spray
19. Forest Green
20. Lime Green
21. Dark Green
22. Tree Graphic Camo
23. Desert Graphic Camo
24. Army Graphic Camo
25. Navy Graphic Camo
26. Neon Yellow
27. Mustard Yellow
28. Light Yellow
29. Light Purple
30. Dark Purple
31. Periwinkle
32. Midnight Purple
33. – 47. Hawiian Floral (15 colors ask)
48. Red
49. Blood Red
50. Pastel Red (pinkish)
51. Baby Pink
52. Hot Pink
53. Dark Grey
54. LightGrey
55. Silver
56. Halloween Orange
57. Burnt Orange
58. Orange Cream
59. Gold
60. – 75. checkered (15 colors)
76. – 91. pin stripes (15 colors)
92. – 107. regular stripe (15 colors)
108. Olive Stain
109. Cherry Stain
110. Dark Stain
111. Nitrocellulose
112. Polyurethane Clear Coat
113. Sprayable Plastic
Grill covers
Send me the image you want and I will print it on a woven grill cloth or you can tell me roughly what you want. Then I will bounce ideas and pictures around with you. I want to make sure you get something you love!
Piping
1. Red
2. Blue
3. Green
4. Brown
5. Tan
6. Cream
7. Light Grey
8. Dark Grey
9. Shiny Gold
10. White
11. Shiny Silver
12. Classic Black
Hardware
1. Black
2. Nickel Plated
Back Option
1. Open Back
2. Closed Back (shipped with wood screws)
3. Convertible Back
Handle
1. Leather
2. Rubber