iCrowdNewswire - May 23, 2016
FOBOX
A simple, innovative, business in a box, targeting watersports recreation.
FOBOX (Four Oceans Box)
Starting a business is tough, but what if we could automate the hard stuff, take care of all the needed resources, and make it profitable faster? We are excited to share the FOBOX with you. It's a simple, profitable, business in a box. It's a semi-permanent rental and retail water sports shop.
THE MOST SIMPLE WAY TO RUN A FUN – ACTIVE – BUSINESS
Your help with this campaign will make dreams come true, a business without the busyness! A business that promotes travel, fun, and lifestyle.
Limited quantity available for this season!! Lock your locations down for an initial $5000. This secures your EARLY BIRD FOBOX offering of only an additional $30,000 . After this campaign the FOBOX will be selling for $45,000
We already have 2 under construction for locations in Hawaii!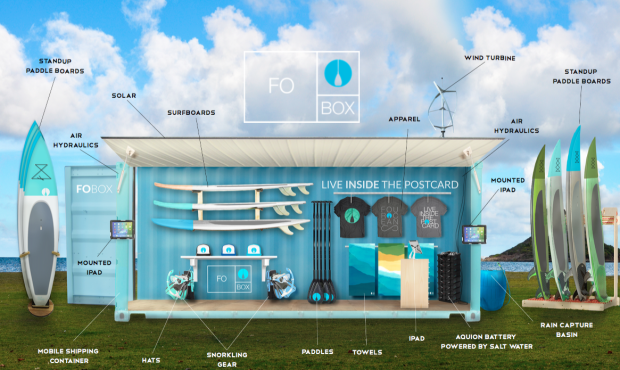 Automate the Box
We've simplified the back end of the business by combining some of the best software together to automate many of the headaches of operating a business. That's right, we are tackling such things as accounting, HR, inventory, personnel, payroll, insurance, Point of Sale, and more. It's time to give the power back to the people, so you can enjoy operating your business as much as your clients are enjoying your services.
Profitable Box
Our unique model is profitable in a variety of ways: we rent and sell premium product, as well as offer a 'try then buy' program that extend market reach. The lifestyle is customizable to you and your passions, and multiple revenue streams can be added such as lessons, excursions, corporate events, yoga, fitness, and others.
Eco Box
Powered by the sun (solar), the wind (turbine), and the ocean (Well, a salt water Aquion battery that is)
Featured Perks
We have collaborated with others that we think are worth supporting. Enjoy our limited time offer of these perks!
$75 Towel Collaboration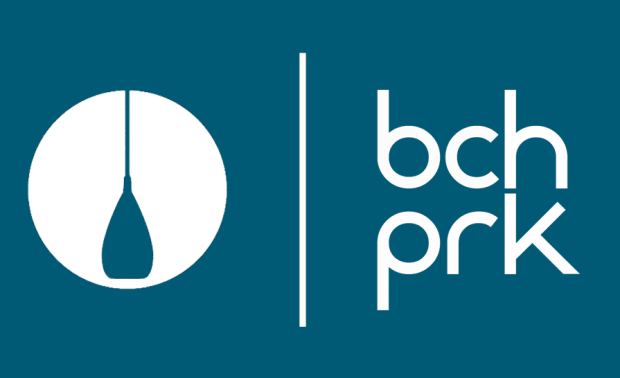 Where Four Oceans meets BCH PRK – Hawaii meets Southern California.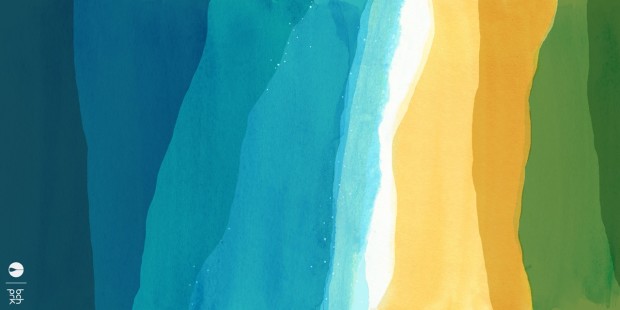 We like to call it …"The Drone shot"
This is a collaboration of good friends doing fun and awesome things. BCH PRK is a cool company from Southern California, but originally from the big Island of Hawaii. We love the beach and the Ocean, our two shared loves have became our individual companies and we thought the timing was right to combine them. Enjoy this one of kind towel!
$1500 Stand Up Paddle Board Collaboration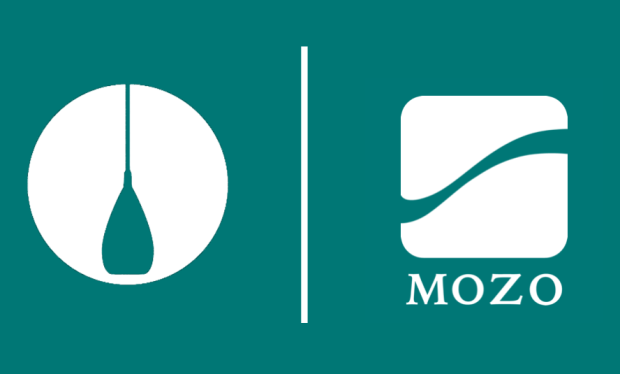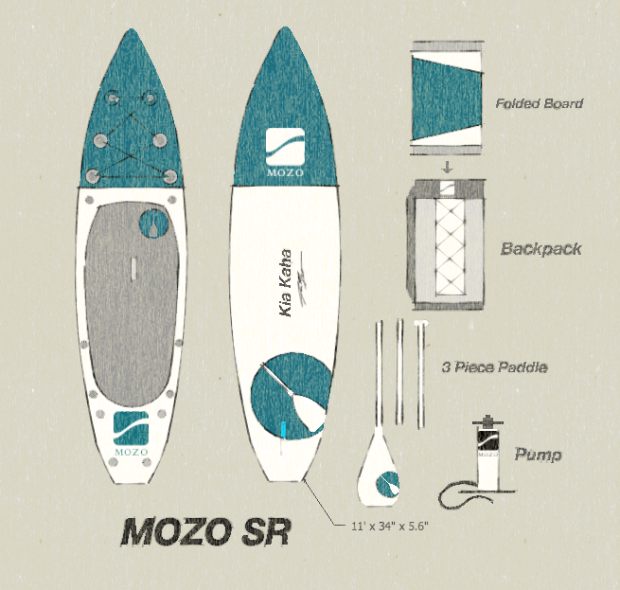 10% of profits donated to Jon Mozo Foundation
This board is made on behalf of the pioneer and legendary ocean photographer, the late Jon Mozo, who gave his life capturing beauty for others. To all those that follow in his wake, this board is for you. It is our inflatable travel board and we hope it inspires you as much as Jon has inspired us.
His parting words were:
"KIA KAHA "
Maori for… BE STRONG. BE COURAGEOUS. BE POWERFUL.
$50 Commitment Shirts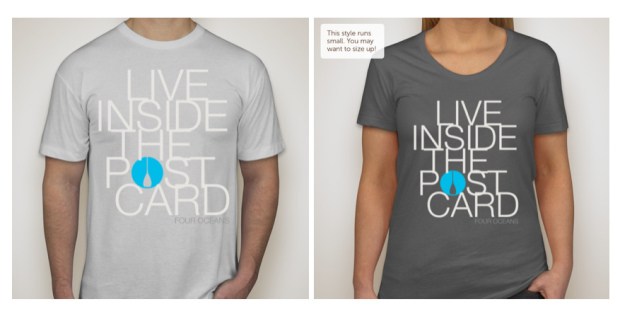 Pick your light or dark grey T-shirt, and then live this motto…Live Inside The Postcard. Do more than you say, and live your life full of purpose. Let us know your size and color and we'll send you your commitment shirt to start changing your life now!
With our turn key solution, you can operate near any body of water, river, lake, ocean, or other ideal locations.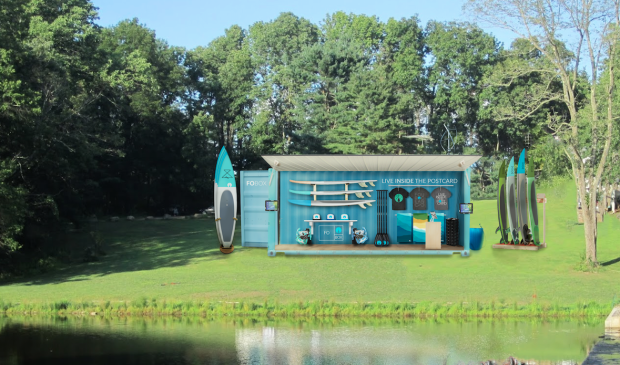 Even cold lakes are great!
We tested a prototype model of the FOBOX over the past two summers in Waterton, Canada. We found that our model was profitable even in locations where limitations exist, such as short summers and cold water.
In the Box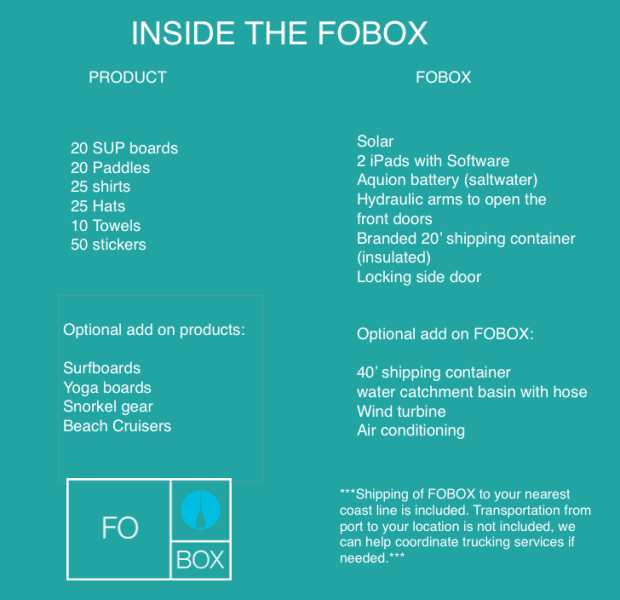 Outside the Box
On the water we "Live Inside The Postcard," but in the boardroom we "Live Outside The Box." We have creatively assembled the necessary elements to make a FOBOX run as a streamlined and nimble business. Our network of partnerships has been established not only to to facilitate our current needs, but also to scale with your success! We work with: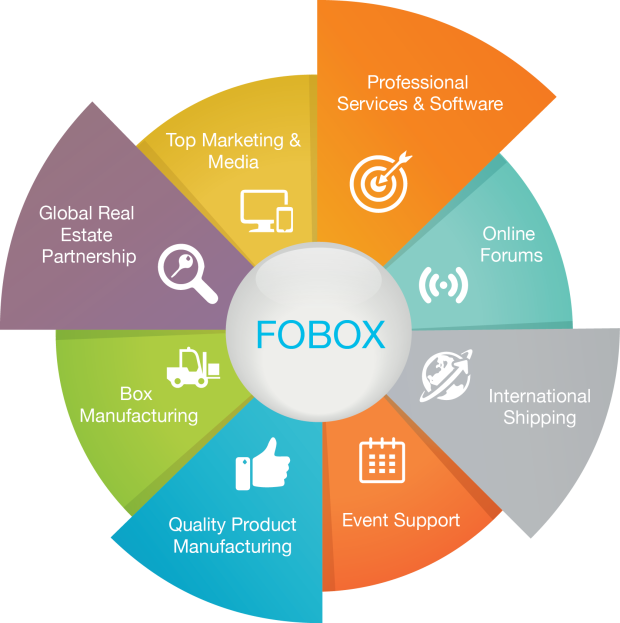 Allocation of funds
Here's the breakdown:
Box – Improving the design, functionality, and starting production.
Product – New designs, and starting production.
Software – Fine tuning the software, including upgrading speed, accuracy, and user ability.
Marketing – advertising and launching media content in preparation for your box launches.
EMPOWERING PEOPLE – To do their Passion
…it's the beginning of a revolution, of disruptive eco chain shops run by the individual.They give customized and authentic service and experiences to the public that can't be duplicated in a corporate owned franchise.
Years of effort have gone into sourcing, building relationships, connecting the dots, and trial and error to make this possible. Relationships take time and effort and getting over the hump of the first couple years as a business is also tough, we have in essence done the hard stuff so you can now operate at a higher success rate with many of the things that bring down business, taken care of.
Premium Product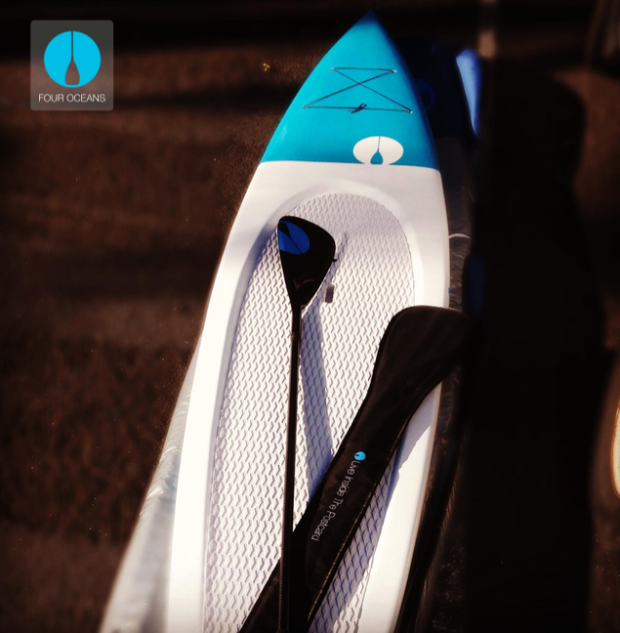 We are dedicated to offer high quality products and source that same quality for rent and sale.
Team
My company at the moment is run by me, but I've outsourced some of the key roles to consultants that have been incredibly helpful to get me this far.
We have already been accepting resumes, so we can build our a team to help you with your FOBOX expansion. We haven't finalize the team yet, so if this is your thing, and you think you can add value let us know and submit a resume or Linkedin Profile to [email protected]
FAQ
Cost to operate
After picking your location, there will be the following costs to be aware of, lease, software fees, and ongoing product costs.
Franchise vs Licensing
We are not a franchise, we license our software to you, and sell you the FOBOX and all the product you need.
Business experience
You don't necessarily need business experience, that is the point of the FOBOX, but it would help.
:::::::::::::::::::::::::::::::::::::::::::::::::::::::::::::::::::::::::::::::::::::::::::::::::::::::::::::::::::::::::::::::::::::
We are grateful for any and all support! At minimum please share our campaign with your friends!
THANK YOU!!
Thanks for making it all the way down here for that, you could take advantage of our super Secret Perk for a Secret Getaway. Only 2 available…
****** https://www.indiegogo.com/projects/the-fobox/x/… *****