iCrowdNewswire - May 23, 2016
Comfortable Club
Ridiculously Cozy Underwear & Lounge Apparel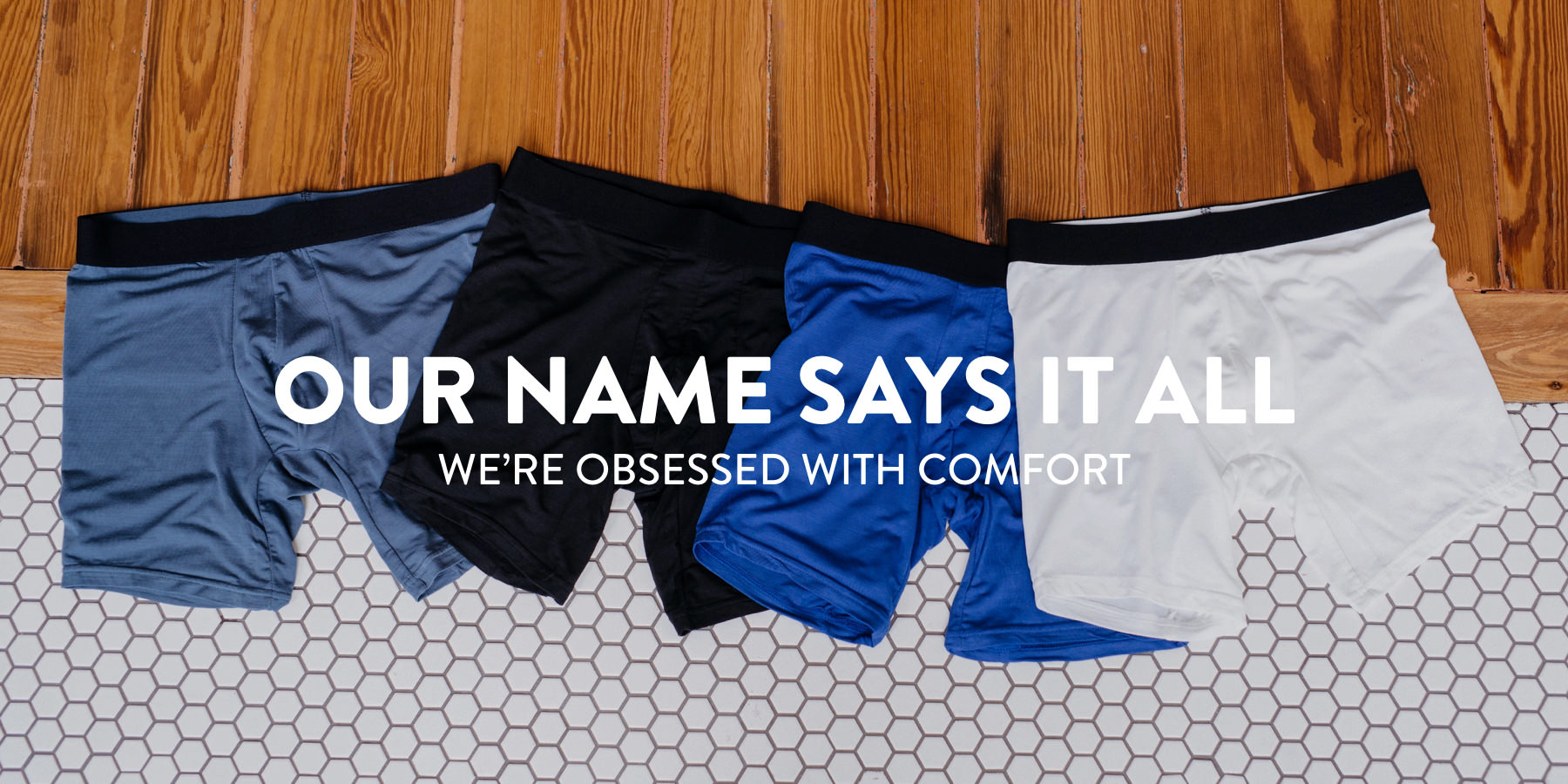 We make a premium line of obsessively engineered, ridiculously cozy underwear – and deliver that underwear at half the price of retail.
Harry's did it for razors. Casper did it for mattresses. Now, at Comfortable Club, we're doing it for underwear and loungewear: building a great, premium brand that reflects the things that customers care about today: quality, cost, convenience and, of course, comfort.
Oh, and did we mention: we're doing all of this without a retailer in sight.
With more than 30,000 pairs of underwear sold in the span of six months, it's pretty clear that Comfortable Club has tapped into something powerful when it comes to what today's customers are looking for from an apparel brand.
Read on to learn more about how Comfortable Club has reimagined underwear for the Digital Age — and where we're going from here.
Like we said, we're obsessed with comfort — especially when it comes to what we wear underneath. And on that score, we were consistently disappointed by the options we saw in the market.
When it comes to underwear, guys are being asked to choose between two equally unappealing options:
On the one hand, there are the overpriced, over-marketed brands that disrespected our wallets. And on the other, there are the cheap, low-quality undiesthat disrespect our privates. And even so, the overpriced option isn't all that comfortable.
Underwhelmed by those options — and reasonably certain that we weren't alone in our underwhelmedness — we decided to forge a third path. A better path. A morecomfortable path.
That path led us to Comfortable Club, and the creation of the most comfortable underwear that we ourselves have ever put on.
​"​Underwear​"​ ​and "​innovation​"​ are two words rarely used in the same sentence​, but at Comfortable Club, can honestly say that we're proud to be leaders of true underwear innovation.
And our innovations are happening on two fronts: product and process.
Some companies hem and haw when you ask them about their "secret recipe," afraid that, if they tell you, the magic will somehow disappear. We at Comfortable Club suffer no such anxieties.
So excuse us while we brag about our underwear for a bit.
Quality underwear requires quality engineering, so we partnered with the finest craftsmen and fabric engineering experts with years of experience refining high-grade materials.
Early in our research, we learned there are three key factors that impact comfort:stitching, fit, and fabrics. So in creating our underwear, we put a meticulous — some might say, obsessive — amount of attention into each of those areas.
The result is the world's most comfortable underwear, delivered at prices that blow premium designer brands completely out of the water.
Our underwear and loungewear is made with 92% modal fabric, an eco-friendly microfiber that enfolds the body in a light embrace. Modal is smooth, soft, and breathable, and its luscious texture feels similar to silk. It's cool to the touch, super absorbent, and resistant to shrinkage and fading. In short, it's the perfect microfiber fabric for body-hugging apparel.
The devil, as they say, is in the details, and when it comes to underwear, stitching is one that tends to get overlooked. Not so at Comfortable Club. We use a more robust, sturdier stitching in our products that make them last, while maintaining their comfort. But we shied away from traditional threads and opted for fluffy threads reserved only for the most luxurious winter apparel for a completely itch-free experience. Look closely at any pair of Comfortable Club undergarments, you can see the uniquely intricate, tight knit stitch.
Like any piece of clothing, a pair of underwear is only as good as its fit. Comfortable Club undies are made to fit your body perfectly, with no pressure points. Our undies actually adapt to your form, giving you the support you need — without restricting movement or causing discomfort.
Fabrics, Stitching, Fit. It's a relatively simple formula, but the result is something pretty spectacular: underwear that looks great — and feels even better.
Underwear craftsmanship isn't the only thing the Comfortable Club is a teensy bit nerdy about: we're equally obsessive about the process by which we get the underwear to you.
The thing that most people don't realize is that most of the cost in that $50 pair of designer underwear you see in stores has nothing to do with the underwear itself — it has to do with all of the costs associated with getting that product to you — costs like pricey advertising agencies, overpriced marketing executives, and expensive storefronts.
At Comfortable Club, we're taking a bit of a different approach to how we deliver our product.
We cut out all the middlemen and storefronts — the main sources of excess spending that companies typically suffer from. We go straight to the source and obtain the world's finest fabrics. We partner directly with the same suppliers and factories used by big-name underwear companies. Then, we turn around and sell them directly online​ at a price that blows designer brands out of the water.
Comfortable Club isn't alone in rethinking the way logistics and overhead impact customers: there's a whole class of companies like us that are harnessing innovative, 21st century technology to streamline logistics and deliver great, premium-quality products directly to customers. These brands are part of a seismic shift in the way great product companies connect with customers, and at Comfortable Club, we're thrilled to count ourselves among them.
Still not nerded out? Believe us, we can go deeper. Wondering how we're able to be so efficient and generally awesome at getting orders to customers? We're glad you asked.
Basically, what it comes down to is this: at Comfortable Club, we have the logistics of a Fortune 500 company — without the Fortune 500 overhead.
What does that mean? Let's take it point by point:
The ultra-efficient, automated Comfortable Club experience starts the minute customers hit our website. We've built the site for unlimited growth potential. Visitor targeting and retargeting? Handled. Optimized for conversion? You bet it is.
Our ERP and information systems are designed to maintain exact inventory counts in every warehouse, with real-time visibility that allows us to plan our manufacturing requirements ahead of time, so we can grow with demand, instead of behind it.
Our logistics partner combines the power of the cloud and uses a proprietary bidding technology that guarantees the best rates and shipping times from our factory, all while streamlining the online-only process that eliminates paperwork and errors.
Our fulfillment center has the capacity to store, pick, pack, and ship any volume with same-day fulfillment and a specialized arrangement that places the most popular items closer to the picking line. We also use special bar-coding in every single item to guarantee order accuracy — making order confusion a thing of the past.
Last, but of course not least: accounting. Yes, you guessed it: also automated.
So what does all this streamlining, automating and general process-hacking get us? It gets us the ability to run our entire operation — thousands of orders across multiple SKUs every month — and scale it easily and aggressively.
Like we said, we had a hunch that we weren't alone in our quest for better, more comfortable underwear. So rather than waste time and money on expensive validation studies and market tests, we took it straight to the market — and the results were beyond what even we expected.
In Summer '15, we launched our first crowdfunding campaign on Kickstarter. Less than a month later, we'd raised more than $142,000 and sold over 15,000 pairs of boxer briefs with e-commerce combined. So, being common-sense people, we launched a second, follow-on campaign, which went on to sell an additional $219,000. We've since developed a host of new products and stocked up on inventory for the rest of the year.
All told, we have attained over 6,000 customers in less than 6 months and shipped over 30,000 items since our launch — providing powerful proof that Comfortable Club has struck a chord with customers.
And what's more: we've done all of this without any overhead – a testament to the founder's love for automation.
Customers aren't the only ones taking notice of Comfortable Club: We have product launches with large players in the online wholesale to consumer industry, including Huckberry.com and Modernlook.com.
A core value proposition of Comfortable Club is our ability to provide our customers better quality at a fraction of the price. Comfortable Club products ring in at about half the retail price of other premium brands with a strong line-up for 2016: