iCrowdNewswire - May 20, 2016
Gravity: Floating speaker with floating display
When Zen meets technology. Designer Kosho Tsuboi's work for music and art lovers.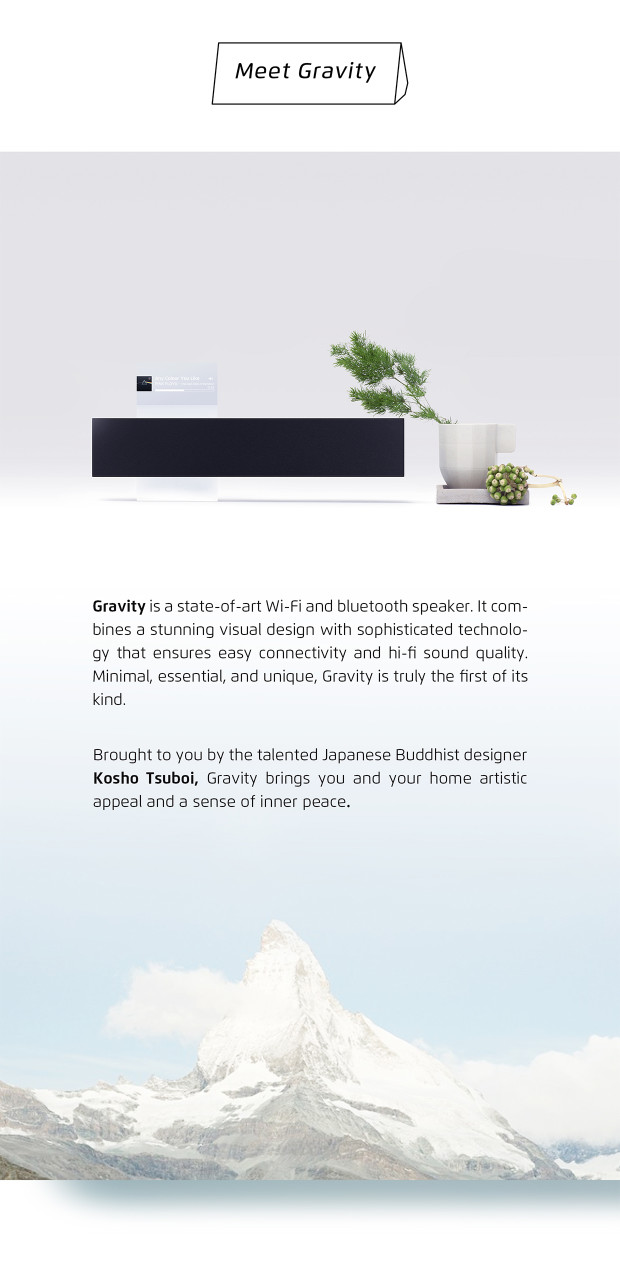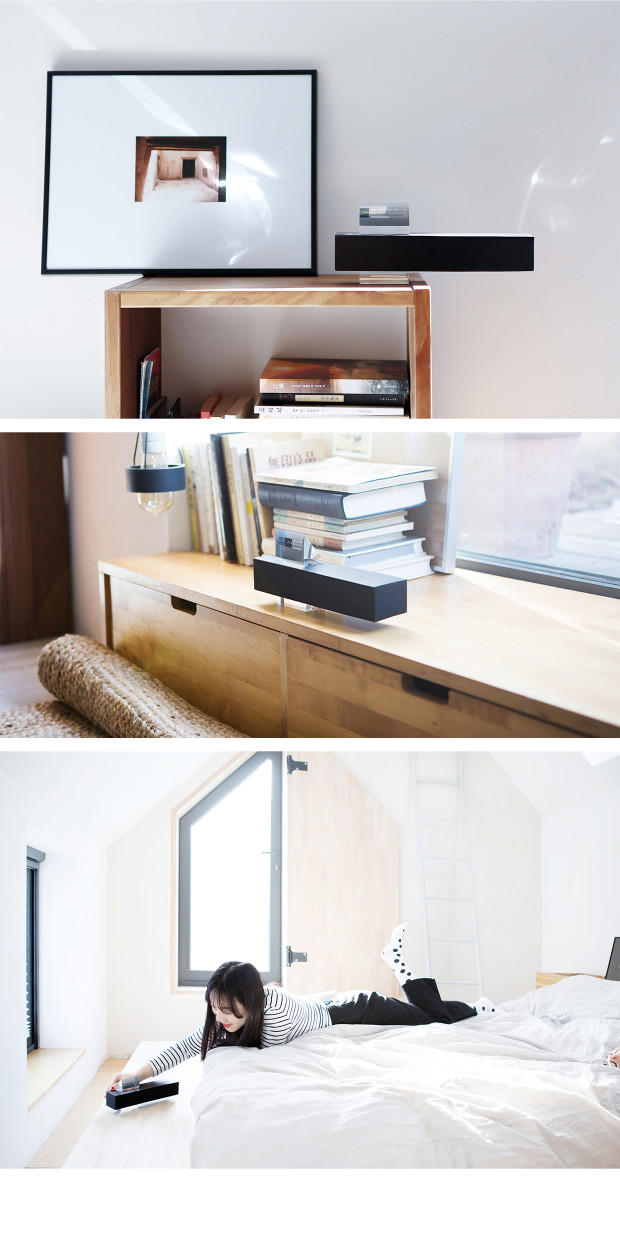 The design story about "Missing Design", told by Designer Kosho Tsuboi.
If you can't see the video, you can also watch the video
here
.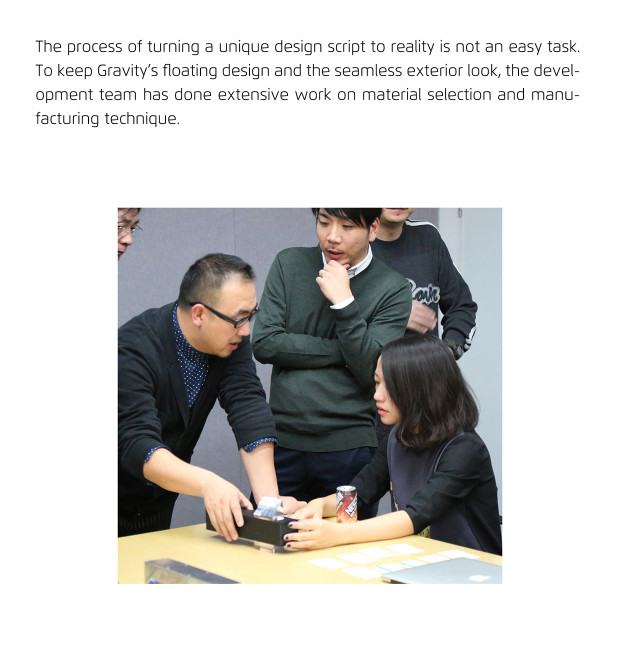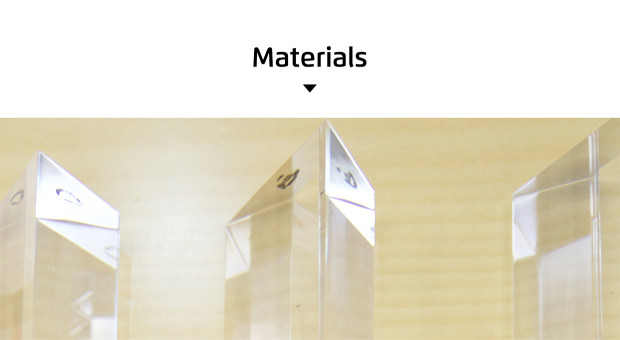 High quality acrylic glass guarantees a clear display and a low weight.

Aluminum body for superior texture.

Polyester fiber specially designed for high-end speakers. It's dust-proof and won't diminish the transmitting of sound.

The acrylic glass was thoroughly polished to ensure smoothness and an ideal reflection effect.
The aluminum panel went through atomization to align its color with that of the mesh, which is wrapped tightly on the body, making it hard to tell the difference between these two materials.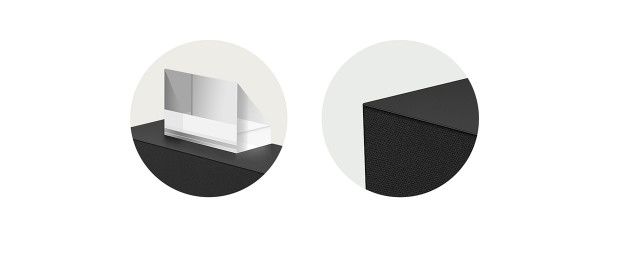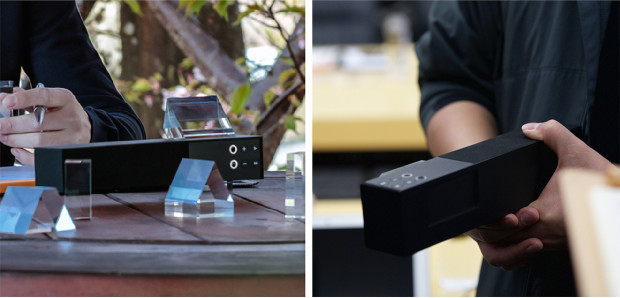 For an artistic speaker like Gravity, excellent sound quality is crucial.
The unsymmetrical design has the support and display on one side of the speaker. To balance the structure, we added weight to the body, which created difficulty for the acoustic structure.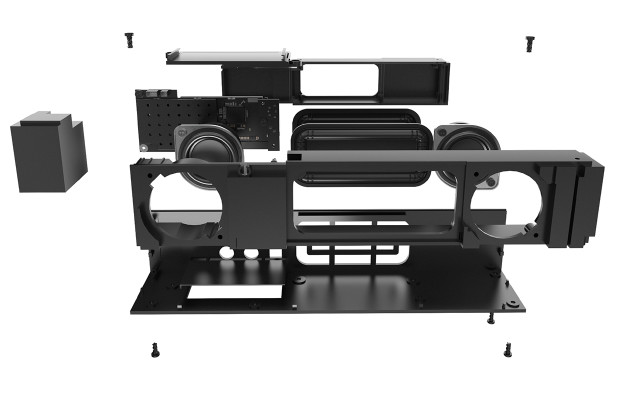 To produce a powerful and hifi quality sound from a small body has always been a problem in this industry. We worked with our engineers, who have 13 years of experience in audio products, our supplier, who is also supplier for Bose and JBL, and our partner acoustic experts Dirac from Sweden. We worked very hard to come up with the ideal solution for Gravity.
Customized speaker units that improves the sound performance in limited hardware.
Passive double resonant diaphragms + dual drive units = enhanced bass.
Reduced distortion rate, made possible by the most advanced chip from Texas Instruments.
Re-creating the original music scene, made possible by Dirac Power Sound of Sweden.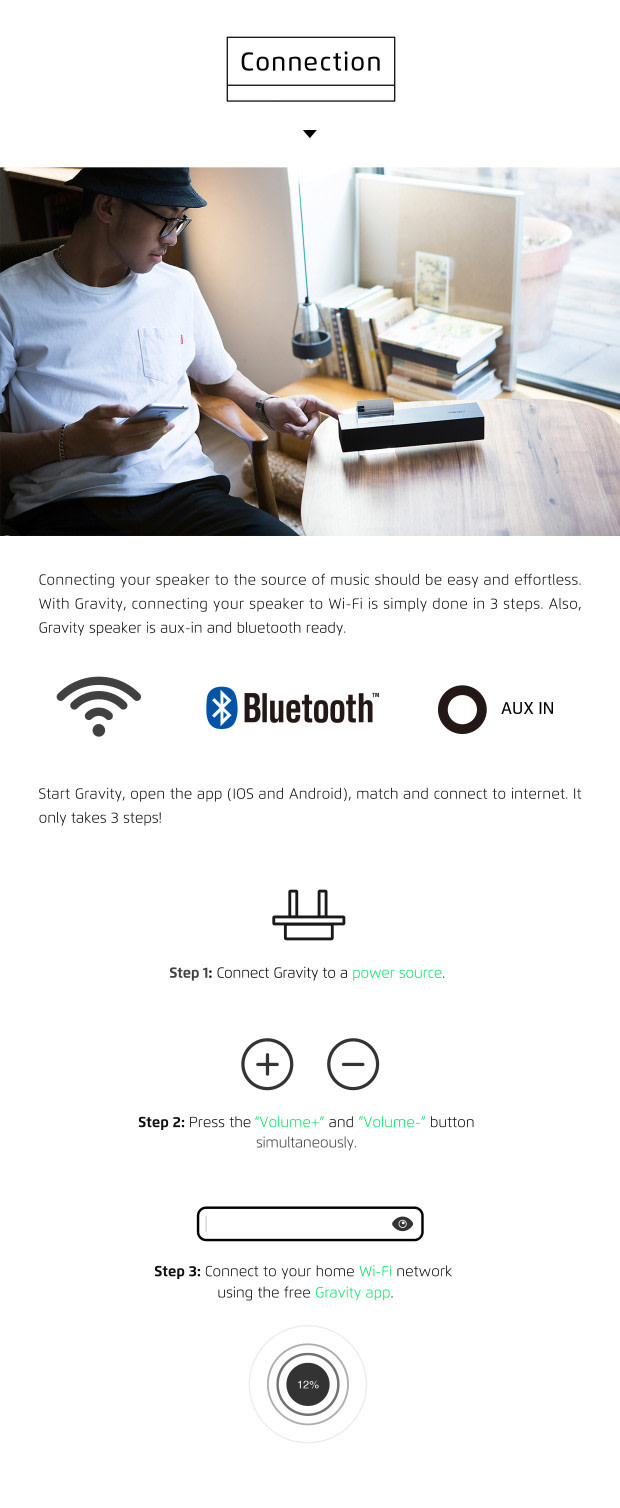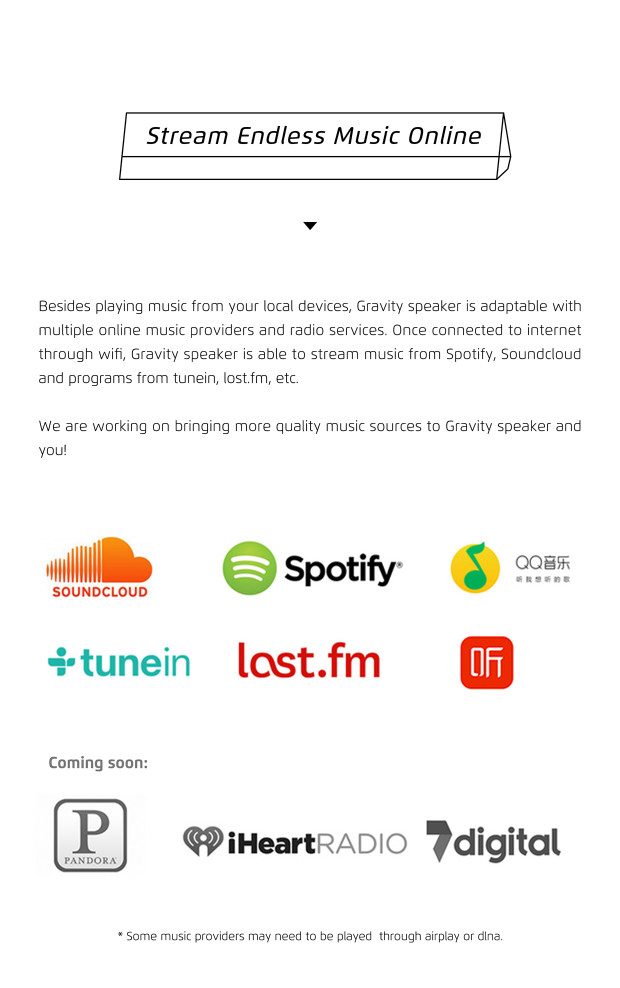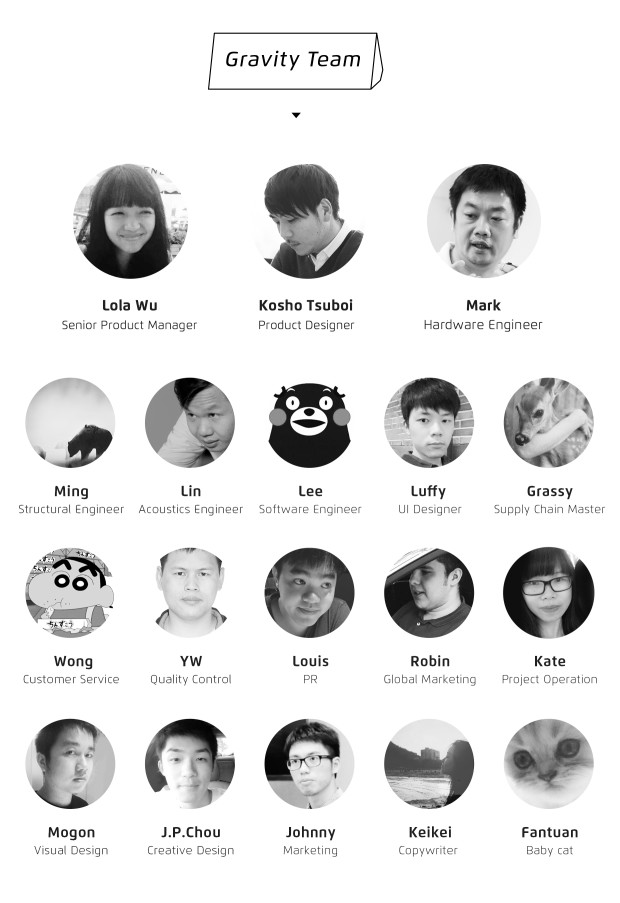 The team and the product story.
If you can't see the video, you can also watch the video
here
.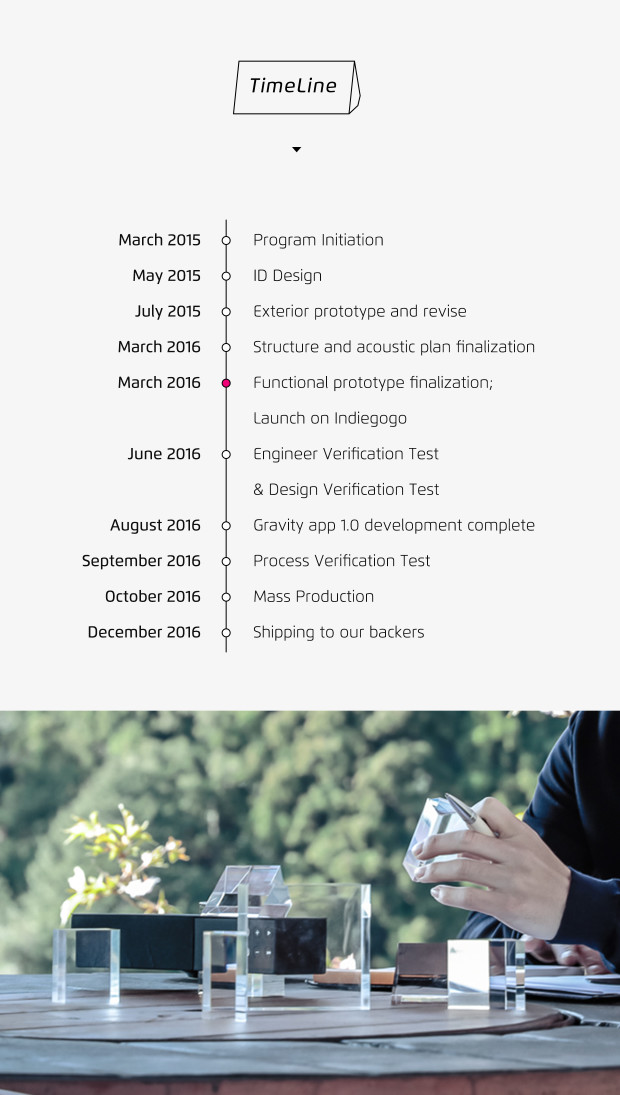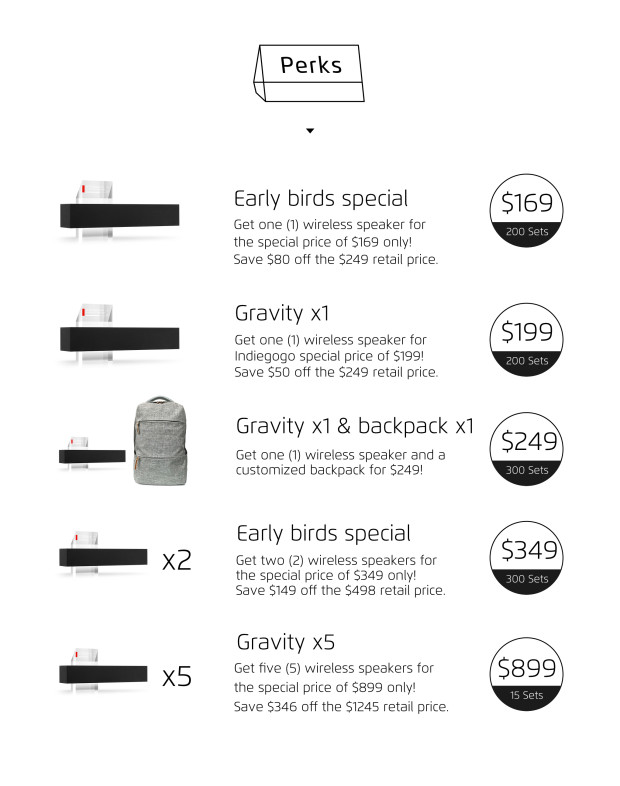 [Specifications]
| | |
| --- | --- |
| CPU | Allwinner R16 quad-Core Cortex-A7 |
| PMU | AXP223 |
| Memory | 512MB |
| Internal memory | EMMC 4G |
| Power amplifier chip | TAS5754M |
| Bluetooth/Wi-Fi | AP6212 WI-FI BT "Two-in-one modular" |
| Operating system | Android 4.4.2 |
| Play modes | App Music & Cloud music |
| Network support | Wi-Fi b/g/n2.4G BT 2.4G |
| Audio out | 6R/10W X2 |
| Buttons | VOL+, VOL-, NEXT, PLAYSTOP |
| Power on/off automatically | Supported |
| System updates | Network upgrade, USB upgrade |
| Length, width and height | 262mm*58mm*47mm |
| Weight | 1033g |
[FAQ]
Contact
1. How to contact your team?
You're welcome to contact us: mzsd@meizu.com
Facebook: https://www.facebook.com/meizu
Twitter: https://twitter.com/MEIZU
Google+: https://plus.google.com/+MEIZUofficial
2. When will my order arrive?
It's in production now. We'll keep you updated on the shipping information and make sure that your order will be delivered ASAP.
3. What comes inside the box?
Power adapter with a 110-240v, 50/60Hz (15V/3A) operating frequency that can be used in most countries;
Wireless speaker;
Instruction manual
4. Do I need internet access when I use Gravity?
No, in addition to the Wi-Fi connection, you can use Bluetooth or AUX-in to play music which has already been downloaded to your phone.
5. Does Gravity support Stereo output?
Yes, the Gravity speaker supports 2.0 Channel Stereo output.
Find This Campaign On