iCrowdNewswire - May 18, 2016
Lumi: World's Best Gaming & Entertainment Drone.
Designed by world-renowned robotic toymaker wowwee, lumi is fun one-touch stunt, gaming style drone.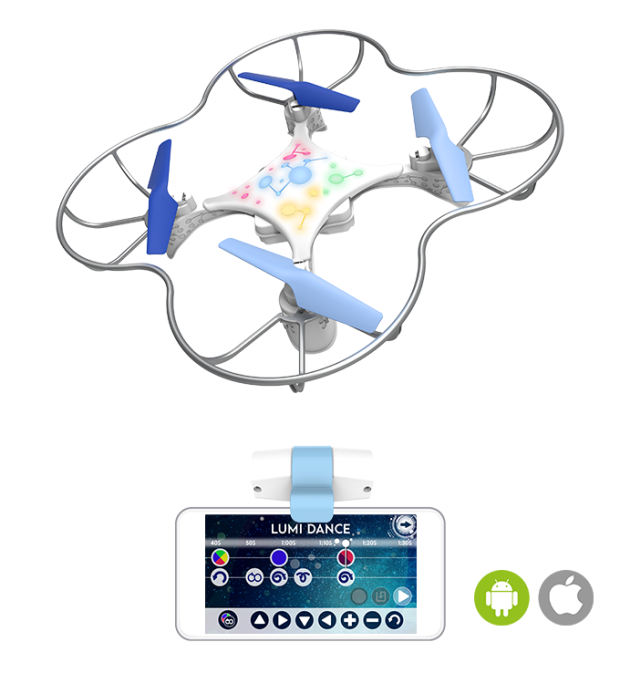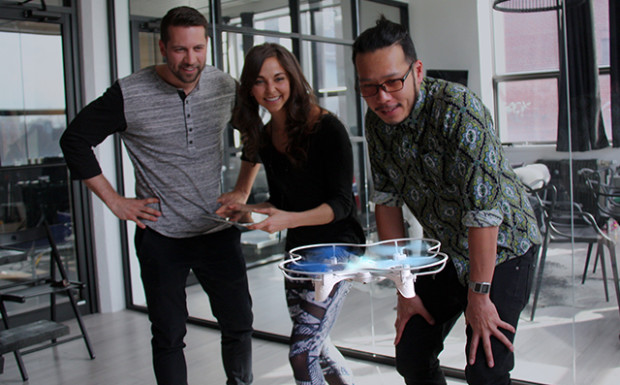 Endless Aerial Fun in the Palm of Your Hand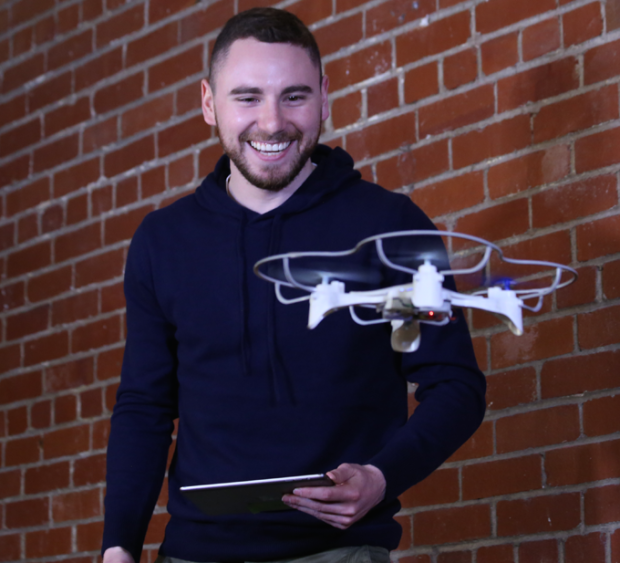 Lumi's advanced flight controls are enabled through BeaconSense™ technology. Every Lumi comes with a separate beacon that acts as a core point of reference in space and is essentially a virtual leash for Lumi that tethers it to the beacon's location. The beacon enables Lumi to understand where it is in space at all times, which works in tandem with programmed algorithms to always keep Lumi stable, so if you move the beacon – Lumi will follow.

Walls, fans, and lamps make great home accessories but terrible crash sites…Lumi keeps your home – and its inhabitants – safe from scratches and damage. 
We have special obstacle avoidance sensors in Lumi so that it avoids walls, as well as people's hands and faces. This will prevent it from damaging or flying into walls and furniture in your home.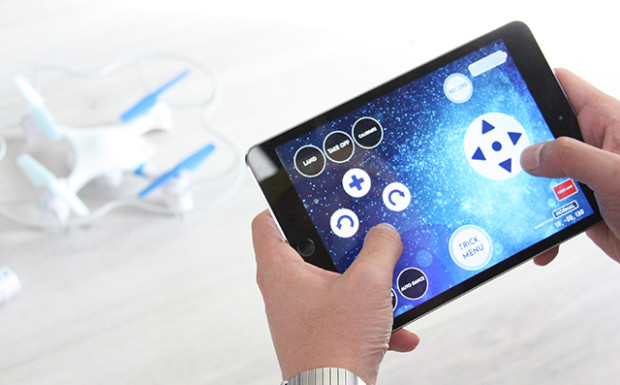 Using your mobile device, you can perform basic and advanced aerial maneuvers with the touch of one button, here's a few:


With one tap make Lumi spin, flip, shake, figure 8 and sway.

Use the beacon to 'leash' your drone to a close proximity and have it follow you wherever you go. Clip the handheld beacon to your mobile device to have Lumi follow you while using obstacle avoidance to avoid crashes.

LUMI TO THE BEAT is a game of rhythm and reflexes. Lumi's luminescent surface will flash various colors (red, blue, yellow, green) while users try to press the corresponding light on their mobile device Lumi app as quickly as possible.
If you miss or tap the wrong color, Lumi will drop in altitude. Make too many mistakes and it's game over!
The longer you keep pace with the beat while Lumi is airborne, the higher your score. As you progress, Lumi's LEDs will flash faster and faster, making it more difficult to reach new levels where you'll unlock new tricks and entirely new aerial maneuvers.

Two Lumi players go head-to-head in this intense game of rhythm and reflexes. Player One and Player Two connect to their individual Lumis with their smart device in hand. Then, each player sets their Lumi down with one beacon on the floor between them. A countdown begins and when the count hits X, both drones take off simultaneously and round 1 begins.
The drones flash identical patterns making it a battle of who can match the most colors in the timeframe.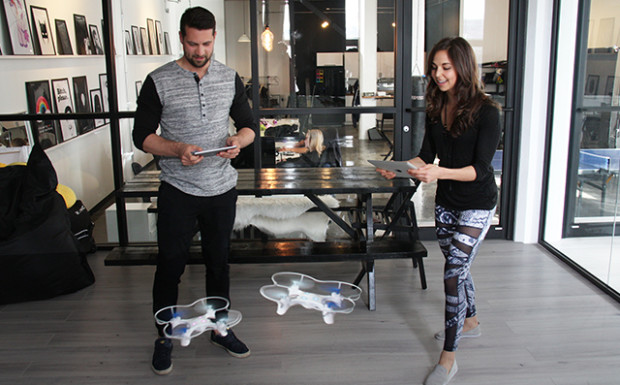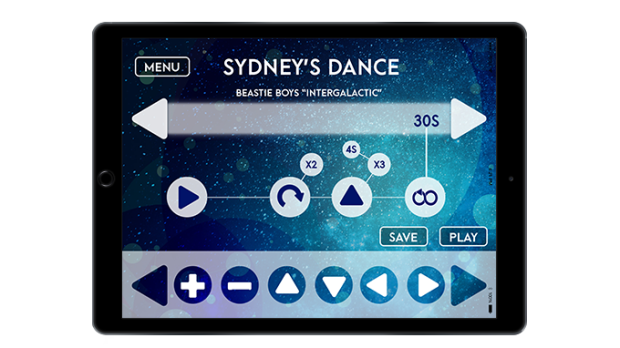 The Lumi app will present you with a blank timeline and by dragging and dropping icons for various maneuvers and tricks onto the line, you can create fun sequences (e.g. flip→ flip→ spin). By tapping on each specific move in the timeline, you can select a specific LED color choice for Lumi to emit during that move,  or for the entire duration choreographed sequence! Once you are happy with your sequence you can select a song from your music library and Lumi will perform the choreographed sequence  to the beat of the selected song. If no song is selected, the drone will simply perform the sequence, but either way you can always save your programmed choreography and share your sequence with other Lumi users!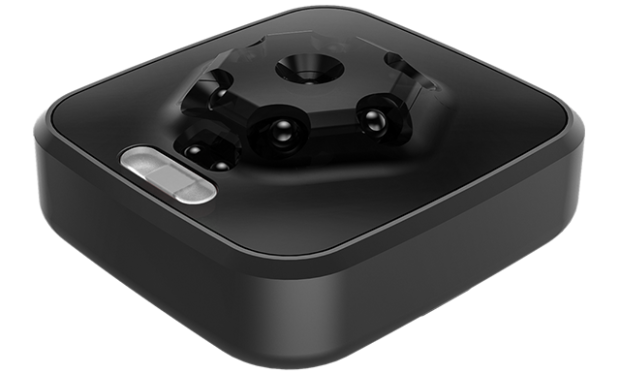 The Intelligent Lumi Pods are larger beacons that can be placed throughout a house or indoor space to create a virtual course for Lumi to automatically follow. Place one pod in your living room, another in your kitchen, and another in your bedroom and watch as Lumi follows the course perfectly every time. Compatible with multiple Lumis that can all be controlled via a smart device, you can create an endless array of games and sequences with Intelligent Pods!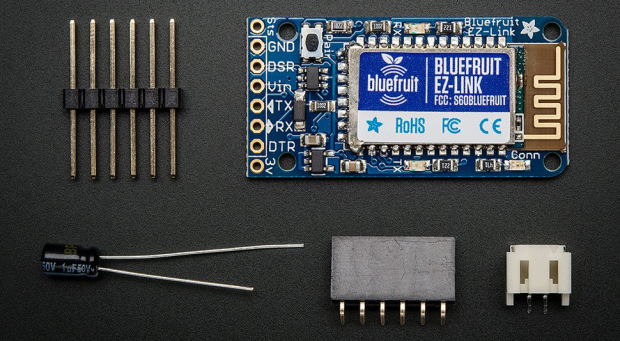 Telemetry is a two-way data stream that can send both commands and data about Lumi's flight to a ground station terminal (a.k.a. your traditional computer). 
Our Telemetry system is used to observe what Lumi is measuring and how it's reacting with a focus on battery level, flight status, height, position, gesture, etc. (Please note: The Telemetry kit pictured here is for illustration purposes only. Actual kit may differ from this version.)
Here's a sample of some of the measurements and variables you can keep track of with the telemetry kit:
·  Accelerometer
·  Gyro
·  Position data from beacon sense (height, distance)
·  Gesture information from gesture sense system
·  Battery levels
·  Attitude of the aircraft (stability measurement)
·  Control system signals (system which maintains stability)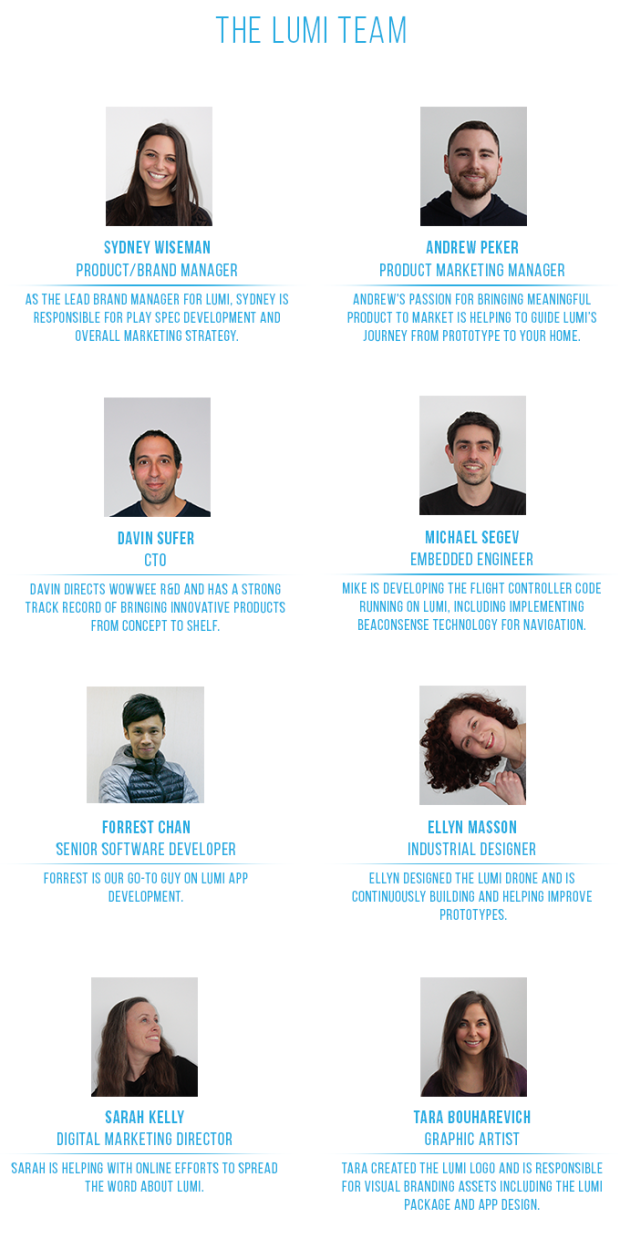 Measurements
LUMI: L: 28cm x D: 28cm x H: 6.2cm
(11.02″ x 11.02″ x 2.44″ approx)
Pod (Beacon): L: 6cm x D: 3cm x H: 3cm
(2.36″ x 1.18″ x 1.18″ approx)
Packaging: L: 410mm x D: 95mm x H: 330mm
(16.14″ x 3.74″ x 12.99″ approx)
Weight
Lumi – 110g 
(0 lb 3.88 oz approx)
Pod – 32g 
(0 lb 1.13 oz approx)
Speed
Top speed: 1m/sec
(39.3″/sec approx)
Materials
Plastic (polypropene and ABS), Metal (springs, motor shaft, screws, etc), Motors, Lithium-ion battery.
Battery life (Flight time)
Both flight time and game time are about 6-8 minutes depending on environment, level of the game, etc.
Battery recharge time
30-40 minutes
BEACON RANGE:
4 meters

Q. When will I receive my Lumi drone?
A. August 2016 is when the first batch of Lumi drones are expected to ship to Indiegogo backers. For Indiegogo backers ordering maker kits, the SDK will be available September 2016.
Q. What tricks can the Lumi drone do?
A. Self-stabilization, follow me, obstacle avoidance, one-touch stunts (including flips and spins), program your own airshow, and multiplayer mode.
Q. How will I receive Lumi? How much is shipping and handling?
A. Once Lumi is ready to ship, your Lumi package will be shipped to the address you provide. Shipping costs are free for Indiegogo backers in the US. There is an additional charge for shipping to other countries and those shipping charges vary depending on the perk you choose. For the basic package, $20 will be added for shipping to Canada & UK, $30 to European Union, $50 to Australia & Japan, and   $70 will be added for international shipping to all other countries. Duties are not included and we reserve the right to cancel international shipments where shipping will cost more than $85 (for example, Cambodia, Columbia, Greenland, Moldova, and countries within Africa).​​
Q. Are customs duties/taxes included within shipping costs?
A. Many countries impose a tariff or tax on goods when transported across international borders. These customs duties/taxes are not included within the Lumi perk shipping costs. Indiegogo backers outside of the U.S. will be responsible for paying these additional charges.
Q. What devices are compatible with Lumi?
A: For Apple iOS devices:
Backers can check the list of devices here (this is the compatible devices list for MiP and some of our other products):
https://docs.google.com/spreadsheets/d/1_NOEYYfDyOsrRoljeCakTBiV5YXq3dKS38Q1falXkJ0/pubhtml
For Android devices:
The easiest way to test compatibility before purchasing the product is to attempt to download the MiP app on Google Play. If your device is not compatible, Google Play will not allow you to download see or install the app. If the app can download, install and run correctly on your device, we expect full compatibility.
Q: Will the Lumi app be available on both tablets and smartphones?
A: Yes. Please refer to the answer above for a list of Bluetooth Smart Ready devices that are compatible with our previous products. We are targeting a similar list for Lumi, and new tablets and smartphones will be added over time.
Q. What is a beacon?
A. The Beacon uses BeaconSense(R) Technology to tell the Lumi drone where it is. This provides the Lumi drone with a reference point that allows Lumi to stabilize. The beacon requires (1) AAA battery – sold separately. We recommend Duracell brand batteries.
Q: What is the range on Lumi?
A. Lumi and the Lumi beacon work within 4m (13.1 feet) of each other.

Q. Can I sync my Lumi with my friend's Lumi?
A. You can share the choreographies you create with your friends through the app, so you have have your Lumi do synchro moves at the same time as your friend's Lumi.
Q. Does LUMI have a camera or a speaker?
A. No, the Lumi drone does not have a camera or a speaker. Lumi is designed for gameplay, not taking pictures or shooting videos, so there is no camera included. Because the drone is not designed to carry the weight of a camera, we also don't recommend trying to attach your own. And while Lumi doesn't have a speaker, it is the ideal drone music lovers. Lumi can detect and move to the beat of the music you play on your smart device, which you can select via the Lumi app.
Q: Is there a video of Lumi flying?
A. Yes. We have openly demonstrated Lumi prototypes at CES 2016 and Toy Fair NY 2016. So in addition to the videos you see on the Indiegogo page, the Lumi web page, and the Lumi Facebook page, there are many more online. 
Q: Can I use Lumi outdoors?
A. Lumi is an ultra-light drone designed to be used indoors, in sight of its beacon which provides a point of reference for stabilization. Its sensors and stable flight technology will help Lumi avoid obstacles and its safeguard will help protect the drone propellors. In passing, Lumi doesn't swim and should not be submerged in water.
Q: Will there be replacement propellor blades available? 
A: Yes. There are a set of extra blades included in the box and there will also be replacement blades available for purchase. We are thinking of making different blade colors available – please leave a comment to let us know what colour you would like to see.
Q. How long can the Lumi drone fly?
A. The rechargeable battery will enable up to 8 minutes of flight time. Flight time varies depending on how you are using Lumi – the types of tricks you are doing or games you are playing. However, if you have purchased extra batteries, you can easily swap another one in and continue flying your Lumi.
Q. How long does it take to recharge the Lumi drone battery? What type of cable does it need?
A. The Lumi drone battery requires 30-40 minutes to recharge. Simply click out the battery and connect it to your USB power source using the USB charging cable. One rechargeable battery and the USB charging cable are included with Lumi. If you want to extend your flight time, you can click in a new battery while the old one is charging. Additional batteries are sold separately.
Q: Will there be replacement batteries available? 
A: Yes. Lumi batteries easily swap out so you can continue flying Lumi with a new, fully charged battery, while the previous battery is charging. Replacement batteries will be available for purchase.
Find This Campaign On