iCrowdNewswire - May 17, 2016
ARCHT Audio.
Wireless 360 speakers that produce consistent sound.
Meet the ARCHT One: the latest Wireless 360° Audio System from ARCHT Audio that sounds as good as it looks and looks as good as it sounds.
In our digital age, music is more mobile than ever. High-fidelity headphones and portable music devices reign supreme, and we're constantly looking for new way to tune in to our favorite songs, wherever we are.
With all this great technology at our fingertips, ask yourself: Is your home audio system as sleek and high fidelity as it should be? Do your speakers adapt to you, or do you adapt to your speakers?
Through our signature 360 audio experience, ARCHT One is on a mission to revolutionize home audio and free you from the clunkiness, inconvenience and distortion of multiple audio systems. With ARCHT One, ARCHT Audio has crafted a complete audio system that is centered on sound, to fit your lifestyle.
ARCHT One: All you need is ONE.
Picture this: you've just gotten home from a long day of work or shopping or exercise. You just want to listen to some music as you unwind for the rest of the day.
Lucky for you, you have a fancy stereo system installed in your living room. Sure, you had to pay a pricey electrician to come and set the thing up, and the stereos themselves are bulky and boxy, but it's worth it, right? And sure, you have to walk into the living room to turn the thing on or find the cord to plug your iPhone in to get it to play, and sit in that exact same spot to get the best music quality, but that's just part of the experience, isn't it?
The reality is, the majority of home audio systems on the market today are out-of-date and out of touch with how people today listen to and experience audio.They're rigid, inconvenient, and make absolutely no sense in a world that is increasingly pushing toward more mobility, more flexibility and more freedom.
By expanding and enhancing the range and quality of your stereo system, ARCHT Audio provides a freer, more beautiful audio experience.
It's audio the way it should be done in the 21st century.
And it all happens through one sleek, simple speaker.
ARCHT One represents the next phase in the audio technology evolution.
ARCHT One is a complete audio solution in a single device, that reimagines sound by marrying elegant design with acoustic innovation, providing a next-generation audio experience.
What does a next-generation audio experience look like? 
Modern Elegant Design
Thanks to ARCHT Audio's patented Sound Array technology, our speaker is smaller and more elegant than the boxy stereos of old. Put ARCHT One anywhere in your home with your music – its iconic sound and aethestic will turn heads everywhere.

Unbeatable Simplicity
Setting up your home audio system shouldn't be hard. With ARCHT One, setting up takes less than a minute. Simply plug in and connect via Bluetooth or WiFi, and control your entire music listening experience directly through your smartphone.
Premium 360 Sound Experience
ARCHT One's unique design means you can hear your music from any room – you don't have to be tethered to a stereo's sweet spot. Not only is the sound the same no matter where you go, it's also higher-quality, so you can lose yourself completely in your favorite songs.
ARCHT One delivers high-quality audio with consistent, immersive, multi-directional sound that adapts seamlessly to its environment.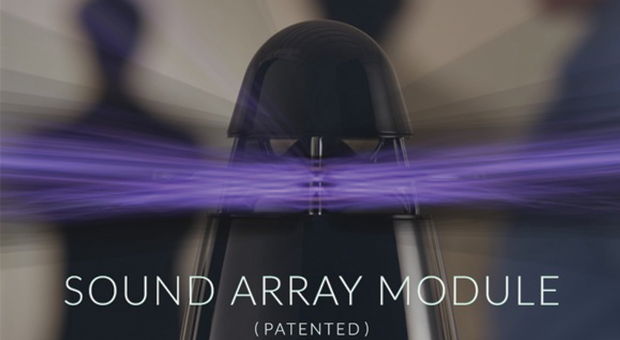 What exactly does that mean?
At the center of our solution is the patented Sound Array, which encircles your world with 360 degrees of completely consistent, high quality sound. No matter where you are, whatever your audio needs, the ARCHT experience remains the same.
Thanks to our patented 360 Sound Array technology, we're able to combine the sound quality of multiple speakers into one multi-directional speaker. In other words, a single ARCHT One speaker is as powerful as multiple speakers by other brands – able to project sound in full 360 degrees, instead of a single direction or a limited radius.
ARCHT One is comprised of a full-range driver, subwoofer, passive radiator, and state of the art electronics such as a digital signal processor and digital to analog converter, which lets you play crisp detailed highs, and powerful rich bass from one device.
What differentiates us from current brands in the 360 sound space is the Sound Array module attached to three speakers found in the ARCHT One, which transforms the speakers from directional to multi-directional.
With our smart technology, users no longer need to worry about speaker placement or acoustic science. Our mobile application provides Dynamic Room Optimization, a location-based mobile optimization feature that automatically calibrates ARCHT One to the room that you're in. 
You can connect to your speaker either with WiFi, WiFi direct, AirPlay, DLNA, Bluetooth, USB or AUX to easily play music from your laptop, tablet, mobile device, TV, musical instrument or turntable. Furthermore, you can connect 2 ARCHT One's in stereo pair or in multi-zone mode.
ARCHT Audio has already made exciting progress in revolutionizing the home audio industry.
One year ago, in December, we wrapped up a very successful Kickstarter, raising $242,000 from 519 backers who backed ARCHT One and our game-changing approach to audio technology. We were even named Kickstarter staff pick!
Since then, we had our Sound Array patent granted worldwide. Within 6 months from our Kickstarter campaign, we completed ARCHT One production and delivered all ARCHT One orders! By July 2015, we launched our online sales on Amazon and our own website, archtaudio.com. In that time, we received global press coverage and we are now selling ARCHT One across the US, Singapore and China. To meet growing customer demand, we are developing a new acoustic technology to complement the Sound Array, to be implemented in a slew of new products in 2016.
Here are a few other highlights from the past few months at ARCHT Audio: 
April 2015: Completed first manufacturing run and shipped 75% of ARCHT One orders within 3 months of crowdfunding
May 2015: Launched iOS app and customer service program.
June 2015: Shipped 100% of ARCHT One orders, with below average return rate.
July 2015: Launched Android app and Bluetooth stereo pairing. Launched on the exclusive Amazon Launchpad Initiative. 
August 2015: Secured deals in US, China and Singapore.
September 2015: Launched Indiegogo InDemand.
October 2015: Launched ARCHT One retail through lifestyle, tech, furniture and department stores in Singapore
November 2015: Launched firmware update
Moving into CES 2016, we are in discussion with recognized global retailers for  worldwide retail launch. 
Leading names in both the media and the audio industry members are taking note of ARCHT Audio and our unique design and technology! We've been featured in Uncrate, Gizmag, Esquire, Digital Trends, Men's Journal and the Huffington Post UK,  and many many more…
Up next for ARCHT Audio: We want to build a global acoustic brand by accelerating growth through online and retail sales and development of exciting new ARCHT Audio products, that deliver the signature ARCHT Audio combination of quality and convenience!
ARCHT will be attending CES 2016, where we will announce our new technology developments and additional product roadmap. Come Spring 2016, we will be distributing ARCHT One to retail stores in select countries, along with another crowdfunding campaign to showcase new upcoming products. By the end of 2016, we will have a family of products that extend the 360 ARCHT experience.
For more information about the future of ARCHT One and how you can be a part of it, please request access to the Business Plan page of this profile
Evan Foo – CEO
An experienced entrepreneur, Evan studied at Stanford before working at a Silicon Valley mobile telecommunications startup that was later acquired. He then managed a government backed venture capital fund, while also building the Singapore startup eco-system before joining ARCHT Audio.
Samuel Tan – CIO
An acoustic expert and an award-winning industry veteran, Sam spent 5 years inventing the Sound Array. He began as a global car audio installation champion and went on to become an internationally recognized judge, trainer and President of one of the largest audio associations in Asia. 
Lee Hong Soon – VP Engineering and Special Projects
With 20 years in manufacturing, project management and wireless development, Hong Soon worked his way up to management positions in several manufaturing giants. His vast experiences make him well equipped to lead ARCHT's multi-faceted developments in hardware and software.
Natasha Edgehill – Logistics Manager
Having prior experience in supply chain management for a global consumer hardware company, Natasha's passion for supply chain development led her to ARCHT and she has been managing our global supply chain since.
Eugene Ng – Head of Sales and Marketing for Asia
Eugene is our sales and marketing specialist with over 12 years of distribution, marketing and public relations experience, in Information Technology and Consumer Electronics. Over the years, he has launched many international brands in audio and consumer electronics alike.

Lee Lung Nien – Chairman
Lung is the CEO of a multinational bank and a co-founder of ARCHT. He has a passion for audio and saw the potential of the Sound Array in Sam's garage. With his vast experience, Lung ensures corporate governance and keeps the team focused on meeting strategic objectives.
Evan Foo – CEO
An experienced entrepreneur, Evan studied at Stanford before working at a Silicon Valley mobile telecommunications startup that was later acquired. He then managed a government-backed venture capital fund, while also building the Singapore startup eco-system before joining ARCHT Audio.
Anastasia Ling – Independent Director
The Managing Director of a luxury conceirge service, Ana is an expert in all things consumer and lifestyle. She has an extensive network and provides an independent opinion on Board matters, keeping the boys in check.