iCrowdNewswire - May 16, 2016
SNAPCAM360 – HANDHELD 360 POCKET CAMERA.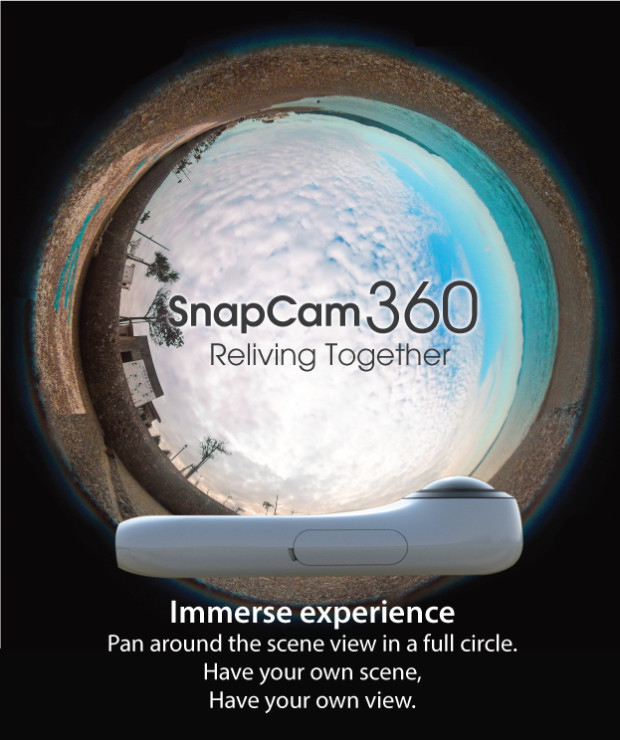 Ordinary photos and videos can only be shown on display devices as image plane which we are no longer satisfied with this. Instead, we want something that's more interactive as well as creating immersive experience for people.
Here we come up the idea of SnapCam360, a handheld 360 pocket camera combining snap shot and 360o camera function, for you to take photos and videos easily with a single device.

And now you can share the new perspective with everybody with SnapCam360. Thanks to the two social media giants, Facebook and YouTube. They have begun to support 360o videos, making 360 videos become more and more popular this year.
Check this out! SnapCam360 Reliving Together in 2016.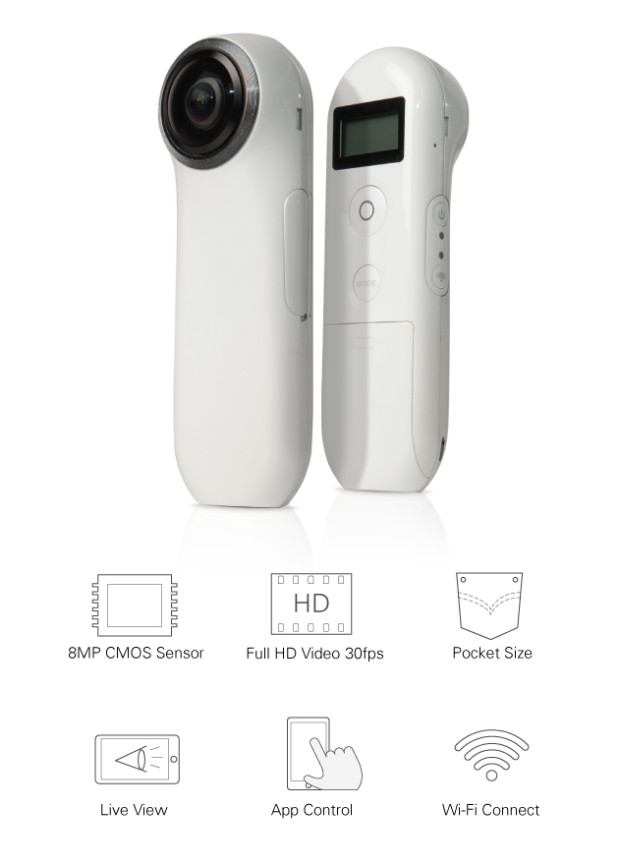 It is the whole new experience of capturing your pleasure moment in 360o with a simple click! Share it with the world and amaze everybody around you! Drag it, Spin it and Move it around to experience it with your own point of view!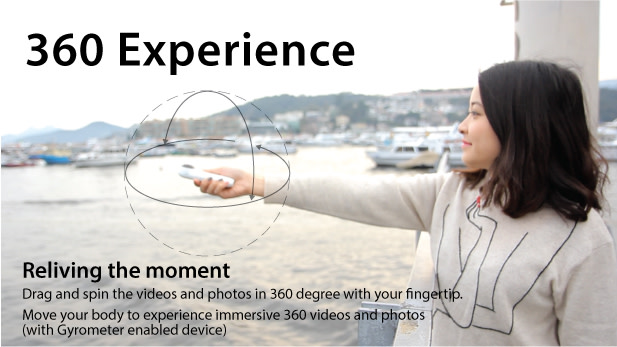 Thinking of capturing the entire beautiful environment and all the lovely faces at the same time? With SnapCam360, capturing a 360o photos and videos are just one click away.

Recommend Shooting Position for 360 Experience
360 Experience Performance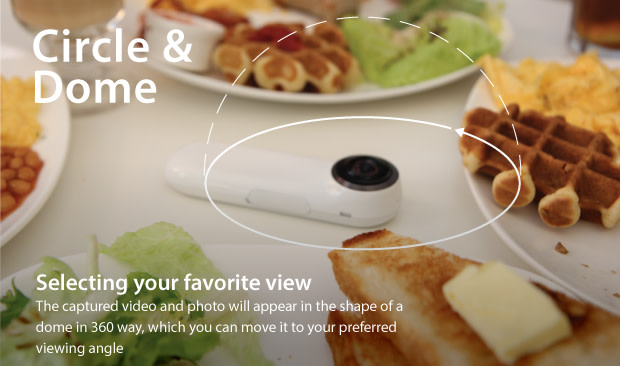 You can experience your 360 photos and videos by Circle & Dome modes like you have never seen before.

Recommend Shooting Position for Circle & Dome
Circle & Dome Performance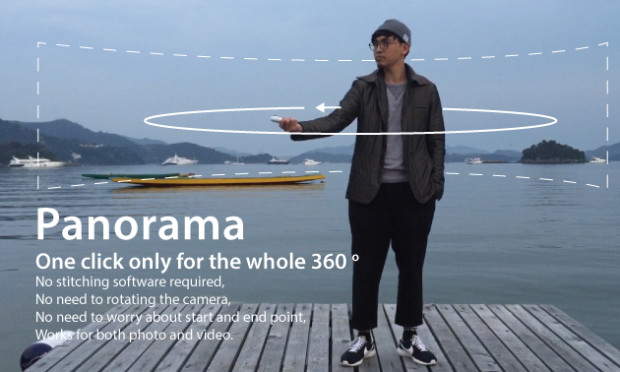 Taking panorama photo by rotating the camera and image stitching software? No!! With SnapCam360, you can take panorama photos and videos easily with a single click in a second.

Recommend Shooting Position for Panorama
iframeclosePanorama Performance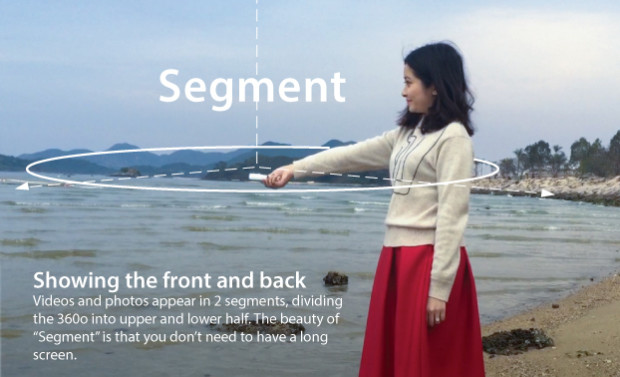 You can have your videos and photos appear in 2 segments, dividing the 360o into upper and lower half. You may say it's similar to Panorama, but the beauty of "Segment" is that you don't need to have a long screen.

Recommend Shooting Position for Segment
iframeclose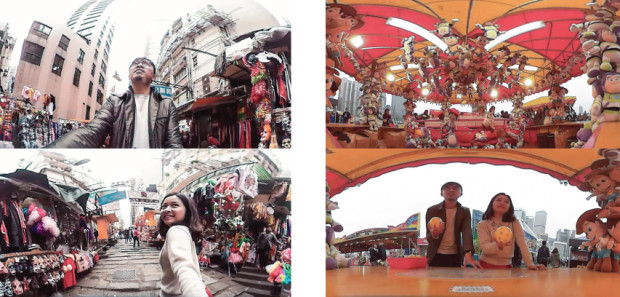 Segment Performance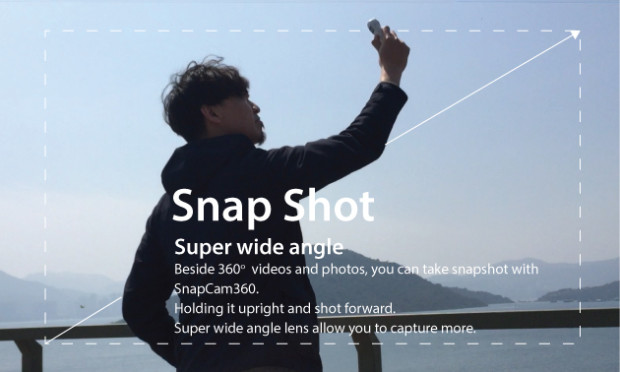 Sometime you just want to capture your memorable moments spontaneously and quickly, "Snap Shot" mode perfectly fits you and you will absolutely love it!

Recommend Shooting Position for SnapShot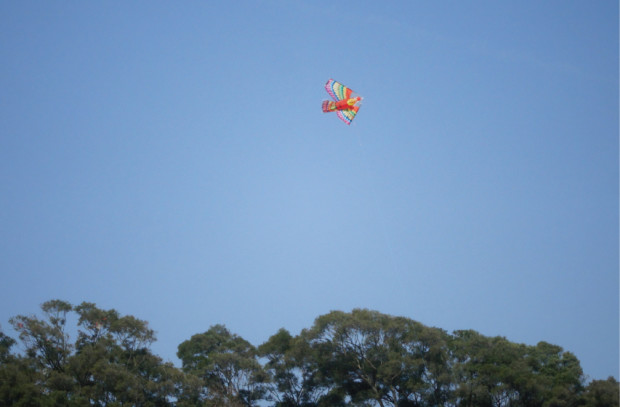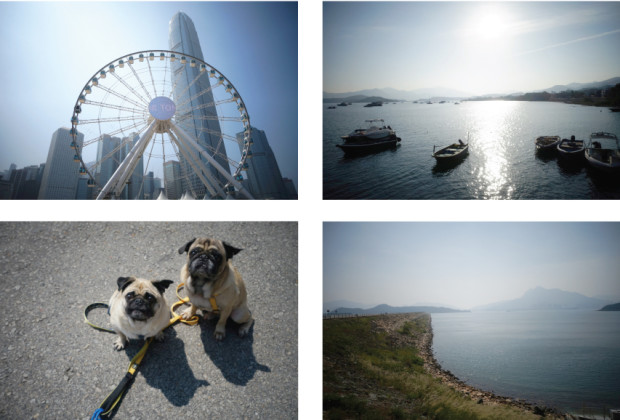 SnapShot Performance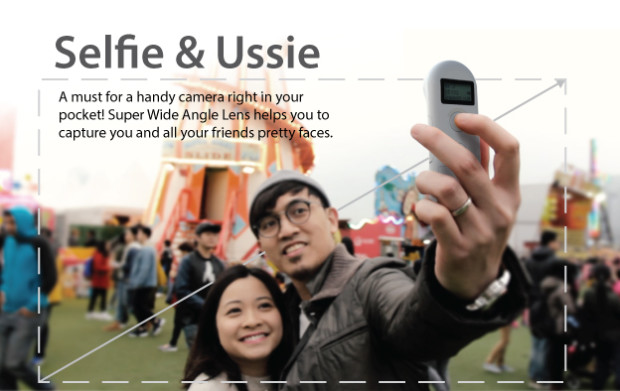 Don't worry! We will never miss "Selfie" which is a must for a handheld camera right in your pocket! You and all your friends' pretty faces can be captured easily in group Selfie! Or you can name it Ussie!!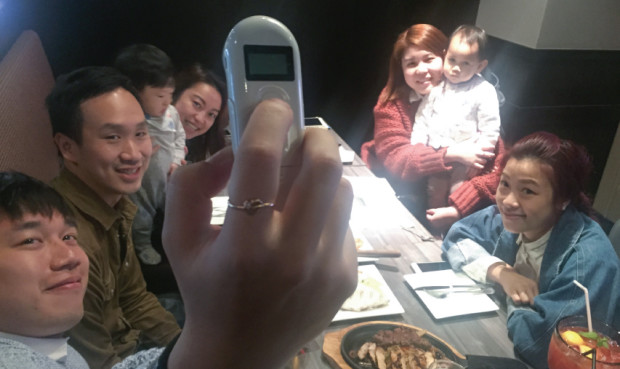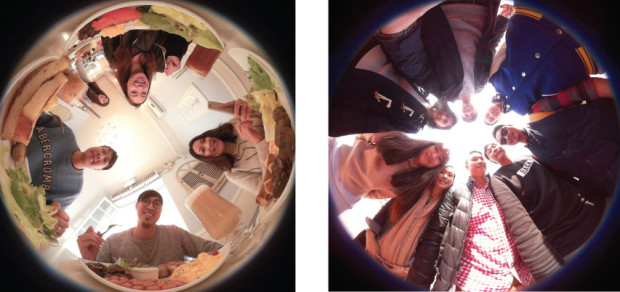 Selfie & Ussie Performance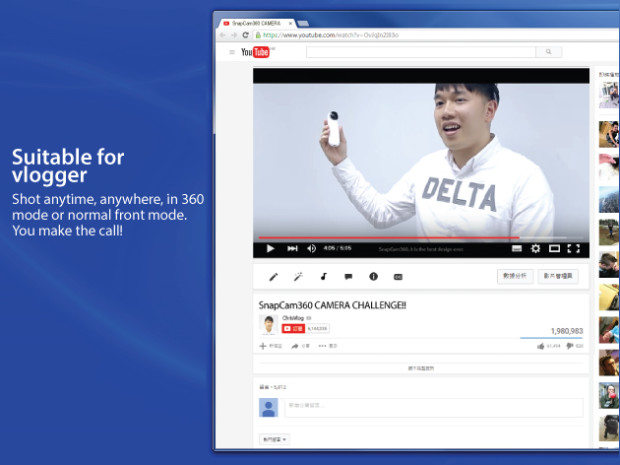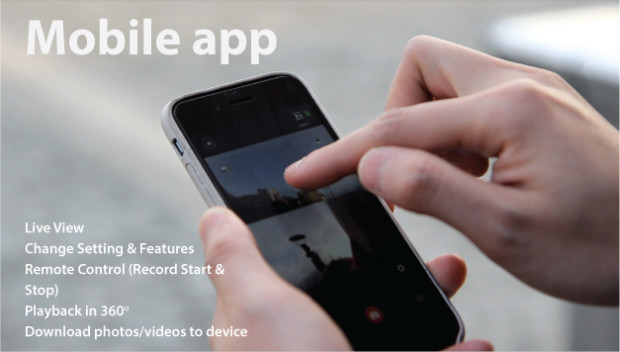 Want to have a remote control for the SnapCam360? No worries, besides using buttons on the SnapCam360 to control the camera, you can connect your smart device to the SnapCam360 with our free mobile app to watch exactly what you are framing and shooting in live mode, change settings and features, control start and stop of recording, playback and enjoy the moment of 360o by moving your body around. It works on most iOS and Android devices.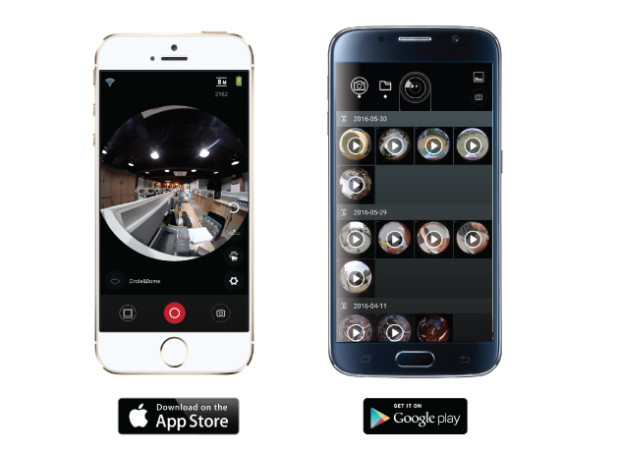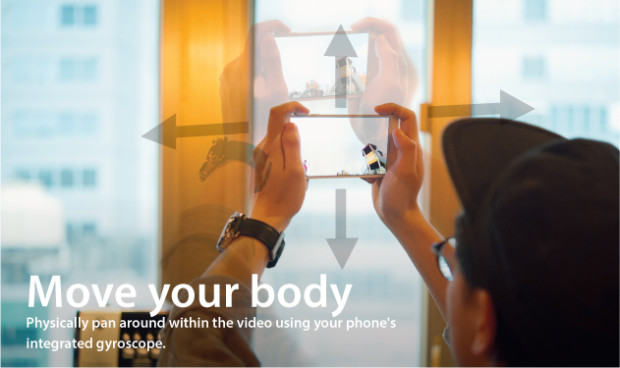 and more…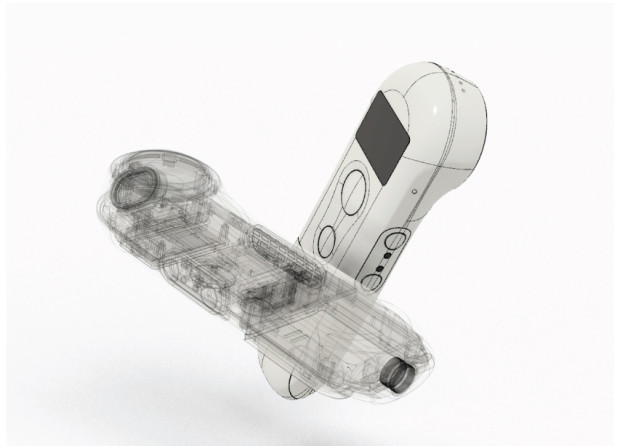 With SnapCam360 and the mobile app, you are just one click ahead to create and experience the immersive 360 videos and photos. You do not need to have any image stitching software and professional skills. It's quick and easy.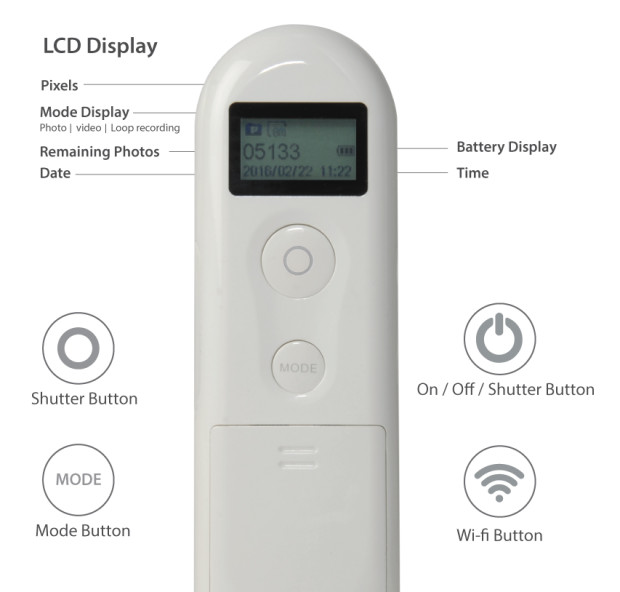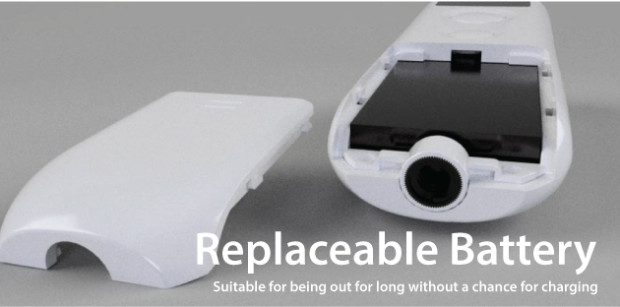 Being out for long without a chance for charging the SnapCam360? You can choose the package with extra battery.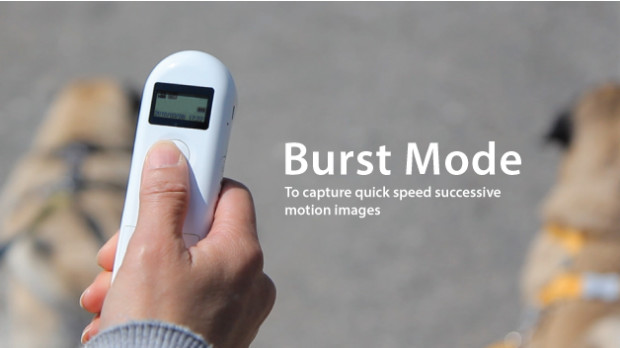 Taking Burst Mode can capture quick speed successive motion images. Just switch your camera into Burst Mode and you can capture in quick succession by pressing the shuttle button. You can then select the best image of the motion.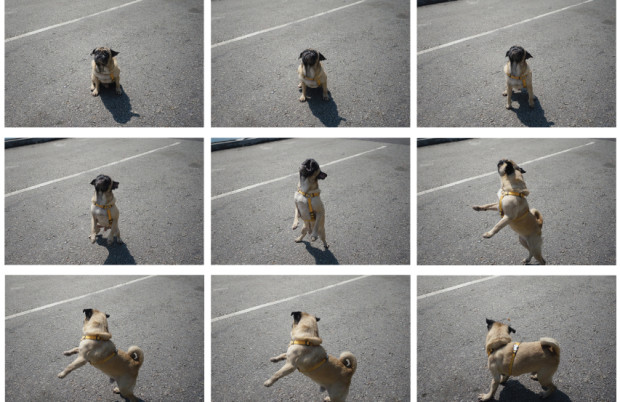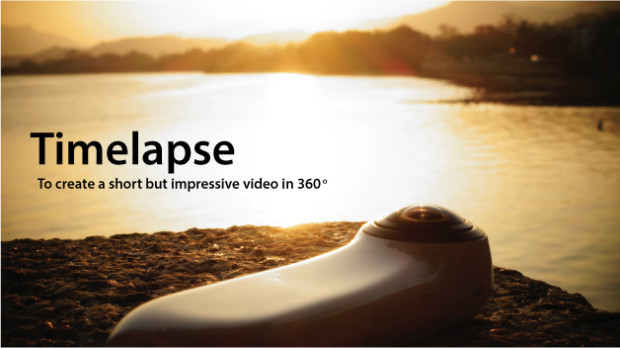 You can create a short but impressive video in 360 o with SnapCam360. Plenty of options are available to choose in order to help you taking the perfect time-lapse.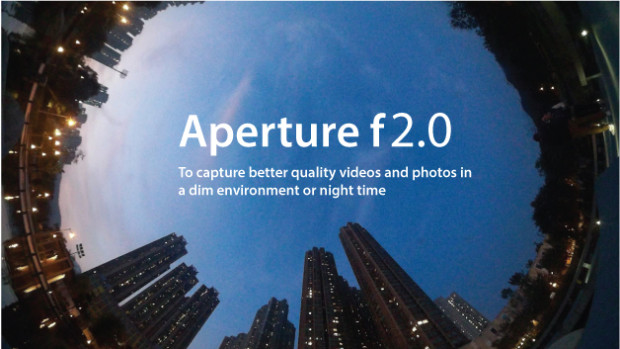 With aperture f2.0, you can capture better quality videos and photos in a dim environment or night time.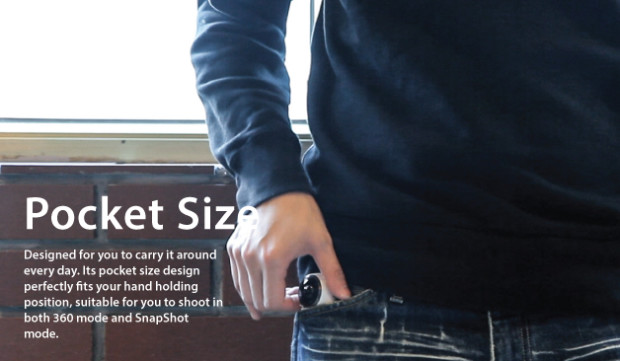 The SnapCam360 is designed for you to carry it around every day. Its pocket size design perfectly fits your hand holding position, suitable for you to shoot in both 360 mode and SnapShot mode.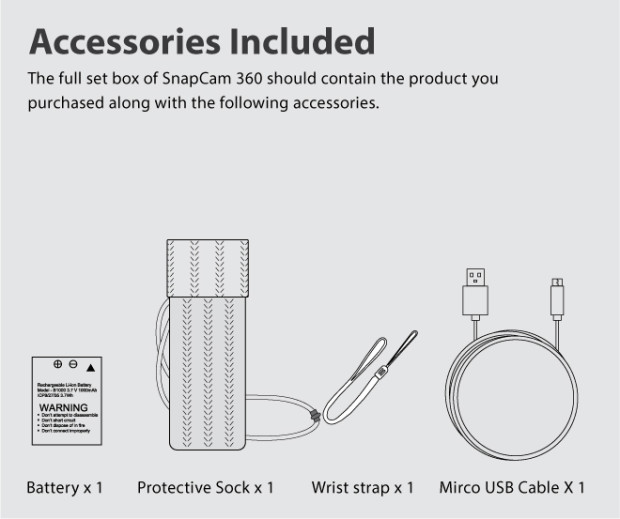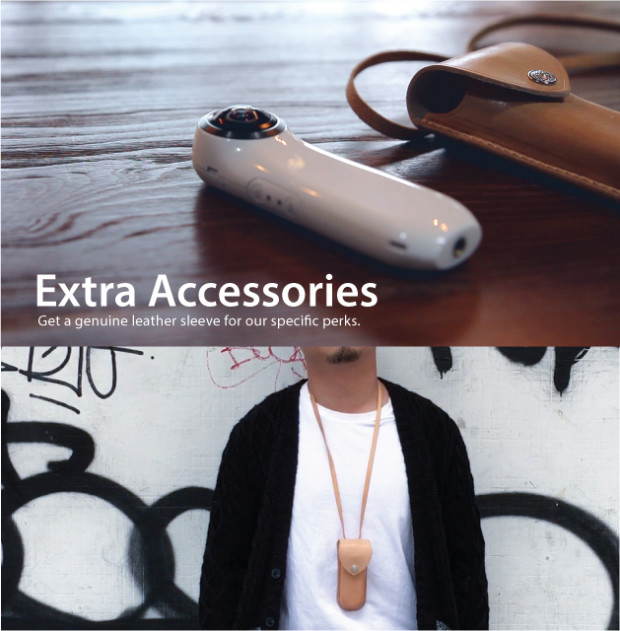 Would that be great to carry your SnapCam360 with lifestyle Leather sleeve? You will get a genuine leather sleeve for our specific Perks.
(Above picture is for reference only)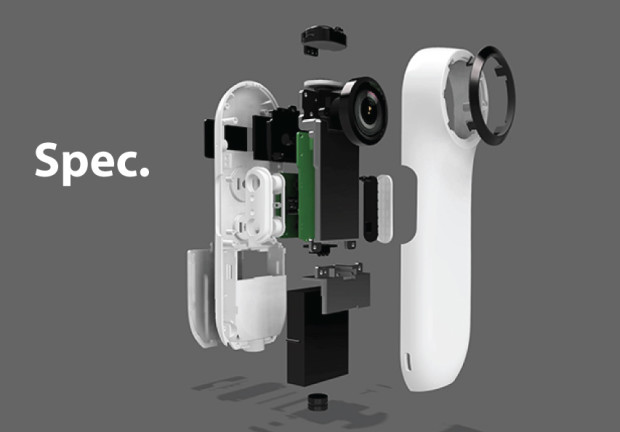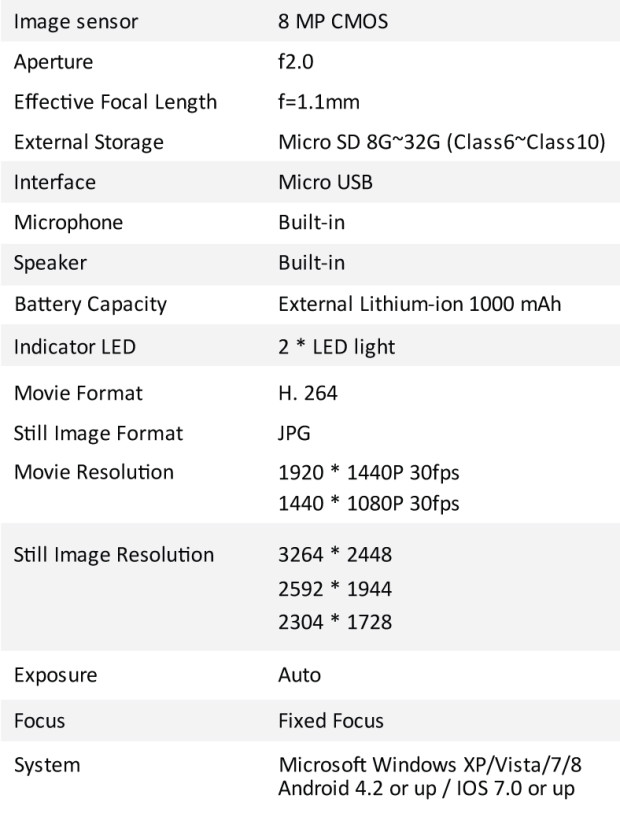 Q: Can you record video or photo during charging?
A: Yes, SnapCam360 supports charging and recording at the same time!
Q: How long can the battery last for?
A: 105 mins for recording at 1440P 30FPS with Wifi Off.
45 mins for recording at 1440P 30FPS with Wifi On.
You can find the battery level on SnapCam360's LCD screen or in the App.
Q: If I accidentally turn on the camera in my bag or pocket, will it use up all the battery power?
A: No, after 4 mins of no operation, SnapCam360 will automatically turn off to save battery power.
Q: How many photos or videos can be stored in the memory card?
A: It depends on the size of your memory card. Say with a 32GB Micro-SD card, you can store up to 5000 photos (in 8M) or 50 mins video (in 1440P). You can also find the remaining storage status anytime on SnapCam360's LCD screen or in the App.
Q: Does SnapCam360 come with a micro-SD memory card?
A: No, micro-SD memory is not included in any perk.
Q: Can SnapCam360 take Time Lapse videos?
A: Yes, SnapCam360 supports time lapse mode, you can choose the time interval of taking photos in 3s/5s/10s/30s/1min. Also, you can set your duration for taking the time lapse by 5mins/10mins/15mins/20mins/30mins/60mins.
Q: Is the Time Lapse video taken by SnapCam360 with 360-degree scene view?
A: Yes. It plays like the normal 360 videos.
Q: Can SnapCam360 take Time Lapse in photo format?
A: Yes, if you choose to shoot via Photo mode, the time lapse will be recorded in photo format.
Q: Does SnapCam360 support Photo Burst mode?
A: Yes, Photo Burst function is available in SnapCam360, with 3/5/10 photos per second, or continues to burst while holding the capture button.
Q: Would the video look blur if I take the video while moving around?
A: No, the SnapCam360 has built-in image stabilization which reduces distracting vibrations from videos by smoothing the transition from one frame to another.
Q: What is the loop recording mode?
A: SnapCam360 will continue to record photos and videos and delete the oldest photos and videos records automatically when the memory card is full.
Q: Is SnapCam360 compatible with a standard tripod?
A: Yes, SnapCam360 has a standard 1/4 inch screw slot built at the bottom.
Q: What is the white balance setting in SnapCam360?
A: You can choose from different setting in SnapCam360 for white balance: Daylight/Cloudy/Fluorescent/Incandescent/Auto.
Q: Is the App available for Andriod and iOS? What keyword should I search for?
A: You can find the App available in both Google Play Store and Apple App Store in June 2016. Just search for "SnapCam360" and here you go.
Q: How to charge the SnapCam360's battery?
A: A Micro-USB cable can be used to charge SnapCam360's battery, you can charge it by plugging into any USB power adaptor with minimum 1 Amp current output.
Q. How long does it require to charge SnapCam360's battery in full?
A: 1.5 hrs approx. with USB 1A power charging.
Q: What accessories are included in the packaging of SnapCam360?
A: 30cm micro-USB sync/charge cable, battery, protective sleeve and wrist strap.
Q: What is the video coding format using in SnapCam360?
A: H.264. It is currently one of the most commonly used formats for the recording, compression and distribution of video content.
Q: What are the color options for SnapCam360?
A: We are currently busying on the tooling and mass production of the first batch of SnapCam360 in white color. But we will keep this topic open, and please give us your comment on your preferred color.
Q: Does SnapCam360 come with warranty?
A: Yes, SnapCam360 comes with 1 year limited warranty against defects in materials and workmanship under normal use. Please keep your purchase record, from Indiegogo or other channels, for the warranty claim.
Q: How to get the recorded photos and videos from SnapCam360?
A:
For Smartphone/Tablet:
1. You can get your photos and videos through Wi-Fi by using the App "SnapCam360", which is available for both iOS and Android
For personal computer:
1. You can connect SnapCam360 to the computer with Micro USB cable; it will be switched to movable hard drive mode automatically
2. Or you can just simply take out the Micro-SD card from SnapCam360 and plug into card-reader to read the files
Q: How to experience 360 o video on PC?
A: You can upload your videos to YouTube/Facebook by using our PC application "SnapCam360 Converter" (the download link is available in the user manual), or just play the video files on 3rd party 360o video player such as "Kolor eyes".