iCrowdNewswire - May 16, 2016
Ampple — Your iPad's Sound, AMPLIFIED.
Give your iPad a booming HD sound system housed in an elegantly designed case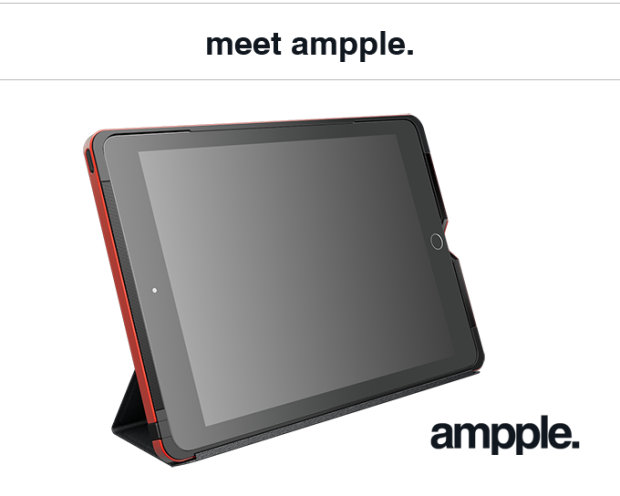 The iPad Case w/Speakers that amplifies volume over 3x
Developed by audio pros, Ampple is an elegantly designed and lightweight case for iPad that houses a sophisticated active HD sound system to give the iPad a truly booming and high definition sound.
Incredible HD Sound for iPad Air 2, iPad mini 4 and the new 9.7″ iPad Pro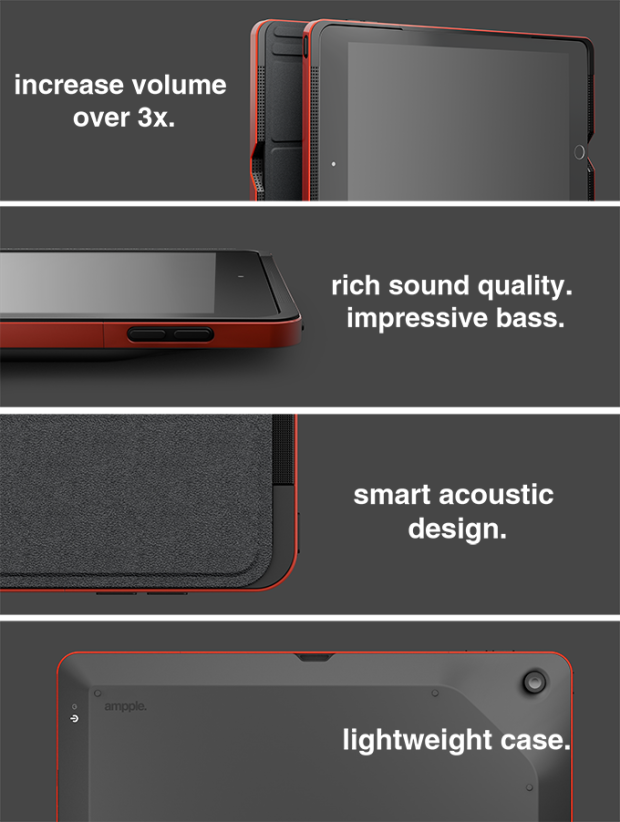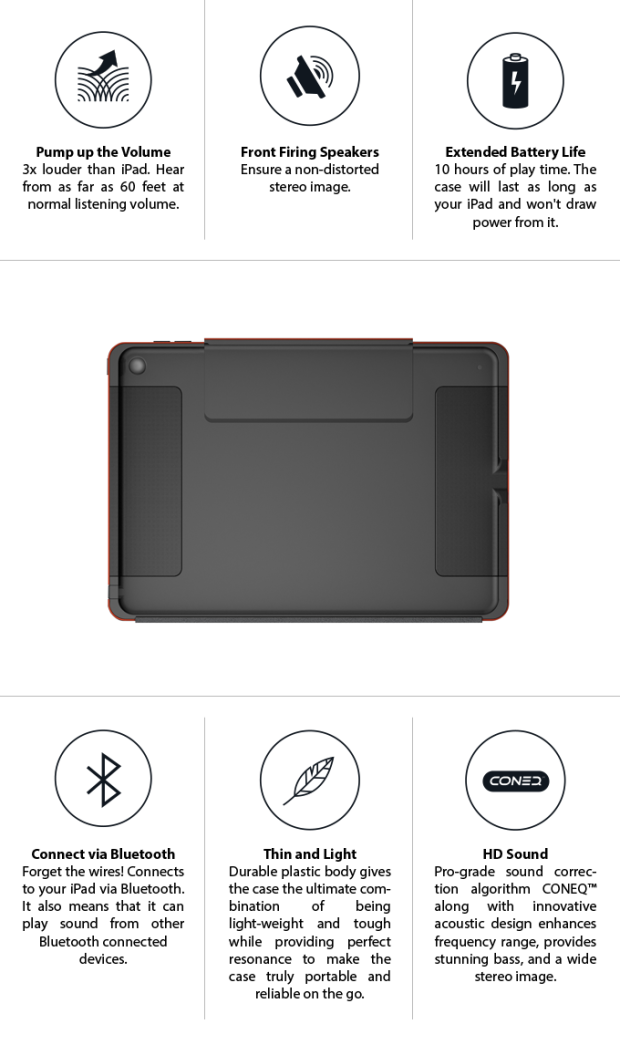 This is a demo showing how much louder the iPad sounds with Ampple (With no sound editing!):

Ampple was painstakingly created to ensure that harmony not only comes from it's speakers, but that it works in harmony with the iPad. With Ampple, users will have access to all their needed buttons and holes while adding killer sound, added protection while adding very little weight or bulk to keep the iPad travel friendly.
House your iPad Air 2, iPad mini 4, or 9.7″ iPad Pro in one of our three launch colors or in our very limited edition Indiegogo-only special color.
You can choose which color you prefer at the end of the campaign. Please note, the Indiegogo limited edition color will only be available if you choose "Early Bird – Ampple Indiegogo" or "Ampple Indiegogo Edition".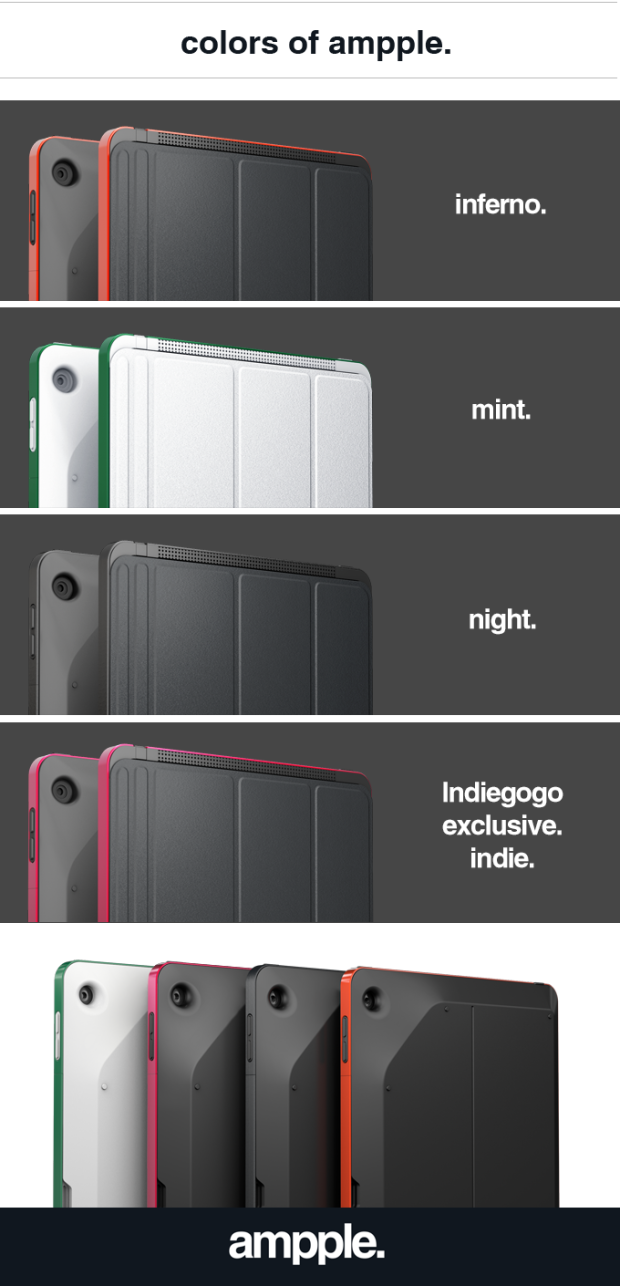 Take Ampple with you anywhere
Enjoy amazing sound without wires and shutting yourself out to the world around you! Unplug, re-enter the world, and experience an amazing HD sound quality that finally lives up to the HD graphics you see on screen!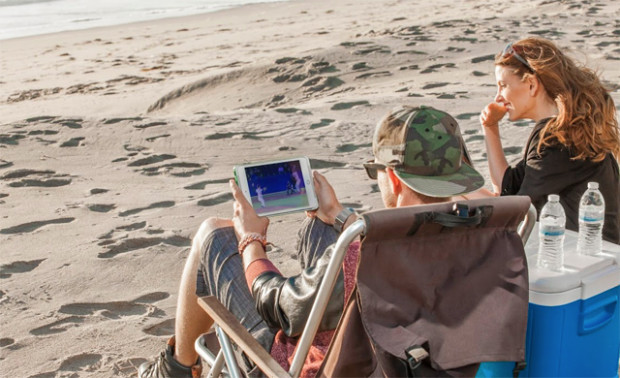 Enjoy a sunset with the perfect soundtrack to compliment the crash of the waves to have a truly special experience.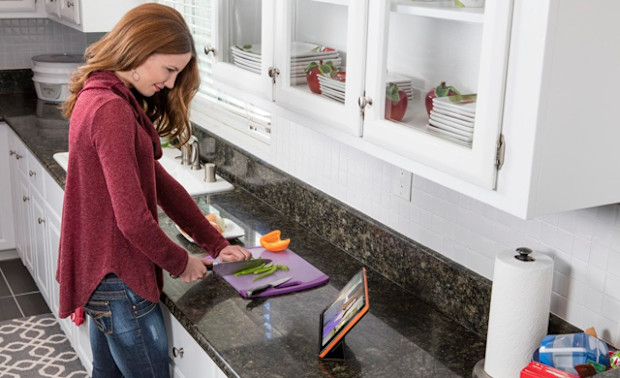 Bring the portable TV experience to the kitchen while you prep and cook with sound that will clearly cut through the sizzle of even the biggest steak.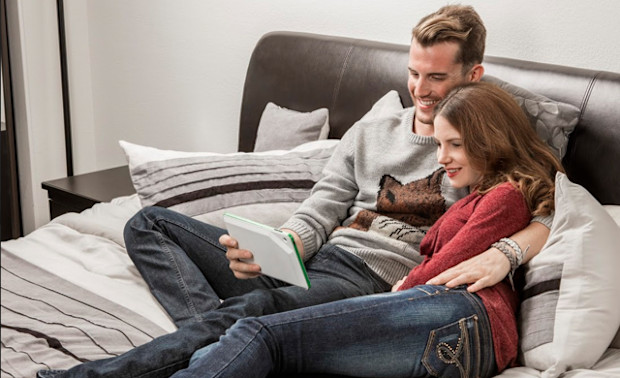 What is better than snuggling up with your loved one to share a favorite movie or TV show? Now you can do that just about anywhere without having to get a headphone splitter, share earbuds or sacrifice sound quality.

Ampple houses two powerful speakers behind your iPad. Through special channels and acoustic chambers, stereo sound is sent to the front. Thanks to innovative pro-grade CONEQ signal-processing filter Ampple delivers un-distorted sound over full audible range with a formidable bass for an enclosure this thin.
Apart from acoustics the protective durable plastic case contains its own amplifier and 5200 mAh battery for at least 10 hours of music or movies.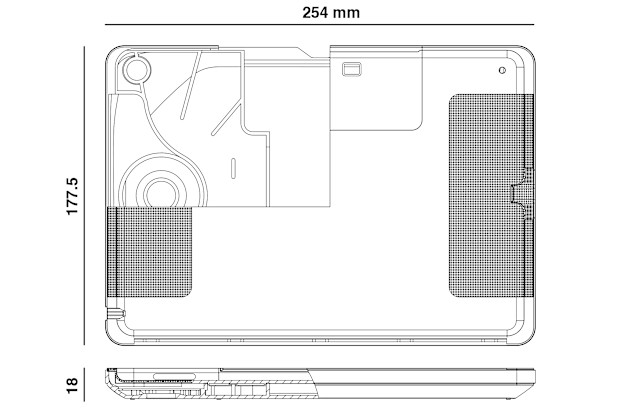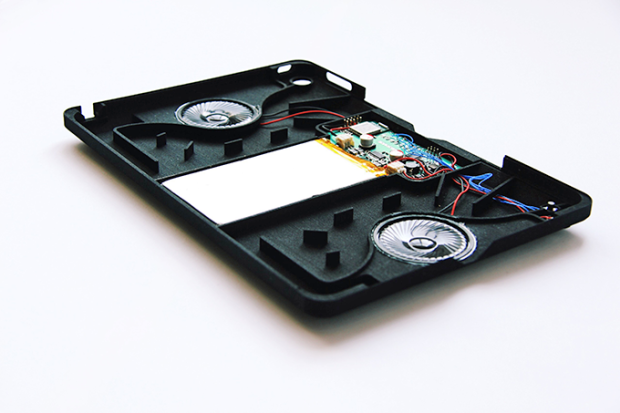 Use is super simple, once you pair your iPad to the Ampple via Bluetooth it will always recognize it and deliver its great sound improvement whenever you play anything on your iPad. In addition, you can pair any Bluetooth enabled device to the case as well as use it as a separate Bluetooth stereo speaker.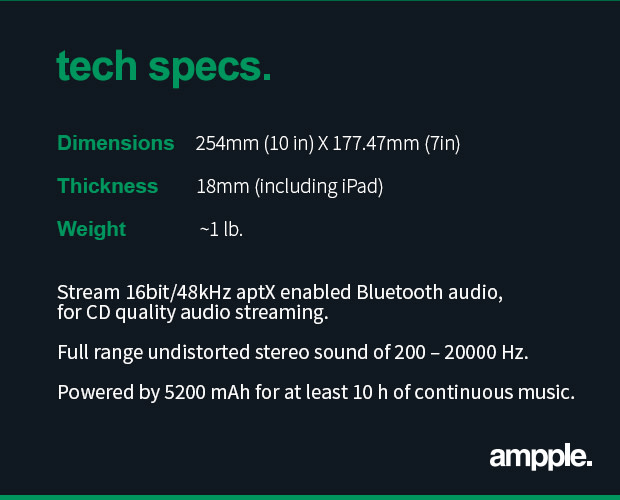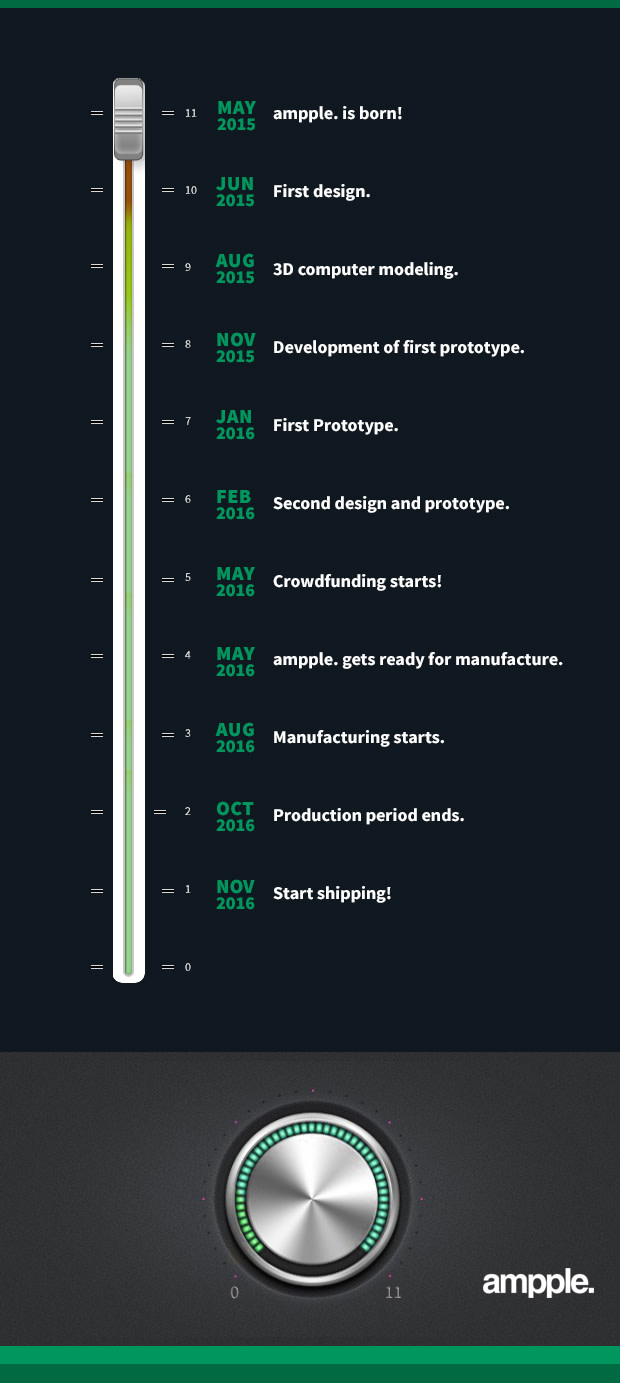 Ampple was founded in May 2015 when three bright and talented people came together and with a great inspiration created the concept of Ampple – easy to use, stylish, portable iPad case with excellent sound, that provides great audio-visual iPad user experience. For almost 10 years Viesturs was working on commercialization of CONEQ – a powerful audio enhancement technology. But selling end-users' benefit to manufacturing companies turned out to be a bigger challenge than expected. Viesturs then started thinking about an actual consumer product. He realized that iPad has amazing video quality, but relatively poor sound performance. By teaming up with startup-experienced engineer Kaspars and one of the most established Northern European industrial designers Rihards, they started their way to achieve the perfect sound with minimum weight and size. And so they did – making the ultimate "must have" gadget for all the iPad users around the world.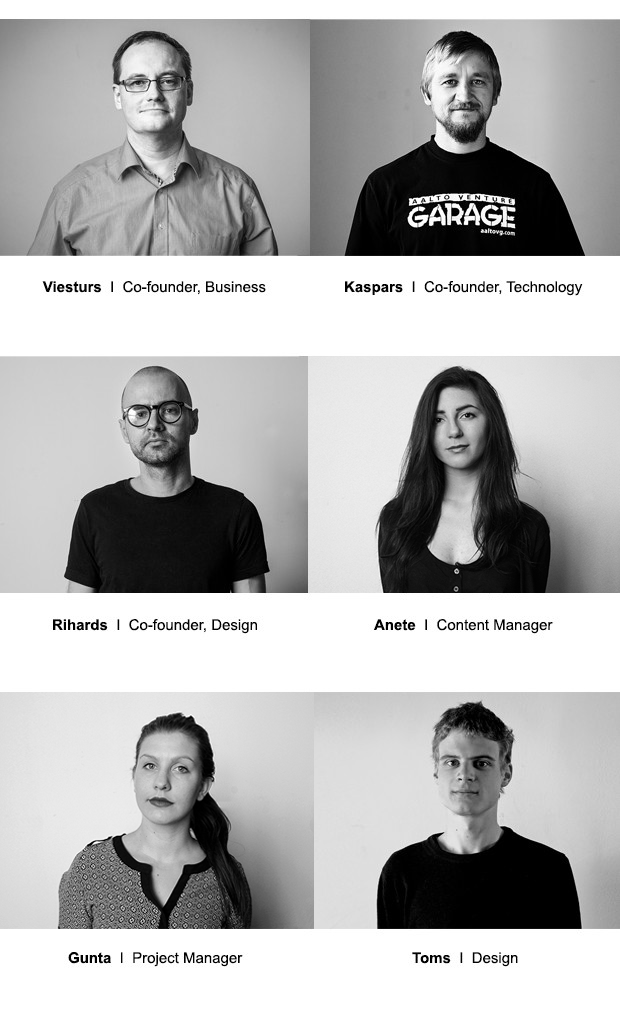 What versions of iPad does it work with?
It currently works with iPad Air 2, 9.7 inch-iPad Pro and iPad mini 4.
How much louder does Ampple make my iPad?
Up to 3x times louder, with HD stereo sound.
In what frequency range does Ampple work?
Ampple delivers non-distorted and rich sound from 200Hz – 20kHz
How long the battery of Ampple will last?
This will heavily depend on the loudness level, but Ampple is made to last for at least 10 hours at an average movie watching volume.
How does Ampple protect the iPad?
Ampple is made of durable industrial plastic that encases your iPad to protect it from external shocks.
Is Ampple water/splash proof?
No.
Will Ampple be able to re-charge my iPad?
Ampple doesn't charge your iPad, and is itself charged separately.
What is CONEQ?
It's a powerful sound correction algorithm. CONEQ is pro-grade signal-processing filter that undistorts sound over the whole audible range.
Does it cover up any buttons or the camera of the iPad?
No, Ampple was painstakingly designed to work in harmony with the iPad.
What are the Ampple dimensions?
Ampple is 254mm (10 in) X 177.47mm (7in) X 18mm (~11/16 in). It adds only 12mm (~1/2 in) to the thickness of your iPad.
How much does the Ampple weigh?
Ampple weighs under 1 lb – slightly less than the iPad itself.
Is Ampple available for iPhone?
Not yet, but we're working on it.
When should I inform you of my color preference?
After the campaign, we will be in touch with all contributors to confirm their color selections, as well as choice of Ampple model size.
How do I get the limited edition Indiegogo pink color?
All perks are available in the standard three colors (mint, inferno, night), however, if you would like to get your hands on the limited edition "magenta" Indiegogo color, you will need to to purchase the perk "Ampple Indiegogo Edition". This color will only be available during the Indiegogo campaign.
Does the cost of the perk cover taxes and tariffs?
No, the perk cost only covers the cost of the item itself. Shipping is separate and is added during checkout. The buyer is responsible for any additional taxes or tariffs imposed.
Why Ampple has selected flexible funding plan?
When compared to fixed funding, flexible funding option allows wider payment method selection for our backers. We want to make your backing experience as flawless as possible and assure you that we will treat the funding goal as a binding promise for funding, as it would be a fixed plan.
How do I get in touch with Ampple team?
You can message us here or email us at ampple@ampple.com
How do I upgrade my perk?
https://support.indiegogo.com/hc/en-us/articles…
I'm having trouble claiming a perk. Who should I reach out to?
Email support@indiegogo.com.
I would like a refund. How do I do this?
https://support.indiegogo.com/hc/en-us/articles/213172367
Find This Campaign On