iCrowdNewswire - May 14, 2016
Catford South Kids' Lantern Parade.
Twilight. Music and children's voices float across the terraced streets. A procession of lights swings into view. Happy children's faces glow in the swaying lantern lights…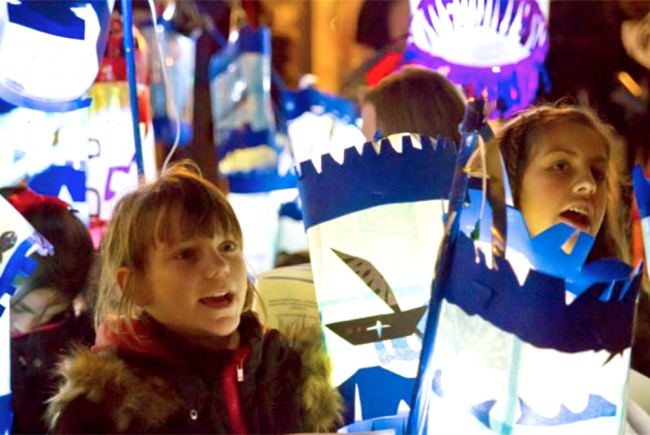 About
A hundred (or more!) children with mums and dads, friends and neighbours, walking to the beat of live drums and music and holding their handmade lanterns in celebration of the season and our life together as a diverse community.
With the guidance of Emergency Exit Arts in Greenwich, we propose to make a community lantern parade where children from local schools and groups learn to build lanterns, then come together with family and neighbours on an evening in late autumn or early winter of 2016 to process together with their lanterns through the streets of Catford South ward.
What we'll do:
Create a community-initiated lantern parade to bring the community together
Give the children an opportunity to be a part of something bigger than just their family or school
Hopefully start a yearly event that will be a highlight of the community calendar
Create an opportunity for the community to engage with each other in an active, positive, inclusive way
Build on Catford South's growing sense of community through shared effort and experience
Why it's a great idea:
There are few local opportunities for children to come together across the usual boundaries of schoolyard, church group or family social gathering. This is a chance for kids to work together on something bigger than themselves, to make something that is a part of a bigger whole, which they can then share with their family and neighbours.
The workshops and parade will be creative, safe, fun. It will be an opportunity for children to develop an understanding of creative processes through practical experience, problem solving, imaginative thought, risk taking, reflection and presentation of their ideas and thoughts.
People across the ward will come together in celebration. They will not be passive spectators, but active participants, enhancing our sense of community through a shared cultural experience.
Milestones:
Artist-led lantern-making workshops with schools, local groups and at local public venues
Event management led by Emergency Exit Arts (liaison with Council, traffic management, health and safety, etc.)
Skill sharing workshop with local teachers, so that lantern-making can be taught beyond the artist-led workshops
Discussion with local community groups to decide on a parade route
(Photos by Emergency Exit Arts)