iCrowdNewswire - May 13, 2016
Movpak: Electric Vehicle & Backpack In One
The first portable electric vehicle & backpack in one is now better than ever.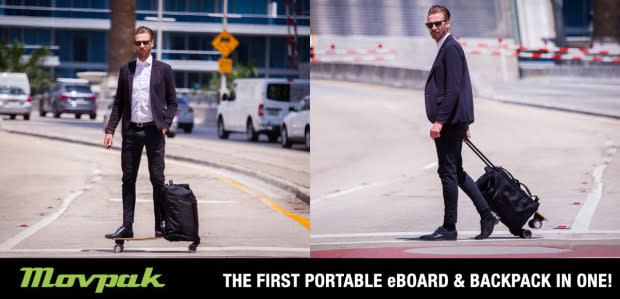 Movpak is the first backpack that can carry everything you need for the day and you at the same time.
It unfolds in one movement into an electric vehicle that goes up to 20 mph with a wireless remote control.
Did we mention that you can also charge devices in the Movpak, and on the go?
No fumes, no wires, no damage to the environment.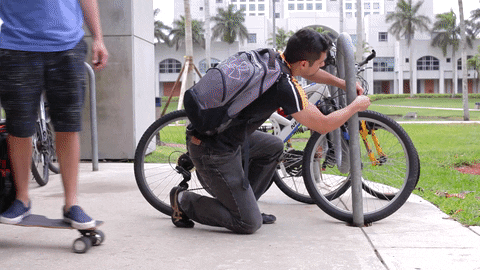 RIDE UP TO 20 MILES PER HOUR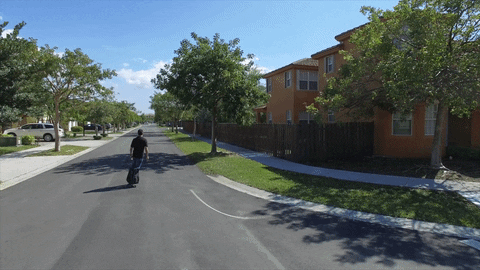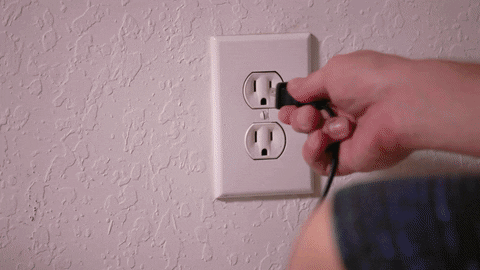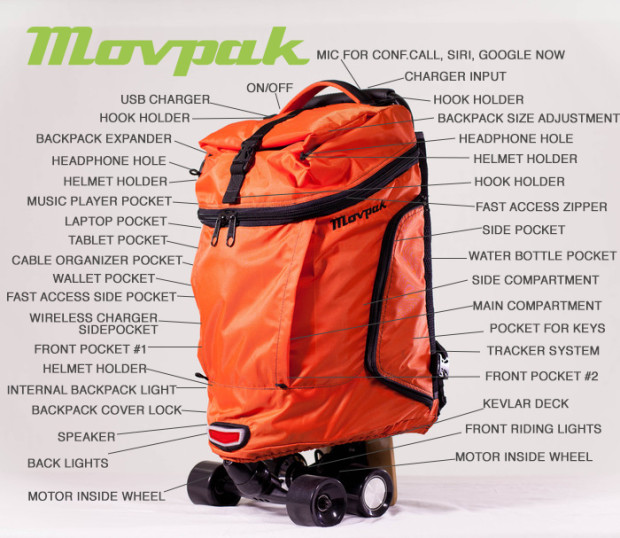 IDEAL FOR RIDING IN THE DARK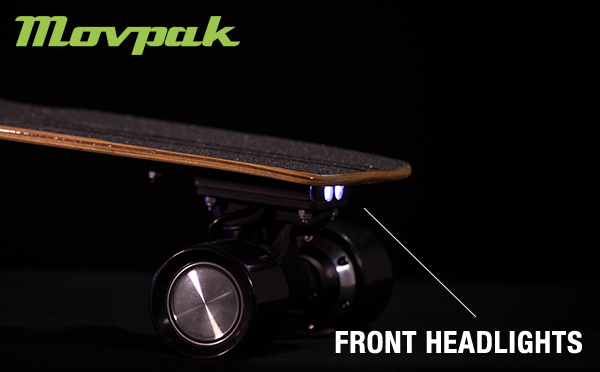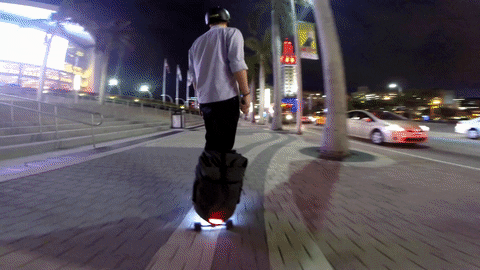 SIRI or GOOGLE NOW INTEGRATION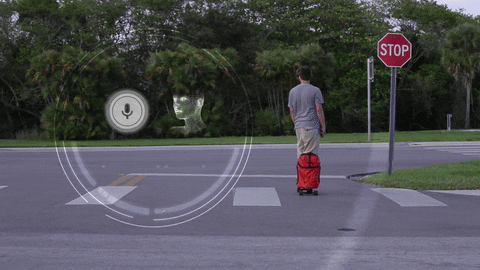 WIRELESS SMARTPHONE CHARGER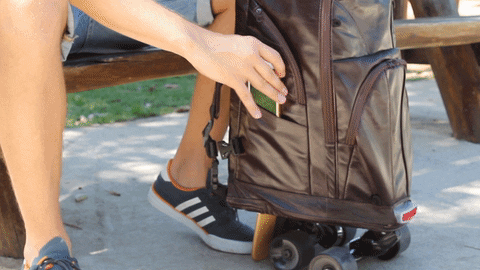 BUILT-IN TRACKING CAPABILITY FOR SECURITY (IN CASE MOVPAK GETS LOST OR STOLEN)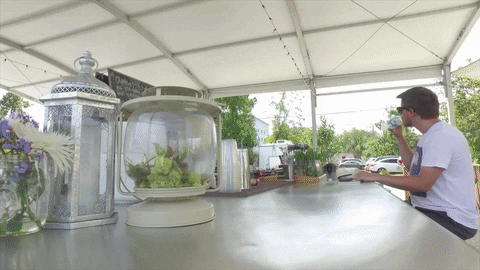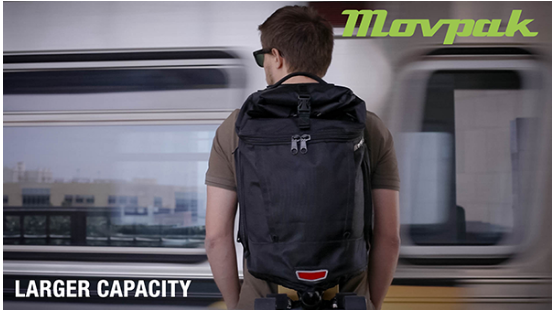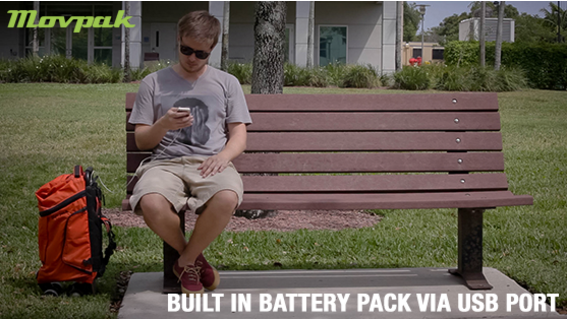 Movpak will unlock a new color backpack with every $100,000 raised! Help to make a more colorful world by supporting Movpak today.
1) The Onyx Ninja – Available Now
2) The Fiery Explorer – Available Now
3) The Neon Time Traveler – Available Now
4) The Leathered Secret Agent – Available Now
5) New Color – LOCKED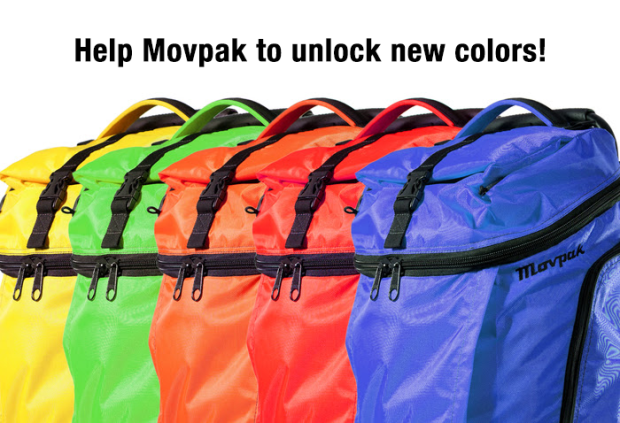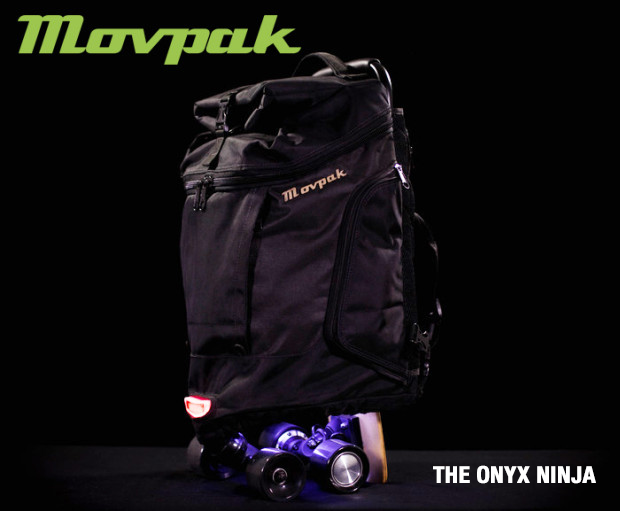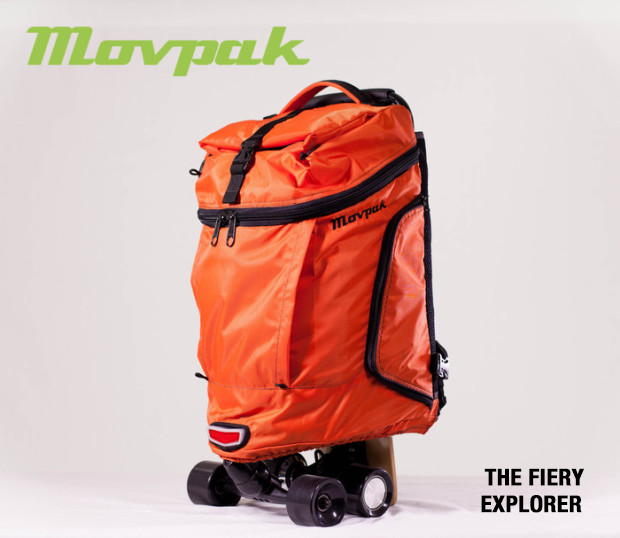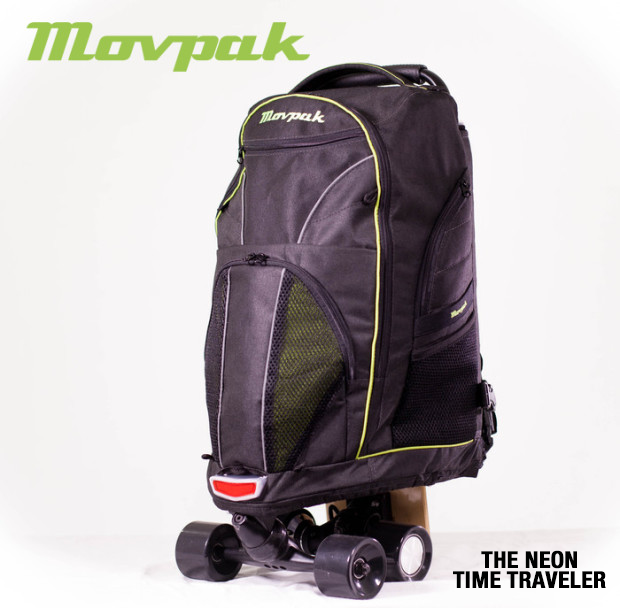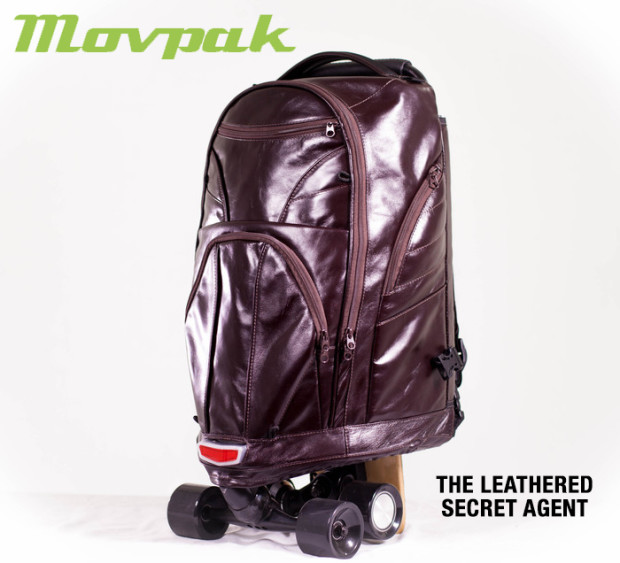 *These images are prototypes and design may change.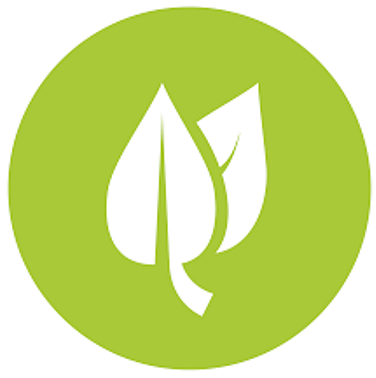 MovPak is the best solution for the urban commuter. It can carry everything you need, doubling as a personal electric vehicle capable of speeds up to 20 mph, and a range of 10 miles per charge.
Large cities can't support cars anymore. There is no space to park, so much time is lost in traffic jams, not to mention the stress and pollution caused by those vehicles. This problem is only getting worse as the population continues to increase. The only way to solve that problem is to integrate public transportation with personal light electric vehicles.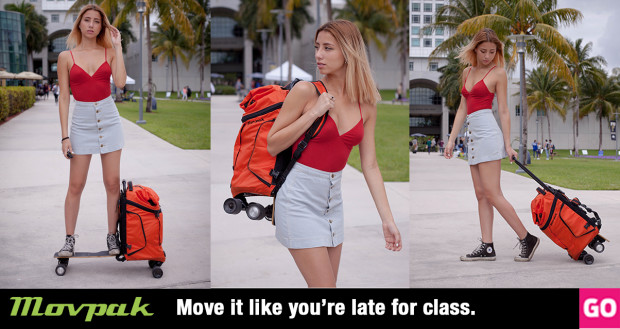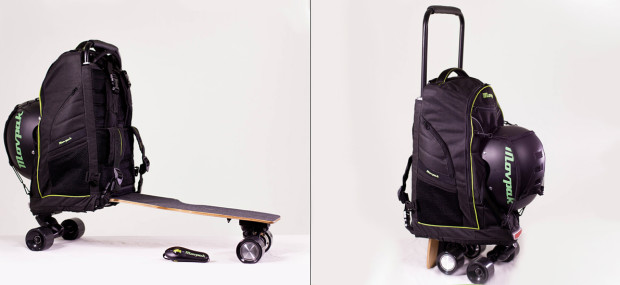 The challenges we face at this point are possible unanticipated set backs in the finalization of our design, that could require more time spent on this phase. However, our team is well prepared and is rigorously testing the product daily to minimize potential failures.
Schedule and quality control are potentially two major issues when we work with suppliers. These processes are scrutinized closely by our team to make sure that everything is being done as agreed. The pre-production prototype changes will be ready and tested before starting the production.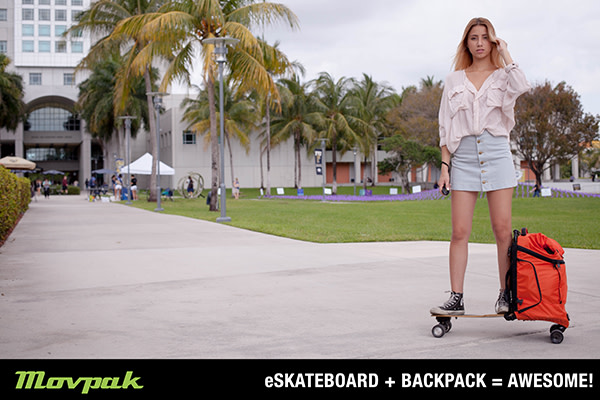 MOVPAK BACKPACKS ARE INTERCHANGEABLE!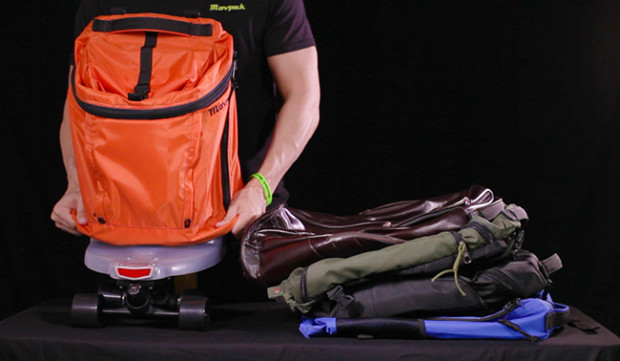 TWO MOTORS INSIDE THE WHEELS – A POWERFUL CHOICE!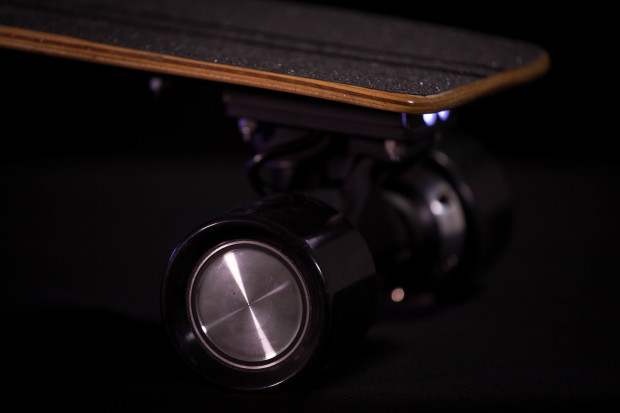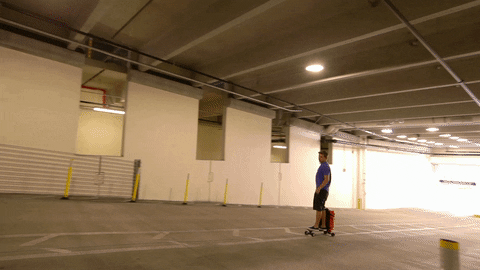 THE BOARD IS MADE WITH KEVLAR, MAKING IT FLEXIBLE & STRONG.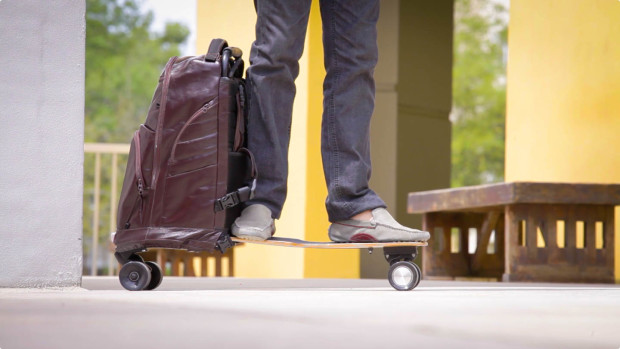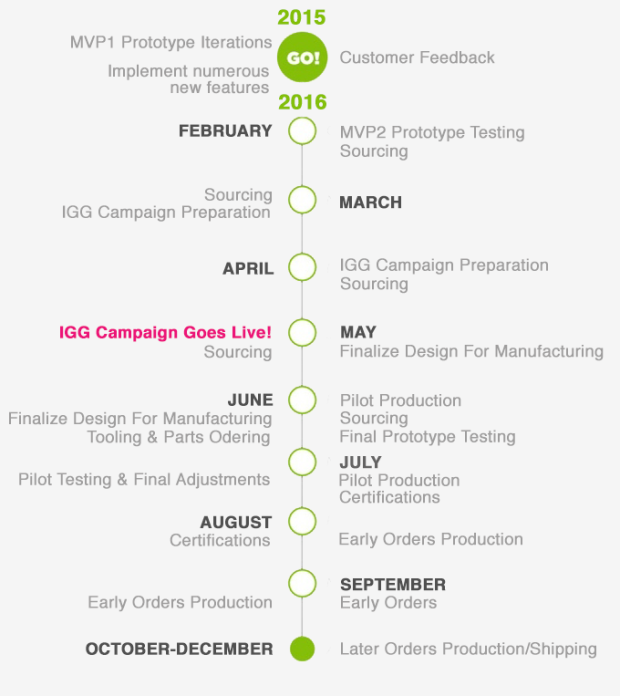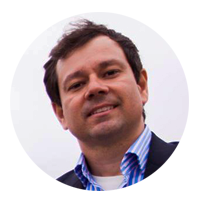 Hugo Dourado – CEO/Co-Founder.
Hugo Dourado graduated in Business Administration and opened first business at age 17, He has 25 years of experience in management, marketing and innovation. He has spent the last four years dedicating his time to the development of new products and various patents which have received various awards. He is responsible for the idea, patent and development of Movpak (www.movpak.com).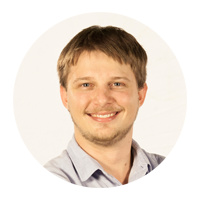 Felipe Junquilho – CTO/Co-Founder
Experienced with development, strategy, management, and manufacturing, Movpak Co-Founder Felipe Junquilho has been with the project since its initial conception. He graduated in Electronic Engineering from the Federal University of Bahia. He has founded numerous manufacturing companies over the years.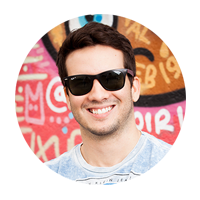 Ivo Machado – CMO/Co-Founder
Ivo Machado Graduated in Advertising at UNIFACS, and studied Commercial Production at the University of Southern California. Ivo has shown an entrepreneurial spirit since high school when he managed to produce and market captivating videos . As soon as Ivo graduated from college at age 23, he founded his first company, a video production company called Jobs Filmes where he won international awards as a video director. After two years, he co-founded his first startup as CMO of a shopping mall app called Smartpanda, a marketing tool to help stores market their products and bring customers from the online/smartphone world directly into the real world experience of stores. As CMO and cofounder of Movpak, he has helped to create the world's first backpack electric vehicle hybrid by developing the concept, design, marketing and communications of the product.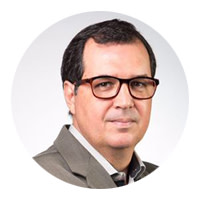 Augusto Barretto – Business administrator
MBA in Marketing, Augusto Barretto serves as a marketing specialist, publisher and startup mentor for technologies companies in Brazil. He had worked for 15 years for Anixter, one of the biggest global distributors for telecommunications and infrastructure solutions.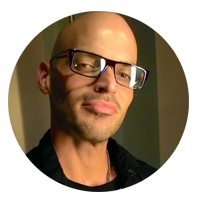 Adam Moon – Logistics Manager
Adam Moon has 16 years of experience in sales and management. Outside of handling logistics, Adam is also a self taught options trader in the financial markets and has been working since age 15. "Academic achievements are great, but life's greatest lessons I learned in Kindergarten."

Does it have a brake?
Yes! Just push the remote trigger forwards, and it will start braking. In fact, the brakes are regenerative, which mean that you will be recharging your battery overtime you break.
I've never ridden a skateboard, snowboard, surfboard, or any kind of boards. Can I learn how to ride a Movpak?
Off course! Learning to ride a Movpak is actually much easier than all these board sports. First, because it has a motor, with brakes, that prevents the Movpak from sliding when you get on. Second and best, you can press your foot and calf against the rear part of the backpack. This will give you added support, stability and provide you more balance. You can use your calf to make turns, just leaning forwards and backwards.
Can I make skateboard tricks with it?
We know how fun it is to ride, but we do not recommend this. Although it is very resistant and durable, the Movpak was designed to be a personal vehicle for transportation, not for extreme sports.
What is the maximum rider weight?
We suggest 240 lbs. However, the range, speed and hill climbing may vary according to the riders weight.
Is the Movpak waterproof?
The backpack is water repellent, and the motor is sealed. You can ride it in a light rain, and humid terrains, but never in heavy rain, with water on the pavement.
What are the materials used to make a Movapak?
Movpak was designed with the latest technology and materials, made from the same special aluminum used in the manufacturing of aircrafts and satellites.
We've chosen to use a lithium battery, a powerful brushless motor, all beautifully packaged on a light weight laminated deck that's constructed using a combination of wood, metal and Kevlar compounds allowing it to be strong and flexible at the same time.
We've redesigned the remote many times, again using the latest technologies, making it more appealing and comfortable, using simple one touch buttons for acceleration, braking and even one for reversing.
Is the charger universal i.e, can be used in different countries where the voltage is different?
Yes, Movpak's input voltage is 100-240v~50/60hz 2.0A. Although you may need an adaptor to fit your outlet since Movpak comes with American standard plug.
What type of braking system does MOVPAK use?
MOVPAK uses a regenerative braking system to help sustain the batteries charge.
If the battery ends, can the owner use the skate as a regular one?
10 miles is a long range. Research indicates that most of commuters are averaging about 3 miles everyday going to work or school and back, so we thought that 10 miles would be more than enough. Besides, you can always charge it in any regular outlet in just 2 hours. So, that is why we didn't design this Movpak model for using it as a regular skateboard.
Can we charge devices in the Movpak. How is that?
Absolutely! Movpak comes with a USB port so you can charge smartphones, tablets and other gadgets. Another cool feature we've recently added is a wireless smartphone charging where you just place a compatible phone in a pocket and it will start charging automatically.
Isn't the backpack too heavy to carry?
If you compare it with a regular backpack, then yes. But we are talking about a portable electric vehicle, so compared with a regular bike or other portable electric vehicles it weights less than half of most of them. Also, we've added a really cool feature that allows you to roll the MOVPAK instead of wearing it, making that option perfect for inside of buildings or even going through the hallways at your school or university. If you are going upstairs or downstair then go ahead, wear it using the straps and you will be fine.

Share the amazing Movpak with your friends online through the social media share tools below!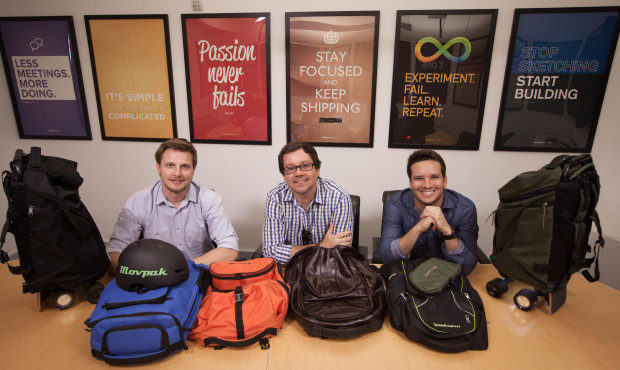 Find This Campaign On