iCrowdNewswire - May 6, 2016
HANSNAP.
HANSNAP is the world's first hand-mounted smartphone filming system.
HANSNAP was born from a simple question: For decades, cameras and video recorders have come with handles and straps for stability and security. iPhones and GoPros have now replaced most other consumer cameras — why don't they have stability straps and handles?
***UPDATE: HANSNAP IS ON THE FINAL ROUND OF SHARK TANK!!!***
 If we make it past this round, we will be on the show!!!
KICKSTARTER SUCCESS:
Our successful Kickstarter campaign resulted in exceeding our funding goal, becoming staff pick, and incredible press coverage in over twlelve countries.
NOW SOLD AT SELECT VERIZON STORES!
Immediately following the campaign, we landed a partnership with Verizon for HANSNAP to be sold in 33 retail location across Northern California.
TARGET MARKETS: 
Whether you're a parent capturing footage of your young children, a traveler recording your train winding through the andes, or an action junkie looking for stability, HANSNAP makes it easier than ever before to get high quality footage with the recorder you already have at hand.
Never worry about shaky footage and damaged phones again. HANSNAP is here to rid the world of unwatchable video and lost phones.
Behind a team of creative geniuses, HANSNAP is just our first product that will forever change the mobile world we live in.  
We have shipped over 300 customers and have a number of exciting partnerships in the works!
The Verizon retail pilot is a commercial test which will lead to national distribution.  
We have also partnered with the hugely successful Deathlens brand, maker of smartphone cases and camera phone lenses. 
We are also in discussions with Six Flags as they are looking for a replacement item for the recently banned selfie stick.
We have a fantastic manufacturing partner in Asia that can handle high volume quantities. We have a national fulfillment center that can fulfill any quantity required. They currently handle all fulfillment for the top tier phone case company, Speck Products. We are working on several sales distribution channels — Verizon and Six Flags, but also action sports stores Tillys and Zumies, both current distributors of Deathlens.
All this success has gotten us some pretty sweet press coverage from publications like Digital Trends, Yahoo, Mobilefun, Trusted Reviews,The Gadget Flow, and Wearable FOMO, including recognition for a "Most Innovative  Kickstarter" category.
We have also filed a U.S. Utility patent (protecting our function, process, and), and are also patent pending in 148 countries.
We are currently taking orders at HANSNAP.com which has been accumulating orders organically.  
HANSNAP is just the beginning. We have several more products in the pipeline:
A wearable finger shutter that enables one-handed photography
Simplified and more cost effective version of HANSNAP ($9.95 – $14.95)
A fully integrated model including a phone case ($39.95 – $89.95)
Make sure to request access to the business plan tab of this profile for more details!
With HANSNAP, daily-use electronics like smartphones become wearable, easily accessible tools ready to live up to their fullest potential. HANSNAP fastens your electronics to your hand with a pivoting arm that allows for an infinite range of user positions primarily aimed at enhancing the filming experience. 
How to HANSNAP

Remove the white film from the high-bond 3M adhesive on the universal backing plate.

Place the backing plate on your bare phone, favorite phone case, Lifeproof case, tablet or GoPro.

Click the hand strap into the backing plate now attached to your device. Slip it on your hand and adjust the strap. You are ready to HANSNAP!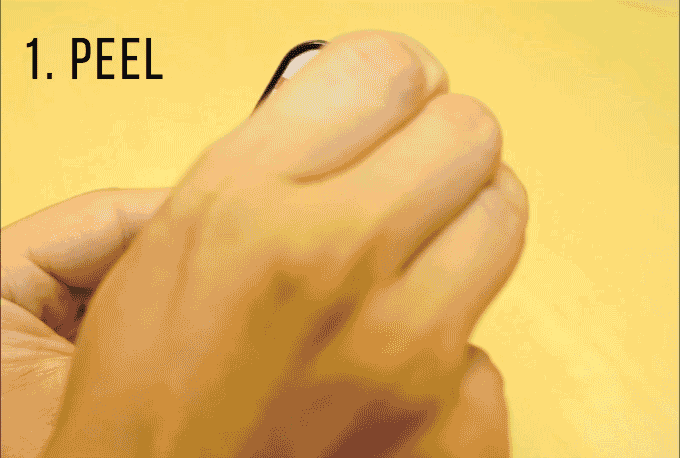 HANSNAP: Hands-free, awesome angles, stable footage, #NeverDrop
From that initial thought at the concert, "wouldn't be awesome to film myself crowdsurfing without being scared of dropping my phone?" to the countless days spent skating, and climbing, and travelling, HANSNAP has forever eliminated damaged electronics and unstable footage.
The universal adapter plate allows HANSNAP to be used with phones, GoPros, and tablets.
We created HANSNAP for ourselves, and by extension, people like us — adventurers, explorers, parents — people who want to see and remember the world the way it really is. Not some constant earthquake, hand tremor version.
A lifelong inventor and entrepreneur, Justis has six years experience of project management, product development, quality management, product deployment, all around startup hustling. After college, he joined a highly disruptive international software/hardware company where he reported directly to the CTO. HANSNAP is the first product he feels passionately enough about to endure the hardships of a startup for.

Jonathan holds a BA in industrial design, an AA in mechanical engineering, and has extensive manufacturing and lifestyle design experience. Jonathan has designed soft good and hard goods commercial products from scratch, and has extensive travelling and active lifestyle professional experience. 
 

Part of founding team of Lightsurf, the company that sent the very first camera phone picture in 1997. Andrew has been a founding team member of many game-changing companies including Borland and Netflix.

CFO of Speck Products, a top tier phone case company, for five years during the period where they achieved their highest growth. He led the acquisition of Speck Products to Samsonite in 2014 for $85M.

CFP – Financial planning, wealth management.