iCrowdNewswire - May 5, 2016
Whipper: World's 1st Climbing Performance Tracker
Improve your Climbing with a Small CLIP-ON Climbing Performance Tracker + Smart Coach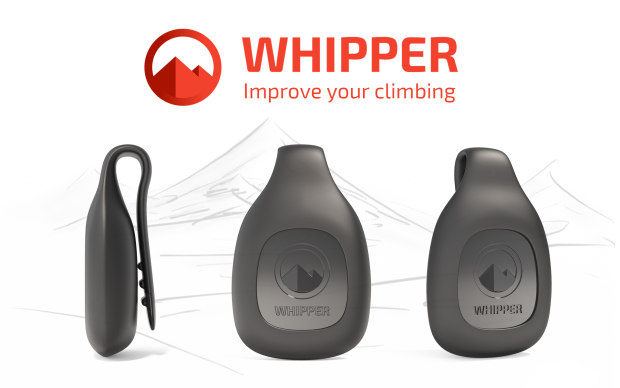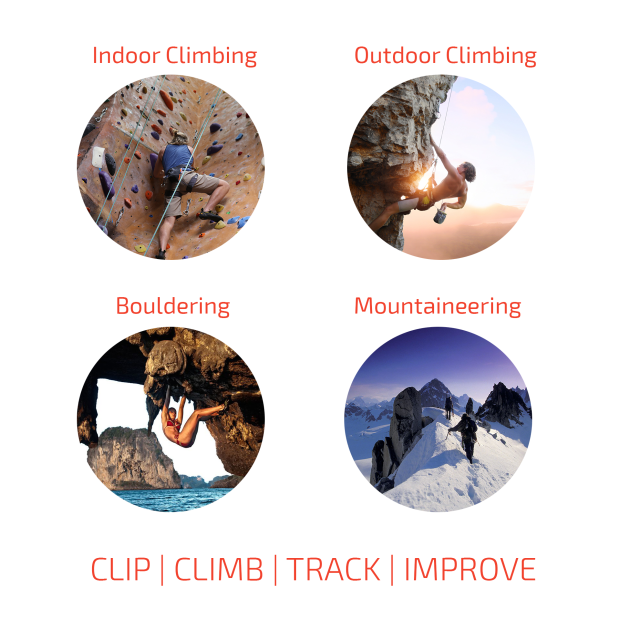 The Whipper is the world's first and only climbing performance and fitness tracker, that helps you improve your technique and endurance — using a sleek clip-on device and accompanying Smartphone App.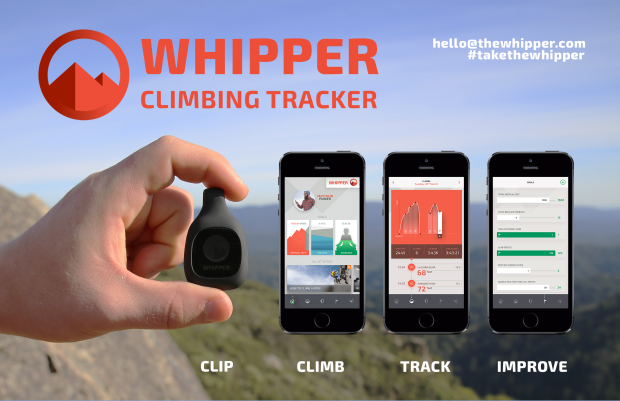 CLIP & CLIMB
Clip-on the Whipper smart tracker with state of the art motion sensor technology and forget it. The tracker will start working right away by collecting data while you focus on your climbing.

Check your data when you are ready. The device works in real time OR you can log all of your climbs and sync your data after a 3 day Yosemite trip.
The Whipper works indoors and out, so you can use it while at the gym training. You get real time stats such as how long it took you to complete that V5 problem and how many attempts you made.
You can use the Whipper on a multi pitch outdoor climb, simply clip it on and climb. When the day is over you can download all of your climbing data and check out your stats. For example, you can see a breakdown of how many feet you covered in each pitch on a big wall climb (Pitch 1: 35FT, Pitch 2: 42FT… Pitch 15: 53 FT).
CLIMB & TRACK
While you climb, our tracker is recording your every move.
The Whipper is a smart device that tracks what you climb, where you climb, and how you climb.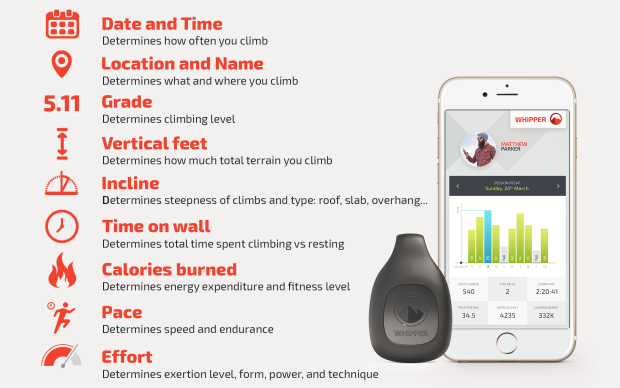 All metrics are derived from our proprietary algorithms which incorporate 6 axis motion and a high-speed high-precision altimeter.
Unlike clunky bracelets and watches, the Whipper is clipped at your waist. It is placed near your center of mass resulting in highly accurate measurements.
Automatically calculated metrics such as feet, incline, pace, time and effort are stored in memory on the Whipper device on a per climb and per session basis.
The climbing info is automatically synced to your Smartphone, where it is stored permanently.
The App can record additional information such as the location of your climb using your phone GPS. This information is used to further improve your climbing stats and the accuracy of our climbing algorithms.
While most Whipper features are automatic, you can also opt to manually enter information, such as route name and difficulty level. 
Working on a project indoors? Distinguish discrete climbs within your session overview, compare project attempts, and see how you've progressed! You can record the location of your climb using your phone's GPS. E.g.:
| | | |
| --- | --- | --- |
| Date: | 4/1/2016 | 4/6/2016 |
| Climb #: | 11 | 3 |
| Name: | Piper's Dream | Piper's Dream |
| GPS Location: | Whipper Gym – San Francisco | Whipper Gym – San Francisco |
| Grade: | 5.11A | 5.11A |
| Feet: | 35.4 ft | 35.4 ft |
| Incline: | 5 degrees | 5 degrees |
| Falls: | 2 falls | 0 falls |
| Calories: | 79 cal | 55 cal |
| Pace: | 0.0513 ft/sec | 0.1475 ft/sec |
| Time on Wall: | 00:10:17 | 00:04:42 |
| Effort: | Shaky | Easy and Smooth |
Based on all this information the Whipper quickly learns your climbing style and ability.  In this case, the Whipper would recommend that you challenge yourself with a higher grade of slab, now that you've crushed "Piper's Dream".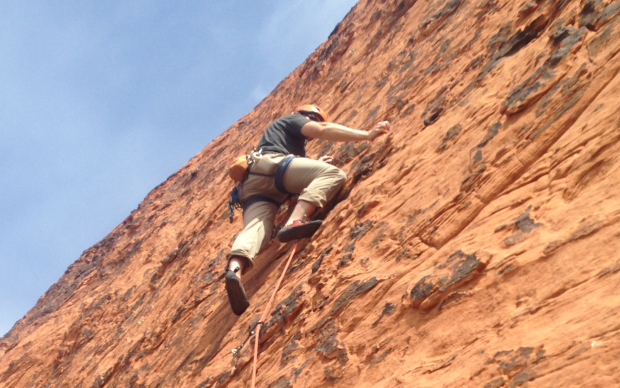 Get outside, and leave your phone in your pack. After an awesome big wall adventure, check out your expedition summary:
| | |
| --- | --- |
| Date: | 4/3/2016 |
| Name: | Nose |
| GPS Location: | El Capitan – Yosemite |
| Grade: | 5.14A max |
| Incline: | 2 degrees avg |
| Falls: | 2 falls |
| Calories: | 1401 cal |
| Pace: | 0.2413 ft/sec avg |
| Time on Wall: | 23:45:06 |
| Effort: | Average |
Then you can even check out a session breakdown by pitch!
In this instance, the Whipper quickly learns that you fell twice on the crack pitches. Not only does it recognize this, but it will also recommend antagonist and flexibility exercises for rest days, to help keep you strong and limber.
TRACK & IMPROVE
Our proprietary algorithms detect climbing moves and track stats about your performance so you can improve your climbing technique and endurance.

The Whipper App gives feedback on your skills, technique, and movement so you can track your progress over each session.
TRIPS & SOCIAL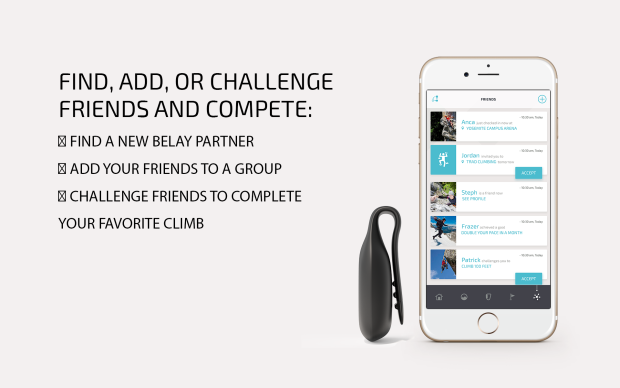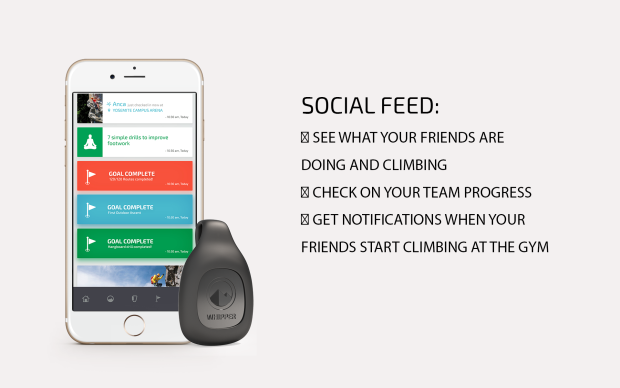 Plan events, weekend trips, or gym meetups:
Invite friends to go climbing tomorrow.
Plan full trips such as a 3 day Yosemite excursion.
Compare your climb with your trad partner.
Sync climbing data with your team and compare stats.
SOCIAL & GIVING BACK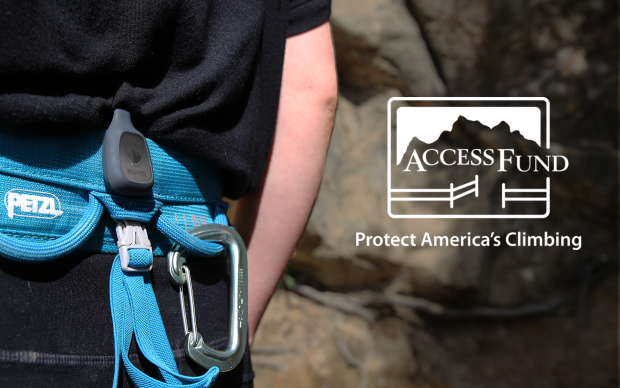 We believe in doing good and giving back so:
For every 1000 feet climbed outdoors with a Whipper, we will donate $1 to the AccessFund.
Our stretch goals include $1K and $5K donations to our favorite charities and non-profits including American Safe Climbing Association (ASCA), AccessFund, and American Alpine Club (AAC).
TECH SPECS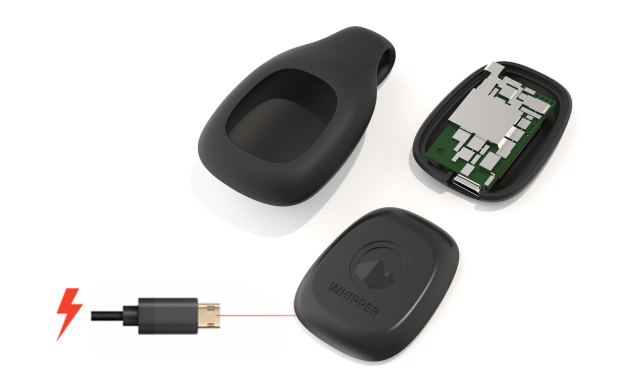 Battery:
-100mAh rechargeable lithium-ion battery with 1-2 weeks of battery life
Syncing:
-Automatic data syncing with iOS and Android smartphones using Bluetooth 4.0 wireless technology
Sensors:
-Bosch 6-axis motion sensor with accelerometer and gyroscope
-Bosch High accuracy altimeter with thermistor for temperature measurements
Enclosure and Materials:
-Eco-friendly ABS plastic case with silicone outer clip
Memory:
-2 MB of internal storage on the Whipper allows up to 3 days outdoor data and 7 days indoor data (24 hours of continuous climbing time) to be stored before syncing with smartphone
Operating Environment:
-Temperature: -20 °C — 60 °C
-Up to 35,000 feet in altitude
App:
-Available for free on the Google Play and Apple App store
-Make sure your device is Bluetooth Low energy compliant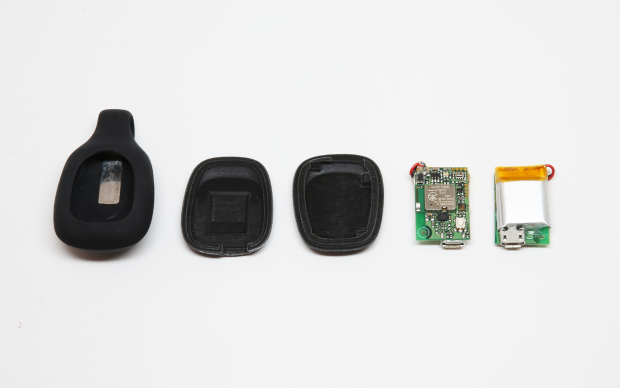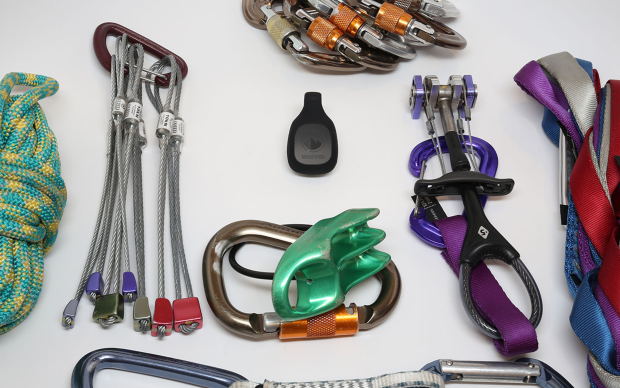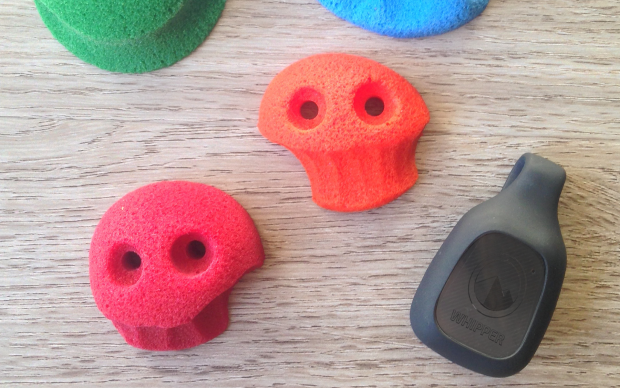 TIMELINE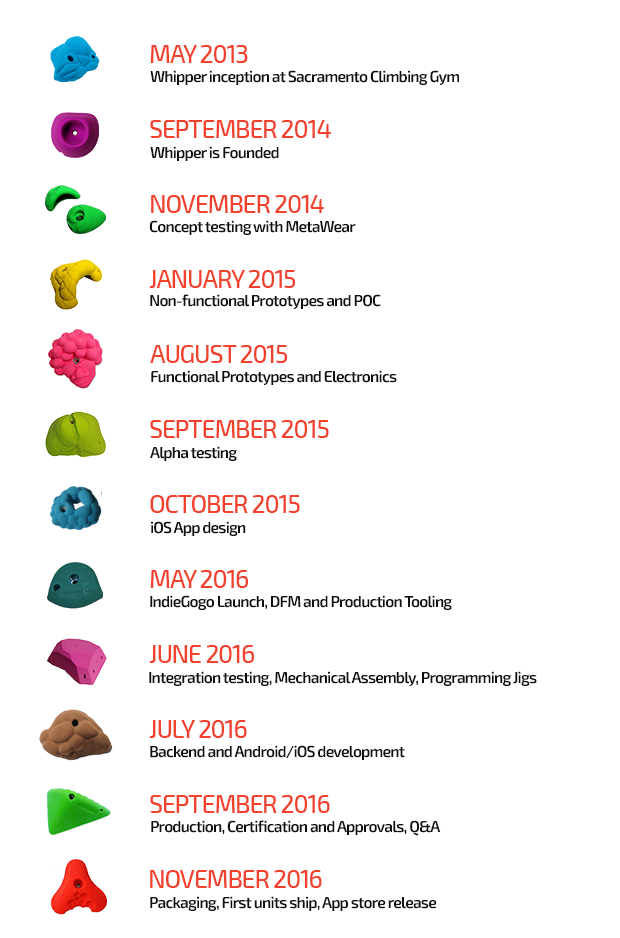 ABOUT
The idea for the Whipper came one afternoon after a climbing session in the scorching 100 degree Sacramento weather. Matt and Laura were talking about their two hobbies, building things and climbing, while walking back to the car. They were also tired of having to write down or memorize the details of their climbing sessions such as which problem they were currently working on and how many routes they climbed in Yosemite last weekend. Eventually, they discussed how amazing it would be if there was a fitness tracker just for rock climbers. That way, they could quantify all of their climbs and optimize their workout sessions. So the Whipper was born!

FAQs
What sensors are on the Whipper?
The Whipper is equipped with a 6-axis motion sensor in addition to an altimeter and temperature sensor.
How does the Whipper measure my climbing performance?
The Whipper's built-in advanced motion sensors allow it to measure a climber's stability, effort, and angle of inclination. This data is supplemented with height and temperature measurements using a high accuracy altimeter.
How is the Whipper worn?
The Whipper is worn by clipping the case to your harness or belt. It is extremely easy to put on and remove!
Will the Whipper add a lot of weight to my climbing gear?
The Whipper is lighter than a carabiner! It is almost impossible to feel the difference in weight with and without a Whipper clipped-on.
Does the Whipper sync data to my phone automatically?
Yes, the Whipper will sync data to your phone using Bluetooth whenever it is in range.
Is the Whipper appropriate for outdoor use?
Yes! The Whipper is designed to be used both indoors and outdoors. The silicone outer casing is water, sweat, and shatter resistant, which makes it perfect for outdoor use. 
How does the Whipper give coaching?
The Whipper App analyzes each user's data on an individual basis and provides feedback based on technical elements during the climb. Using advanced proprietary algorithms, the app translates each of these elements into a climber's strengths and weaknesses, and offers training suggestions or exercises to improve.
Can I use my iPod Touch with the Whipper? 
Yes you can use your iPod Touch with the Whipper! It works just as well as any smartphone!
Can I use my iPad with the Whipper?
Yes you can use your iPad with the Whipper, although we would recommend a smaller device for more convenience.
What is the battery life?
The Whipper's battery will last approximately 1-2 weeks under normal usage conditions.
Is the Whipper rechargeable?
Yes, the Whipper comes with a rechargeable lithium-ion battery and can be charged through any micro-USB cable.
What is the Warranty? 
We provide a one (1) year limited warranty. We guarantee your Whipper product to be free of manufacturing defects upon delivery.
Can I change or cancel my perk?
Indiegogo has now made it easier than ever to upgrade your perks. You can now do so on the contributions tab of your Indiegogo profile. See more information on how to do this here:https://support.indiegogo.com/hc/en-us/articles/526756-How-to-Upgrade-Your-Perk 
Indiegogo allows all backers to cancel or refund their contribution during the live campaign by going to your My Contributions tab of your Indiegogo account. After the campaign is over, any and all requests for refunds will be evaluated on a case-by-case basis.
How is shipping handled? 
We will be shipping via the United States Postal Service First Class mail. International shipments will be sent via USPS or UPS.
How much is shipping and handling? 
Shipping and handling, which includes shipping the items to our offices, packing and fulfilling orders will cost:
FREE in the Domestic United States (including Hawaii, Puerto Rico, Alaska)
$10 for International Order (anywhere outside the USA)
Will you support a heart rate monitor? 
Yes we plan to support a third party heart rate monitor in a future release. 
Will you support Windows and/or Windows phones? 
We do plan to support Windows if there is enough interest from the community. Please let us know by voicing your opinion via email, Twitter, Facebook or through this campaign! 
Find This Campaign On