iCrowdNewswire - May 5, 2016
Musana Carts: The Solar Street Vending Revolution
Providing the solar powered street vending carts designed for the vendors who need them the most!
Be a part of the Musana Carts movement!
We are bringing innovative technology and opportunities for 10 million street vendors in crowded urban areas. 
We met Kizza, a hard working father of two, selling the most popular street food in Kampala: egg rolls. Musana Carts enables micro-entrepreneurs like Kizza to better provide for their families. Everyday Kizza sells 200 egg rolls, but takes home just$7. If he could increase his capacity, that number would go up.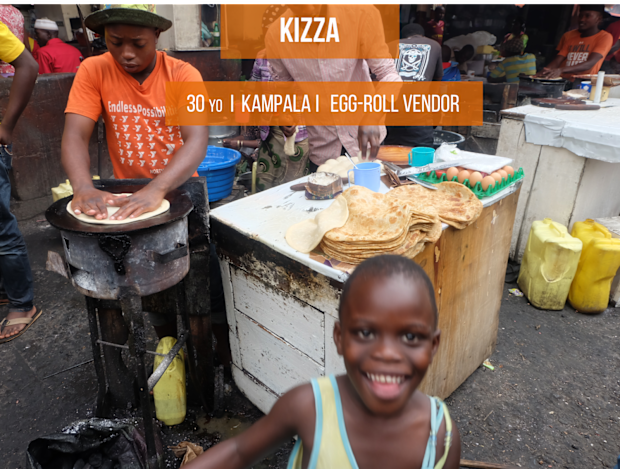 Pimp Kizza's Cart!
Kizza is up against a lot: poor energy infrastructure, the risks associated with operating illegally and inhaling dangerous fumes from his coal burning stove. We immersed ourselves in Kizza's reality, and we developed his solution: the Musana Carts.
We brought this solution to the Hult Prize, the world's largest start up accelerator. With 25,000 applicants from all over the world, we were thrilled to make it through the first two of three rounds. Now, we are amongst the final 6 teams to compete at the Clinton Global Initiative Annual Meeting in New York this coming September, where former President Bill Clinton will award the USD 1,000,000 Prize to the winning team.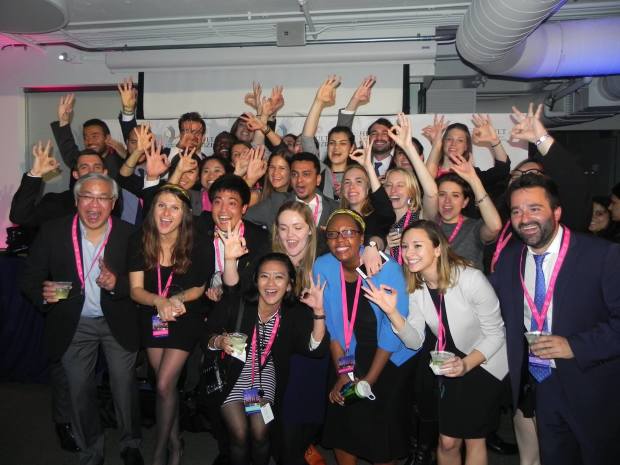 Musana Carts are street vending carts which provide Kizza with solar energy on the go.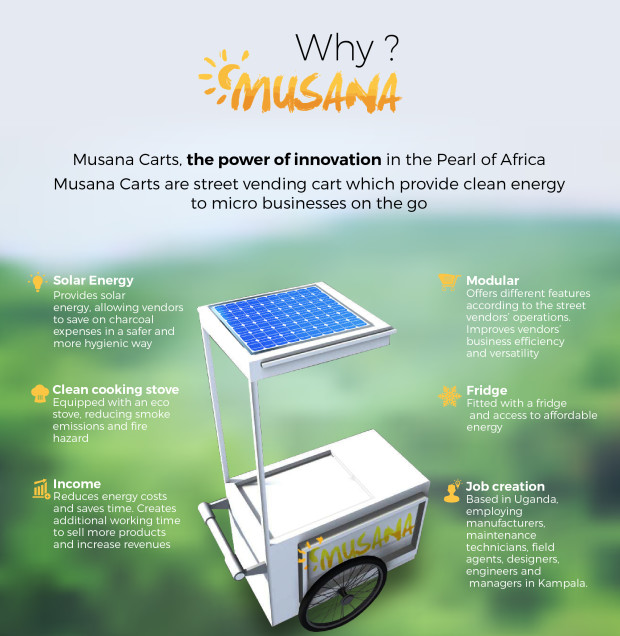 Musana Carts are modular, made for customization of business features including fridges, sockets and mobile money terminals. Beyond its features, Musana Carts equips its vendors with finance and business training and offers a path to legalization for those trapped in the informal sector.
There are 10,000 street vendors just like Kizza in Kampala today. Make a change in their lives with a donation to Musana Carts. Together we can start the Solar Street Vending Revolution!
Every dollar can make a difference
We met with Kizza and many others vendors during our field research in Uganda. We listened to their challenges and we built Musana Carts as the solution to help push them out of poverty and revolutionize their street vending enterprises. We want to design an easy to use cart equipped with the best features on the market that is completely self sustaining through the use of solar panels.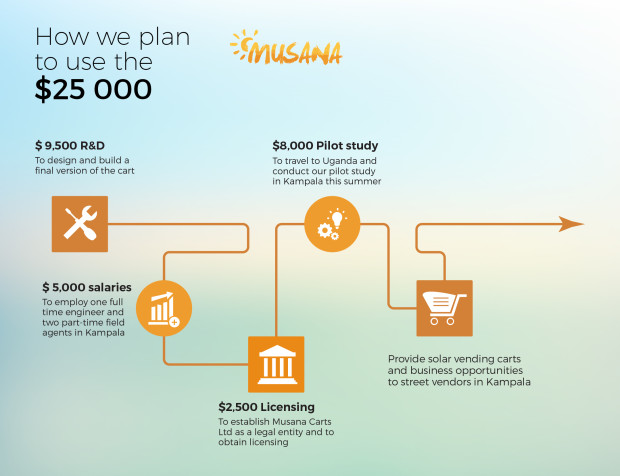 By donating to our project, you will allow us to come back to Kampala and fulfill our promise made to our inspiration: the entrepreneurs in the streets 

"I'm working every night to pay my fees for University. I understood that life is a challenge, you cannot wake up in the morning and wait for a mango falling from the tree, you have to sweat and use your energy, to get what you want, it's the only way"
-Tom, 20 years, Chicken vendor, Wandegeya Market, Kampala, Uganda

"I'm working only in the morning, and my husband doesn't work, still I succeed to feed my whole family, but I struggle, sometimes I'm waiting all the day for customers, I would like to have a way to reach them instead of sitting and waiting. "
-Jocelyn, 26 years, Porridge vendor, pregnant, and mother of a 2yr old girl, Nakawa Market, Kampala, Uganda

"My main expense is to rent the fridge from the owner, I wish I could own one myself but I don't have the capital to invest, it's my only option"
-Aisha, 30 years old, Soda vendor, Nakasero Market, Kampala, Uganda 
We want to express our gratitude! 
$5 – Musana Carts Supporter – A big thank you from our team in Uganda! 
$20 – Musana Carts Community Member – You get listed on our website as a Musana Carts Community Member 
$30 – Solar Revolution Supporter  – Musana Carts official Tshirts shipped directly to your home (United States and Canada) 
$50- Solar Revolution Energy Commander – African Headband/ Bow-tie: Totally unique and handmade by Ugandan artisans just for you! (United States and Canada) 
$200 – Solar Revolution Technology Leader – African headband/bow-tie + Musana Tshirt + You get listed on our website + A postcard from the Musana team in Uganda ! (United States and Canada) 
$500 – Solar Revolution Change Maker – Sponsor one Musana Cart for a vendor! Musana Tshirt + Skype call with Founders in Uganda. We will send you pictures and updates of your sponsored cart with the vendors!
$1000 – Solar Revolution Change Maker – Sponsor two Musana Carts! You get Musana Tshirts +Very special mention on our website + Skype call with Founders in Uganda. Change the lives of several street vendors in Kampala! We will send you pictures and updates of your sponsored carts with the vendors! You can be a part of this transformative experience for the vendors and their families!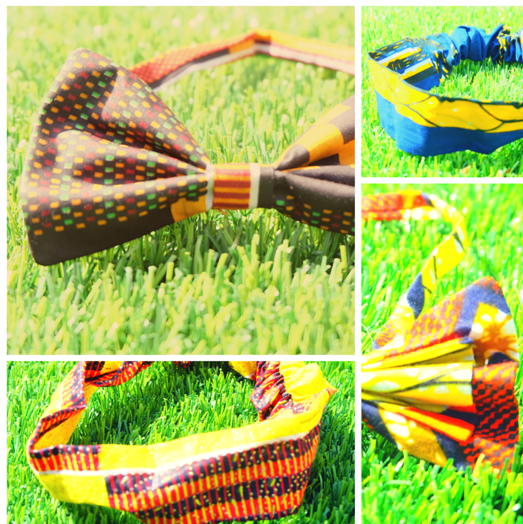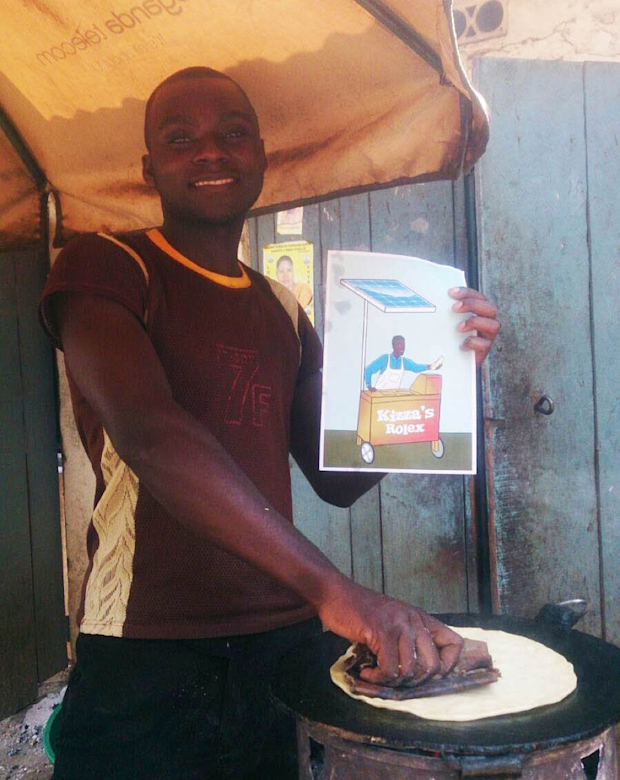 Musana Carts Impact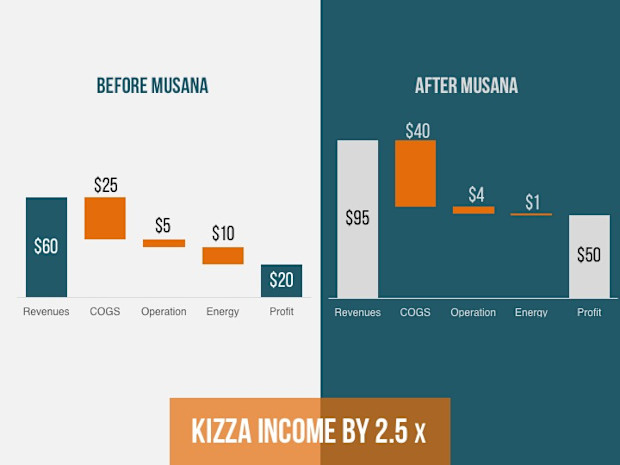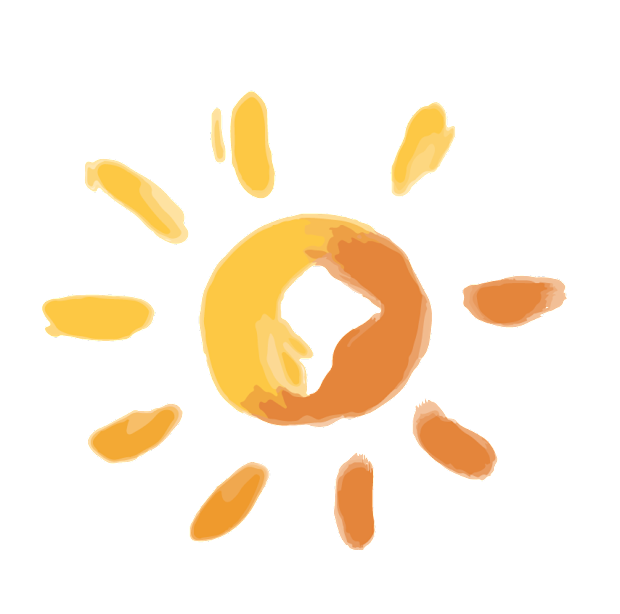 Financial impact: Each cart empowers vendors to reduce energy costs and save time, creating additional working hours to sell more products and increase their revenues.

Economic impact for the city of Kampala: Vendors will transition from the informal economy to become legal tax paying entrepreneurs. 

Environmental impact: Each cart saves 300 tons of carbon emissions every year!

Health impact: The elimination of smoke from cooking reduces charcoal smoke inhalation related diseases!

Energy impact: Musana Carts improves the access to electricity for all the workers within the markets.

Social impact: Musana Carts give access to business training and allow each vendor to invest in his/her livelihood leading to upward social mobility through entrepreneurship!
The story behind Musana Carts
Meet the team: Keisuke "Kei" Kubota, our friendly mechanical engineer, Manon Lavaud, our fearless leader, and Nataliey "Taliey" Bitature, our resident dreamer.
The three of us met among a wonderful tribe of passionate individuals studying Social Entrepreneurship at Hult International Business School in San Francisco. Surrounded by 63 fellow social entrepreneurs that share the same crazy idea of making the world a better place gave us the power to start Musana Carts. So far the journey has been inspiring, taxing and tremendous. We have learned to fail fast and fail forward, but more importantly that the key is to keep believing!
Money isn't everything: Other ways to contribute:
Share! Share! Share! Share!
Please share our story. Our team is completely dedicated to this project, and is humbly welcome to feedback/support/questions/meetings/research and of course, hugs!
Thank you!

Find This Campaign On