iCrowdNewswire - May 5, 2016
J. W. Rutledge Distillery.
J.W. Rutledge Distillery-Built by experts who make great whiskeys for those who love great whiskeys.
Hello Friends,
I'm Jim Rutledge, former Master Distiller of Four Roses Bourbons for 21 years. Many of you already know me, or who I am, while some of you have not heard my name prior to today. I've been in the beverage alcohol business going on 50 years – 49 of those years with Seagram and/or Four Roses. (Seagram owned Four Roses brands from 1943 – until the company went out of business in December 2001.)
I retired from Four Roses Distillery September 1, 2015. I hate talking about myself, but for those of you who don't know me I should mention a few accomplishments…. I was inducted into the Inaugural Class of the Kentucky Bourbon Hall of Fame in 2001. In 2007 Malt Advocate Magazine (now Whisky Advocate) presented me with a "Lifetime Achievement Award." In 2008 Whisky Magazine named me Global Whisky Ambassador – for American whiskeys, and in 2013 I was the 13th inductee into their Global Whisky Hall of Fame. The Four Roses Bourbons made during my tenure as Master Distiller have received world-wide acclaim as some of the best of the best – receiving numerous awards and accolades.  I served on the Board of Directors of the Kentucky Distillers Association for 13 years, and 9 years on the Board of the Kentucky Bourbon Festival – the last 7 years as Chairman. Enough about me.
 I've partnered with two long-time business associates and friends – Stephen Camisa and Jon Mowry – to build a world-class Kentucky Bourbon distillery. We will name the mid-sized distillery the "J. W. Rutledge Distillery LLC" (JWRD.) For many years I've wished to produce a Straight Rye whiskey and a Bourbon using wheat as a small flavoring grain – a "wheated" Bourbon. High rye Bourbon mashbills will also be distilled. Now's the time, and I am passionately looking forward to producing a large portfolio of straight whiskeys to satisfy your wishes and requests. I can't wait to get started! The JWRD will have the capacity to produce approximately 40,000 barrels per year.
To get the ball rolling my partners, and I, have decided to use Indiegogo as a crowd funding platform. The funding request of $1,962,000 includes all fees and approximate tax obligations of $392,000 @ 25% of gross support. The net balance will be used to fund the following: office space ($12,000,) office furnishings and software ($7,500,) administrative temps ($15,000,) accounting and legal services ($35,000,) Engineering consulting service, Architectural services, real estate research and consulting ($500,000,) and property acquisition @ 40% down payment ($1M). If our goal is exceeded any additional funds will be used toward the purchase of land, distillation equipment and/or building designs and construction.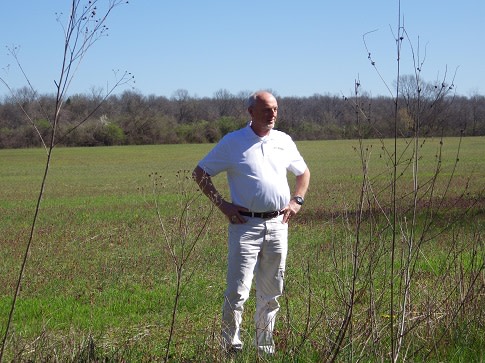 I hope you support my partners and me, in our desire to build a modern, environmentally friendly and sustainable distillery in which I am very confident we will immediately begin to distill and age world class Kentucky Straight Bourbon and Rye whiskeys. We have the talent, experience, expertise and especially the passion to succeed – more than likely succeed well beyond even our wildest dreams. We wish to build our distillery largely with your support, versus investment bankers and corporations, so we can always listen to our consumers' and friends' requests and wishes.
Donations of any amount will be greatly appreciated, and if you are unable to donate at this time you can still help us achieve our quest by spreading the word of our endeavor to others – especially Bourbon and rye whiskey lovers.
I sincerely thank you for your assistance and support!
Cheers,
Jim Rutledge
Master Distiller and Managing Member
J. W. Rutledge Distillery LLC
Find This Campaign On