iCrowdNewswire - May 4, 2016
Leka: An Exceptional Toy for Exceptional Children
A smart toy set on changing the way children with developmental disorders learn, play and progress!
Pour les personnes ne parlant pas anglais, cliquez ici pour télécharger notre PDF en français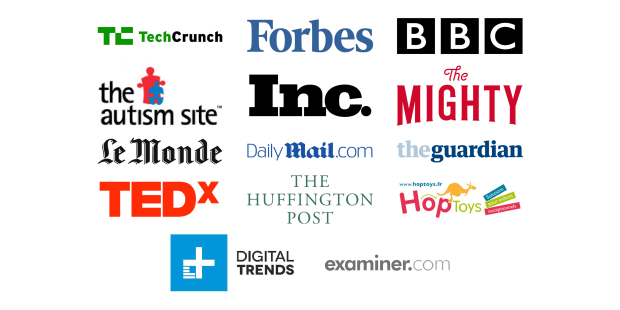 Leka is an interactive and multi-sensory smart toy, offering children with special needs the ability to play fun and educational games that motivates social interactions, that increase motor, cognitive, and emotional skills, as well as stimulates autonomy.
Based on papers published in peer reviewed sources, Leka has been developed hand-in-hand with parents, therapists and caregivers, to aid in a variety of settings. From the office, to schools, to home, Leka is making therapy easier, more efficient, and more accessible.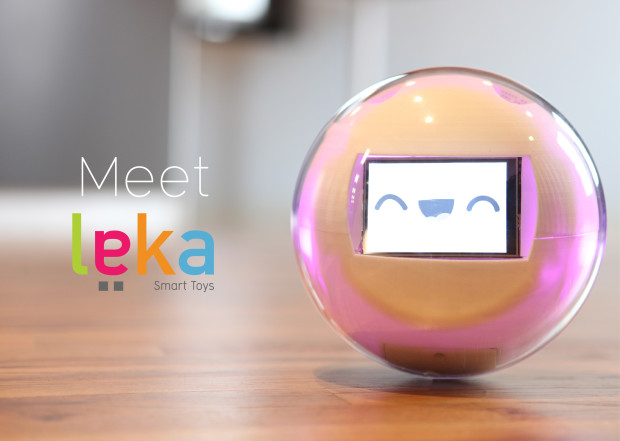 As a robotic toy, Leka is a child's perfect companion and friend. 
Equipped with sensors, Leka can detect and respond to a child's interaction through autonomous behaviors. For example, if Leka is mistreated and thrown to the ground, it gets sad and turns red, a color traditionally associated with sadness. Interactive responses like this aim to help children better understand social cues and improve their social skills. 
Leka is predictable in its interactions (meaning, each and all of its interactions are pre-programmed) in order to give children a sense of safety and peace of mind. Leka offers a wide range of stimulations in a way that even children with restrictive areas of interest will find their own source of motivation.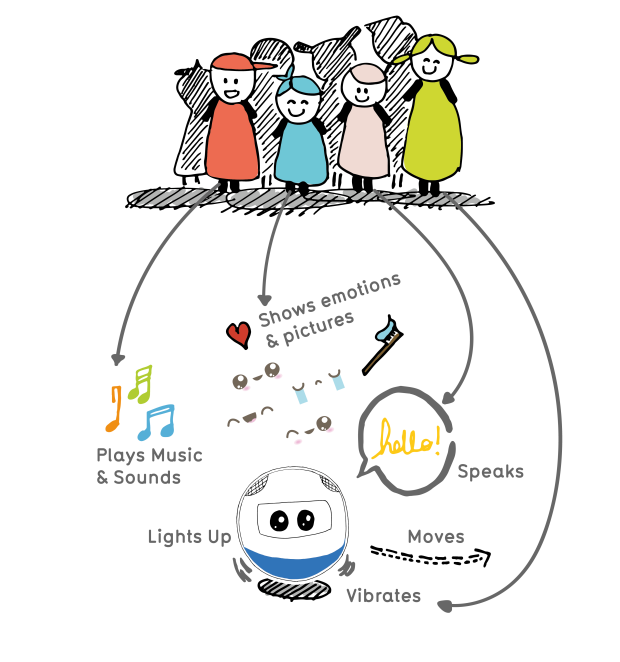 Addressing multiple senses, Leka helps engage children socially with their parents and caregivers to foster greater progress.
Because each child is unique, we made Leka's simulations and applications finely customizable to be able to adapt to a child's individual needs for engagement and motivation and to advance alongside each child's progress. You can even adjust the settings to accommodate different sensory inputs (brightness of lights,volume of sounds, Leka's speed) that are acting as the motivator to encourage the child's progress. For example, some children may prefer red lights over green lights, clockwise over counterclockwise rotation, or even multiple simultaneous features. 
While offering accessible in-home assistance is a key factor in achieving faster progress, none of the existing robotic toys that aid in cognitive development have been made available directly to parents at an affordable price.
With Leka, there is finally a resource for parents who want to complement existing therapies and foster family harmony with parents and siblings through multiplayer games, both at school and at home.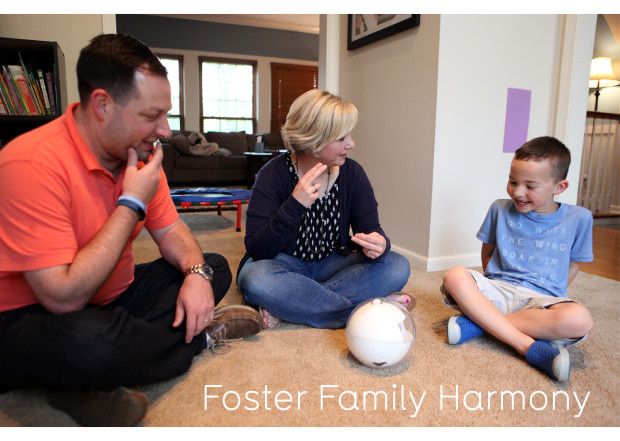 Leka is focused on making social interaction easier with the child's family and surroundings through multiplayer games as well as reducing anxiety and stress.

Leka motivates and guides the child throughout the day to autonomously complete different daily tasks through pictograms displayed on its screen and vocal instructions.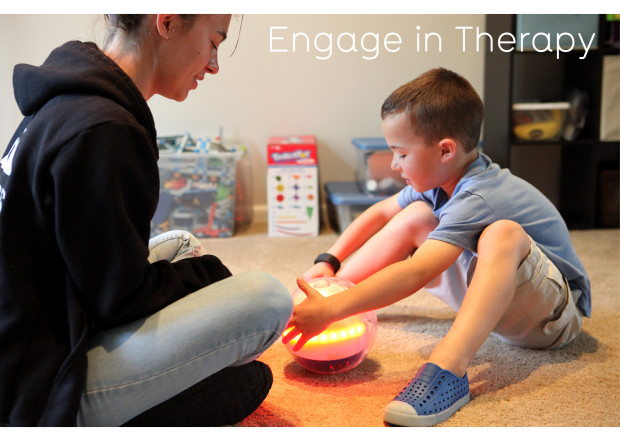 Leka helps parents, caregivers and therapists teach motor, cognitive, and emotional skills through play. Integrating Leka at home and in school will then help parents and therapists to stay connected.

Besides Leka's interactive responses, we are developing educational applications targeting the specific needs of children such as motor, cognitive, social, and emotional disorders.
Multiple applications will be available on Leka when we will ship in 2017: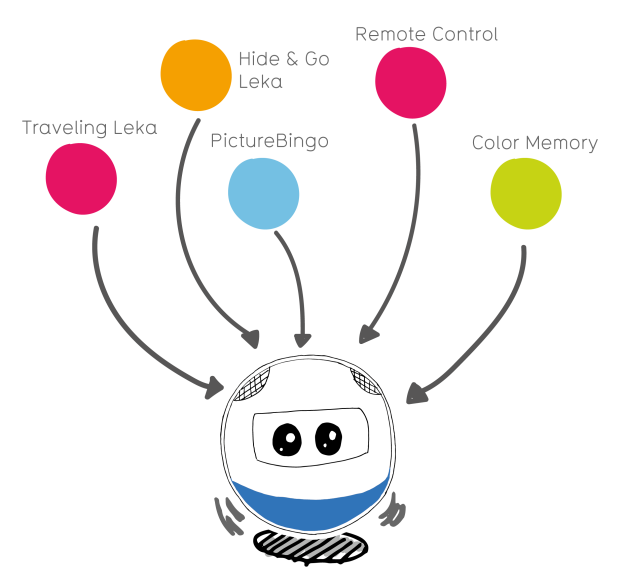 These applications can be used as: 
Multiplayer activities – used with parents, therapists, and siblings to motivate social interactions and foster family harmony.
 Autonomous activities – used to help a child play on his or her own, building a sense of independence, and control over emotions, frustration, and anxiety.
Different categories exist : applications to foster autonomy, applications that open the path towards motor skills development and applications that help improve communication skills. 
Within each application users will be able to customize the level of difficulty of the application and to modify the guidance level, or how much instructions Leka needs to provide the child with in order to complete the game. 
These games engage children and give them the opportunity to play and learn at the same time.

Adults place different colored tags throughout the room. Leka spins around, stops and lights up with a certain color, prompting the child to carry Leka over to the matching color tag. When the child brings Leka to the correct tag, Leka praises them with different sensory stimulations, like laughter or lights, depending on the child's preferences.
Other variations for this activity include:
Adults position the color tags in a higher place, or even hide the tags so that the child must ask for help from another person in order to reach the tag and receive praise from Leka. 
Color tags can be placed in different rooms, and Leka can be used as a tool to help child transition between activities. 
"Traveling Leka" supports children's motor skills development, attention, communication, and social interaction.

Adults hide Leka and children must go find it. When a child finds Leka, the robot opens its eyes and makes happy sounds, lights up, or vibrates depending on the child's preferences.
Hide & Go Leka assists in encouraging children's imagination while developing motor skills, interaction, turn-taking and space-time awareness.

Adults take pictures of objects that the child use in their daily lives. Adults then place RFID tags on the actual objects in their natural setting.
Leka's screen displays a picture of the object and requests the child bring the object to Leka. Paired with RFID tags, Leka senses when the child returns with the displayed object and reacts positively to reward the child for completing the task. Sounds and colors can also be added to enhance the experience, and a timer can be added to encourage the child to complete daily tasks, such as brushing their teeth, in a timely manner.
Picture Bingo helps children develop motor skills, attention, communication, social interaction, and autonomy.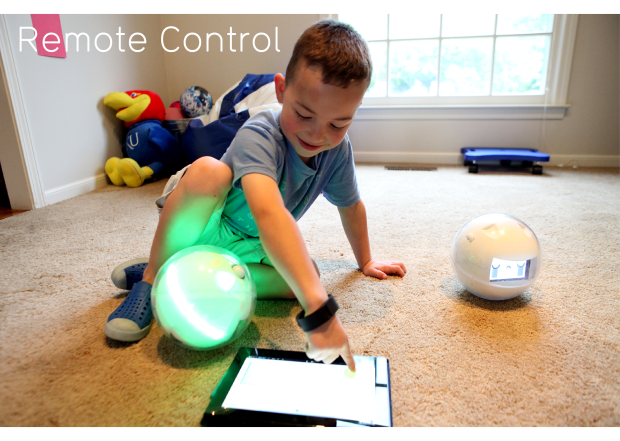 While Leka is autonomous, it is also capable of giving parents, therapists, and caregivers the opportunity to control Leka's features (colors, voice, movements, lights, etc.) so it may be able to respond to a child's specific behavior. 
This application also allows the child to maneuver Leka between obstacles and follow a specific path. This is a great way to develop their fine motor skills and coordination.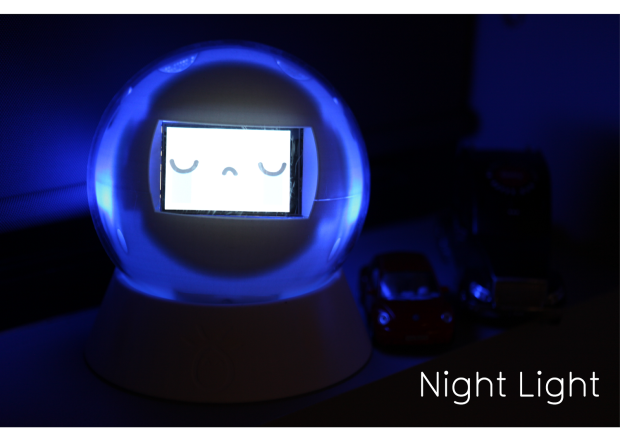 Leka's power lies in its ability to motivate children. This is why Leka will offer 3 autonomy-building apps such as Time-Timer, Alarm Clock, and Nightlight, common assistance tools for special needs children, making children and parent's lives easier!

To help parents, therapists, and caregivers work as a team towards faster progress. Leka will provide data on how the children interact with the device and allows parents to follow their children's progress.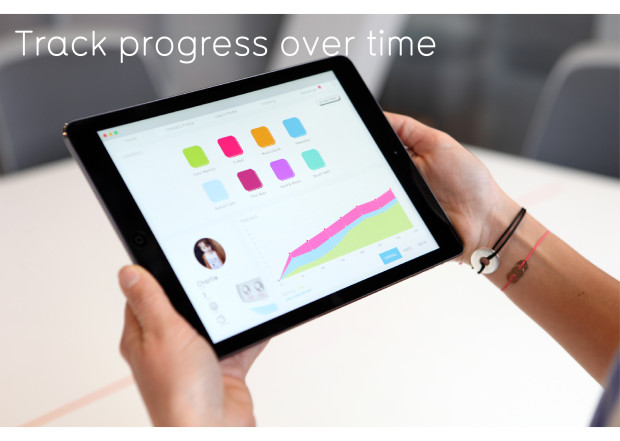 For example, when analyzing the raw data generated through the interaction of the child with the robot, we can understand what kind of guidance is more helpful to the child to allow him to complete the task. All of this information is displayed in graphs on the tracking tab of the monitoring platform.
From this shared interface, parents, therapists, and caregivers can communicate with each other about things like assigning homework or sharing notes on a child's use and progress.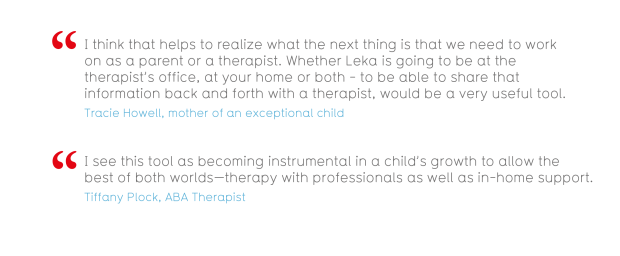 With this monitoring platform Leka can offer a more consistent therapy and let children achieve faster progress.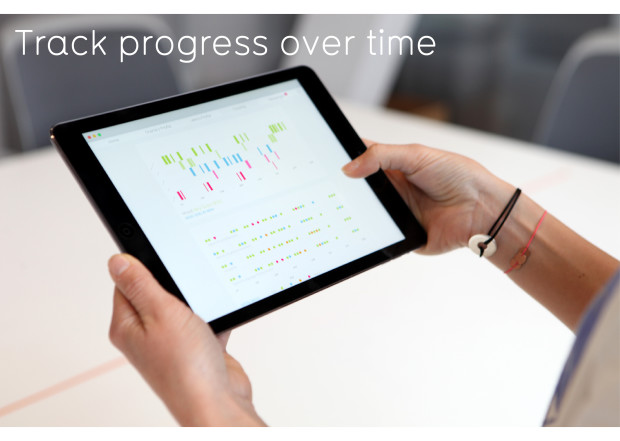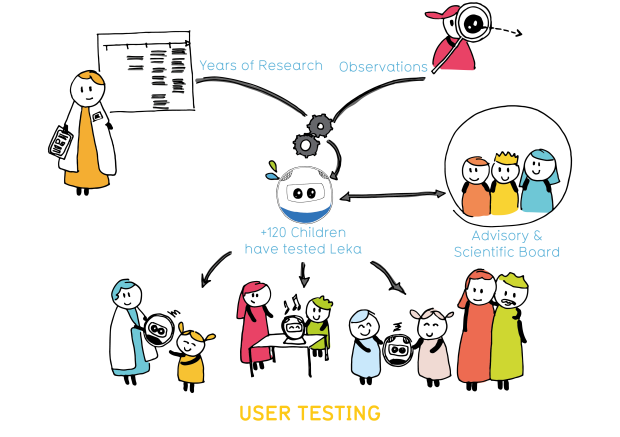 Years of research on social robotics and developmental psychology has shown the learning potential of robots for autistic kids. We have built our features based onwhat has been demonstrated in this field.
Subsequently, through our tests we realized this technology is not only beneficial for children with autism, but could also be an adaptable learning tool for many other children with developmental disorders.
Leka is aligned with research-based developmental milestones. Our educational applications are designed through qualitative studies, direct observation of children using Leka, and has been validated by the French Advisory & Scientific Board, an organization composed of some of France's top researchers, therapists, caregivers, entrepreneurs and organization executives.
After being in the development and testing stage for more than two years, we need your help to bring Leka to the production stage by pre-ordering it.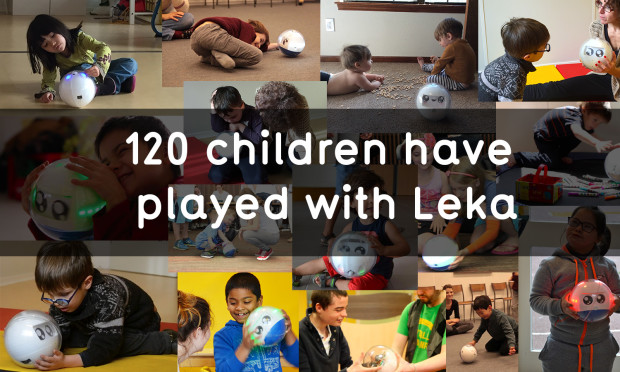 Leka records data of all its interactions with the child. Our ultimate goal is to link this raw sensory data to the situational data and have specialists back these readings up with qualitative data. 
This will allow us to:
Follow the child's progress over time 
Continuously improve Leka's autonomous behaviors 
Provide a lot of data for understanding neurodevelopmental disorders.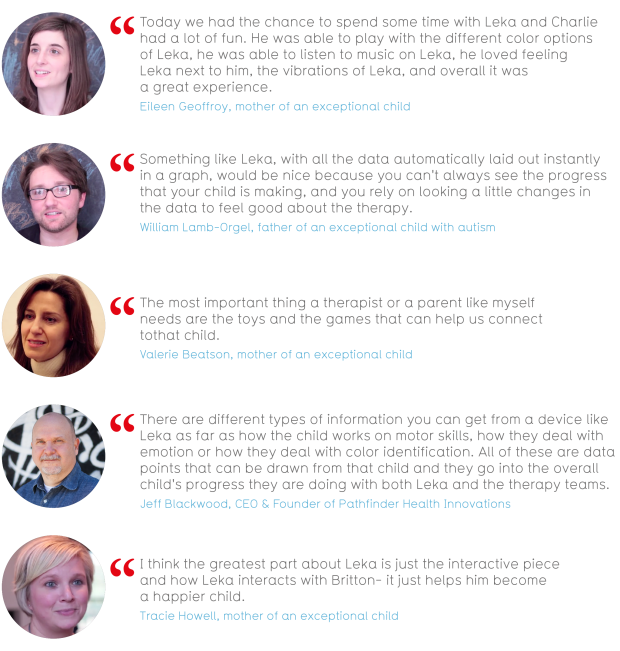 Leka is primarily controlled over Bluetooth & WiFi via your tablet, Android or Apple smartphone, or your computer.
Leka allows for five different interfaces:
Home's primary use is to remotely launch the application.
Child's Profile allows parents to enter personal information about the child like age, mood, situational data and events that have happened in the child's life.
Leka's Profile allows parents, caregivers and therapists to customize Leka for each unique child!
Tracking brings you to the monitoring platform (see above).
Messenger will give parents, caregivers and therapists the opportunity to share notes on a child's use and progress.

To download new applications on Leka's platform, users will have access to the Leka Store (similar to the Apple Store or Google Play), where new applications will be made available.




Leka's design is the result of dozens of play sessions with exceptional children. Its sphere is made of polycarbonate, the material used to make helmet-mounted visors, and will be tightly sealed during manufacturing, making Leka very sturdy and waterproof.
Nonetheless, we recommend indoor use to extend its strength and durability.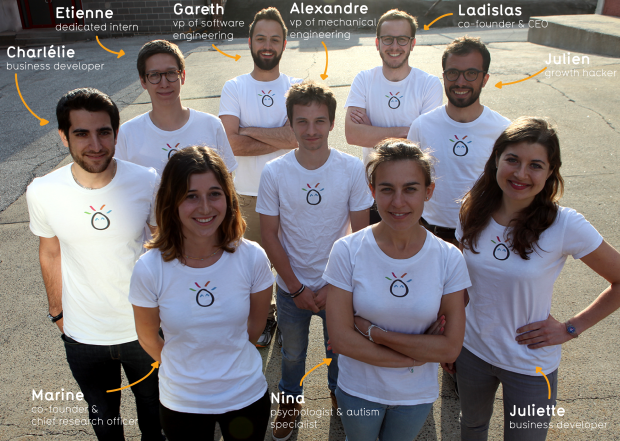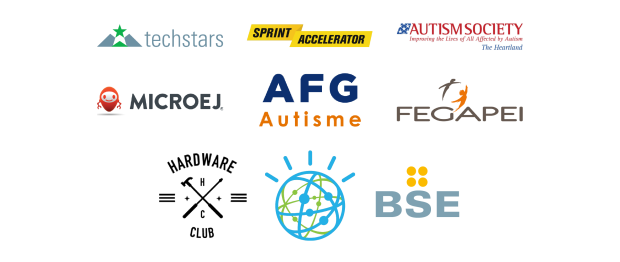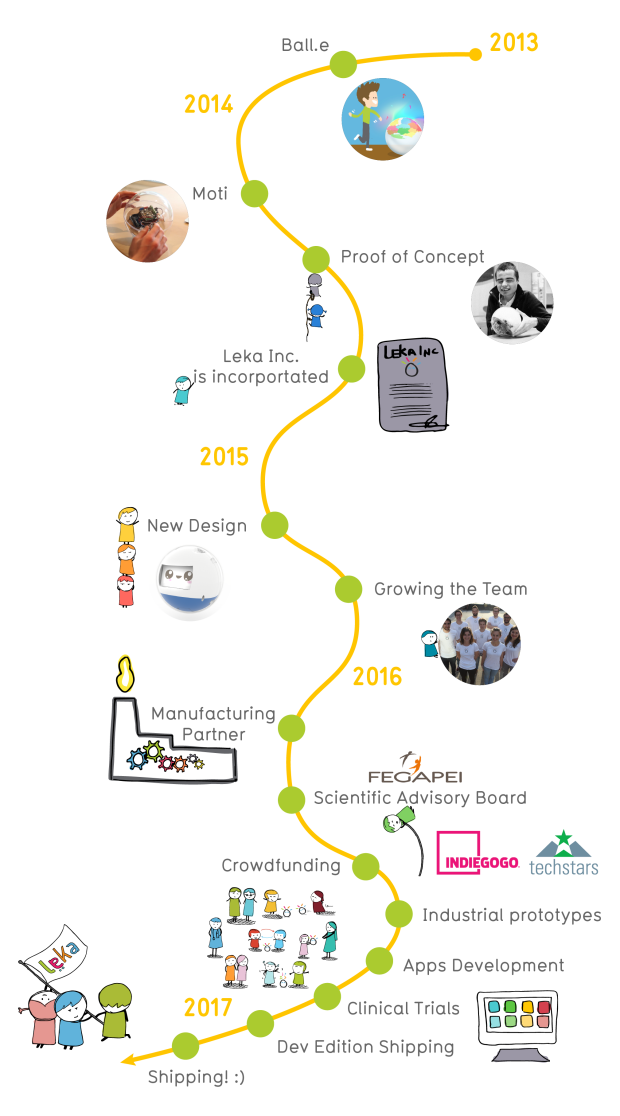 Leka will be shipped the second quarter of 2017. Which is one year after the pre-order campaign. This date is based on commitments we have made with our manufacturer. It will give us enough time to make sure that Leka works as smoothly as possible, is solid enough for your child, and meets all the legal & regulatory requirements. 
The success of this campaign can only be possible with you. Being the first to commit is always hard and we understand, however we are still counting on your help to make Leka a success. 
To thank you for your early support, each purchase will give you all the applications developed for free for life as well as the family monitoring platform.

For more questions check out our more exhaustive version of the FAQ

The outer sphere is made of polycarbonate (the same material used for plane windows) so it won't break and will resist to scratches very well.
Before our product is shipped to you, it has to qualify a wide array of rough tests. One of theses quality tests is that Leka must survive falling down a flight of stairs ten times.

Out of the box, you will get your Leka, its dock station, 5 easy-to-program RFID tags, a USB Bluetooth Dongle for your computer and an educational guide with information on how to effectively use Leka.

Leka is not supposed to be used only by the children. Leka is a teaching tool to help parents and therapists in their care, making it easier to engage and motivate the children in their learning activities and therapies. It is absolutely not intended to replace the caregivers in anyway.

On the Leka Platform, the User Profile allows to adjust important basic parameters to meet the individual child's needs. For example, you can preset the reinforcers to praise the child's success.  
We do understand that every child is different and that some of them might find Leka's behavior to be overwhelming. That is why we made Leka both finely customizable and highly reliable. So you, as a parent or as a therapist, will be able to customize Leka to your child's needs. 
Example: If you don't want any blinking lights you can turn them off. If you want to reduce the speed of the robot you can also do it. Tune the volume etc.

Leka is being developed based on years of research in social robotics and developmental psychology. Our applications and games are designed under the guidance of our Advisory & Scientific Board in France and we have been performing different tests from user observations (6 special education schools, 40 children aged from 3 to 18 years old and 25 therapists) to anecdotal studies about user-centred design of educational activities with a robot (a three-months test performed twice in the same special education school).
Working with the FEGAPEI organization and our Scientific Board, we will establish a pilot study to measure the impact of Leka on children with Autism. This study will take place throughout 2017.
At the moment, we have seen in observations and heard from anecdotal feedback about the positive impact of Leka. As we grow in size and funding, we strive to incorporate scientific rigor and bring transparency to the results of studies conducted on our product as more people provide us with feedback and we complete more studies.

The current Leka is still at the prototype stage, but our final version is being manufactured and will be industrialized by late December 2016. Following this it must pass all legal standards and once these are validated, we can start the pre-series production in February. Leka will be shipped the second quarter of 2017. Which is one year after the pre-order campaign. 

During the campaign we will be offering an exclusive price! The super early bird price will be $290 (in limited quantity) and the regular price will be $490. The price when the product is shipped in 2017, and outside of this campaign, will be around $690. 

We are working with our partners to find the best solution. As of today an interesting mean would be to reach out to your local Autism Society and ask for a grant. We will keep you posted each time we have a new solution.

As a backer, you will always have a special place in our hearts. That's why we guarantee after your unboxing our entire availability, to ensure that our product suits your child.
For every pre-order during the campaign, the following will be included: ​
During the first 3 months, we will guide you through the use, and best practices with our product. Together and with our experts, we will make Leka one of the best tools you have for your child! Nonetheless if Leka still doesn't work for you or your child before the end of that period, you can request an inspection, send us the product back and we would reimburse you for the product.
You will also be offered a 3 years limited warranty, in case something goes wrong with Leka. You'll be able to send it back and we will repair it or replace it with a new one.
That's how we want to thank you, for taking the risk with us :)
Find This Campaign On