iCrowdNewswire - May 4, 2016
ASAP Connect: The future of USB cables
Revolutionary 18K gold plated magnetic USB cable changing the way you connect to your phone forever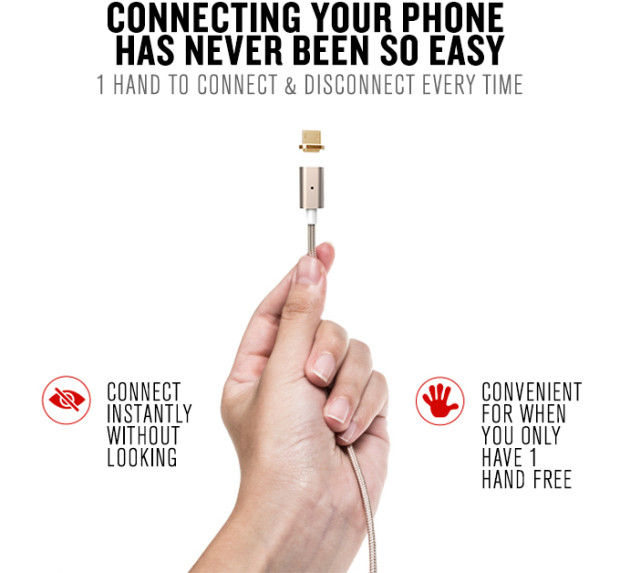 ASAP Connect will allow you to connect your phone or USB devices to your cable quickly and seamlessly. The patent-pending magnetic technology coupled with superior materials including rare earth neodymium magnets, 18K gold plated connectors, aluminium shield and nylon braided cables will change the way you connect your phone forever.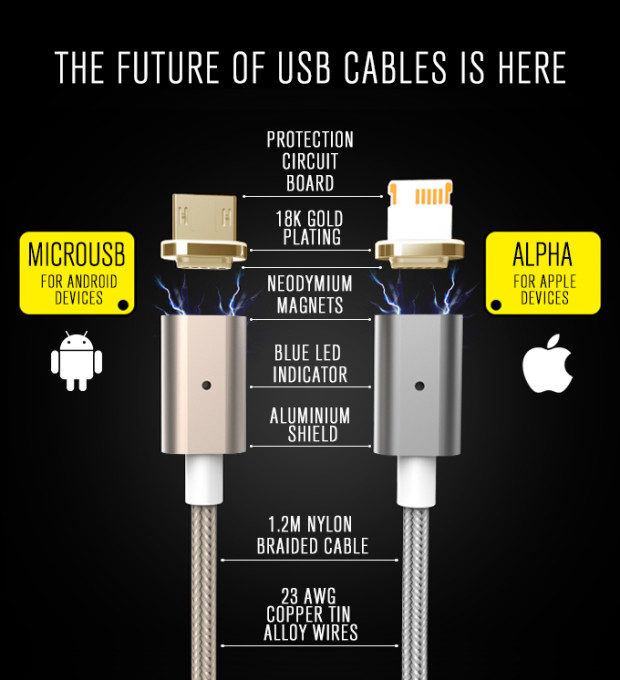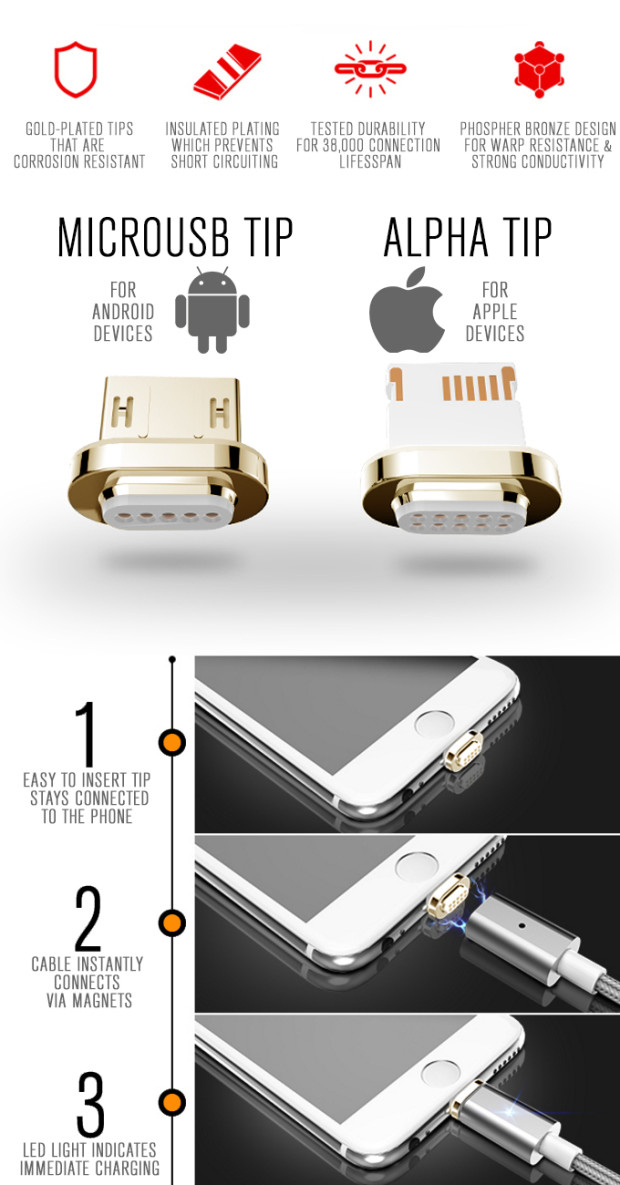 Sick and tired of flipping your cables back and forth to connect it on the right side? We were too, so we engineered ASAP Connect to have dual reversible connectors. This means first connection every time on both ends of the cable. Now you can connect your phone even iun the dark! Check it out in action below.
Device/Phone (output end)
USB Type A (input end)

ASAP Connects features a reversible Type A connector that we hope to see become a standard for all USB devices one day. We've evolved it from the older reversible Type A connector which moves back and forth and tends to break over time rather than stay stationary. The result is a seamless instant connection every time.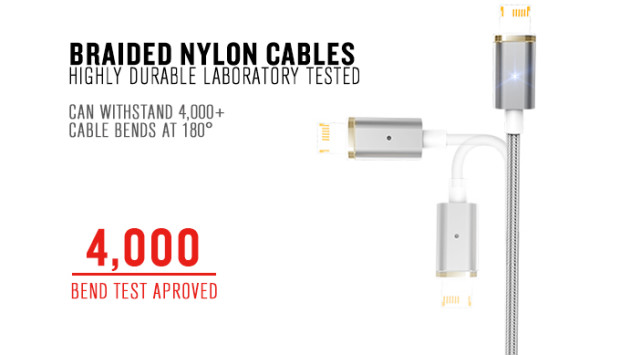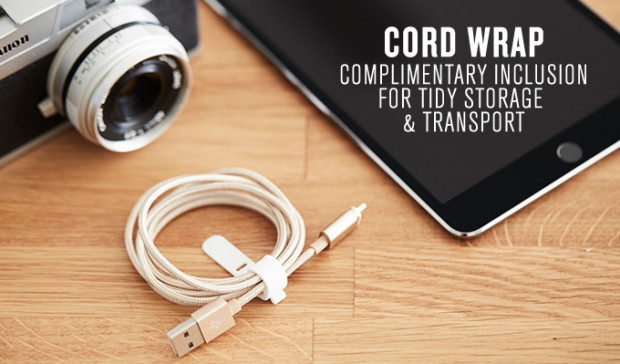 Through years of design and material testing, we've reduced the size of the ASAP Connect tip to only 10mm (0.39″) wide which fits perfectly into all your Apple and Android devices. We've tested the tips on over 100 phone cases and found it fit on all of them. The only exception is for some phone cases which have a protective flap on the charging port which may not be able to close properly with the tip in place. This also the case for the Samsung S5 phone due to its inbuilt protective flap.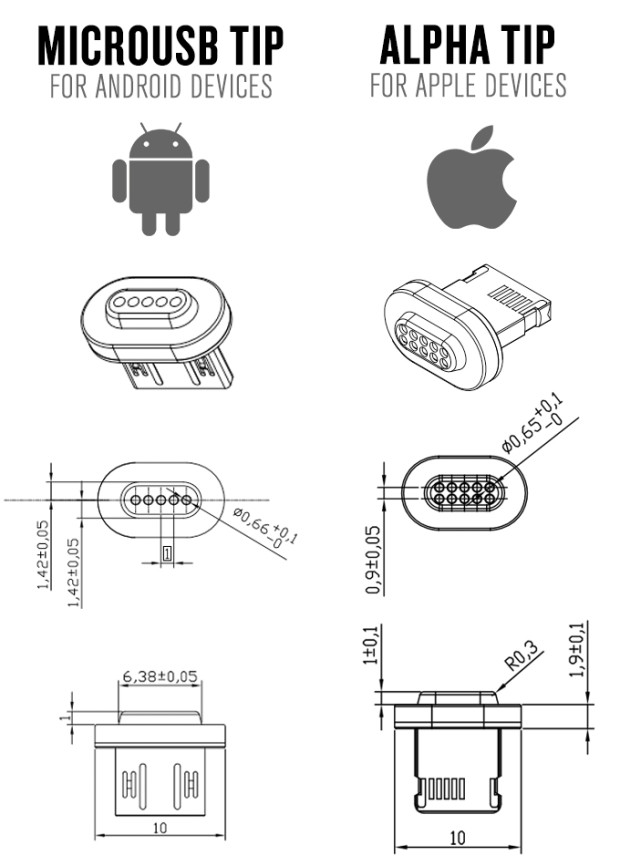 What truly sets ASAP Connect apart from other magnetic connectors is its unique bevelled and concave magnetic connector design on both the tip end and cable head end.
Through this careful 360° exterior positioning of 2 strong neodymium magnets on both ends, the tip only needs to be within the magnetic field of the cable end to be quickly attracted and connect seamlessly. 
Competitor designs require the tips to be correctly aligned inside the cable head which requires guidance to be connected correctly if missed. Competitor designs also use weaker magnets and require a very perfect alignment of the cable and tip for a correct connection. See if you can guess which is ASAP Connect below. 
Don't be fooled by the similar external look of competitor cables, ASAP Connect (on the right) will connect correctly even if the tip is flipped 180° due to both the strong neodymium magnets having their polarity perfectly positioned and the unique outward and concave magnetic connector design.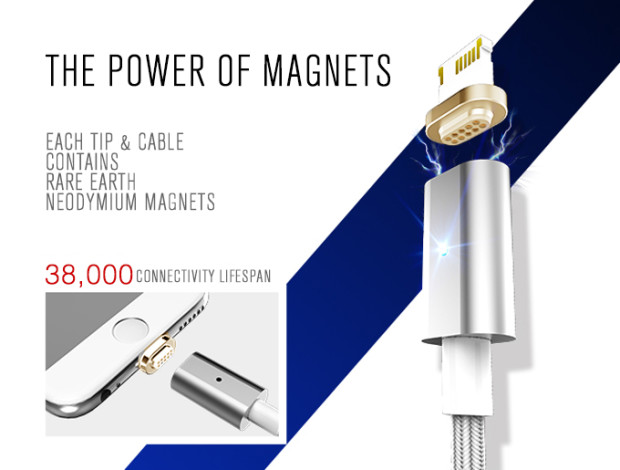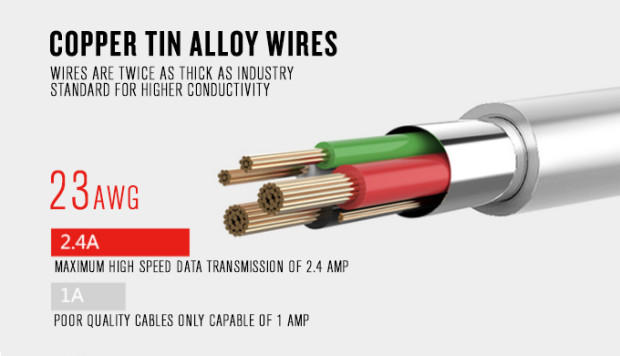 We've tested the cables on dozens of Apple and Android devices and have reported no compatibility issues. As long as you have any device that requires a Lightning connector (such as iPhone 6, iPhone 6 plus, iPad, iPad Mini etc.) or a MicroUSB connector (such as Android phones, mini speakers, headphones etc.) ASAP Connect will work every time.  
ASAP Connect is 100% compatible with all data transfer technology and fast charge technology including QualComm 2.0, QualComm 3.0 and Samsung Adaptive Fast Charge.
Please note that our cables are not cross compatible which means Apple cables are not compatible with Android tips and vice versa due to their unique connector properties. More information is available in the design section below.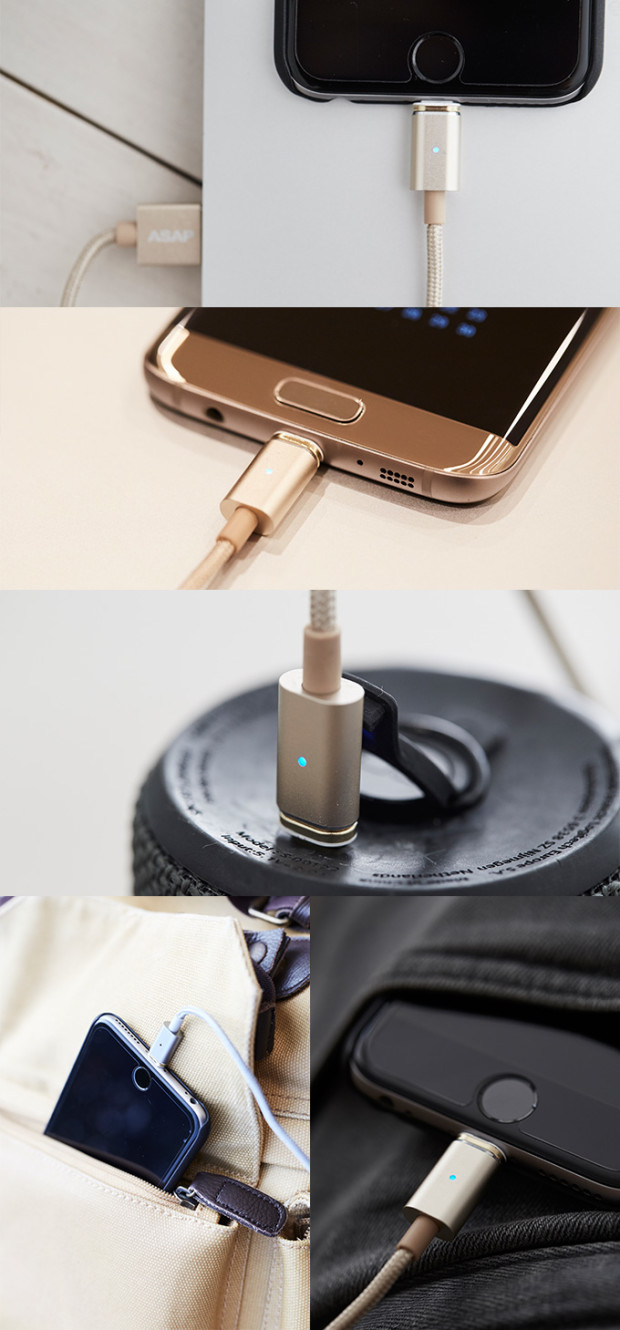 TO ADD ADDITIONAL PURCHASES: 
After selecting a perk, you may pledge the matching extra dollars for every extra ASAP Connect set you wish to purchase using the "contribute now" button at the bottom of the page. 
For example if you have selected the Early Adopter Perk of $20, you may purchase additional sets by adding $20 into contribute now. If you would like 5 sets that would be $20 x 5 = $100.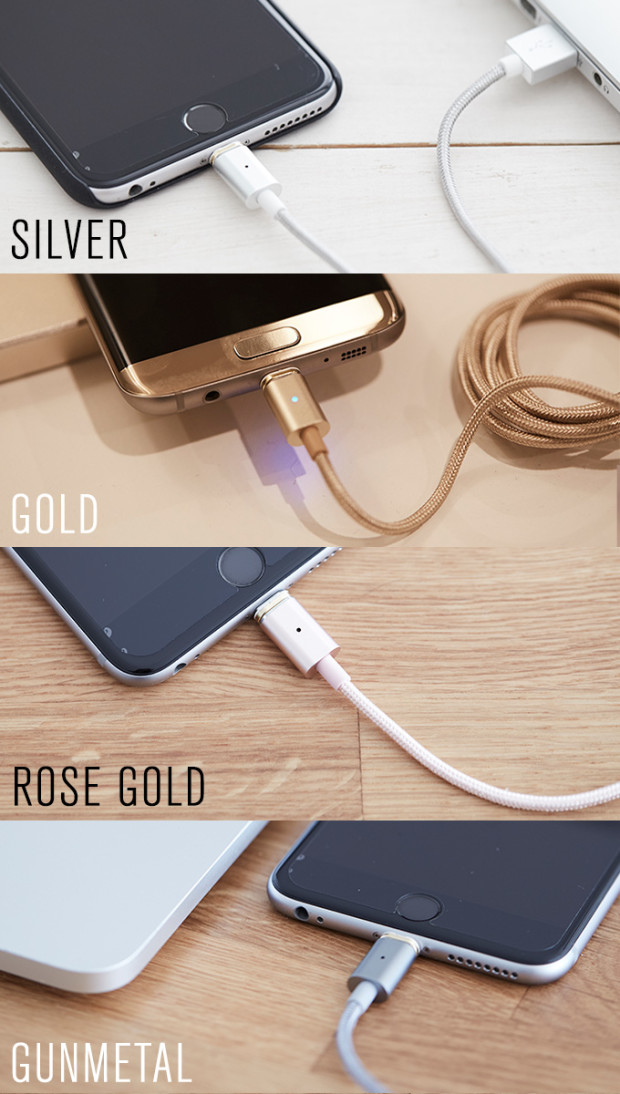 We have evolved away from the traditional Lightning tip for Apple devices to create what we call the "Alpha" tip for 2 main reasons:
REASON 1: Have you ever had your Lightning tip start wobbling and eventually break off? This happens because the tip and base are made of 2 different components which break apart over repeated use. The Alpha tip solves this problem by integrating both the tip and base into 1 piece.
REASON 2: As Apple has not currently released their own magnetic Lightning tips, anyone seeking MFi certification from Apple will be refused as they will need to purchase the tips from an Apple MFi certified magnetic Lightning tip manufacturer which does not currently exist as of April 2016.
Without MFi certification most major retailers will not sell a USB cable for Apple devices and leaves the brand potentially open to law suits from Apple. The integration of the Alpha tip bypasses this certification process by not using the Lightning tip and allowing ASAP Connect to be manufactured and sold in major retailers worldwide.

Over the past 2 years we have been working closely with our manufacturer and possess both a registered design and utility patent-pending to protect our unique technology and its potential future applications. For further information regarding this please contact us via email on info@chargeasap.com.
ASAP Connect has also been granted the following international certifications:

Beware of imitations, fake and low quality magnetic cables on the Internet. We have purchased samples directly off dozens of suppliers who claim to produce premium magnetic USB cables and performed both extensive laboratory and daily-use testing.
Here are our findings:
–  We have found many to not work as claimed, not be reversible, not transfer data nor charge your phone as it's maximum speed. We have even found some to create smoke and even damage your phone
– Many of these companies offer cables that do not have the following certifications: FCC, CE, ROHS and hence may not be approved for sale in your country. You should always ask the seller first if they have these international certifications before making a purchase
– Any company which claims to have Apple MFi certified lightning magnetic tips is completely false as of 27th April 2016. Apple has not currently produced nor approved any magnetic Lightning tips commercially and hence will not provide a MFi licenced magnetic Lighting connector to any company attempting to selling magnetic connectors as of 27th April 2016
– We have found many companies to use poor quality magnets that have weak magnetism or lose their connectivity over time due to no magnetic plating
– We have found many companies produce tip designs that are too thick and wide to fit on your phone case

ASAP Technologies is currently dedicating our research and development into USB Type C connectors as that is the future of phone and USB devices due to its faster speed. There have been significant challenges in this process as USB Type C cables carry a higher electrical current (3.1Amps vs 2.4Amps) which also presents an array of safety concerns. Currently no company in world has a commercialised functional magnetic USB Type C connector and certainly none with international certifications. Our engineers estimate that a fully functional prototype will be completed by July 2016, however we pride ourselves in only delivering products that we are 100% certain to deliver in a reasonable time frame. If we can achieve a $300,000 stretch goal we will be able to allocate funds to further the development speed of applying our patent-pending magnetic technology to the USB Type C connector and hope to launch the world's first internationally certified USB Type C magnetic connector.

ASAP Technologies is a technology disruptor from Sydney to Los Angeles, who believe users should be the creators and innovators of products, not corporations seeking profit over practicality. Our team consists of serial entrepreneurs, creatives and engineers who've worked together since 2014 to overcome painstaking obstacles to bring to life the vision of each life-changing product.
ASAP Connect is the second crowd funded product from ASAP Technologies. The first was ASAP Dash: The world's fastest pocket-sized portable phone charger which successfully raised $182,239 on March 2016 via Indiegogo found on this link.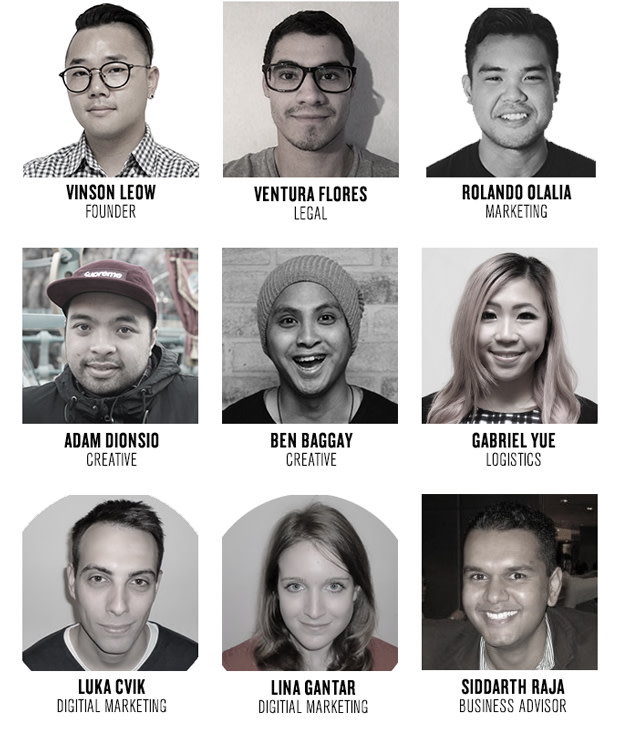 We wanted to share ASAP Connect with the Indiegogo community here first because of the strong community of creatives, innovators and early adopters. With your help not only will you help kickstart the future of USB cables, you'll help bring us one step closer to furthering future applications of this magnetic technology to devices such as headphones and power outlets.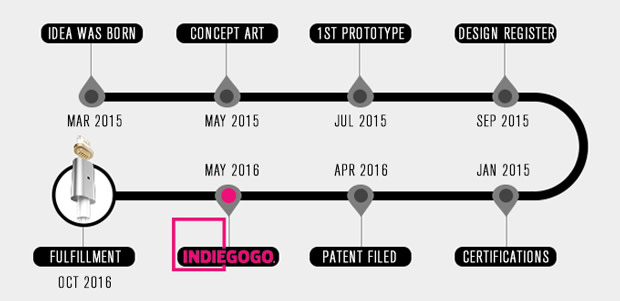 ASAP Connect is a simple idea, but we believe it can impact the world in a BIG way. We're still a new start up that's been launched with our personal savings so that's why we need your help. You can support by pledging and sharing the campaign on social media.

We've Partnered up with Backerkit!
We've partnered up with Backerkit for a smooth, streamline experience for the fulfilment process. Once the campaign closes we will send you out a survey that will help us to review and break down your pledge into the specific items you ordered. This is also where you will be given the options to choose the colours and connector types.

CAMPAIGN
How do I choose my colour and connector type?
How much is shipping?
How will my order be shipped?
Which countries do you ship to?
Is there likely to be any manufacturing delays like all the other crowdfunded magnetic cables and adaptors which have all failed to deliver?
FEATURES
What makes ASAP Connect better than other magnetic cables/adaptors in the market?
Can the magnets damage my phone in any way?
How strong is the magnetic connection?
Is it easy to remove the tip from the phone?
Does the ASAP Connect come with international warranty?
COMPATIBILITY
Is ASAP Connect compatible with QC 2.0, QC3.0 or Samsung Adaptive Fast Charge?
Does ASAP Connect support data transfer?
Can I plug ASAP Connect into my laptop, computer, car charger or power bank?
Will ASAP Connect affect the charging speed?
Can I connect a MicroUSB cable with an Alpha tip or vice versa?
Why have you not chosen to use the original lightning connector or have MFi certification?
Find This Campaign On