iCrowdNewswire - Apr 29, 2016
BroodMinder-W wireless beehive scale
BroodMinder – Every Hive Counts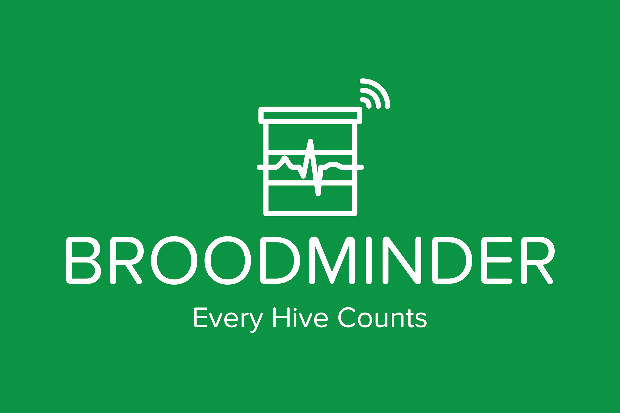 Short Summary
The BroodMinder Team is very pleased to announce that we are ready to begin production of our second device, the BroodMinder-W, wireless beehive scale.
The BroodMinder-W is a professional-grade beehive scale developed specifically for the backyard apiarist. The BroodMinder-W will allow you to track changes in the weight of your hive, giving you evidence of important factors such as brood growth, honey flow, winter honey stores, and swarming.
Drawing on the design team's many years of consumer and scientific product design, we have created a device that accurately logs the weight of your hive at regular intervals, and sends the data to your smart phone or tablet using low-energy Bluetooth technology.
The BroodMinder team believes that by performing simple, uniform measurements on tens of thousands of hives, the beekeeping community will gain insights into hive distress and that as a community, we will develop interventions to improve outcomes. 
Therefore, in partnership with Beekeeping.io, we store your data free of charge in the cloud, with the only condition being that you allow free/public access to the data. At Beekeeping.io, your data can be graphed and examined for trends demonstrating health or distress in your hive.
The BroodMinder-W
Following the successful BroodMinder-TH campaign, the team has spent the last six months researching, designing, building, and testing the BroodMinder-W. We have been through literally dozens of prototypes and gathered user feedback from clubs and beekeeping conferences. We now have a design that we know will meet the needs of our backyard beekeeping community.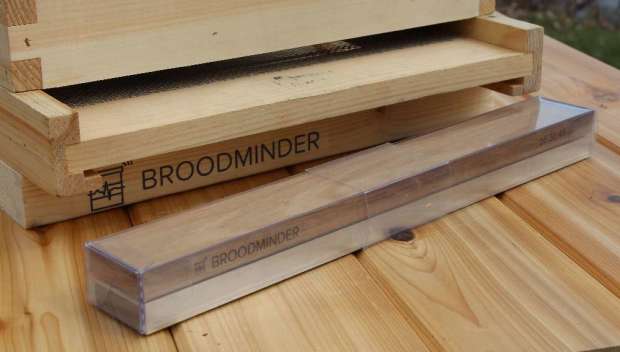 We are employing the hive-tip method of weighing the hive. The scale goes under either the front or the back of the hive. The other end of the hive is then propped up by a 2×4 block of wood. Thus, the scale sees half of the hive weight. (We'll post a video of the installation process here soon.)
This approach has several advantages:
Reduced the size and complexity, resulting in lower cost
Easily moved from hive to hive by simply swapping the scale with a 2×4
Remains clear of any debris falling through the bottom board
Sexy asthetics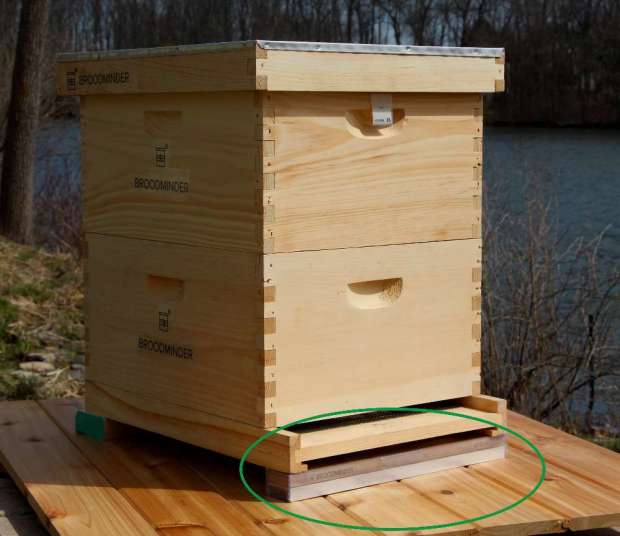 The main features of the BroodMinder-W are:
400-pound total hive weight measurement
0.01 pound (5 gram) resolution
Temperature compensated
Can be paired with a second unit for accurate determination of total hive weight
Stores weight once per hour for six months (user configurable)
Coin cell battery lasts six months
Bluetooth Low Energy communication, no wires, no setup dance. It just works!
Durable white oak body top, 16.25" x 2.5" x 1.5", extruded aluminum base
Weatherproof, UV resistant cover
Free iPhone or Android app to wirelessly collect data from the scale.
Free cloud storage of collected data
Open BLE advertisement protocol for the hacking enthusiast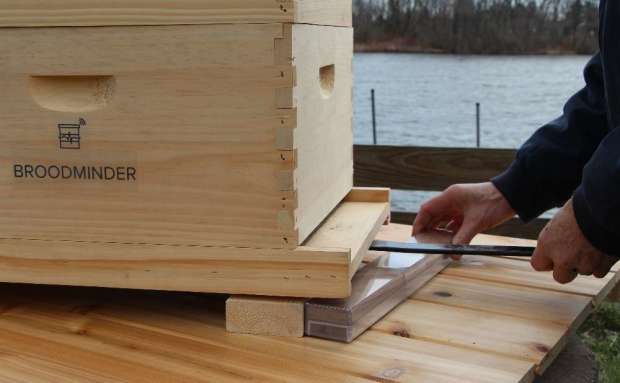 It's very easy to remove and replace the scale, even with many supers installed.
There is lots more information at BroodMinder.com
What We Need
Achieving a low cost requires purchasing components in high volumes. Our initial production run will be 500 units and the capital outlay is around $50,000 for materials, tooling, and setup. Because our company is financed by the heart and not a venture capital company, we need your help to make this possible.
What You Get
It's simple.  For $149, you get a beehive scale and the satisfaction that you are contributing to the beekeeping knowledge base.
While we believe this is an excellent value at $149, our target price was initially $99. We still plan to reach that target in the future through higher production volumes. However, we have decided to use higher quality, American-designed weight sensors rather than the ultra-low cost, mass produced weight sensors available from China.  This factor, and the high-quality white oak and aluminum casings, increased our production cost significantly.
We will be releasing the scales in batches, so you can choose when you would like to receive yours. Just be sure to note the delivery date for each individual perk. They will delivered in the order received.
We are also offering a community support perk. This was a successful component of our first campaign. You can donate $50 (or more) that we will use entirely for putting BroodMinders into shared community hives. We have approximately 20 installed currently, and it is a nice way to allow non-beekeepers to peer into the hive on a very personal level.
You'll be able to personally watch the data collected from these hives onBeekeping.io, and know that the data is being used to educate our children, and aid entomologists in their efforts to improve honey bee heath.
The Impact
Honeybees are under increasing pressure from many factors in their environment, including everything from monocultures to neonicotinoids. With the increase in public awareness of the importance of bees and the stress they are under, scores of new bee enthusiasts have been born.
Beekeeping, while rewarding, is not simple. Losing hives is a disappointing and frustrating experience, and it certainly doesn't help the world's bee population; it mostly helps the suppliers of bees. We believe that our devices will enhance the Zen Art of bee keeping by helping to create the Zen Science of bee keeping.
By monitoring your hive wirelessly, you can help to minimize stress on the hive by recognizing and reacting to changes.
The additional benefit of uploading your hive data, free of charge, to our partner,Beekeeping.io, gives you the opportunity to better understand your hive's trends with graphing and analysis capability.  Beyond this, you will contribute your data for the common good of collecting uniform measurements on thousands of hives.  Through this, the beekeeping community will gain insights into hive distress so that, as a community, we will develop interventions to improve outcomes.
You might think, why BroodMinder? There are other scales already available.
Simple operation. We have better things to do than futz around with our phones. The total installation process takes less than a minute with no passwords or device pairing dances. It just works!
Very low radio power. We don't want to risk any effect on the bees so we are using Class 3, Bluetooth Low Energy radios.
Long battery life and long data log. Logging the data over a season will be very useful for knowing the health of the hive and having actionable data for the coming year.
Economical. Other scales cost much more, particularly when you add the communication components. We are using the principles of high volume production to achieve unheard-of prices.
Risks and Challenges
The team is well down the development path. We have working prototypes and software under test. We have also worked hard to mitigate risk by using production partners with many years of product development experience.
While we have learned much about weatherproofing, we are not so bold that we think we know it all. Therefore, we are providing a 6-month warranty for the systems and will stand behind them as we have with the BroodMinder-TH.
Other Ways You Can Help
If you can't help financially, then please pass this campaign on to your beekeeping friends. We are counting on word of mouth and passing of information between beekeeping clubs and enthusiasts.  Please log onto Broodminder.com andBeekeeping.io to get a complete understanding of our history, products, and mission.