iCrowdNewswire - Apr 28, 2016
Falling Out of Love: a VR Music Video Experience.
A new song and music video experience from Aloud set in a 360 virtual reality environment.

We are Charles, Skye, Tanya, Henry, and Jen — five explorers on a journey. In today's digital world, we believe in the power of authentic, independent musical expression and immersive, cinematic storytelling. We believe there is a place for both, and that place is virtual reality.
Music has transformed each and every one of us already and we know with Virtual Reality's revolutionary qualities, removing the fourth wall and putting the viewer in the middle of the experience with us, will mean a completely new and exciting experience for everyone.
Music means a lot to us. As more and more people discover the power of VR, we want everyone — from fellow musicians and enthusiasts to tech pioneers who enjoy a good tune — to see that the things they love are well-represented in this brand new medium.
This is a message to the dreamers, the innovators, the lovers of all things indie, and those of you who are always humming a catchy rock and roll tune: join us on our journey! We're going to learn a lot as we go. Nobody said being a pioneer was easy, but with your help and — and the help of others like you who believe in the future of VR and want it to be a haven for music lovers — we'll make something amazing.
We've got some cool perks that we hope offer a little something for everyone, no matter your budget level or existing familiarity with VR.
Come be indie rock VR pioneers with us!
Indiegogo has already joined us and selected "Falling Out of Love" as the project for the 2016's IFP/Indiegogo Fellowship at the NY Media Center!

"We've just started to scratch the surface of the true power of virtual reality. It's not a video game peripheral — it connects humans to other humans in a profound way."
—Chris Milk
"Virtual reality was once the dream of science fiction. But the internet was also once a dream, and so were computers and smartphones. The future is coming."
—Mark Zuckerberg
Virtual reality. It's had a few incarnations, and not all of them have resulted in the new world it promised. But this latest one? Whole new ballgame. VR is becoming more widely available than ever before.
If you aren't using it yet, chances are you will be soon. Analysts predict that VR could be up to a 30 billion dollar industry by 2020. One study predicted that by the end of 2025, there would be over 135 million VR headsets in use.
VR's biggest breakout has been in the world of gaming, but forward-thinking creators are fast applying the technology to activities far outside of that space. Prospective students can tour college campuses virtually. Juries can visit crime scenes without leaving the courtroom. VR is even proving an effective way to treat war veterans experiencing combat PTSD.
Early adopters present a thrilling opportunity to help shape what consumers come to expect from the medium in terms of content, quality, and community. We're delighted Aloud is one of the bands paving the way for indie rock VR experiences. Come blaze a trail with us!

One of the things which revolutionized VR this time around was not only the announcement of Facebook buying Oculus and the promise of a consumer-friendly Head Mounted Display (HMD), but the promise of mobile VR — the real revolution.
Yes: you can use your mobile phone to watch our project!
How, you wonder? The easiest, cheapest way is to get yourself a cardboard fold-out VR viewer (ahem… some of our perks include one!).
However, the experience is not limited to just your smartphone. You can always go for the in-browser experience where you can use your mouse to move around and explore.
Or you can opt for a fancier headset for mobile, such as the Samsung Gear VR. If you're really invested in the Metaverse, you're probably already considering the fanciest HMD, which plugs into your computer or gaming system. William Gibson would be proud.

Skye Von is a director, writer and VR creator based in NYC. Starting in theater back in London many eons ago, she feels like she has come full circle to be telling story again in a 3-dimensional space. The potential she sees for VR is endless, and she can't wait to take everyone to a place called the Metaverse. Skye was selected as the 2016's IFP/Indiegogo Fellow at the NY Media Center for this very project with her team. She's a member of Association of Women Directors (AWD), of New York Women in Film & Television (NYWIFT) and of Film Fatales. She once shared a Jeep from Timbuktu to the Sahara with Henry Rollins.
Jen de la Osa and Henry Beguiristain are the lead vocalists and songwriters ofAloud. The pair have written songs together since their teens growing up in Miami, Florida. The two married in 2010. Their music has been featured on NPR's Innovation Hub — where it has the honor of being the show's theme song — MTV, ESPN, and FOX TV. Notably, they once gave U2's Bono a copy of Aloud's debut album, which he promptly autographed and returned to them.
Tanya Leal Soto is a Los Angeles-based producer and content creator. She has worked in theatre, film, TV and Art exhibits for the last 15 years. She is the LA Chapter organizer for StoryCode an open-source, global community for emerging and established cross-platform and immersive storytellers. Tanya is also a professional puppeteer.
Charles Newman is a Brooklyn based music producer and co-founder of Mother West, a boutique music production, licensing management company and indie label. He's worked with an array of artists including The Magnetic Fields, The Bones of J.R Jones, Soko and many more. He swears by spin classes at the gym.

Aloud is a four piece rock n' roll band based out of Boston, Massachusetts. Over the years, they have released a catalog of songs wide in range, but always influenced by the 60s soul and rock music they all grew up on — with a particular affection for harmonies. Aloud is currently working on a follow-up to their most recent album, the critically acclaimed It's Got To Be Now with "Falling Out of Love" producer Benny Grotto.
The band has been written about in the Huffington Post, Elmore Magazine, Impose, the Boston Globe, and Time Out to name a few. They tour regularly, have been invited several times to the CMJ and SXSW music festivals, and have shared the stage with acts such as Lady Lamb, Lake Street Dive, Cage the Elephant, Alpha Rev, and Hunter Valentine.

Creating VR isn't cheap — a fact often true for early adopters of technology — but we're not about to let that get in the way of innovating in the name of a truer connection to music and story!
VR is an immersive medium, one which helps you personally engage with the music, the story, and the visuals in unprecedented ways. VR is about the perspective and experience of the viewer. That's why crowdfunding is the perfect fit: VR is all about you, and we can't do this without you.
Here's what your contribution will fund: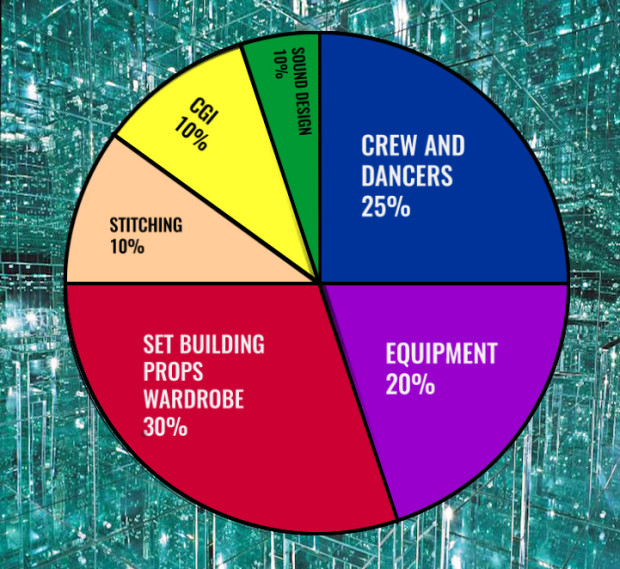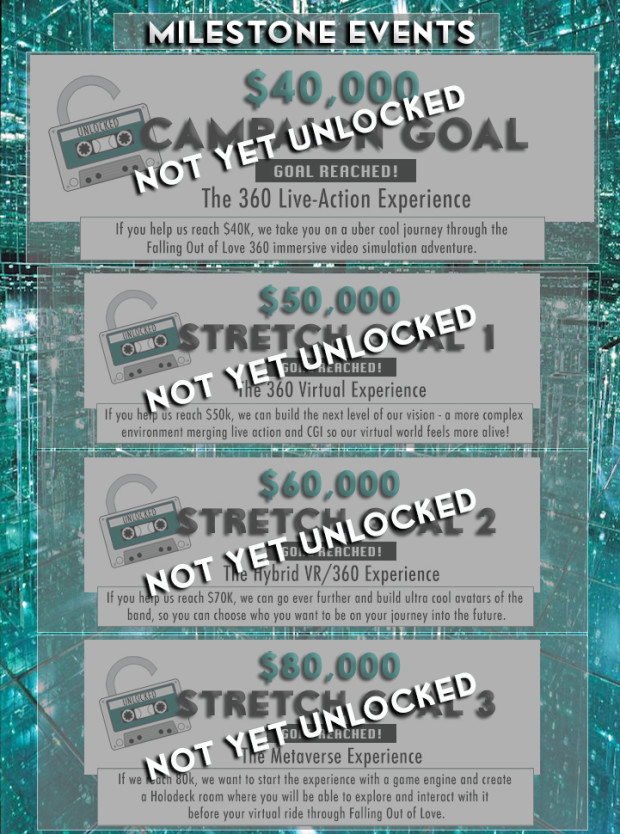 A year ago Converse invited Aloud for a day of recording at their Rubber Tracks pop-up studio at Q Division in Boston. That day the band recorded two songs—"Falling Out of Love" and "Empty House"—with award-winning producer (and unofficial fifth member) Benny Grotto.
Later that year Charles, Skye, Henry, and Jen met in a Brooklyn coffee shop to discuss a new music video. Sitting in the cafe's back patio, we expressed a desire to make something more than just another music video. Ideas bounced around (a short film, maybe? No, that's been done), but nothing really sparked our imagination. That is, until Skye mentioned a recent meeting in LA with producer Tanya Leal Soto, with whom she made indefinite future plans to work together on a virtual reality project.
This seemed like the perfect opportunity to make the collaboration happen. The sci-fi treatment for the "Falling Out of Love" video lent itself perfectly to the VR experience we'd gotten ourselves so excited talking about. We left the coffee shop that afternoon with an incredible sense of enthusiasm. (It could have been the double espressos, but by now you should know the effects of Sweet Lady Caffeine has little effect on hardcore coffee drinkers.)

Songwriters' notes
On the surface, the song "Falling Out of Love" is about — well — falling out of love. At the time we wrote the song, several friends in long term relationships had been splitting up. Being a bit mischievous and surreal though, we thought we'd have a little fun with the lyrics. What if we told this story from the point of view of a narcissist staring into the mirror breaking up with his/herself? And it was this twist in perspective which sparked the idea for the video. –Aloud
Director's notes
When I first heard Aloud's song and idea behind the song, I was intrigued how the song picked up on the idea that often our dissatisfaction with our partner, which can ultimately lead to us falling out of love, stems from a something unresolved within us. But I wanted to take this idea further because one can't simply point the finger at one or even two people. With technology having become our permanent companion in the 21st century, it is also its increasingly pervasive presence that can come between our loved ones and us. But there is hope! If we can become present to this, we can break free and reconnect with ourselves and the ones we love in an authentic way.

Aloud liked what I had to say and let me go off to create a fully immersive experience, which will take you to the maybe-not-so-distant future of holodecks and simulations, and on a journey of self-discovery.

The reason I chose to create an immersive VR experience was not simply because the band wanted to do something other than a classic music video, it was that the message of this song and its visual interpretation is about being present with and aware of yourself, your loved ones and your environment. No other medium will force you to be more present in the moment than VR; gone is the fourth wall, you are no longer a tired and uninvested spectator. With VR, we can drop directly into the action, so you will hitch a ride with one of our characters, letting their journey become your own. You will get to learn what stands between you and your fictitious partner and if they can save their relationship and themselves. We hope so! You will, of course, have to wait for the experience to find out; I can't give it all away here!

See you all in the Metaverse very soon, I hope! –Skye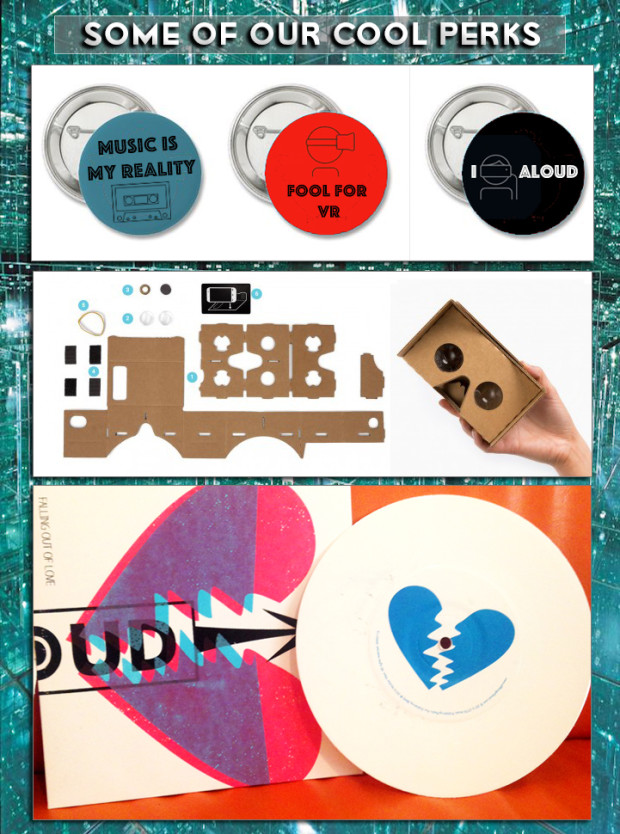 We've got some events planned throughout the course of the campaign!
NYC: we're throwing a launch party at Bowery Electric on April 19th. The event is being sponsored by Candy Factory Films and is happening the week of the Tribeca Film Festival's VR Arcade.
L.A. and San Francisco: we're coming at you the following month to close out the campaign. We'll kick things off at Hotel Utah in San Fran on May 17th and then head down for shows in Los Angeles. A big close out event is scheduled for May 21st in Malibu overlooking the Pacific Ocean.
At the launch and closing events in NYC and Malibu, you'll get to meet the team and the band. We'll also have VR booths set up where you can try this all out for yourself. Perks for VIP invites to a pre-party dinner in Malibu are available.

They say it takes a village to raise a crowdfunding campaign and we have the best village ever We bow down to the following companies and individuals, without whom we could not be embarking on this journey.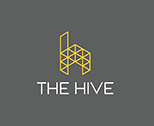 NYIT – New York Institute of Technology
Michael Hosenfeld
Associate Professor
Fine Arts Department, New York Institute of Technology
Fool VR Project Manager
Matt Cornelius
Art and Technologies Director/Motion Capture Director
The HIVE, Fine Arts Department, New York Institute of Technology
Fool VR Technical Director
Terry Nauheim
Chair/Associate Professor
Fine Arts Department, New York Institute of Technology
Fool VR Faculty Mentor
REVRIE Immersive Works
Laura Godorecci
Mark Sternberg
Sarah Stevenson
Fool VR Live Action VR Capture & Post Team

What is YouTube 360?
YouTube 360 is a new feature of YouTube. This feature enables viewers to drag the video with mouse on their desktop or their finger on their smartphone to view a video captured in 360 degrees.
The campaign video doesn't seem to be working for me. Did I break the Metaverse?
Rest easy, we are all in one piece. Our campaign pitch video is a YouTube 360 video, which means to experience it fully, you should click/drag right and left on the video so you can see what we put in the periphery. If on your phone, just swipe with your finger. If you're still experiencing trouble, watch it directly on YouTube!
When do I tell you whether I want the cardboard VR viewer or the buttons?
We'll send an email after the campaign ends to collect your preference here.
Got more questions?
Send a message to [email protected] or hit us up on Twitter at @Fool_VR!
Find This Campaign On