iCrowdNewswire - Apr 27, 2016
Furbo: World's First Treat-Tossing Dog Camera
All-in-one dog sitter that includes a camera, treat popper, barking alerts, night vision, and more!


Furbo is an interactive dog camera with a connected app that lets you see, talk, and even give treats to your dog when you're away. Stay close to your furry and fluffy loved ones no matter where you are.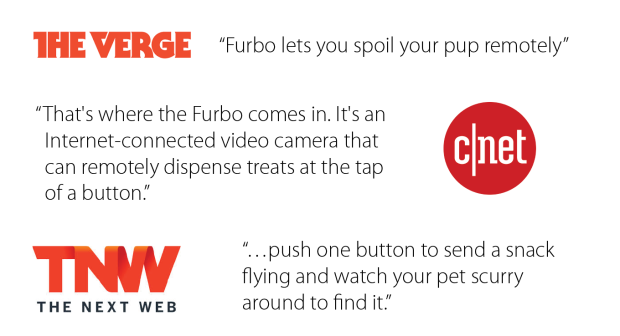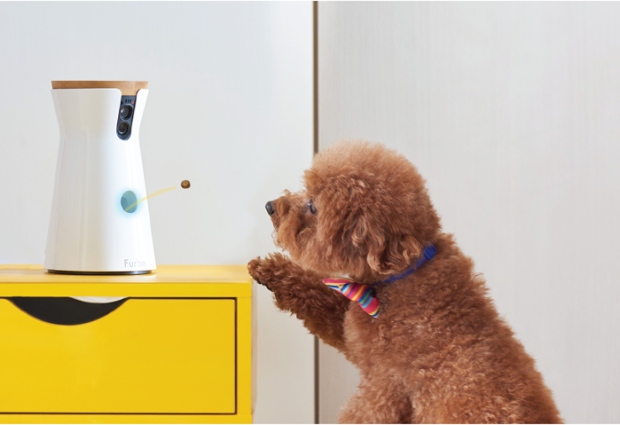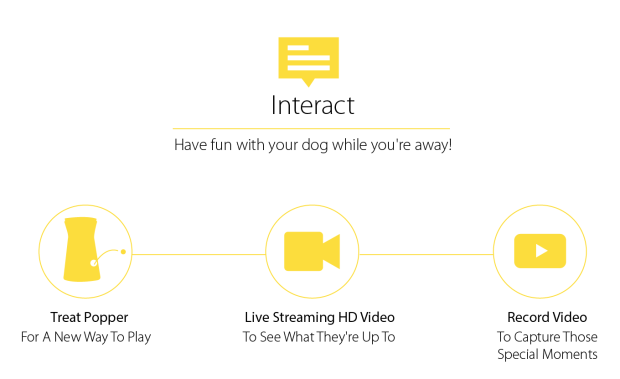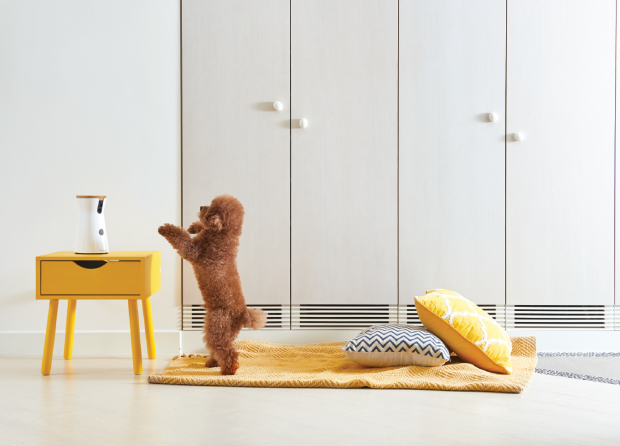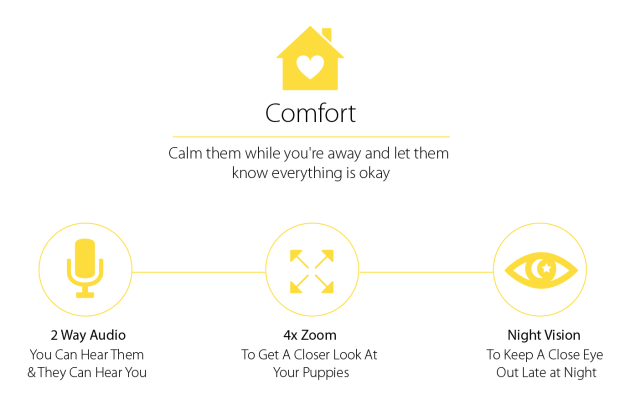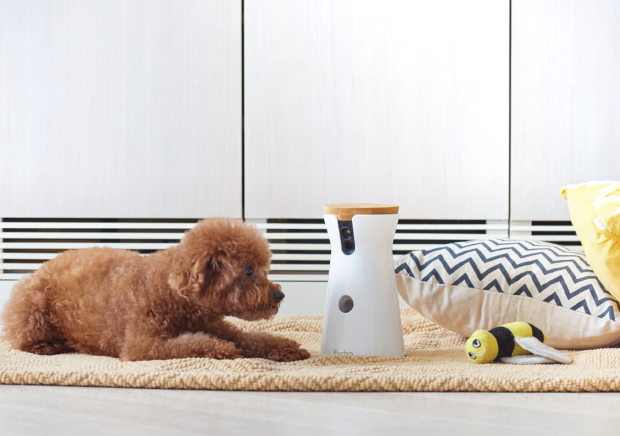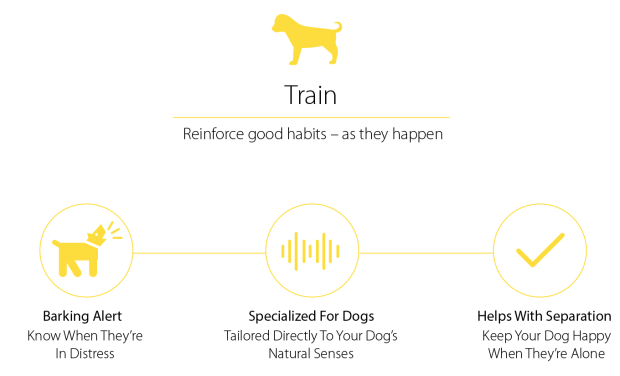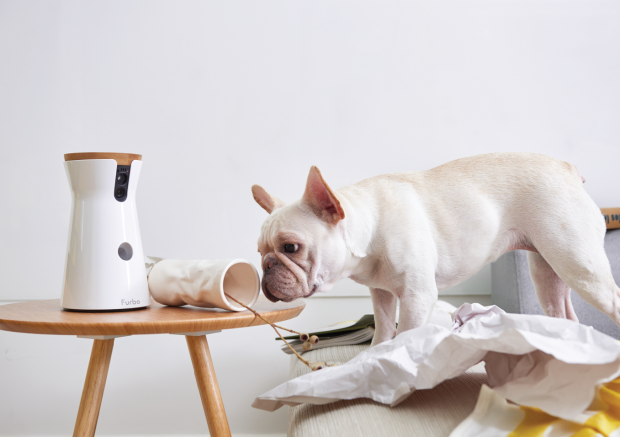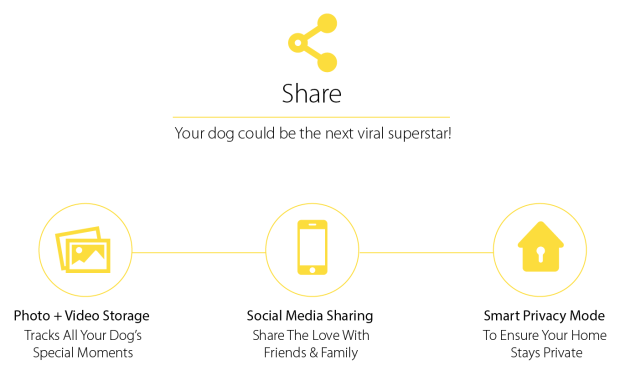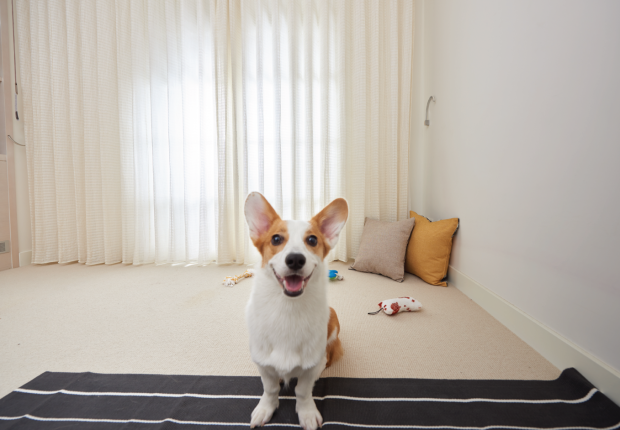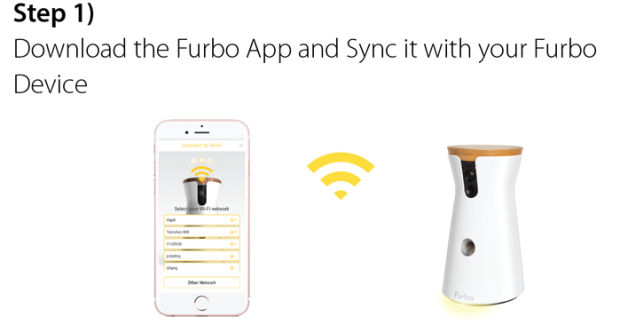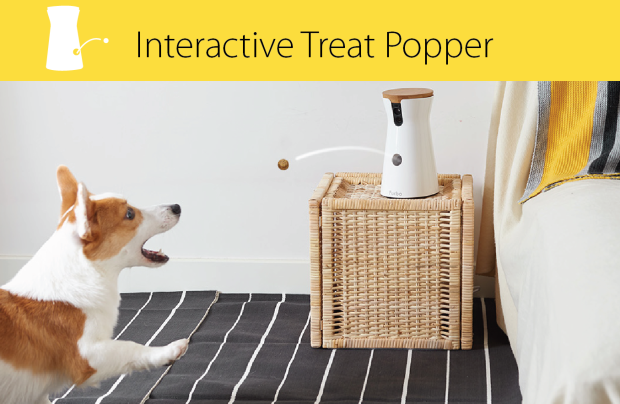 Using the Furbo app on your smart device, you can trigger Furbo to 'pop' treats remotely. The accompanying sounds, lights and speaker alert your dog that a delicious treat is on the way.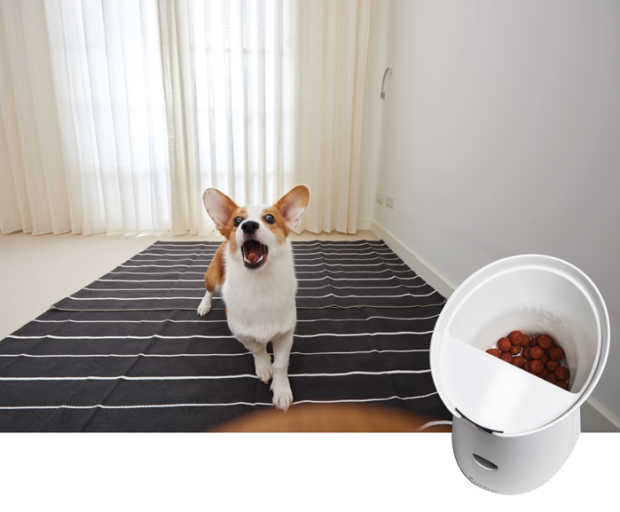 Unlike other devices that silently drop a treat to the floor, Furbo pops the treat across the room to let you and your dog play fetch remotely. Designed to accompany a variety of treats and to be incredibly simple to use, you'll instantly feel closer than ever to your dog while you're away from home.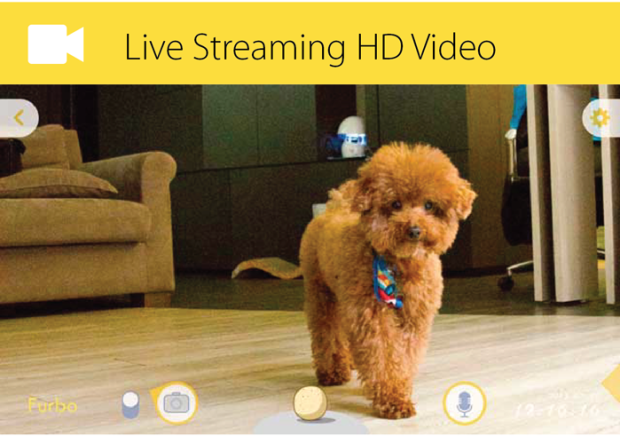 Whether you're out on an errand or halfway around the world, you can always check in and see your furry loved one. Furbo provides real-time audio and video streaming (and recording) in crisp 720p HD over a super-wide 120° angle lens so no matter where you place Furbo in your home – you'll be able to see your dog at all times!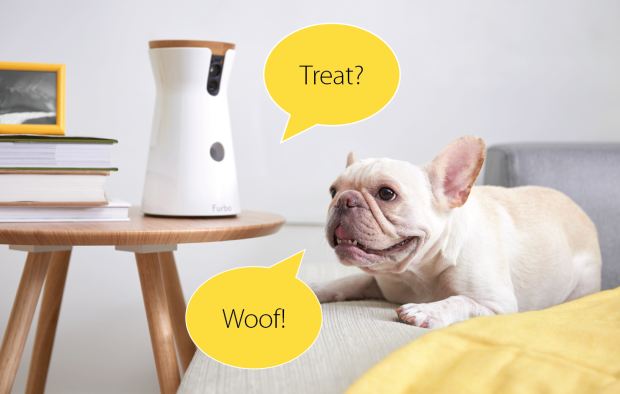 Verbally communicate with your dog to give them that extra sense of comfort when you're away. Whether you want to call for them or calm them, hearing your voice when you're away from home can make all the difference for some dogs!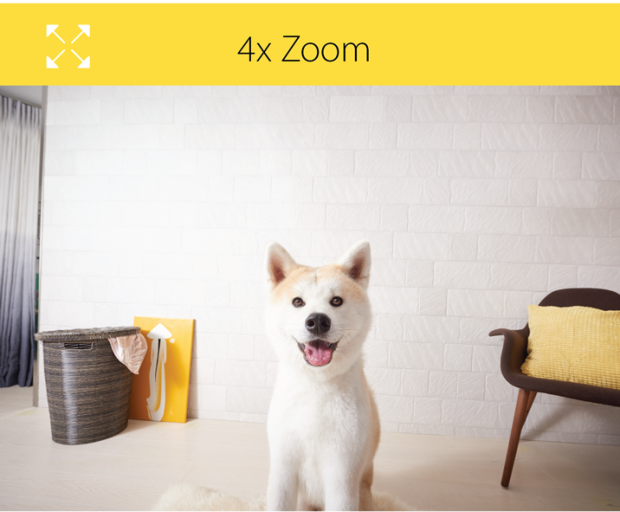 To get an even closer glimpse of your little puppy, you can simply stretch the screen on your smart device for a 4x zoomed-in view!

Worried about your dog when you're working late? Furbo has a built-in infrared LED filter that lets you see an incredibly clear view despite low-light conditions.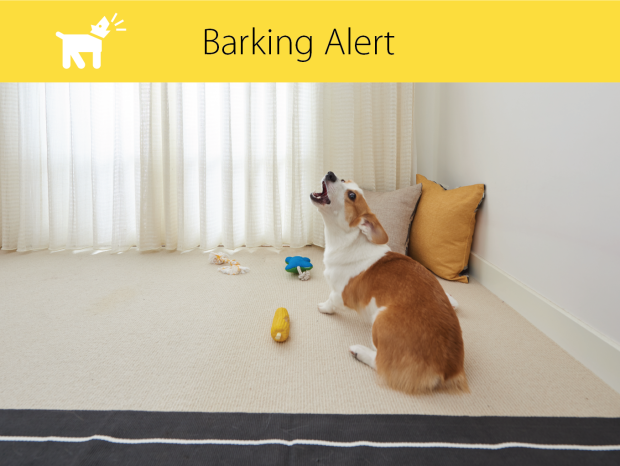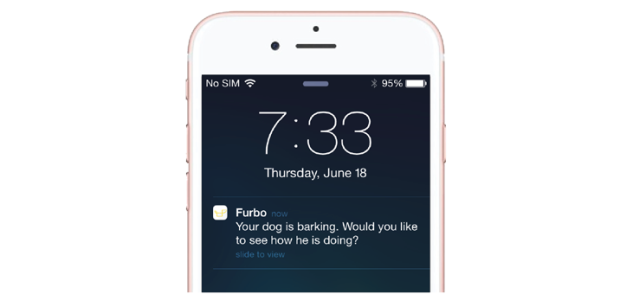 Being away from home doesn't mean you can't be there. Furbo's built-in microphone senses barking and immediately sends an alert to your phone. To give you the most accurate alerts possible, Furbo is designed to calibrate the natural audio of your home environment in order to ignore background noise.

Dogs in particular both see and hear in very specific wavelengths. After consulting with many professional dog trainers and researchers, we designed Furbo to be conducive to a dog's natural environment. For example, when Furbo is ready to launch a treat, the popper will light up in a cool blue hue that stimulates the optical receptors in canines. It will also trigger a light audible clicking noise that is akin to a professional trainer's clicking devices. This helps train your dog to know exactly when Furbo is active and you're ready to interact remotely.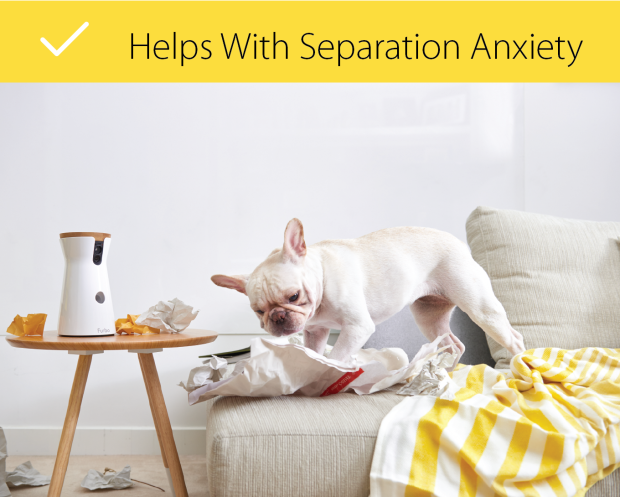 Keep your pup happy and entertained while they're home alone so you can avoid the little headaches caused by separation and missing their best friend!


Using the Furbo app, you can instantly capture pictures and videos of your pups that can be saved directly to your smart device or shared through social networks. Whether you want to capture one of many cute moments or capture the evidence of some bad dog behavior – you'll never have to miss an important moment again.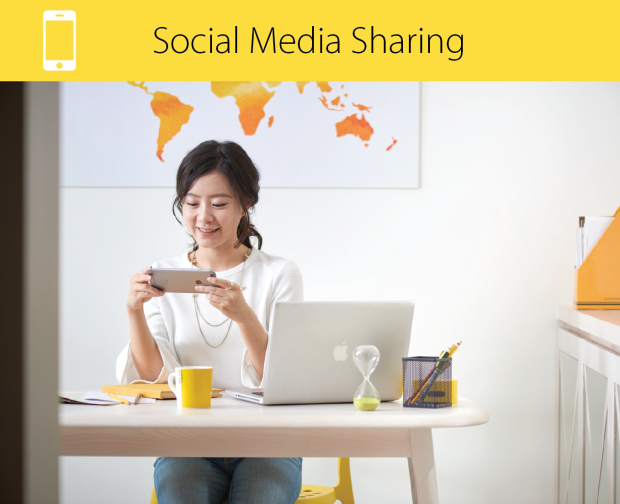 As our global community of Furbo users continues to grow, you can easily share the cutest and most heartfelt moments in your dog's life with other animal lovers. Whether it's on Instagram, Facebook, Twitter, or another platform, Furbo will provide hours of hilarious, touching, and entertaining content for everyone to enjoy.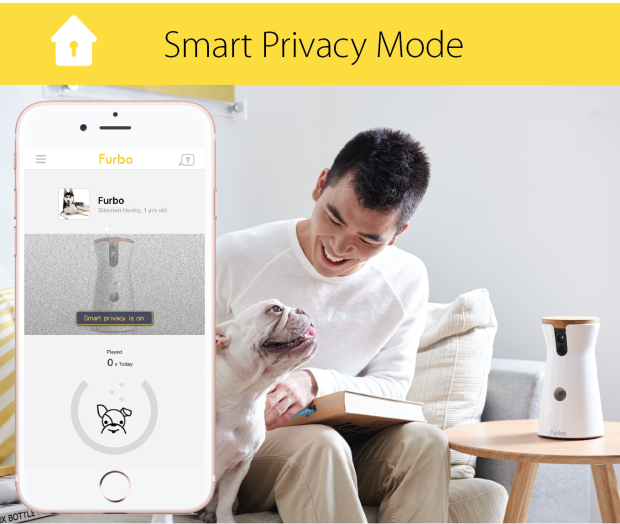 While Furbo is the best tech-companion on the market, you can rest assured knowing that we've taken your comfort into mind as well. With the touch of a button on the Furbo app, you can easily set Furbo to shut off as soon as you walk in the door or when your smart device is in close proximity to home.

Using industrial-strength 3M adhesives, Furbo will stay grounded to whatever surface you place it on though most Furbo users prefer to place it on a counter-top surface or next to their home entertainment center. Whether you have a larger dog or a scrappy puppy, Furbo's natural bamboo wooden cover sits perfectly flush at the top of Furbo to make sure your smart pup can't get their paws on all the treats.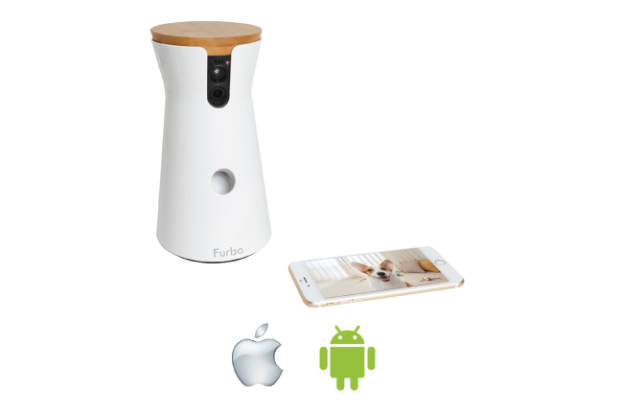 Furbo is ready to go and guaranteed to ship. We've already beta tested over 1000 users and are ready for full-scale production. The Furbo App is already available as a free download on the App Store & Google Play so you can download it right now.As soon as your device arrives, you'll be ready to go in minutes!

FURBO ON GOOGLE PLAY FURBO ON APP STORE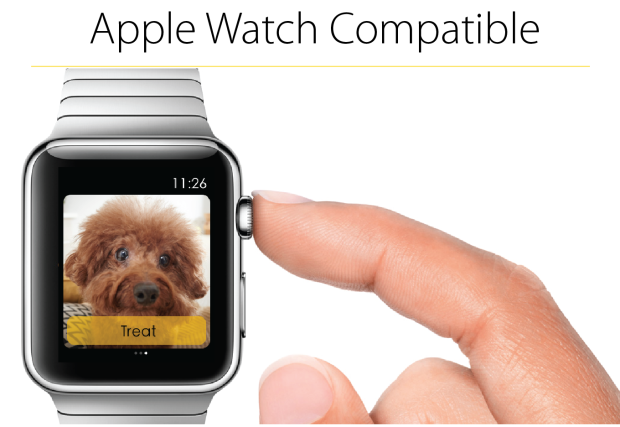 Not only does Furbo work perfectly on your smart phone and tablet (iOS + Android) – it also works on your Apple Watch to make checking on your furry friend as easy and hassle-free as possible. With a flick on the wrist, you can pop your dog's favorite treats at any time!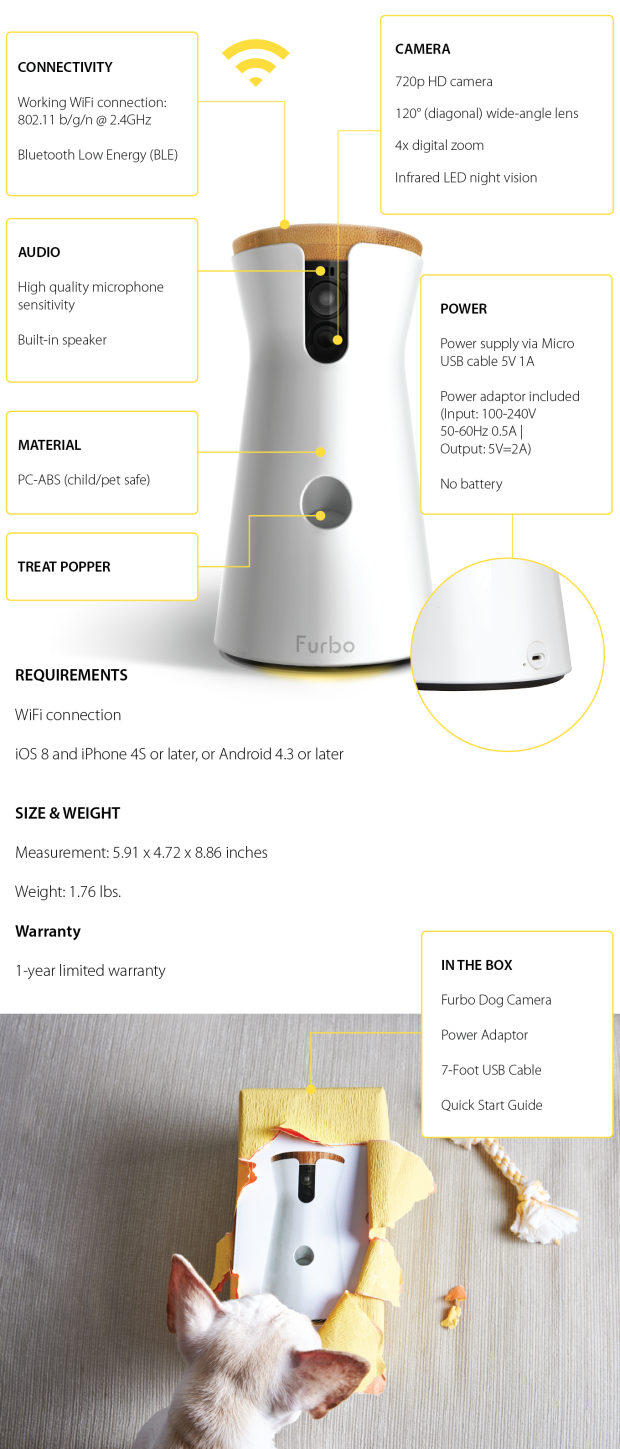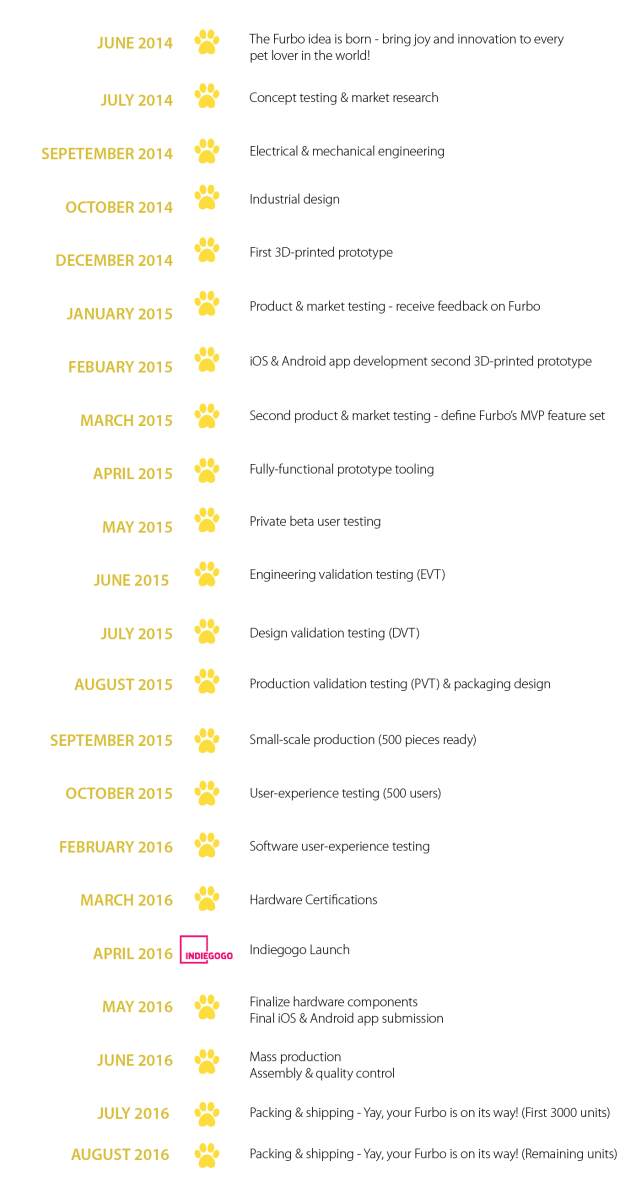 I am not really a tech person, is it hard to set up Furbo at home by myself?
No need to worry! Setting up your Furbo is a cinch! Setup is only three simple steps away:
1. Plug in each end of the USB cable into the Furbo device and the adaptor.
2. Download the Furbo app through the App Store/Google Play.
3. Open the Furbo app and follow the on-screen instructions to complete setup.
Can I use Furbo with my cat?
You can absolutely use Furbo with your cat. In fact, our office kitty loves it! You may put cat treats inside Furbo for your cat as long as the size of the treats fit into Furbo's treat dispenser!
Where should I place Furbo?
Good question! Depending on where your dog usually wanders, you can place Furbo anywhere at home away from direct sunlight and moisture. We recommend placing Furbo 12 to 20 inches above the floor, or based on your dog's height. You will find a set of three fixed 3M double-sided tape mounted on the bottom of your Furbo unit to aid with stabilization. .
If you own a tripod, you can also use the tripod mounting sockets on the bottom of Furbo to attach it to your tripod.
Is Furbo's camera angle wide enough to see what my dog is doing throughout the day?
Sure thing! Furbo has a 120° wide-angle camera with a built-in microphone and speaker. To get your dog to come towards the camera just use the Furbo app to toss him treats and speak through the microphone.
Can I use my own treats with Furbo?
Yes, certainly! We understand all puppies have different preferences for treats. It is no problem as long as the size of those treats is smaller than the treat dispensing hole on Furbo. (Round shaped treats with a diameter
around 1 cm (.4″) work best.)
Can my family members and I connect to Furbo at the same time?
Yes, you can! Furbo is user friendly for family members, but to protect your privacy, one Furbo will correspond to one email account and password. If there are multiple users, we recommend sharing a family account and password.
P.S. Please note that Furbo can only have two people connected at the same time.
Can I share the pictures or videos captured by Furbo onto my social media accounts?
Yes, sure thing! In addition to saving pictures and videos taken from Furbo to your phone, you can also share them on Facebook, Instagram, Twitter, YouTube, email, and more!
How do I clean Furbo?
Cleaning Furbo is an easy task! For your convenience, you will only need a damp cloth to wipe and clean Furbo.
As Furbo contains sensitive electronics, do not rinse Furbo under running water.
Does Furbo need batteries?
No batteries are needed for Furbo! Furbo uses USB cable and standard power adapter to plug into the wall. This way you can always stay connected with your furry loved ones.
P.S. Furbo's power adapter plug supports 110v and 220v, meaning it is compatible with power outlets in every country around the world with just a socket converter.
What is the minimum WiFi upload speed needed for Furbo to transmit data smoothly?
We recommend the WiFi upload speed to be at least 0.8 Mbps (0.1 MB/s) to maintain the best video streaming quality.
What does each of the colored lights mean?
Each light has its own meaning as listed below:
– White light: Furbo is starting up
– Green light: Furbo is ready for setup
– Purple light: No Wi-Fi connection
– Yellow light: Furbo is in Standby mode
– Blue light: Furbo is in use!
P.S. Dogs can see the color yellow and blue, which means your furry best friend can tell whether you are using Furbo or not when he or she sees the light on Furbo!
Why did you design Furbo to toss treats?
Furbo allows dogs to joyfully catch and fetch treats as if you are right there playing with them. The tossing feature is perfectly designed to entice your dog to enter the camera's field of view so that you can wach your dog through Furbo's app.
My dog barks all the time, does that mean I will keep receiving barking alerts from Furbo?
If your dog is barking too often and you would like to avoid receiving repeat notifications, simply adjust Furbo's barking detection sensitivity through the Furbo app settings.
Does Furbo come with a warranty?
Yes! Furbo comes with a one year free warranty starting from the date of shipping. Your Furbo warranty covers all defects in material and workmanship, except the following:
– Damage caused by accident, misuse, abuse, disassembly, unauthorized modification or neglect.
– Damage caused by liquid contact.
– Damage resulting from failure to follow instructions contained in your instruction manual.
– Damage resulting from the performance of repairs by someone not authorized by our company.
If I have other questions, who should I contact?
As a backer, we understand you may have questions and concerns for Furbo, and we are happy to help answer them!
We are currently receiving a lot of inquiries, but we make sure to try our best to respond to you as fast as possible! Please contact hello@furbo.co with any questions you might have.
When can I get Furbo?
Dear backers, we know you are excited about receiving your Furbo, and so are we! Under the current manufacturing plan, we estimate the very first 3000 Furbo will begin shipping in July and all others will roll out as quickly as possible after this initial shipment. Please stay tuned for any future updates. We will make sure to keep you in the loop!
Does Furbo ship worldwide?
Yes! We ship Furbo globally. Shipping cost is free in the US and additional fees may be applied for international shipment based on locations outside of the US.
Can I get a refund?
During our live campaign on Indiegogo, you can modify, upgrade, or cancel your contribution at any time by going to the "My Contributions" tab of your Indiegogo account. To request a refund, please follow these steps (https://support.indiegogo.com/hc/en-us/articles…). Once the campaign has finished its initial live phase, all requests for modifications, upgrades, or cancellations to your contribution will be considered on a case-by-case basis and can be sent to hello@furbo.co
Can I return or exchange the product after the purchase?
A: Sure thing! If you are not fully satisfied with your purchase, you will have 30 calendar days to return or exchange Furbo from the date you received it. If you found defects in material and workmanship. Please contact hello@furbo.co.
P.S.: Please note that our return or exchange policy does not cover the damages caused by accident, misuse, abuse, product modification or neglect.
Find This Campaign On