iCrowdNewswire - Apr 26, 2016
FairPay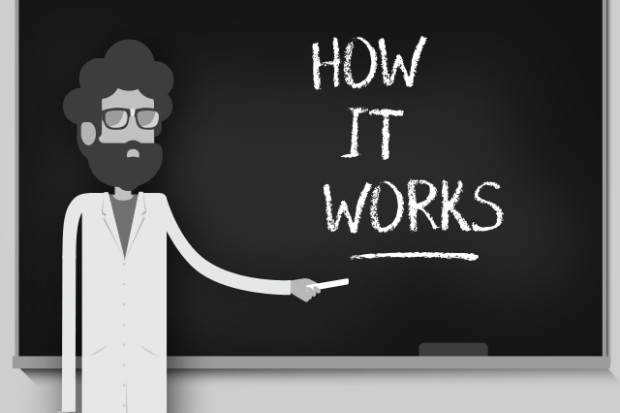 Have you ever dreamed of a virtual world where you could be yourself and nobody all at the same time
We'd like to introduce you to FairPay
FairPay is for any of you, publishers and Internet users eager to build a more ethical economic system. We propose web users a catalog of sites partners to visit without moderation, anonymously and without advertising. To content publishers, we propose another way to earn an income directly related to the consumers' interests.
Where does this project come from?
FairPay was born in the head of Nicolas Hoareau, a computer engineer and Internet enthusiast concerned about its development. In order to carry out this adventure, he's working with Guillaume Petit, an expert in system and network engineering, and Jérémie Fortin, who deals with the marketing and management side.
This team's ambition is to create an ethical system of the online information that serves users as well as Internet workers, motivated by three core values:
respect for privacy
equity
transparency
Why is action needed?
This approach comes from a simple observation: publishers mainly depend on an economic model based on adverting. And at the same time, they're facing Internet users strongly opposed to ads crippling their navigation. These users are tired by what they are forced to see and they feel stalked, their personal data being stripped away from them.
Users' email addresses, social networks accounts and browser history have no secret for advertising agencies, as they use those to develop very personalized and invasive strategies.
To overcome this, people rely on ad-blockers. But this mechanism is harmful to publishers since it prevents them from fulfilling their contracts with agencies. They lose money and have no solution to offer to their audience. That's where FairPay comes into play.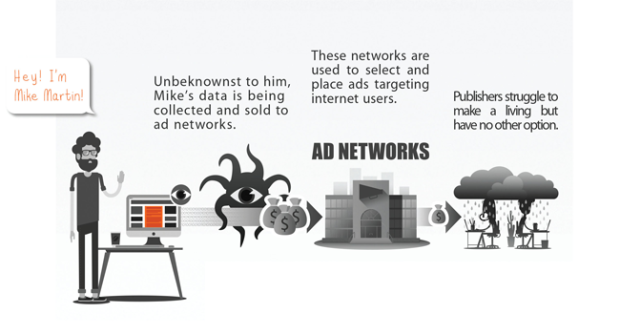 How does it work?
Anyone can become a FairPay user by paying a monthly fee of 9.90 euros. By doing so, they gain full access to content published by partners.
Publishers who join FairPay become partners. In exchange for an income from the FairPay community they agree to disable all kind of advertising to FairPay users and to stop collecting any personal data from them. He gets log in thanks to a simple plugin to add to his browser.
FairPay vouches for compliance with these rules.
Almost all the money generated by these subscriptions – 90% – feeds a pool that pays partners each month in proportion to their traffic.
The remaining 10% are used by FairPay internaly (bank transaction fees, IT infrastructure costs and salaries).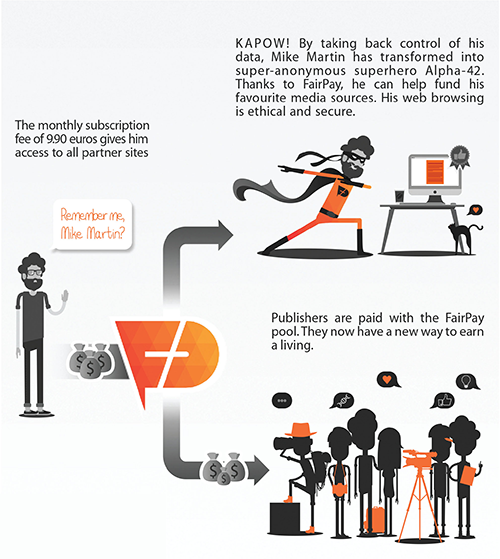 Crowdfunding
Creating a crowdfunding campaign is a choice. FairPay is a project dedicated to the Internet community and we want to give it the ability to make it real. Let us know what you think about our approach.
Through FairPay we aim to give more independence to Internet users and publishers, so we find imperative to keep ours as well!
We need $50,000 to lay the foundations of FairPay, as stated in the following table: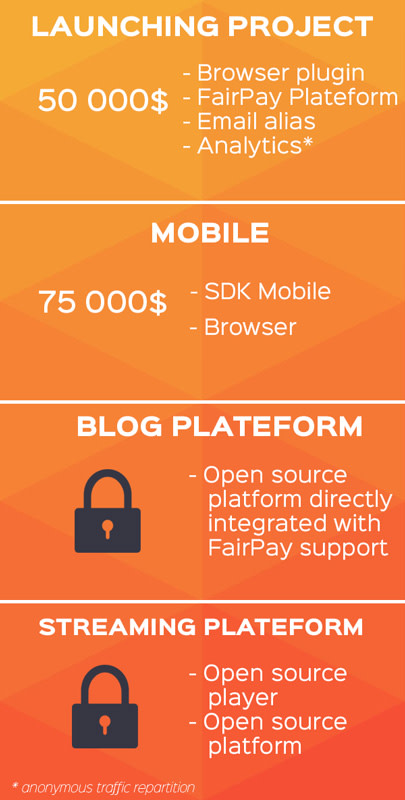 Update on counterparties
Starting from $80 donation, you enter the Fresco FairPay. You might wonder where you are sent … It's simple: the team's graphic designer is going to create a character inspired by Michael Martin (FairPay's mascot) based on your picture!
All characters will join an online wall of fame that we hope will quickly turn into a crowd of sponsors super classy.
This is our creative way to immortalize the impact you had on FairPay's history.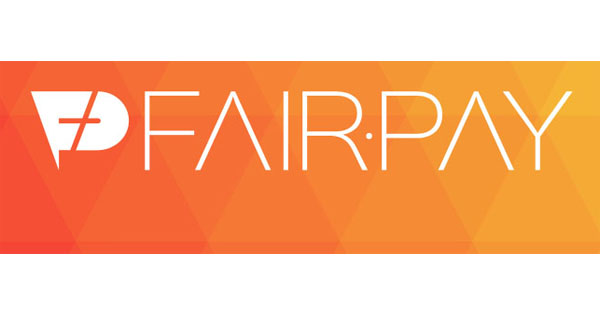 Nous vous présentons FairPay
FairPay s'adresse à chacun d'entre vous, aux créateurs de contenus et aux internautes désireux de bâtir un système économique plus éthique.
Nous proposons aux utilisateurs du web un catalogue de sites partenaires à visiter sans modération, de manière anonyme et sans publicité. Aux producteurs de contenus, nous proposons une autre manière de gagner un salaire, directement en lien avec l'intérêt du consommateur.
D'où vient ce projet ?
FairPay est né dans la tête de Nicolas Hoareau, ingénieur en informatique passionné d'Internet et soucieux de son développement. Pour mener à bien cette aventure, il l'a partagée avec deux coéquipiers : Guillaume Petit, expert en développement systèmes et réseaux, et Jérémie Fortin, chargé des aspects marketing et management.
L'ambition de ce trio féru du web est de créer un système éthique de consommation de l'information en ligne. Un système capable de servir les utilisateurs ainsi que les travailleurs d'Internet, motivé par trois valeurs-clés :
le respect de la vie privée
l'équité
la transparence
Pourquoi faut-il agir ?
Cette démarche part d'un constat simple : les éditeurs de contenus dépendent majoritairement d'un modèle économique axé sur la diffusion de publicités.
Or, ils ont en face d'eux des internautes de plus en plus opposés à l'apparition de ces publicités intempestives et ciblées, parasitant leur navigation. Et ces internautes ne se sentent pas seulement gênés par ce qu'ils sont contraints de voir, ils se sentent traqués et dépouillés de leurs données.
Leurs adresses e-mail, leurs comptes sur les réseaux sociaux et leur historique de navigation n'ont plus de secret pour les régies publicitaires. Elles s'en servent pour élaborer des stratégies toujours plus personnalisées et invasives.
Pour palier cela, les internautes utilisent des bloqueurs de publicités. Mais ce mécanisme est nocif pour les éditeurs car il les empêche de respecter leurs engagements vis-à-vis des régies. Ils perdent un argent considérable et ont peu de solution à proposer à leur public.
C'est là que FairPay intervient.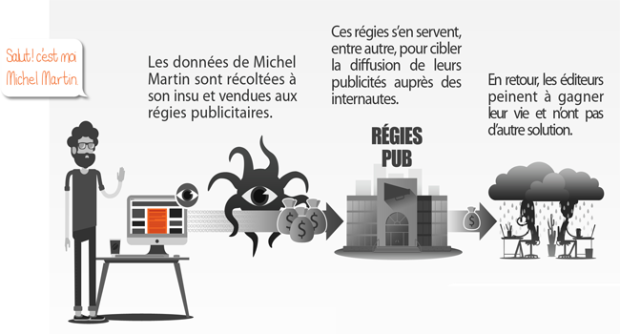 Comment ça marche ?
En intégrant la communauté FairPay, l'internaute devient un utilisateur. Il s'acquitte d'un abonnement mensuel de 9,90 euros lui fournissant un accès complet aux contenus des sites partenaires. Il s'identifie auprès d'eux grâce à un simple plugin à ajouter à son navigateur.
L'éditeur qui rejoint FairPay devient un partenaire. En échange de son revenu, il s'engage à n'afficher aucune publicité à l'utilisateur et à ne récolter aucune donnée le concernant. FairPay se porte garant du respect de ces règles.
La quasi-totalité de l'argent généré par ces abonnements – soit 90 % – nourrit unecagnotte qui rémunère les partenaires mensuellement au prorata de leur trafic.
Les 10 % restant vont au fonctionnement interne de FairPay (transactions financières, infrastructures et salaires).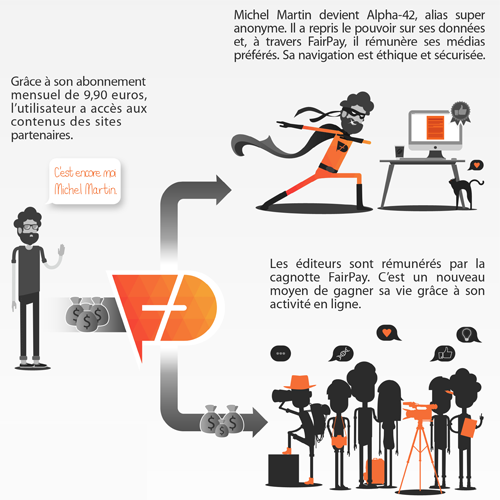 Le financement participatif
La création d'une campagne de financement participatif est un choix. FairPay est un projet destiné à la communauté d'Internet. C'est pour cette raison que nous souhaitons lui donner la possibilité de se l'approprier et de le faire exister.
Nous vous invitons à nous dire ce que vous pensez de notre démarche.
Et puisqu'à travers FairPay nous avons l'ambition de donner plus d'indépendanceà l'utilisateur et au partenaire, il nous est impératif de conserver la nôtre.
Nous avons besoin de 50 000 dollars (car l'argent est collecté en dollars sur Indiegogo) pour poser les bases de FairPay, comme établi dans le tableau suivant :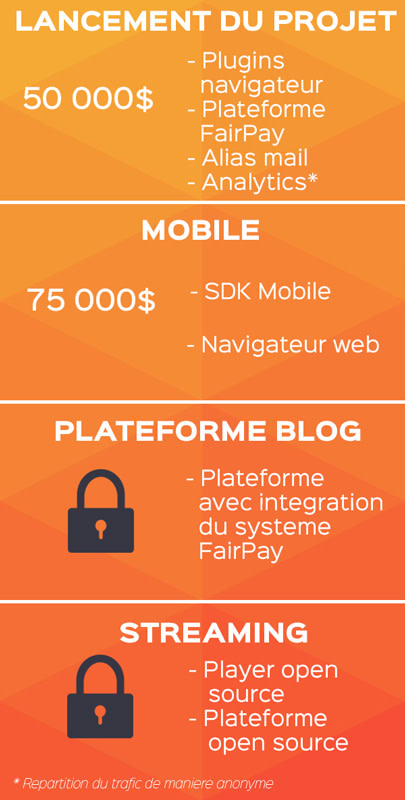 Le point sur les contreparties
À partir de 80 dollars de donation, vous entrez dans la Fresque FairPay. Vous devez vous demander où on vous envoie… C'est simple : le graphiste du team vadesigner un personnage inspiré de notre cher Michel Martin (la mascotte de FairPay) à votre effigie !
Et comme nous sommes infiniment reconnaissants envers vous, nous intégrerons ce personnage à un wall of fame en ligne qui, nous l'espérons, se transformera rapidement en foule de donateurs aux looks très très classes.
C'est notre manière créative d'immortaliser l'importance que votre geste a dans l'histoire de FairPay.
Find This Campaign On