iCrowdNewswire - Apr 23, 2016
The Jessa Project: Days Without Dates
Make YOUR Mark! Join the awesome JessaProject "Days Without Dates" funding campaign…
How often do you get a chance to plant ideas in people's minds that will actually change lives … even save lives?
Days Without Dates is a unique theater production, created and performed by renowned European actress Jessa Wildemeersch, that empowers you to do just that.  And more, by offering everyone a shared experience to overcome individual and collective trauma caused by endless conflict and war.
Assuring that more audiences than ever before — you included! — see and share this live multi-media staging of Days Without Dates is what this Indiegogo campaign is all about.
With a goal of only $20,000 towards the overall $50,000 budget shown below, this Indiegogo crowdfunding campaign for Days Without Dates is your individual donor opportunity to join the world-wide JessaProject campaign to help underwrite the planned 2016-2018 Days Without Dates tour in Europe and the United States.
What is the JessaProject?  At www.jessaproject.com,  you will discover a funding campaign explicitly designed to augment every dollar or euro you commit in this Indiegogo campaign with matching funds from business organizations publicly committed to helping veterans and other people affected by war.
Together, your support and theirs automatically makes you a part of a global movement of people who recognize the power of storytelling as the most powerful weapon there is to enable people to participate in healing people and nations wounded by conflict and war.
Coming on the heels of its European and U.S. stagings — including the highly-acclaimed 2015 U.S. premiere in Washington D.C. — Days Without Dates has already inspired audiences all over the world by offering compelling responses to the urgent questions we all have about the trauma of war.
This compelling stage play enjoys the support of GONE WEST(Belgian organization for artistic commemoration of World War I), the Government of Flanders, theFlemish Community in Brussels, the City of Ostend, the renowned Belgian theater group Het Nieuwstedelijk and, here in the US, Flanders House in New York, the Belgian Embassy in Washington DC, and the National Performing Arts Funding Exchange.
Wildemeersch herself has been recognized in many countries including the US for her exceptional talent as a performing artist and actress. New York City's famedActors Studio, founded in 1947 by Alia Kazan, Cheryl Crawford, and Robert Lewis and today the country's leading service organization for professional actors, directors, and playwrights, has awarded her life membership.
Watch the video below. See. Hear. Touch and be touched — right now — by the ways YOU will be helping.
Contribute today. Choose the amount that makes the most sense for you. Enjoy the perks JessaProject is offering to thank you and recognize your generosity in moving forward with Days Without Dates.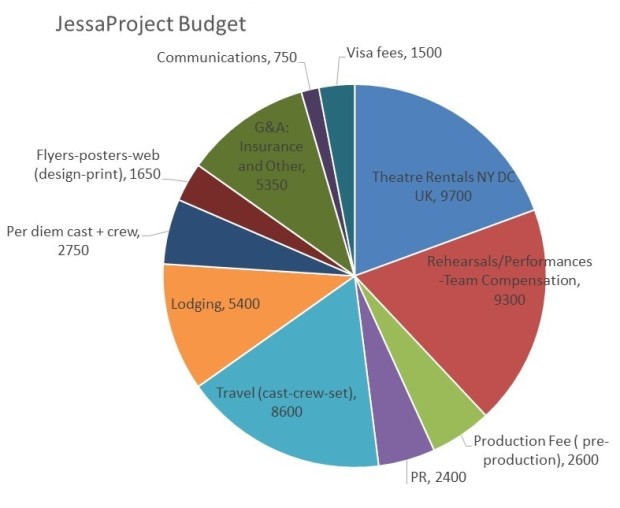 Find This Campaign On