iCrowdNewswire - Apr 22, 2016
MI Guitar by Magic Instruments
A new type of guitar that you can pick up and play, instantly.
MEET
MI GUITAR
MI Guitar is a new type of guitar that you can pick up and play, instantly. We've reinvented the fret board of a traditional guitar so that anyone can play their favorite songs at first sight, or create their own original music­­ without musical training. Choose from thousands of your favorite songs on our mobile app and learn new songs in a matter of minutes.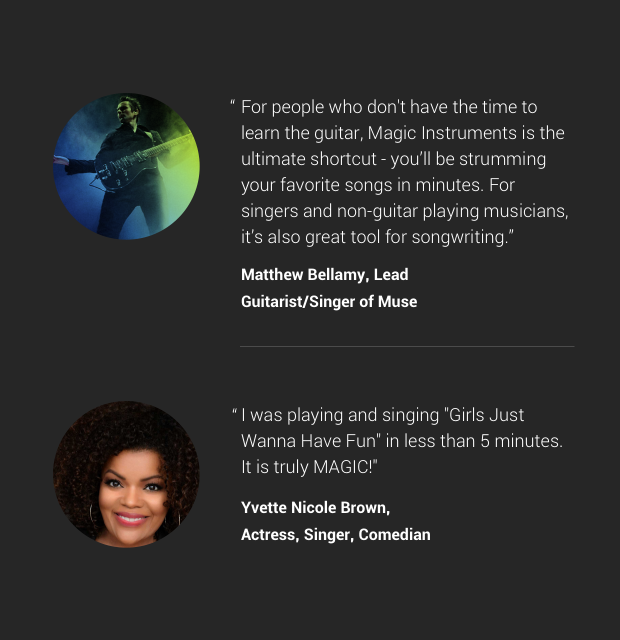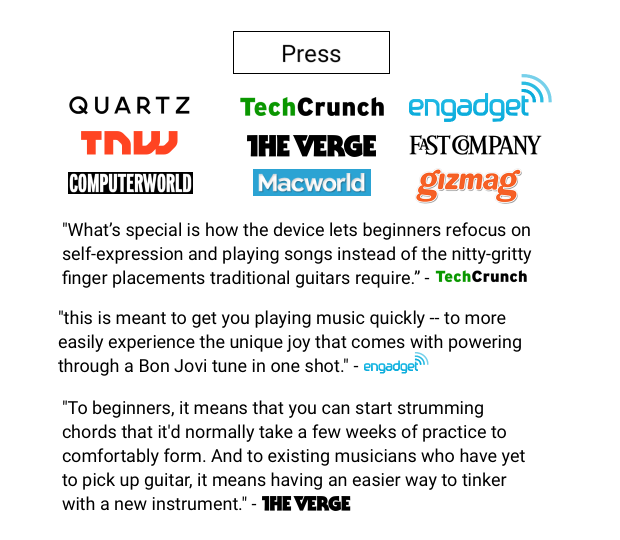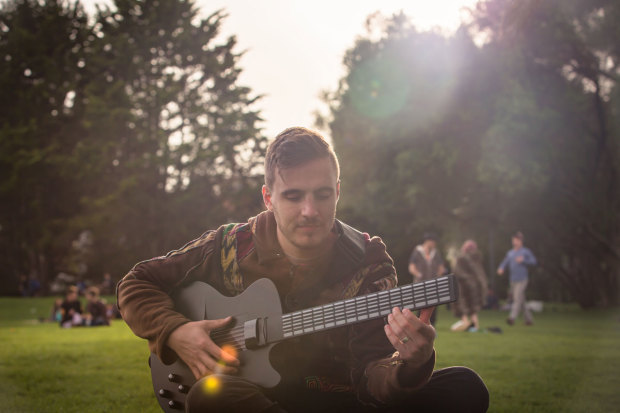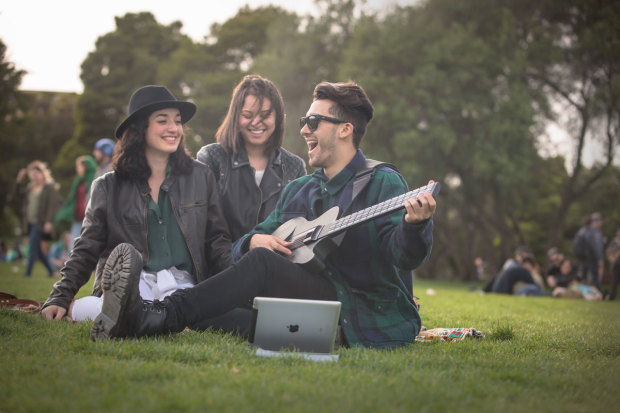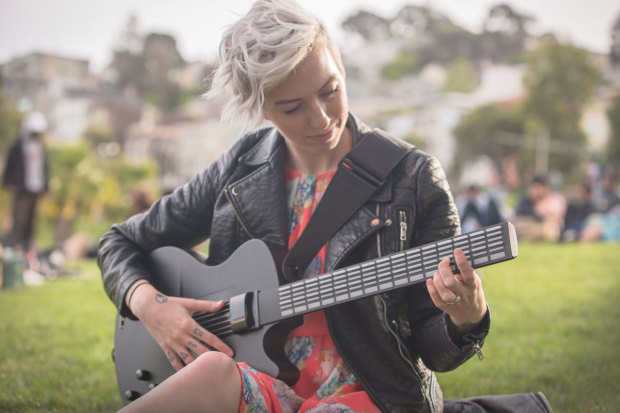 Instantly play your favorite songs using our companion mobile app, available on iOS and Android on both phones and tablets. Our app contains a large catalog of tens of thousands of popular songs – just select the song you want to play and you can see the song's lyrics and button numbers for each chord. By pressing the right buttons and strumming the strings, you can play the song. Here is a video of how it works:
You can purchase the lyrics and chord numbers for an individual song for 99 cents, or if you prefer, access all songs in the entire song catalog for a subscription fee of $5.99/month (all prices subject to change). We offer a 30-day free trial so you can try the service for free.
Advance the lyrics by pressing the correct chords then strum or pluck the strings.

The MI Guitar is more than an easy way to play your favorite songs instantly. It's also a tool to create your own original music – even if you have little or no musical background.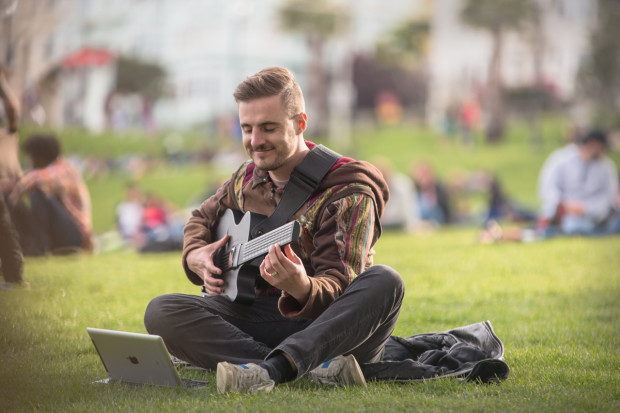 Set the guitar to any key and scale you want to play in (for example, E Major, or B-flat Minor, or A Blues), and we give you one-finger access to the most commonly played chords in that key and scale. The chord types you can play include:
major
minor
power
suspended
major seventh
minor seventh
dominant seventh
It's like having an entire chord encyclopedia at the touch of your fingers.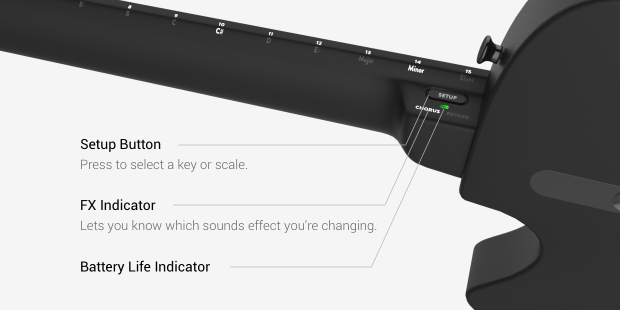 It's easy and intuitive to improvise, jam, or compose good-sounding original music, because we use principles of music theory to organize the fretboard and give you choices that sound good.
If you are a songwriter, you can use the MI Guitar as a MIDI controller, and integrate it with your existing songwriting software, or your DAW (Digital Audio Workstation), such as Apple GarageBand, Apple Logic Pro, or Ableton Live.

The MI Guitar comes with six included guitar sounds, as well as two bass guitar sounds. You can download additional sounds through our mobile app.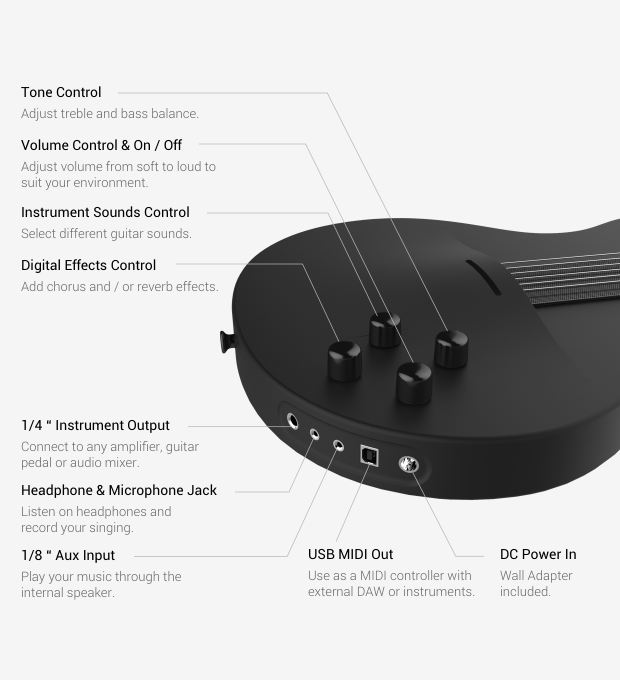 Shape your sound with the built-in audio controls such as volume, bass/treble tonal balance, reverb and chorus effects.
The MI Guitar comes with a standard ¼" guitar output jack, so you can plug into any guitar pedal, amp, or mixer for additional effects, amplification, or recording.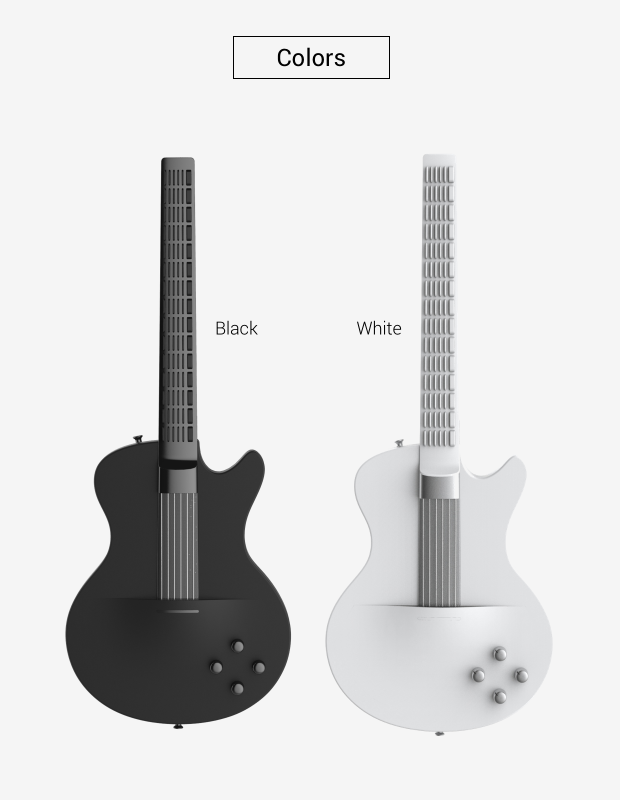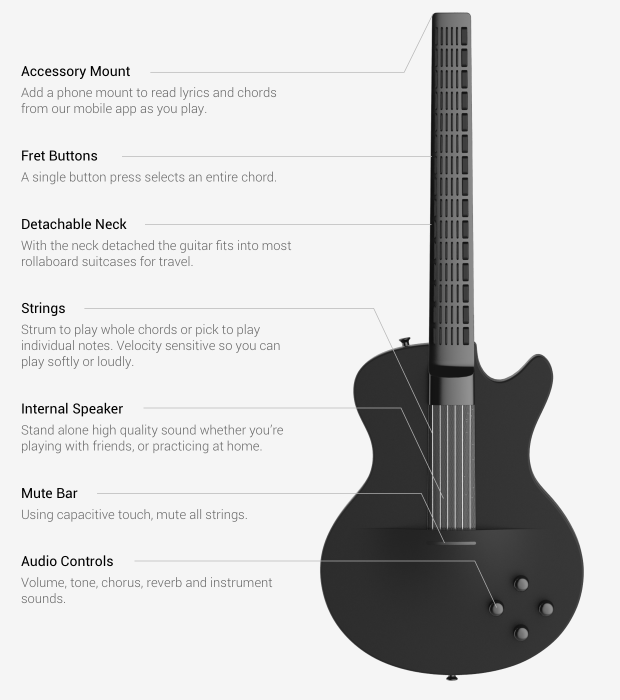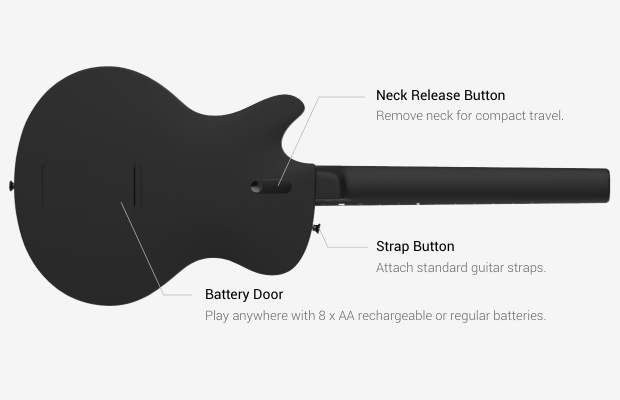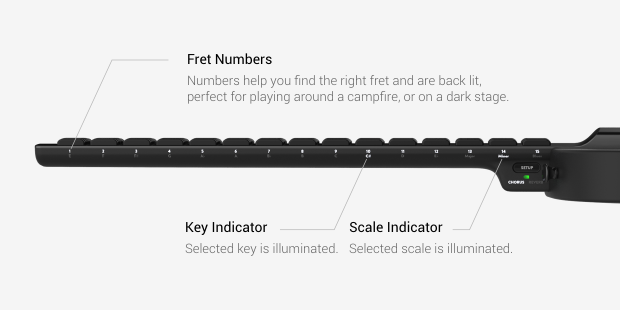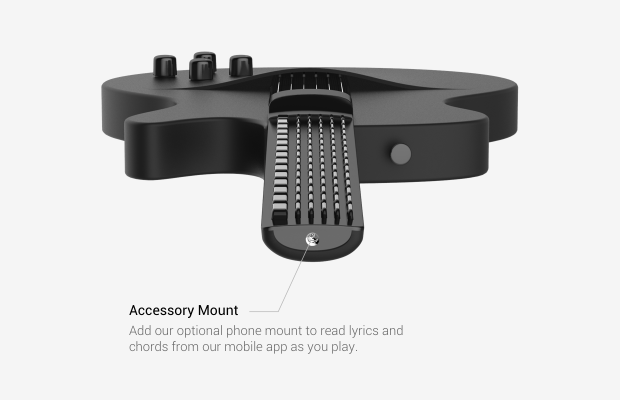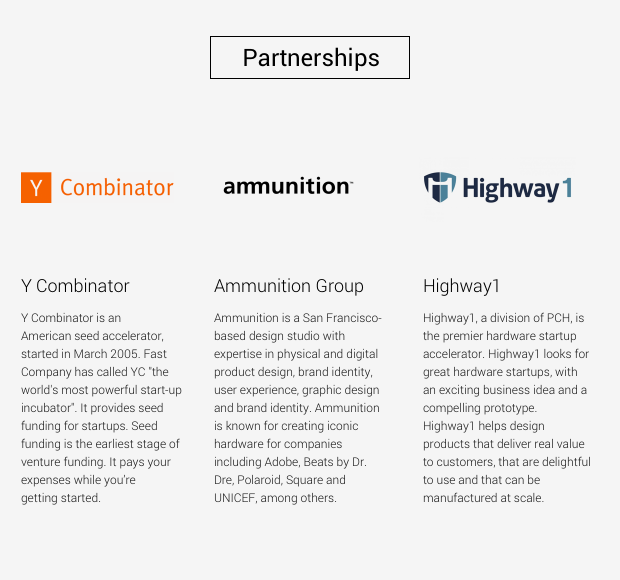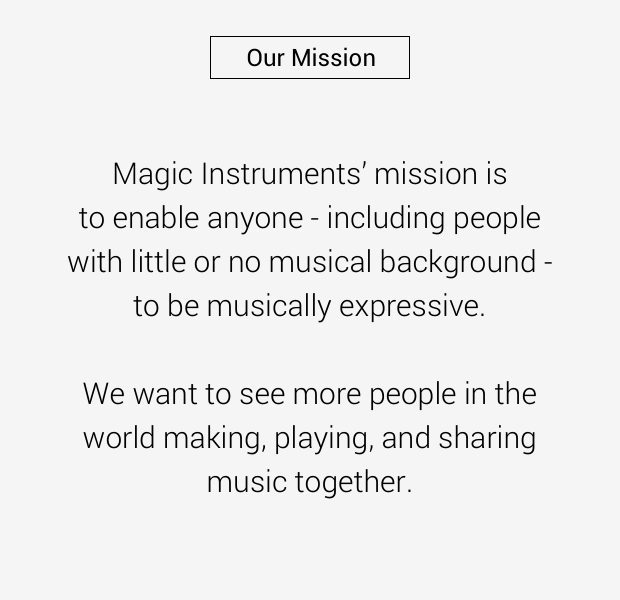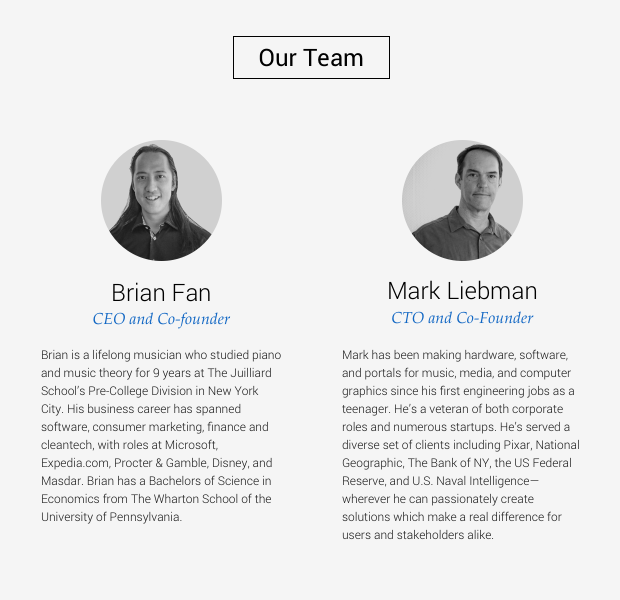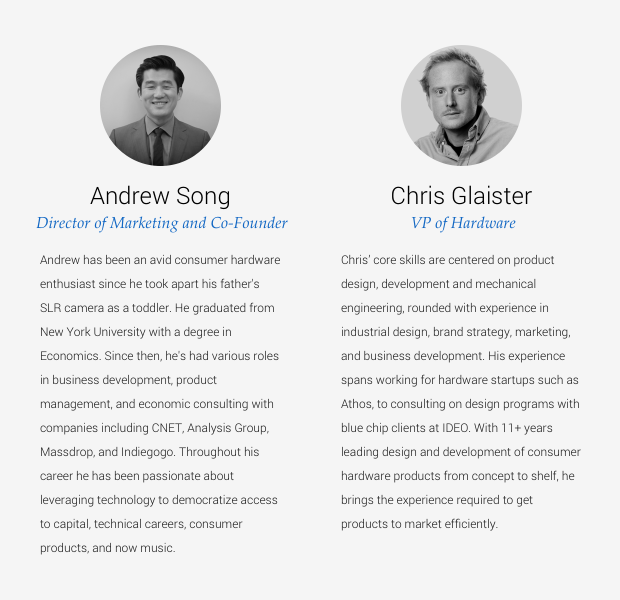 SHARING IS CARING: JOIN THE BAND
Get $25 off your guitar each time one of your friends buy a MI Guitar. All you have to do is share your link. Here's how: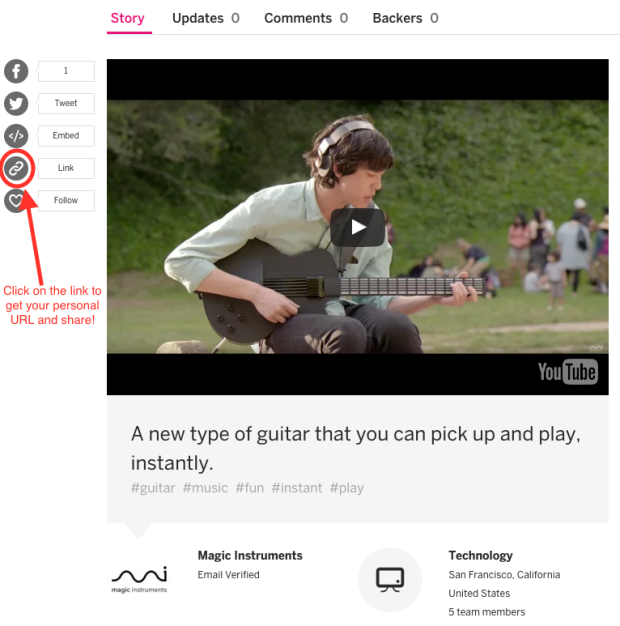 Copy your personal URL link to post around the Internet and save it for later by clicking the link icon circled in red shown in the screenshot above. You can paste it anywhere and keep track on anyone that clicks it.
How To Track Your Band Members
1. Log into your Indiegogo account.
2. Click on your user name on the top right of the page.
3. Select the "My Profile" option.
4. Click on the tab that says "Referrals" for the latest totals of Referrals and Contributions.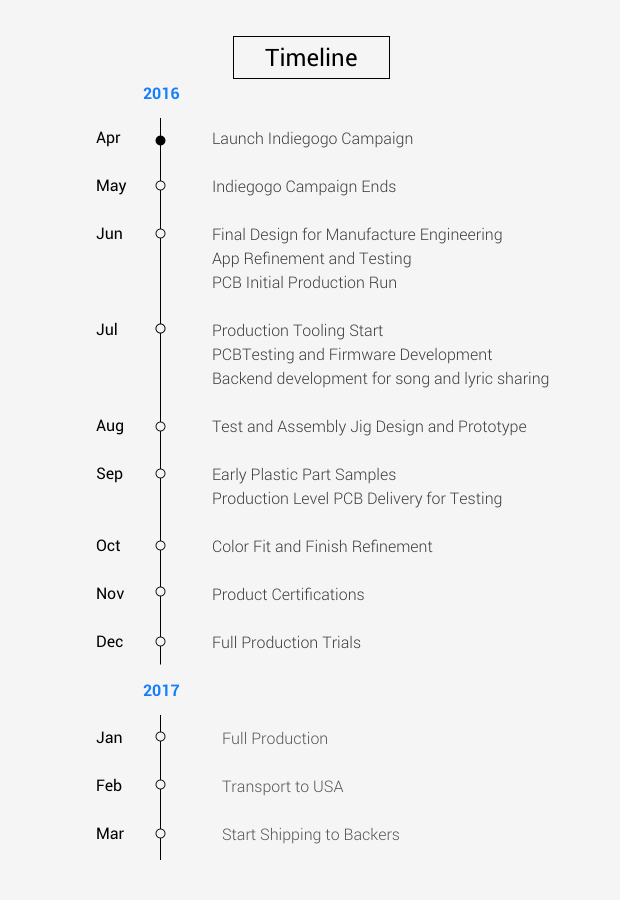 FREQUENTLY ASKED QUESTIONS
Q: If I learn this instrument, will I be able to play a traditional guitar?
A: You will not learn traditional guitar chord fingerings on the MI Guitar. Our intention is not to teach you to play a traditional guitar – there are many options for that, all of which require hundreds to thousands of hours of practice. Our intention is to get you playing music as quickly as possible. To enable that, we made it possible to play entire chords with a single finger.
Although you will not learn chord fingerings, there ARE many skills that you will gain using our guitar that are transferable to a traditional guitar (and other musical instruments). These include strumming, fingerpicking, rhythm, coordinating your left and right hand, and understanding chord progressions and scales.
Q: How long does it take to play my first song?
A: Through our user testing with over 1,000 people with varying musical skill levels from no musical talent to expert guitarists, we've seen virtually everyone play a song within 5 minutes.
Don't believe us? If you're in San Francisco, CA we'd be more than happy to have you try one of our prototypes, please drop us a note atletmeplay@magicinstruments.com.
Q: So what's the difference between you and Guitar Hero/Rock Band?*
A: Guitar Hero and Rock Band are rhythm games based on clicking a colored button with the right timing, while a pre-recorded song is playing in the background. You are not actually playing or making music- you are playing a video game. For instance, you cannot take a Guitar Hero guitar controller, unplug it from the game console, bring it to the beach and start playing a song.
The MI Guitar is a standalone musical instrument that enables you to play music – whether your own original compositions, or improvising, or playing a song by your favorite artists. Our built in speaker enables you to play music without needing any other device to generate sound or audio.
*Magic Instruments, Inc. is not affiliated with, or endorsed by Guitar Hero, which is a trademark of Activision Publishing, Inc. Magic Instruments, Inc. is not affiliated with, or endorsed by Rock Band, which is a trademark of Harmonix Music Systems, Inc.
Q: So what's the difference between you and the Yamaha EZ-AG/EZ-EG, Jamstik, Fretlight, or Incident gTar?
A: These are played like a traditional guitar, and teach you how to play traditional guitar chord and note fingerings by showing you where to place your fingers on the fretboard. With these products, you will still need to practice hundreds or thousands of hours to achieve proficiency.
The MI Guitar does not teach you traditional guitar chord fingerings – it simply gets you playing music right away, by enabling you to play entire chords by pushing a single button and strumming the strings.
Q: How many songs will you have in your music catalog?
A: We are currently negotiating licensing agreements with the major music publishers to license lyrics and chords. We expect that we will have tens of thousands of songs in our catalog when we launch our service.
Q: Why do you charge for song lyrics and chord data, when I can find free guitar tabs on the Internet?
A. Although there are unlicensed lyrics and guitar tabs available on the Internet, we believe strongly in compensating artists and authors for their creative works. As such, we are currently negotiating with the music publishing companies for the right to legally display lyrics and chord data for popular songs.
Q: How much will song lyrics and chord data cost?
You will be able to purchase the lyrics and chords to an individual song for 99 cents, or pre-pay for 10 credits (for 10 songs) for $7.99.
Alternately, you can get unlimited access to the entire song catalog for a monthly fee of $5.99. (All prices subject to change.) We will offer a 30-day free trial subscription to all purchasers of the MI Guitar, so you can try the service, risk-free.
Q: Do I need to have a mobile device with the companion app to play the instrument?
A: No. The MI Guitar is a standalone musical instrument that is fully functional without any other device. You can access all of the features directly from the hardware controls on the guitar. The MI Guitar generates its own sound, and plays it through the built-in speaker. You do not need an external speaker, nor do you need to connect the MI Guitar to a mobile device, laptop computer, or external synthesizer to generate sound.
However, the companion mobile app (which will be available for both iOS and Android) enables searching for, and displaying the lyrics and chords of songs by popular artists. The mobile app also enables you to record and share your playing with your friends on social media.
Q: Does the MI Guitar require batteries?
A: The instrument can operate either AC power (power adapter included), or 8 AA batteries. We have found that the batteries typically last 3-6 hours, depending on how loud and fast you are playing.
Q: How do I select the color of my guitar? Are there any other colors other than black or white?
A: We will ask for your color selection after the completion of the campaign through the perk management portal. At this time, we are only offering black and white, but may offer more colors if there is a large demand of 5,000 units or more.
Q: How will you be collecting sales tax for California and Illinois residents?
A: Magic Instruments is required by law to collect state sales tax for orders shipped to California and Illinois, as our company and our fulfillment partner have a physical presence in these states. For backers shipping to those states, our perk management portal will calculate sales tax and allow you to pay with any major credit card after the campaign has finished and before we ship perks to backers.
Q: How are you handling international orders? (Continued)
While this Reservation secures the approximate delivery priority within your region, it does not constitute the purchase or order of Magic Instruments' products. When the start of production for your Reservation nears, we will ask you to finalize your order. Magic Instruments will create an order and you will receive a Purchase Agreement indicating the purchase price of the device, plus estimates of any applicable taxes, duties, transport and delivery charges, and any other applicable fees. If you proceed with the order, we will apply your Reservation Payment towards the order payment. Until you enter into a Purchase Agreement, your Reservation may be cancelled at any time, in which case you will receive a full refund of your Reservation Payment. This refund policy is only valid for international backers.
Q: How much does the MI Guitar weigh?
A: Approximately five pounds.
SOME INTERESTING FACTS
12% of the US population plays a musical instrument
Source: National Endowment for the Arts, 2012 Survey of Public Participation

82% of Americans wishes they had learned to play a musical instrument
Source: NAMM 2009 Gallup Poll

Of the people who play musical instruments, 91% started learning before the age of 14.
Source: NAMM 2011 Gallup Poll
90% of people learning guitar quit in the first year.
Source: Fender
Find This Campaign On