iCrowdNewswire - Apr 20, 2016
CINEMOOD v.2: Mini Cinema Projector for Families
The World's First Mini Cinema Projector designed to create more memorable moments.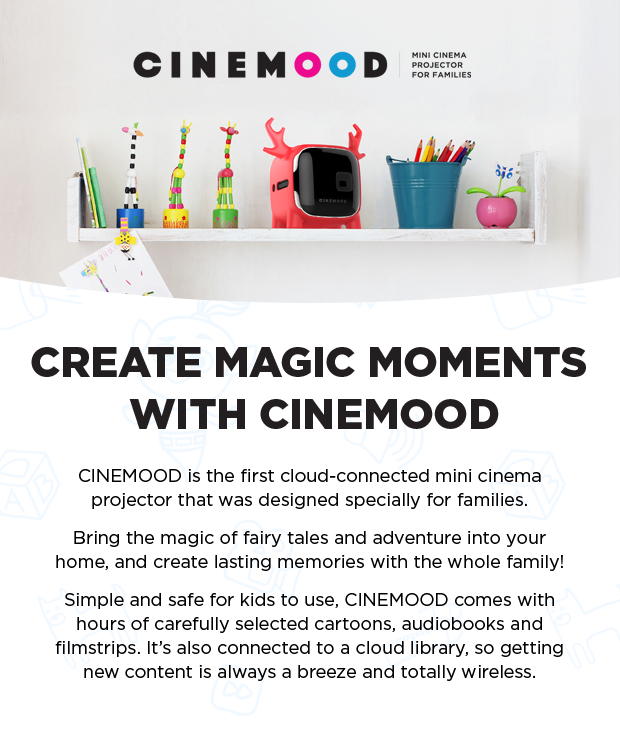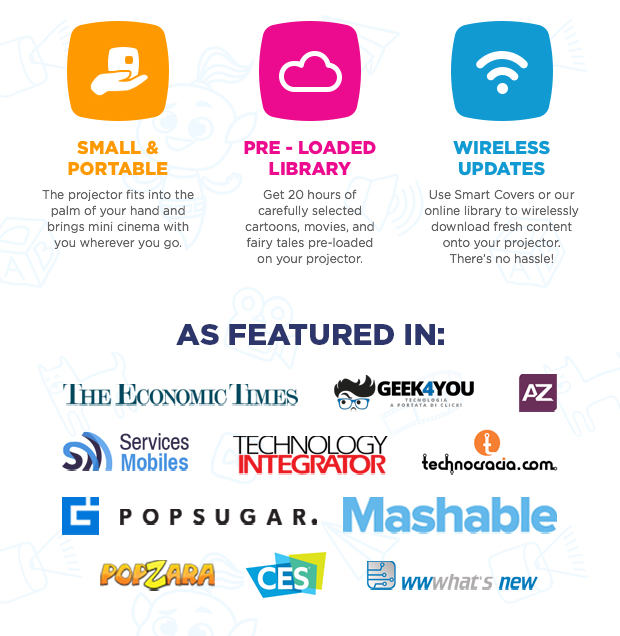 Reading digital books before going to bed improves the emotional stability of your child.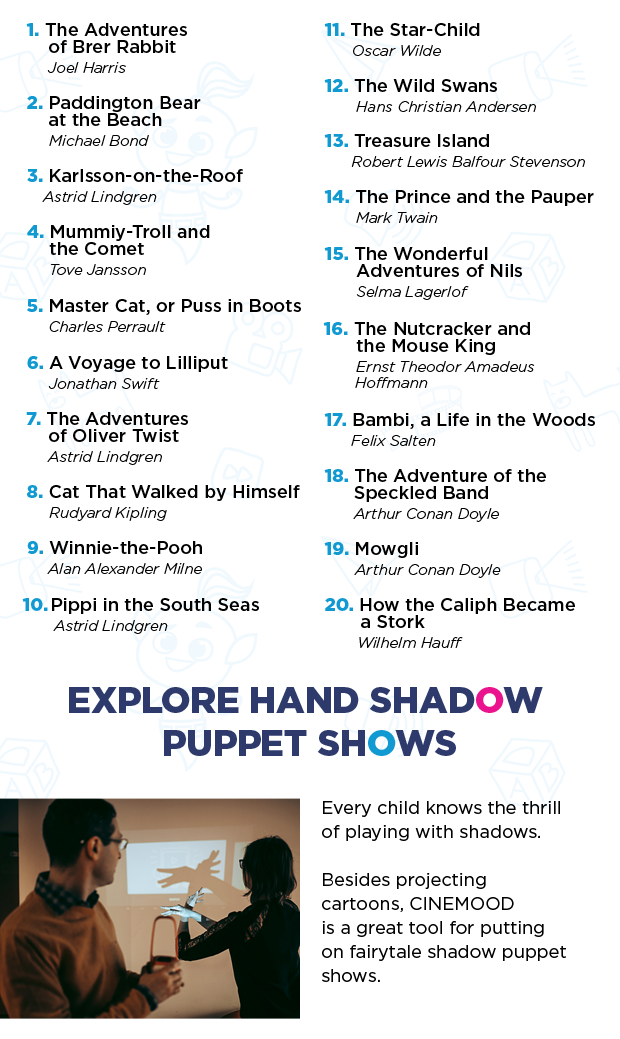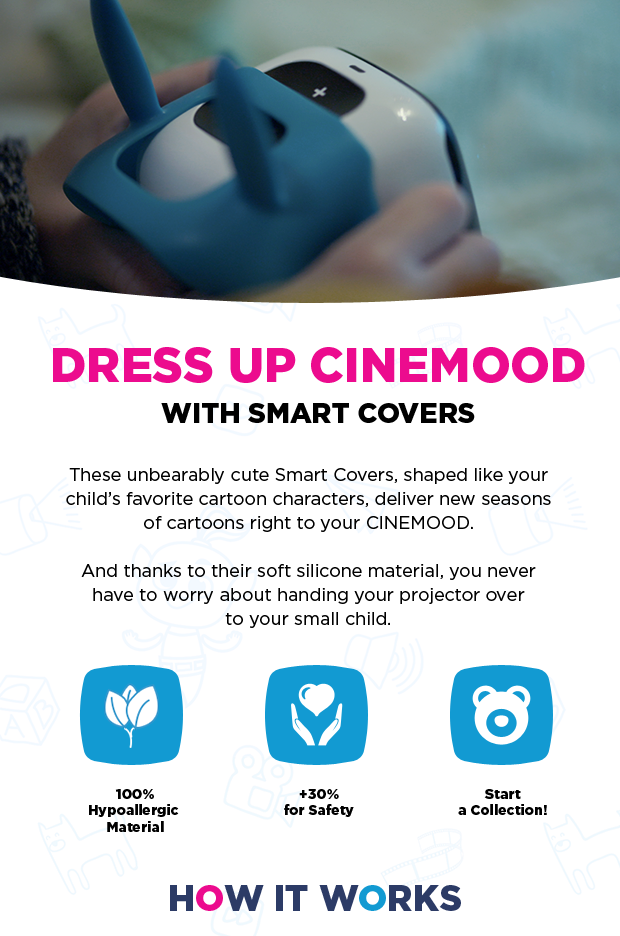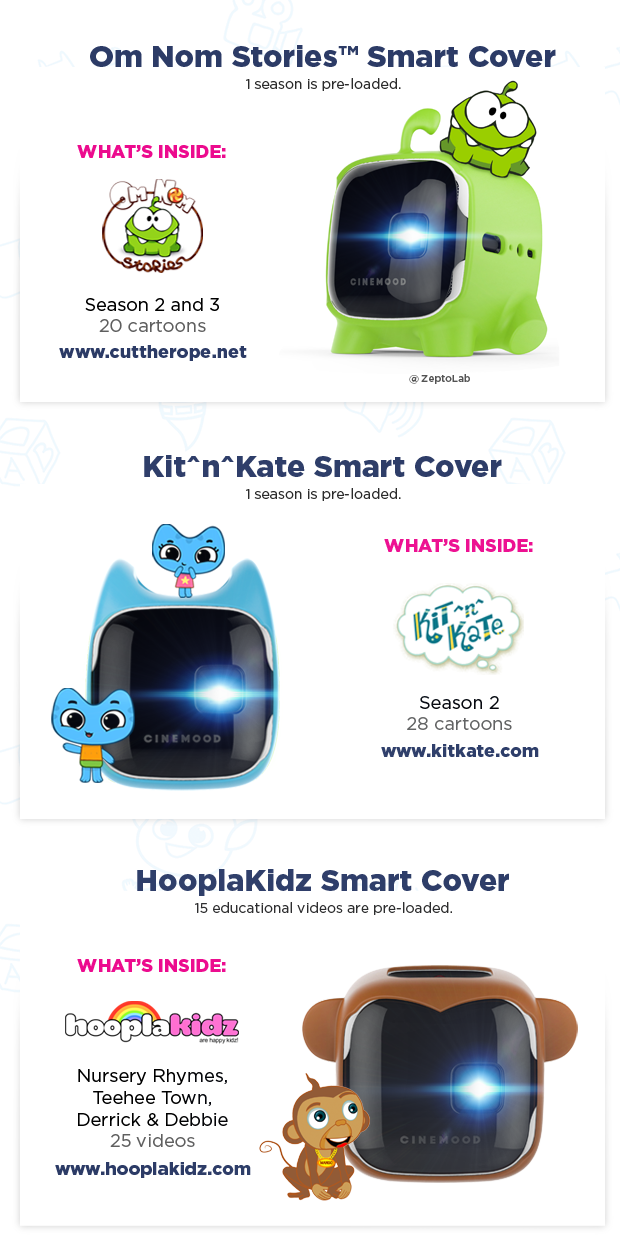 Tune in for 50% OFF. Hurry up! Limited Offer. Free Shipping Worldwide. VAT not included.
COMBO: Front Row Magic 40% OFF. Limited Offer. Free Shipping Worldwide. VAT not included. Choose 1 Smart Cover from 3 available. Note in the order form, which Smart Cover do you prefer.

Over the past two years CINEMOOD has grown and gathered a team of enthusiasts including engineers, teachers, child psychologists, and parents.
We believe that technology can make family time a bit more fun, memorable and magical. We want to see media act as a source of new and exciting experience, rather than a means for simply killing time, and we believe that a lot of parents could say the same.
The most exciting part about all of this is that it is possible, and we can make it happen together! Join us today and show your level commitment by choosing one of the perks above!

3000 families are using first version of our projector already. And we want to go much further with a new CINEMOOD.

We hope that you are just as excited about CINEMOOD as we are!

For your convenience you can ask questions or leave your feedback in the "comments" tab of our maing page. Please also feel free to send us a message at [email protected], and we will be sure to get back to you as soon as we can.

Want to sell or represent CINEMOOD?
We'd love to talk! If you are interested in collaborating with our team, please send your request to [email protected].

To learn more about CINEMOOD please see our media kit: www.cinemood.com/press
If you would like to request an interview, write a product review, or get exclusive information about CINEMOOD, then please contact us at [email protected]. Our team will be more than happy to answer any of your questions.
We appreciate your support!

We are looking for reliable business partners. If you are interested in working with us, please get in touch at [email protected].

>> I don't have a PayPal account. What do I do?
No worries, you don't need one! You can also pay with all common credit and debit cards. If you have further questions, please send us a line at[email protected]
>> Is CINEMOOD safe for my child?
For children aged 2 and up CINEMOOD is very safe. The projector has been specially designed to have no sharp edges, fanless and silent, plus it comes with a protective solid casing that enables it to bear falls. Optical engine brightness level is safe for kids eyes. Your child's safety is our priority, that is why we only use the best materials and technology out there.
>> Can CINEMOOD be used by adults?
Sure! You can watch your favorite movies and TV shows. Either you can connect your Youtube account to watch videos and Instagram/Facebook to watch family photos or just upload video, audio, images and pdf slides into CINEMOOD's memory via USB. Our team is also working on adding more streaming services in our free future firmware updates ─ so stay tuned!
>> I have a lot of content, can I watch it using CINEMOOD?
You can connect CINEMOOD via USB and copy any content directly to it as you do with a flash drive.
We believe it is even more convenient to use your favourite streaming services and we are working on numerous API integrations with the most popular video providers. If you want to speed up some integration, please send us email to[email protected].
>> I want to buy CINEMOOD for a 2-year old, but I'm afraid it might be too early.
Toddlers love it! Families with kids 2-3 years old were the main auditory for the first version of our projector.
It would bring some magic into kid's room and would help to make a bedtime routine a one of beloved family rituals. Bedtime stories and lullabies with sleepy projections of starry sky would make child's room less lone and dark at night.
>> How to use CINEMOOD Smart Covers?
Just put the Smart Cover on the CINEMOOD. The projector will recognize it and automatically download new content associated with it directly into internal memory. All that's required is just an internet connection.
>> What is the added value compared to wide-screen TVs and tablets?
CINEMOOD is an atmosphere creator. It creates a cinema mood anywhere due to large screen size and portability. People do always gather around, to check this new User Experience. Even small kids and old age grandmas would use it with ease. And with CINEMOOD it's you who decide what media your child would be facing with. You may be sure there would be no ads or any kind of content for adults on CINEMOOD. It's cool & quiet, shock resistant, smart and funny.
>> What if my child will start watching more cartoons than now?
It's you who decide what time your child can spend watching cartoons: a built-in timer and our companion app will help you with that.
>> Can I charge battery and watch CINEMOOD at same time?
Yes, sure. Battery capacity is enough for 2 hours video playback and you can charge it during play either from power bank as a common smartphone and tablet or AC adaptor.
>> Is CINEMOOD loud enough?
Yes, it is. We use 2W speaker, so CINEMOOD sounds surprisingly good and loud. If you are in a loud space, you can connect external speakers or headphones via Bluetooth or 3,5 mm audio jack.
>> Are there any requirements to the projection surface?
You can project onto any surface, even on the ceiling. Our first customers especially noted that opportunity easy viewing on the ceiling lying in bed. You can also project on the walls, doors, floors, cars, airplanes and any other options. Depending on light exposure and distance from the surface, CINEMOOD's projection distance is from 1 to 15 foots.
Tip: Don't use any black surfaces for the projection, because they do not reflect light well.
>> How to communicate via CINEMOOD?
You can record a video message with your smartphone camera or choose one from the gallery to send it directly to projector using CINEMOOD companion app. Even if projector is switched off, it would receive video message next time it would go online.
>> How can I stream videos from my smartphone or tablet to CINEMOOD?
Unfortunately, you can not. As there is no universal video streaming standard across different mobile platforms and we don't want to cheat mobile platform's policies while we are not sure it would work well for our backers, we decided not to add video streaming and screen mirroring features to this version of CINEMOOD.
We would work on this further and once we would be sure it would work stable across all mobile platforms we would add these features. Stay tuned.
>> What is inside the package box?
Package box icludes CINEMOOD, Stand to set up the projection angle, AC/DC adaptor, 1m Micro-USB to USB cable and Quick Start Guide.
>> I don't live in the EU or USA, can I still get CINEMOOD?
Yes, you can! We start shipping all over the world in November, so you can get your mini cinema projector this fall.
>> When will shipping for CINEMOOD begin? What are the shipping costs?
We will start shipping CINEMOOD in November 2016, or even earlier. Shipping costs are free for any country. Sales Tax / VAT is not included.
>> How do I set up CINEMOOD?
1) Take CINEMOOD out of the box, plug it into the AC charger and turn it on.
2) Download and run the CINEMOOD app from the Apple Store or Google Play Store.
3) Let the app guide you through setting up your CINEMOOD.
>> Can I get more content from CINEMOOD?
CINEMOOD has preloaded content library and you can unlock new stories through Smart Covers. We plan to release more 12 covers before the mid of 2017.
>> Can I turn off the lamp while listening to lullaby or fairy tale?
The lamp turns off automatically after 1 minute of playing audio.
>> I've got a media center in home network and all my movies are stored there. It works with DLNA. Can I use CINEMOOD to watch media from it?
We would add DLNA playback support. Just stay with us, all backers would receive new features with software updates free of charge.
>> Where is CINEMOOD assembled?
Though it is fully designed in Europe and US, CINEMOOD is assembled in China. Our team has strong experience in hardware production there and we know how to secure the best product quality possible.
>> What if I have problems with CINEMOOD?
CINEMOOD provides 1-year limited warranty to its customers. Once you get the projector, you should register your e-warranty card on the CINEMOOD web site, and contact [email protected] in case of any issues.
Find This Campaign On