iCrowdNewswire - Apr 19, 2016
Mist: Water Harvested from the Clouds
Mist is a water harvested from low-lying clouds or fog using no energy and producing no wastes.
Mist: Tapping into the Clouds
Mist represents an entirely new way of collecting water directly from the clouds. Our system is clean, efficient, sustainable, environmentally friendly…and so romantic!
Read our entire story and then join us in passionately creating something innovative, valuable, practical and affordable for California and other coastal regions of the world. You are also invited to build a humanitarian project with us.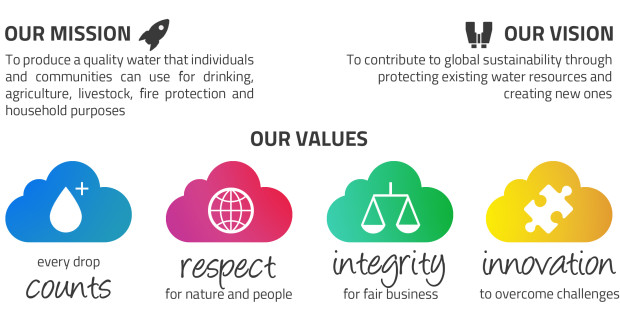 Mist has focused on expanding and improving a technology that has been used successfully to harvest fog or the tiny water droplets in low-lying clouds. Little or none of this low-lying cloud water (also known as a marine layer) ever develops into measurable precipitation.
We have improved the efficiency of fog capture techniques so that a single towerwith only a 17 square-foot base can collect over 250 gallons of water per dayunder optimal atmospheric conditions. Imagine what a multi-tower facility could produce in your community!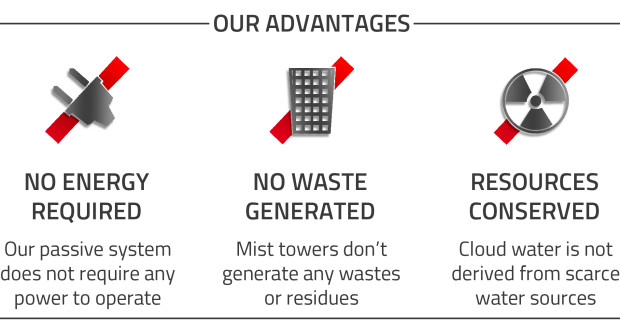 We have designed the technology to collect water from the clouds or fog without a need for measurable precipitation (i.e., rain or snow). The technique is actually one borrowed from nature and could be considered a form of biomimicry or hydromimcry. Plants and some soils can utilize fog and mist as a water source by condensing the microscopic cloud droplets into liquid water on leaves or particles in order to create their own mini-irrigation systems. 
Our towers collect water similar to plants and soils through the use of special fabrics that are arranged as a series of mesh curtains capable of transforming the tiny droplets into larger drops. These drops then move downward by gravity to the the tower's collector, which channels flowing water into pipes that lead to natural filters and a holding tank. This entire process is completed without the use of electrical energy.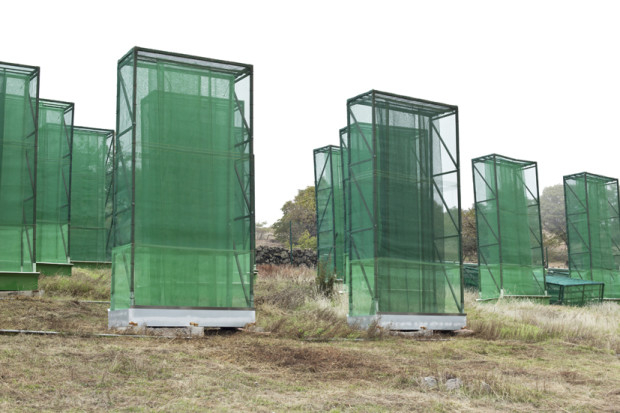 The collected fog or mist can be used for just about any application that requires a high quality water. Given the drought conditions in California, where aquifers and surface waters have been overexploited, we are interested in providing the region with local opportunities for people to conserve scarce water resources.
Water from these towers has been used to produce a small batch of bottled drinking water in Spain; however, the collection and filtration systems can be tailored to many other applications such as agriculture, livestock, fire protection, and domestic use (e.g., washing, irrigating gardens). We will offer our expertise and technology to design or build Mist Water Farms for communities, municipalities or businesses.

We believe that water shouldn't be a restricted commodity. Millions of people lack reliable access to clean water for their basic needs. There are certain regions where access to water is extremely difficult, and some of these regions possess climates that are conducive to seasonal fog production. As such, Mist Water Farms could be installed to provide additional clean water.
We will proudly donate 30% of the proceeds we collect during this campaign to the Mist Water Foundation, which is a non-profit organization focused on providing high quality water (via the Mist Water Farms) to communities with limited access to other sources of fresh water. The Foundation will be created as soon as the funds are received from this campaign. 
Mist is committed to the Foundation. We will fund the Mist Water Foundation (MWF) with a regular share of our profits each year. MWF will function as an independent entity that sponsors fundraising campaigns and collaborates with other NGOs to ensure this technology works for the people who need it most.
When you support this campaign, you are also supporting a humanitarian initiative that strives to make a better world by emulating the way that nature captures water from the cloud and mists.

The water collected from the low-lying clouds never touches the ground and, in fact, remains a largely unused resource for humans if it is not captured by a technique similar to ours.
Mist water collected on California's coastal hillsides originates in the surface waters of the Pacific Ocean that are located far upwind from populated coastal areas. Unique climatic conditions created by the cold ocean and warm land produce a marine layer that moves to and from coastal areas on the prevailing winds. We catch this fog water as it moves past the coastal hills and cliffs from the ocean.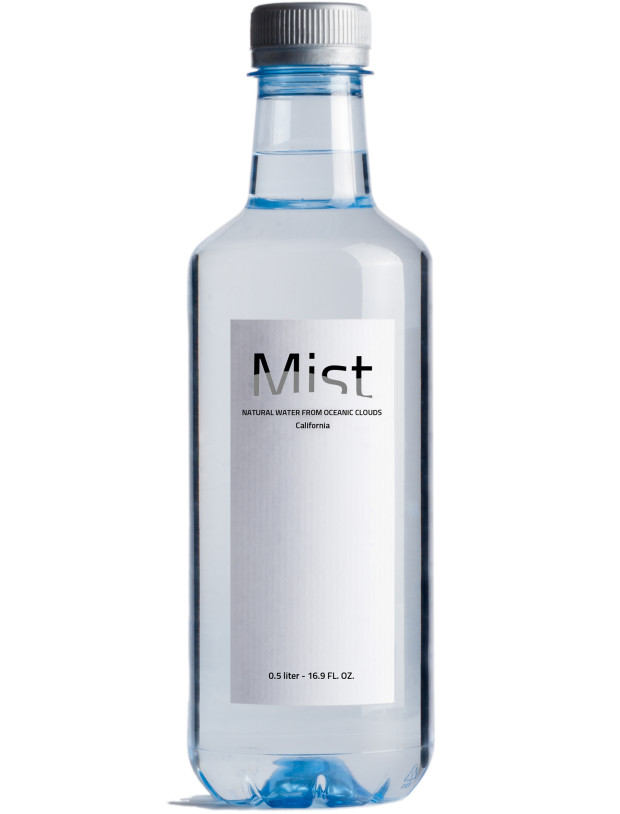 Because the evaporation of seawater leaves most of the salts behind, mist water has a lower mineral content than many surface and ground waters. In addition, cloud water has a mineral "signature" reminiscent of its oceanic origin and is softer in composition than its earthbound counterparts. As a result of its low mineral content (less than 50 parts-per-million of dissolved salts), it serves as a unique potable water when treated and as high quality non-potable water for a wide range of other uses. 

Although specific atmospheric and topographic conditions are necessary to support the efficient operation of our water collection system, its applications are diverse. Any region where fog is consistently present for all or part of the day and winds commonly blow onshore is suitable for this technology.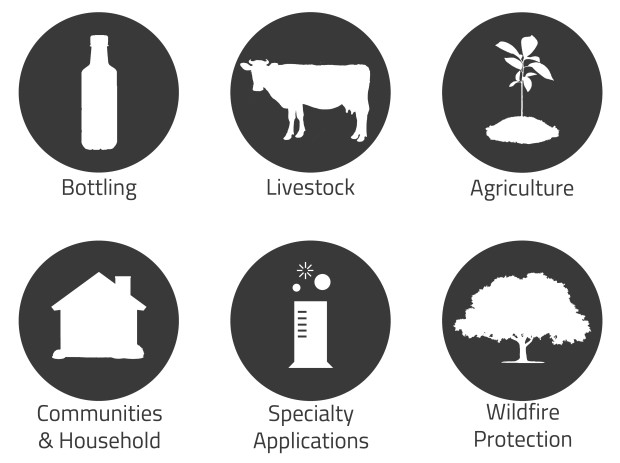 Mist water systems do not require a power source or a complicated installation; hence, the only major necessities are a small plot of land upon which the towers can be manually raised and lowered. The tanks, filters and piping are simply designed, require no specialized components, and operate under the force of gravity.
Optimal sites include hilltops, coastal bluffs, and similar upslope locations on either private or public lands. Fog, temperature and wind maps are also useful in selecting the most productive sites. The towers are generally located at a higher elevation than the users so there is no need to mechanically pump water to its destination. 

We will build a Mist Water Farm in California to produce clean, high quality water. The size and production of the water farm will depend on the acreage that we can secure and a number of climatic parameters that vary from year to year. The goal is to build a  200-tower water farm with a potential capacity exceeding half a million gallons of water per year. We will subcontract bottling facilities and their associated services for whatever portion of the harvested fog is used for drinking water. 
The Mist Water Farm will also serve as a demonstration of the cloud water capture technology for those who may wish to build their own collection systems based on our model. We anticipate that the funds collected will be spent on the following tasks over the next 18 months. The allocation of funds for the various tasks will be shared will all the backers of this project:
Identifying Final Site: June-August 2016
Environmental Siting/Permitting: September-December 2016
Constructing Initial Water Farm: January-April 2017
Water Testing/Permitting: May-July 2017
Using/Enjoying the Water: August-December 2017
Although the timing of these tasks may appear somewhat extended, we want to be realistic about our expectations and transparent with our supporters. We may face unavoidable delays in siting or constructing the towers and permitting the water because ours represents a relatively new technology and an unconventional water source. In any case, the Foundation will be active from day one.
As soon as the project is funded, we will build a website to share the progress with our supporters, thus maintaining our commitment to integrity, transparency and responsibility. 
Ask for our exclusive SECRET perks should you want to have access to influence Mist.

You might be wondering about the identity of these cloud-catching guys and about why you would back this project. We have the answer to both questions.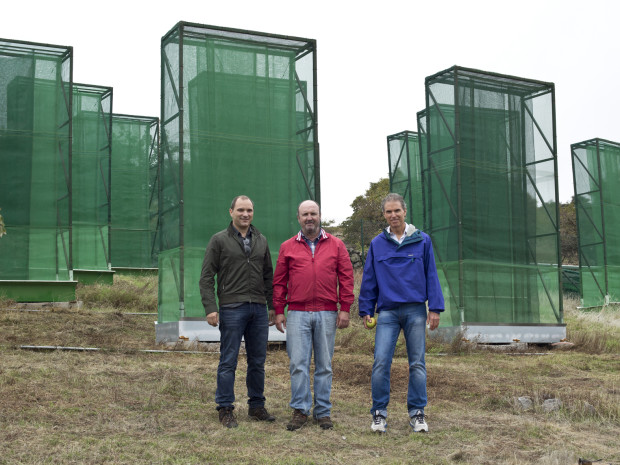 INTRODUCING THE TEAM (from left to right):
Joan Porquer, Sales and Marketing Specialist. Joan has an undergraduate degree in Publicity Photography from IEFC Barcelona and formal training in Marketing and Sales. He speaks 5 languages and founded his first company at the age of 24. Joan has gathered experience in developing projects within industrial environments from their startup phases through the launch and initial marketing. After working more than 10 years in industrial sales and marketing (5 years in company management positions), Joan is now taking the lead on the Mist project. (LinkedIn: https://es.linkedin.com/in/joanporquer)
Ricardo Gil, Water Capture Expert and Designer. Ricardo is an Architectural Technologist who earned his undergraduate degree from La Laguna University, He also has Masters degrees in Environmental Auditing & Management and in Enology & Viticulture. Over the last decade, Ricardo methodically investigated the dynamics of mists and clouds in the Canary Islands, Spain. He has published articles in several journals and scientific news magazines on cloud water capture techniques and has researched the optimization of cloud water harvesting systems for more than 5 years. (LinkedIn: https://es.linkedin.com/in/ricardo-gil-casanova-39a13345/en)
D.L. 'West' Marrin, Ph.D. Scientist and Water Researcher. West is an applied scientist in the fields of biogeochemistry, pollutant dynamics, water resources, and aquatic ecology. His lectures focus on global water quality threats, water forensics, hydromimicry practices, and the water-energy-food nexus. He has established a multi-faceted water forum and served as an Adjunct Professor at San Diego State University. He currently works as an R&D advisor and scientific consultant to clients focused on water chemistry issues, potable water options and resource sustainability. (Website: www.dlmarrin.com)
REASONS TO SUPPORT THIS PROJECT
We are aware that some crowd-funded projects have ultimately failed in their execution. Whereas we cannot guarantee success, the team has years of experience in corporate and project management, market analysis, scheduling, subcontracting, purchasing, problem solving, technical troubleshooting, scientific data analysis, regulatory compliance and other skills that will be instrumental in making this project a success. 
Let's review some of the reasons that we are so enthusiastic about transforming clouds into usable water and that we look forward to your support:
Social Responsibility. Thinking globally, we want to make this technology available to people living in coastal arid regions who have limited access to affordable clean water. Whereas seawater desalination and conventional air-to-water technologies have been proposed as supplementary water sources, thecosts of constructing, maintaining and powering these systems are often prohibitive. As such, these other technologies are often restricted to affluent populations living in industrialized nations. 
Resource Responsibility. Surface and groundwater resources in arid regions are often overexploited to the point that yearly variations in precipitation create catastrophic shortfalls in water availability. Our technology does not deplete the existing blue or green water supplies (using the terminology of water footprints) because water collected from coastal fog or mist rarely produces any measurable precipitation that would otherwise contribute to local water resources. Even the water used to rinse the towers and filters is collected from the clouds. 
Environmental Responsibility. Because our technology is powered largely by wind and gravity, its energy footprint is very small and related predominantly to the manufacture of its component materials. In addition, its environmental footprint is minimal because the installation occupies a relatively small area and produces no wastes. The height of the towers and area of the base can be adjusted to conform to diverse landscapes or settings. 
Fiscal Responsibility. Although we are in business to make a profit, our primary commitment is to expand the utilization of a potential water resource in arid coastal regions of the world. In doing so, we are committed to preserving the local environment and water resources, as well as the integrity of the land and communities within which our technology is implemented. A substantial portion of our profits will be directed toward R&D efforts to further advance this technology and to fund our Foundation.

Our contingency plan includes the consideration of risks, as well as appropriate preventative actions (P.A.) to minimize or avoid the risks and contingency actions (C.A.) to either deal with the risks or identify alternatives. 
Risks
Preventive actions (P.A.)
Contingency actions (C.A.)
The primary risks that we anticipate include the following:
Natural disasters: Storms, wildfires, earthquakes.
P.A. While we cannot predict or prevent natural disasters, the Mist towers can be easily raised and lowered by a single person. Hence, we can minimize damage from high winds or earthquakes when towers are in their non-operational position.
C.A. Should we need to rebuild our towers, the major damage is likely to be replacing the fabric mesh and, perhaps, sections of the aluminum frame. These materials are readily available and the towers can be rebuilt relatively quickly.
Financial issues: Insufficient capital.
P.A. We have used our technical experience in Spain and practical experience in California to estimate the costs associated with completing this project, and we believe that we have presented a realistic budget.
C.A. In the event that we encounter financial difficulties, we have the option of supplementing our crowdsourced funds with investments from venture capitalists. We have already spoken with several interested investors; however, we prefer to remain independent if it is feasible to do so.
Securing a suitable location.
P.A. We have already studied wind, temperature, humidity, topographic and other maps to narrow our selection of suitable sites. What we don't know yet is whether we can secure access to those sites (situated on private or public lands) through rentals, grants, or cooperative agreements.
C.A. There are many potential locations for siting the the Mist Water Farms, and one of our contingency actions is simply to select alternative sites. If we find there are financial issues with property owners, there are options for sharing the water or, if the water is sold, for sharing revenues from the water. 
Permitting a novel land use.
P.A. Upon finding a suitable site(s) and successfully negotiating an agreement with the property owners, the use of the land for harvesting cloud water will need to be permitted. This may include conventional land use disclosures as well as any environmental assessment reports that may be required. 
C.A. If the required permits or reports cannot be obtained within a reasonable timeframe or at an affordable cost, other sites (e.g., private land in lieu of public lands) or more easily permitted uses will be considered. 
Permitting an unconventional water use.
P.A. Whether the water is used for non-potable purposes or is treated and bottled as a drinking water, there will be a need to chemically characterize the water and permit it according to the existing regulations. The harvested cloud water will likely constitute a new category, which may delay the permitting processes.
C.A. Permits to use the water for non-potable uses (if required) will be obtained initially. Drinking water permits will subsequently be pursued. Provided that the water does not contain pollutants, permitting issues should not halt the project
FINAL CONTINGENCY
Given the worst case scenario that we are unable to produce water from California, we would still be able to provide our contributors bottled water from Mist's pilot water farm in the Canary Islands. Approximately 6 months would be required to approve the exportation of this water from Spain; however, we would uphold our commitment to the people who backed this campaign.
Find This Campaign On