iCrowdNewswire - Apr 19, 2016
Your independent on-the-ground source for stories, news & images from Athens and throughout Greece.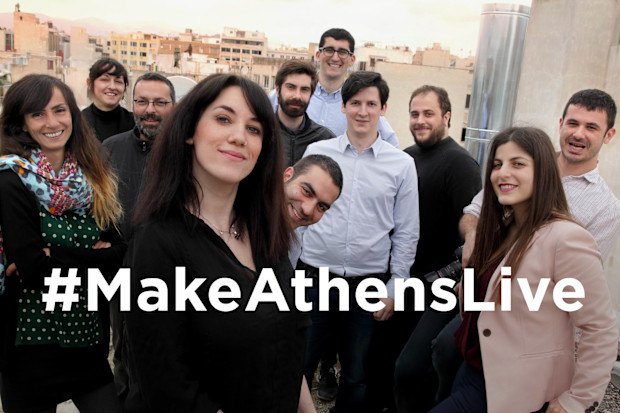 AthensLive is a collaboration between Greek and international journalists, including the visual journalists of FOSPHOTOS, building an alternative to a Greek press that is corporate-owned and bound to established political interests. AthensLive will provide English-language reporting, analysis, and commentary on the situation from Athens and throughout Greece. Independent and crowdfunded, our work will be accountable to our supporters and no one else.
You're creating AthensLive!
We started AthensLive on social media and now we want to take it a step further. We are taking things into our own hands: without the fear, restrictions, or supervision that has stunted mainstream Greek media. As readers, you deserve nothing less than fulling independent journalism.
Totally detached from the Greek media and advertising industrial complex, we don't expect any traditional advertising revenue. Instead, we are asking for your support.
Without your help AthensLive wouldn't be possible. Together we are creating AthensLive.Your help allows us to write history!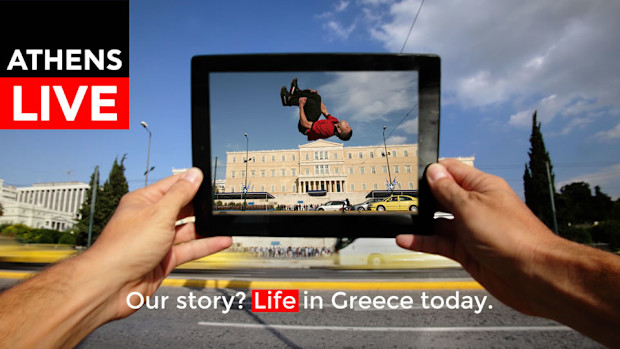 Nothing like this has existed in Greece before. 
Whether owner or subsidizer, the political elite has controlled Greek media for years and clientelism has only worsened with five years of economic crisis. The media organizations, their owners (who are often key players in other industries), and the political elite function in mutual interdependence. The Greek press is little more than an instrument of political parties and corporations, and the people know it. The media has lost public trust.
Greece's English-language media has the same political and corporate ties as their Greek-language counterparts. International media outlets are an alternative, but they have no commitment to telling the Greek narrative. Only riots or major banking incidents will bring their attention, and the result is a poor caricature. AthensLive is different: We live here, we know the story, and we just want to say it –– in English. Greece is more than their selective coverage of the refugee crisis and political turmoil. Through all of this remains a vibrant culture unseen by the rest of the world.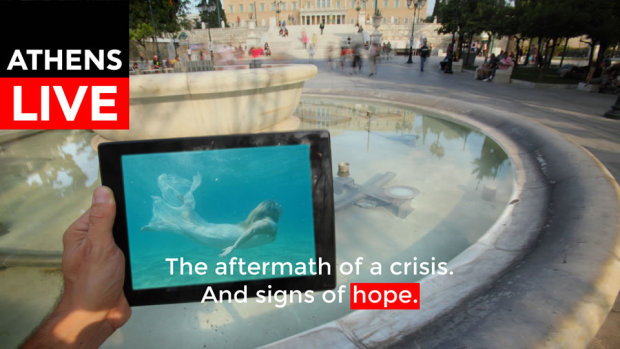 The stifling economics of the Greek media landscape extend down to journalists' work conditions. It is common for journalists to work unpaid, hoping for an eventual salary, and freelance journalists working for Greek outlets are often paid even half a year late. The same media organizations controlled by establishment interests are the ones considered most likely to eventually pay their employees. Journalists who want to work outside their constraints see no options. With AthensLive, we aim to make one with a model that lets journalists do excellent work on projects they care about and be compensated fairly for it.
Remaining politically independent is not enough. We also must be independent from the compromising structures of traditional Greek media and advertising. We will draw our support from a range of fundraising techniques that have been tried and proven on other crowdfunded European media projects, with whom we directly collaborate. With this model, we hope we become truly independent, accountable, and accurate to Greece today.
Your questions, our answers
1) How did you come up with the idea?
Tassos, Angelos, Yannis and Gerry, journalists and photographers wanted to create a blog in English where they could tell the "Greek story" in their own way. Then Sotiris, who had recently received a MA in New Media and Digital Culture from the University of Amsterdam, returned to Athens and joined the emerging team. Vasso and the rest eventually became part of the project too and what initially seemed like a side project became far more than a blog!
2) Where are you based?
We are based in the centrally located "Historic Triangle" of Athens, 59B Kolokotroni St. GR10560 [see on Google Maps]. It is really the heart of the city and, in many ways, the heart of the country. Our offices used to be the headquarters of a historic winery. There is no better location for a Greek news outlet!
3) What is FOSPHOTOS?
FOSPHOTOS is a photo agency consisting of reputable and talented Greek photographers. They provide daily photo reportage and run an extensive archive spanning decades. Depicting different faces and facets of modern life, FOSPHOTOS fulfils the needs of any news agency.
4) So, if I get this right, AthensLive is just another news outlet?
For the time being, AthensLive only has a Facebook page and a Twitter account. Our goal is to build a platform for high quality daily content. More than that, we want to create a hub for independent journalism in downtown Athens. From university students to our crowdfunded European colleagues, AthensLive is part of a wider plan for a collaborative space that could revolutionize the way news is reported in both Greece and abroad. This can only happen if we meet our initial crowdfunding goal!
5) Let's say your campaign is successful. How will the project remain sustainable in the long run?
60.000 euros will only fund us for a few months. It will cover our running costs, allow us to buy necessary equipment and build our website. It is the minimum necessary amount to get the project running the way we want to. As our primary concern is maintaining our independence, we will not accept funds that have strings attached. Instead we will be contacting foundations, something that we have already done successfully in order to fund our upcoming video documentary. Also when the website is fully developed, apart from our daily free content, we will introduce content that will be available to our subscribers only.
6) What will I get by supporting this project?
Apart from the joy of supporting young, independent journalists in their endeavor to change the Greek media landscape, you will be able to check out our newsletter, podcasts, documentaries, articles, and more! Other incentives are in place for donations exceeding 20 Euros. Check out the perks section to find out more.
7) Can I pay a visit to your offices?
Of course! We will be very happy to meet you explain our project and get to know each other
Find This Campaign On