iCrowdNewswire - Apr 15, 2016
New in home test for couples to take control of their fertility.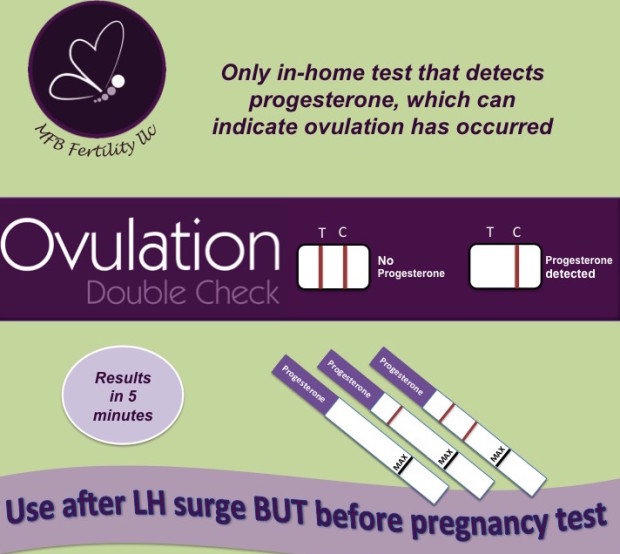 Hi, my name is Amy, and I am a co-founder of MFB Fertility LLC. This company was formed due to the frustration I experienced during my 2 year journey to conceive a child. I knew that the best way increase my chances of getting pregnant was to pinpoint exactly when I ovulated. I used all the tools available to me to determine when I ovulated, including, checking basal body temperatures, doing ovulation predictor kits twice a day, and checking cervical mucus. The problem was, these indicators always gave me mixed results and I wasn't ever sure I ovulated.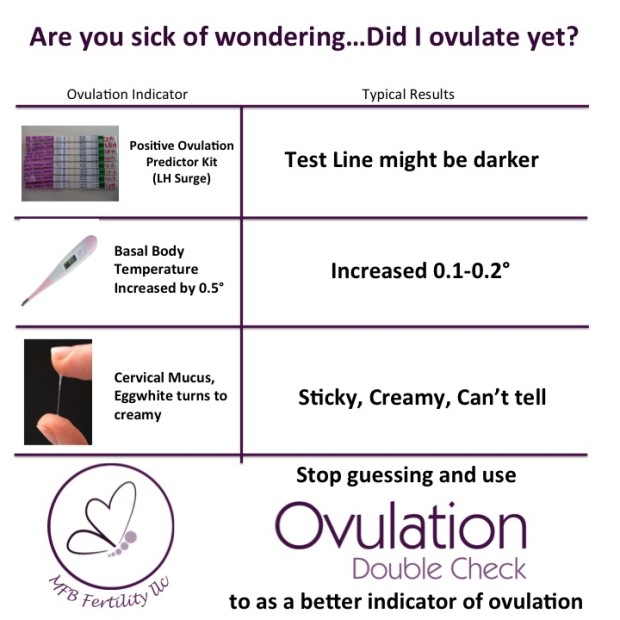 As a trained biologist armed with a solid background in hormone signaling, I knew there had to be a better way to track my ovulation! I quickly learned that I was not alone. Many couples felt they could benefit from having better tests available for them to use at home. Therefore, it became my passion to try to develop tools that would help couples take better control of their fertility. It took years of researching and a year of developing, but we  have developed an ovulation double check test that can be performed in the comfort of your own home. The test is based on the hormone cycling involved in the ovulation process.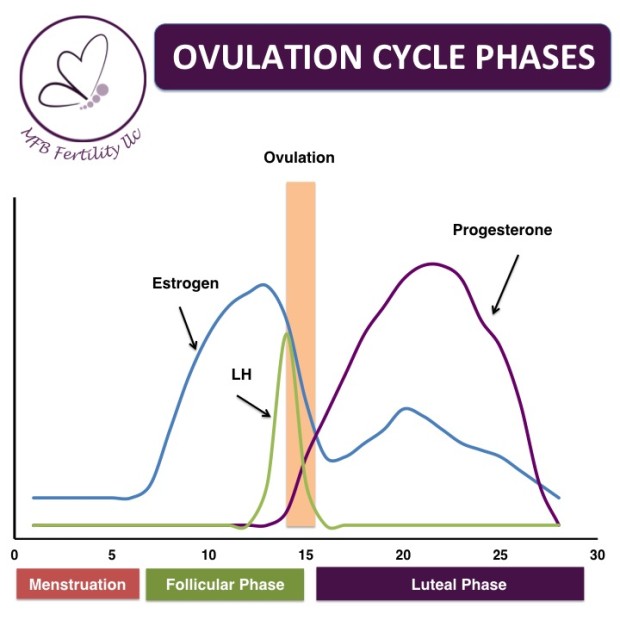 Research has shown that couples get pregnant faster when they know when exactly when ovulation takes place. The process of ovulation involves 3 main hormones that change during the monthly menstrual cycle. The first is Estrogen, this hormone is essential for an egg to mature. Second is Luteinizing hormone (LH). A surge in this hormone allows the egg to mature and be released from the ovary (also known as ovulation). Finally, there is Progesterone. This hormone is produced in the ovary after the mature egg is released and acts to prepare the uterus for embryo implantation. If pregnancy occurs, Progesterone levels will remain high throughout the pregnancy to help support fetal growth. Fertility monitors and ovulation predictor kits allow couples to track Estrogen and LH levels from home. However, until now, there were no tests available to track Progesterone. Our Ovulation Double Check test measures the presence of Progesterone in urine. Therefore, Ovulation Double Check test should be taken AFTER you believe ovulation has occurred.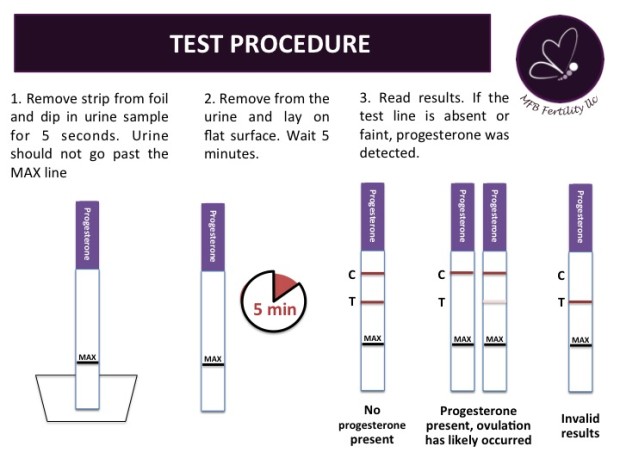 The ovulation double check test is performed exactly like a pregnancy or ovulation predictor test. Collect urine in a cup, dip the test strip, wait 5 minutes, then read your results. The ovulation double check test measures the presence of the Progesterone hormone in urine. Progesterone is very low in the female body the first half of the menstrual cycle. When the ovary releases an egg, ovulation occurs and the ovary starts to produce Progesterone at a significantly highly concentration.
Why we need your support
Over the past year we have developed and tested several different prototypes. The technology is working and we are confident that our Ovulation Double Check tests are working properly. The next step involves getting these tests manufactured and in the hands of couples who need them.
These tests are going to be manufactured in an facility that is registered with the FDA. The manufacturer is ISO 9001 and ISO 1345 certified and uses top-of-the-line highly calibrated striping and cutting equipment. This is why we need your help. We are working with a trusted US-based manufacturer. The initial manufacturing step will cost $28,000. Once this step is completed, we can freely produce as many of these tests as we need. This is where we need your help.
Flexible vs Fixed Funding
You might be asking "why do we have flexible funding if we need all $28,000 to make our product?" That is a great question. We chose to do flexible funding so that if we came close to our goal, we could find other sources of funding to get the last bit of capital needed. Also, we think the socks are pretty darn cool, so if we fall really short of our goals, we will still send our backers socks and refund their money (less the cost of the socks).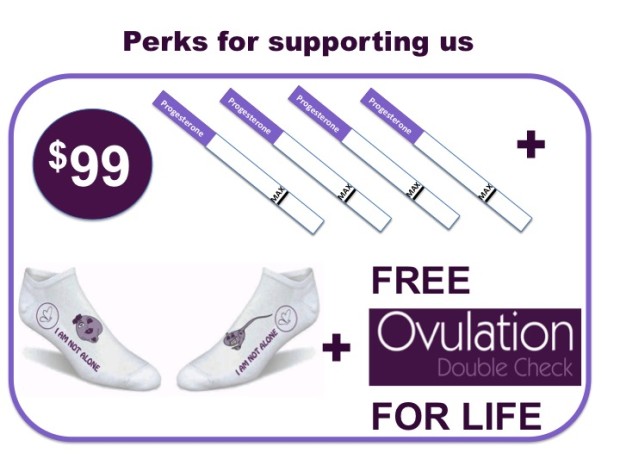 $99 – As a perk to helping us reach our goal, backers will be the first to use these tests. As soon as the manufacturing process is complete, you will be sent 4 individually wrapped tests in a plain envelope. As an added bonus, backers will also be shipped a pair of lucky socks (see $25 Perk for details) and will receive FREE Ovulation Double Check tests for life! But hurry, this offer is limited to the first 250 people.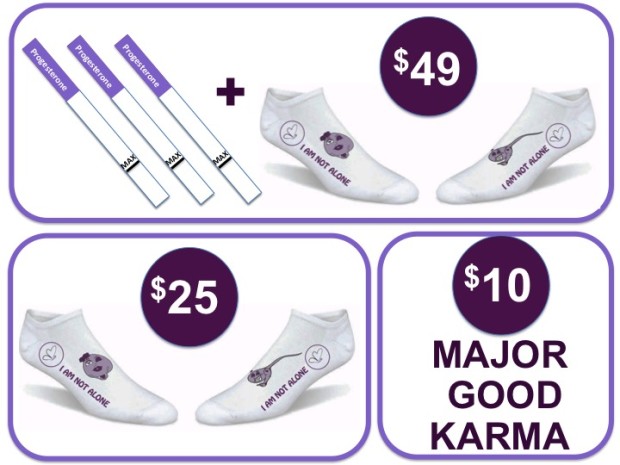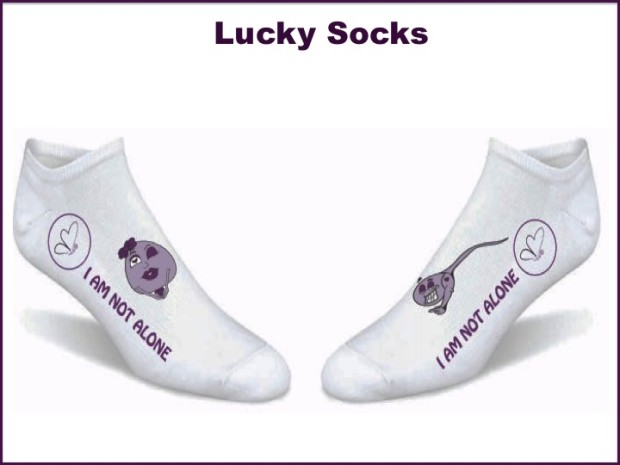 $49 – As soon as the manufacturing process is complete, you will be sent 3 individually wrapped Ovulation Double Check tests in a plain envelope. We will also send you a pair of lucky socks.
$25 – We realize that sometimes conceiving a child can be very stressful. Therefore, we have created some fun lucky socks, our version of a little pick-me-up when faced with a challenging day. Wear them while you ovulate, on insemination days, during ultrasounds, egg retrievals, embryo transfers, or whenever you need a pick-me-up! Your feet will look great, even if they are up in stirrups!
$10 – If you're not currently trying to conceive a child but would still love to see these products available to other couples, this is the perk for you! Your money will go towards making these at home tests available to all couples and you'll get some major good karma points. Thanks so much for your support.
New Perk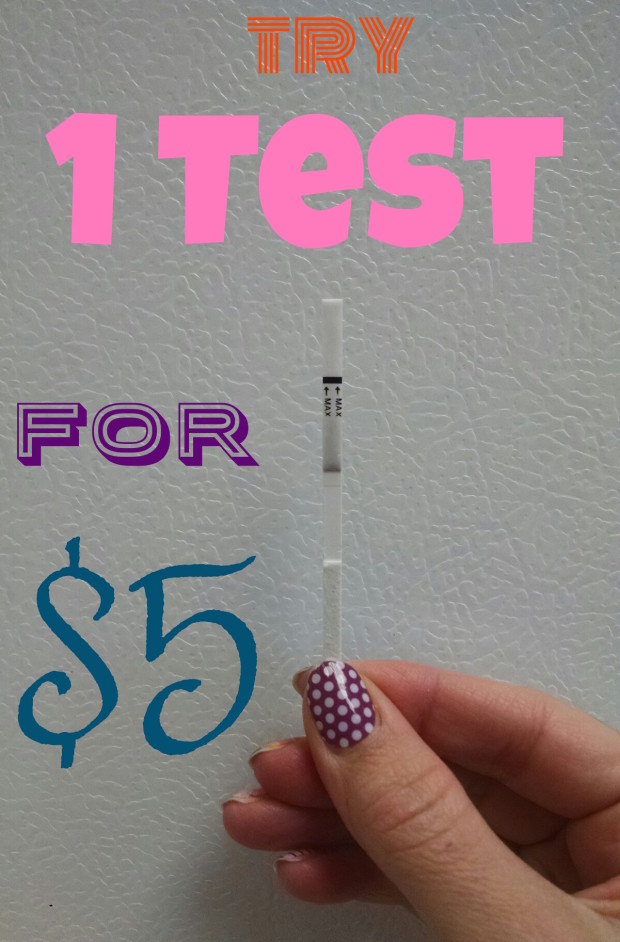 $5 – Try Ovulation Double Check tests to see if they work for you. For about the same price as a cup of coffee, we will send you 1 test for you to try.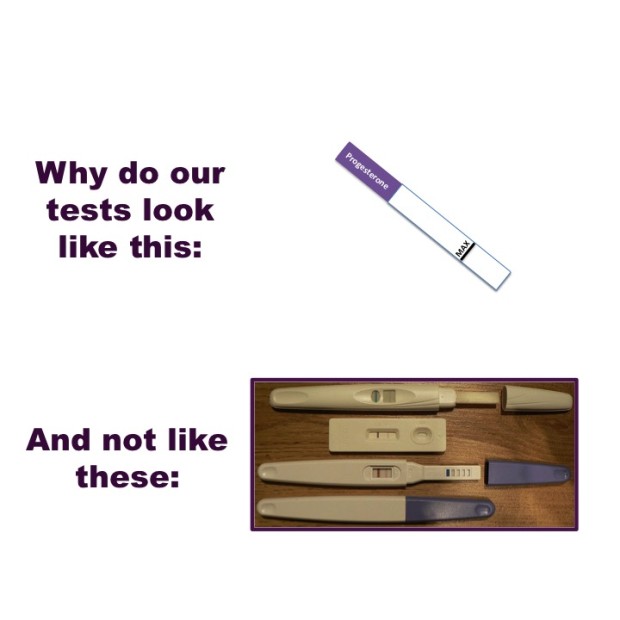 We know all too well how costly infertility treatments are, this is why we are trying to produce the most accurate tests at the lowest cost point. During our research, we discovered that the expensive drug store brand home tests are just a simple strip test covered in a fancy plastic case. Therefore, we are saving you money (and the environment) by not enclosing our tests in expensive plastic. Once these tests go into mass production, we expect them to retail for $15 per pack of 5 tests.
The Impact
The American Pregnancy Association estimates that 10-15% of all couples are affected by infertility. That equates to 1 out of 8 couples will struggle to have children! Speaking from experience, the inability to conceive a child was the most painful period in my life. We hope to continue to offer innovative products that will shorten or make the journey to parenthood a little more pleasant.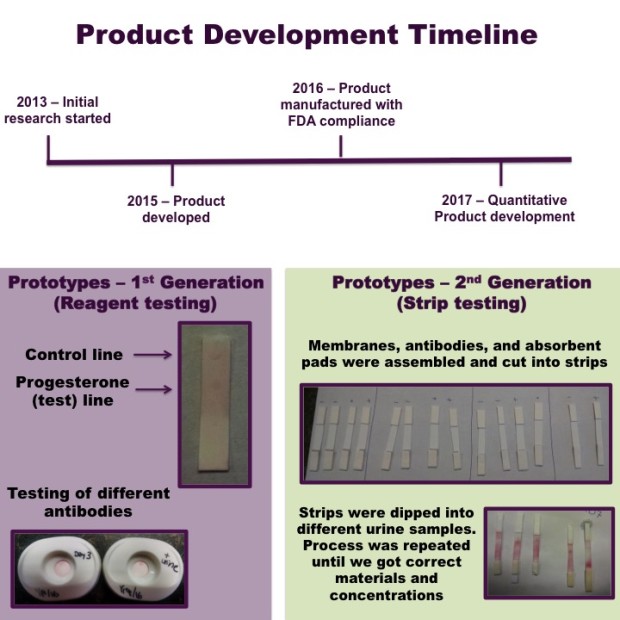 We had the initial idea of testing Progesterone at home in 2013. We preformed exhaustive literature and patent searches for any and all technology that could be used to measure Progesterone levels in the urine. We discovered that several scientists had been working on this technology in the 1990s, but it hadn't been fully developed yet. We know this technology was feasible and wanted to put it in the hands of couples who needed it. This is when we decided to acquire the necessary supplies and reagents to complete the development. Proof-of-concept work was completed December of 2015. We would like to move into the manufacturing phase in May of this year.
The ovulation double check test will produce +/- results. We plan to start working on a more quantitative test in 2017. This test would not only indicate ovulation, but would also give the users an idea of how much Progesterone is present in their urine. This will be important of women who are concerned with luteal phase detect and their ability to carry a pregnancy to term.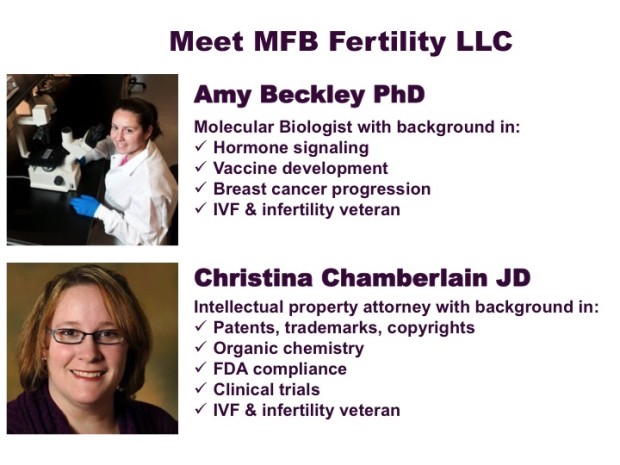 Other Ways You Can Help
Infertility is more common than you think. 10-15% of American couples will be unable to conceive a child within the first year of trying. Therefore, even if you are not directly impacted by infertility, chances are someone you know has or is currently struggling. Often couples feel embarrassed, ashamed, alone, and hopeless and undergo this struggle privately.
Even if you can't help monetarily, we urge you to please share our campaign. Facebook, twitter, and good old word of mouth, it will all help! Without your support, we will not be able to make this tests available to couples that need it.
Additionally, our company was formed to provide couples with tools that will help them get pregnant faster. We are highly trained biologists and chemists and welcome any ideas on future products you think would help this community. Please email comments and suggestions to: info@mfbfertility.com
Find This Campaign On