iCrowdNewswire - Apr 14, 2016
The Lycan Powerbox – Ready When You Aren't!
Introducing The World's First Solar Power Generator with Interchangeable Battery.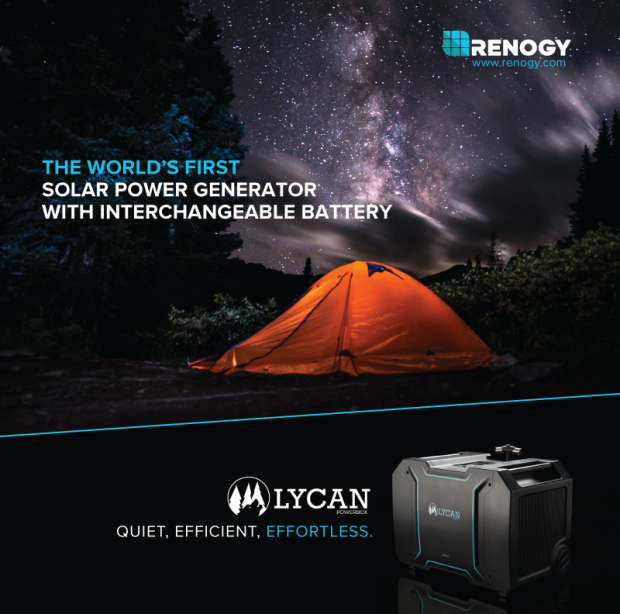 The Lycan Powerbox is a portable solar generator that puts abundant energy right at the tips of your fingers. Keep The Lycan handy in case of an emergency power outage, take it with you for camping trips, or just use it here and there as an alternative power source to lighten your home's electrical load.
After a few hours of charging from a solar panel or wall outlet, The Lycan Powerbox can be used to power up a number of appliances and devices—without the noise and pollution of traditional gas generators. Lightweight and rugged, it's the perfect little powerhouse to keep you going for up to 900 watt-hours. And as the first portable solar generator with swappable batteries, it's easy to keep the power flowing for hours on end.
Say hello to a smarter personal energy solution that's incredibly convenient, user-friendly, and good for the planet.
The Lycan Powerbox lets you enjoy the flexibility of portable power.
The Lycan Powerbox is a simple and valuable tool for any household. Once you charge your Powerbox through a solar panel or wall outlet, it's ready to go. The box is a reliable and portable power source for any device, indoors or outdoors.
Using 100 watt solar panels, you can fully charge The Lycan Powerbox in 9 hours with one solar panel, 4.5 hours with two solar panels, or just 3 hours with three solar panels.
Or simply plug your Lycan Powerbox into a standard wall outlet to get a full charge in 7.5 hours.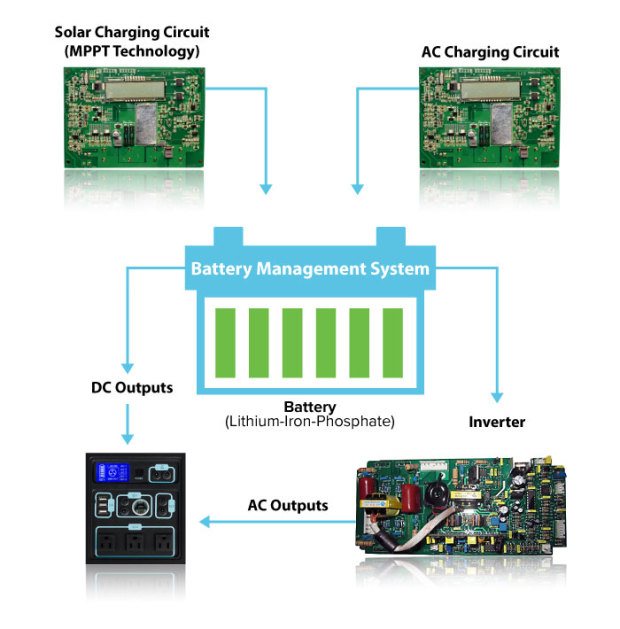 CUSTOM ENGINEERED BATTERY
In the design process, Renogy has spared no expense to engineer a superior lithium-iron-phosphate battery (a higher grade than the ones found in Tesla vehicles). For Lycan users, this means you get more cycles in the life of your battery—approximately 2000 cycles more on average—and it's able to hold a charge longer than traditional deep cycle batteries. Unlike standard batteries, you can keep The Lycan powered for longer periods of time with no risk of battery depletion. Our worry-free battery means you don't have to make sure it's fully charged every three months.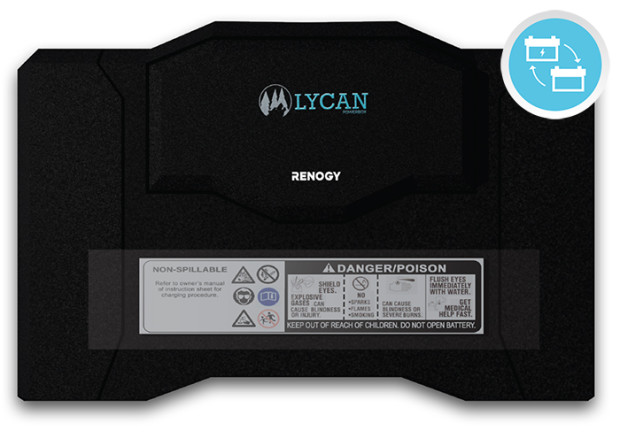 Custom Interchangeable Lithium-Iron-Phosphate Battery
The Lycan's interchangeable battery is another thing that makes this power solution so exceptional—a feature we knew would be integral in giving the user a truly unlimited power source. As the very first solar power generator to include an interchangeable battery, The Lycan allows you to prepare a library of fully charged batteries for quick, hassle-free reloads. Now there's no waiting hours to recharge the unit, and when the battery runs through its life cycle, you don't have to run out and buy a whole new generator!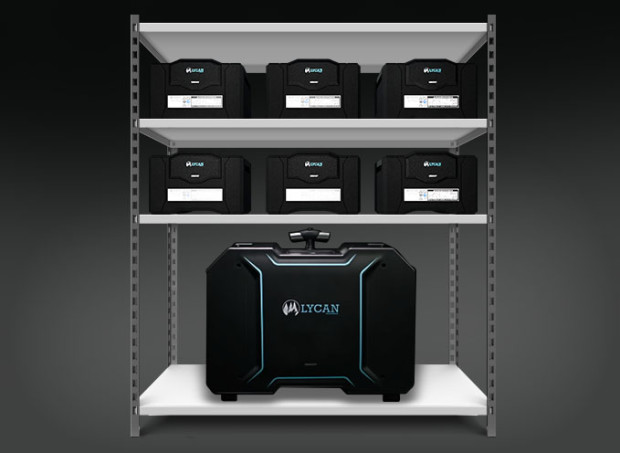 Clean, efficient, "TRUE WATTAGE" power means The Lycan delivers all the power we say it will, so you can count on it to come through in any situation. With traditional deep cycle batteries, you are generally only able to use 50% of the claimed amp hours. This precaution is used by other portable chargers typically to preserve the life of their batteries. However, The Lycan's battery gives you up to 10 times the battery life compared to standard deep cycle batteries. The exceptional quality of our lithium-iron-phosphate batteries, plus strict quality testing, ensures consistent charges that won't deplete battery life as quickly as with other batteries. Simply put, The Lycan's battery performs better and lasts longer.**
___________________________________________________________________ 

**This is why our battery is superior to others on the market. When you pair the best technology and dedicated engineers with a passion to make a positive impact on our world, anything is possible.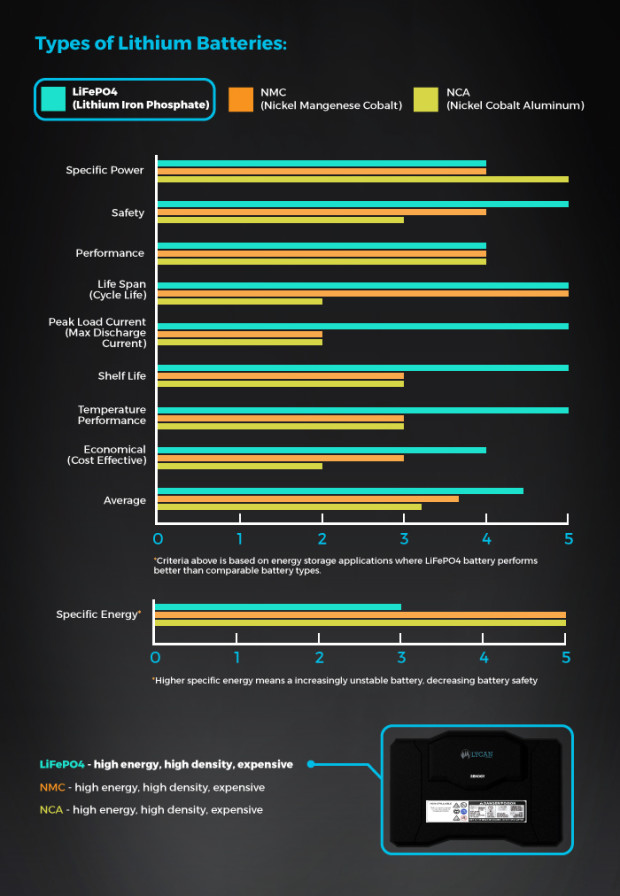 LiFePO4 (Lithium-Iron-Phosphate Battery) A Cut Above The Rest
Simply plug in to power up! Once your Lycan Powerbox is charged via solar panel or wall plug, just plug in whatever items you need to use from TVs, smartphones, laptops, microwaves, radios, cameras, and more. 
With the USB and AC/DC outputs, you can power several devices silmultaneously if needed.

From multiple input to various output options, The Lycan makes it easy to get connected and the handy built-in LCD display allows you to monitor your generator.
LCD Display
DC Input
Three 5V USB outputs
12V Car Charger Socket output
12V DC output
Three 110V AC outputs
From cell phones to laptops, The Lycan is ready to charge and recharge whatever devices you need powered up. Here's a small sample of what it can do:
LED Flat Screen TV = 11 hours
Smart Phone = 120 charges (USB Port)
Laptop = 8.5 hours (constant plug in) / 5 charges
Microwave = 58 minutes
Radio = 24 hours
Refrigerator = 8 hours
Digital SLR Camera = 25 charges
120V 9 Watt-LED Bulb = 33 hours
All figures are approximate times. Every device or appliance may vary.
Small, agile, and lightweight, The Lycan Powerbox is intelligently designed for versatility. Whether you're a stay-at-home mom, contractor, outdoor survivalist, or tailgater, this dynamic portable power source is perfect for all types of users.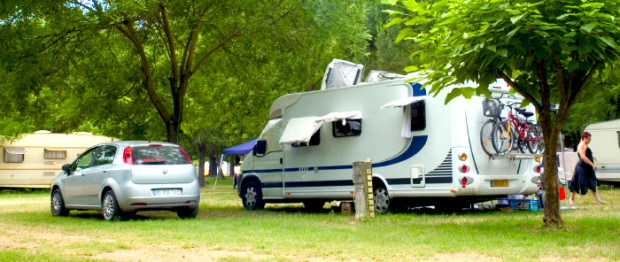 The Lycan Powerbox can be a true lifesaver in situations such as natural disasters, unexpected power outages, or camping trips.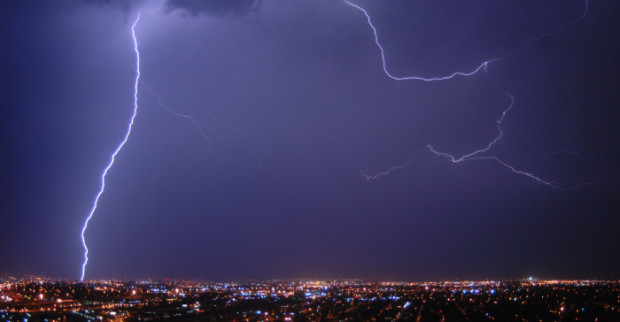 Unlike conventional gas generators, The Lycan Powerbox is safe for indoor and outdoor use, and it's built to go just about anywhere you go. The compact design, sturdy wheel base, and retractable handle make it a highly portable generator that's truly headache-free.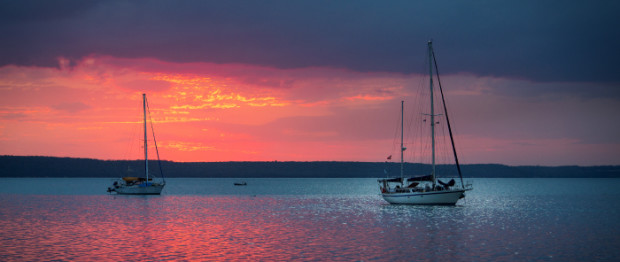 Imagine the peace of mind of having a personal power source with you at all times! A smarter power alternative, The Lycan Powerbox is a snap to charge and seriously stress-free. With no noise, no fumes, and no mechanical maintenance needed, this sleek solar generator is a no-brainer. Perhaps most importantly, The Lycan Powerbox offers a steady way to reduce your carbon footprint in your daily life and foster an independence from unsustainable energy sources. Use a solar panel to charge it up and you've got a clean energy solution right there by your side.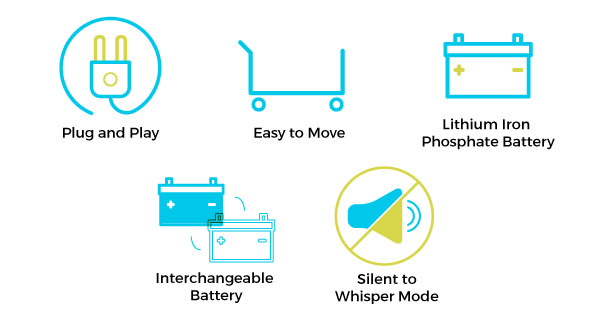 Whether you're out and about or relaxing at home, The Lycan Powerbox can provide you with enough power necessary to keep your gadgets running—without any of the hassles of gas generators. Additionally, with interchangeable battery storage, you won't have to worry about running low.
Portable
Quiet
Odorless
Cost-Efficient
Eco-Friendly
Maintenance-Free
From efficiency and portability to versatility and eco-friendliness, The Lycan Powerbox is truly a game-changing innovation.
Two options for charging: outlet and solar panel
Compact, mobile, and easy to store
Quiet with zero emissions
100% clean energy with solar panel charge
Stores fully charged, interchangeable batteries
Maintenance-free battery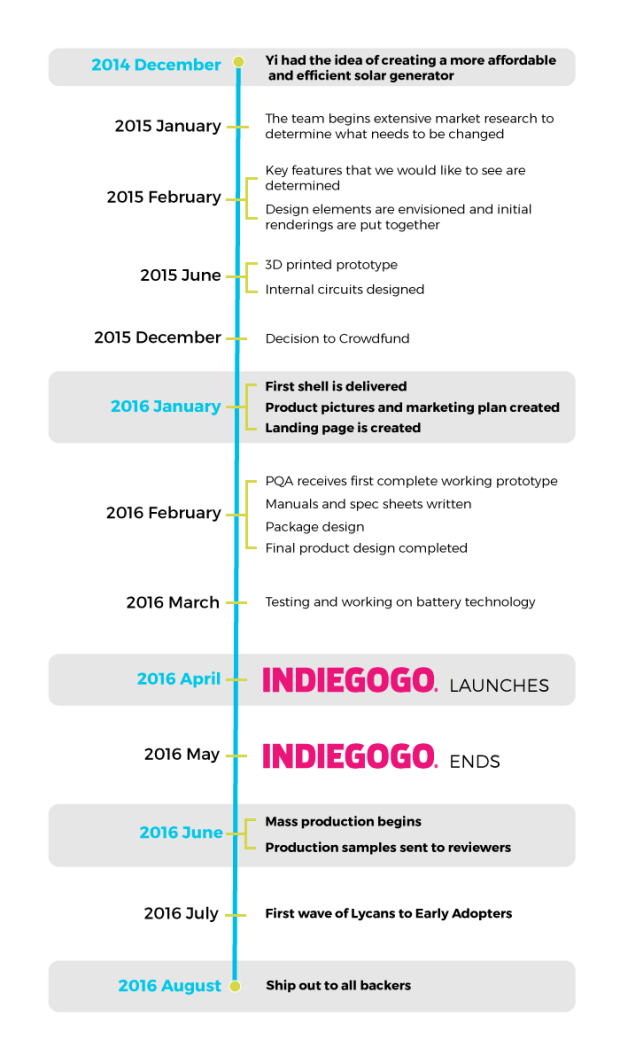 R&D / Initial Design 
After the idea of a powerful but easy to use portable generator, our engineering team quickly got to work with initial designs and prototypes. The goal was to create a safe product that maximized performance and minimized the space. Given that there would be a lot of components in a portable box, the engineering team also anticipated a lot of heat generation. Therefore, initial designs catered to proper and natural heat dissipation. Keeping safety as a priority, the engineering team researched and decided on an initial design for the battery component. Once the initial design was given the green light, the first shell was Rapid Prototyped to ensure form and portability at full scale. Following the shell, the engineering team worked endlessly to place the components in a fashion that geared the highest performance. 
Post Design / Improvements / Accomplishments 
In order to execute a product while keeping in mind the end goal, improvements needed to be made. For starters, the engineering team was able to reduce the size of the initial prototype, while maintaining the same peak performance. The internal components were redesigned to optimize the space and air flow. In order to increase internal air circulation, the Lycan was installed with ultra-quiet fans and had more vents put into play in order to maximize heat dissipation. The initial battery design came into question and upon further review, we decided to go for the safest and most long-lasting battery chemistries in the market today, lithium-iron-phosphate. Along with that, our proprietary battery and connectors were designed to allow for quick and easy replacing or swapping of the battery. This will eventually be a practice that every consumer could do in under 20 seconds, if needed. These are the improvements that have been accomplished thus far. 
What still needs to be done?                                                                                      The Lycan design needs to undergo more safety and performance tests for viability purposes. The LCD display is scheduled to be tooled out and programmed to display parameters such as voltage values, amperage values, and even state of charge (SOC) values for the different components both DC and AC. Lastly, the battery needs to undergo a final test and approval upon mass production. Once an overall design is finalized, the production mold will be created and scheduled to meet mass production requirements. 
We've come a long way and we are almost there. Check out a few of our early prototypes.
Check back often, we will post more exciting development photos throughout our campaign.
Thank you for supporting Renogy Solar and our mission to bring The Lycan Powerbox to light. As a token of our gratitude, please enjoy these rewards.

The Renogy product development team is a diverse, young-hearted, determined, and intelligent group of eco-warriors who share a passion for innovation and clean energy goals. We utilize constant collaboration and creativity to build cutting-edge products that make everyday lives easier, more efficient, and greener. We're enthusiastic about bringing our latest innovation, The Lycan Powerbox, to homes and organizations of all shapes and sizes.


Q. What is the expected lifespan of the battery?
A. 2000 Charge Cycles
Q. Can I use the Lycan Powerbox while it's charging?
A. Yes, the Lycan Powerbox operates as a UPS (uninterruptible power supply) system.
Q. Can the Lycan Powerbox power my entire home?
A. No, the Lycan Powerbox can power a total of 1200 Watts AC.
Q. Is the Lycan Powerbox waterproof?
A. No, however the casing of the Lycan Powerbox is water resistant
Q. What is the warranty for the Lycan Powerbox?
A. 2 year material warranty; 1 year battery warranty
Q. Which Renogy panel is best suited for the Lycan Powerbox?
A. The Lycan Powerbox is compatible with all Renogy solar panels but we recommend pairing it with the solar suitcase w/o controller due to its portable nature.
Q. What happens if I change my address before it ships?
A. Please email Indiegogo@renogy.com with your order confirmation and new shipping address.
Q. What is included in the package?
A. The Lycan Powerbox, an AC adapter, and a MC4 to DC connector. Note: The Lycan Powerbox will not include solar panels with purchase (unless included in the perk), they will need to be purchased separately.
Q. Is it safe to use the Lycan Powerbox indoors?
A. Yes, absolutely!
Risks and Challenges
As an experienced manufacturer in the solar industry, Renogy continues 
to push the envelope when it comes to efficiency. Although risks and 
challenges are a part of any product launch, you can be certain that the 
Renogy team is taking all the necessary precautions to ensure that this 
product launch is delivered on schedule and working to mitigate any 
issues we may encounter regarding final lead time and/or legal contract 
information. Our dedicated product development team is excited to see 
The Lycan Powerbox launch successfully, and we promise to take 
whatever steps are necessary to begin delivery in August of 2016. 
Unforeseen challenges may arise, but you can count on the Renogy 
team to face any obstacles head on, as we have done so in the past. As 
this product progresses, Renogy will make sure to keep all of our backers 
in the loop with real-time updates regarding advancement and 
drawbacks.
Find This Campaign On