iCrowdNewswire - Apr 13, 2016
Help us launch the first fighter and event results searchable database for Muay Thai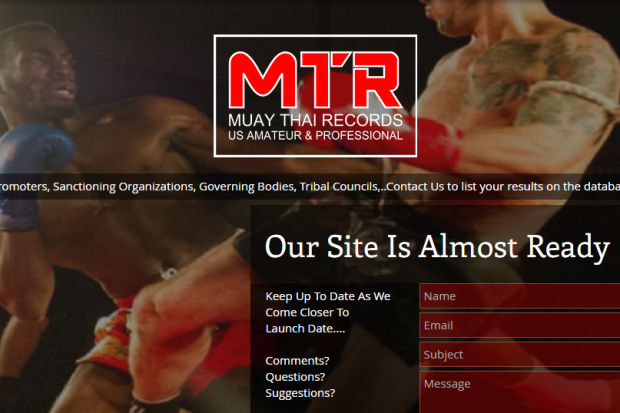 Hi Everyone!!,
Thanks for visiting my campaign! My name is Jessica, I host a small regional MMA & Muay Thai event series in Winchester, Virginia called Revolution Fight Series. We host several Muay Thai & Glory rules bouts on every show but, noticed there is no database or agency to report the results to after each event. That got me to thinking, with a little help from our vast community, together, we can create a searchable database open to everyone to list bout results from all over the country!! The database can and will be a great resource to help grow Muay Thai in the United States!
We Can Make It Happen TOGETHER!!!
Creating and maintaining a online searchable database of this magnitude is vital to the continued growth of a sport we all love! It's the next step into the mainstream for us all! My goal for this crowdfunding campaign is $5,000.00 USD. This funding will go toward defraying the cost of initial construction of the database and website. The database will be unique in terms of searchability!! Most databases online only allow you to search via a athlete's name. The MTR database will allow everyone to search by :
Name
State
Region (US will be divided into 6 regions)
Age
Gender
Event
Style
The Impact
With multiple search parameters, fighters & coaches researching a potential opponent will be able to locate the information they need and promoters will be able to locate athletes in their region(s) more easily. Promoters will have a readily available resource they can utilize to help make the most even matches possible. That means more opportunity for athletes and promoters that helps the sport grow!! The database will also help sanctioning organizations keep track of the thousands of athletes across the country in one centralized, easy to use location!!
As thanks for your support
I've set up some cool perks for all levels of support for this endeavor from public shout outs to limited edition monogrammed MTR Tshirts, to special MTR Mongkols, to special crystal engraved plaques naming you as a founding contributor to the database.
Please consider donating to our campaign and help us provide a vital resource to grow our Muay Thai community!!
Other Ways You Can Help
I understand some people just can't contribute financially, but that doesn't mean you can't help. Please share this campaign with all of your family and friends!! Together we can make a positive impact on a sport we all love!!
THANK YOU for considering to donate to this campaign and thank you for your continued love of Muay Thai!!!
Find This Campaign On