iCrowdNewswire - Apr 13, 2016
mPower Solar Generator-Clean Power Anywhere You Go
World's Lightest and Most Powerful Solar Generator. Empower yourself & a family without electricity.
In the U.S. there are instances when grid electricity is not available: outdoor recreation (camping, off-road & RV travel, boating), blackouts, off-grid homes, and outdoor work (film, photography, construction), affecting some 150 million Americans annually.
In developing countries, 800 million people suffer periodic blackouts, whileanother billion people simply do not have electricity.
Our mPower Solar Generator provides mobile and clean power anytime, anywhere.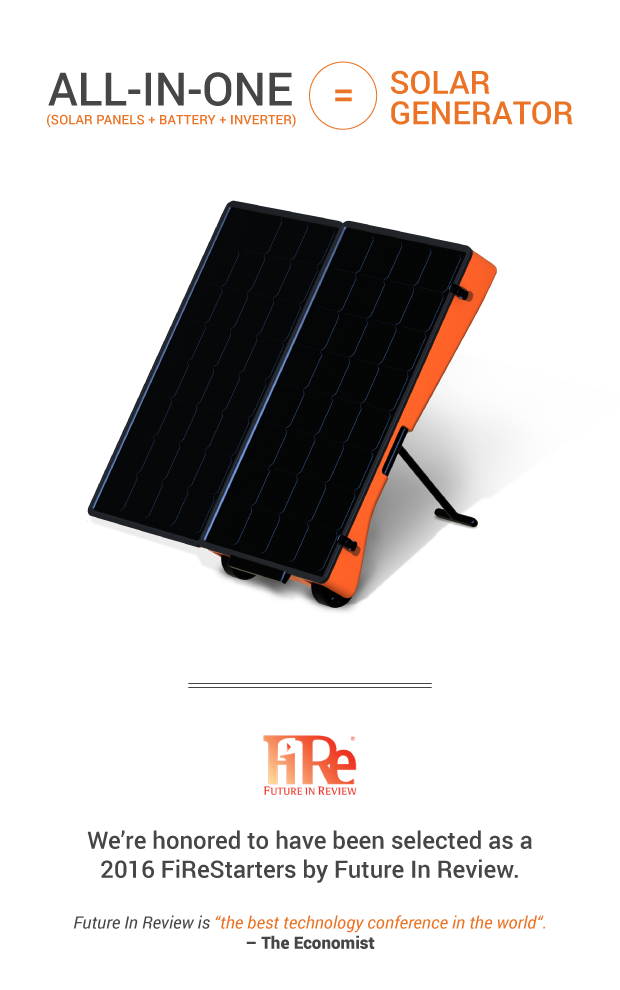 The solar panel charges the battery during the day and the battery provides you electricity day and night. The following day, the panel recharges the battery, restarting the process.
Historically, gas generators have provided off-grid or portable electricity.
But gas generators have significant limitations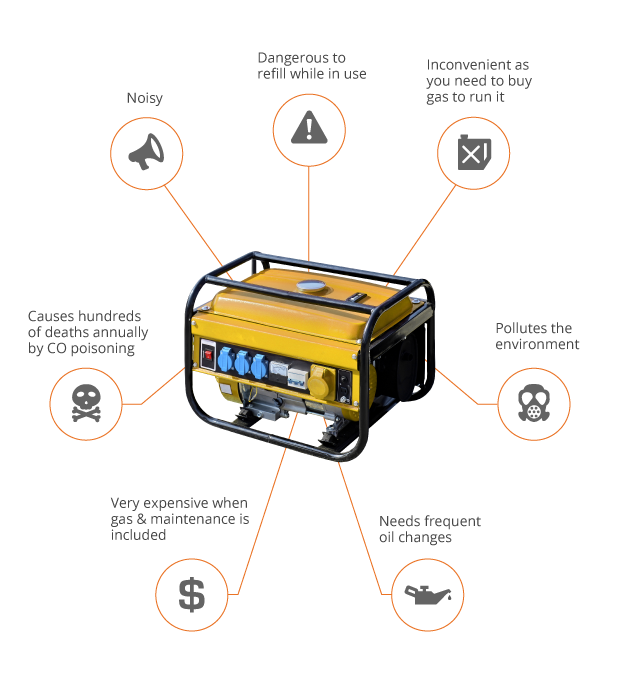 Solar energy has none of these problems
Some products claim to be solar generators but they come in separate pieces with solar panels on one hand and batteries on the other, and they require you to carry each piece separately and additional setup.
Our mPower Solar Generator is all-in-one, easy to carry, easy to set up and easy to use.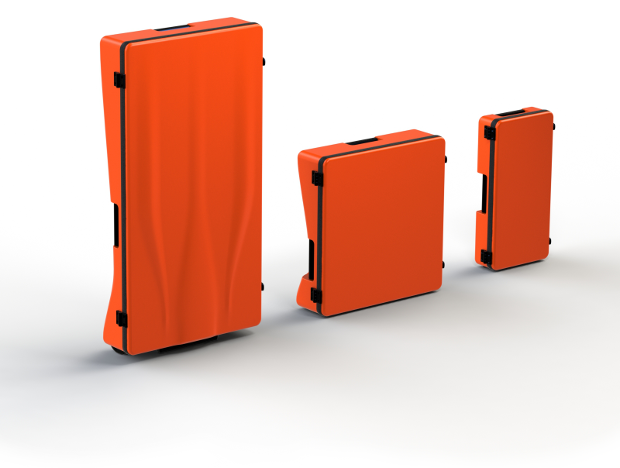 Models M24, M12 & M6 (left to right). More details here.
Get one of our Perks today
(see right column)
Here are some of the other main differences between the mPower Solar Generator and a comparable solar kit currently on the market, which as you can see is not an all-in-one solution: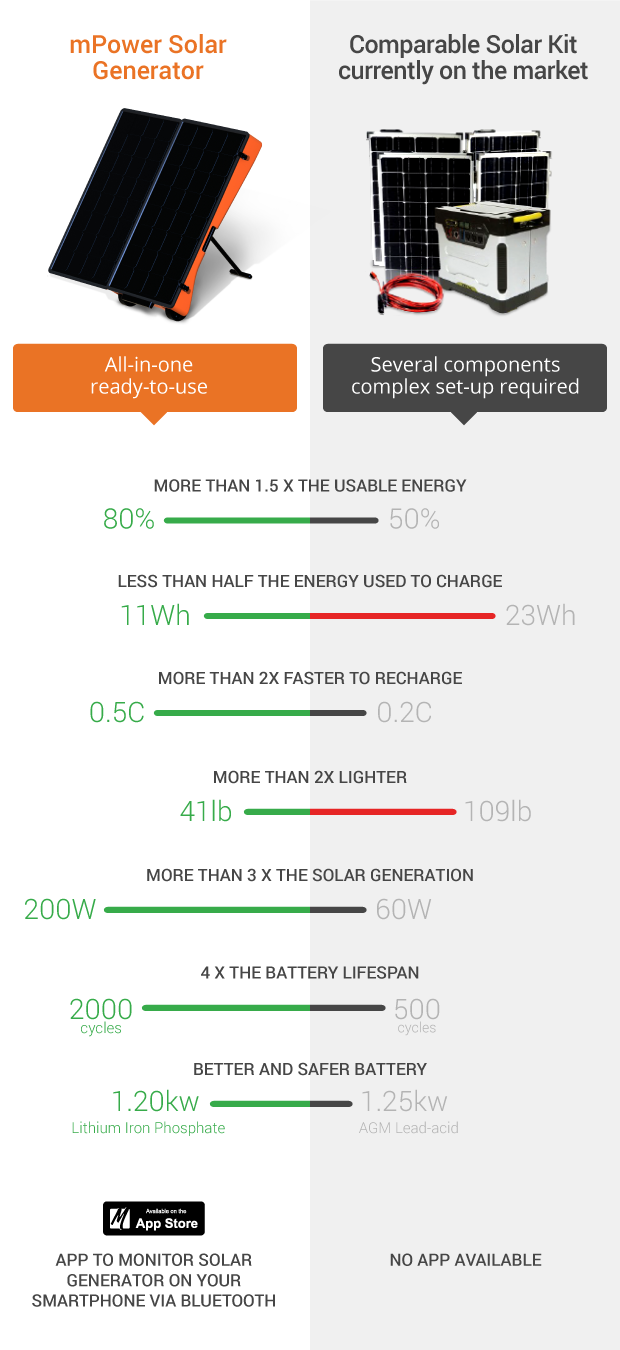 And like all technologies, solutions to the same problem evolve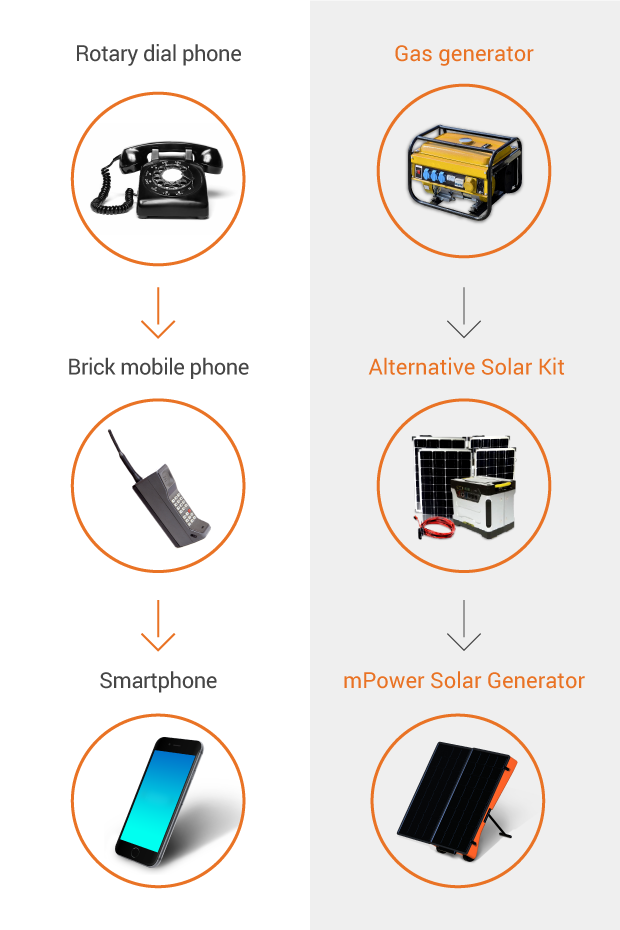 Quick page links: Top | mPower Ambassador | BUY 1-DONATE 1 | Product info | About | FAQ's
mPower Solar Generator Applications
Our M24 Solar Generator can power enough devices simultaneously for up to 1200 watts. You get DC from the battery via USB, 12V from the cigarette lighter connectors, and thanks to its internal inverter, you get alternating current (AC) via the two 120V (220V) sockets.
So what can you do with the mPower Solar Generator? Here are some applications:
Take it Camping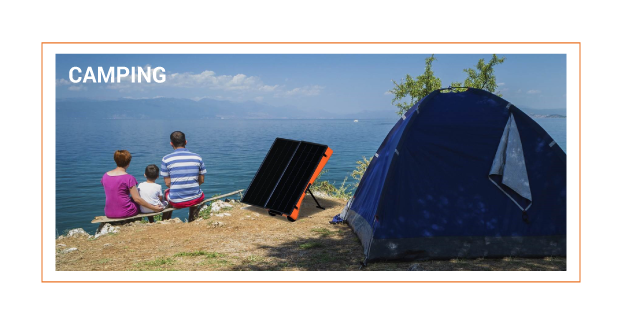 Use your mPower Solar Generator to power a portable cooler, an electric burner, a coffee maker, an air mattress blower or even a heated blanket to keep you warm at night. And of course you can use it to recharge all your devices from smartphones, to digital cameras and tablets.
See the table below for the battery capacity of our three models (M6, M12 & M24) for camping applications.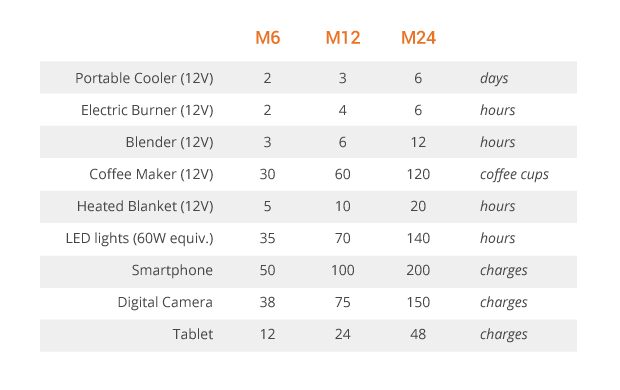 Use it during Blackouts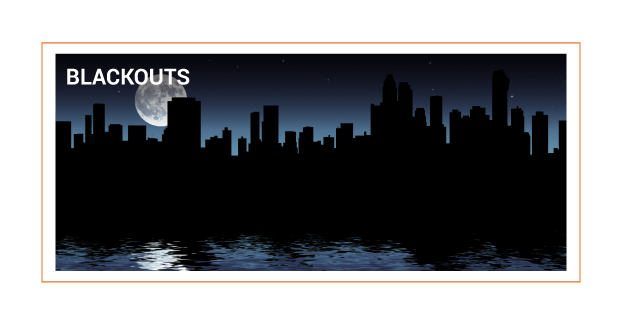 Use your mPower for critical needs such as light, coffee maker and microwave, as well as to stay connected to the world through your smartphones, tablets, laptops and Wi-Fi; and why not for entertainment powering your TV, DVR and even a game console.
See the table below for the battery capacity of our three models (M6, M12& M24)for blackout situations.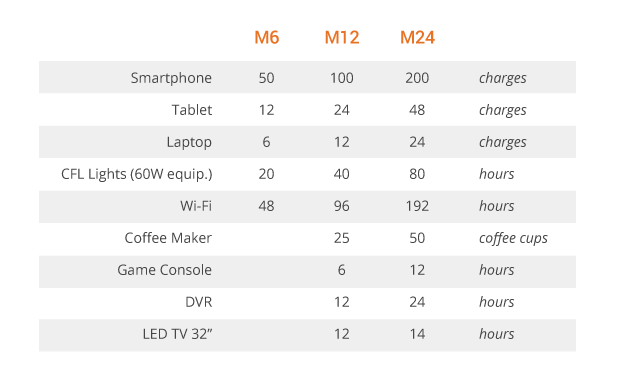 And this is not all, just about anywhere you need portable power you can consider using an mPower Solar Generator.
Quick page links: Top | mPower Ambassador | BUY 1-DONATE 1 | Product info | About | FAQ's
Our BUY 1 — DONATE 1 Business Model
Help us achieve our goal of providing electricity to the one billion people without it, one family at a time.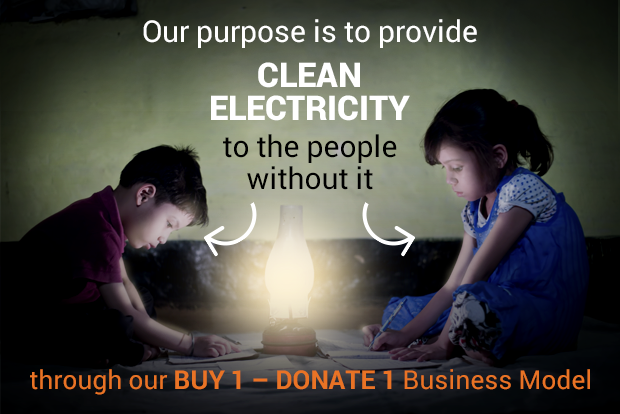 We believe every adult and child in the world should have access to electricity and through our BUY 1 — DONATE 1 business model, we aim to provide millions of units to developing countries.
One billion people in developing countriesdon't have access to electricity. Another 800 million suffer daily or periodic blackouts.
Access to electricity is essential to a family's health, safety, education, economic progress and quality of life.
Imagine what your life would be without electricity. Say goodbye to your cellphone, laptop, internet, TV, radio, music, refrigerator, air conditioning, lights at night, most medical exams, treatments, surgeries and much more.
Well, one billion people don't need to imagine life without electricity, they experience itevery day of their lives.
Become the

Travel with Purpose – Help us Light up the World
and earn a salary of $150,000 for 1 year
Let's change people's lives around the world
Read how these people manage their lives without electricity.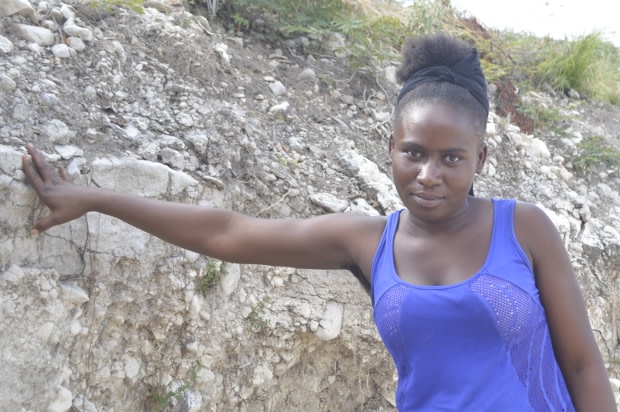 "To study at night I use the light of a kerosene lamp. Many children in our town have developed early sight problems due to the effort they have to make to read."
—Nordine, from La Hatt, Haiti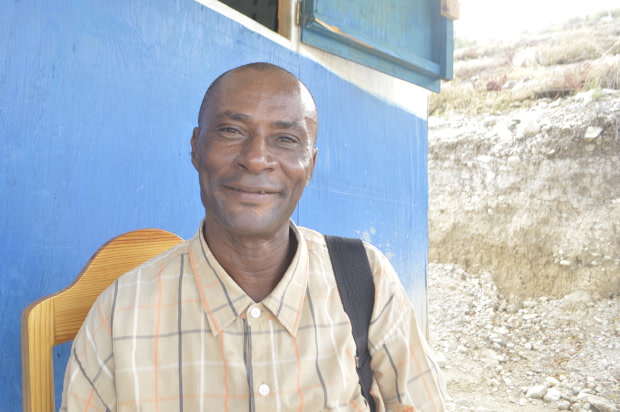 "There's no electricity in our village. We need to recharge our cellphones to stay connected and to use them as a lamp at night. To recharge my phone I travel to the nearest town with electricity, which is 15 miles away."
—Lacrete, from La Digue, Haiti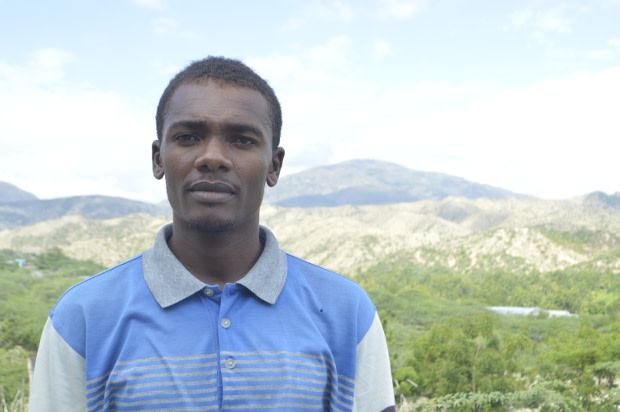 "Whenever my little brothers need my help with their homework when I return from work, I take them to la route nationale, which is an illuminated road about one mile away from home and our closest source of light at night. Many neighbors do the same."
—Louis, from La Hatt, Haiti
Quick page links: Top | mPower Ambassador | BUY 1-DONATE 1 | Product info | About | FAQ's
Why we need your help?
Through this campaign we are launching the mPower Solar Generator to provide clean portable energy, with a business model aimed at improving the daily life of families in need around the world.
Your contribution to this campaign will directly impact many of the one billion people without access to electricity.
How can you help?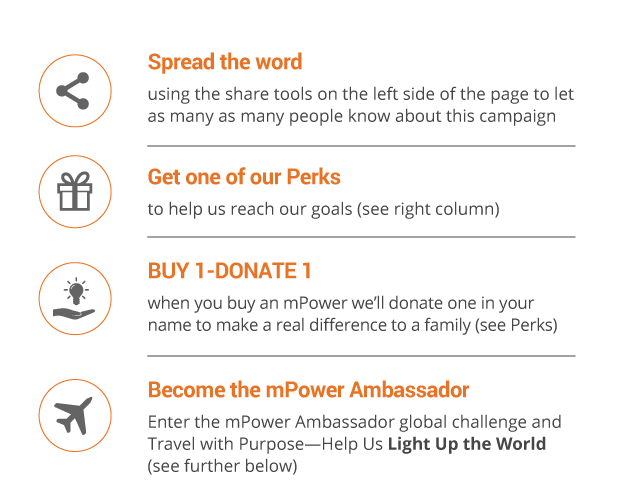 BUY 1 — DONATE 1
When you Buy One mPower Solar Generator (see Perks) we'll Donate One, in your name, to a family without electricity. Not just for this campaign but forever.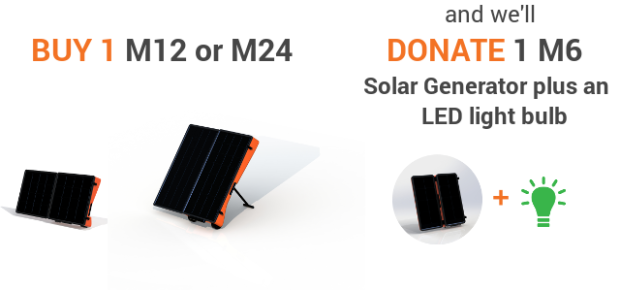 Within our Perks (see right column) you'll find that when you buy one M12 or one M24 Solar Generator, we'll donate in your name one M6 Solar Generator plus an LED light to one family without electricity. Enough for this family to charge their cellphone, have light at night, saving them time and miles of walking, and giving them a better quality of life so they can read and study.
This may feel like a drop in the ocean, helping a handful of people out of the billion without electricity, but your contribution will be LIFE-CHANGING for the one family that receives an mPower Solar Generator because of your purchase.
IMPORTANT NOTE: You do not pay more because of the donations.
Why? Because instead of spending money on advertising, we redirect this money and part of our profits, towards the donations.

Travel with Purpose – Help us Light up the World
and earn a salary of $150,000 for 1 year
Become the mPower Ambassador and travel around the world throughout 2017 bringing the donated Solar Generators to families without electricity.
During the month of June, a jury of distinguished business people and philanthropists will select the most qualified person among the 24 finalistwho will be offered the role of mPower Ambassador for 1 year with a salary of $150,000.
We guarantee you it will be tough but it willchange your life forever.
To be considered among the 24 finalists simply spread the word using Indiegogo's social tools (see left side of page) and be in the top 24 in total number of contributions based on your referrals by the end of this campaign (May 23rd). Make sure you are logged into Indiegogo's page when you refer people or invite them to contribute, otherwise, we have no way of knowing.
Do you want to track your performance in this challenge? Check our FAQ'sbelow to find out how.
Perks
These are but a few of the gifts that you'll find bundled into our Perks.
Pocket Solar Generator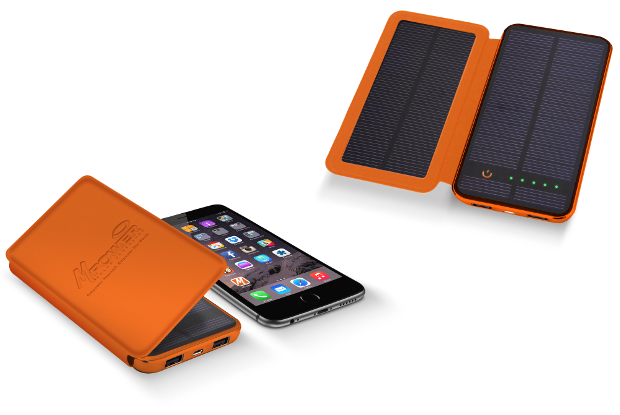 Recharge your smartphone a few times during the day while keeping up the battery power with the solar panels.
mPower Cap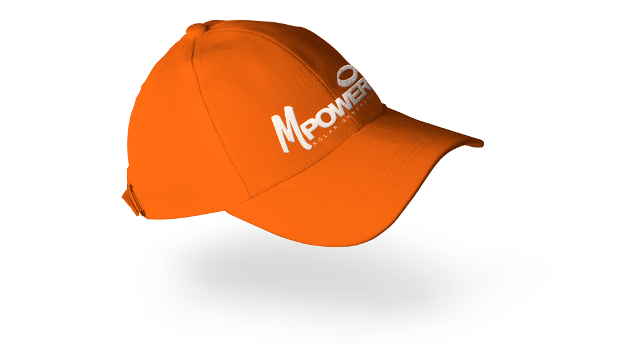 mPower Wristband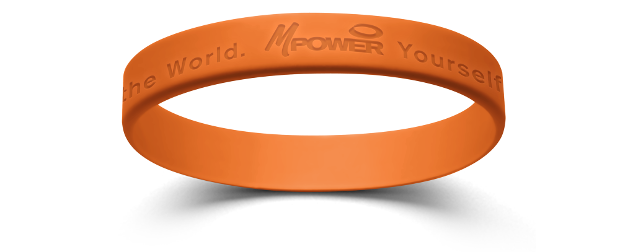 mPower Tote Bag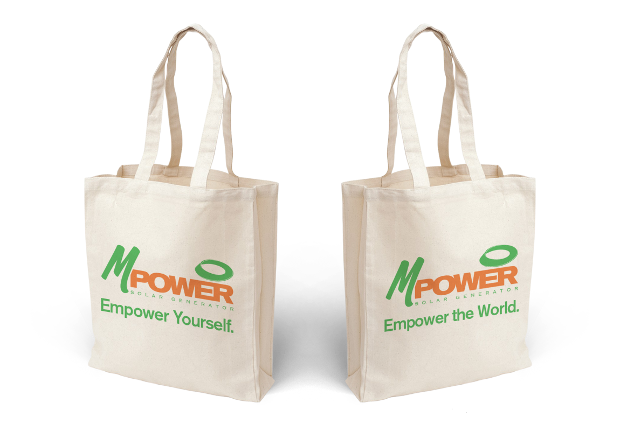 Durable 10 ounce (280g), 100% cotton twill, 15.5″ x 14.5″ x 7″ (40cm x 37cm x 18cm).
mPower Magnet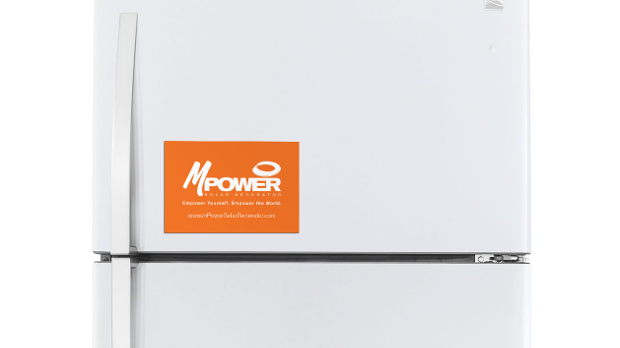 mPower Stickers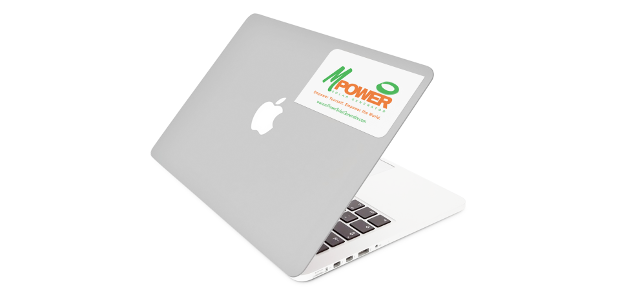 mPower Solar Generator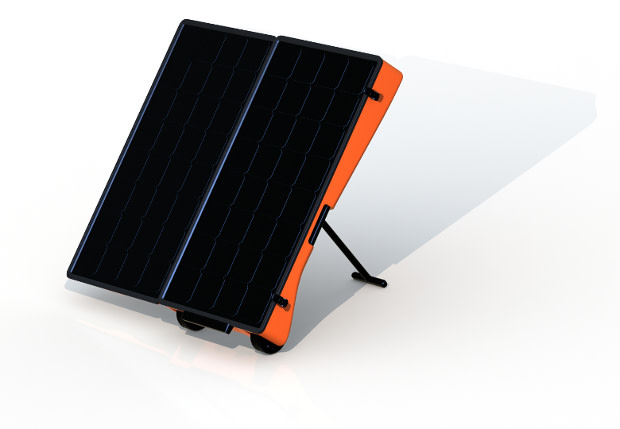 View our Perks to see how these great gifts are bundled together.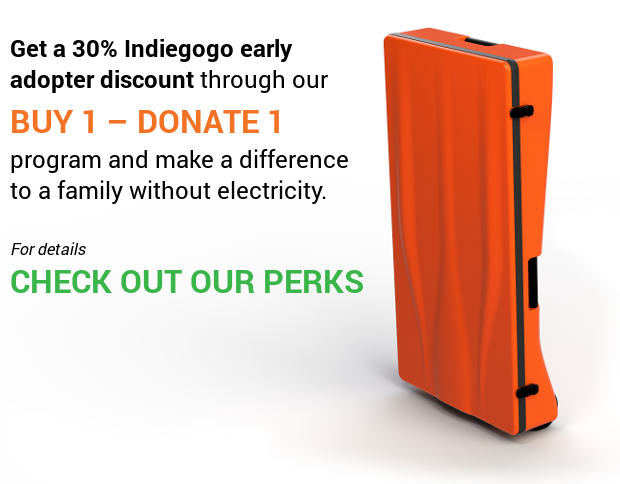 Quick page links: Top | mPower Ambassador | BUY 1-DONATE 1 | Product info | About | FAQ's
Partnerships & collaborators

Through our BUY 1 — DONATE 1 program, initially, we'll make donations through the amazing non-profit organization TECHO (which means roof in Spanish).
TECHO is youth led and present in Latin America & the Caribbean. Through the joint work of families living in extreme poverty with youth volunteers, TECHO seeks to overcome poverty in slums.
Over the last 19 years, through the work and donations of more than 750,000 caring volunteers and donors, TECHO has built over 100,000 transitional homes in 19 Latin-American countries for the poorest of the poor. Upon completion, TECHO implements social inclusion programs to show these people how to escape poverty for good.
We will be distributing the mPower Solar Generators with TECHO's Haiti organization.

United Nations has called on businesses, governments, and civil society to achieve Sustainable Energy for All by 2030.
The Energy Access Practitioner Network is at the heart of the movement to bring sustainable energy for all, helping expand energy access in 170 countries, facilitating partnerships and finance and catalyzing national efforts to move towards a clean energy future. We are proud members of the Energy Access Practitioner Network.
Quick page links: Top | mPower Ambassador | BUY 1-DONATE 1 | Product info | About | FAQ's
Who's talking about this

Prestigious newspaper The Economist considers Future In Review, "The best technology conference in the world."
Every year, Future In Review showcases up to 12 top startups, calledFiReStarters, that are "on the cusp of making great strides in improving our world".
We are honored to have been selected a 2016 FiReStarer see details here:www.futureinreview.com/firestarters
Quick page links: Top | mPower Ambassador | BUY 1-DONATE 1 | Product info | About | FAQ's
mPower Solar Generator
Product Information
The mPower comes in three sizes starting from the M6, M12, and the M24.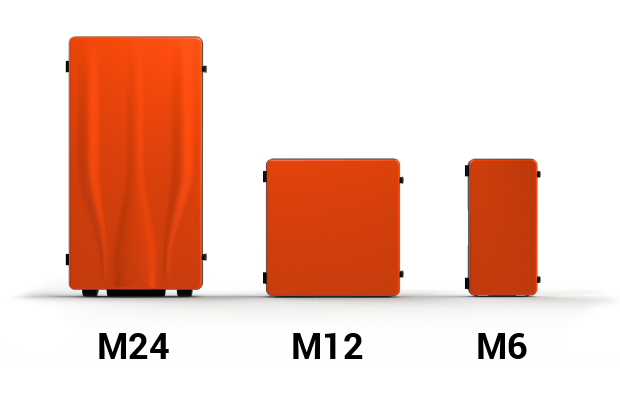 A quick look inside
Looking at the interior of the mPower Solar Generator you get all of the required electronics for a perfectly balanced system.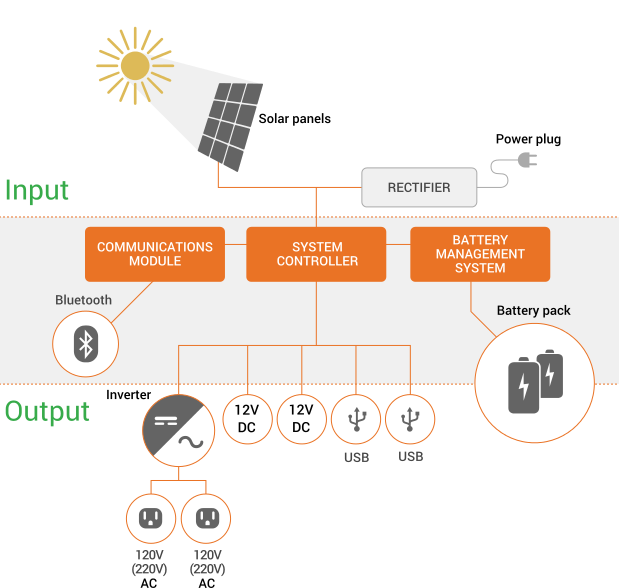 The charge controller and the battery management system optimize the transfer of electricity from the solar panels to the battery and keep the batteries properly fed and safe for the long term. The inverter provides you with the alternating current.
Key Features
mPower App
The mPower is the world's first solar generator to come with a smart App, which is very much needed to keep you powered, extend the life of the battery and deliver the best value for your investment.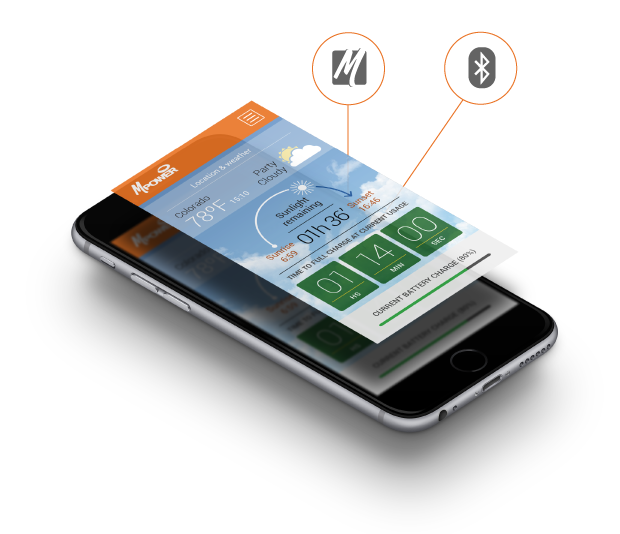 The App delivers the following information:
Estimated time to charge or discharge of the battery.
How to orientate the solar panels with respect to the sun for optimum generation of power.
Local weather forecast for the coming days. If cloudy or rainy, the App calculates if the reduced solar generation will be enough to power your typical consumption. If needed, it alerts you so you can choose to save energy today to have more power during the upcoming cloudy days.
Sturdy off road wheels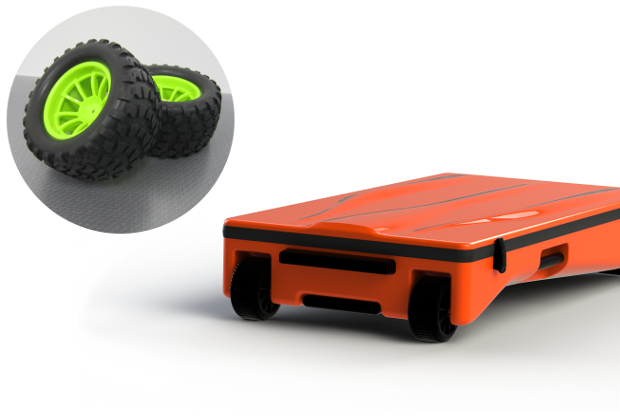 Sturdy, off-road wheels that don't break and don't sink into the sand.
Light durable casing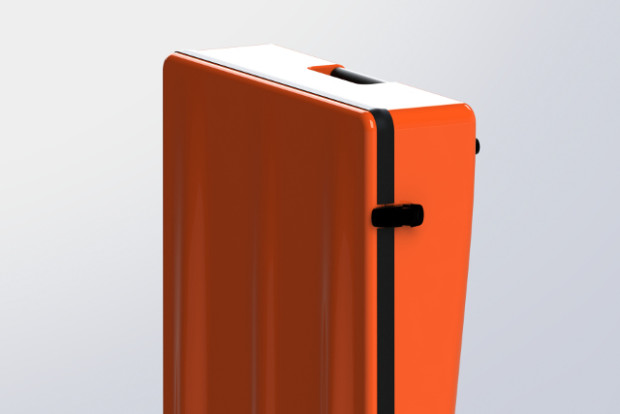 The mPower Solar Generator's casing is made from the lightest, yet most durable, polypropylene material on Earth. It is the same material used by the world's top suitcase manufacturers, to ensure that almost everyone in your family can load the mPower in your trunk.
Outlets
Each mPower comes with two USB sockets and two 12V socket, and our M12 and M24 also have 120V (220V) outlets. So you can connect just about any appliance, such as a stove top, 12V thermo-electric cooler, your smartphone and more.
Power output
Our M24 mPower Solar Generator can power enough devices simultaneously for up to 1200 watts.  See the application examples above for more details.
Daisy chain for more power
If you need even more power from your generator, you can daisy chain two or more mPower Solar Generators to double, triple or more, the available energy.
Technical Specifications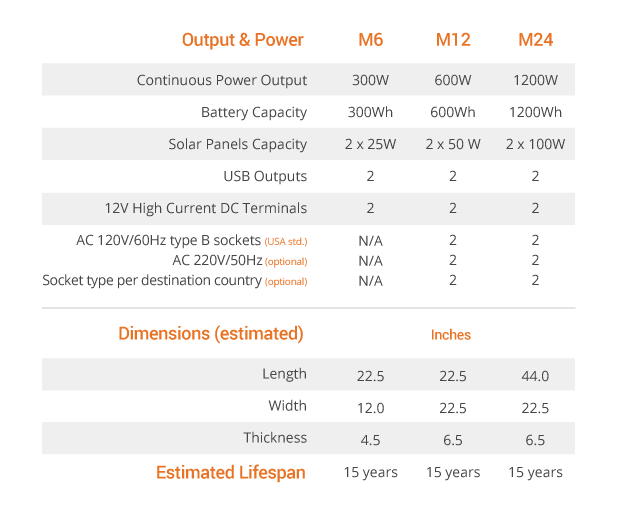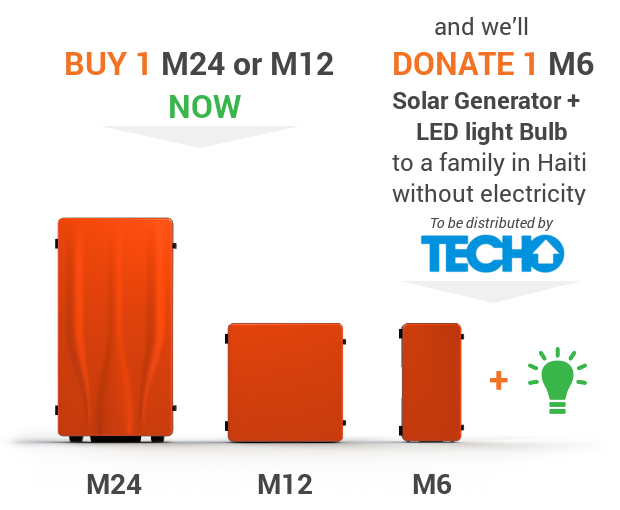 Quick page links: Top | mPower Ambassador | BUY 1-DONATE 1 | Product info | About | FAQ's
Manufacturing and Assembly
We source the very best components around the world to ensure that you get the very best Solar Generator your money can buy at an incredibly competitive price. For example, the world's best solar cells of today are made in California, the best material for the case are made in Germany, and so on. Finally, we invented the mPower Solar Generator in Florida, USA, the Sunshine State, where we will continue to design, develop and ultimately assemble the product.
Where we are today
We have already:
Identified the best vendors around the world for each component of the mPower.
Built a fully-functional prototype following precise UL Certification guidelines.
Produced a 3D printed case to fine-tune the design and test connecting parts.
Engaged the electronics experts to design the Communications module.
Engaged a top App programming company to create our IOS and Android Apps.
Filed Utility and Design provisional patents.
The next major steps include:
Apply for UL Certification.
Produce the aluminum mold to thermoform the case.
Once we know demand to Indiegogo campaign, place order with the vendors.
Quality control of delivered parts.
Assembly at our facility in Melbourne, Florida.
Quality control of the manufactured Solar Generators.
Delivery.
Our Timeline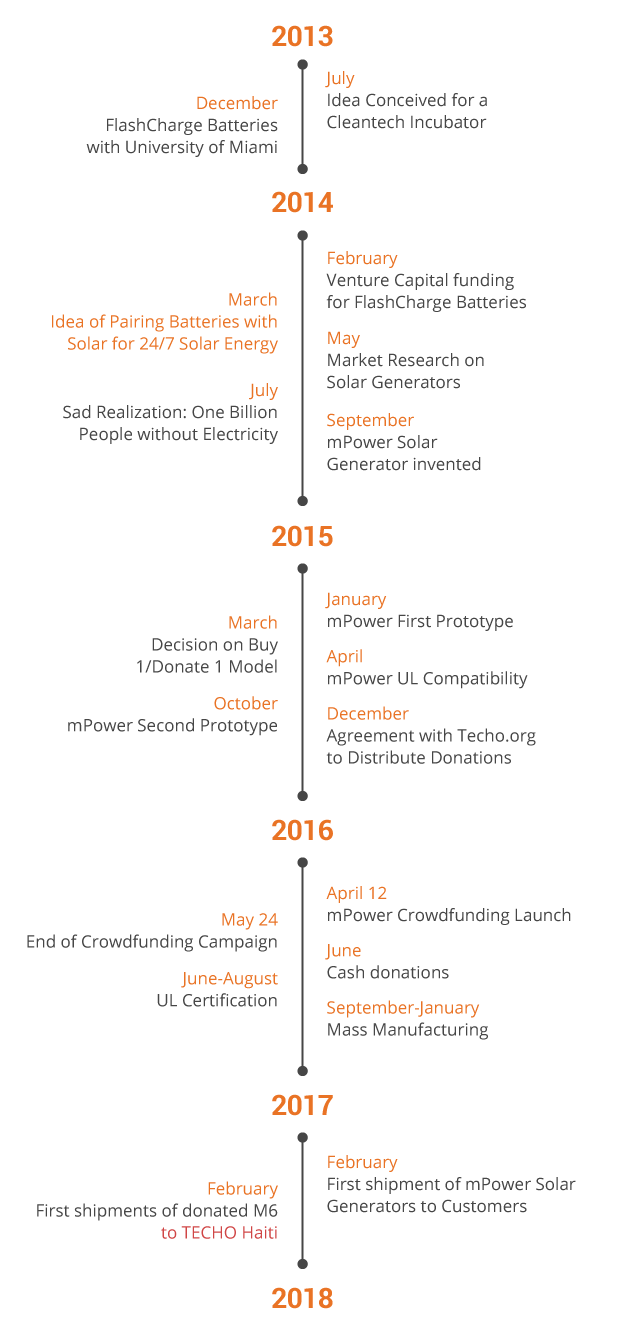 Quick page links: Top | mPower Ambassador | BUY 1-DONATE 1 | Product info | About | FAQ's
Our Story
In 2013 we started a cleantech incubator—GreenTech Endeavors—to find, fund and launch revolutionary green technologies that can help create an abundant, safe and non-polluted world where no one is left behind.
Our vision is to help solve many of the world's most pressing challenges by incubating and marketing revolutionary clean technologies developed by some of the brightest scientists working at American Universities and Federal Labs.
The mPower Solar Generator is our first product to market. We continue to research other very exciting clean technologies.
Meet our Management Team
Entrepreneurs and managers who have launched 26 technology startups with several exits, combining 71 years of experience.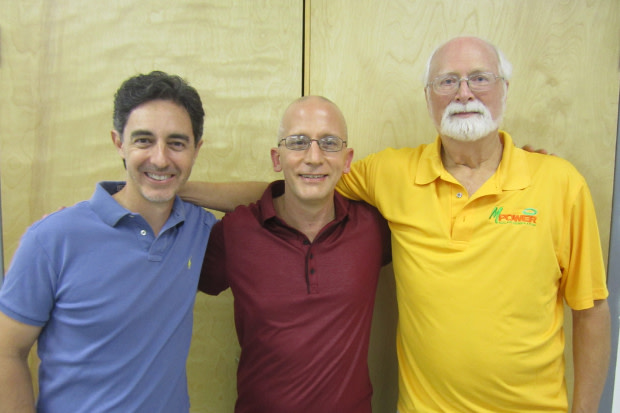 From left to right: Rodo Novarini, Will Perego, Craig Nelson.
CEO: Will Perego, serial entrepreneur, expert marketer and dealmaker.
CMO: Craig Nelson, savvy manufacturing engineer, proficient in automated industrial processes for battery technologies.
COO: Rodo Novarini, business developer, skilled in growing start-ups and new divisions of Fortune 500 companies.
Our Advisory Board
Social Entrepreneurship: Bob Hacker, former CFO at One Laptop per Child.
Strategy: Gus Souss, global track record at P&G, McKinsey, etc.
Growth: Aquiles Nunez, strong Fortune 500 executive leading complex international projects.
Logistics: Scott Brinks, global supply chain optimization expert.
Risks & Challenges
Supply Chain / Component Sourcing
Establishing the primary and secondary suppliers of the critical components so that there is consistency of their performance that allows every generator to meet or exceed operating specifications.
Manufacturing
Ability to ramp manufacturing operations to meet the demand.
Product Related
Potential damage from water leaking into the electronics in the interior of the generator as this is not a water proof equipment.
Attempted repairs to the generator by unauthorized personnel.
Find This Campaign On