iCrowdNewswire - Apr 11, 2016
Nativ: High-Res Music System & Touchscreen Control
Conveniently access all the world's music, and play music videos on your TV. In spectacular quality.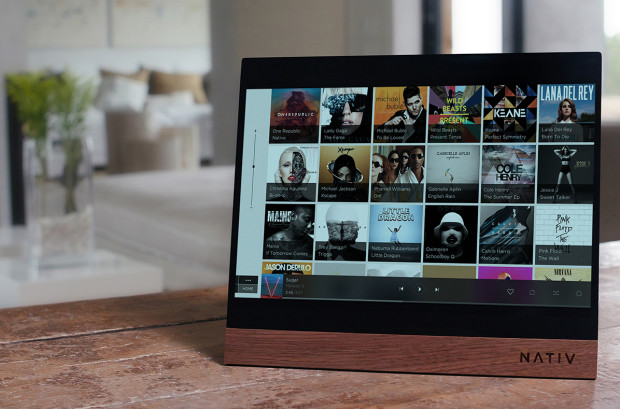 Meet Nativ. A state-of-the-art high-resolution music system that is based on two independent solutions:

The heart of our new high-resolution music system is Nativ Vita, an innovative music player with a stunning 11.6" touchscreen and up to 4TB capacity. It puts all your music at your fingertips, from your favorite music services—like Apple Music, Spotify and Tidal—to music on your computer, NAS or smartphone. And it is the world's first to play music videos right on your TV. Simply connect Nativ Vita to your A/V receiver or USB DAC. Or stream directly to your wireless speakers and headphones. In spectacular quality.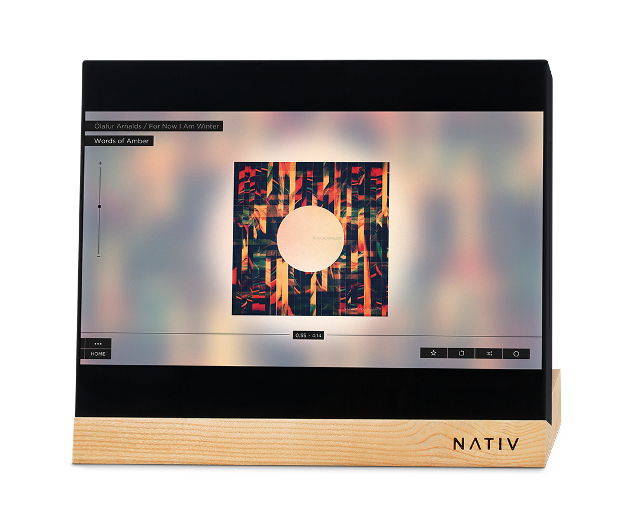 Nativ Vita features a beautiful high-resolution 11.6" touchscreen LCD with IPS technology so you are always in control.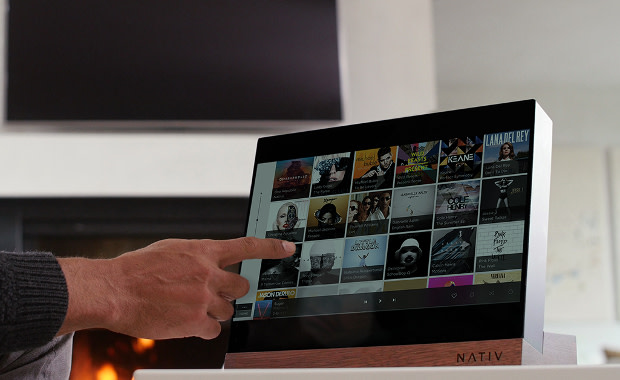 Simply tell Nativ Vita what music to play, adjust the volume or skip to the next track. The built-in multi-directional microphone and innovative voice control makes it possible.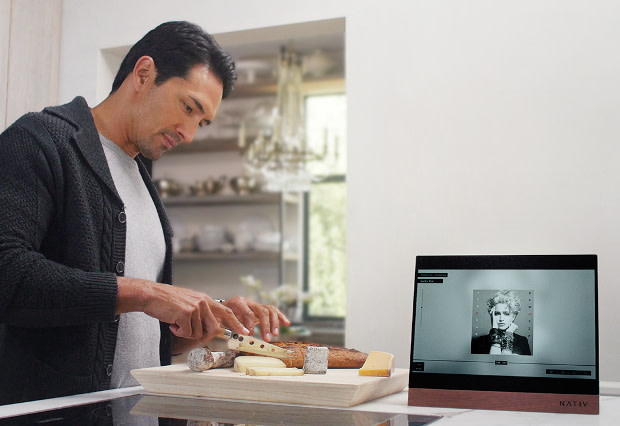 Music is everywhere today, and Nativ Vita puts it all at your fingertips:
Music services 
Enjoy a wide variety of music services such as Spotify, Apple Music, Tidal and Pandora, directly on the built-in LCD.  
Digital music libraries
Play music stored on your computer, NAS or USB Hard Disk Drive. Nativ Vita supports all major protocols such as UPnP/DLNA and SMB/CIFS. 
Smartphone & Tablets
Play music from your mobile devices via Apple AirPlay, Spotify Connect or Google Cast. High-quality streaming via Bluetooth aptX® is also supported.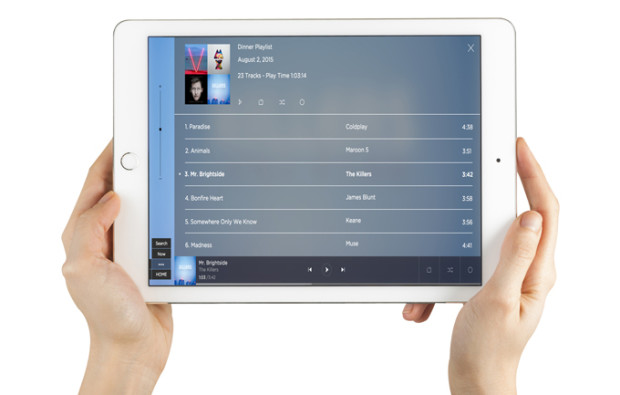 Radio from around the world
Pick from a selection of over 40,000 free internet stations in over 120 countries and 50 genres. Plus podcasts.

Play music videos from YouTube, Google Play Music or Spotify and enjoy them on the beautiful 11.6" LCD, or on the big screen. Nativ Vita connects to your TV via HDMI or wirelessly with Google Cast.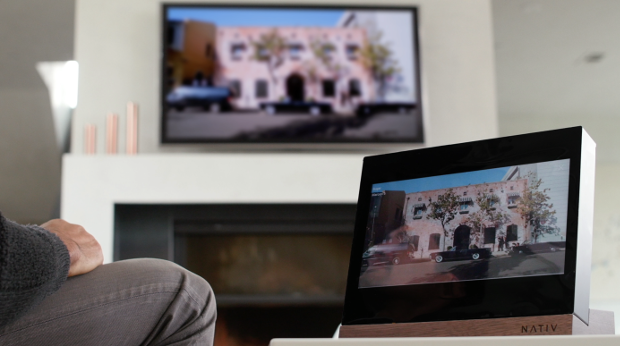 Store your music locally for maximum browsing performance. Nativ Vita supports two 2.5" hard-disk drives (HDDs) or SSDs with up to 2TB each, for a total of 4TB.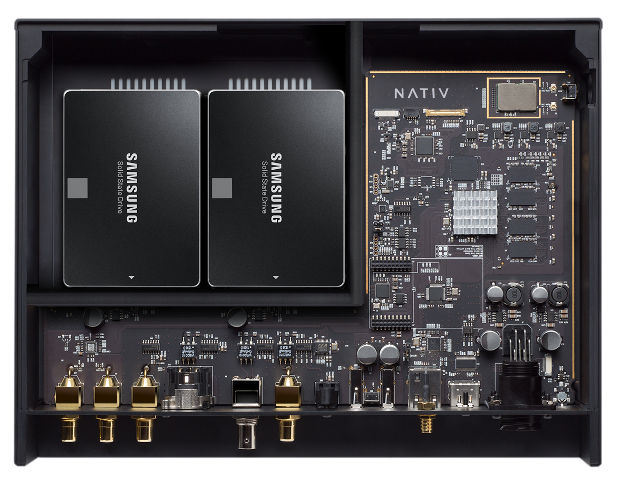 You can install your own HDDs into Nativ Vita or choose from one of four standard configurations:
Without HDD
2TB or 4TB capacity
2TB 3D V-NAND SSD drive

Nativ Vita delivers you a wealth of information about your favorite artist, including biography, album details and tour dates and locations. Or you can use the innovative Roon interface to browse music on your PC/Mac.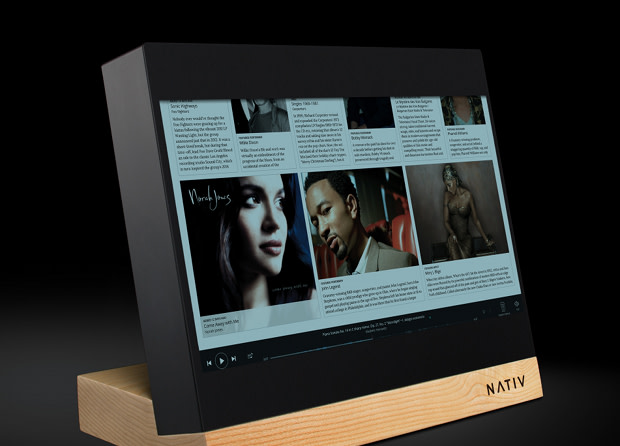 Nativ Vita is a real prodigy when it comes to multi-room playback. It features the latest wireless technologies to stream music to other Nativ Vita, or to your existing wireless speakers. And a revolutionary touchscreen interface to control them all.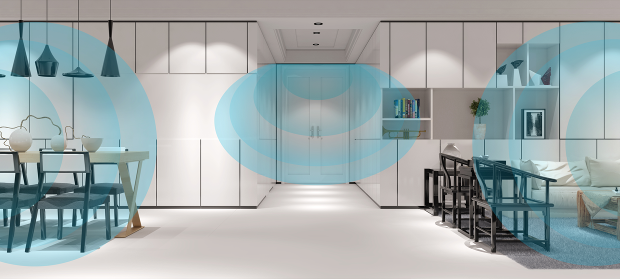 Stream music to virtually any wireless speaker. Nativ Vita is the perfect companion for your beautiful Bang & Olufsen Beoplay A9 or popular solutions like SONOS and the Bose SoundTouch.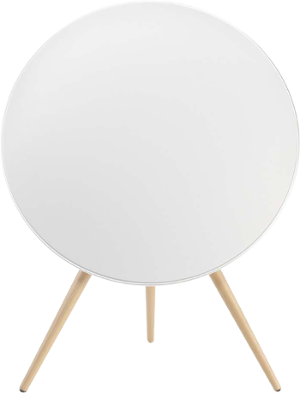 Use the integrated Bluetooth technology with aptX® to play high-quality music on your Bluetooth speakers and headphones.

Nativ Vita delivers music to your USB DAC or amplifier in bit-perfect quality via its asynchronous USB 2.0 interface or four high-quality digital outputs for SPDIF and AES/EBU. Its independent ultra-low noise power regulators, sophisticated galvanic isolation and special in-line filter virtually eliminate all jitter and distortion from the audio signal.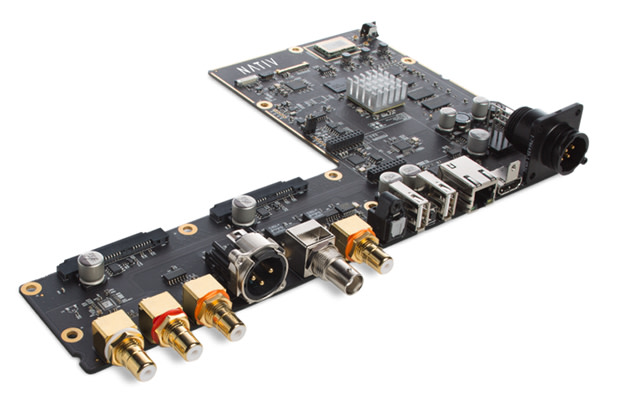 Meet the world's first High-Resolution Music Player that is based on an open platform and cutting-edge hardware that is perfect for amazing 3rd party apps. Nativ Vita's huge touchscreen interface, innovative voice control and incredible connectivity literally beg for cool features to power your smart home. Once the product has shipped we will provide a free SDK to maximize the potential of this great platform, and extend its capabilities beyond pure audio applications.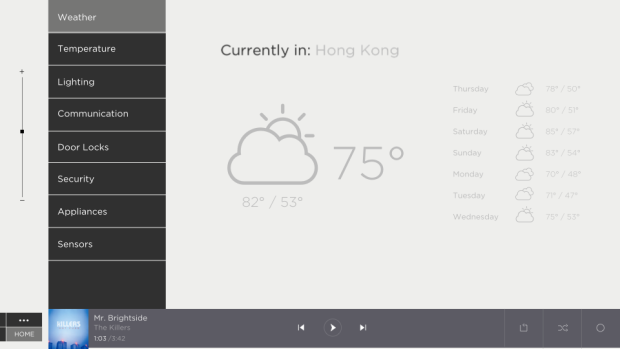 We hand-build Nativ Vita in small production lots with only the finest materials, including premium-grade 7000 series aluminum, Japanese-made Asahi® glass and solid American wood.
The beautiful aluminum enclosure slides easily in and out of the wooden stand and mounts to the wall with our elegant wall-mount (optional).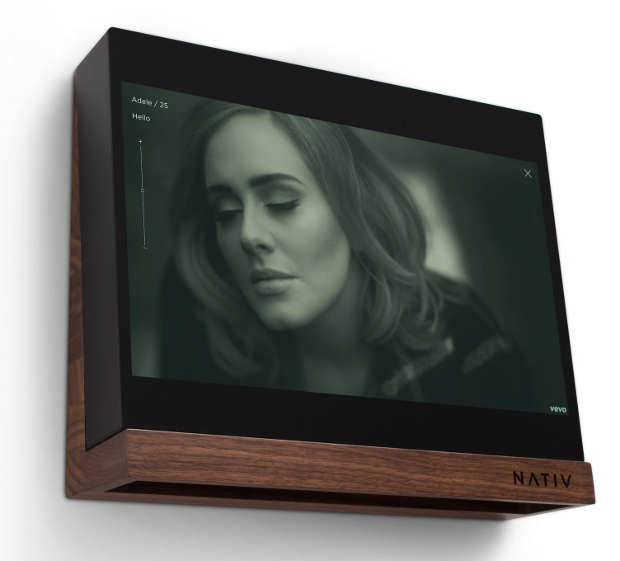 Desk- and wall-mount are both available in trendy Oak and elegant Walnut finish. 


To experience the true beauty of music you need a best-in-class Digital-to-Analog converter (DAC). So we are also introducing Nativ Wave, a fully balanced DAC and headphone amplifier that converts your digital music to breathtaking sound. It is the perfect companion to Nativ Vita, but also works great with your PC, Mac or other digital sources.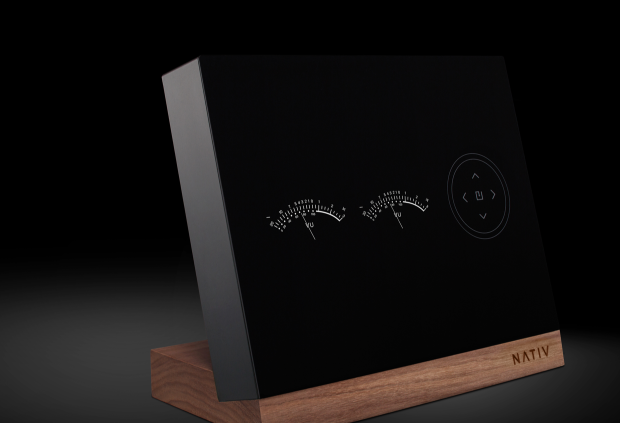 Nativ Wave is designed for High-Resolution Audio, but even highly compressed music streaming services like Spotify and Apple Music are filled with wonderful life and detail. 
Play DSD tracks with up to 11.2896 MHz (Quad-DSD), DXD and PCM files up to 32-bit/384 kHz. We also plan support for Meridian's Master Quality Authenticated (MQA) technology.
Audio from the 4 digital inputs (Asynchronous USB, XLR, Coax, Optical, BNC)  is processed in bit-perfect quality or upsampled to 128x Fs DSD. Upsampling is handled by proprietary algorithms and a powerful SHARC DSP, which minimizes jitter and allows the implementation of a gentle analog filter with high slew rate and tight tolerances. 

The centerpiece of Nativ Wave is a fully balanced differential DAC design with two 24-bit/192kHz Burr-Brown DSD1792A. Left and right channel are entirely separated, each with its own dedicated linear power supply, state-of-the-art Crystal oscillators and analog circuitry.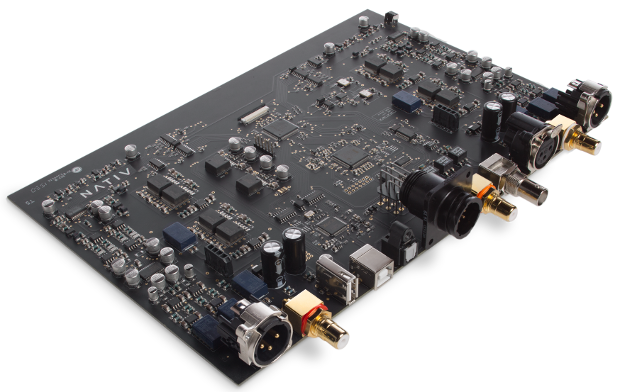 The sophisticated audio clock management system is based on two of the world's best ultra-low phase noise oscillators from Crystal, and uses best-in-class logic arrays for data reclocking to clean the audio signal from virtually all jitter and low phase noise.
All analog processing is done with high-performance operational amplifier modules from Texas Instruments, with German-made WIMA® FP Polypropylene capacitors delivering superior clarity and dynamic ability.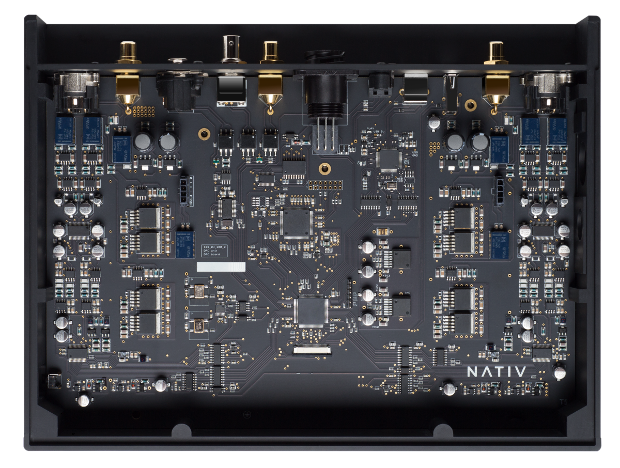 Two output levels —2 and 7.5 Vrms— allow you to connect a wide range of high- or low-gain preamplifiers, power amplifiers as well as headphones.

Nativ Wave also incorporates a balanced headphone amplifier with an advanced 100% solid-state topology and a high-speed buffer with a slew rate above 2000 V/ms to prevent odd order distortion anomalies. 
The amplifier delivers high output power (up to 1.75W) over various loads, enough to drive even the most demanding headphones.

Volume control is performed in the analog domain and is bit-perfect, at any volume level. It features one stereo volume control chip per channel in differential mode, virtually eliminating noise and minimizing THD.

Key to any great sounding audio source component is a stable, noise-free power supply. To get the maximum sound performance out of your Nativ Wave DAC we therefore recommend to power it through our new high-precision linear Power Supply, Nativ Pulse.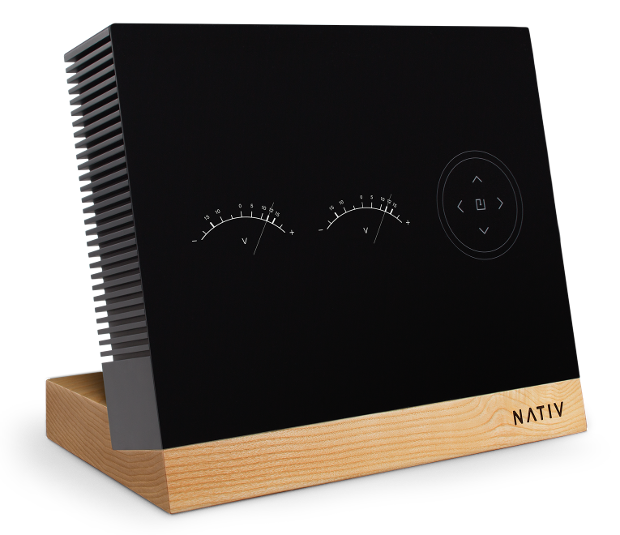 Nativ Pulse features separate power supplies for the sensitive audio stages and the digital circuits. We use 25 (!) separate low-noise linear regulators to eliminate noise and interference between all circuits. And with more than 50,000 µ-Farad of storage capacitance it delivers virtually unlimited impulse current so Nativ Wave can go from absolute silence to explosive dynamics in the blink of an eye.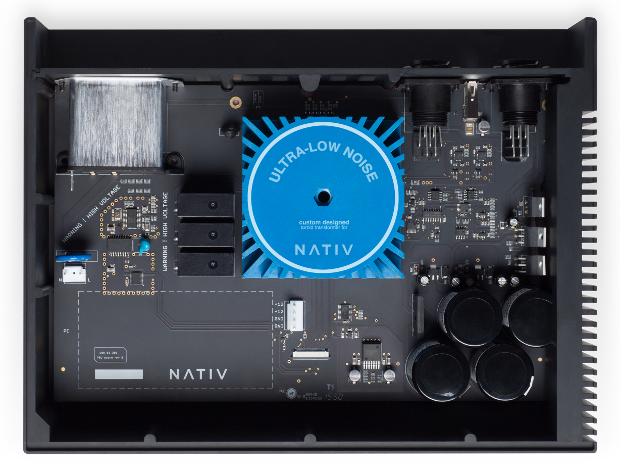 The huge multi-rail toroidal transformer is made exclusively for Nativ by Nuvotem Talema® and uses a high-mass, low-profile, low magnetic field design and electrostatic shielding to suppress power line disturbances. Additionally, we added a best-in-class AC power line filter from Swiss company Schurter to eliminate all EMI/RFI noise from the AC mains.

Like Nativ Vita we hand-built Nativ Wave and Nativ Pulse in small production lots and only use the finest materials, including 7000 series aluminum, Japanese-made Asahi® glass and American wood.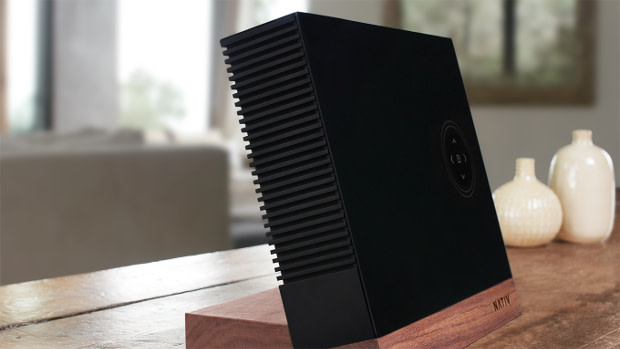 Our high-end DAC and Power Supply both feature two 2.7-inch OLED displays that show detailed information about the incoming source, audio signal or input and output power statistics. 

We have packed Nativ Vita, Wave and Pulse with the latest and greatest technology, at a cost that is less than one third of their closest competitors. As a thank you to our supporters Nativ products will be available at an amazing price during the campaign. Once the campaign ends the price will increase by ~100-150% to allow for retail and distribution margins. 
Early supporters can take advantage of a few once-in-a-lifetime perks that are only available in limited quantities:
Want a little something extra? Sign up and get a free $30 gift card:

We started Nativ in early 2015 and have gone through dozens of iterations to find the perfect design.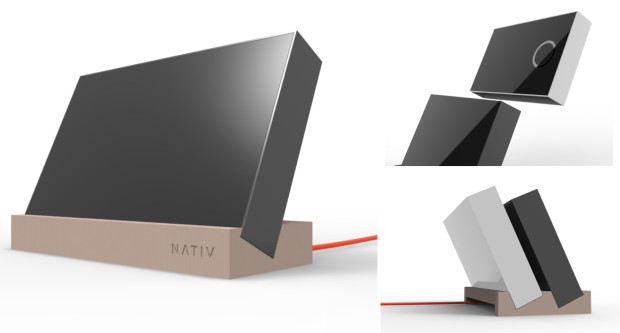 At the end we chose a contemporary design that blends "high-tech" materials like glass and aluminum with the warm and natural feel of wood. Functionality was a key concern so the design also ensures great visibility and accessibility of the control interface, and allows flexible placement in different living environments. 

So where are we in the grand scheme of things? Pretty far! The most risky and time-consuming stages of this project are almost complete: all key electronics, industrial and mechanical design, acoustic performance, initial compliance testing and the fundamental operating system are solid and good to go. In the coming months we will be finalizing the software and optimizing the Design for Manufacturing so we can ship first products to you by October.

Our team has been working on Nativ for almost 1 1/2 years and we have invested a large amount of our own money to get where we are. We have now reached a critical milestone. Taking our products from the prototype stage to mass production requires a substantial amount of capital. Most of it will go towards sophisticated tooling and procurement of the Bill of Material with high-cost electronics such as Burr-Brown DAC ICs, Talema® toroidal transformers and WIMA® capacitors. To reduce costs and sell the products at the incredibly low campaign price we need to purchase most of these parts in Minimum Order Quantities and reels of several thousand units. Too much for a small startup like us.
This is where you come in. With your help, we can bridge this financing gap and get Nativ to you and other music lovers around the world. The capital we raise will also help us to grow our engineering team to speed up the development and to continue to innovate. Best of all: crowd-funding allows us to draw upon the experience, dedication and creativity of thousands of supporters like yourself. You will be a crucial member of Nativ's expert panel and help us drive the product development and shape our vision for the exciting years to come!

Our team has decades of experience in developing and manufacturing cutting-edge Audio, IT and CE products that are used and loved by millions of people around the world. We are ideally prepared to take Nativ to the next stage.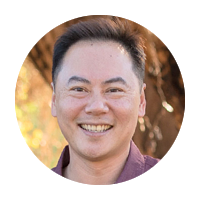 Michael Li
Co-Founder, CEO/CTO
Michael has over 25 years of experience in storage, semiconductor and networking technology for leading brands such as Western Digital, Marvell and Network Appliance. With the launch of Nativ Michael is combining his unique expertise with his greatest passion for high fidelity sound.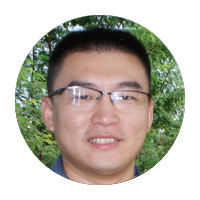 Rice Chu
Co-Founder, Software Engineering 
Responsible for Nativ's software engineering team. During his 20-year tenure as the software lead at a boutique ODM firm Rice has successfully managed the software development of numerous complex IT and CE products. A true expert in Linux, firmware and audio stacks.
Hai-Qing Liu
Co-Founder, System Design
One of our first team members and responsible for Nativ's System Design. In addition to managing the technology lifecycle and product roadmap Hai-Qing has the rare talent to identify cutting-edge technologies that are on nobody's radar.
Our founding partners are supported by a team of highly qualified experts that belong to the best in their respective fields: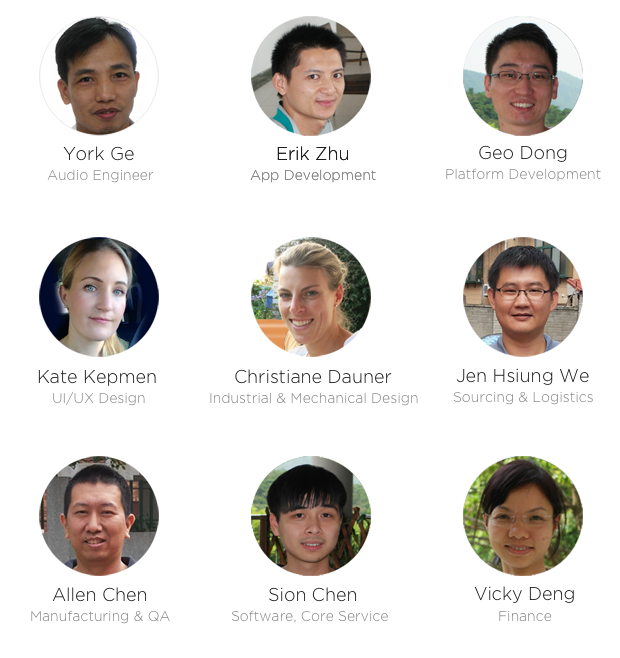 Like what we do? Spread the word! 

We are 100% confident that we can successfully take Nativ from the current prototype stage to mass production. The most risky parts of the project have already been completed. The hardware design has gone through many revisions and is solid, and has passed all pre-screens for safety and regulatory compliance. The firmware and software have also been rigorously tested and build a solid foundation for future developments. We know our technology works! The remaining risk is mainly limited to sourcing, manufacturing and logistics, which is transparent and can virtually be eliminated with stringent planning and the necessary expertise. Our team has a proven track record in those areas. Here is a quick summary of the main areas that can cause potential delays:

Supply
Our delivery timeline is conservative and takes into account all component lead times (plus additional buffer times). Additionally we have backups for suppliers of all key components. In rare instances however delays can be caused by unforeseen material shortages, supplier default or natural disasters.
Tooling & Manufacturing
We have set the highest cosmetic standards for our products, which requires specialized tooling and can cause various challenges during the manufacturing & assembly process. We have therefore appointed only the best manufacturing and production partners who adopt the very same attention to detail that we do. Our team also has extensive expertise in highly cosmetic products and is located less than a 2-hour drive away from all key manufacturers, allowing them to deal with all potential issues quickly and efficiently.

The most important aspect of this project is that we fulfill our promise to you. The risk of this project is really not if you will get a Nativ product, but when you will get it if there are unforeseen delays in the areas above. We promise that we will continue to work with the same diligence and perfectionism that has driven us to start Nativ and invest a large amount of our own capital. We are committed to delivering you a state-of-the-art product that is built to the highest quality standards, and will keep you informed about the progress of the development at all times. 

1. What voltages are supported for Nativ Vita and Nativ Wave?
Nativ Vita and Wave both come with a switching power supply that supports voltages from 100V to 240V (50/60Hz) and the correct power plug for your country. Our (optional) high-precision linear power supply (Nativ Pulse) can be set to 110-120VAC or 220-240VAC.
2.  What are the dimensions and weight for each product ?
Nativ products have the following dimensions:
Nativ Vita
Size (Width x Height x Depth)
Player:
28.5 x 21.8 x 4.5 cm (11.2 x 8.58 x 1.77 inch)
Wood stand:
28.5 x 3.5 x 13.5 cm (11.2 x 1.38 x 5.31 inch)
Weight
Player: 2.4 kg (5.29 lb)
Wood stand: 0.35 kg (0.77 lb)
Nativ Wave
Size (Width x Height x Depth)
DAC:
28.5 x 21.8 x 4.5 cm (11.2 x 8.58 x 1.77 inch)
Wood stand:
28.5 x 3.5 x 13.5 cm (11.2 x 1.38 x 5.31 inch)
Weight 
DAC: 1.95 kg (4.30 lb)
Wood stand: 0.35 kg (0.77 lb)
Nativ Pulse
Size (Width x Height x Depth)
Power Supply:
28.5 x 21.8 x 6 cm (11.2 x 8.58 x 2.36 inch)
Wood Stand:
28.5 x 3.5 x 15.5 cm (11.2 x 1.38 x 6.10 inch)
Weight
Power Supply: 3.35 kg (7.39 lb)
Wood Stand: 0.47 kg (1.04 lb)
3.  Can I change my shipping address after I pledged?
To change your shipping address before the campaign has ended please follow these instructions. We will also confirm your shipping address one more time before we ship your product.
4. When will I be charged for my contribution?
Indiegogo will charge your credit card or PayPal account at the time of your contribution. We will receive your funds from Indiegogo after the closing of the campaign.
5. What comes in the box?
In addition to the Music Player (Vita), DAC (Wave) or Power Supply (Pulse) each Nativ product comes with a wooden desk stand (oak), a quick start guide and the appropriate power supply and cord for your country. Nativ Vita and Nativ Wave also include an infrared remote control.
6. Can I mount Nativ products to the wall?
Nativ Vita and Nativ Wave can be mounted to the wall with the (optional) wall-mount that is available as a separate perk.
7. Do Nativ products come with a warranty?
Absolutely!  Every one of our products is covered by a 1 year warranty for all manufacturing faults or defects.
8. Can I buy Nativ products after the campaign has ended?
Yes, you can continue to purchase our products at www.nativsound.com. The current campaign prices will increase considerably after the campaign to adjust for retail margins and as discounts are no longer available. We also will ship on a first-come-first-serve basis, so Indiegogo supporters will get their products first.
9. I am having trouble making a payment. Who should I reach out to?
Please contact Indiegogo's Customer Happiness Team at support@indiegogo.com. One of their payments specialists will be able to assist you within 24 hours.
10. Can I get a refund?
Yes. Before the campaign has ended you can get a refund directly through Indiegogo. After the campaign has closed please contact our customer support team.
 11. I have additional questions. Who do I contact?
Great, we love to hear from you! Please contact us any time.
Find This Campaign On