iCrowdNewswire - Apr 10, 2016
VerteCore Lift: Back Pain Relief and Freedom.
VerteCore Lift. The back pain wearable that helps you regain what chronic pain has taken…freedom.
The New VerteCore Lift:  Affordable, Comfortable, Convenient,
Portable Spinal Decompression for Bulging and Herniated Discs that Cause Back Pain
Anywhere from 60-80% of the population experiences back pain at some point in their lives and up to 50% of working adults listed back pain as the primary cause for missed work. 
In America alone, more than 100 million Americans suffer from chronic pain at a cost of around $600 billion a year in medical treatments and lost productivity, according to a report from the Institute of Medicine (IOM). 
And the worldwide the back pain population now exceeds more than 1,700,000,000 people and costs the worldwide economy trillions of dollars. 
Before we invented the VerteCore Lift, most doctors prescribed pain medications and/or recommended back surgery, which many times are overused, ineffective, or unnecessary. The other option was to visit a spine treatment center and lay on a traction machine that stretches out the spine, which is both time-consuming and expensive. 
The VerteCore Lift is going to completely change how the entire world treats back pain. Please watch our crowdfunding pitch video to see how easy it is to use. 
Not only is it easier to use, but it is more effective than many of the expensive traction medical equipment units.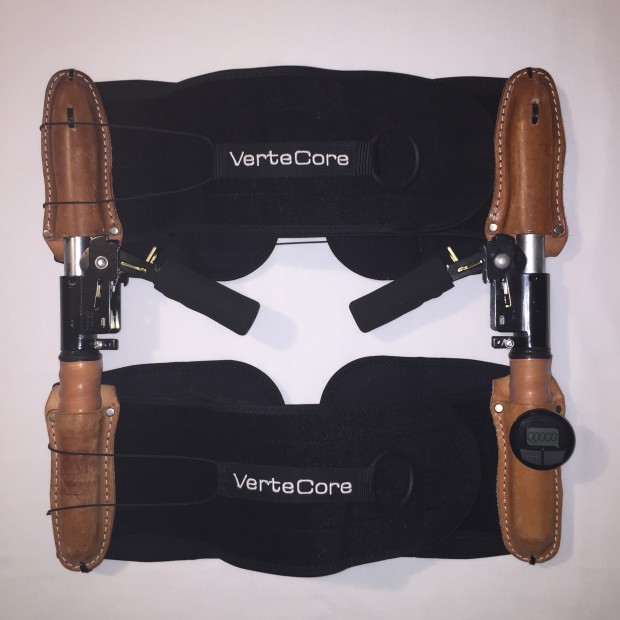 VerteCore Lift: Male Model
And unlike other back pain devices sold on TV that require laying down or hanging upside down causing blood to rush to the head, our VerteCore Lift is easy to put on and can be worn while running errands or jogging at your convenience.
Adding mobility to spinal decompression is a critical product development. Not only does it stretch out the spine allowing the vertebrae discs to return to their normal positions, but wearing it during activity increases the effectiveness of the body's circulatory system which speeds ups the body's ability to heal itself naturally.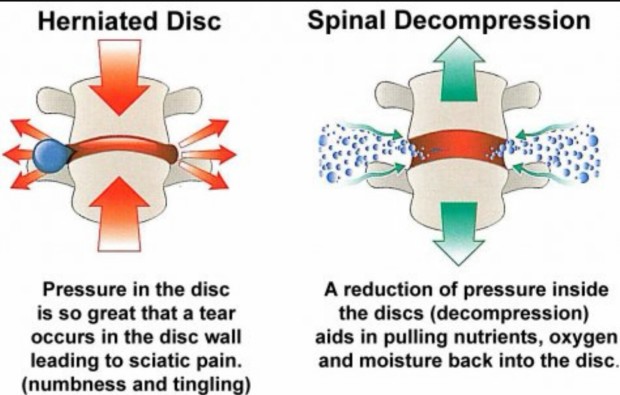 People that purchase our $299 early bird special perk will receive a $300 discount off the normal selling price that will be charged after crowdfunding campaign concludes. 
So don't hesitate! Purchase one right now before the price goes up. You will be very glad you did. And our products come with a 100% satisfaction guarantee. So there is no risk on your part.
 An effective, affordable and safe alternative is finally here!
Bringing Relief to The World
It doesn't just sound like a daunting task, it is. Expensive too, but we've already completely all the major Milestones to begin offering much needed relief to millions  world-wide. Our IP (Intellectual Property) is secured thru Patents, FDA Class 1 status secured for the US, CE Mark/other International Certifications in process, and manufacturing partners selected. The final step is guaranteeing minimal order quantities and validating the demand for our product. 
We know the need is there, because too many people continue to suffer with inflated healthcare cost, over prescribed medications and the struggle to find effective, affordable relief. This is where You come in! 
VerteCore's Management Team has secured the assistance of Manufacturers that are not only World Class, but believe in our mission to restore Freedom and Dignity to those suffering with Chronic Pain. And to do so affordably. Together, once we meet our initial goal, not only do we guarantee the minimal required quantities, but we also sends a powerful message to the Healthcare Field. 'We the People, are tired of being fleeced! Everyone deserves quality, affordable healthcare and healthcare products.' 
The fact is, Crowdfunding is not the traditional route to fund Medical Device Innovation.  We have had numerous meetings with VC's and Medical/Hospital Investment Groups. Almost everyone offered funding. After all, this is a high demand sector where effective non-surgical innovation is all too seldom seen. Add to that, our product actually works! There were a lot of calls requesting us to come back for more 'negotiations'. What we could not and will not accept though, is that every single group was demanding we double and in some cases triple our prices. 
Ok, so sure, a company has got to make money. Profit should not come at the expense of helping others, or to the detriment of those you are trying to help though. If anything, the success of your company should be the validation that you provide quality and value to your customers. We know we've succeeded with the VerteCore Lift. It serves a tremendous need and is the best value in it's market space. Once you or your loved one has their own, we're sure you will feel the same… 
Fact is, you or someone you know suffers from Back Pain.
Chronic Back Pain has become a Global Epidemic .
We can Make a Difference in the lives of people everywhere!
Indications for Mechanical Traction
Nerve Impingement, herniated or protruding disc, sciatica
Subacute joint inflammation
Stable Spondylolisthesis
Joint hypomobility
Paraspinal muscle hypertonicity
Degenerative Disc Disease (DDD); osteophytes
Sacroiliac joint dysfunction
Facet disease
Foraminal Stenosis

Therapeutic Benefits of Mechanical Traction
Joint distraction
Soft Tissue Stretching
Reduction of disc protrusion/resorption
Improves spinal alignment
Combats the effects of gravity
Provides Pain Relief
Decompresses the Vertebral Joints
Sacral Base Alignment
Allows for the influx of nutrients and oxygen while allowing for the elimination of metabolic waste

Compressed Disc vs Decompressed Comparison
Ways You Can Help
If you're not in a position to grab one of our great Perks, I know you still want to help. We appreciate that. Everyone working together will get the word out and you can be a big part of bringing relief to so many:
Help us to help others suffering with Chronic Pain. If contributing is not possible at this time, help spread the word and you'll be doing a great service for people everywhere.
Please use the Indiegogo share tools to tell your family and friends about our campaign. Let everyone know that there is hope!

GUARANTEED FOR LIFE …  
We designed and build the VerteCore Lift to last a lifetime and we stand behind the quality and durability of our products. If your Lift ever breaks down, just ship it back to us. We'll either repair it or replace it, and return it to you. It's our lifetime guarantee to you.
…BECAUSE YOU DESERVE THE BEST.
             The VerteCore Lift™… As Featured In…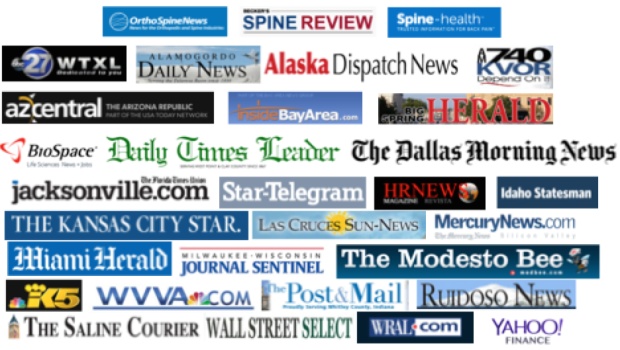 Risks and challenges 
So, here is one major difference between Us and a great number of Crowdfunding Campaigns… We have a finished product. It's not just an idea, concept, or even early prototype. The majority of challenges have already been overcome in the journey to today. There were quite a few. The great news is, by overcoming those challenges, we've also eliminated the majority of the risks. As previously mentioned, November(2016) is our first month for shipping. We will accelerate that schedule as much as possible and hope to surprise you guys a little early. We can't wait until everyone has the opportunity to have a Lift of their own. It's awesome!
We are confident that our team's wide-ranging expertise in all relevant fields is extensive to address all the challenges, in addition, we have established partnerships with leading specialist in all critical areas of product development. Such set-up makes us confident that we can handle any risks associated with production and continued development for future products. We will ship the first orders from our manufacturer to our backers as soon as possible, after all, we don't want you in pain any longer either. We'll work diligently day and night to keep our promises and deliver the first Lift's no later than November, but hopefully much sooner.
Our goal is to provide the best possible equipment in terms of quality, design, feeling, and safety. 
Safety
The VerteCore Lift  is an FDA Class 1 cleared device. Class I devices present minimal potential harm to the user. Class I devices are typically simple in design, manufacture and have a history of safe use.
There are no documented long term risks of spinal traction. 
Certification
The delivery of VerteCore Technologies products is subject to certain certifications in the respective markets. We have installed an internal quality management system that supports the timely implementation of the appropriate procedures. We are not only familiar with the respective requirements but are also supported by a dedicated consulting company specializing in the certification procedures for medical devices.
The certification process for the US, Europe, and other relevant markets has started. We have obtained US FDA Class 1 and will complete CE Certification shortly. The delivery of the products in both US and overseas markets is planned to start no later than November 2016. International shipments will take place after the appropriate clearance from the relevant government bodies has been received. 
Even though we are confident that we are well prepared to handle the respective processes, we cannot eliminate the risk of delays due to compliance issues.
Supply Chain Risks
VerteCore Technologies products are complex and involve multiple components. While we have dedicated team members covering sourcing and supply chain, delays may occur if we face longer than expected lead times in delivery of parts.
Our Story
The Innovators behind the VerteCore Lift were among those suffering with Chronic, often debilitating pain. Paul Leake and Paul Montalvo had both reached the end of their proverbial ropes and simply wanted back what Chronic Pain had stolen… their freedom.  
Being an active Motocross Racer,  Paul Montalvo's body was subjected to impacts and g-forces the human body was not meant to endure. Long after retiring from the Circuit, the memories (or rather the aftermath) of his racing career, severe chronic back pain endured. Years of therapies, surgeries and thousands of dollars later, the chronic pain still remained…   " I was constantly in Pain. Everyday I was at a 7 out of 10 on the Pain Scale" Montalvo recounts.  " Any medications that promised relief would leave you like a zombie and you still couldn't do anything. Not to mention that between side affects and the addictive nature of pain killers, you were trading a little relief for a whole other set of problems. I was at the point that my Doctors wanted to enclose my spine in a cage and begin fusing vertebrae. In truth, I was at that point too. I just needed some relief. 
Every back device on tv or the web was in my garage. They either didn't work or the benefit was so negligible, that I felt cheated about all the money I'd spent. The one thing which gave any relief was a decompression therapy conducted at the Hospital. Treatment cost $200 per session(15-30 min) and was performed on a very restricting device which they told me cost around $100 thousand dollars. So, prior to agreeing to a very permanent (maybe it will work) procedure, I set out to discover a solution I could truly live with… and get my life back."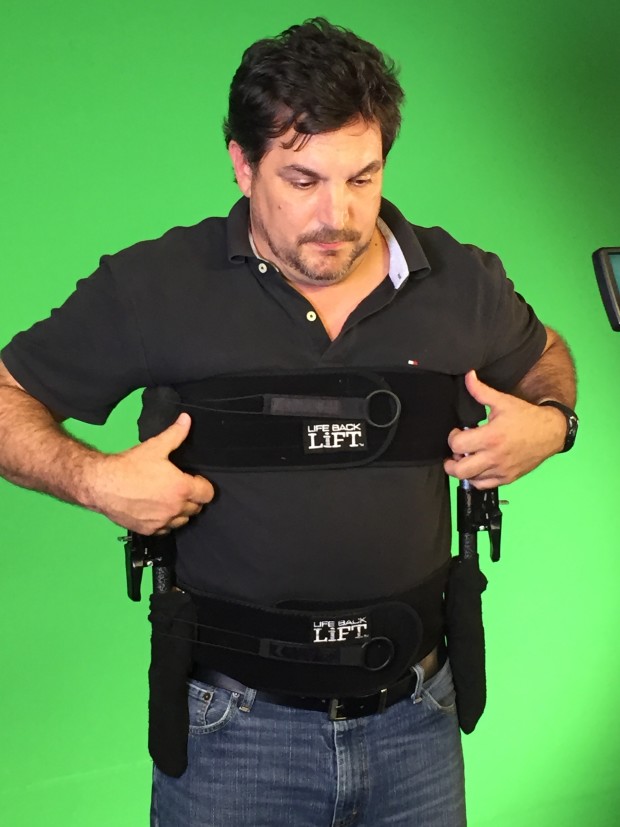 Paul Montalvo wearing Lifeback Lift Mdl 3.0 (2015). Prior to branding shift to VerteCore Lift™.
This would become a joint endeavor in the fall of 2011 as the friends discussed failed treatments, missed opportunities, and how 'two smart guys like us can invent something better."  Paul Leake, who has a strong mechanical/engineering background, was a former Specialist with the U.S. Military, and as a fellow Back Pain Sufferer, shared Montalvo's passion for a cure, made it a team effort. 
Paul Leake's story is similar to Montalvo's, accept his original injury was sustained while serving in U.S. Army National Guard. Repetitive injuries and failed treatments marked a decades progression with chronic pain.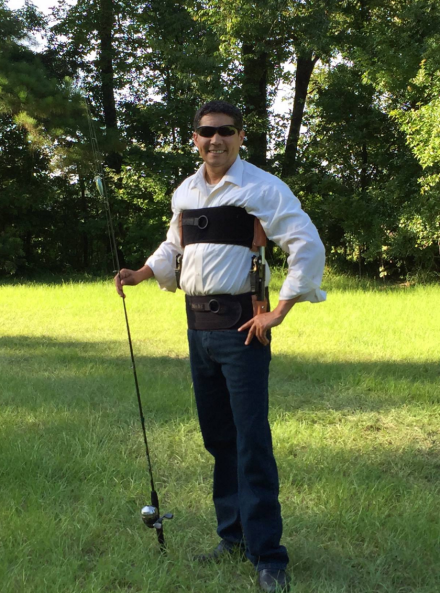 Paul Leake, heading to see what's biting, while decompressing.
"Through years of testing and refinement, we created the VerteCore Lift." Leake recalls. "A practical solution for decompression that not only helps relieve back pain, but can actually improve your back's health. The VerteCore Lift is portable, easy to use, self administered, adjusts for different size users, provides instant relief, is Doctor recommended, affordable, and best of all… it works!"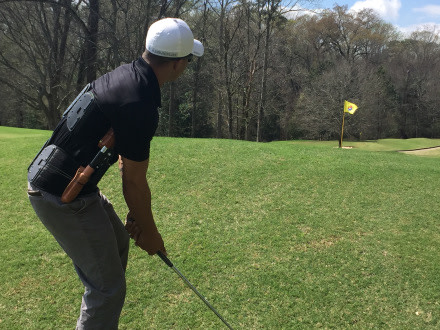 VerteCore Lift Solves Back Pain and Is Mobile Enough to Enjoy Golf!
FAQ
What's up with the name change from LifeBack Lift™ to VerteCore Lift™?
As we prepared to bring our Lift to market (then under the LifeBack Label), there were too many similar names we discovered which could potentially cloud our branding efforts or even damage our reputation if these othercompanies products proved inferior. Rather than building up a brand that would not be as totally unique as our product,  the decision was made to transition over to VerteCore. Having already shot our campaign videos though (and really liking them), we elected to proceed as scheduled because we want to get everyone their own Lift as soon as possible.  
How can I order a VerteCore Lift™?
You can order your VerteCore Lift right here on Indiegogo. Be sure to tell your friends to get theirs early, because everybody loves a great deal!
How do I know if a VerteCore Lift™ could help me?
We're excited that you're interested. Our Lift™ can help those suffering with a variety of conditions caused by or complicated by compressed discs, while it offers the benefits of mobile decompression. This could be the right product for you if you have Sciatica, Herniated/Bulging Disks, Functional Scoliosis, DDD, S I Joint Disfunction, Stable Spondylolisthesis, or any number of conditions that benefit from decompression. 
How much should I wear it?
The recommended time per session is between 15-20 minutes. It is comfortable to wear longer, but not necessary. Even 15 minutes a day can greatly improve the quality of your life.
What are the advantages of a VerteCore Lift verses other devices on the market?
The Lift offers the many advantages of decompression in a unit that is portable, efficient, convenient, and cost effective…without the inconvenience and expense of many other decompression methods. If you have ever enjoyed relief from an inversion table, you will love the Lift. No more hanging upside like a bat while blood rushes to your head and stresses your joints. You can now decompress while you continue with your life, instead of having to call a 'timeout' you may not be able to afford.   
How do I get the right size?
A specialist will contact you to collect your measurements before your Lift is made and shipped. The Lift is designed as One size fits most, but we created customized adjustment kits to ensure everybody can receive relief.
Can I wear the VerteCore Lift™ while I drive?
Unfortunately, no. It is not recommended to wear while driving. It is great for walking, lite exercise, sitting at your desk, meetings, or anytime you have 15 minutes for some convenient relief.
How comfortable is it to wear?
 Very comfortable, with fantastic support. We spent a lot of time designing the Lift so that the compression features of the belts and decompression forces of the device are evenly distributed and comfortable for everyone.
How to Prepare
Before undergoing spinal traction/decompression, speak to your doctor to create a total management plan. Decompression may enahnce other therapies that your doctor may recommend  for you such as , physical therapy, massage therpay, osteopathic manipulation, chiropractic adjustment, acupuncture, yoga/Pilate's, etc…
We will make sure our products comply with the highest quality and safety standards and are completely safe to use. We will provide the maximum comfort and reliability to our customers.
How long should my Lift™ last?
Your Lift is made with exceptionally high-quality materials including our ultra-strong, light-weight aircraft grade components constructed from industrial fabrics, steel and alloys. With proper care, your Lift should last for years.
I'm a medical professional. How does VerteCore Lift™ work?
 The VerteCore Lift is a dual-brace decompression belt that consists of Thoracic (top) and Lumbar (lower) back brace. These two braces are connected through an adjustable decompression jack on either side of the body. Each jack has a handle that extends and when activated(stroked), exerts pressure to securely stretch out the spine. Some clients describe this exciting experience as growing inches taller as it also corrects their posture. The Lift is a revolutionary product that not only stabilizes the back, but also enhances the health of your spine as it provides the benefits of decompression in the most convenient, effective orthotic advancement in years. Key features are adjustable sizing and traction force-output, user regulated, quick release strapping and functional stabilization.
Can the VerteCore Lift™ be claimed on Insurance?
Our customers with medical insurance have been able to successfully claim braces and other orthotics against their medical insurance plans. We anticipate the same approval for our Lift. Coverage varies by plan, but is often in the 80%-100% range, and you may require a prescription from your doctor. Check with your insurance provider if you are unsure of your coverage amount or requirements. Also, be sure to let us know if you plan to claim the Lift under insurance so that we can send you the appropriate receipt(s).
What does your warranty cover?
Our Lift includes a lifetime warranty. This is NOT to say we believe our Lift's are indestructible, but we have built and tested them to last for years for an everyday user. However, if you are putting your Lift to extreme use –  it may require maintenance or replacement. Send it back to us and we'll fix or replace it. Full details of the warranty will be shipped with your Lift(s).
Where is the VerteCore Lift™ manufactured? Where do you deliver?
Manufacturing/distribution is located in Dallas, Texas and Jackson, MS, USA. 
When you back this project, you'll see a shipping fee for international orders.. We are based in the United States, but will be fulfilling international orders. Please note that if you live outside of the US, you may be responsible for local duties, fees and taxes.
Do you have questions that have not been answered here?
We'd love to hear from you! Please email us at info@vertecorelift.com and we will respond as soon as we can. 
Career opportunity:
As we expand into full production there are opportunities for those looking to join a growing company on the move. The positions range from R&D, Biomechanics focused (we've got a lot planned) to Business Development and Customer Care. If you feel like your skill-set may be of value, please let us know. Sometimes, it's about creating the right job around the right individual. That could be you! 
Send us an email about yourself and where you feel your qualifications are best suited. We will get back to you.
Send your inquiry to: info@vertecorelift.com
Thanks for Supporting the Vertecore Lift™ and Sharing with your Friends!
Find This Campaign On