iCrowdNewswire - Mar 30, 2016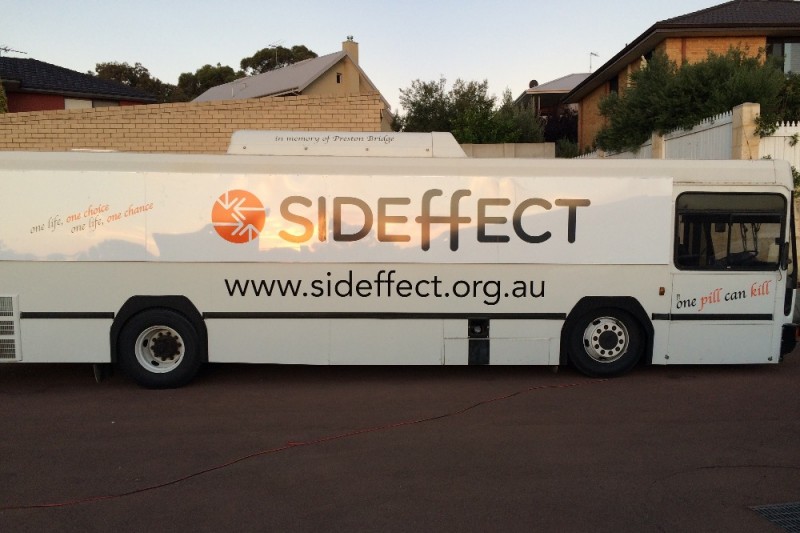 How Sideffect was founded…
 
The founder of Sideffect, Rodney Bridge has travelled to China and infiltrated drug factories to expose the dangerous world of synthetic drugs. The story was exposed all over the world by international media. 
Sideffect was formed as result of a needless tragedy by a grieving father who took action and has created a voice to educate and make others aware of the fatal danger of taking synthetic drugs. That voice is Sideffect.
Rod Bridge's sixteen year old son Preston died in February 2013 following his school ball after party. This was as a result of having taken just one tab of synthetic LSD which is now known as ―25inBome.
25inBome is just one of a very long list of synthetic drugs. These synthetic drugs can be easily ordered on the internet and delivered to your front door. Yes, even your front door!
The Sideffect mission…
Sideffect is all about education and awareness of the possible fatal dangers to those that may consider experimenting with synthetic drugs. Remember… one pill can kill.
At Sideffect we plan to be proactive in the community in order to help educate and make people aware of the potentially fatal dangers of synthetic drug use. Not just at schools but also in workplaces, particularly those that use heavy equipment in their operation. We will also be providing a free service to parents that would like to improve their own knowledge about synthetic drugs and offer them counseling or just someone to chat to.   Sideffect is chasing funds to complete the multi media bus that will travel to schools, mine sites and Indigenous communities to create education and awareness  relating to these deadly drugs. Its a very personal campaiyn and one that is needed.  With one bus we can educte 25,000 students each year.  On weekends we intend to visit shopping centres so parents can also see the dangers.  We intend to have the bus completed by May and with your help this will be fully operational by then.
We all need to come together and make a diffrence. 
One life, one choice, one life one chance.
Please support this worthy cause. It needs the public's help. We want to be on the road by May