iCrowdNewswire - Mar 26, 2016
WHO ARE WE?
Loft Ensemble is an award winning, 501c3 nonprofit theatre company in Los Angeles. We have been resident to a beautiful space in the Arts District of Downtown LA since 2007.
We produce original work by local playwrights, classics, and published plays. We look to develop new skills in our members by providing opportunities to work in all aspects to theatre production from writing and directing to set and lighting design or choreography and singing. We work collaboratively on everything, including costume design and makeup, building, painting, sound mixing and design and more. Best of all, we all do it 100% as volunteers. No one at Loft is an "employee" of Loft. We do everything from a foundation of love and passion!
Loft is a safe haven, a place of support and encouragement, and a place to have fun and try new things.
Loft is about helping people find their voice and new skills and it helps us all strive together not just to be better artists, but to be better human beings. And we do a LOT at Loft!
WHAT'S THE PROBLEM?
Our building has been sold and the new owners are making us leave so they can gut the building to make way for restaurants and shops.
WE'RE LOSING OUR THEATRE.
We had no plans to leave our home. We love it. It's unique and weird and awesome. But we have no control over the situation and we have to leave. Because we had no plans to leave, and because we are a nonprofit artistic organization, we don't have mountains of money sitting around to be able to fund a move this big on our own. We need YOUR help.
From 2007 to 2012 there wasn't much of interest in our neighborhood. But in the last few years, gentrification has begun to take hold of the Arts District. And we've really enjoyed having new coffee shops, restaurants and bars in the area. It's brought new people around and made the area really great! But now it's reached a tipping point for underground, independent artists like us.
All of these awesome new things have made property values go up. Which is also great. But that means more real estate developers want to come to the area and tear down or remodel all these wonderful old buildings, like ours. Buildings come down, rents go up, and artists who were there at the beginning of the movement, are priced out and forced out.
WHAT'S THE SOLUTION?
We found an amazing new space to move into that is within our rent budget! But moving a nonprofit theatre is a huge undertaking and the expenses pile up fast. Deposits, moving trucks, building up a safe stage, rewiring for all of our lights, building out safe audience seating, marketing to let people KNOW we've moved….it adds up fast!
We need $15,000 to be able to pull it all off and keep our season from being disrupted.
If we can't make this move:
• We will be homeless and unable to keep producing our brand of edgy, original work by local playwrights.
• We won't be able to finish our Little Lofters program, which is an initiative to produce a theatre camp for autistic children in partnership with Therapy West.
• We won't be able to produce KING LEAR, starring Emmy Award winner Leon Russom, for our next mainstage show!
• We won't be able to keep providing theatre training classes.
• We won't be able to continue our internship program with the American Academy of Dramatic Arts and mentoring students.
• We won't be able to continue our monthly "Dark Night" programming for standup comics, improvisers, writers, singers and dancers.
• We won't be able to continue to participate with our LA intimate 99 Seat theatre family to push the envelope of what small theatre can do with a small budget.
• We won't be able to keep changing lives through art!
HOW CAN YOU HELP?
We are scheduled to move out in May 2016 and we have to get a lot of money together in a hurry to be able to do that and NOT end up homeless. Please help us get into our new theatre home by making a donation. EVERY LITTLE BIT HELPS! No donation is too small, and every cent will be deeply appreciated and put to good use!
Also, because we are a 501c3 nonprofit, your donation is tax deductible!
WHAT DIFFERENCE DOES IT MAKE?
Art matters. And not just to the people making it. Loft creates inspiring, unusual theatre that makes people think and talk. We focus on original work, cultivating new playwrights and new directors. We also present an annual classical piece, presented in a relatable contemporary style to make the classics accessible to new audiences. Loft also programs a royalty specific show each season. Additionally, we have monthly programs for improv, sketch comedy, standup comedy, singers and musicians, as well as an ongoing writers' series.
But beyond that, studies show that nonprofit arts organizations like Loft incentivize millions of dollars into their communities in the form of additional revenue from parking, restaurants, neighboring shops and partner businesses. Theatre is a destination business, meaning audiences travel to the theatre's community and then engage additional businesses as a result. Theatre helps communities become stronger!
WHERE DOES YOUR DONATION GO?
$8,000 goes to a required deposit and 1st month's rent for our new space.
$2,500 will be spent to build up a safe performance stage.
$2,000 will be spent to build up safe audience seating.
$1,500 will go toward installing all of the lights that make shows look so good!
$1,500 will be spent on incidental expenses like moving trucks, packing materials, and marketing.
THANK YOU!
Please help save Loft Ensemble Theatre Company! We're moving out of this cement box and into an ice box! Because AIR CONDITIONING!! With your generous donation, we will be one step closer to getting Loft into a new space so we can continue to bring art to life in our own special way! We will also be able to improve the audience experience with better seats, a better stage, better lights, better parking….oh and did we mention the AIR CONDITIONING? Thank you. From the bottom of our hearts, thank you for caring about intimate theatre in LA, thank you for caring about art, and thank you for caring about Loft!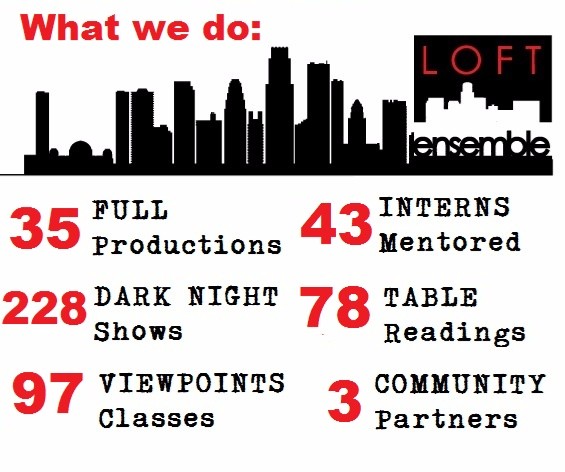 Learn more about Loft Ensemble!
Subscribe to our Youtube Channel!
Like us on Facebook!
Follow us on Twitter!