iCrowdNewswire - Mar 24, 2016
Indonesian province of Bali has lost 60%+ of it's freshwater water reserve and saltwater is entering its aquifers. Help us to turn this critical situation around by doing aquifer recharge and investing in long-term freshwater resilience.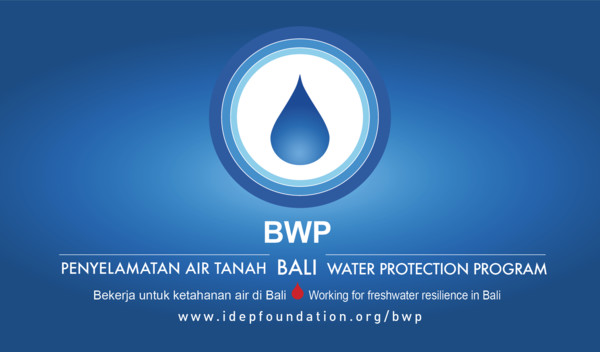 Please assist us to achieve freshwater sustainability for Bali's present and future generations! Spread the word by sharing our campaign with your friends and family, Thank You!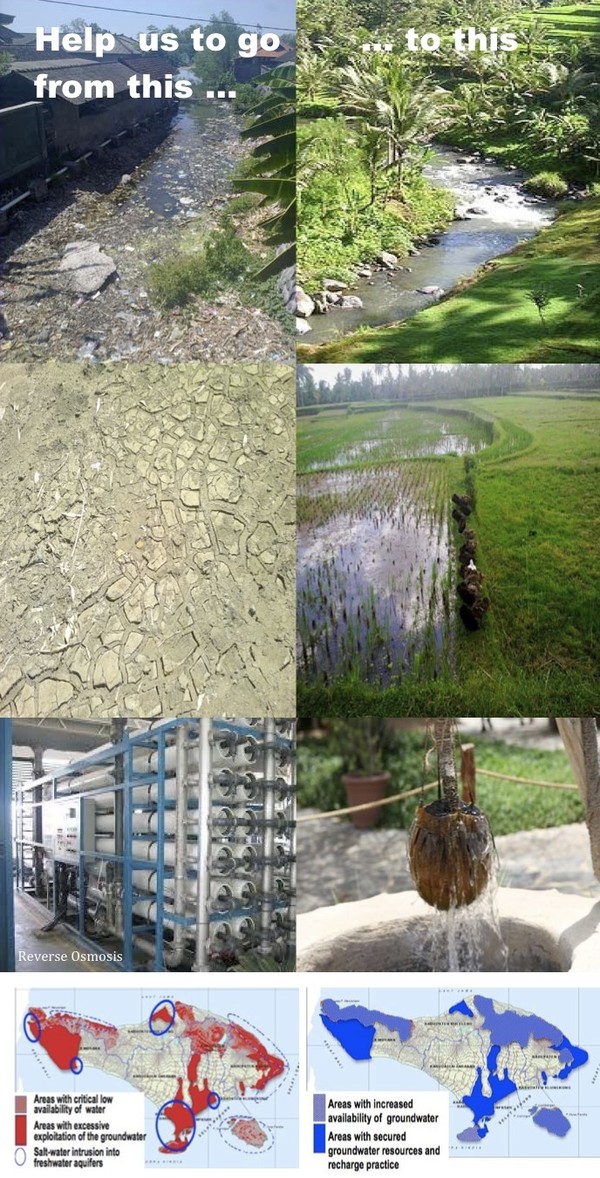 Why is this project important?

Over 60% of Bali's watersheds are declared dried
In increasing numbers of areas there is now only 1 rice crop/year versus 2 to 3 only 5 years ago; in some cases due to urbanization and interruption of the provincial Subak-irrigation system but also because of increasing water scarcity
Over 50% of Tabanan new reservoir built for wet rice farming is being diverted to south Badung for Tourism
An increasing numbers of Bali's 400+ rivers are running dry.
Lake Buyan (Bali's 2cnd largest natural freshwater reserve) has dropped 3.5 meters in 3 years and 5 meters by 2012
Most preoccupying … Salt intrusion has started in several points of the island (one of the few ecological situations non reversible except with exceptionally expensive technologies).
Researchers estimate that in just five years (by 2020), Bali will have completely run out of freshwater. Here below you can see a map of the critical areas, in particular in blue colour where salt water intrusion has either already occured or where local aquifers know increased salinity.
Please see our detailed proposal for all references available on our program's website :http://www.idepfoundation.org/bwp. Or direct lik to the proposal principal framework see here : https://docs.google.com/viewerng/viewer?url=http://idepfoundation.org/images/stories/howyoucanhelp/supportaproject/2014_bali_water_protection_program/bwp_agama_tirtha.pdf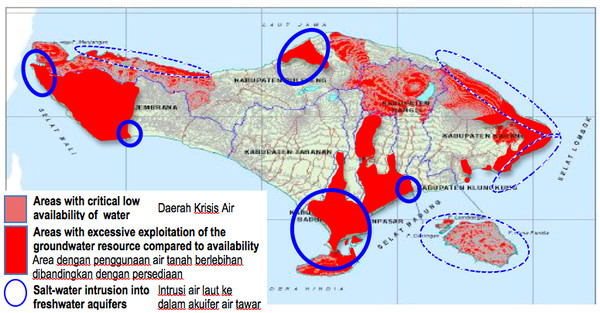 CONTEXT AND HISTORY OF OUR PROGRAM 
The province of Bali in Indonesia has long been considered as one of the world's crowned jewell with its unique culture rooted in ancient Hinduism and Animism. Commonly refered to as « The islands of the Gods », blessed by fertile soils and abundant rainfall, it has developed a highly evolved culture greatly dedicated to the arts and devotion to its spirituality. A victim of its beauty it has known in the last 20 years + an immense boom in development and massive tourism, 10.16 Million in 2014 (national and foreigners) for a population of 4.2 Million. This has caused great stress on Bali's natural resources and particular on freshwater. Natural recharge rates are no longer sufficient and while the replanting of trees is increasingly taking place, Bali is entering what is called « ecological collapse «  in terms of its water resource ; agriculture is greatly suffering and daily water cuts have been an increasingly regular feature of life in the last 2 years in the dense populated area. 
Members of our team in 2012 came across two local governmental studies regarding the state of our provinces's natural resources which sent us a shock wave, in particular in regards to the state of its freshwater supply (see program annexes on http:www.idepfoundation.org/bwp). The implication of that data for our province's medium to long-term overall ecological, social and economical integrity is immense if the crisis is not being rapidly adressed. Some articles raising alarms bells kept (and keep on) being published every once and then and local discussions with some farmers did indeed highlight a problem with freshwater, both supply and quality wise, but we hadn't realised the extent of the issue; so many ecosystems and livelyhoods, both present and future depend on this natural resource – taken so long for granted in a place blessed with abundant rainfall in the majority of its territory …
We got so alarmed that we started to look seriously into the issue and more importantly on what was being done in the world to redress the situation rapidly, cheaply and with appropriate technologies, in resonnance with the local field and economical reality. A little over 2 years later our program, Bali Water Protection Program / BWP (initially called "Bali Water Project") was born as a collaboration between our Foundation, Yayasan IDEP Selaras Alam (http://www.idepfoundation.org) and the governmental university, Politeknik Negeri Bali (http://www.pnb.ac.id).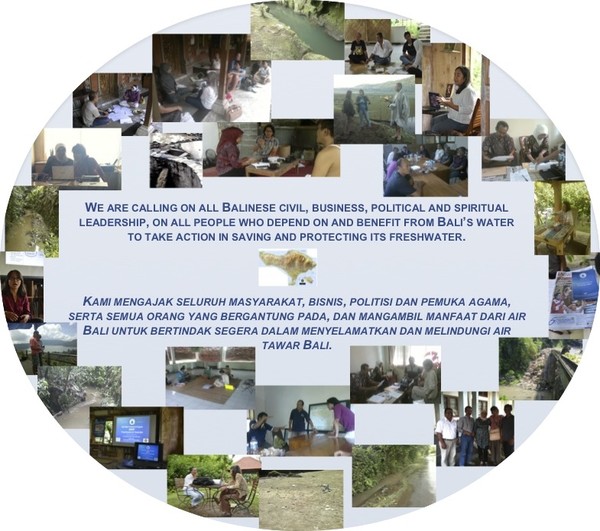 HOW WE PROPOSE TO ADDRESS THE SITUATION
Where is your money going?
     Ecological rehabilitation – Education – Mass Media
In order to tackle the multiple dimensions of Bali's current water crisis in a durable and impactful manner, we have decided to address the situation through 3 different angles : ecological / aquifer rehabilitation (Adopt a Well subprogram), education on water and garbage for children entering teenage years (Adopt a River subprogram) and public awareness raising (Adopt Bali Water subprogram) ; aquifer rehabiliation through rainwater recharge wells for freshwater replenishment (Adopt a Well) subprogram is however the core of our program with 77.23 % of BWP's total budget.
Below is a breakdown of what we will do with your precious funding; please see our full proposal and all details on http://www.idepfoundation.org/bwp (English and Bahasa Indonesia).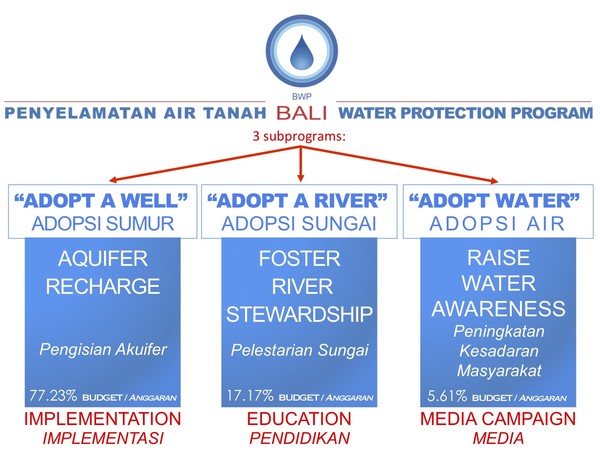 1. ADOPT A WELL subprogram: this subprogram is done in full collaboration with and under the supervision of the university Politeknik Negeri Bali (PNB).

          . While we have identified 13 "Critical Intervention Areas" (please see map below), we need to finetune the exact locations where the recharge wells will be implemented with the establishment of a precise map of location throughout the province;
          . Production of recharge-wells blueprints with large diameters (3 meters +), medium diameters for Banjar (village)-level application and small <1 meter diameter for individual household, including pre-filtering options;
          . Construct 136 rainwater-fed wells across Bali (in 4 islands out of 5 in total); 111 wells are to be implemented on the main island of Bali, 9 wells in Nusa Penida, 9 wells in Nusa Lembongan and 7 wells in Nusa Ceningan.
          . Produce a training manual in Bahasa Indonesian which will include the blue-prints used for program implementation;
          . Train 10 well construction supervisors throughout the province; they are selected among existing constructors (mandor-level) and hired to implement our program's 136 wells. After the program's ending date they will be 'certified' to install these systems at request of individuals or businesses wishing recharge wells on their premises.
          . Promote the use of these recharge wells at the national policy level; we have already initiated this process in late 2014 through our partners PNB and are currently signing several agreements of collaboration with all relevant provincial-level government authorities (please see section below "What we have achieved to date").
During our research for solutions to freshwater depletion, we looked at what techniques existed to replenish aquifers that had fastest results, were not environmentally adverse (minimum impact), had small footprints, were easy and cheap to build and were generally most appropriate to the geographical and economical reality of our province. It turned out that there are schematically only 2 families of solutions, either reinjecting treated sewage/wastewater into existing aquifers, a technique used by several Western countries but which is very costly at all levels and presumes the existence of highly sophisticated sewage treatment plants, or using simple wells (either built for recharge purposes or rehabilitating abandonned extraction wells) towards which rainwater is gravitally oriented after going through a filter. This system achieves very high success rates and is the fastest, simplest, most economical and easily replicable: in areas with 1% of Bali's rainfall this "Rainwater gravity-fed open wells" technique has allowed farmers, sometimes during one single rainy season, to increase the number and frequency of their crops; blocks of luxury villas in the middle of a city suddenly have full access to freshwater not depending on water trucks anymore; the city of Coimbatore went from water levels at -304 meters to between 4.5 meters and 18 meters in as little as 5 years! In another area, wells had water levels at -30 meters and 5 years later, after building rainwater recharge wells, the level never went below 8 meters!
Please see case studies on our full proposal available athttp://www.idepfoundation.org/bwp (English and Bahasa Indonesia). You can see examples of the principles involved and what these wells will look like onhttps://www.youtube.com/channel/UCMd6FJ_6DmFOLhqCf9mb50w.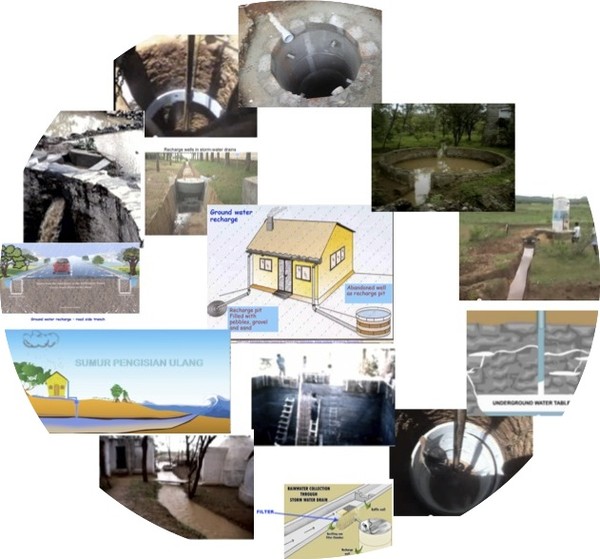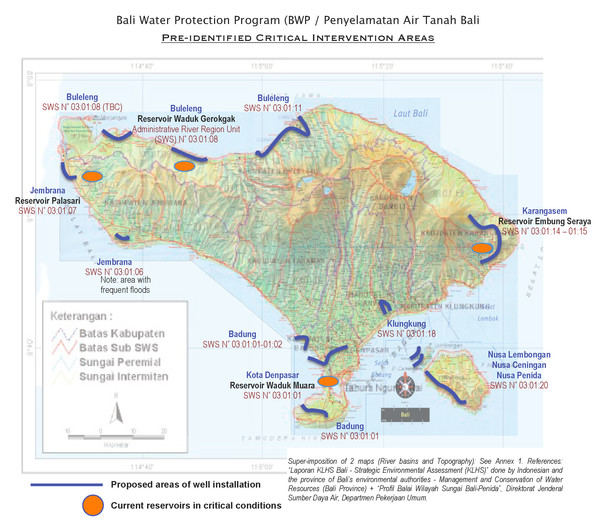 2. ADOPT A RIVER subprogram: school education, provide tools and information
          . Foster river and ocean conservation through an education program run in a total of 136 schools across Bali along 11 rivers among 9-13 years old pre-adolescents. The communities are targetted along these rivers because they live next to Bali's largest rivers with the widest watersheds, over 100km2 whose mouth ends in the ocean.
In order to extend the program's maximum efficiency while remaining realistic as to the possible scope and budget of our program, it was decided to work as much as possible along the 'entire' length of the rivers; 12 schools per river in total were targetted, 4 schools at the beginning of the river's run, 4 schools in the middle and 4 schools at the mouth of the river.
          . Teach and train the children about freshwater pollution, garbage separation and the consequences of trash in the ocean's cycles and food pyramid.
          . Produce and donate to each school of intervention 3 teacher's aid posters on water and 10 bi-lingual comics-format booklet on ecology per library (in Indonesian and English language). 
While our program's center priority is a response to the emergency of freshwater depletion, it was clear that it wouldn't be complete without addressing the pressing need to educate our children – or rather contribute to providing tools – to foster a more complete understanding and eventually relationship with their surrounding natural sources, in this case their neighbouring rivers.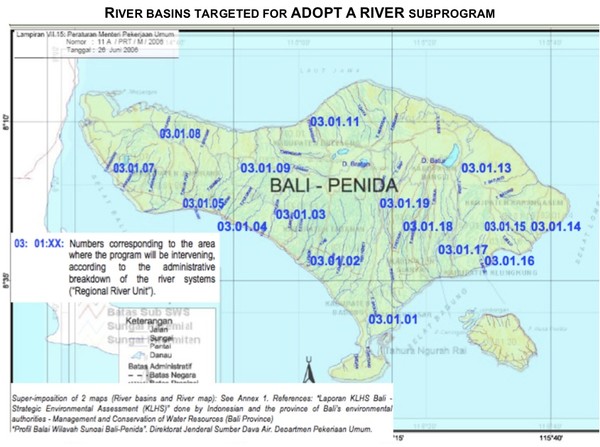 3. ADOPT WATER subprogram: Water media campaign … if elders no longer pass on environmental awareness and caretaking, we must find another way …

 Environmental awareness campaigns are sometimes considered as useless compared to actual remediation programs, and yet it is known that it is only after several years of continuous education and information giving that environmental civicism can be widespread in societies. After much discussion and meetings with various community media makers, we have decided to use the 3 main available medias: television, where half-hours monthly shows hosted by a local celebrity will be focused on water-issues, print-medias to allow water issues coverage to further exists and impacts the local press readers, and large printing banners placed at major road crossroads in the province.
          . Run one monthly interactive TV panel discussion around water issues for a 12 month duration period;
          . Sponsor one monthly feature newspress article for 12 months, across provincial and/or national newspapers and magazines;
          . Produce 10 large 3×5 meters water-awareness banners to be placed during one year throughout highly frequented areas in Bali (4 islands in total).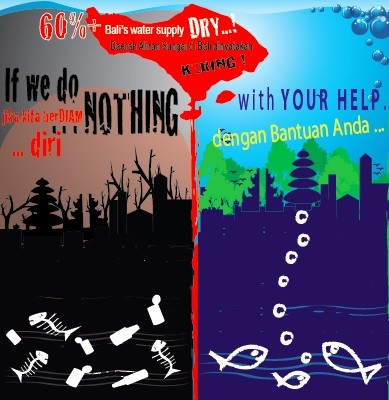 CHALLENGES AND OPPORTUNITIES
The greatest difficulty about working on freshwater scarcity in a part of the world where there is ample rain is that the crisis is mainly happening underground, far from our naked eyes. Effects are seen and felt here and there, through an increasing number of wells or springs drying, water taps being stopped at times, farmers having to adapt their crops (when possible) to decreasing water supplies – but the water crisis is still much less visible at this stage than garbage for example, which receives a lot of attention in our province (and rightfully so). Garbage is easy (and not nice) to see yet it is much less of an urgent issue (at this moment in time) than Bali's freshwater although it tends to receive more attention than what is at the source of a possible ecological collapse if not rapidly attended to.
A very interesting and encouraging aspect however for rainwater aquifer recharge is that the topology of Bali's main and largest island provides a mountaineous range running East to West which allows 'easy' recharge in all aquifers lying at the feet of the range on "both sides" of the main island. It is important to ensure that wells are not implemented on the way of natural supply basins, rivers and Subak irrigation water ways but there is ample enough rain and space to collect a large amount of freshwater currently running off the land not being 'productively used'.
Thanks to and through our partners university Polytechnic Negeri Bali, we are happy to share that BWP received the official support and endorsement by the Governor of Bali as of 5 June 2015 and the follow-up endorsements since from all related key environmental public agencies for the implementation of our program (PDAM, BLH, BAPPEDA, PU, ESDM, etc), with some additional-to-our-program well implementations already being planned under government funds.
Please see http://idepfoundation.org/bwp/news-program-updates for latest program updates.

BUDGET AND FUNDING GOAL
Our total program budget is 845,000 US$ or 10.6 Billion Rupiahs (please see infographic below); adding the various fees for us going through this fundraizing platform, we reach a total of 929,500 US$, including all fees charged to us by the payment platforms used to process your donation.
For our program's budget details please see Page 22-25 of our main program presentation on http://www.idepfoundation.org/bwp or downloadable here:http://idepfoundation.org/images/stories/howyoucanhelp/supportaproject/2014_bali_water_protection_program/bwp_agama_tirtha.pdf.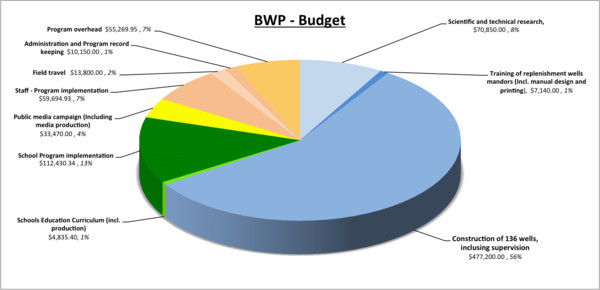 Already raised through donations in Bali as of 31 August 2015: 5,938.35 US$ or 74,774,000.00 IDR, not including a 9-month BWP Communication and Fundraiser Officer position sponsored by one of our donors.
Remaining balance: 838,902.27 US$ on our budget and 924,000 US$ including all fees related to this campaign (previous donations deducted)
Initial Funding Objective: 97,000 US$ on our budget and 107,000 US$ including the cost of running this campaign through this platform. Deducting the amount already raised, we need 101,000 US$ to start the program, including all fees.
While our present campaign aims at reaching our program's full funding goal, we will contact each donors once we have reached our initial funding objective in order to start the program; until then no funds are being used. This initial amount will allow us to produce all the subprograms deliverable so that in case we cannot raise the remaining amount, we have enough material to still work with and put to productive use through PNB and our foundation's other environmental programs: please see below the graph of what this initial investment will cover.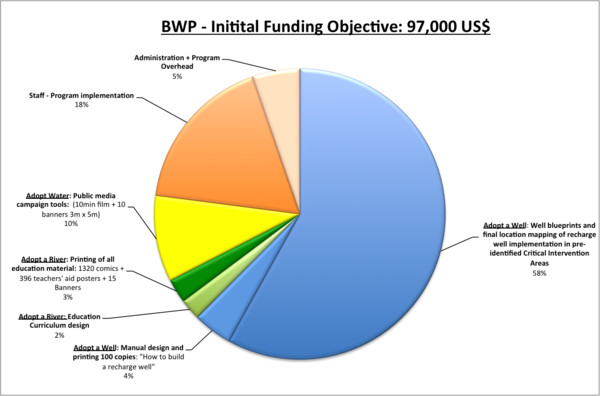 WHY YOU SHOULD SUPPORT US?

EFFECTIVENESS
While our program cannot pretend to fix the entire problem, it has the strong opportunity to effectively contribute to Bali's aquifers recharge and good-practice freshwater management at the provincial level, contributing to setting-up a sort of blueprint for the new water legislation currently being drafted and good practice for Bali's businesses. From several meetings with public agencies (still going on), we know that the presentation of our program already inspired many of its members as they was no or little previous knowledge of this recharge technique; often the only option being considered was reverse-osmosis type technologies (desalinization plants), a technique that is very costly at all levels and absolutely not appropriate nor justified in Bali's context – unless placed in areas where there is no freshwater naturally available. There is sufficient rainfall on the majority of the province to garanty its present and growing freshwater supply needs.
Our Foundation as well as our partner Politechnik Negeri Bali University have both extended field and program management experience as you can appreciate going through our history. Please see http://idepfoundation.org for an overview of our other programs and don't hesitate to contact us or visit us at our office: Br. Dauh Uma, Desa Batuan Kaler, Kecamatan Sukawati, Gianyar, 80582, Bali – Indonesia / Telp/Fax: +62-361 294993. You may also visit the campuses of our partner PNB at Jurusan Teknik Sipil, Bukit Jimbaran – Kuta Selatan, Badung 80364 – Bali or visit virtually at http://www.pnb.ac.id.
FINANCIAL TRANSPARENCY AND ACCOUNTABILITY
. Our accounts are independently audited,  published yearly and are accessible on-line, please see http://idepfoundation.org/aboutidep/annualauditorsreports.
. Every monies given to this project is accounted for and used as featured in our public budgets. While this program is ambitious it has worked with economy of scale principles at all levels and is offering a very high return for investment. You will see through our detailed budget that the ratio of operational costs and actual program implementation cost is only of 14.81%, which shows rigour and field reality.
LONG-TERM IMPACT
In addition to actual urgent aquifer recharge, providing in-depth research into rainwater recharge wells and a reference manual to allow easy replication respond to an immense need to widespread simple and economical ecological remediation tools; training construction supervisors will also allow to foster and nurture an additional specialty to construction professions and thus impulse economical activity much beyond the duration of the program. Producting a one-year wide media campaign while providing schools with simple but effective tools to induce a behavior change in the long term ensures that BWP's output is to last and impact Bali positively, significantly beyond program duration.   
WHO ARE WE ?
Please meet IDEP's core team here: http://idepfoundation.org/aboutidep/meettheteam.
While a program manager and coordinator will be hired for this program as well as additional educators be added to our existing team once we have raised the necessary funds, these are the individual below who each and together have worked for the last 2 and sometimes 3 years to build this program; this is the occasion to present them and renew our gratefulness for their work:

Ida Bagus Putu Bintana: program co. founder, Mr Bintana is a civil engineer at the University Politeknik Negeri Bali and former head of the Civil Engineering Department's Study Program. He is a true educator at heart, has been an environmental activist for the last 25+ years, greatly preoccupied with Bali's evolution, in particular the steadily decline of its rivers, both in terms of water quantity and quality. He got as exited as we did when we discovered that there was indeed a solution to Bali's loss of freshwater that didn't require millions of dollars and could be implemented gradually.

Dr. Ir. Lilik Sudiajeng, M.Erg.: This program may not have come to light without Professor Sudiajeng's social and environmental commitment coupled with great work energy! She was as exited as we were about tackling Bali's immense freshwater problems and is already integrating this technique in other research and applications. A civil engineer with a doctorate in Ergonomy she is now the head of research and community service at the university Politeknik Negeri Bali.

Florence Cattin: program initiator and co. founder with Ida Bagus Putu Bintana, Florence came to Bali in 2011 to deliver a sanitation training in the field of constructed wetlands while she became increasingly preoccupied by the rapid decline of the province's freshwater source and quality. She is a tireless idealist who never doubts that it just takes enough people with intelligence, integrity and hard work, truly concerned about the current state of affairs, to make significant changes towards a more equilibrated relationship between humanity and its home; that economical activity and development don't have to equate with destruction. She is active in calling for more action in implementing and investing in proven solutions to many of our current ecological and social plights.

I Gede Sugiartha: Gede shares his time between our media department which he heads (he is a well-known community documentary maker in Indonesia) and the sanitation field where he received a degree in water treatment engineering and a training in constructed wetlands design. By his gentleness and calm demeanor, he helped organize and mediate numerous early-stage meetings among the team and with some governmental agencies.

Brenda Ritchmond: our angel without whom this work would never have come to light. It is through her shared concern and sheer insistence and encouragements to see this program exist, that two years later after much research and numerous meetings we went indeed ahead to structure a coherent program. She not only engaged her business to fund wells once we are ready for implementation but is currently helping us by supporting a fundraising and communication officer specifically for this program. It is rare to meet someone who is walking the talk to such extent, fully aware of what is at stake for our presently living generations. A midwife who has made her home in Indonesia for many years now, she founded and is the director of organic products and outlets under the name of Bali Buda (see http//www.balibuda.com), a true institution here! Thank you Brenda! Bless you!!! (And forgive us for thus exposing you as we know how discreet and behind the scene you like to be).

Maitri Fischer: Maitri has been a great gift to this program with a BSc in Earth and Space Science and the recipient of a merit scholarship for a MSc in Hydrology in Utrecht, the Netherlands. He confirmed that returning rainwater to the aquifers via rainwater-fed open wells is definitely fundamental for long-term freshwater good governance. Although he is very busy with the development of his new sustainability consulting company, he has accepted to act as a BWP advisor and technical sounding board. We are grateful for his presence and good advice; having furthermore grown up in Bali, he is a marvelous bridge in this multi-cultural team.

Santhi Wijaya: It is always an honor to receive the assistance of this young filmmaker and photographer; author of several documentaries, she has already an important track record for her sensibility and engagement in environmental and social sustainability. Santhi has collaborated with our Foundation for numerous emergency field-response operations, notably in the Mentawai region after the 2009 Padang earthquake and the Merapi volcano eruption in 2010. Without her commitment we may not have initiated this crowdfunding film and campaign and we are most grateful to her for guiding us in the initial process and laying the basis of the film.

Danya Cheng: A graduate in aero spatial engineering he has just the kind of mind structure that you need when you have to go through endless pages of technical documents and sort out the wheat from the chaff. Danya was of great help at the very beginning of the research into the solutions out there for aquifer recharge. We will convince him that his involvement was worth his time as he is a doubting fellow about all kinds of non-for-profit ventures – and yet, how can you possibly make aquifer recharge profitable upon initiation? Unless through government taxes which may eventually be the case but is beyond our program's present scope here; once the technology is widely adopted, which we don't doubt it will, citizen will then certainly have to contribute to maintain their freshwater supply and such taxes indeed be included in long-term sustainable water policy.

Caroline Cheng: Caroline is a second mother for IDEP foundation as she has been housing our foundation for the last three years. She is a tireless ambassador and networker to increase organic farming, permaculture,  ecological and economical sustainability in general. She is also always a great ear when our organization goes through difficult stages or has moments of discouragement in this challenging-sometimes battle against environmental and thus social destruction. Bless her for her generosity and presence!
                     
                                   And a special thank you to our first donors ….

Frank Beurskens & Mala Spirit: Frank must be included here as he was our first public donor and didn't just understand what was at stake but actually followed up on an initial discussion by donating on New Year's eve, when the morale was a bit down among an overworked and tired team. It was a great gift to start 2015!!! He shares his time between sustainable real estate ventures and a jewelry company called Mala Spirit (see http://www.malaspirit.nl). We are very thankful for his encouragements and continual support, it means a lot!

Paul Spence and everyone at "iwantmyname.com" (ideeo group): Paul and his team must be heartfully thanked as they not only made us a significant donation but actually, again, did walk the talk, by having loved their stay in Bali and deciding to give back. It is not surprising that they have this very cool company which not only allows you to buy and manage your domain name in a fully transparent manner but that every domain registered through them supports a global aid initiative (see http://www.ideegeo.com). We thank them here for their trust and support.

Peter Wall and HUBUD: We are very happy to have Hubud as a support partner as they are also initiators here of a rising and cool concept: welcoming transient but also permanent business ventures and entrepreneurs in Bali, having the intelligence to propose office space and infrastructure sharing, a great way to save on resources (and located in a lovely spot of Ubud!) – Please see http://www.hubud.org. We thank them for trusting us so early in this process!

Philippe Humeau & Djahil Zouaoui: they have not only donated their time for all aerial footage presented in our fundraizing film but have also made a significant financial contribution to encourage our program as they have both to heart Bali's long-term environmental sustainability. Thank you and to Drone Caraïbes!

Thank you to Dr. Lakshminarayana Subramaniam and his manager Mr Nitesh Jain for allowing us to use free of charge an excerpt of "Gypsy Trail" (featuring Kavita Krishnamurthy Subramaniam & Jorge Struntz) to illustrate part of our crowdfunding film and to Yayasan Polosseni for an abstract of "Sunrise" .
We are also thankful to two important and widespread publications in Bali for donating us free advertizing space: Bali Now! (http://nowbali.co.id) and Bali Advertiser (http://www.baliadvertiser.biz).
… Thank you to those behind the scene at IDEP and PNB and to our other Indonesian, Balinese and international friends who are increasingly bringing us their support, whether moral or financial.


BECOME A DROP OF WATER TO MAKE THIS PROGRAM POSSIBLE …
In order to reach our funding goal, we need ….
= 185,900 individuals who give 5 US$ each or 92,950 individuals who give 10 US$ each
= 186 hotels donating 5,000 US$ each
= 18,600 donors investing 50 US$ each
= 4,200,000 tourists giving 0.20 US$ each.
It is not that many people considering all of our networks and we hope that we can count on your support for this important program.
You can either donate through this platform or via our website at:http://www.idepfoundation.org/bwp or http://idepfoundation.org/bwp/donation or through Paypal directly at bwp@idepfoundation.org. If you prefer bank transfers we welcome your donation through the BNI bank (Bank Negara Indonesia).
Account Name: Yayasan IDEP Selaras Alam
Account No: 0361989230
Bank Name: Bank Negara Indonesia
Branch: Denpasar
SWIFT Code: BNINIDJA DPS
Bank Address: Jl. Andong, Tegalalang, Ubud, Bali – Indonesia
===
For more information on the Bali Water Protection Program please visithttp://www.idepfoundation.org/bwp        https://www.youtube.com/channel/UCMd6FJ_6DmFOLhqCf9mb50w (for videos on recharge wells) and https://youtu.be/wK4m62BXU1Q for our fundraising film. Facebook: https://www.facebook.com/idepfoundation.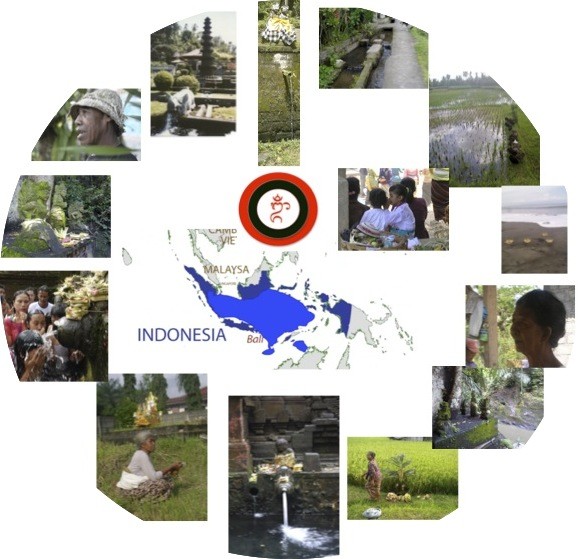 … Thank you for your consideration and attention …